Statewide
Free Fishing Weekend (first weekend in June) should bring extra trout stockings along with license-free fishing, plus some special family fishing events in many places across Oregon.
See the trout-stocking link at the bottom of this article if that's what you want to catch.
Northwest Zone
Trout
The final trout stockings before summer are occurring at many lower-elevation district ponds and lakes. See the ODFW's stocking schedule linked below.
Cutthroat trout fishing can be fair to good in area streams, but watch for catch-and-release and artificial lure and fly restrictions in some waters.
Steelhead
This is often the very best month to catch a summer steelhead on the Oregon coast.
In this zone, the Siletz and Nestucca rivers are often the best, with the Wilson having lower numbers but great access.
Salmon
Tillamook Bay will still put out spring Chinook in June, but look for the Trask River to be at its peak. The Nestucca and Three Rivers can be similarly good.
Gnat Creek on the Lower Columbia River might be worth a look.
Bass and Panfish
Most area lakes will be fishing well for warmwater species this month, although you may find bass starting to hold in deeper water, especially during the bright hours.
Shad
There's a modest run of these fish into the Siuslaw River, most popularly fished in the Brickerville area upstream from Mapleton.
Southwest Zone
Trout
Higher elevation spots like Diamond Lake are most likely fishing very well this month.
Most larger lakes and reservoirs, plus Medco Pond and Expo Ponds, get their final plants of stocked trout in late May or early June, before the summer heat comes on. Many of these bigger waters will continue to produce all season.
Stocking continues all summer in the Rogue River above Lost Creek Lake. Many streams are open for trout fishing, and cutthroat fishing near the coast and wild trout of several species in Cascade streams are hungry.
Salmon
By June, the bulk of the spring Chinook runs have made it well upriver. Look for the best catches in the Rogue River to be closer to Lost Creek Dam.
On the Umpqua River system, springers will be most numerous on the North Umpqua above Winchester Dam.
Bass and Panfish
By the middle of the month, Umpqua River smallmouth bass will have spread out and hold almost anywhere, and fish of all sizes are eager biters.
Largemouth bass and crappie fishing are very good options in the zone's many lakes and reservoirs, including Tenmile Lakes and Lake Selmac.
Shad
The peak of the shad run (which started in the latter part of May) hits the Umpqua River in June. You find success seeking out lesser-known runs into the Coos River and Coquille River.
Willamette Zone
Trout
This is a great month for trout fishing, with many streams open and productive and lots of stocking going on in lakes and reservoirs throughout the zone and in a number of streams in the Salem and Eugene areas. See ODFW's stocking schedule (linked at the bottom of this article).
Salmon
Spring Chinook runs should still be going strong in the Clackamas, Santiam forks, McKenzie and Middle and Coast Fork Willamette rivers. The Sandy River also will have decent numbers, and die-hards will still catch fish as low as the Willamette River mainstem's Portland Harbor.
Steelhead
This is a very good time to catch a summer steelhead in Willamette Valley.
The biggest runs are often found in the South Santiam and Middle Fork Willamette rivers, particularly below their respective dams, but other valley tributaries also will produce very well in June.
Near Portland, try the Clackamas and Sandy rivers for summer-run steelhead fishing.
Bass and Panfish
An all-round great month for warmwater fishing. Before the water warms too much, largemouth bass, smallmouth bass and crappie might be found in relatively shallow water but may move deeper as the sun grows intense.
Kokanee
Green Peter Reservoir kokanee fishing should be picking up steam this month but catch rates will only improve during the hotter months to follow.
Timothy Lake and Detroit Lake are better known for trout fishing, but you might also catch kokes there.
Shad
Angling should be going gangbusters to start June (and perhaps lasting much of the month).
Popular Willamette River shad fishing spots are in the first few miles below Willamette Falls, with bank access at the mouth of the Clackamas River on the east side and from the fishing docks in West Linn.
Central Zone
Trout
Access should be improving to higher-elevation lakes.
Big Lava Lake should be among a number of Bend-area waters getting new trout and likely will offer great fishing starting this month.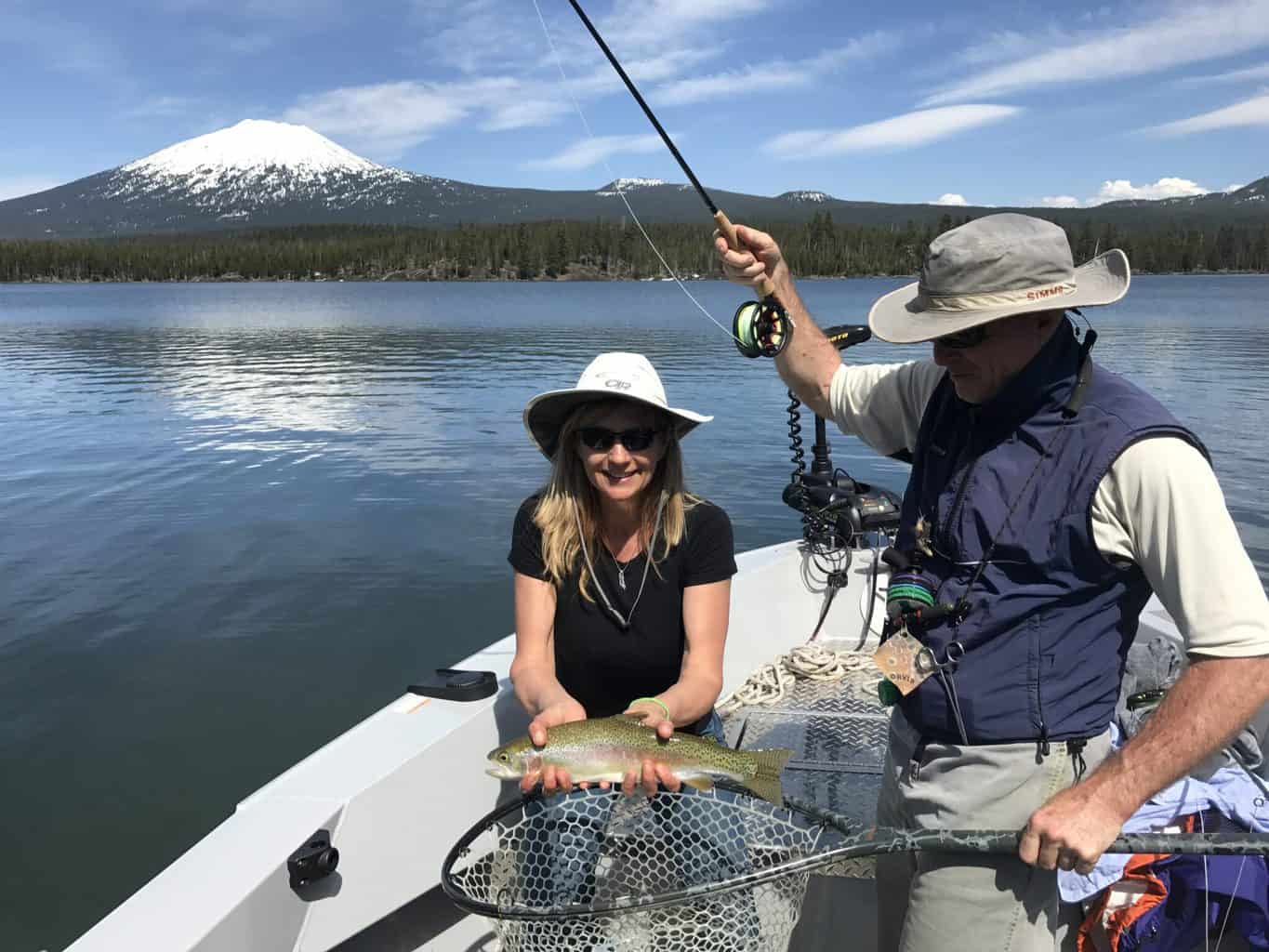 In the North Cascade Mountains, more trout should be headed to Lost, Clear and Olallie lakes, among others.
Fly anglers may want to try local lakes this month, as Callibaetis, damselfies and midges have trout on the bite at Crane Prairie Reservoir and East, Hosmer and Lava lakes and other stillwater spots.
Over on the Deschutes, Crooked and other area rivers, pale morning duns are the main show.
Trophy anglers should continue to find willing and maybe trophy-sized brown trout at East, Crescent and Paulina lakes and Wickiup Reservoir before the water begins to warm later this month.
Bass and Panfish
If you want to catch largemouth on a fly, there is no better place and time than Davis Lake this month.
Other nearby traditional coldwater fisheries that feature fair to good bassing are Crane Prairie and Wickup reservoirs, where you can use conventional tackle.
Kokanee
It's hard to beat June for kokanee fishing in Central Oregon, with just about every major fishery producing. See our Oregon Kokanee Fishing page and pick your spots.
Southeast Zone
Trout
The Williamson River north of Klamath Falls is getting really good this month for big native redband rainbows moving out of Upper Klamath Lake, and its famous hex hatch might kick in during the last few weeks of June.
The nearby Wood River is likely doing very well for brown trout and maybe some redbands, or find more secluded conditions and a nice trout bite going on the Sycan River.
Ana Reservoir, Lake of the Woods, Burns Pond, Fish Lake (Hines District) and Lofton, Holbrook and Thompson Valley reservoirs often are well-stocked this month.
Bass and Panfish
Gerber Reservoir can produce very large crappie in the late spring and early summer.
Northeast Zone
Trout
Receding snow will allow access to more lakes. Trout stocking continues in select locations (see the link below).
Also, the stonefly hatch on some of this zone's streams, such as the Grande Ronde River and Wallowa River, can offer some epic fishing this month.
Salmon
The Imnaha River may start producing springers this month, if a fishery is allowed.
Also watch for a possible season on Lookingglass Creek, a tributary of the Grande Ronde River, which can offer a fair hatchery spring Chinook harvest opportunity.
Bass and Panfish
Smallmouth bass are starting to settle into summer haunts and catch rates are increasing in the John Day River, although many of those will be smaller fish.
Kokanee
Kokanee fishing should be fairly good at Wallowa Lake.
Snake River Zone
Bass and Panfish
Catfish fishing can be awesome in the Snake River and its reservoirs from June and throughout the summer. The river and upper (southern) Brownlee Reservoir in the Farewell Bend area can be amazing when the reservoir is filled this time of year.
Crappie and bass fishing should be very good, and crappie could be close to shore for their spawn.
Columbia River Zone
Salmon
Watch for early summer salmon seasons. The Columbia River has a run of "June hogs," a typically large Chinook. Seasons have been allowed some years but check for the latest.
Steelhead
Summer steelhead season really gets rolling on the lower river. Stake your spot on a beach on Sauvie Island or down toward Rainier or anchor in the steelhead's relatively shallow travel lanes.
The river above Interstate 5 is likely to be closed until the second half of June. Before you go, check ODFW's Recreation Report (linked below) to make sure your area is open.
Sturgeon
Fishing for Columbia River sturgeon is good in the estuary and lower river, or fish upstream above Portland and into the Columbia River Gorge for massive oversized sturgeon.
Sturgeon retention opportunities are very limited in Oregon, but catch and release is fun. See regulations for specifics.
Shad
Red hot shad fishing comes this month below Bonneville Dam and also in the Bonneville Pool at the old locks in Cascade Locks and farther upriver below The Dalles and John Day dams.
Marine Zone
Salmon
If allowed, you'll start to see a few catches of hatchery coho out of several key Oregon ports, along with an increasing Chinook harvest.
Halibut
If the all-depth halibut quota wasn't used up in May, there very well could be open dates this month.
Other Ocean Fish
Bottomfishing is reliably good offshore for black rockfish and other species, and fewer storms will hinder trips.
Jetty fishing can produce very well for rockfish, greenling, perch and more.
Shellfish
Razor clamming can be very good during extreme low tides, although earlier spring digs probably have thinned out the beach clam population.
Summer vacation crabbing in Oregon is popular, and fun, but the summer molting season will have many Dungeness in softshell condition, and they simply won't be as good for eating.
Pick through the catch looking for the hardest shells and release others.
For more information, try the following main pages below:
Return to Oregon Fishing Calendar
Find the best Oregon fishing by regional zones
Find the best Oregon fishing by target species
Return to the Best Fishing in Oregon home page
Oregon Resources
ODFW Weekly Fishing Report
ODFW Trout Stocking Schedule
Oregon Fishing Regulations
National Weather Service