Southwestern Oregon's Umpqua River system offers some of the state's best and most diverse river fishing in its mainstem and two big forks.
Here you can find some of the biggest Chinook salmon around (both in the spring and fall), steelhead (both summer and winter runs) and fall coho.
You'll also find some of the region's best fishing for hard-fighting non-native species including astounding numbers of smallmouth bass and shad and some giant striped bass.
Throw in some tidewater fishing for monster sturgeon and trout fishing in the cool mountains and there's something here for anyone packing a rod.
A couple of items of interest to know before getting serious about fishing here:
One: The renowned North Umpqua has a long fly fishing-only section from Rock Creek up to Soda Springs Dam, so use the regulations link below to study up on that rule and others.
Two: The Oregon Health Authority has issued a permanent health advisory for the South Umpqua, which tends to have toxic algae blooms, especially in stagnant riverside pools, so take the precautions for both yourself and your pets that are provided in this link.
This article provides a quick overview to the Umpqua's best fishing opportunities listed by fish species. Follow the links provided throughout this article to find more detailed information about specific fishing topics.
Umpqua River Native Game Fish
The following fish species have lived within the Umpqua River system for millennia. Some present today were spawned in hatcheries and released into the river system.
Umpqua Salmon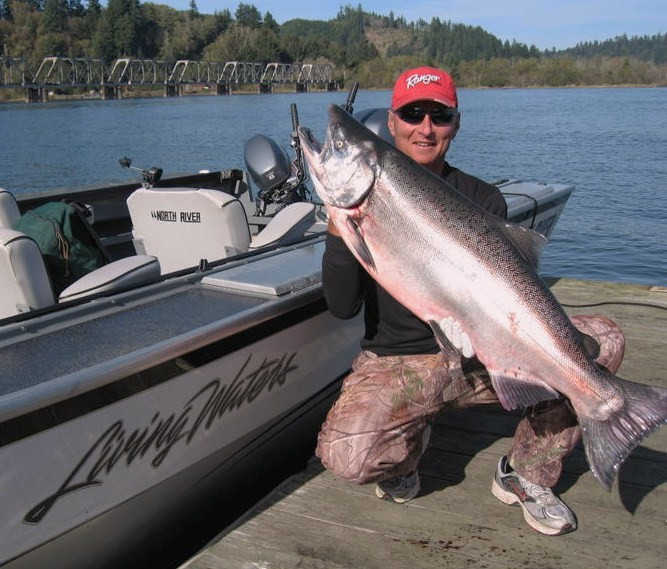 Always be sure to read up on the latest salmon-fishing rules. There can be in-season changes made in late summer leading into the early part of the runs.
Sometimes those changes bring more opportunity, such as when a limited harvest is allowed for wild coho salmon. Of course, sometimes those changes further restrict salmon harvests and specific fishing opportunities.
Spring Chinook
Springers are among the tastiest of salmon found on the planet. They aren't as big as their fall cousins in most rivers, but they can run extremely big here.
Spring Chinook arrive in fishable numbers in March, with the best opportunities continuing from then into April and May before warmer water tends to slow things down a bit on the mainstem.
While the big river might peak in April, the North Umpqua might very well be best in May. In fact, the North Umpqua above Winchester Dam to Rock Creek should still be putting out some fish in June.
Unlike the fall run, spring Chinook tend to rush through the bay and lower tidewater zones and are most often caught in the free-flowing sections of river.
The warmer South Umpqua is not a spring Chinook destination.
Read more: Best Spring Chinook Salmon Fishing on the Oregon Coast.
Fall Chinook
For fall fishing, the waters of Winchester Bay itself and the tidal zones of the mainstem Umpqua are the hot spots, which kicks off during the second half of summer.
Fall Chinook, often called "kings," tend to hang out in the cooler bay water as the river itself runs warm, which can prove deadly to those salmon itching to get upriver.
A few fall Chinook are landed beginning in July, but August and September are the red hot months here, when big Chinook are landed by the thousands.
Fishing in October will put out a few, but other bays tend to be fishing better than Winchester by then.
Fall Chinook fishing tends to taper off quickly upriver, with only modest catches ever reported in the forks.
More info: Best Fall Chinook Salmon Fishing in Southwest Oregon.
Coho Salmon
These prized salmon, also known as "silvers," are like fall Chinook in that they bite best in the bay and lowest section of river … especially where there is still plenty of salt and tidal influence in the water. They tend to get a case of "lock jaw" in freshwater.
Coho runs overlap with the fall Chinook run but come in strong roughly a month later, with the best success in September and October. September is a good month to catch either species in Winchester Bay.
Modest numbers of coho salmon are landed farther up the mainstem Umpqua River, North Umpqua and South Umpqua rivers.
More Salmon Fishing Information
Want to learn more about how to catch the Pacific Northwest's most iconic game fish? Read our simple guide to salmon fishing techniques.
Umpqua Steelhead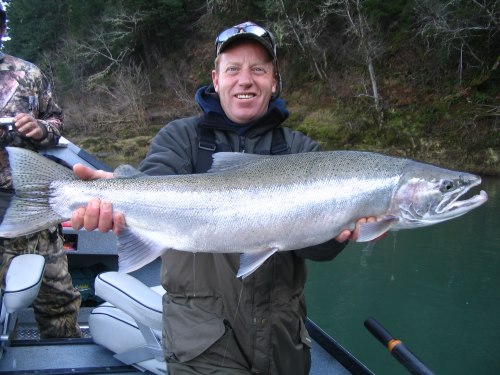 Summer Steelhead
These spring arrivals pass through the bay and mainstem very quickly, providing only modest fishing opportunities in the free-flowing segments of the bigger river.
Your options for this type of fishing are best in the cold North Umpqua, where the run is bound. Often the highest harvests occur between Winchester Dam and Rock Creek, a section where conventional fishing methods are permitted and effective for steelhead.
Fly anglers often fish upriver, where the fly-only rules tend to lessen the fishing pressure.
The mainstem and lower section of the North Umqpua will see fish pass through in May and June. June and July are typically better above Winchester Dam.
There often is a lull during late summer, when the water is the lowest and warmest, but angling success often picks up in the early fall when angling pressure is relatively light.
See: Best Summer Steelhead Fishing on the Oregon Coast.
Winter Steelhead
The Umpqua River system has good runs of both hatchery and wild winter steelhead.
The wild fish, distinguished by having a full adipose fin, must be released unharmed at this writing. Fin-clipped hatchery fish may be retained under typical state rules.
Many of the wild fish are headed toward the North Umpqua while the hatchery run is on its way to the South Umpqua (although modest numbers of fin-marked hatchery steelhead stray to the North Umpqua and are harvested).
The South Umpqua gets most of the fishing pressure during the winter season because many anglers want to take home a fish or two.
The first arrivals show up in the river system in December, but mainstem and South Umpqua fishing is often best starting sometime in January and continuing strong through February and maybe into early March.
The North Umpqua will see lots of fish on a similar timeline, with some later arrivals as well, but most will be natives that must be released.
Fly anglers can get a thrill catching and releasing huge winter steelhead natives without tons of other people fishing around them on the fly-only section.
Learn more about local water here: Winter Steelhead Fishing in Oregon's Umpqua, Coos and Coquille Rivers.
And also check out our simply written but comprehensive guide to the best steelhead catching techniques and tips.
Umpqua Trout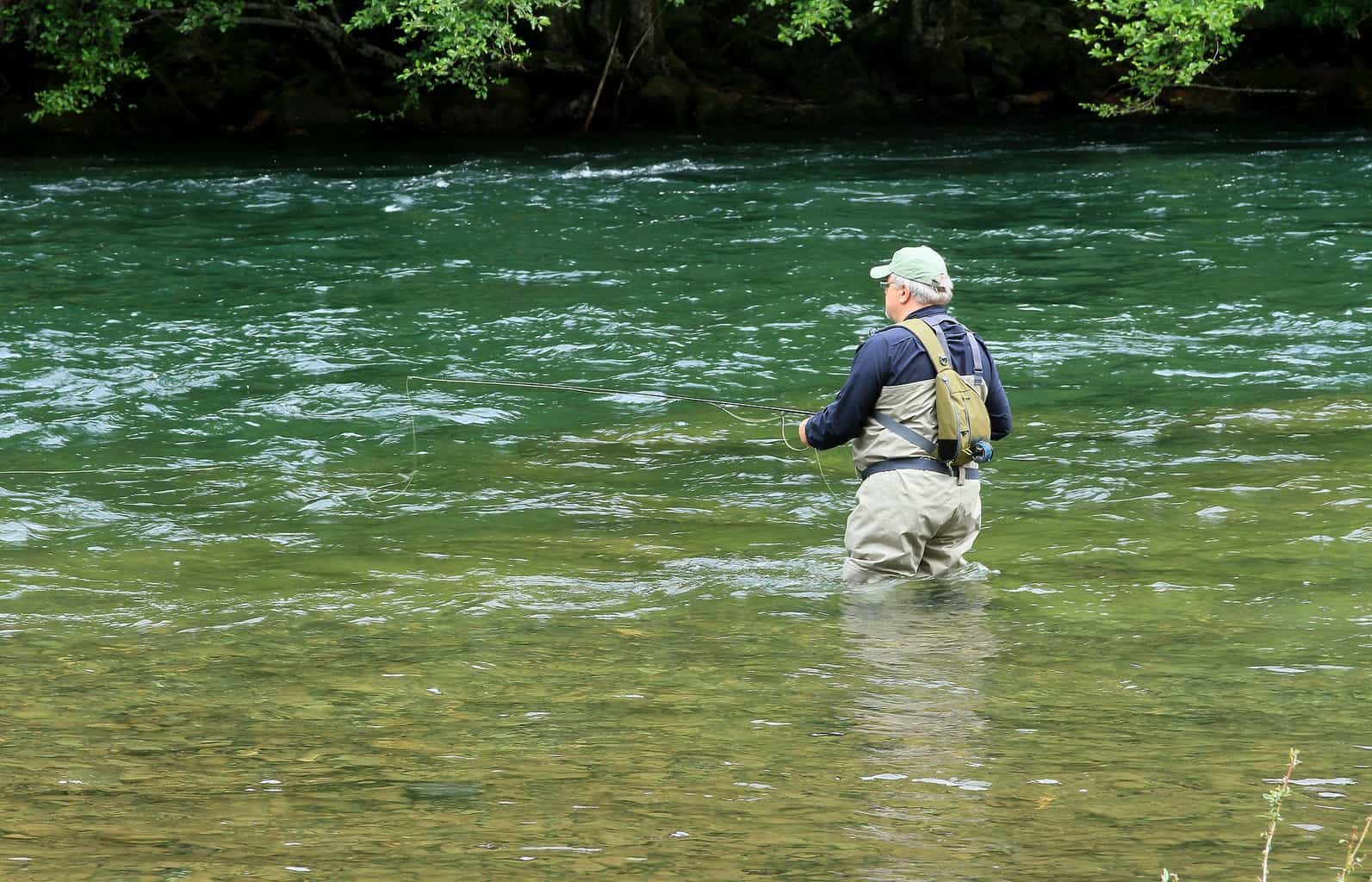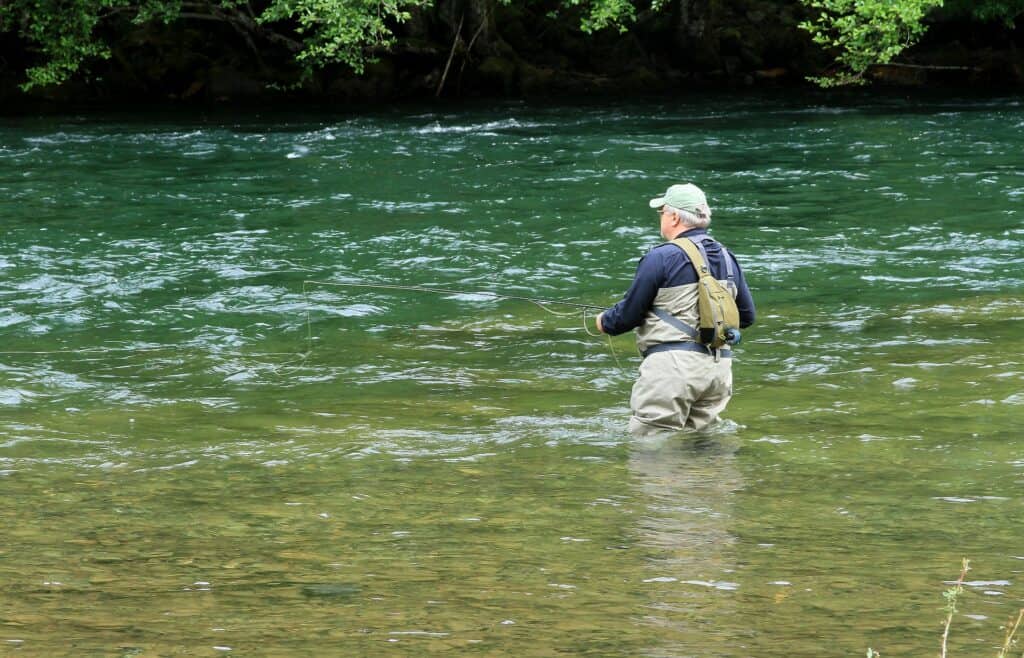 Don't waste your time fishing for trout in the mainstem Umpqua River. It's too warm. Ditto most of the open area on the South Umpqua.
If it's trout you're after, head toward the North Umpqua, which originates in higher, colder country.
While summer steelhead draw most people to the fly-only section above Rock Creek, there is a good population of native rainbow and cutthroat trout here as well.
For trout harvest opportunities and the right to fish with bait, head to the upper river above Slide Creek Dam. This section of river offers a good fishery for non-native brown trout and some non-native brook trout as well as native rainbows.
Interested in stream fly fishing for trout? Read: Best Fly Fishing Rivers in Oregon.
To learn more about all of the best ways to catch these fish, read our simple trout fishing how-to guide.
Umpqua Sturgeon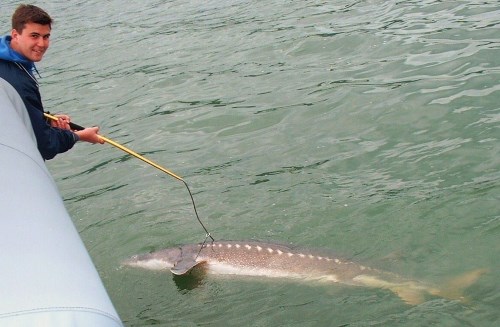 The long tidal zones of the river and down into Winchester Bay offer some of the Oregon Coast's best sturgeon fishing. These fish can grow to monster size … larger than some fishing skiffs, so be careful out there.
There are both the larger white sturgeon and smaller (but still large) green sturgeon here.
At present, angling for both species is strictly catch and release here, which has taken the fishing pressure down several notches.
Sturgeon do tend to run good size here and make there way in and out of the system.
For more information on this location, read: Sturgeon Fishing in Umpqua River and Winchester Bay.
And for the full scoop on how to catch these ancient monsters, read our West Coast sturgeon fishing how-to guide.
Umpqua River Non-native Game Fish
These species were directly or indirectly introduced to the Umpqua River. The main quarry species described in this section are native to the Midwest and East Coast but thrive in the Umpqua.
Umpqua Smallmouth Bass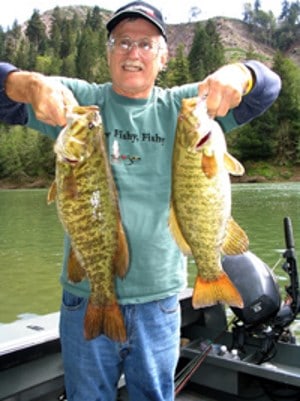 Smallmouth bass are everywhere here from the top of tidewater well up into the South Umpqua River.
The best fishing is in the free-flowing sections of the entire mainstem and in the lower parts of the South Umpqua up to Canyonville, with smaller numbers of bass even clear up to the Tiller area.
Quite simply, this is a place where you can reasonably land 100 bass on a summer day, and some hard-working anglers have notched more than 200 bass and sore arms in a day.
Despite the Umpqua's crystal clear waters, where you often can see bass strike, these fish aren't shy at attacking many types of lures, from soft plastics to crankbaits to spinnerbaits.
While the high numbers of fish are landed during the hot summer months, some of the bigger fish each year are landed during the spring.
There's a lot more we could say about this fishery, but we've already done so in two expert-based articles: Spring Tactics for Umpqua River Smallmouth Bass and Summer Fishing for Umpqua River Smallmouth Bass.
While the above-linked articles will teach you a lot of Umpqua River smallmouth fishing, you also can pick up some more general tips to improve your bass fishing success in any water.
Umpqua American Shad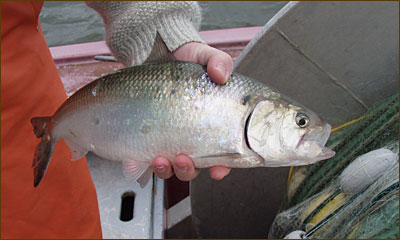 The Umpqua River is the most consistent place to catch shad in Oregon outside of the Columbia and Willamette Rivers close to Portland.
The Umpqua run is nearly always good and sometimes is great.
Shad show up in fishable numbers by May and continue through June and into early July. The peak is usually sometime between about Memorial Day and the middle of June.
Hot spots include Sawyer Rapids and Yellow Creek, but you can find these hard-fighting, jumbo cousins of the herring in many less-crowded places on the river. They like some current and modest depth.
Small jigs, spoons and spinners will do the trick.
For more, read Best Shad Fishing in Oregon and Washington and Shad Fishing: Simple Techniques and Tips.
Umpqua Striped Bass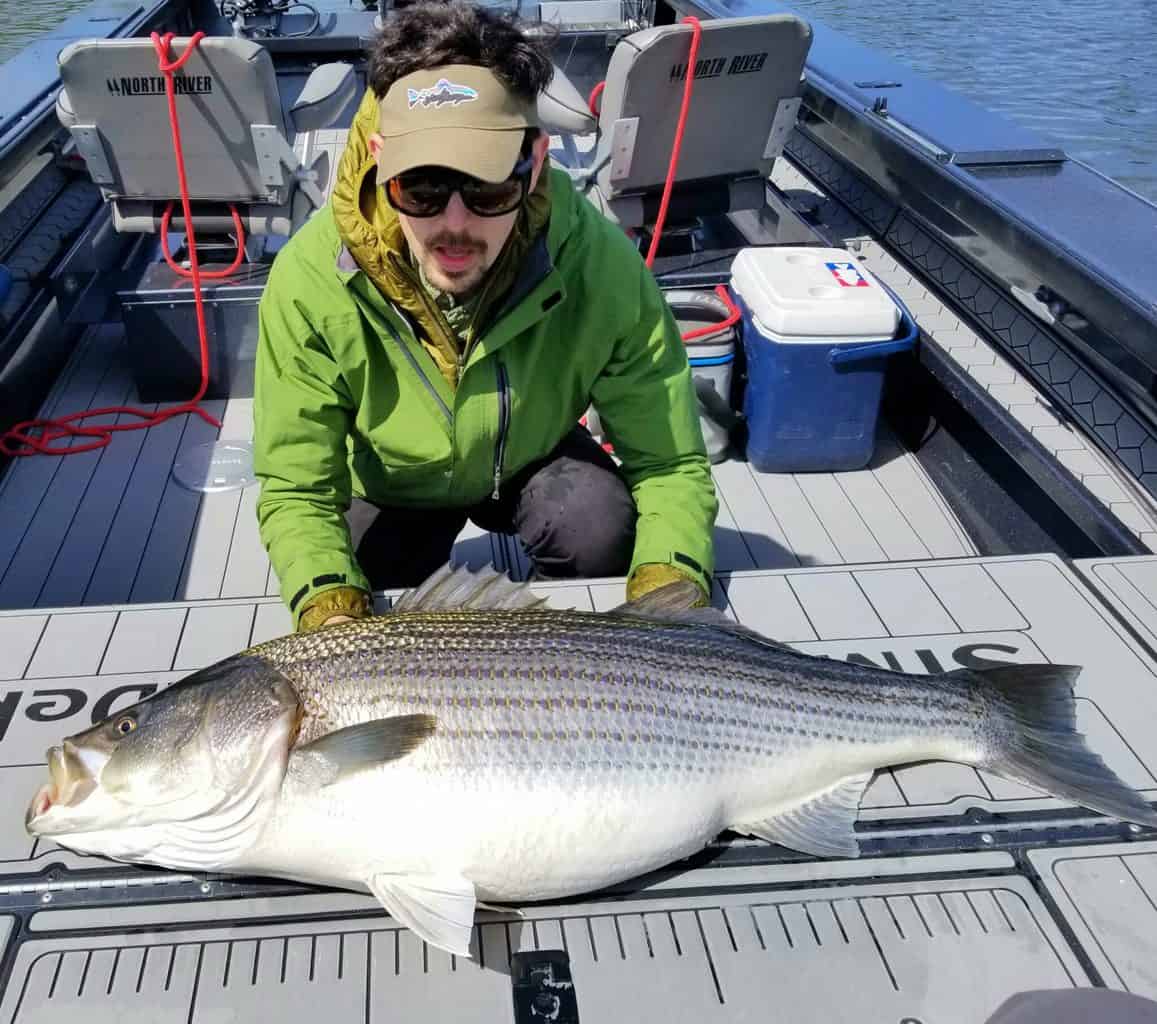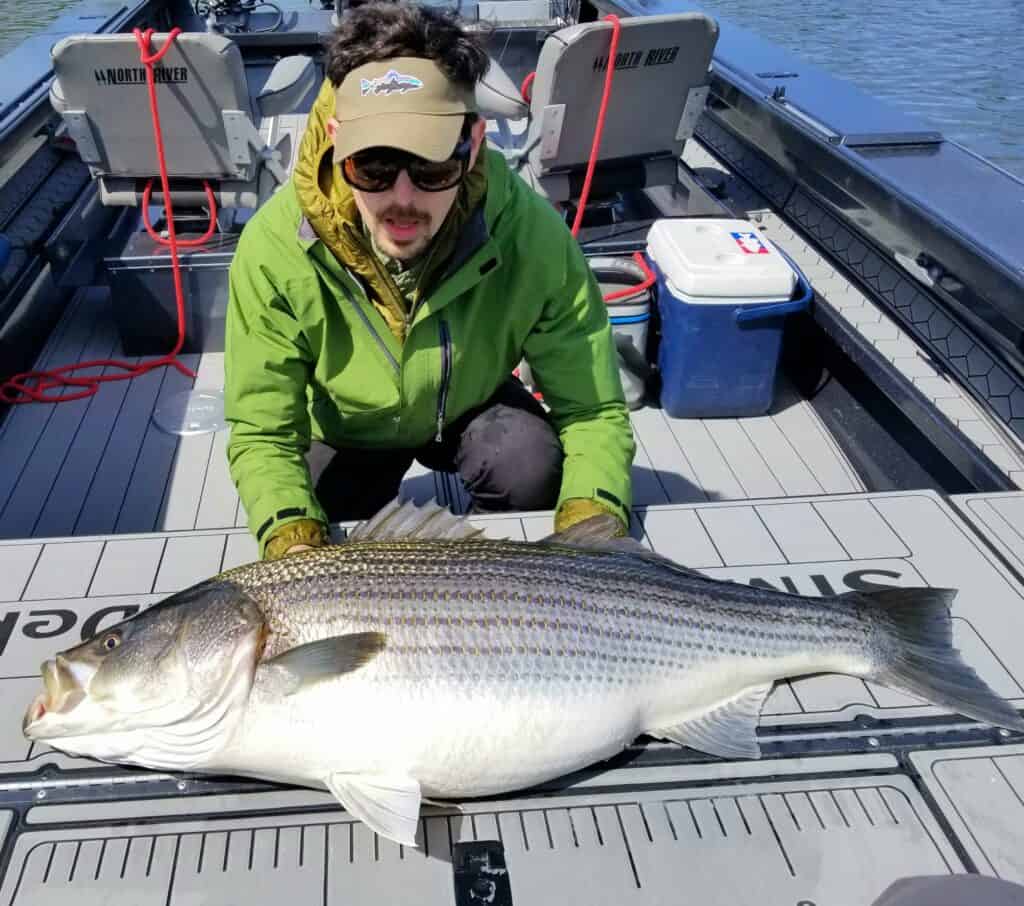 This oversized bass (sometimes topping 40 pounds) is something of a rarity in Oregon, but a few coastal river systems host these big East Coast natives.
The lower tidal zones of the Umpqua and Smith Rivers, both Winchester Bay tributaries, are one of the few places to reliably catch these big fish, which move between the ocean and bays and lower rivers in search of food.
The Oregon fish likely moved north following plantings in California.
Other decent spots on the Oregon Coast include Coquille and Coos bays to the south, with occasional stripers found just to the north in Siuslaw Bay and quite rarely in other estuaries and even once in a blue moon in the Columbia River.
Additional Umpqua River Fish Species
The mainstem Umpqua has several other species of fishes that might wind up on the end of your line.
Non-native bullhead catfish and green sunfish inhabit the freshwater sections.
Native saltwater perch come into the bay and lower tidewater for spring spawning runs but are best fished in Winchester Bay.
Oregon Resources
ODFW Weekly Fishing Report
ODFW Trout Stocking Schedule
Oregon Fishing Regulations
National Weather Service