At the best crappie fishing spots, you can catch these aggressive biters by the bucketloads when conditions are right.
The productive waters of central and eastern Oregon are certainly no exception.
These locations are frigid in the winter but often top 100 degrees during the summer, but the crappie seem to fare well in the extremes.
In case you're wondering, the wetter side of Oregon also has some very good options for catching slabs. We name the top choices over there in Best Crappie Fishing in Western Oregon.
Also, once you've figured out WHERE you'll catch crappie, whether you're a beginner or wanting to pick up some extra tips, read the article linked at the bottom that will tell you HOW to do it.
Here are some of the best waters on Oregon's sunny side:
Brownlee Reservoir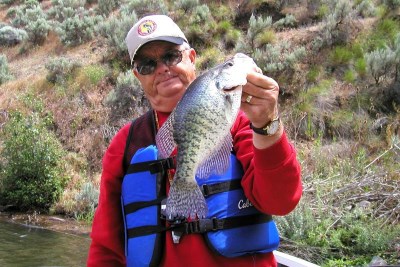 Simply put, the uppermost of three big Snake River impoundments on the Idaho border is a crappie factory. Brownlee's nutrient-rich waters sustain a powerful food chain that gives these crappie a never-ending buffet of small fish to eat.
Like most waters, Brownlee's crappie population runs in cycles, dictated in part by fluctuating water levels that result in larger and smaller fish classes.
When a large class of fish reaches 10 inches or better (sometimes much better), Brownlee is simply unbeatable.
Crappie are available throughout Brownlee Reservoir.
Many anglers start at Huntington on the upper reservoir or in the thumb of water known as the Powder River Arm near Richland.
Finding schools is the secret to your success. Crappie will often be in quite shallow water during the spring.
However, in mid-summer and into fall, locate schools in deeper water, whether close to the bottom or suspended over deep water.
Trolling small crankbaits or other minnow-imitating lures can be an effective way to home in on schools, but small jigs are hard to beat when you know where they are.
Brownlee is also tops for channel catfish and smallmouth bass, and pretty decent for several other warmwater species.
Much more: Brownlee Reservoir Fishing
McKay Reservoir
This Pendleton-area reservoir almost always has very good populations of crappie, but they aren't always real big. The size classes run in cycles.
In good years, there are plenty of 10-inchers or better. But many seasons the majority of your catch will be about 8 inches.
McKay is a large reservoir located in a wildlife refuge full of migrating waterfowl during the off-season, and it closes to fishing from October through February.
Boat access if very good here, but bank access is somewhat more limited. If fishing from shore, try the upper reservoir.
McKay also has a good largemouth bass fishery and some of Oregon's largest bullhead catfish, as well as scads of small yellow perch.
Owyhee Reservoir
This gigantic reservoir is one of the few places that can hold a candle to Brownlee Reservoir for crappie fishing on Oregon's east side, with a crappie population that is usually good in numbers with exceptional classes of large fish available every few years.
Most people use a boat to fish for crappie, and the best fishing for them is in the lower half of the reservoir.
There are several good launches and a state park near the dam, which is the most accessible part of this otherwise remote reservoir south of Vale and Ontario.
Some popular spots to look for crappie include the forebay of the dam and Dry Creek Arm, which is located about 10 miles up the reservoir on the west side, but you'll find plenty of fish throughout the lower section, said Terry Shrader, warmwater fish biologist for the Oregon Department of Fish and Wildlife.
Most crappie anglers don't go any farther than the airport, which is a long haul at roughly halfway up the 40-mile reservoir. Crappie populations thin out in the upper reservoir.
Owyhee Reservoir also has very good fishing for smallmouth bass, largemouth bass and channel catfish.
Much more: Owyhee Reservoir Fishing
Hart Lake and the Warner Basin
Talk about remote, but these waters have the ability to produce awe-inspiring numbers of crappie when water is plentiful.
Hart Lake is often the best of a string of high-desert lakes in the Warner Basin, but Crump Lake and the others can also produce.
The lakes are strung together on the western border of the Hart Mountain National Antelope Refuge, near the community of Plush (northeast of Lakeview).
The key here is water, supplied primarily by snowmelt from the surrounding mountains. In drought years, the lakes all but disappear and crappie populations go bust.
When the water returns for several years in a row, the food chain goes crazy and crappie populations boom to almost unreal numbers. In really wet seasons, the lakes rise enough to blend together.
There are boat launches on Hart and Crump lakes, as well as some roadside access at these waters and other lakes in the chain. Wind and weather can be harsh out here.
More Central and Eastern Oregon Crappie Fisheries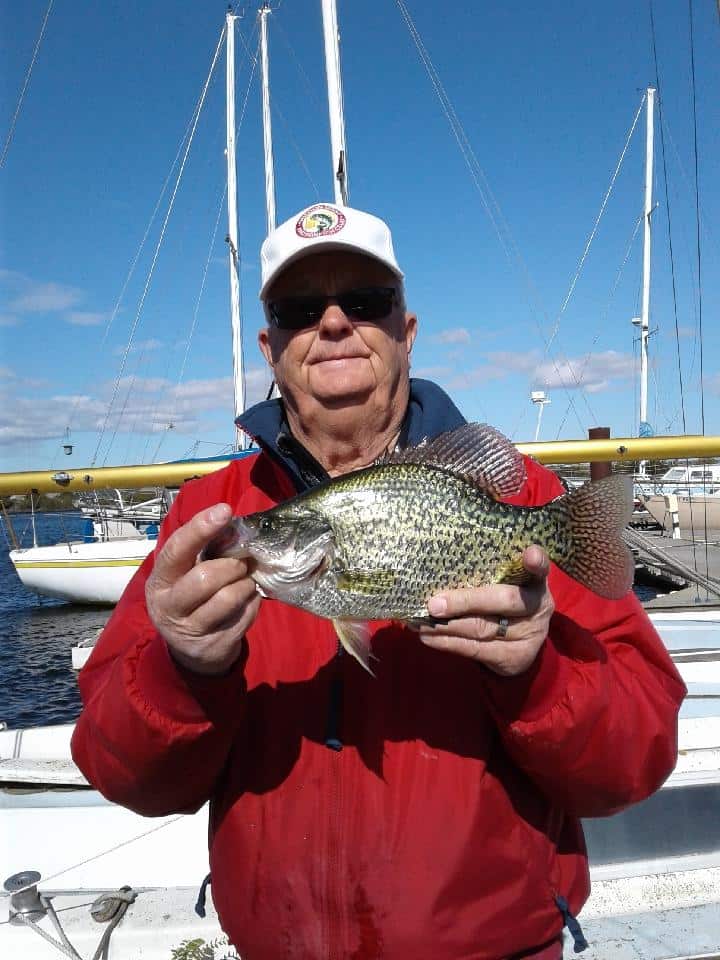 Bully Creek Reservoir
This irrigation reservoir near Vale can be very good for white crappie, but it literally gets drawn down into a puddle during low-water years.
Cold Springs Reservoir
This Hermiston-area reservoir can be utterly great when the water is there, but fishing is quite often tough due to wildly fluctuating water levels.
Columbia River
Slower sections with less current, including boat basins, are good places to find crappie. The McNary Pool near Boardman and into the John Day Arm are good bets.
Gerber Reservoir
This one can be productive but its turbid water is tough to fish. But the locals from Klamath Falls and Lakeview can fill coolers full of 12-14 inch crappie during good years.
Hells Canyon Reservoir
The lowest reservoir on the Snake River between Oregon and Idaho isn't as good as the ones above, but it can produce nonetheless. Try fishing from the bridge over the upper end.
Oxbow Reservoir
Not as productive overall as Brownlee, but this middle reservoir has plenty of crappie and other warmwater fish, with less pressure. Figure that if Brownlee is good, so is Oxbow.
Prineville Reservoir
The best crappie spot close to Bend and Prineville, absolutely fantastic some years but not as consistently good as the reservoirs listed higher in the first section of this article. See: Prineville Reservoir Fishing.
Willow Creek Reservoir
Years ago this reservoir near Heppner was quite a good crappie fishery, but these days you see the great crappie catches return only when a large class of fish reaches keeper size.
Learn More
Now it's time to learn more about the best methods to catch these fish with our easy to follow guide: Crappie Fishing: Simple How-To Techniques and Tips.
You might also like: Best Rods, Reels and Tackle for Crappie Fishing.
Return to Oregon Bass and Warmwater Fishing page
Oregon Resources
ODFW Weekly Fishing Report
ODFW Trout Stocking Schedule
Oregon Fishing Regulations
National Weather Service