Catfish are not a glamour fish for the majority of Oregon sport anglers, but those who chase them can be richly rewarded.
Catfish, particularly channel catfish, can grow as large as salmon, can give a dogged fight, and fans of the white, flaky flesh prefer them on the table over just about any food fish.
Channel catfish are more common in the Snake and Columbia river systems east of the Cascades but can be found in very modest numbers in a handful of western Oregon waters.
Brown bullhead catfish are found in lakes and ponds across the state and in many slower rivers, and there are black and yellow bullheads in some waters.
Bullheads have a tendency to over-populate a water, weakening the food chain for more popular gamefish and stunting themselves.
Nevertheless, bullheads can be surprisingly good eating in reasonably clean water, are easy to catch, and in a few places they grow to reasonable size.
There are a few other catfish varieties found in Oregon, including flatheads in the Snake system, but most aren't as numerous as channels and bullheads and are more often caught incidentally while angling for something else.
Oregon Channel Catfish Fishing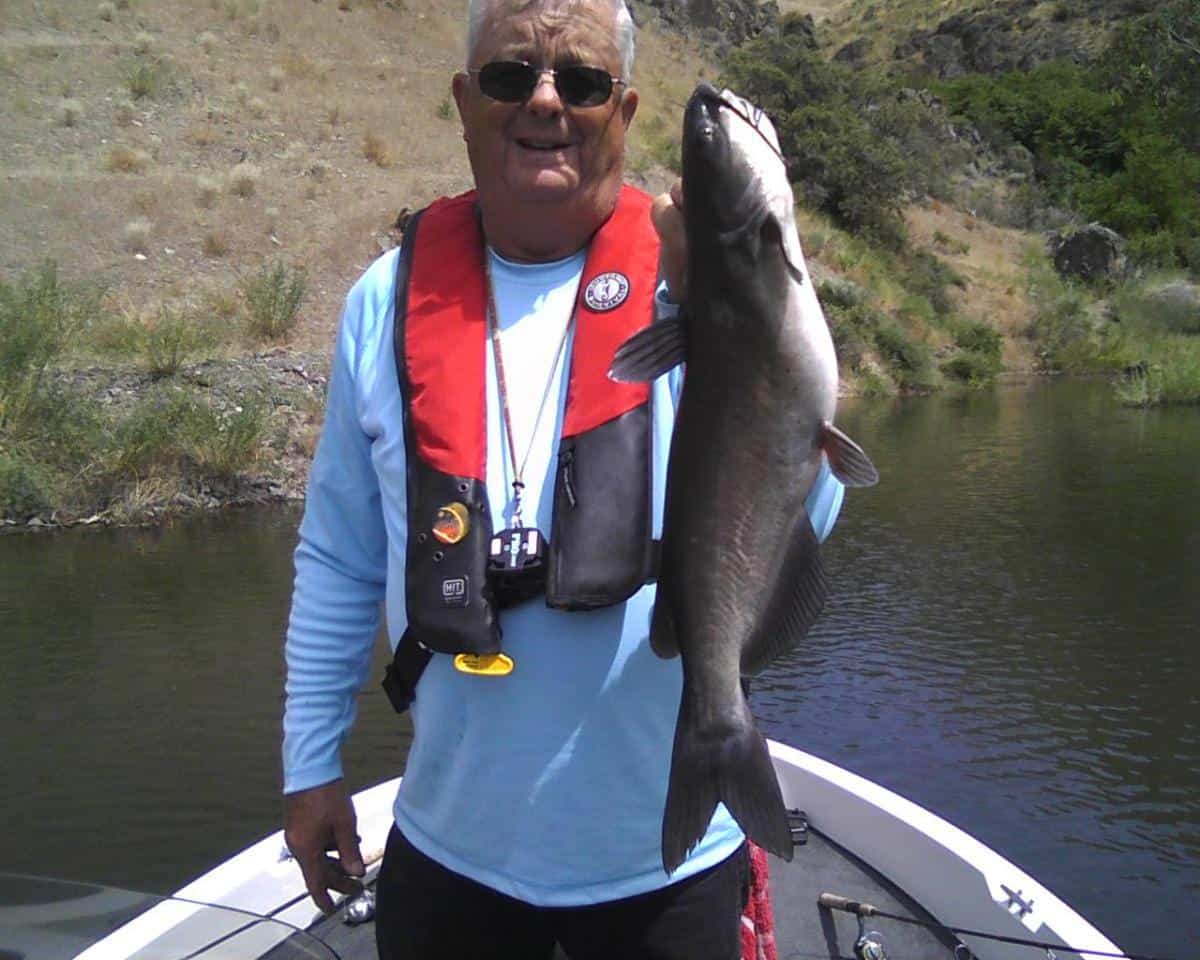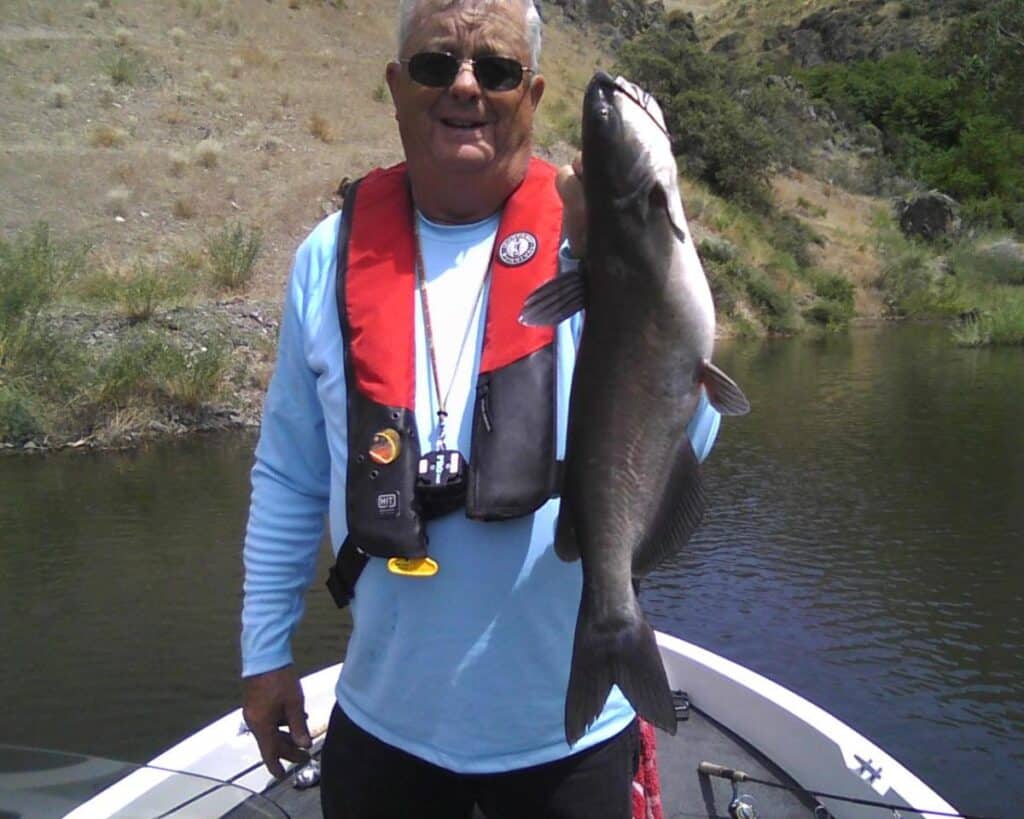 Brownlee Reservoir
Hands-down, this is the best catfishing in Oregon, said Oregon Department of Fish and Wildlife warmwater fish biologist Terry Shrader.
The vast Snake River system drains Idaho's farmland nutrients into this reservoir, the uppermost of three big impoundments on the Snake River between both states.
The Brownlee Reservoir food chain is legendary, producing not just catfish but great crappie, smallmouth bass and other species, including other catfish types.
Where to Catch Catfish
The upper part of the reservoir is the very best for catfish.
Farewell Bend State Park, where the river flows in, and down a bit in the Burnt River mouth and Spring Camp areas near Huntington are all extremely good for catfish.
The same is often true of the Powder River Arm up near Richland.
Truthfully, catfishing can be quite good anywhere on the reservoir. Find a spot along the Snake River Road on the Oregon side and have at it.
Catfish can be caught much of the year, but they are seriously hauled in from late spring and through early fall. Fishing at night in the summer is spectacular.
Much more: Brownlee Reservoir Fishing
John Day Arm
This finger of water was formed after the Columbia River backed up into the lower John Day River with the construction of John Day Dam.
At times this "arm" it is quite full of channel catfish, a population shared with the much-larger John Day Pool of the big river.
There is some bank access at the mouth, location of Le Page Park.
Boaters who launch there have access to the full length of the arm, which extends south roughly 10 miles to Tumwater Falls.
Where to Catch Catfish
An area called the narrows and just below the falls are among spots to fish, but there are plenty of channel cats throughout the John Day Arm.
The arm also can be good for other warmwater fish, including smallmouth bass and crappie, and in the late fall trolling for steelhead is popular.
There is boat-in camping at Albert Philippi Park, about three miles up from LePage.
Snake River
The river forming part of Oregon's border with Idaho has good populations of catfish, including lots of channels and some big flatheads.
The best section is above Brownlee Reservoir.
Bank access isn't as good as it is on Brownlee itself, with lots of private property along the river, but you can find bank spots with a little exploring and it's a lot easier to get to than the wild and scenic section below the reservoirs.
The catfish population here is the same as Brownlee's, with fish moving back and forth.
The Oregon state record flathead of 42 pounds was landed in the river just above Brownlee in 1994.
More Oregon Channel Catfish Spots
Central and Eastern Oregon Channel Catfish Fishing
Columbia River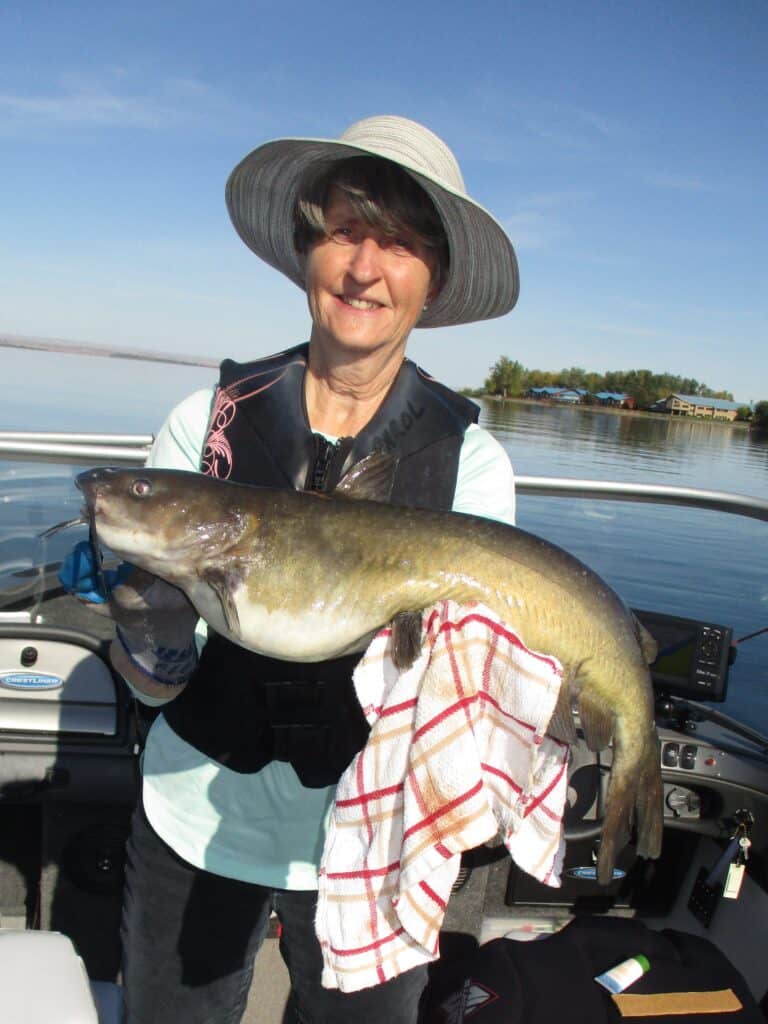 There are lots of catfish in the big river, but it's tougher to locate concentrations of them.
Shrader suggests fishing fresh bait where the water begins to slacken below each dam. That's where smolts and other food diced in the turbines settles, especially during the late spring.
Oregon Bass & Panfish Club members have been finding more and more channel catfish in the McNary Pool near Boardman, a fishery that might really belong with the upper tier of catfish fisheries in Oregon.
The Columbia River also has excellent fishing for salmon, steelhead, smallmouth bass and walleye, among other species.
Hells Canyon Reservoir
It's more steep-sided and not as rich as Brownlee, with less access.
Nevertheless, Hells Canyon Reservoir still has a fair number of channel cats along with smallmouth bass and crappie.
Oxbow Reservoir
Not as good (or heavily fished) as Brownlee but better than Hells Canyon. A change of pace place where you also can catch smallmouth bass and crappie.
Owyhee Reservoir and River
Better known for bass and crappie, there is some good catfishing, particularly in the remote upper section of the reservoir (launch at Leslie Gulch).
Catfish also are caught in the Owyhee River above the reservoir up to about Rome in Malheur County.
There is a mercury warning here, but most anglers don't worry about eating the fish, Shrader said.
More: Owyhee Reservoir Fishing
Western Oregon Channel Catfish Fishing
Willamette River
More and more anglers are reporting channel catfish catches, including some fairly good stringers and some larger fish, in different spots in the Willamette River system.
There is a fair and apparently growing population of channel cats upriver from Willamette Falls, in the general Wilsonville and Newberg areas and near the mouth of the Molalla River. We've seen catch reports upriver in the Salem area as well.
Catches also are occurring below the falls with more regularity, including the Ross Island and West Linn areas.
We're also seeing more reports of channel catfish being caught in Multnomah Channel.
Read more: Fishing in Willamette River and Multnomah Channel
Stocked Ponds
Note that the ponds on the list below have all been stocked with channel catfish at times, but availability of the big catfish will vary with fish planting activity.
Adair Pond
This 6-acre pond south of Adair Village (on Highway 99W north of Corvallis) in Benton County offers decent odds for stocked channel cats.
Bond Butte Pond
This 35-acre pond is located east of Interstate 5 at the Bond Butte overpass south of Albany and is regularly stocked with channel catfish by ODFW.
This is one of the better channel catfish spots in western Oregon.
Hartman Pond
This Columbia Gorge water, in Benson State Park just east of Multnomah Falls, is stocked periodically with channels and offers a varied fishery.
Read more here: Benson Lake and Hartman Pond Fishing.
St. Louis Ponds
All of the ponds in this Marion County complex across Interstate 5 from Gervais (south of Woodburn) have stocked channel catfish.
More are reported from ponds 1, 3 and 6, but that is likely due more to easy access than fish numbers, said western Oregon warmwater fish biologist Gary Galovich.
Read more: Fishing at St. Louis Ponds.
Wilsonville Pond
Fair fishing for stocked channel catfish. It's a small pond just west of I-5, south of Wilsonville.
Woodburn Pond
Also fair fishing for stocked channels, especially before the summer weeds take over. This pond is just east of I-5 on the north side of Woodburn.
Bullhead Catfish Fishing
These fish are just about everywhere, and frankly in most waters they are usually too small for sport anglers to bother. But here are a few places where fishing for them is definitely worthwhile:
Central and Eastern Oregon Bullhead Catfish
Haystack Reservoir
Wildly fluctuating water levels don't seem to bother the bullheads as much as other gamefish at this reservoir between Madras and Redmond. Bullheads commonly run 12 to 15 inches here.
See: Haystack Reservoir Fishing.
McKay Reservoir
Bullheads commonly grow to an impressive 15 inches in this large reservoir just south of Pendleton, also known for largemouth bass, crappie and yellow perch.
There is good boat access but limited bank fishing, although you'll find some in the upper reservoir.
Fishing is open March through September.
Incidentally, the lake still holds the state record for channel catfish record (36.5 pounds), but this is no longer a channel cat fishery.
Prineville Reservoir
Bullheads in one of central Oregon's favorite warmwater fishing destinations on average are smaller than in Haystack or McKay, but they are numerous (especially in the upper reservoir) and can be fair sized.
Prineville Reservoir also is known for smallmouth bass and crappie fishing.
See: Prineville Reservoir Fishing.
Western Oregon Bullhead Catfish
Henry Hagg Lake
This reservoir near Forest Grove is popularly fished for stocked rainbow trout and big smallmouth and largemouth bass, as well as having a thriving collection of crappie and panfish.
With all that, it also hosts some of the state's best bullhead catfish, including the state record of nearly three and a half pounds. Fish the shallow coves for cats.
Tenmile Lakes
These sprawling lakes on the southern Oregon coast north of Coos Bay are best known for their tremendous largemouth bass fisheries but also have very good populations of nice-sized bullheads (and some fine angling for bigger-than-average yellow perch).
For catfish, South Tenmile is the better of the two connected lakes, Galovich said.
See: Fishing at Tenmile Lakes.
Return to Oregon Bass and Warmwater Fishing page
Oregon Resources
ODFW Weekly Fishing Report
ODFW Trout Stocking Schedule
Oregon Fishing Regulations
National Weather Service