Tenmile Lakes on the Oregon Coast is a sport angler's paradise.
The connected natural lakes make up what is likely Oregon's best-known largemouth bass destination for both individual bass anglers and tournament competitors.
It doesn't stop there: The shallow but sprawling lakes produce impressive numbers of panfish, including crappie, yellow perch, bluegill and bullhead catfish.
If that roster of warmwater gamefish isn't enough, the lakes offer good year-round trout fishing for stocked rainbows and a smaller number of native cutthroat trout.
They even have one of the state's few lake fishing options for native coho salmon that pass through the lake on their way to tributary streams in the late fall.
The lakes are located just off Highway 101 practically within casting distance of the coast's spectacular Oregon Dunes National Recreation Area.
It's an easy 20-minute drive south from Reedsport and only slightly farther heading north from Coos Bay.
Together the lakes cover more than 2,700 acres and are so full of fingers and coves that they have some 170 miles of shoreline, according to the Oregon Department of Fish and Wildlife.
These are fairly shallow lakes, with an average depth of about 15 feet. They are connected by a canal roughly a half mile in length.
There are plenty of amenities here for anglers, including Tenmile Lake County Park, which offers camping next to North Tenmile, at the southern end of 11th Street.
Plenty of other campgrounds and other overnight lodging is available a short distance from the lake.
The lakes have two good public boat ramps and three marinas offering many services for boaters.
Anglers with a boat have a distinct advantage here because a large part of the shoreline is private property and only accessible from the water.
However, bank anglers can find some spots to fish, including the county park, which has a fishing dock that includes accessible angling.
Because Tenmile Lakes offer so many fishing opportunities, this article will briefly discuss each of the major gamefish found here.
We'll start with bass and other warmwater species, because of Tenmile Lakes' well-earned reputation as a premier bass and panfish destination.
But also stay tuned for some information about trout and salmon fishing here. The locals know that those fish also are well worth your effort here.
Largemouth Bass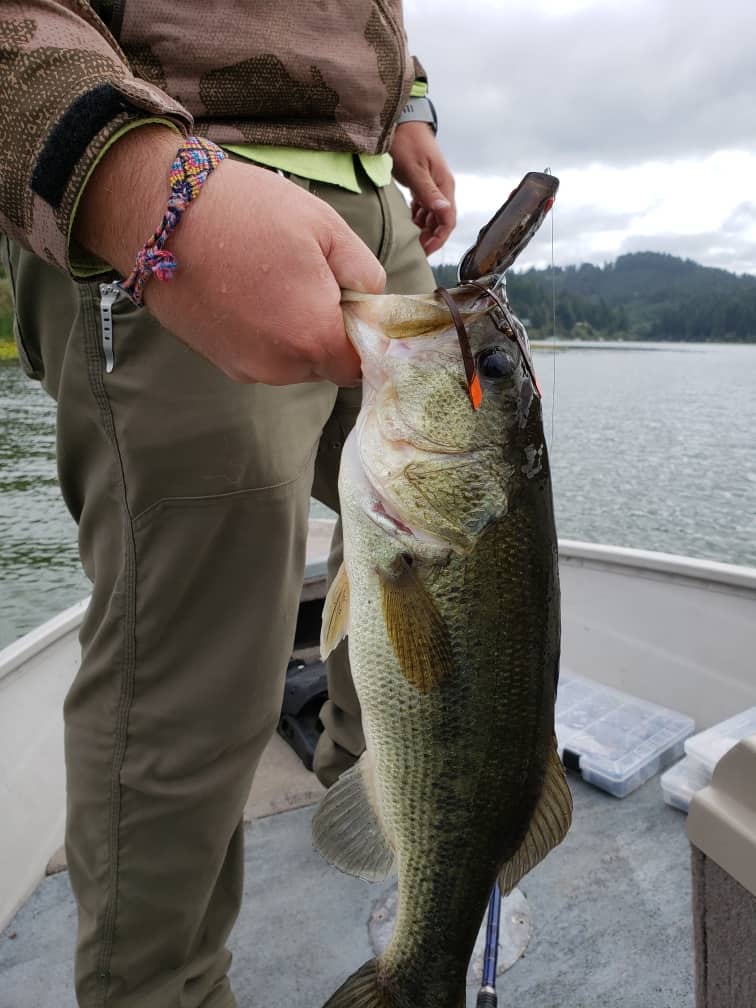 If there's one place in Oregon that largemouth bass anglers consider a "must fish," it's this one. It's one of the best bass lakes in Oregon and featured prominently in our article, Best Largemouth Bass Fishing in Western Oregon.
While you might not be as likely to catch the rare-in-Oregon 10-pounder here as you might be in a few other state waters, you have a good shot at catching good numbers of impressive bass.
There are good numbers of bass up to 4 pounds, and 6-pounders are relatively attainable for those who put the time in.
The consistency of bass fishing here is what brings both individual anglers and a number of annual tournaments to the lake.
When to Catch Bass
Bass fishing is best from mid-spring into early fall, once the water temperature hits about 60 degrees, but serious anglers know that you can catch largemouth here any time of the year.
In fact, some of the biggest bass are caught in the late winter and early spring months before the spawn occurs.
You probably will have to fish slowly and won't necessarily catch a lot of bass when the water is colder, but you might just land (and hopefully release) a personal record at that time.
Where to Catch Bass
Bass cover here is fantastic. There simply are so many aquatic weeds, willows, submerged logs and branches, boat docks and boat houses, trestles, arms and coves and points and on and on.
If you find fish are holding in a particular kind of structure, you can likely find plenty more spots that fit the bill that day.
ODFW suggests that some good places to focus your largemouth bass searches on the North Lake include the Black's Creek arm on the north end and the railroad trestle crossings found on west side.
Very productive bass fishing is also found on South Tenmile, with favorite spots including the Coleman and Templeton arms on the east side.
Bass tend to be in shallower water during the spring spawn, with April and May often pretty safe bets.
Bass also will move in and out of shallower water to feed during the warm months, especially in low-light conditions early and late.
During much of the rest of the year, bass will spend a good bit of the day in somewhat deeper water a little bit off from prime shoreline feeding areas.
How to Catch Bass
All types of bass-fishing tactics will work here, with soft plastics and swimbaits a good choice along with spinnerbaits, crankbaits and, especially on a warm evening, topwater lures including buzzbaits.
Get the full scoop in our simple guide to bass fishing techniques.
Bass Fishing Regulations
Regulations at Tenmile and across Oregon's Southwest Zone also are set to encourage modest harvests to maintain the excellent bass fishery.
At this writing, anglers can keep just one bass longer than 15 inches per day, and five total bass daily. Most Tenmile bass anglers practice catch and release.
If you want fish dinner here, please consider spending part of your day chasing panfish or trout.
Crappie
Tenmile Lakes used to be simply loaded with crappie.
It's still a good place to catch them, but you might not fill buckets full here like old-timers might remember. Nor would we recommend over-harvesting these fun fish.
The fewer numbers are likely in part due to increased numbers of other fish here, particularly yellow perch.
That said, crappie tend to run in cycles, so if you hit it on the upswing that may last a few seasons, crappie fishing can be fantastic.
Use the linked resources below to find weekly fishing reports and read up here about crappie fishing hot spots in western Oregon.
Crappie are often caught on small lures, and especially on small soft rubber or feather jigs, fished beneath a float (consider a sliding variety) or suspended straight down in deeper water from a boat or dock.
Some anglers tip the hook with a little natural bait or a Crappie Nibble. The jigs imitate minnows, and small fish are at the top of the crappie's menu.
Look for crappie near structures, including sunken trees and branches, and right up close to pilings and docks.
Like bass, crappie can often be found close to the bank during the spring spawning season. Poke around shoreline willows, submerged trees and overhangs and weeds until you find them.
These fish often move into a bit deeper water during the summer and also in the cooler months, so look around. A fish finder might help.
Crappie are a schooling fish, so where you catch one there's a good bet you'll catch more.
Learn more about these and more crappie fishing techniques and tips in this simple guide.
Yellow Perch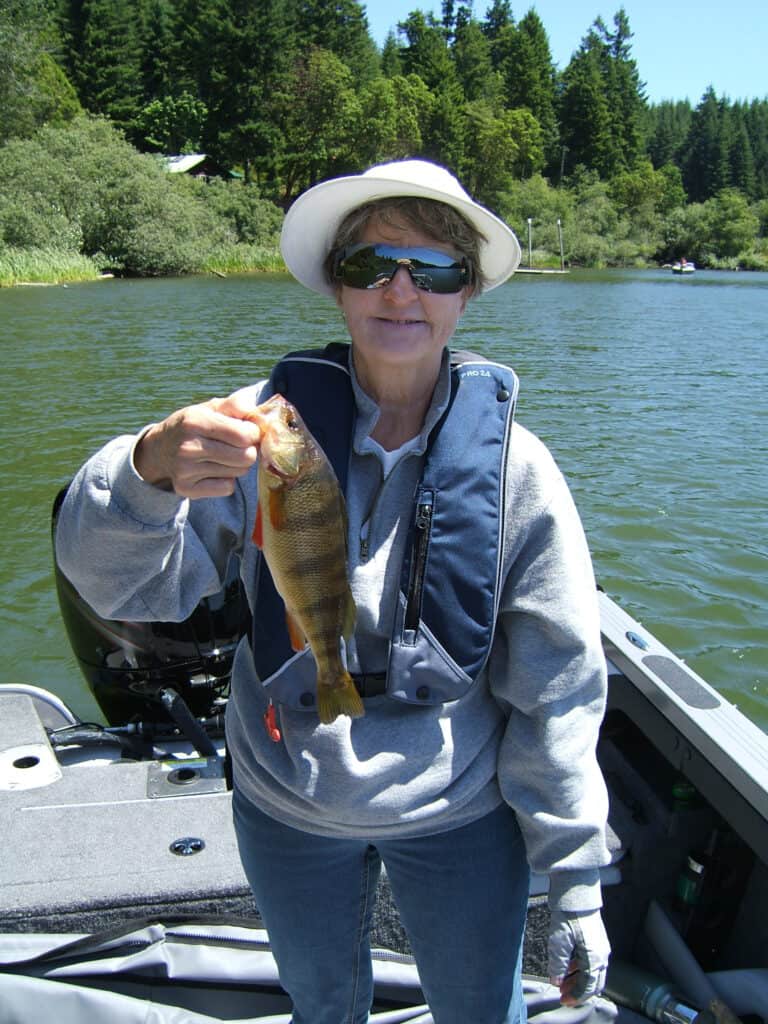 These tasty fish are very numerous in Tenmile Lakes.
While perch often run small, you can get into some great numbers of pan-sized fish and quickly fill a freezer with as many delicious fillets as you want to cut.
Yellow perch really like natural baits, with a piece of worm or nightcrawler a can't-miss choice wherever you find fish.
Try a crappie jig with bait so you can catch perch or crappie (or, frankly, pretty much any fish that swims here, at least on occasion).
Or simply bait a smallish hook (Size 8 to 12) with just a worm and fit it on or near the bottom.
They are likely to be in somewhat deeper water than you'd typically find crappie or other panfish.
Perch often bite in the best numbers during the warmer season, from mid-spring through fall.
However, perch are caught in decent numbers all year and are often one of the best fish to target if you're looking for decent action during the winter and first weeks of spring.
Perch also are a schooling fish, often of a similar size. So once you find one keeper, fish in the same place as long as you're catching fish.
Perch, a close cousin of walleye and similarly good-eating, are big enough to bother cleaning here when you find them in the 9- to 12-inch range.
This type of fishing isn't hard, but learning all of the yellow perch fishing tips will help you fill your stringer.
Bluegill
Bluegill aren't always on anglers' radar, but these disk-shaped sunfish are simply a hoot to catch. They are great biters and surprisingly strong fighters on light tackle, practically guaranteeing a fun time when you find them.
You'll catch the most bluegill in the summer, because they are very active in warmer water.
Unlike bass and crappie, which often move to deeper water during the hot summer months, except on foraging runs, bluegill prefer the shallow water and will bite agreeably all day long.
The best places to look for bluegill and many sunfish species is right near aquatic weeds.
Don't cast too far for these fish, as they might be right at your feet along the edge of weeds, in openings among weeds and in the shade of docks.
Also, another great place to catch bluegill in Tenmile is in the canal that connects the two lakes, particularly in the late summer and early fall, when the water is at its warmest.
Once you find them, Bluegill are usually easy to catch fishing bait under a float, which also is a fun way to catch them for kids and, truthfully, anyone else.
Try either a small crappie jig with bait on the hook or a simple baited hook fished 12-24 inches beneath the bobber. Use a smaller hook because panfish have small mouths.
Good bluegill baits include red worms, pieces of nightcrawler, mealworms and crickets.
Try plenty of spots until you find fish. They will bite quickly if they are anywhere close, so don't waste time where you aren't getting bites.
When the bobber moves, plan to set the hook fairly quickly because these fish are accomplished thieves.
Bluegill also can be a blast to catch on fly gear or on a fly fished beneath a casting bubble. Streamers and other sinking fly patters should do the job. A small popper also is super fun when the fish are willing.
Or, small spinners or other lures also can work well, especially when fished near bluegill guarding their nests just off the shoreline.
Pick up more detail about bluegill and sunfish fishing methods and extra tips.
Brown Bullhead Catfish
Some anglers turn their noses up at bullheads, but these fish have their merits. For one, they can be very tasty, especially when caught in fairly clean water like you'll find at Tenmile Lakes.
Brown bullheads also are abundant and eager to bite at Tenmile, and they can reach lengths of a foot or more in these waters, making them a good choice for harvest.
This fishery is good enough (if not on everyone's radar) that we have Tenmile on our run-down of Best Catfish Fishing in Oregon.
Bullhead catfish love bait.
Worms and nightcrawlers of all kinds will do the job here, as will natural cut baits (including bellies and other pieces of fish you've cleaned), shrimp or prawns and a variety of commercially prepared strong-smelling dough baits, which often are called "stink" baits when prepared for catfish fishing.
Bullheads can be caught all day long but will really be on the bite during the evenings and at night, when they also tend to be feeding closer to shore within easy casting distance.
Fish for bullheads on or near the bottom, where they feed using their keen sense of smell that makes up for their limited eyesight.
A sliding sinker, such as the egg-shaped variety often employed for trout fishing, on your mainline above your swivel and leader is a great way to set up your offering so that the line slides through without picking up the weight when a fish takes your bait.
If there are lots of weeds and snags on the bottom, some anglers will use a float set so that the bait sits just above the weeds.
Boost your fishing success with our simple catfish fishing techniques and tips, which includes many of the best baits to use.
Trout
Not everyone thinks of trout when they think of Tenmile Lakes, but don't let that fool you.
ODFW stocks a good number of hatchery-reared rainbow trout here each year, perhaps in the 18,000 range for numbers, divided between the two lakes.
The conditions here are agreeable for trout, rarely getting too hot or too cold for the survivors to adapt to the lake and grow to impressive sizes, sometimes to 17 inches or more, according to ODFW.
The rainbows are typically planted during the spring, most often in April and May.
In spring, trout will be numerous right after plantings near the major boat ramps where they are planted, and gradually spread out from there.
In the summer they will be in creek channels and other deeper spots, seeking out cooler water.
While the highest numbers of trout are caught during the stocking season, this is truly a year-round fishery.
Bank anglers often employ bait such as nightcrawlers and PowerBait, although casting lures and flies is also a good choice at times.
Meanwhile, boaters frequently turn to trolling Wedding Rings or other lures, often with the hooks also tipped with bait and fished behind a dodger or flashers to attract trout.
This tried and true method will catch fish even in the depths of winter, especially during those nice days that invariably appear briefly between the Oregon Coast's renowned rain storms.
To really dial in this fishery, check out our article on basic trout fishing techniques and tips.
While the rainbows are the volume trout fishery here, anglers often targeting rainbows (and sometimes warmwater fish) do catch some of the native coastal cutthroat trout that inhabit the lakes and streams in these parts.
At this writing, you can keep these native trout as part of your trout limit here, although we would caution against over-harvest of these spectacular fish.
We also should note that coho salmon rear in many coastal lakes in Oregon, including Tenmile Lakes.
Young coho can reach pan-size before heading to saltwater and could fairly easily be mistaken for trout, so know your fish. These juvenile salmon tend to be very silvery and because they are wild, they have an intact adipose fin.
There are identification guides in the annual fishing regulations booklet and online.
It's also worth noting that there are no kokanee (land-locked sockeye salmon) in Tenmile Lakes, and those popular sport fish are sometimes confused with young coho. (For places where you can catch plenty of kokanee in Oregon, start here.)
Coho Salmon
While you can't legally keep the young salmon like you would trout, Tenmile Lakes offer some of Oregon's few opportunities to catch and keep a wild coho salmon in a lake setting, along with Siltcoos Lake and Tahkenitch Lake an hour to the north.
Do note that coho salmon harvests are limited here, and it's always best to look up the most recent regulations. That's especially true of salmon fishing, because rules shift.
As a related example, during years of forecasted abundance, ODFW also has opened some bays and rivers to limited wild coho harvests.
At this writing, while other types of fishing are year-round, the coho season opens October 1 and runs through the end of December.
It's rare for the coho to show up before significant fall rains arrive, and most catches here are carded in November or early December, which is often a month or so after most river runs peak.
Lake coho are most often caught by trolling lures, such as wobbling plugs or spinners. Bank anglers may catch them once in a while by casting lures.
Adult as well as some jack coho are often are found in creek channels leading up toward the larger tributaries where these fish are headed to spawn.
Again, check the regulations before fishing. And take note of limited harvest limits allowed here and other lakes.
If you're planning to get into catching coho or any of their cousins, a good place to start is our Salmon Fishing: Simple Techniques and Tips.
2023 Tenmile Lakes Trout Stocking
2023 Stocking
Total
Apr. 10 – 14
South Lake
North Lake

3,000
3,000
Apr. 24 – 28
South Lake
North Lake

3,000
3,000
May 29 – Jun. 2
South Lake
North Lake

3,000
3,000
Stocked fish are legal-sized rainbow trout unless otherwise noted. Stocking schedules are subject to change for a variety of reasons. The ODFW Weekly Fishing Report linked under Oregon Resources below may provide updated information.
Find more fishing spots in Coos County
Oregon Resources
ODFW Weekly Fishing Report
ODFW Trout Stocking Schedule
Oregon Fishing Regulations
National Weather Service