Coos County packs a ton of fishing opportunities into an average-sized county. Highlights including the excellent fishing and shellfishing of Coos and Coquille bays, superb fishing for hatchery winter steelhead in several smaller streams, and the largemouth bass and panfish mecca that is Tenmile Lakes.
Within the article itself as well as after the list of major fisheries, look for links to more resources to get the most out of Coos County's fishing options, including links to fishing areas in neighboring counties.
Fishing regulations for Coos County can be found in the Oregon Department of Fish and Wildlife's Southwest and Marine Zones.
Incorporated cities in Coos County are Bandon, Coos Bay, Coquille, Lakeside, Myrtle Point, North Bend and Powers.
Additional communities and landmarks here include Barview, Bullards Beach, Cape Arago, Charleston, Riverton and Tenmile. Part of the Oregon Dunes National Recreation Area also is in Coos County.
Here are some of the best fishing spots in Coos County:
Beale Lake
This is one of several lakes in the Oregon Dunes National Recreation area north of Coos Bay, between Highway 101 and the beach.
Beale Lake is primarily fished for warm water species such as largemouth bass, yellow perch and other fish.
Bluebill Lake
This is a coastal lake of about 35 acres in the Oregon Dunes National Recreation area just north of Coos Bay is occasionally stocked with good numbers of hatchery rainbow trout.
Bluebill Lake is located off Horsfall Beach Road south of the larger Horsfall Lake. There also is a Bluebill Campground here.
Bradley Lake
This small lake, located just a few miles south of Bandon, is generously stocked with rainbow trout.
At last check, this lake was stocked with large numbers of typical hatchery rainbows plus a few larger trout from late February into April. The stocking trucks were scheduled to return with more modest overall numbers of fish in October, but the plan was for them to be trophies.
Bradley Lake also has good numbers of bullhead catfish and some largemouth bass.
You'll find Bradley at the southern end of the Beach Loop, near Bandon State Natural Area.
Butterfield Lake
This small coastal lake just off Highway 101 between Coos Bay and Tenmile Lakes is on ODFW's trout stocking schedule, which will give you a good idea when trout fishing is best.
Butterfield Lake also contains bass, bluegill, warmouth and possibly other warmwater species for year-round angling.
Take Riley Ranch Lane to the county park and campground adjacent to the Oregon Dunes National Recreation Area.
See: Butterfield Lake Fishing.
Coos Bay and Rivers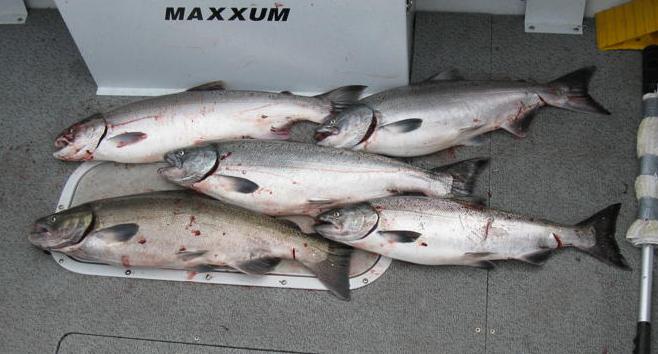 Oregon's largest bay has a tremendous fall Chinook salmon fishery and some good opportunity for coho salmon some years on top of it.
Be sure to check the rules before fishing, as salmon retention and other regulations have a habit of changing with the run forecasts.
The bay also offers a variety of other fishing opportunities, including a very good jetty fishery at the mouth and modest opportunities for sturgeon and striped bass.
Some of Oregon's best crabbing and clamming is found here.
After the rains come, fall Chinook are caught into the lower sections of tributaries, including mainstem Coos and Millicoma rivers and South Fork Coos.
Winter steelhead fishing is better in the forks, with high catches in the South Fork Coos and both the East and West Forks of the Millicoma.
Cutthroat trout are available in season.
There can be a modest shad fishery in the river during the late spring and early summer.
Coquille Bay and River
Historically, this has been is an excellent salmon and steelhead system.
Unfortunately, the now-massive smallmouth bass population has been putting a big dent in fish runs by gobbling up the young fish before they can get to sea. At last check, salmon fishing was shut down. Always look before you fish.
Back in the day at least, and we hope again one day … fall Chinook salmon were caught in the small bay near Bandon and tidewater areas in very good numbers during September and early October, and modestly in the rivers.
Wild coho runs overlap with the Chinook. There have been years when special in-season regulations allowed a modest harvest of wild coho here. It's always best to check the latest regulations before fishing, especially when it's salmon or steelhead fishing.
The bay also has jetty fishing and there are a fair number of striped bass around.
Crabbing and clamming can be quite good.
For winter steelhead, the South Fork Coquille can offer some of the best success rates for hatchery (keeper) fish around, and the North Fork can be quite good as well.
Try cuttroat trout fishing soon after the opener in late May or when the searuns come back with salmon in the late summer and early fall.
Speaking of those smallmouths, there is non-stop action here for bass anglers and really anyone who wants to soak some bait or fling a lure. ODFW encourages anglers to keep all the smallies they can. Heck, they've even allowed use of spears and spear guns on the bass.
Other warmwater fish you might find in part of the lower river and Fat Elk Slough include some largemouth bass, panfish and bullhead catfish. There's no harvest limit on bass on the Coquille system.
Eel Lake
This good-sized lake (350 acres) shared with Douglas County is known for good largemouth bass and crappie fishing.
This is a skinny lake with two long arms, with William M. Tugman State Park located on the south end near the bottom of its U-shape, on the Coos County side of the line.
Eel Lake is just north of the famous Tenmile Lakes.
Nearby Hall Lake, just across Highway 101, is a 14-acre water with largemouth bass fishing.
See: Fishing at Eel Lake.
Empire Lakes
These small lakes located in the city of Coos Bay are most popular for the good numbers of hatchery rainbow trout planted here, especially in the late winter and spring.
There also is a modest warmwater fishery, with largemouth bass, sunfish, yellow perch and bullhead catfish present.
The ponds are easily accessible in the Empire area in the city of Coos Bay.
See: Empire Lakes Fishing.
Horsfall Lake
A 250-acre lake among the dunes just north of Coos Bay, Horsfall has plenty of yellow perch and also contains largemouth bass and bullhead catfish.
Johnson Mill Pond
This 100-acre pond also known as Johnson Log Pond is often stocked with trout in the early season and also offers a very good warmwater fishery with largemouth bass, sunfish, yellow perch and bullhead catfish.
Look for thousands of trout to be planted here in February and March.
The pond is located along the Coquille River off Highway 42 between Coquille and Myrtle Point (closer to Coquille).
It has excellent bank access and a gravel boat launch.
Millicoma Pond
This is a tiny pond set aside for kids only at the Millicoma Interpretive Center located on East Fork Road along the Millicoma River in the Allegany area, east of Coos Bay.
Fishing is best soon after a periodic stocking with hatchery trout.
ODFW recommends calling ahead at 541-267-2557 to make sure the gates are open.
Mingus Park Pond
This small pond within a Coos Bay city park is occasionally stocked with hatchery rainbow trout.
After a planting, fishing will be very good for a short period. Family fishing events are sometimes held here.
You also will find modest numbers of bass and panfish.
Powers Pond
This is a 30-acre pond is regularly planted with hatchery trout.
Powers Pond is located near the South Fork Coquille River in the community of Powers, along Highway 542 south of Myrtle Point. Access is excellent.
The pond also has fair fishing for bass and panfish.
See: Powers Pond Fishing.
Saunders Lake
This is a pretty good-sized dune lake between Coos Bay and Lakeside that borders the west side of Highway 101 and has a county park named after the lake.
Saunders Lake can be generously stocked with hatchery trout from late winter well into spring and may get a good dose of large "pounder" trout in the fall (about October).
Coastal lakes including Saunders also can have pretty good fishing for largemouth bass, yellow perch and other warm water game fish.
See: Saunders Lake Fishing.
Snag Lake
This smallish lake is tucked between dunes just north of Coos Bay, west of Highway 101.
It is primarily fished for warm water fish. You might catch largemouth bass, yellow perch, bullhead catfish and perhaps sunfish.
Sru Lake
This small lake in the Rogue River-Siskiyou National Forest is in the upper drainage of the South Fork Coquille in the southeastern corner of the county, almost due east of Port Orford.
This lake has the potential for very good rainbow trout fishing after ODFW stocks it with hatchery fish.
Sru Lake Campground is here.
It is reached by National Forest roads upstream from Coquille River Falls.
Tenmile Lakes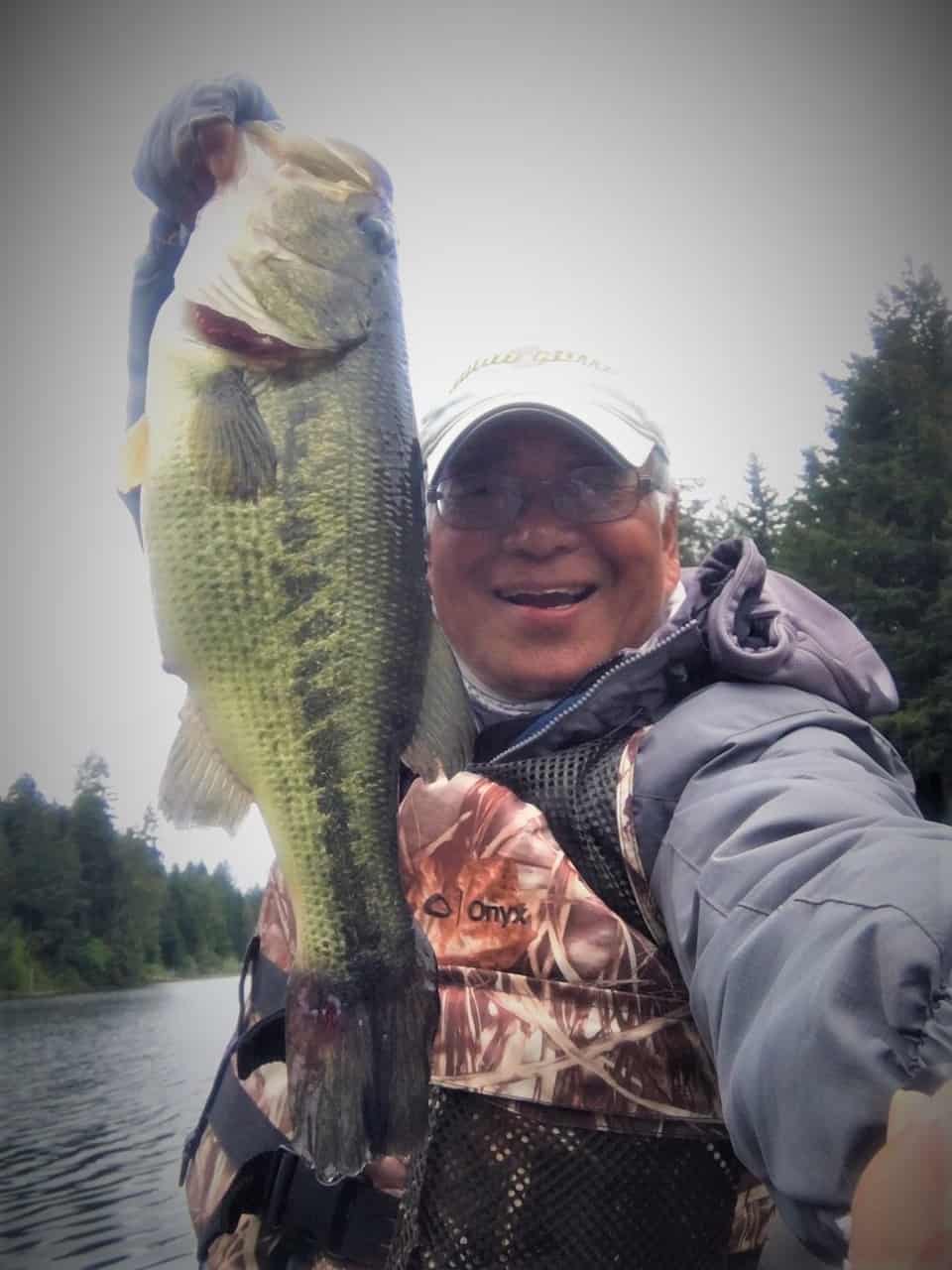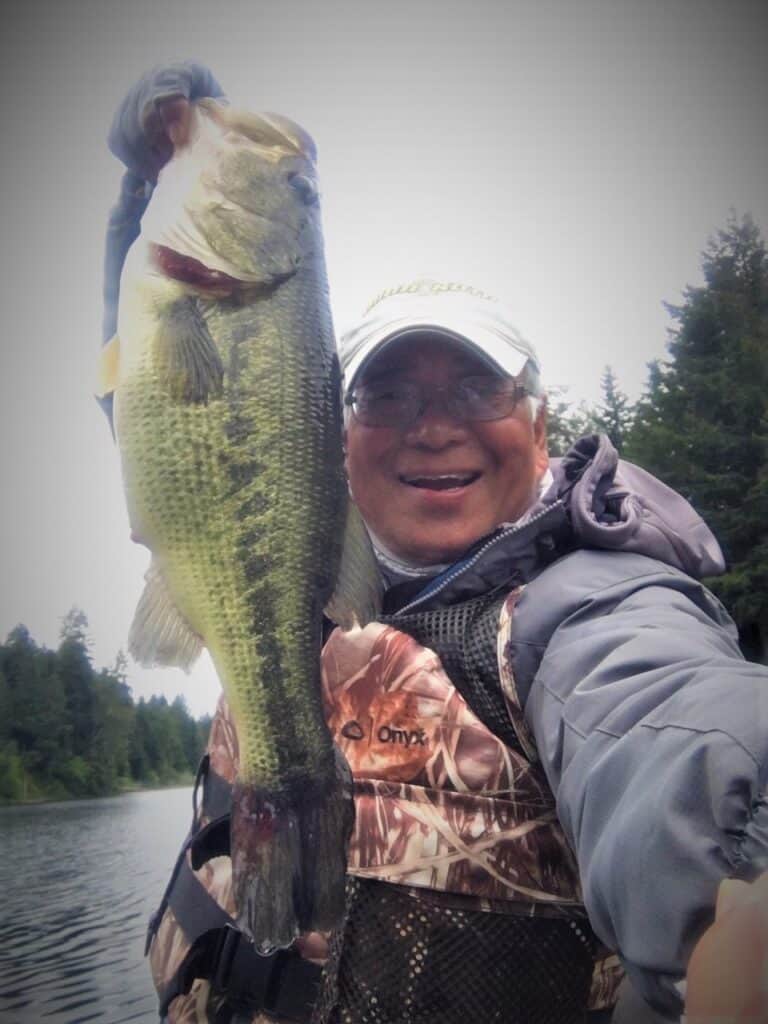 This is one of Oregon's premier fisheries for warmwater species that also has trout and a rare opportunity to keep a wild coho salmon.
Tenmile is the No. 1 largemouth bass fishing destination on the Oregon Coast, if not anywhere in the state.
Tenmile Lakes also are quite good for crappie, sunfish, yellow perch and bullhead catfish.
The coho arrive in late fall and head toward the major tributaries.
Trout include native cutthroat and stocked rainbows, and catches can be surprisingly good for a place known for warmwater species.
These two lakes, connected by a thin channel near Lakeside, total 1,700 acres and harbor tons of great warmwater fish cover in long creek arms, islands, weeds and structures including railroad trestles.
Bank access is limited overall, but there is ADA access available.
Boat access is excellent, with rentals available locally in Lakeside.
See: Fishing at Tenmile Lakes.
Fishing in Neighboring Counties
Douglas County: To the north and east, a variety of great fisheries from coast to Cascades, including the versatile Umpqua River and incomparable Diamond Lake.
Curry County: To the southwest: This South Coast county includes the lower Rogue River and bay's great salmon fishery, along with the Chetco, Elk and Sixes rivers' productive salmon and steelhead runs.
More Fishing Resources:
In addition to other sources, the following websites were very helpful while compiling these county fishing pages, and the information there is valuable to all Oregon anglers.
For current regulations, trout stocking, weekly angling reports and more, find links on the Oregon Department of Fish and Wildlife's Fishing Resources Page.
For boating information about these waters, see the Oregon State Marine Board's launch locator map.
Return to Best Fishing in Oregon page
Oregon Resources
ODFW Weekly Fishing Report
ODFW Trout Stocking Schedule
Oregon Fishing Regulations
National Weather Service