Western Oregon has a somewhat cool but moderate temperature, excellent for growing good numbers of largemouth bass — though not the lunkers in the teens and even twenties boated in more southerly states.
Oregon's record, caught from a farm pond, is a bit over 12 pounds.
Largemouth bass are widespread across western Oregon, found in most low- and mid-elevation lakes and ponds and in the backwaters of the largest rivers.
The Interstate 5 and Highway 101 corridors are loaded with bassy waters that on any given day during the warmer months can be great for bass.
But if you're looking for some of western Oregon's premium largemouth bass sites, day in and day out, the following list is a great place to start.
After you've read about the best places to catch bass in western Oregon, read through our how-to bass fishing guide linked at the bottom of this article.
Columbia and Willamette River Sloughs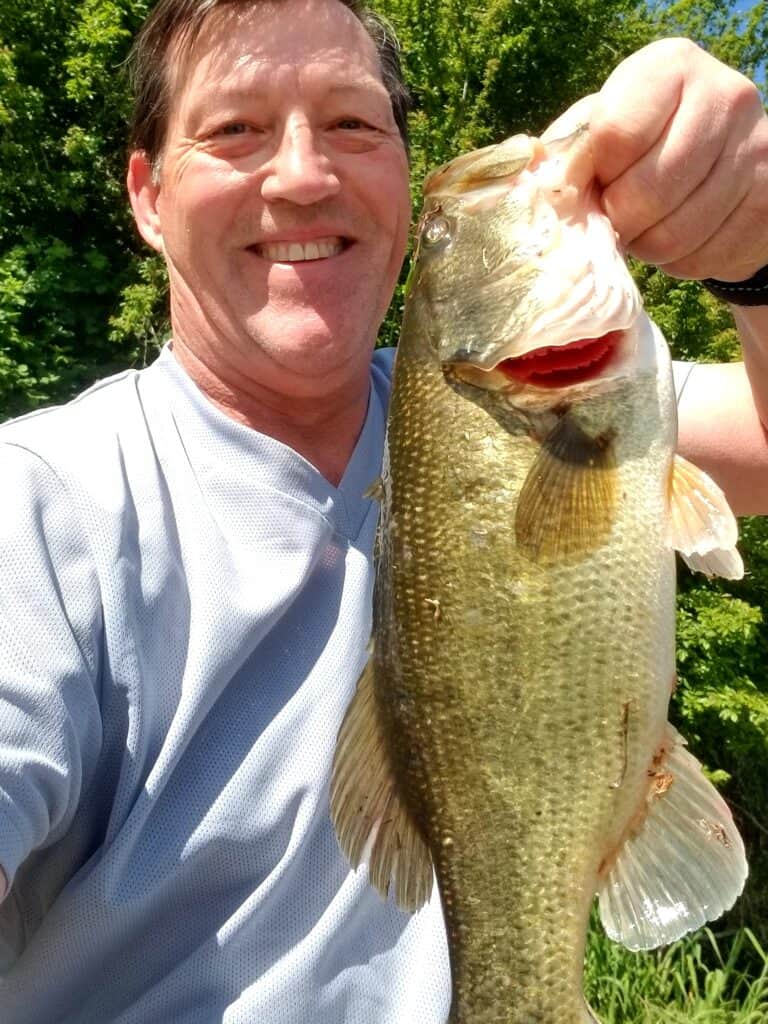 This is cheating, a bit, since this covers a wide territory. Any single slough on these rivers wouldn't be a go-to destination large enough to make this list.
Nevertheless, bassers living around Portland and in the Willamette Valley would do well to explore the backwaters of these big rivers.
While these rivers are both more heavily populated with smallmouth bass, it's a mistake to no longer chase the largemouth bass, said Gary Galovich, an Oregon Department of Fish and Wildlife warmwater fish biologist.
Galovich said the backwater areas of these rivers still have very good largemouth populations.
So dip into the sloughs for largemouth and stay in the main river near rockier structure if you'd rather catch smallmouths.
On the Columbia, there are numerous sloughs for the bass rod-toting explorer.
They are particularly common in the floodplains in the Portland area and downriver, where there is an abundance of the woody and weedy structure and muddy bottom habitat that largemouths dominate.
Some of the larger sloughs in the lower river are Blind Slough near Knappa and Scappoose Bay, at the junction of Multnomah Channel with the Columbia River (just south of St. Helens).
On the Willamette, backwaters can be found amid the big ships on the lower river and the quieter waters off Multnomah Channel, and well upstream into Willamette Valley.
Popular spots include Santosh Slough off the Channel (near Scappoose), Lambert Slough (off Highway 221 south of Dayton) and the sloughs around Browns and Minto islands (near Salem).
Read more about many fishing opportunities in these big rivers at Columbia River Fishing and Willamette River and Multnomah Channel Fishing.
Cottage Grove and Dorena Reservoirs
This is a southern Lane County two-fer, with excellent bass fishing at these nice-sized reservoirs near Cottage Grove (south of Eugene).
Both man-made lakes are popular with largemouth specialists. Bass club members and tournament anglers are frequent visitors.
Cottage Grove Reservoir on the Coast Fork of the Willamette River due south of Cottage Grove, has been the better of the two for largemouth in recent years, which biologist Galovich said may be due to the fact that smallmouth bass populations are building fast and competing with the largemouths over at Dorena.
Dorena Reservoir, located on the Row River due east of Cottage Grove, is the larger reservoir. Both reservoirs also have crappie, sunfish and bullhead catfish, along with stocked rainbow trout.
See: Cottage Grove Reservoir Fishing and Dorena Reservoir Fishing.
Lake Selmac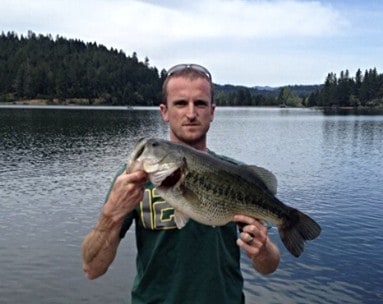 Southern Oregon bass masters will hate to see Selmac on this list.
It's a smaller reservoir, located near the Josephine County community of Selma (southwest of Grants Pass), but for its size it produces really big bass, including three past Oregon state fishing records.
Just keep us from getting into too much trouble and do as most bassers here do: release these big fish quickly after snapping a photo for your Facebook page.
Selmac has lots of woody and weedy structure in shallow water and warms up quickly for good fishing from spring through fall.
The reservoir also has good populations of crappie and other panfish, bullhead catfish and stocked rainbow trout.
See: Lake Selmac Fishing.
Tenmile Lakes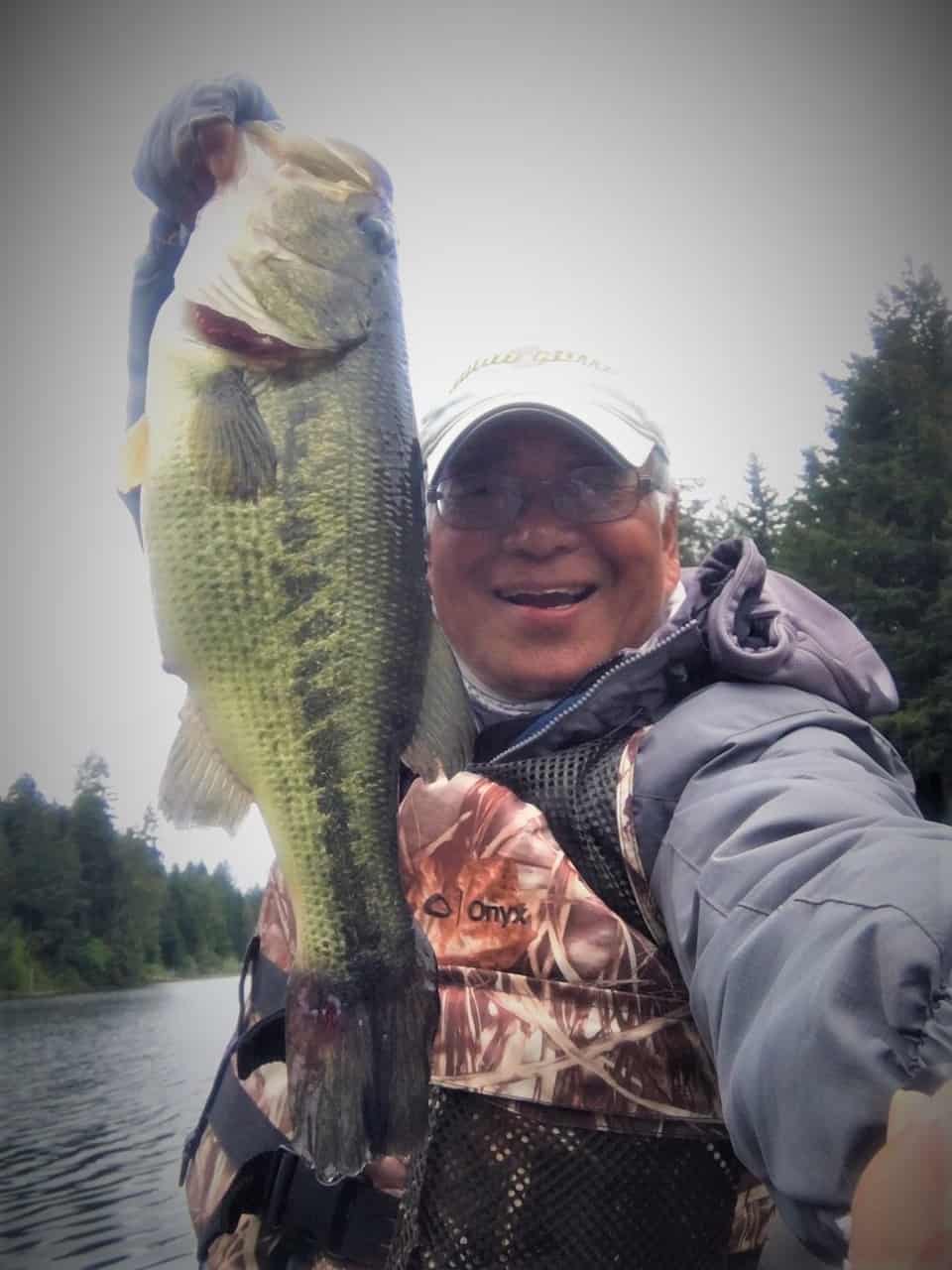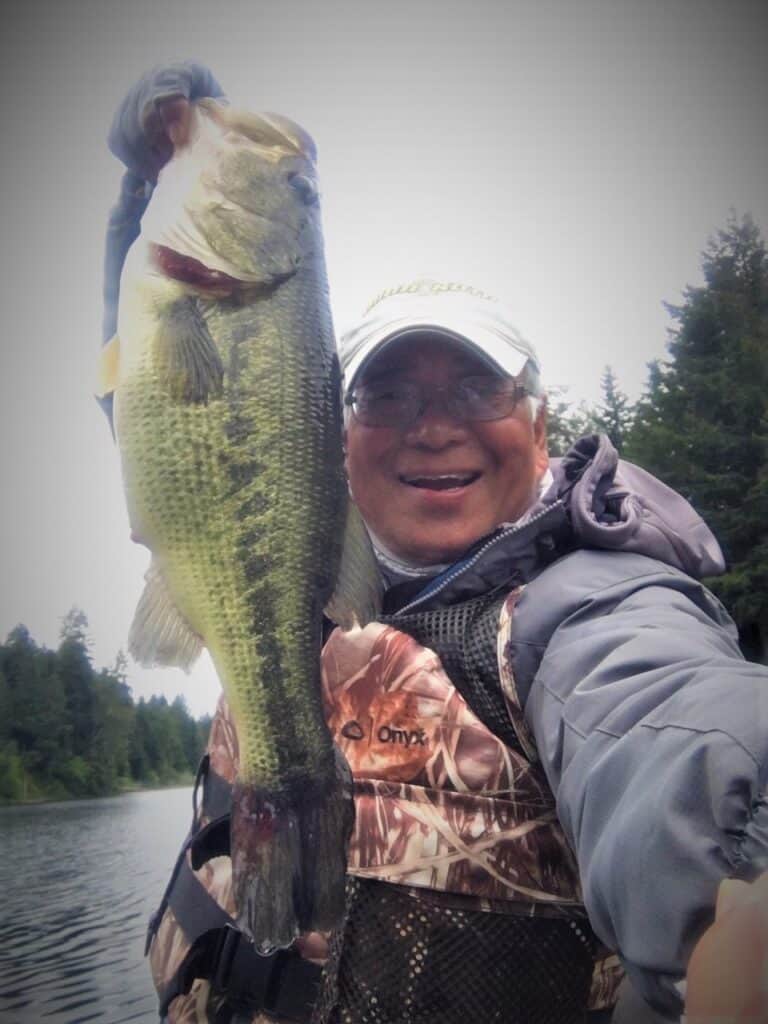 Often considered the premium largemouth bass fishing destination in Oregon, these two lakes, connected by a boatable channel, have a potent combination of high bass numbers and a fairly good number of larger bass.
The lakes, located at Lakeside (between Reedsport and Coos Bay) in Coos County, have somewhat limited bank access but are a boater's paradise.
Both lakes have arms and fingers and coves in every direction, rich with aquatic weeds, docks, railroad trestle and other structures that hold bass.
Tenmile Lakes also are very good for other warmwater species, most notably good-sized yellow perch and some of Oregon's best bullhead catfish fishing.
Also, for such a popular warmwater destination they also have some very good fishing for trout (stocked rainbow and native cutthroat) and a relatively new late-fall fishery for harvestable wild coho salmon.
More Western Oregon Largemough Bass Fisheries: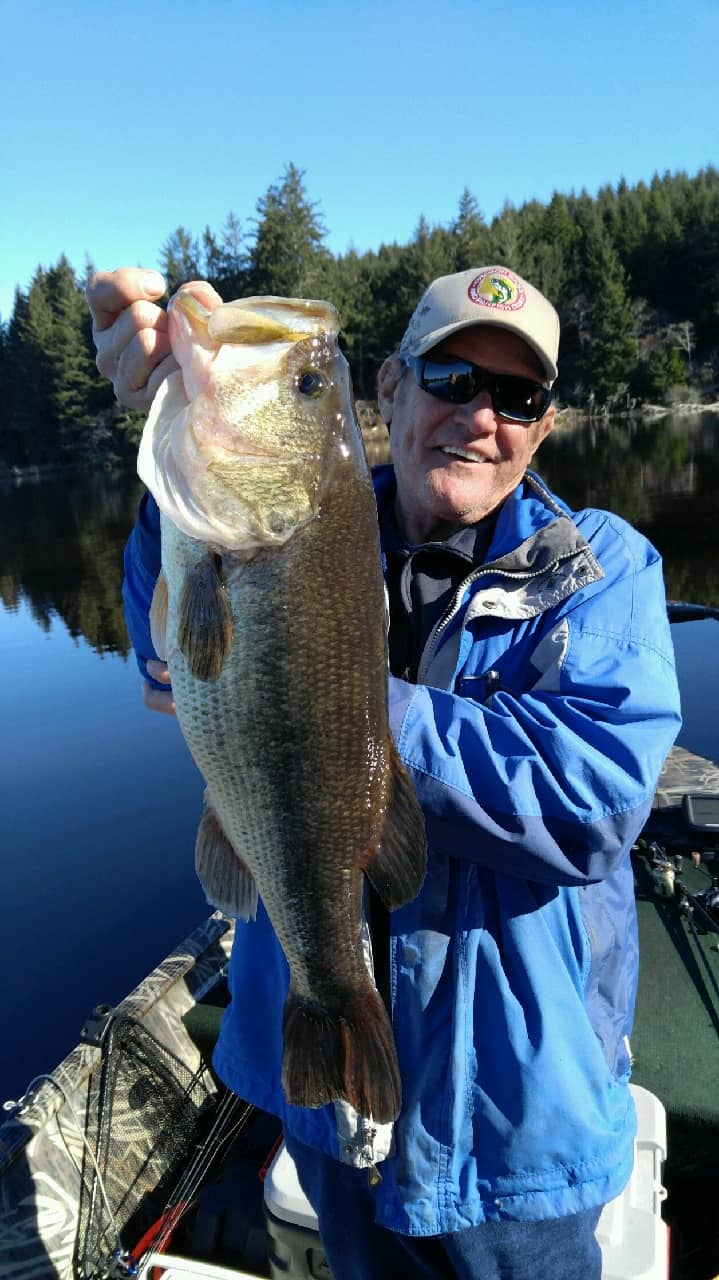 Cullaby Lake
This is the north coast's best bass lake, located between Astoria and Seaside not far off Highway 101. The numbers of fish aren't huge, but there are some really nice ones. The fishing here can suffer from too much weed growth late in the warm season.
See: Cullaby Lake Fishing.
Fern Ridge Reservoir
This massive but shallow reservoir west of Eugene is studded with bassy cover: lily pads, dead trees, creek channels.
It can be a little hard to find the fish, but they can get big here.
(Fern Ridge also is a crappie fishing hotspot.)
See: Fern Ridge Reservoir Fishing.
Galesville Reservoir
A moderate-sized reservoir southeast of Canyonville in southern Oregon, Galesville has a very nice largemouth bass fishery.
See: Fishing at Galesville Reservoir.
Henry Hagg Lake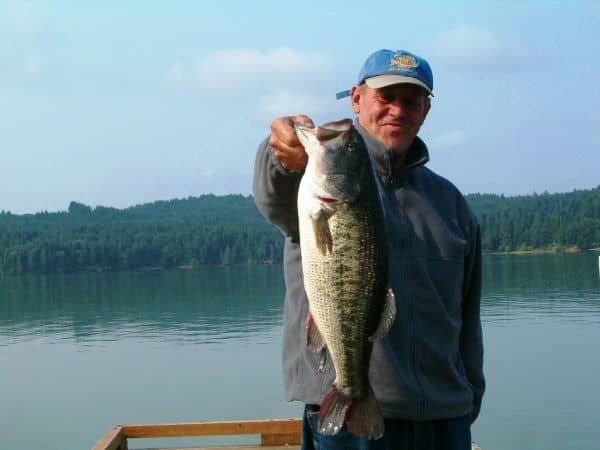 This reservoir near Gaston and Forest Grove is better known for its record-breaking smallmouth bass and bullhead catfish, plus plentiful stocked rainbow trout, but Hagg's weedy shallow coves harbor some very big largemouth bass.
Lake Lytle
This is a small coastal lake just off Highway 101 near Rockaway Beach, on the northern coast between Tillamook and Nehalem bays.
Lots of smaller coastal lakes have good largemouth bass fishing. This one tends to be a notch better than most, Galovich said.
However, being small and well-fished, Lytle is at risk of getting fished out for bass, so there's a daily limit of one. I'd personally release them all.
See: Lake Lytle Fishing.
Loon Lake
This pretty spot is located just south of the lower Umpqua River. You won't find quite the numbers of fish here as you will at the larger Tenmile Lakes to the south, but there's some fine fishing for quality largemouth bass. It also can suffer from weed growth.
See: Loon Lake Fishing.
Siltcoos Lake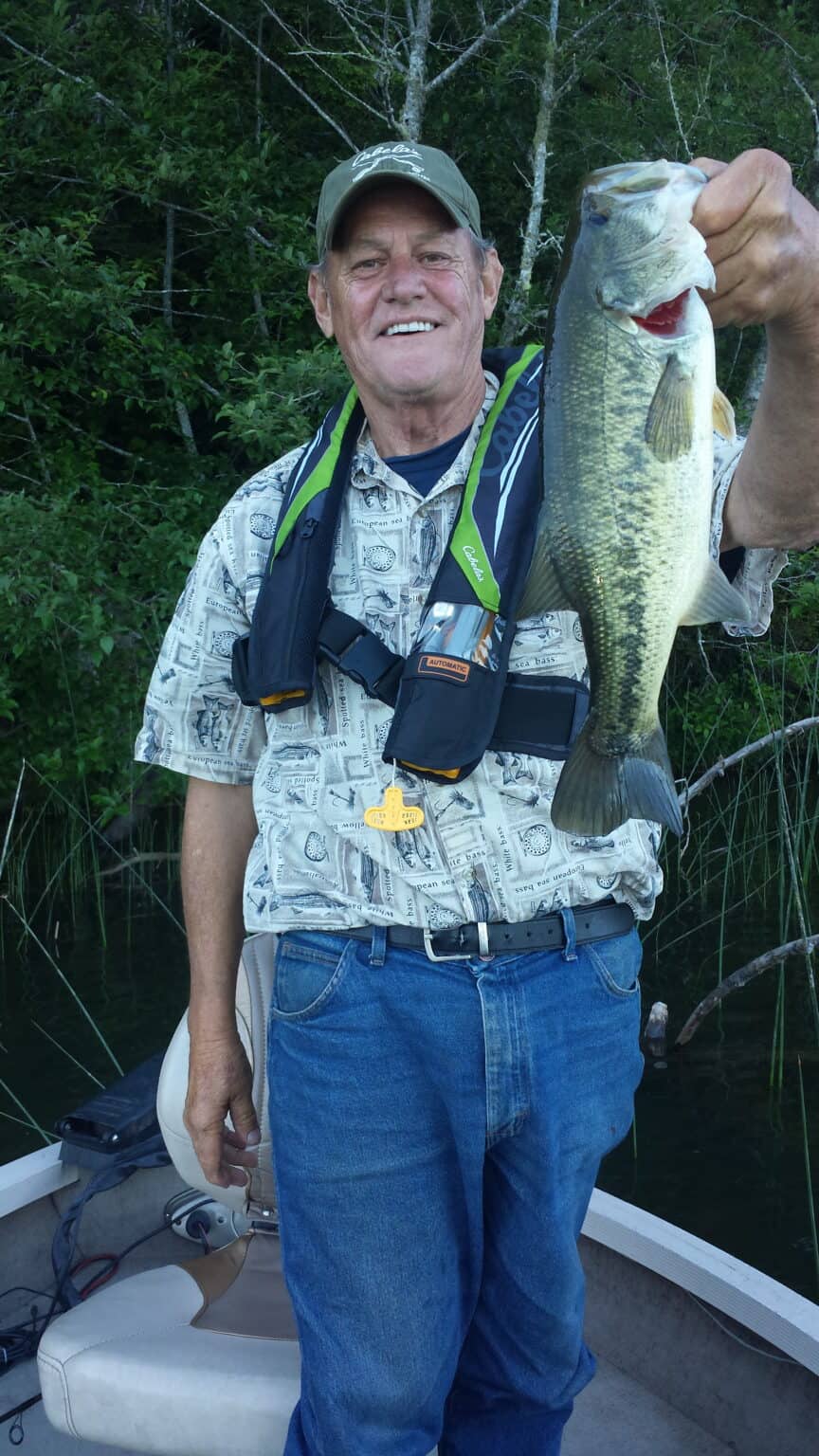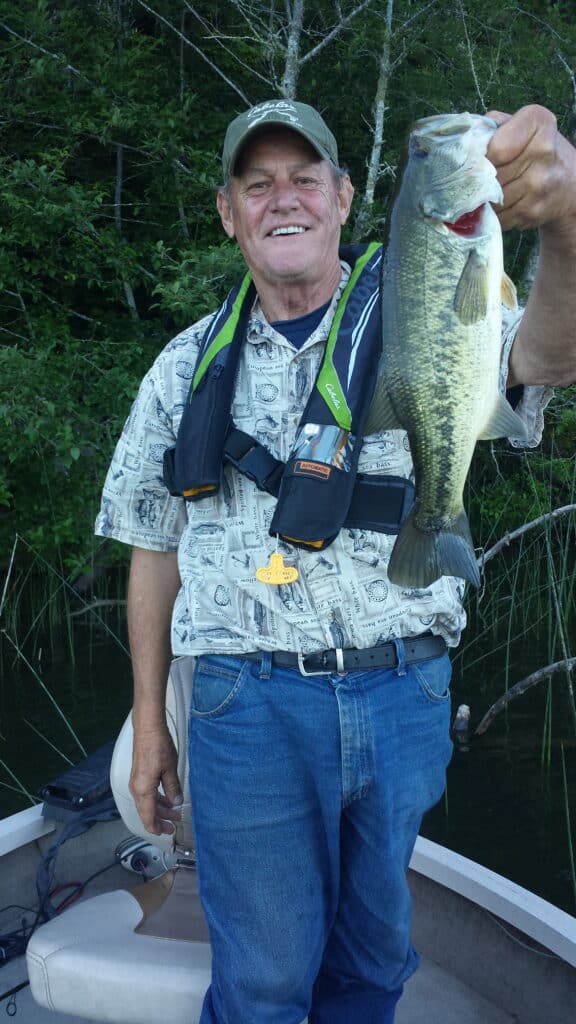 This sprawling coastal lake between Florence and Reedsport in coastal dune country sometimes belongs in the top tier of western Oregon's bass waters.
It still has some very good-sized bass and pretty good numbers to boot.
Siltcoos and Tahkenitch Lake (listed below) both have healthy lake-based coho salmon fisheries in the late fall and good numbers of wild cutthroat trout.
Siltcoos and its lagoon also receive some stocked rainbows each spring.
See: Siltcoos Lake Fishing.
Tahkenitch Lake
These days it can be a bit better than neighboring and larger Siltcoos Lake, but still not as good as Tenmile Lakes farther south.
The lake also features crappie, yellow perch and bullhead catfish, besides trout and coho salmon.
See: Tahkenitch Lake Fishing.
Learn to Catch More Bass
Now you're almost ready to hit the water. But first, here is our easy-to-follow guide: Bass Fishing: Simple How-To Techniques and Tips.
Return to Oregon Bass and Warmwater Fishing page
Oregon Resources
ODFW Weekly Fishing Report
ODFW Trout Stocking Schedule
Oregon Fishing Regulations
National Weather Service