Josephine County includes the central drainage of the Rogue River and the Grants Pass section of the Interstate 5 corridor.
This article briefly describes rivers, lakes and reservoirs that you might want to consider getting to know because they can offer very good angling in season.
In addition, check out the links within and at the bottom of this article to reach additional resources on this website and elsewhere.
Included below are links to three bordering counties with excellent fishing options.
The regulations for the waters listed in this article fall under the Oregon Department of Fish and Wildlife's Southwest Zone.
Besides the cities of Grants Pass and Cave Junction, unincorporated communities in Josephine County include Galice, Holland, Kerby, Merlin, Murphy, Redwood, Selma, Wilderville and Wolf Creek.
The county also is home to the Oregon Caves National Monument.
Listed alphabetically, here are some of the best fishing spots in Josephine County:
Applegate River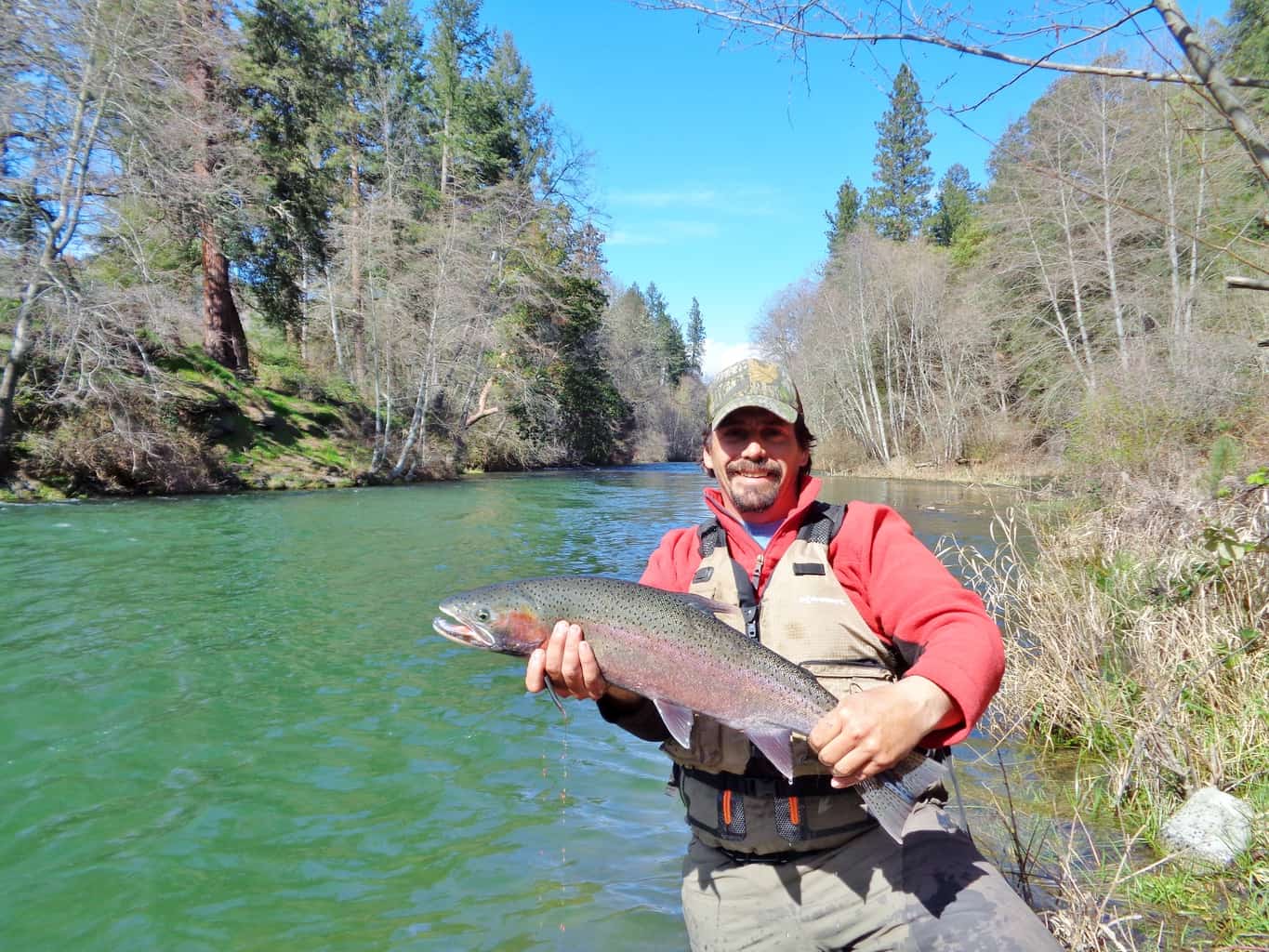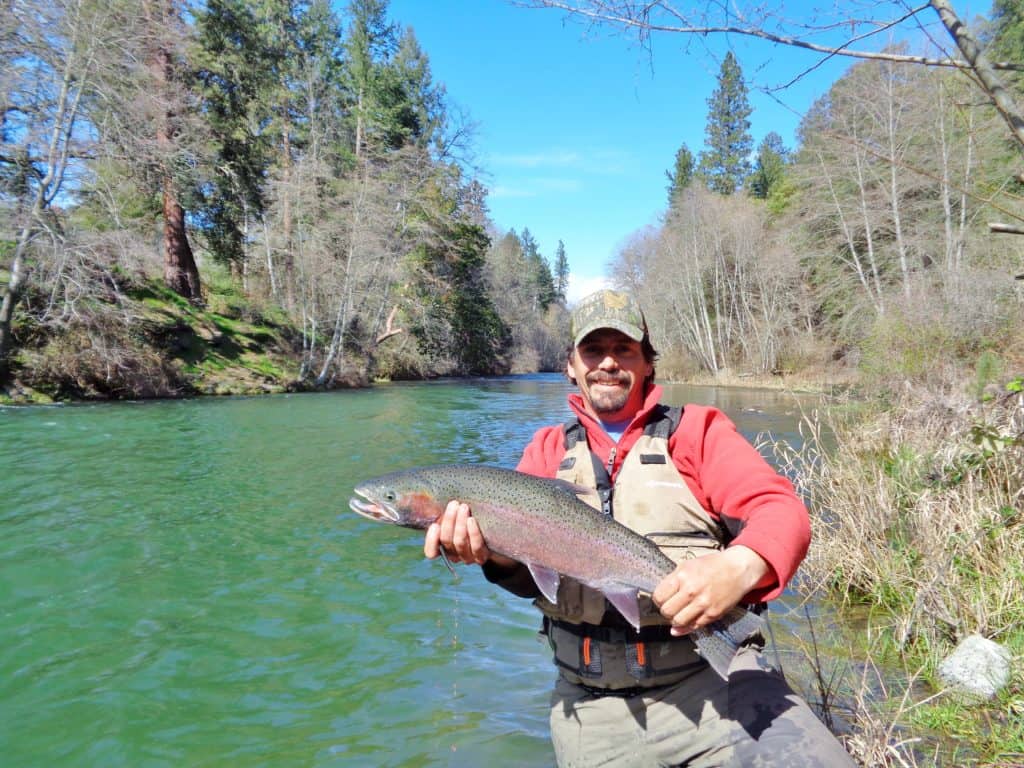 The lower sections of the Applegate River near Grants Pass in Josephine County are popularly fished for steelhead during the winter season, which starts ramping up in January and runs through March 31.
The latter part of that period is usually the best.
There are both hatchery-bred and wild steelhead, and you can only keep them if they have a clipped fin.
Same is true for trout you catch in the lower river, which is a major Rogue River tributary.
The upper Applegate River flows through Jackson County.
See: Applegate River Fishing.
Burma and Dutch Herman Ponds
Two small waters located about a mile from one another and about 20 minutes east of the community of Wolf Creek (along I-5), but you might need four-wheel drive on BLM roads to get there. (Map your route.)
Both small lakes are stocked with rainbow trout during the spring and have populations of largemouth bass and bluegill.
Burma also is known as Secesh Reservoir.
Illinois River
There is some good trout and steelhead fishing in this lower Rogue River tributary, which also flows through part of Curry County.
Much of the fishing here is catch-and-release, but ODFW allows modest harvest of wild steelhead from one section of river. Definitely review fishing regulations for the Illinois before wetting a line.
Steelhead are most often tagged (harvested) in late winter.
Lake Selmac
This 160-acre lake is touted for its big largemouth bass and other warmwater fish, as well as good numbers of stocked rainbow trout.
Bass fishing can get going early here, and trophy-sized fish are caught with some regularity, including past state records.
Trout stocking also starts in the late winter, and fresh batches of rainbows are added periodically through spring. There may be some large trout stocked in the fall as well.
Anglers also catch crappie, bluegill and bullhead catfish.
There are excellent facilities for fishing boats (a speed limit discourages other types of boating) and camping, with other amenities at a county park and private resort.
Selmac is located a couple miles east of Selma, a community along the Redwood Highway (199) between Grants Pass and Cave Junction.
This is on our list of best fishing lakes in southwestern Oregon.
Learn more: Lake Selmac Fishing.
Reinhart Volunteer Park Pond
Just 3 acres, this Grants Pass city park pond is stocked with rainbow trout several times from late winter into spring.
Reinhart Pond also has good numbers of easy to catch sunfish and some bass and bullhead catfish.
See: Fishing at Reinhart Park Pond.
Rogue River
The middle section of the Rogue River passes through Josephine County, carrying with it excellent runs of salmon and steelhead.
Spring Chinook salmon fishing is usually worthwhile by later May into early summer, while fall Chinook salmon runs are likely to get going in August and peak in September.
Between winter runs and summer runs, steelhead are available all year, but peak catches tend to be in mid-fall and late winter.
There are good trout fishing options.
The Rogue is one of the best fishing rivers in southwestern Oregon.
Read our overview of Rogue River fishing opportunities.
Spalding Pond
This old mill pond is small at 4 acres and definitely off the beaten path, but it's a pretty spot with pretty good seasonal trout fishing and, once you reach it, excellent bank access (including several ADA fishing platforms) and some nice camping.
Spalding Mill Pond (sometimes spelled Spaulding Pond) is generally stocked with rainbow trout a couple times in the spring.
ODFW also reports brook trout in the pond, which is in the Rogue River – Siskiyou National Forest about an hour and 10 minutes southwest of Grants Pass.
You'll take the Redwood Highway (199) and then several forest roads to reach it. You should map the route carefully.
Fishing in Neighboring Counties
Douglas County: To the north, a variety of great fisheries from coast to Cascades, including the versatile Umpqua River and incomparable Diamond Lake.
Jackson County: To the east, includes the upper Rogue River with productive salmon, steelhead and trout fishing, plus excellent reservoirs and lakes for trout and bass fishing.
Curry County: To the west, includes lots of top-notch salmon and steelhead fishing in the lower Rogue River and bay, plus the Chetco, Elk and Sixes rivers.
Oregon Resources
ODFW Weekly Fishing Report
ODFW Trout Stocking Schedule
Oregon Fishing Regulations
National Weather Service
For boating information about these waters, see the Oregon State Marine Board's launch locator map.