Southern Oregon's Rogue River is a renowned for having some of the West Coast's most reliable salmon and steelhead fishing.
The Rogue also has a variety of trout-fishing opportunities, from easy summer angling for hatchery rainbows in the Cascades to challenging fly fishing for wild trout and steelhead, to the unique run of "half-pounders" in the lower river.
The Rogue River has been lauded for maintaining very good runs of salmon and steelhead while other rivers have gone through some steeper bust cycles.
Some people credit a years-long effort to remove dams, which has opened up more access to fish to reach additional spawning and rearing habitat.
Also, the Rogue is blessed with a more consistent supply of cold water from its headwaters high in Oregon's southern Cascade Mountains and stored for measured release from Lost Creek Lake, a large reservoir northeast of Grants Pass and Medford.
Well below that, the river runs through a long Wild and Scenic stretch through the Rogue River-Siskiyou National Forest across its middle section before it reaches the Pacific Ocean on Oregon's rugged south coast, making access more challenging in some places and reducing human impacts.
What all that means is some great fishing. This article is intended as an overview of the Rogue's major fishing opportunities.
Be sure to use the Oregon Department of Fish and Wildlife links a the end of this article, especially when it comes to multiple regulations applying to different sections of this long river.
Salmon Fishing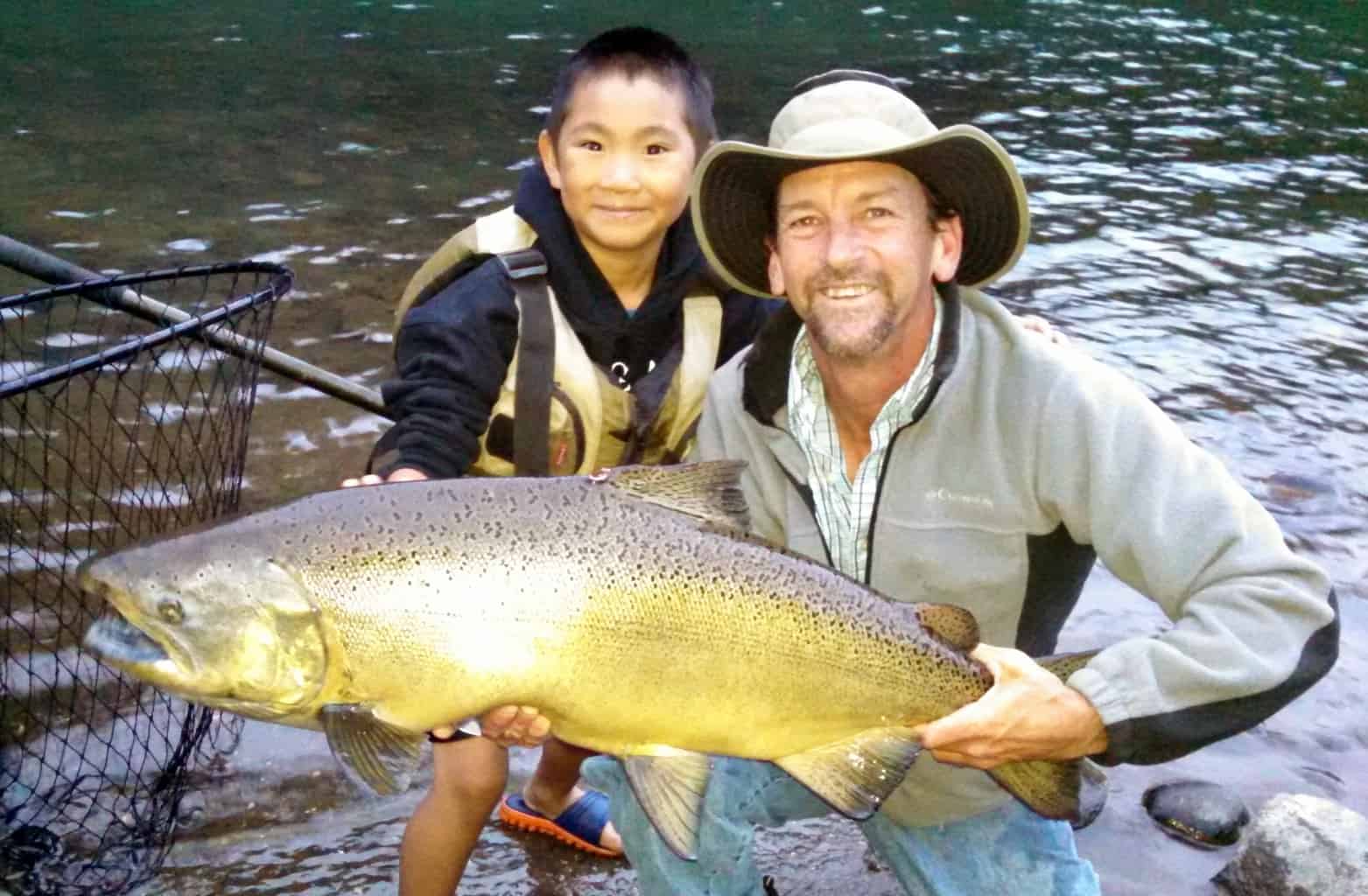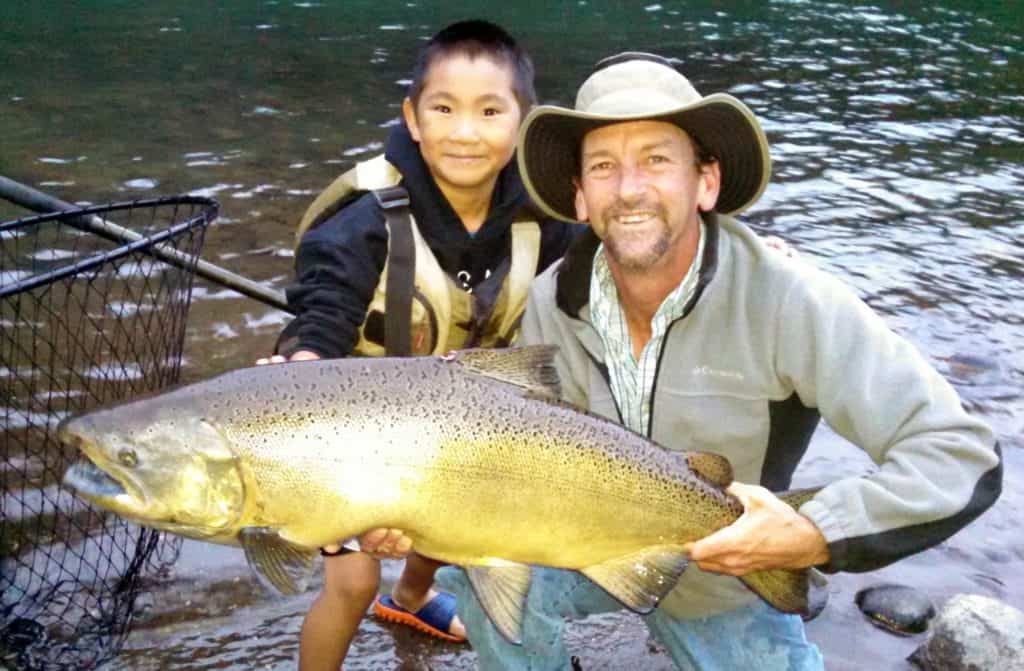 Rogue River salmon fishing gets rolling in the spring, when spring Chinook salmon enter the river.
The lower river and bay typically see enough of these hard-fighting, great-eating salmon to start fishing seriously in March, and catches should be best in April and May, maybe into June.
Where to Catch Spring Chinook
There are ample bank and boat fishing opportunities on the lower river, including at Foster Bar, around Agness and other spots.
Springers really shine on the upper river, in the Shady Cove area up to the fishing deadline below Lost Creek Dam. Here the best catches typically happen in May, with June and possibly early July still pretty good.
Local fishing guide Charlie Brown of Fishing the Rogue said good bank fishing access for springer fishing in the most productive area includes McGregor Park on Takelma Drive, Casey State Recreation Site on Highway 62, and the Cole M. Rivers Hatchery below the dam.
This section of river is more technical for boaters than downstream, so Brown doesn't recommend it for novices or those unfamiliar with this area.
Where to Catch Fall Chinook
Fall Chinook salmon are more widespread across Oregon's coastal systems, so the Rogue doesn't stand out quite as much when so many of the bays and rivers are kicking out giant kings.
But the Rogue has one of Oregon's most reliably good fisheries in the fall as well and is more than worth the trip.
For this run, the lower sections produce the highest quantities of salmon most years.
The bay and river up to Elephant Rock get rolling early, almost on the heels of the spring run. Expect best catches here in August and September, with the Chinook often lingering in the cooler bay until the river cools enough for them to migrate upstream.
Upriver, the middle section of river in the greater Grants Pass area (Graves Creek to around Gold Hill) as well as the upper areas get bright fish starting in August and often sees the highest catches in September.
A couple of bank fishing spots to try here are on Gold Ray Road near Highway 99 in Central Point and the Matson Park-Findley Bend area in Grants Pass.
This section of river is easier to drift than those above and below it.
Guide Charlie Brown said a couple of good options are putting in at Valley of the Rogue State Park in Gold Hill and taking out at Coyote Evans Wayside in Grants Pass.
Or you can drift from Griffin Park to Robertson Bridge in the Grants Pass area.
How to Catch Salmon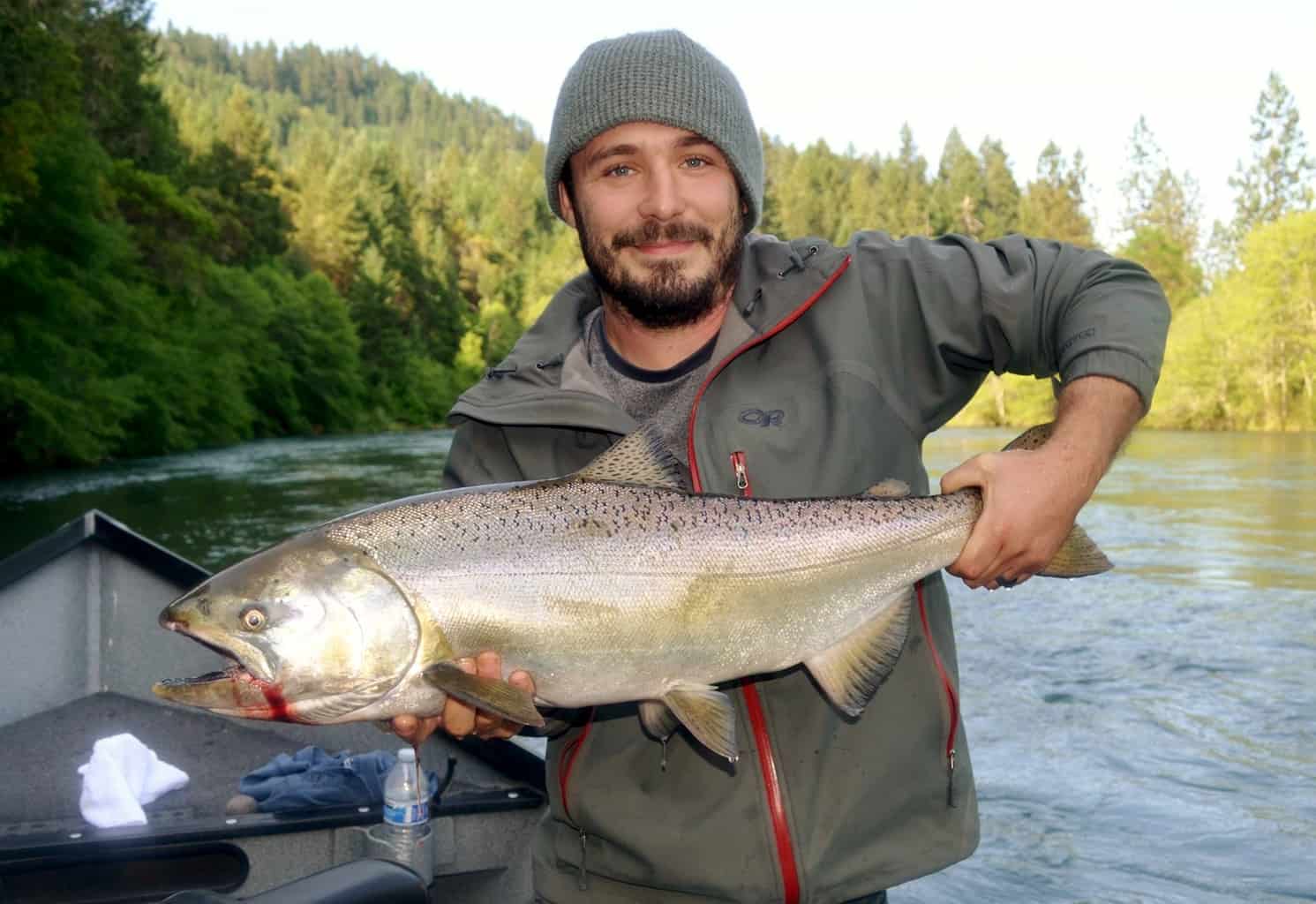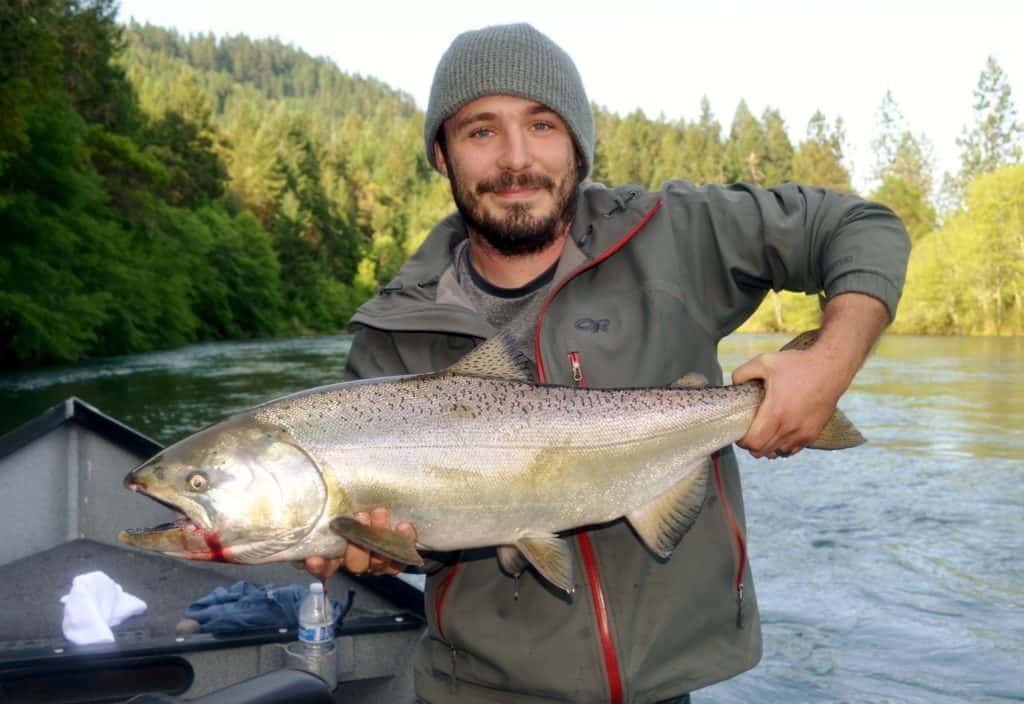 Drift fishing is a common way to catch spring or fall Chinook from the bank. Brown said a key is using just enough weight so that your weight lightly taps the bottom as it swings downstream.
A 34-36 inch leader with a Size 2/0 octopus hook with pink yarn and/or roe is effective for drift fishing.
Side planers or planer boards also work well, but only if you have plenty of space around you on the bank.
From a boat, Brown's clients often catch fish back-bouncing roe or running sardine-wrapped plugs.
Find more information about Rogue River and regional Chinook salmon fishing in Oregon Coast Spring Chinook Fishing and Fall Chinook Fishing in Southwest Oregon.
Coho Salmon Fishing
Coho salmon aren't the main attraction on the Rogue, but there are some available to catch in the fall. They arrive in fishable numbers in September, and often the best catches are in October.
The lower river and bay usually notch the best catches of these silver salmon, but coho can be caught throughout the river below Lost Creek Dam. They are often caught by anglers chasing larger runs of Chinook and steelhead.
Pick up some more tips to catching Chinook and coho in our overview of salmon fishing techniques and tips.
Steelhead Fishing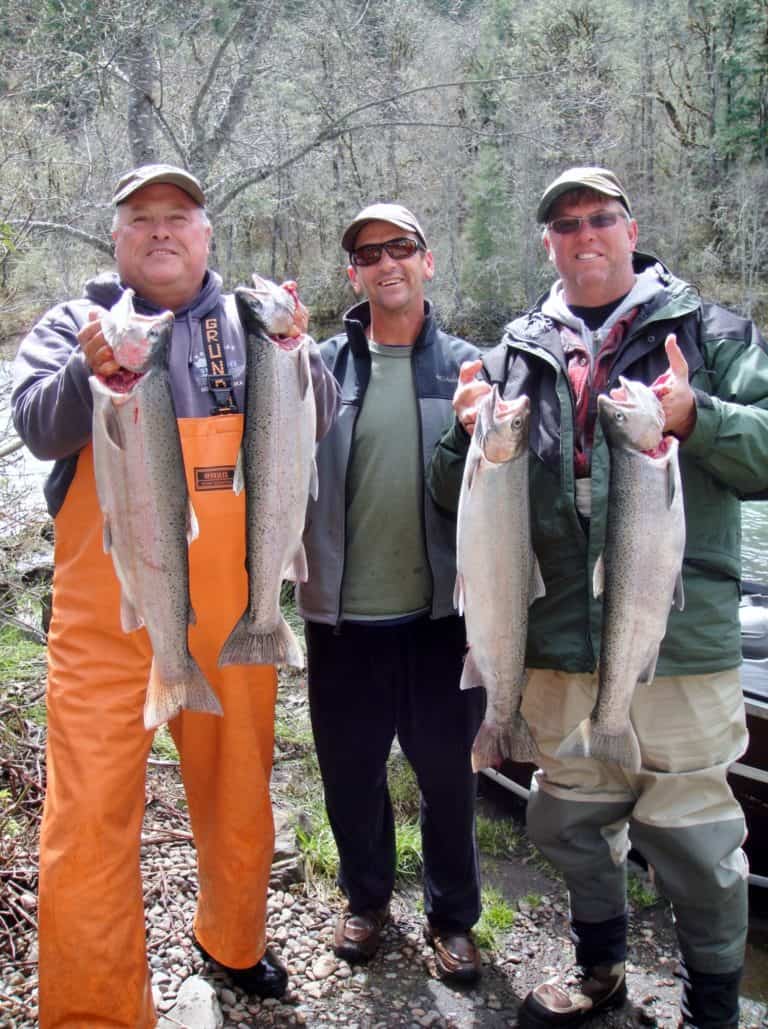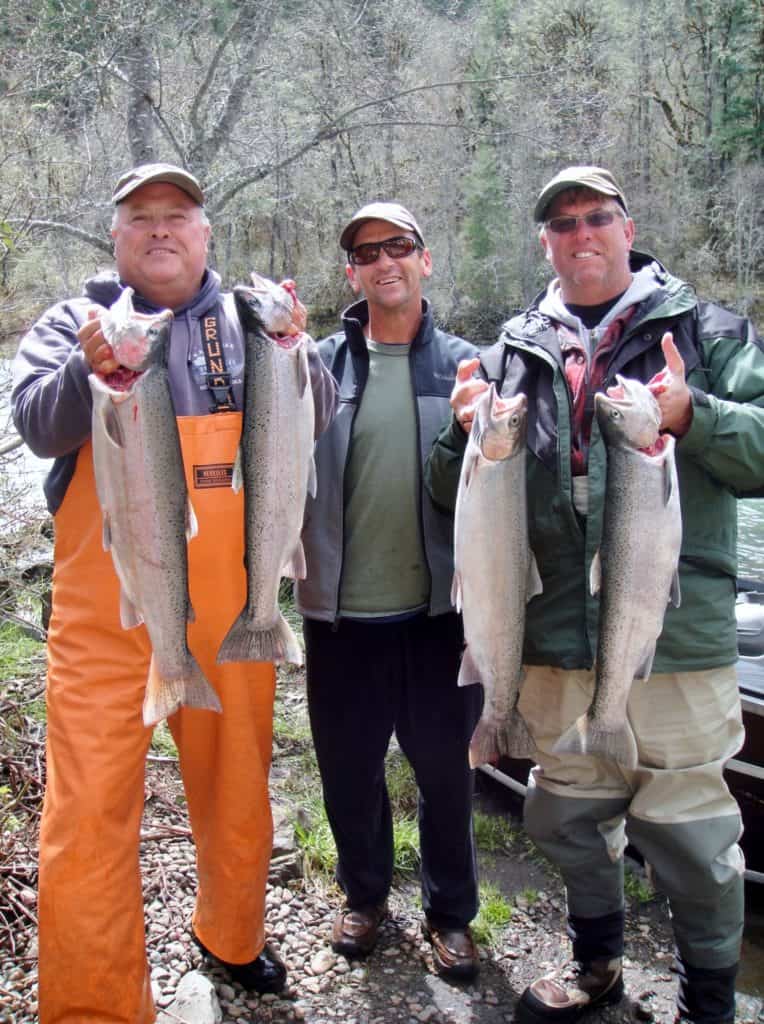 Like Chinook salmon, adult steelhead (sea-run rainbow trout) return to the Rogue in two major runs.
Where to Catch Summer Steelhead
The river's summer steelhead run is excellent, particularly in the upper reaches closer to Lost Creek Dam.
The first of these fish start entering the river in late spring and fishing continues through summer and into fall.
Fishing in the bay section is poor, as steelhead are infrequently caught in tidally influenced areas, so stick to free-flowing water for steelhead.
The lower and middle sections of river can be fair to good at times above tidewater up to the Grants Pass area along Interstate 5.
Many steelhead pass through this long section of river rather quickly and much of the long section through the wilderness area is mostly accessible by long floats and therefore more lightly fished.
Farther upstream, the steelhead slow their migration and hold up in greater numbers.
The section of river from the former Gold Ray Dam site up to the deadline below Lost Creek Dam reliably produces summer steelhead catches all summer and fall, and even into December or January.
The summer steelhead fishing on the upper river is usually as hot as the weather in the summer, with August having very good steelhead numbers plus the added attraction of newly arriving (and often jumbo-sized) fall Chinook to catch.
Fly Fishing for Steelhead
Fly anglers love it on the upper river in the months of September and October, when the river above Fishers Ferry boat ramp in Gold Hill to the deadline below Lost Creek Dam is restricted to fly fishing only and fishing pressure falls way off.
Bait and Lure Fishing for Steelhead
Traditional bait and hardware anglers getting back on this productive upper river section in early November typically find good numbers of aggressive steelhead, plus the river tends to be lightly fished this late in the year, guide Charlie Brown said.
For steelhead fishing, he often uses an adjustable slip float (bobber) above bait (roe), a jig or a pink worm.
Brown suggests using smaller presentations in clearer water and bigger offerings in murkier water. Fish those by drifting the bobber along a river current seam and adjusting the depth with the bobber stop to get your lure or bait close to the bottom.
Casting spoons and spinners is also very effective for steelhead and is a good technique to use for coho salmon as well.
From his boat, Brown's clients typically will catch fish by back-trolling plugs or side-drifting bait or yarn.
Bank Fishing Spots for Summer Steelhead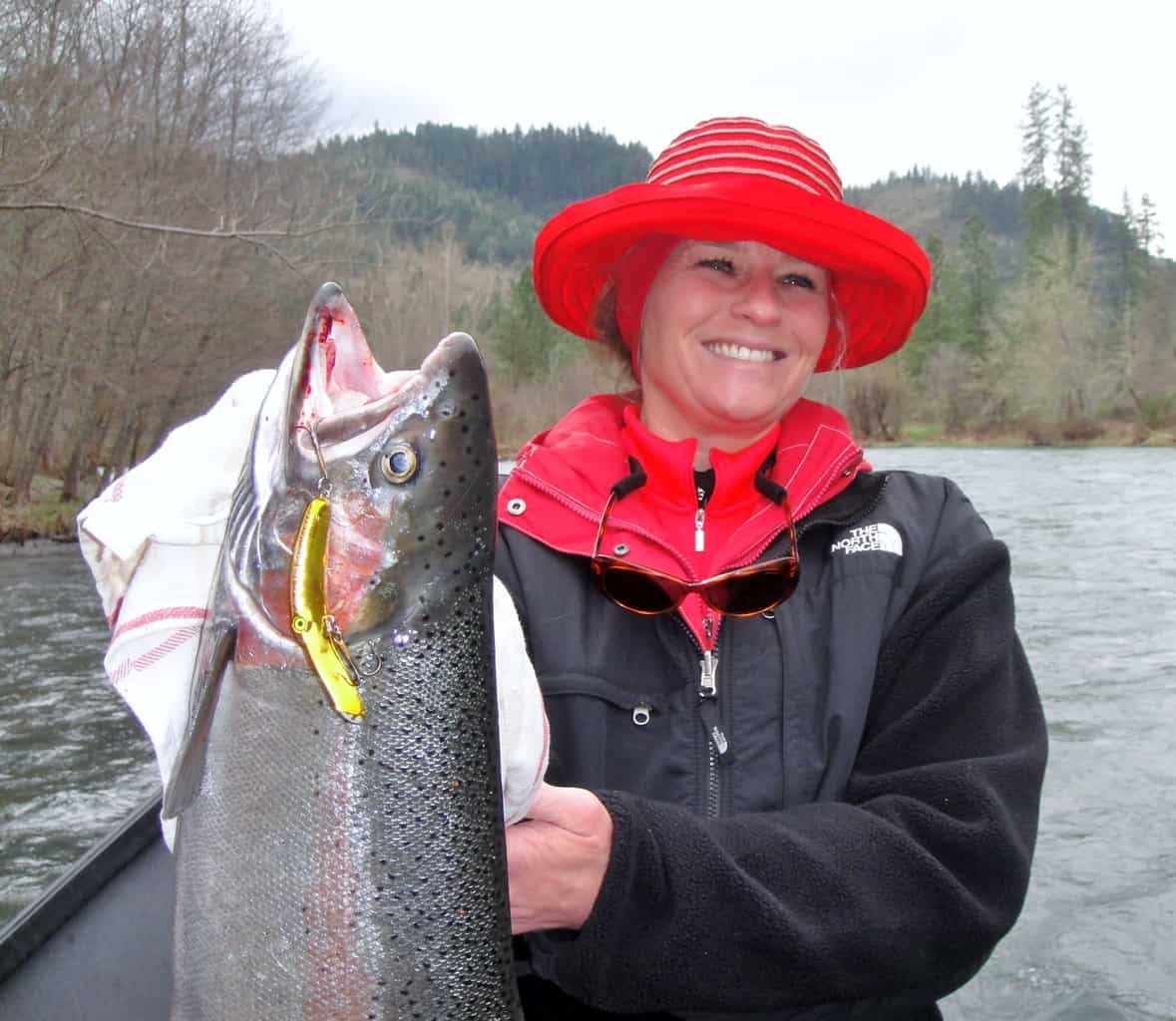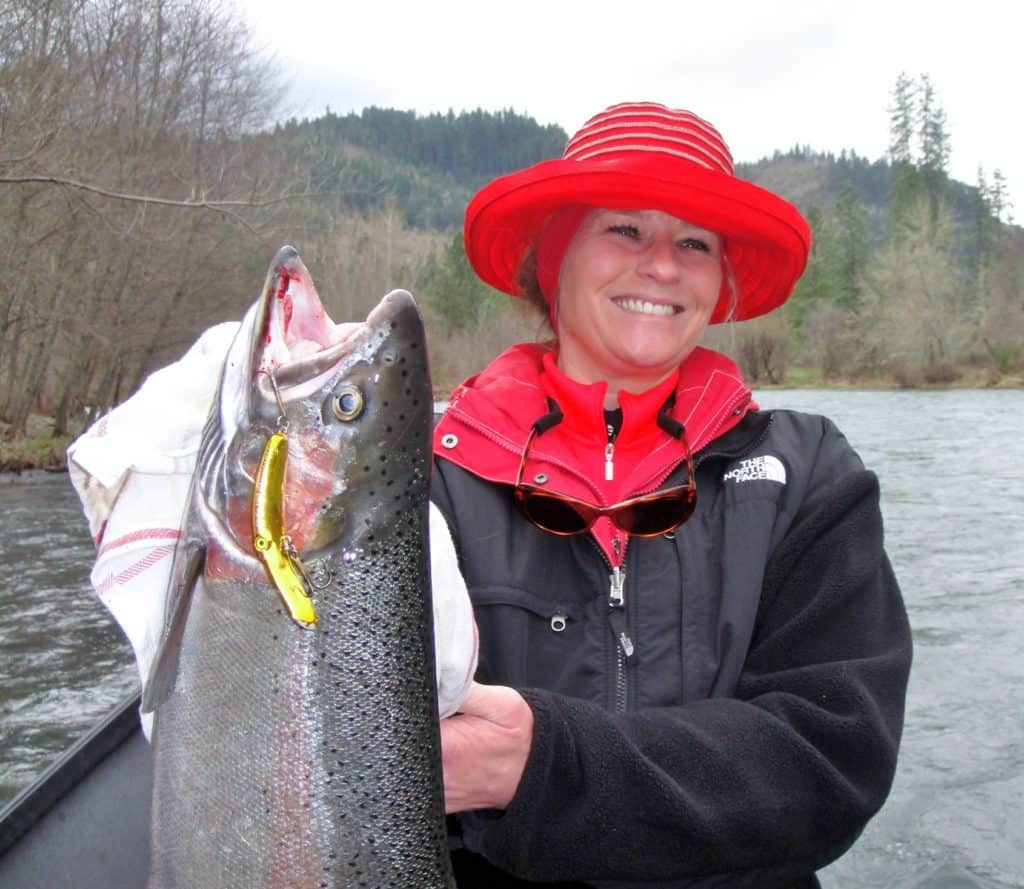 Brown suggests the following as some good options for bank anglers: Casey State Recreation Site and Rogue Elk Park, both on Highway 62 and numerous access spots along Modoc and Agate roads in the Eagle Point area.
Probably the best of the latter spots is on Modoc Road across the street from the Upper Table Rock Trailhead. Another very good access point is Denman Wildlife Area, where you can walk in to fish or obtain a parking permit.
Check out the Salmon Fishing section in this article for information about drift boat angling access.
Where to Catch Winter Steelhead
The very first winter steelhead start entering the Rogue River around the holidays, but typically January and February are the best months on the lower river.
Unlike summer fish, the largest numbers of winter-run steelhead are caught on the lower river, particularly in the free-flowing sections from Graves Creek downstream to the head of tide.
Much of the catch in the lower river is accounted for by bank and drift anglers working good runs in the stretch that is accessible by driving upriver from Gold Beach.
Some good spots for steelhead around here are Huntley Bar and Park and the Lobster Creek Boat Ramp.
A Rogue River fishing map and guide in the "Fishing in Oregon" guidebook provides more detailed access information for both this lowest section and popular areas farther upriver.
Winter steelhead are indeed caught in the upper river as well, with February a likely peak of the season around Grants Pass and March and April better in the upper reaches.
We have a simple guide to steelhead fishing for anyone who wants to explore this type of angling a bit more.
Half-Pounders
We also would be remiss not mentioning the Rogue's unique half-pounder run.
Half-pounders are immature summer steelhead that only spend a few months in saltwater and then return to the river in the late summer, sometimes in very good numbers. They will keep biting well into fall.
Half-pounders are primarily caught in the lower river sections, typically below Agness.
These fish are often 12- to 14-inches and can be aggressive and caught using trout gear and techniques, including traditional hardware and fly fishing.
Often where you catch one half-pounder there will be more. They are regulated under trout rules as well. See the regulations link below for specifics.
A great resource for half-pounder run info (also useful for other salmon and steelhead runs) is the fish-counting data collected from a seine operation at Huntley Park on the lower river. Access information from this ODFW page.
We have more information about Rogue River and nearby steelhead fishing in Best Summer Steelhead Rivers on the Oregon Coast and Winter Steelhead Fishing on the South Coast.
Trout Fishing
For trout anglers looking for dinner, the sections of the Rogue River in the mountains above Lost Creek Lake are the best bet.
Upper Rogue River Fishing for Stocked Trout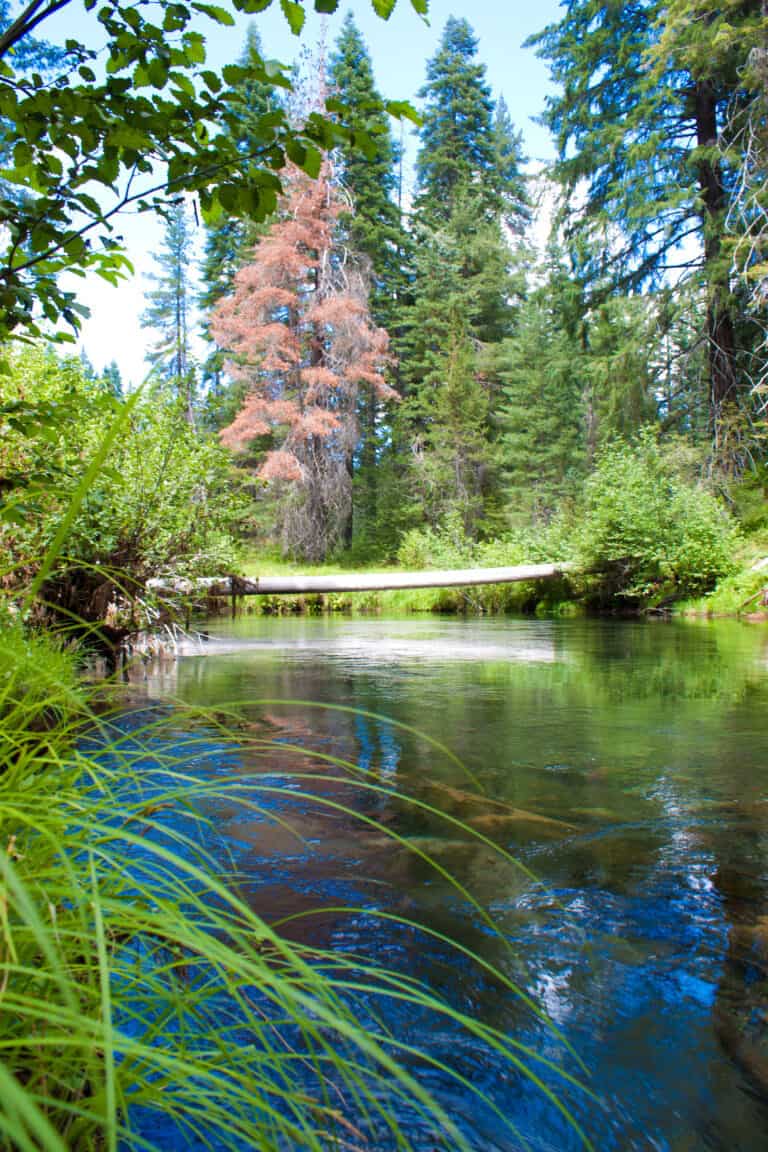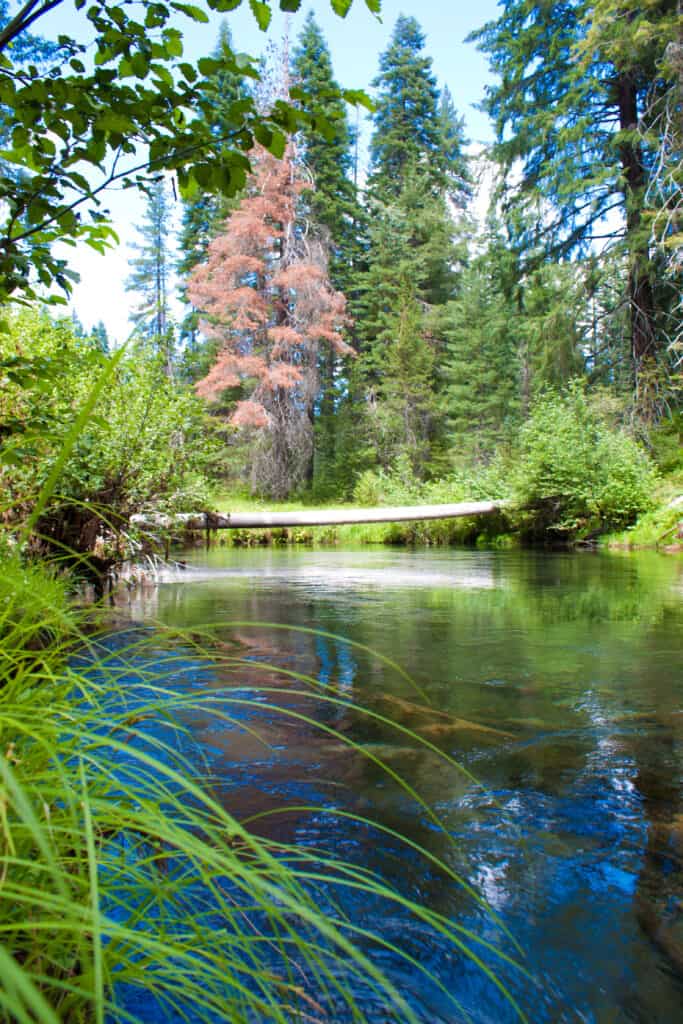 Sections of the river, known by some as the North Fork, and some tributaries are generously stocked with hatchery-reared rainbow trout on a weekly basis from before Memorial Day through Labor Day.
Typical release sites in this area are near Highways 62 and 230.
The river often gets stocked at the following campgrounds: Mill Creek, River Bridge, Union Creek, Farewell Bend and Natural Bridge.
Other stocking sites often include Woodruff Bridge, Mt. Stella Bridge, Highway 230, Mill Creek Bridge at Prospect, Crater Creek and Minnehaha Creek.
Some of the sites, especially the upper sections, may not be stocked during the first weeks of the tourist season during years when heavier than average snow blocks access or when runoff is too high, but they are planted once conditions allow.
This is fairly high country, which makes it a cool respite for anglers during the hot summers in the valley below.
Upper Rogue River Wild Trout
In addition to the stocked rainbow trout, this higher section of the Rogue also is home to wild native rainbow and cutthroat trout, which up here can count toward the five-fish bag limit.
And also in the Rogue above Lost Creek Lake, self-sustaining populations of non-native brook and brown trout can be caught and won't count against the trout bag limit.
Use the regulations link below to get all of the rules.
Typical bait, lure and fly fishing presentations will work for trout here. See our article on Trout Fishing: Basic How-To Techniques and Tips to brush up on your skills.
Lower Rogue River Trout Fishing
Things are different for trout anglers below Lost Creek Dam down to the Pacific Ocean.
For starters, all wild trout caught on the Rogue River below Lost Creek Dam must be released unharmed.
The wild trout population down here includes a pretty decent population of cutthroat trout (all natives) that often strike while anglers are targeting steelhead and salmon. Fly fishing is also very effective for these native trout.
Only fin-clipped trout may be retained as part of the five-fish bag limit for hatchery trout.
Keeper-sized rainbows aren't stocked in this section of the Rogue (with the exception of the "Holy Water" section right below the dam, which gets fingerlings and occasionally larger hatchery trout).
Many of the "trout" caught in the river from Lost Creek Dam to the ocean are actually steelhead or salmon smolts that are better off staying in the river and contributing to those runs.
Some of those fin-marked Holy Water trout might work their way down into the river below the hatchery and be available for harvest, but it's not likely to be large numbers.
Fishing in Rogue River's 'Holy Water'
The Holy Water is a short section of impounded river right below Lost Creek Dam, down to Cole Rivers Hatchery intake, that is regulated as a fly-fishing only water.
At times this area has provided legendary (if challenging) angling for trout that can grow to impressive size.
A good option for trout anglers looking for keepers in the river closer to the coast is actually the late summer and early fall half-pounder fishery mentioned above in the steelhead fishing section.
2022 Rogue River Trout Stocking
| | |
| --- | --- |
| 2022 Stocking | Total |
| May. 16 – May. 20 | 2,500 |
| May. 23 – May. 27 | 2,500 |
| May. 30 – Jun. 3 | 2,500 |
| Jun. 6 – Jun. 10 | 2,500 |
| Jun. 13 – Jun. 17 | 2,500 |
| Jun. 20 – Jun. 24 | 2,500 |
| Jun. 27 – Jul. 1 | 2,500 |
| Jul. 4 – Jul. 8 | 2,500 |
| Jul. 11 – Jul. 15 | 2,500 |
| Jul. 18 – Jul. 22 | 2,500 |
| Jul. 25 – Jul. 29 | 2,500 |
| Aug. 8 – Aug. 12 | 2,500 |
| Aug. 15 – Aug. 19 | 2,500 |
| Aug. 22 – Aug. 26 | 2,500 |
| Aug. 29 – Sep. 2 | 2,500 |
Stocked fish are legal-sized rainbow trout unless otherwise noted. Stocking schedules are subject to change for a variety of reasons. The ODFW Weekly Fishing Report linked under Oregon Resources below may provide updated information.
Oregon Resources
ODFW Weekly Fishing Report
ODFW Trout Stocking Schedule
Oregon Fishing Regulations
National Weather Service