This jumbo-sized reservoir on the upper Rogue River is a place you can catch more than one type of trout, bass and panfish (and maybe even a salmon) on the same fishing trip.
Lost Creek Lake, at nearly 3,500 acres when full, is not only big and deep but also is one of the best fishing lakes in Southwest Oregon.
This year-round angling spot is located just beyond Shady Cove, less than an hour's drive from Interstate 5 and Medford and not much farther from Ashland or Grants Pass. It's also known as Lost Creek Reservoir.
Trout Fishing
The most common quarry here are rainbow trout, which the Oregon Department of Fish and Wildlife stocks in tremendous numbers.
It's not uncommon for the agency to dump more than 50,000 catchable trout here during a season, making Lost Creek Lake the most heavily stocked trout lake in Southwestern Oregon.
Speaking of stocked trout, the Rogue River above the reservoir is the most heavily stocked trout stream in this large region, so there's lots of rainbow trout to go around in this area.
When to Go Trout Fishing
The largest numbers of keeper trout are planted in Lost Creek Lake in the spring months, when fishing is simply excellent.
ODFW also makes sure to put in more loads of trout at the beginning of the fall season (usually around September).
While most of those trout will be pan-sized "legals," it's pretty common for a decent share to be significantly larger so called "trophy" trout.
In addition to the generous stocking and larger hatchery specimens, Lost Creek Lake is conducive to year-round fish survival, so even smaller stocked trout occasionally grow into very large and robust trout after adapting to life in the lake.
Also, the excellent conditions for trout and humans alike make this lake a year-round fishery.
Winter Trout Fishing
In fact, ODFW biologists often tout Lost Creek Lake as the best place to fish for trout during the colder months, even during the dead of winter.
While it rains often in the foothills of the Cascades, there are plenty of nice days between storms and fairly infrequent heavy snowstorms at this elevation (a tad over 1,500 feet).
Typically ice on the water isn't an issue at this elevation and at least the Takelma boat ramp is usually open at that time of year, when water is likely being impounded but levels haven't yet risen to their spring highs.
While rainbows are the most common trout caught here, the reservoir also is home to native cutthroat trout as well as naturally reproducing German brown trout, both of which also are present in the upper Rogue River system and go between the lake and the river.
While these other trout types reach good sizes here, the populations of both of these species is modest enough that they tend to be incidental catches rather than targeted species here.
Trout can be caught from both the bank and a boat.
Boat Fishing for Trout
Boat anglers will have the advantage of being able to cover more water in this sprawling reservoir.
Also, it helps to be able to reach the deeper water, especially during the hot summer months when trout are likely to be seeking out the coolest and deepest areas.
At full pool, the lake is 322 feet deep, and still quite deep near the dam and in the channels even when well below maximum capacity.
Many boat anglers find that trolling is an excellent way to put trout in the fish box here. It's popular to fish with a small spinner or spoon (think Wedding Ring or Dick Nite) with bait on the hook.
Most anglers use weight or down riggers to get their offering down to the fish (a fish finder is useful), and many employ flashers or a dodger-style attractor running in front of their leaders.
Bank Fishing for Trout
Bank anglers often do well fishing with bait, such as nightcrawlers or prepared baits including PowerBait. Lures and flies also can catch trout for bank anglers but are less commonly used.
If you could use more information about catching these fish, check out Trout Fishing: Basic How-To Techniques and Tips.
ODFW informs anglers that you may catch trout with visible parasites known as copepods. These aren't harmful to humans when fish are cooked, and you can scrape them off before cooking the fish.
Biologists actually prefer that you keep fish with copepods (within a legal limit) because this may help contain the spread of the parasite to more fish.
Salmon Fishing
ODFW also sometimes plants the lake with some young spring Chinook smolts, which grow into keeper-sized and occasionally quite large landlocked salmon.
These freshwater Chinook can be caught trolling various kinds of lures and also strike bait, and they are counted as trout in a daily limit.
In fact, many are caught incidentally by anglers targeting rainbow trout.
More information: Salmon Fishing: Simple Techniques and Tips
Bass Fishing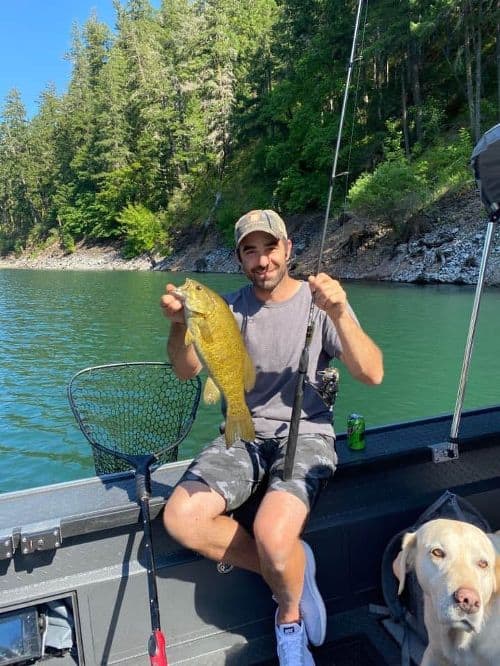 Lost Creek Lake isn't just a trout and salmon destination.
It can be a pretty good draw for bassers as well and has even hosted some bass-fishing tournaments, although those aren't as common here as in places like Tenmile and Siltcoos lakes.
Lost Creek Lake holds both largemouth and smallmouth bass.
Largemouth Bass
Lost Creek once produced the state's record largemouth with a giant weighing 11 pounds, 4.6 ounces, although that fish has been eclipsed several times from other locations since then.
The largemouth are still the biggest individual bass here, and there have been some efforts to improve habitat and rebuild this population.
Smallmouth Bass
However, it's the smallmouth that provide the most consistent action for anglers, and they are present in high numbers and can reach good size … but not as often in trophy proportions.
The smallmouth fishing is good enough here that Lost Creek Lake earned an honorary mention on our rundown of Best Smallmouth Bass Fishing in Western Oregon.
More information: Bass Fishing: Simple How-To Techniques and Tips
Where to Fish for Bass
Both species of bass tend to like cover, such as drop-offs, points, and other structures.
Largemouths tend to like softer bottoms, shallower water and woody structures.
Smallmouths are often oriented toward rockier habitats but can be found throughout the lake.
Crappie and Panfish Fishing
Panfish aren't as big of an attraction here as trout and bass, but fishing for them can be fair to good.
There are some black crappie, although catches here aren't typically great.
If you target these fish, look for them to be hanging out near structure such as sunken trees or branches, pilings, or drop-offs. A small jig works well.
There also are sunfish and bullhead catfish. These fish are often on the small side but readily bite bait such as worms.
Especially during warm months the sunfish, primarily bluegill and pumpkinseed, are often close to shore and weeds, if you can find aquatic vegetation. They also like to hide in the shade of structure, such as docks.
A bobber works well for sunfish.
Catfish can be in a bit deeper and more open water during the day but often move close to shore to feed during the lower-light hours.
Fish bait on the bottom for catfish.
News reports also indicate that yellow perch have been illegally planted here.
If you find the perch, they readily bite natural baits such as worms on small hooks and also will strike a crappie jig, especially if there's a bit of bait on the hook tip.
Camping and Supplies
Facilities and amenities here are excellent.
Lost Creek Lake Marina has many amenities including a lodge, boat rentals and moorage, and supplies.
Joseph H. Stewart State Park offers camping and a boat ramp.
Both places to stay overnight are on the south side of the reservoir off Highway 62, the most direct route from the Medford area.
There are several day-use areas as well, including Takelma near the dam.
2023 Lost Creek Lake Trout Stocking
| | |
| --- | --- |
| 2023 Stocking | Total |
| Mar. 13 – 17 | 20,000 |
| Apr. 10 – 14 | 15,000 |
| May 1 – 6 | 800* |
| May 8 – 12 | 11,500* |
| Jun. 12 – 16 | 11,500* |
| Oct. 2 – 6 | 7,300* |
*These stocking dates include 800 – 2,300 trophy-sized rainbows
Stocked fish are legal-sized rainbow trout unless otherwise noted. Stocking schedules are subject to change for a variety of reasons. The ODFW Weekly Fishing Report linked under Oregon Resources below may provide updated information.
Find more fishing spots in Jackson County
Oregon Resources
ODFW Weekly Fishing Report
ODFW Trout Stocking Schedule
Oregon Fishing Regulations
National Weather Service