Thanks to Medford and Ashland, Jackson County is Southern Oregon's most populated area, but there are so many fishing opportunities in the upper Rogue River region that anglers won't be hard-pressed to find a place to cast.
Besides this very productive section of the Rogue, with its excellent population of salmon, steelhead and trout, the system is full of natural lakes and man-made reservoirs offering good and sometimes great fishing for trout, landlocked salmon, bass and other game fish.
This article includes short descriptions of Jackson County's best waters, places you'll want to get to know better from the business end of a fishing rod.
Within the article and at the bottom, look for links that will take you to more specific articles or to other information sources.
The waters in this article are regulated under the Oregon Department of Fish and Wildlife's Southwest Zone.
Another note: The state health department suggests limiting consumption of fish caught in Applegate and Emigrant reservoirs due to naturally occurring mercury, although stocked trout typically haven't been in the system long enough to accumulate much mercury. See the regulations booklet for details.
Incorporated cities in Jackson County are Ashland, Butte Falls, Central Point, Eagle Point, Gold Hill, Jacksonville, Medford, Phoenix, Rogue River, Shady Cove and Talent.
Unincorporated communities here include Applegate, Prospect, Ruch, Steamboat, Trail and White City.
Other points of interest in Jackson County include the Oregon Vortex in Gold Hill and the Oregon Shakespeare Festival in Ashland (also home to Southern Oregon University).
Listed alphabetically, here are some of the best fishing spots in Jackson County:
Agate Lake
This modest-sized reservoir (239 acres) near Medford is primarily a warmwater fishery, with bass, crappie, sunfish and bullhead catfish, along with yellow perch.
Check the trout stocking schedule and weekly recreation report to see if any trout have been delivered, but this lake gets too warm for trout to survive in the summer and stockings have been occasional at best and non-existent many years. But it has happened.
Better bets are the numerous panfish, including black crappie and yellow perch.
It is located a mile south of the Lake of the Woods Highway (140) just northeast of Medford. This county park has excellent bank and boat access.
Applegate Lake
This is a very good fishing reservoir of nearly 1,000 acres located in southwestern Jackson County, near the California border, southwest of Medford and Ashland and due south of the community of Applegate.
Also commonly known as Applegate Reservoir, it is very popular in the spring after ODFW plants large numbers of rainbow trout. Troll deep for trout in the summer.
Applegate Reservoir also has good fishing for smallmouth bass and bullhead catfish, along with some crappie. Bank and boat access is good.
Squaw Lakes, located about five miles east of Applegate Reservoir, have good all-around fishing (with bank access) for warmwater species including bass, crappie and yellow perch.
Applegate makes our list for one of the best angling lakes in Southwest Oregon.
Also see: Applegate Lake Fishing.
Applegate River
This river is in both Jackson and Josephine counties.
The river below Applegate Dam has some quite decent winter steelhead fishing, mostly for native fish.
The run builds in January and February and typically peaks in March before closing for April and most of May.
You can keep fin-clipped steelhead but must release wild ones.
Wild trout must also be released in the lower river but may be retained above the reservoir.
See: Applegate River Fishing.
Burma and Dutch Herman Ponds
Two small waters located about a mile from one another and about 20 minutes east of the community of Wolf Creek (along I-5), but you might need four-wheel drive.
Both ponds are stocked with rainbow trout during the spring and have reproducing populations of largemouth bass and bluegill.
Burma also is known as Secesh Reservoir.
Denman Wildlife Management Area Ponds
This series of ponds totaling about 150 acres is located near White City, northeast of Medford, and offers pretty good opportunity for bass, crappie, sunfish and bullhead catfish angling.
There is good bank access (including fairly new ADA fishing piers in Whetstone Pond) and an unimproved boat launch.
Nearby Hoover Ponds, on the south side of White City, offer fair fishing for the same warmwater species.
Emigrant Lake
This is a good all-around warmwater fishery with spring trout fishing just a stone's throw from Ashland.
It's a decent-sized reservoir at 878 acres.
Fishing can be productive for all warmwater species common to southern Oregon, including both species of bass, bluegill, crappie, bullhead catfish and yellow perch.
In the spring, generous numbers of rainbow trout are planted in the lake and fishing is good.
You'll find both bank and boat access here.
Take the Green Springs Highway (66) southeast a few miles outside Ashland to get there.
See: Emigrant Lake Fishing.
Expo Ponds
The Jackson County Expo ponds in Central Point (next to Medford) provide fair fishing for warmwater species including bass, crappie, sunfish and bullhead catfish.
The busiest times for fishing are soon after the main pond is stocked with rainbow trout periodically, usually from late winter through spring.
See: Fishing at Expo Ponds.
Fish Lake
The prime fishery here at this 483-acre lake are the good numbers of rainbow trout stocked from mid-spring into early summer. The state sometimes stocks bigger trout in the fall as well.
The fishery also includes naturally reproducing brook trout and landlocked hatchery spring Chinook salmon, which are fished like kokanee.
There also are hybrid (sterile) trout called tiger trout planted to help reduce the population of non-game species, and these fish must be released unharmed.
There are good facilities here, including public campgrounds and Fish Lake Resort.
Fish Lake (originally a natural lake enlarged by a dam) is just under 40 miles east of Medford.
It is located right along Highway 140 (Lake of the Woods Highway) on one of the routes to Klamath Falls.
This is on our list of Oregon ice fishing lakes.
See: Fishing at Southern Oregon's Fish Lake.
Howard Prairie Lake
This large reservoir (about 2,000 acres) in the Cascade Mountains east of Ashland is popular for stocked rainbow trout and bass fishing for both largemouth and smallmouth.
The reservoir is now open all year, but watch for trout stocking to occur (likely in spring and fall) for best trout fishing.
Water levels can suffer in the summer.
Use Dead Indian Memorial Road to get there from Ashland.
There is good boat and bank access, including ADA accessibility.
See: Fishing at Howard Prairie Lake.
Hyatt Lake
This reservoir, about half the size of nearby Howard Prairie to its northeast, also is now open all year and good for stocked rainbow trout and largemouth bass.
Trout fishing is best in the weeks following trout stockings, historically in spring and early fall.
In recent seasons, largemouth bass have been plentiful, if a bit stunted.
Boat and bank access are good, although in low-water years boat launches might be dry by mid-summer.
See: Hyatt Lake Fishing.
Lost Creek Lake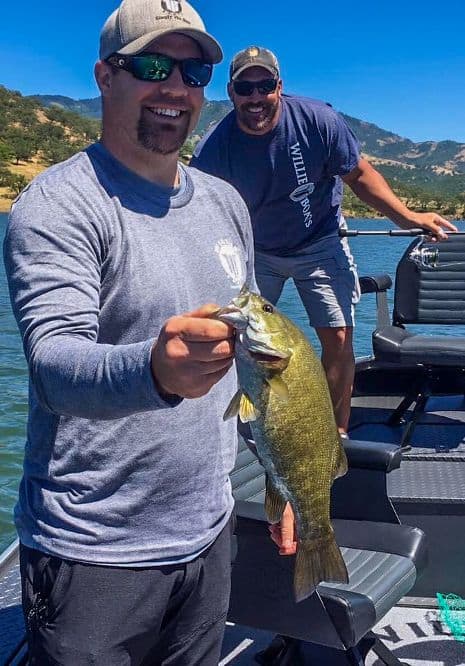 Also known as Lost Creek Reservoir, this man-made lake on the upper Rogue River is one of southwestern Oregon's largest water bodies and contains a large variety of fishing opportunities to match its size (over 3,400 acres).
Fishing for rainbow trout is especially popular, with large hatchery plants and some big fish.
The lake also has land-locked spring Chinook salmon and very modest numbers of cutthroat and brown trout.
Warmwater anglers will find their opportunities as well, especially for smallmouth bass, which are popular enough to attract fishing tournaments.
Largemouth bass also are available, with improved fishing in recent years, as are bluegill and pumpkinseed sunfish, bullhead catfish and some crappie.
The lake has good bank access and excellent boating and other amenities, including a state park and Lost Creek Marina.
This is another of the best fishing lakes in Southwest Oregon.
See: Fishing at Lost Creek Lake.
Medco Pond
This 25-acre pond is located along the Butte Falls-Prospect Road in eastern Jackson County.
Medco gets a burst of angler attention in the spring following occasional plantings of hatchery rainbow trout.
Warmwater anglers will find fair to good numbers of bullhead catfish, bass, bluegill and maybe some crappie.
Note that this pond is on private property and is open for bank fishing and day use only. See the linked article for more restrictions.
See: Fishing at Medco Pond.
Rogue River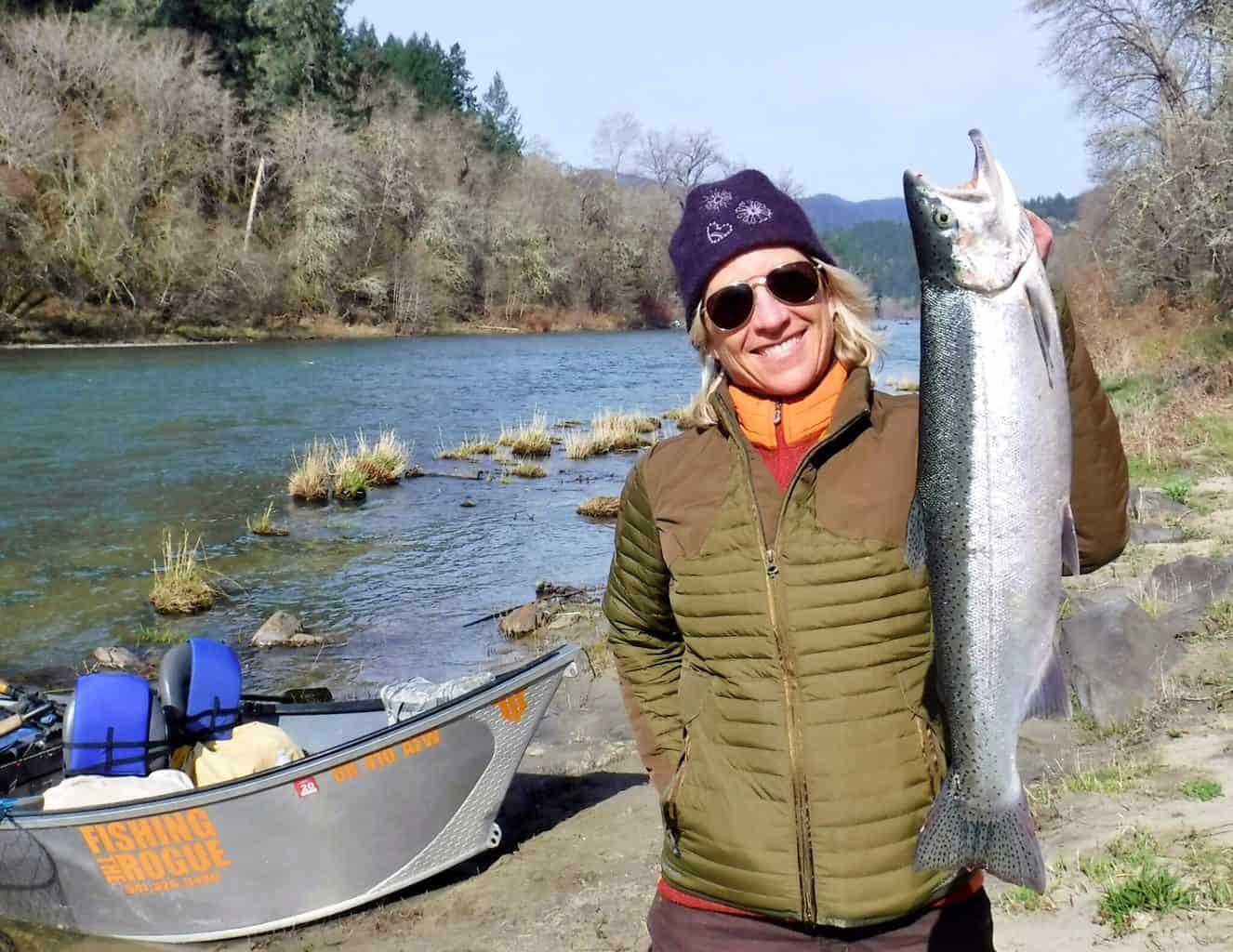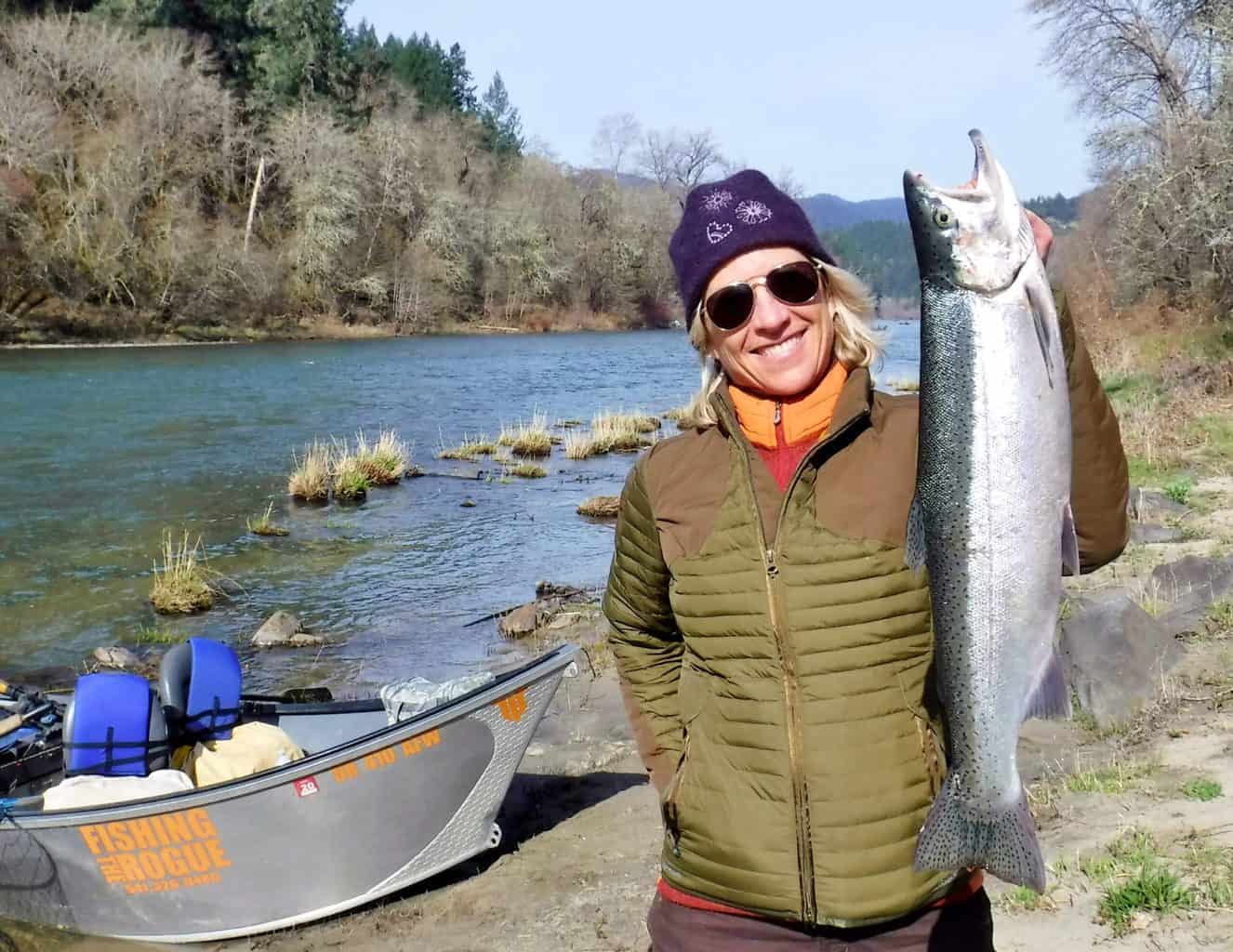 The upper Rogue River in Jackson County is one of Oregon's truly superb fishing streams.
Salmon and steelhead runs go upriver as far as Lost Creek Dam, home of Cole Rivers Hatchery upstream from Shady Cove.
Chinook salmon catches can be very good in the upper river, with springers arriving by May and continuing to provide action well into summer. Fall Chinook catches often peak late August through September.
The first summer steelhead arrive with the spring Chinook, and combined with the winter run there will be steelies available in good numbers through late winter.
Trout fishing is fair to good in this section but largely catch and release unless a fin-clipped fish is found in this unstocked area.
If you want lots of keeper trout, you need only to fish the river above Lost Creek Lake, where the stream is heavily stocked from late May to early September.
This is easily one of the best fishing rivers in southwestern Oregon.
Also read our overview of Rogue River fishing.
Willow Lake
This is a very good trout and warmwater fishery southeast of the community of Butte Falls in the Rogue River-Siskiyou National Forest.
Rainbow trout are a major fishery during stocking season throughout spring, and ODFW also lists cutthroat trout and kokanee as being in the lake population.
There are good populations of largemouth bass as well as crappie, bullhead catfish and some yellow perch.
There is a county park and good bank and boat access.
See: Willow Lake Fishing.
Fishing in Neighboring Counties
Douglas County: To the north, a variety of great fisheries from coast to Cascades, including the versatile Umpqua River and incomparable Diamond Lake.
Klamath County: To the east, across the Cascades, this large county includes some great spots for huge trout and plentiful kokanee.
Josephine County: To the west, downstream the middle Rogue River brings good runs of salmon and steelhead, and Lake Selmac is a largemouth bass fishing hot spot.
Oregon Resources
ODFW Weekly Fishing Report
ODFW Trout Stocking Schedule
Oregon Fishing Regulations
National Weather Service
For boating information about these waters, see the Oregon State Marine Board's launch locator map.