Klamath County is one of Oregon's largest, and it also has some of the state's best fishing, thanks to the fact that it's home to the upper basins of two rich river systems, the Deschutes and Klamath.
The county is especially noteworthy to anglers for its ability to produce trout of several species in trophy-worthy sizes, making some of its lakes and streams rank right up there among Oregon's best.
A single article couldn't cover Klamath County's many fishing opportunities in any depth. The aim here is to introduce you to some of the county's very best fishing spots and let you do the exploring.
To help you in this, we've included links within the article and at the bottom of the page that will take you to additional information related to this region's fisheries.
Also check out the links to neighboring counties, where you'll find additional prime fishing waters within a reasonable drive.
Speaking of related information, we've also assembled the best of the best fishing spots within the Klamath Basin in this article.
Note that while many of the waters in Klamath County are in the Southeast Zone, those that are located in the Deschutes River drainage on the north end of the county are regulated under Central Zone rules.
Incorporated cities in Klamath County are Bonanza, Chiloquin, Klamath Falls, Malin and Merrill.
Unincorporated communities anglers might know include Beatty, Bly, Chemult, Crescent, Crescent Lake, Fort Klamath and Keno.
The county is home to most of Crater Lake National Park, one of Oregon's biggest tourist attractions.
Also in Klamath County you will find parts of the Deschutes, Fremont and Winema national forests, and several state and federal wildlife refuge and management areas. Oregon Institute of Technology (OIT) is in Klamath Falls.
Listed alphabetically, here are some of the best fishing spots in Klamath County:
Campbell Reservoir
This reservoir northeast of Bly at times can be fished successfully for bass, crappie and redband rainbow trout.
Fishing typically slows in summer heat.
Crappie can reach an impressive 14 inches.
A lot of its bank access is private, but you can get to it from BLM land and launch a small boat.
Crater Lake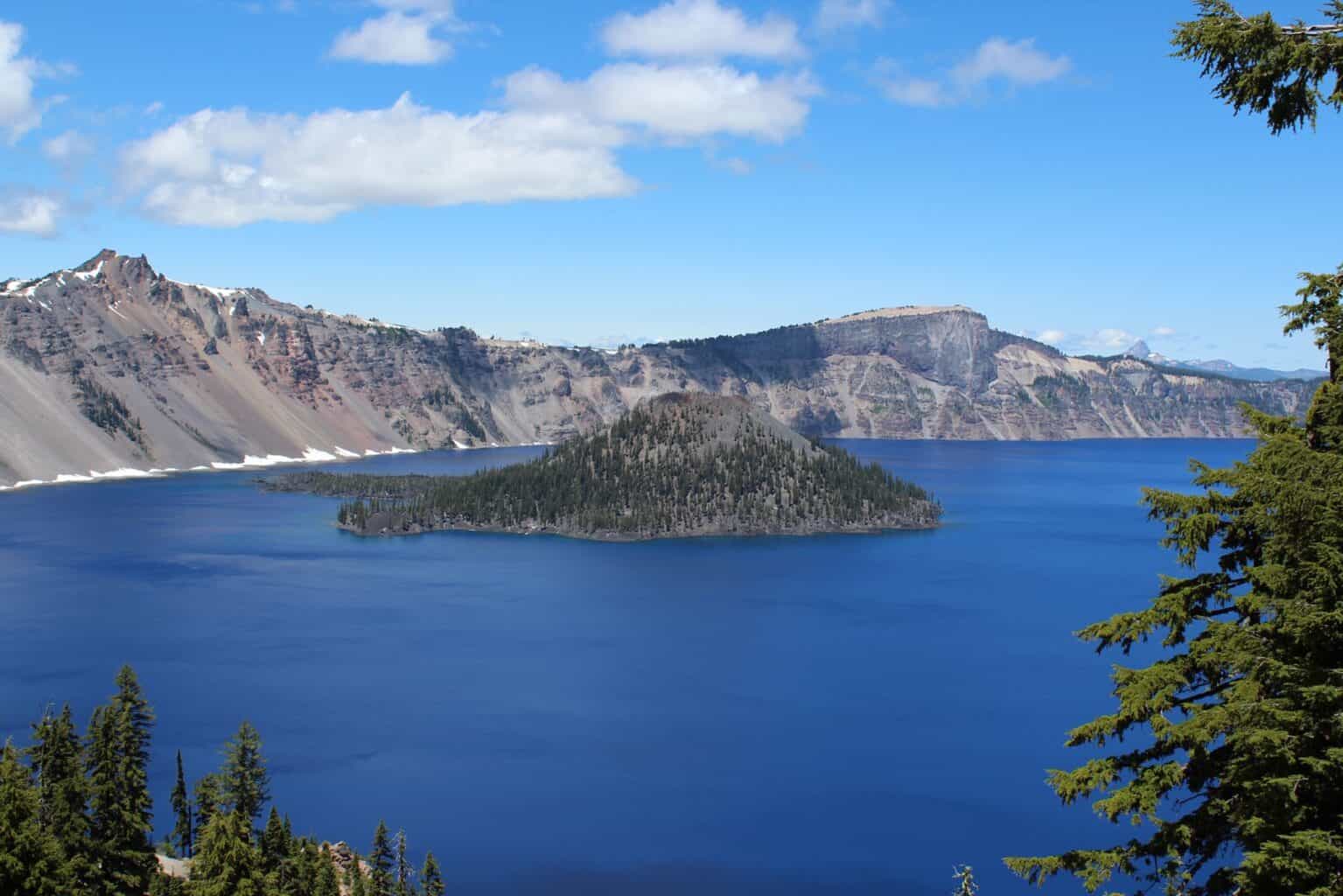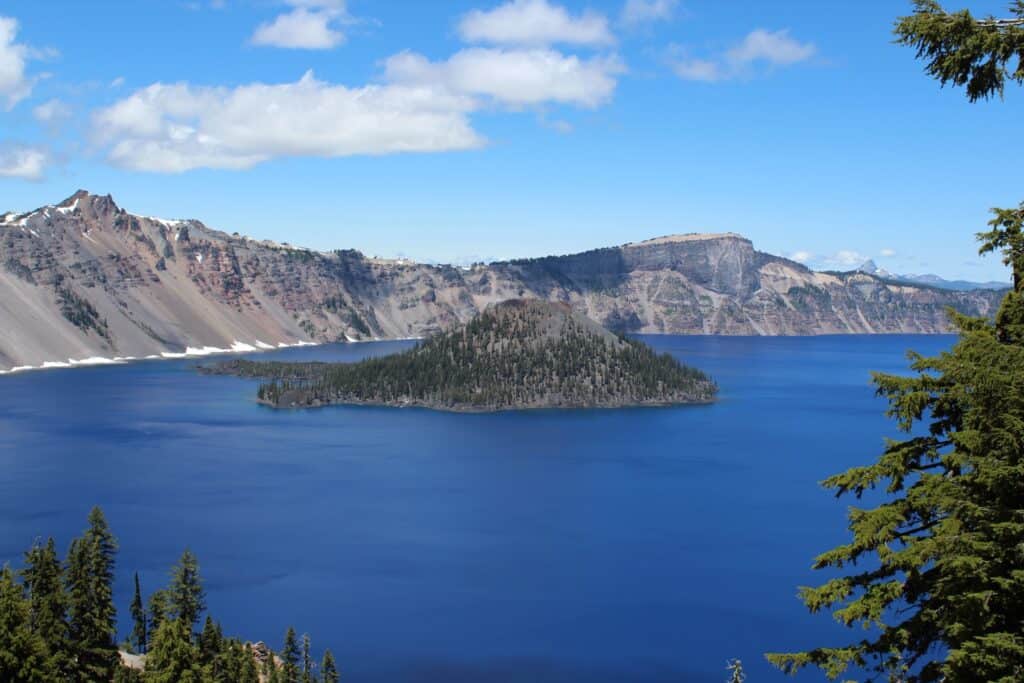 America's deepest lake in Oregon's only national park might make you wonder about the fishing here.
In reality, this lake is so pure that it only supports a modest number of trout and kokanee (land-locked sockeye salmon) and quite little angler access.
But we built an entire page to answer your next question: Where is there good fishing near Crater Lake National Park?
Crescent Lake
This large lake, sitting just south of Odell Lake and a short drive off Highway 58 in far northern Klamath County, has four quality fisheries in one lake.
The brown and lake (Mackinaw) trout here can reach trophy size and are often caught by anglers trolling large, fish-imitating lures.
For more on the lake trout fishing, check out Crescent Lake Mackinaw Fishing we did with the help of a former guide.
Also, for some insights into trophy fishing available here and in other waters, check out our articles on Oregon's best fishing for trophy lake trout and brown trout.
Rainbow trout also provide plenty of action here and require less technical skill to catch.
Finally, kokanee run to good size here and can be caught with a little know-how. For more on that, read Crescent Lake Kokanee Fishing.
There is a resort, camping and boating facilities at the lake, which is open year-round.
Winter anglers can do well and typically launch at the resort, which has the only boat ramp regularly cleared of snow.
The out-flowing Crescent Creek also has some trout-fishing opportunities, including brown trout to decent size and typically small but always feisty redband rainbows.
Davis Lake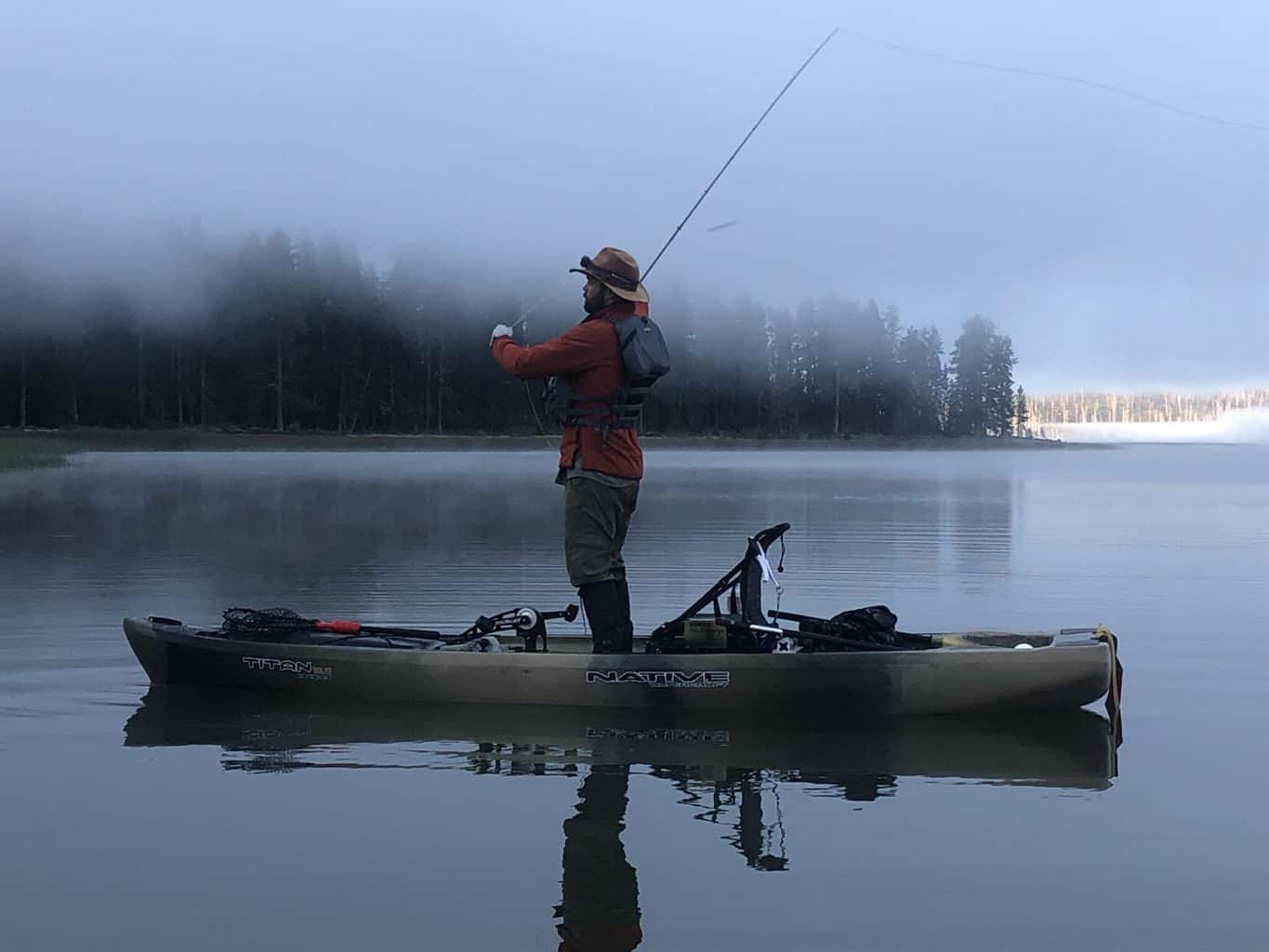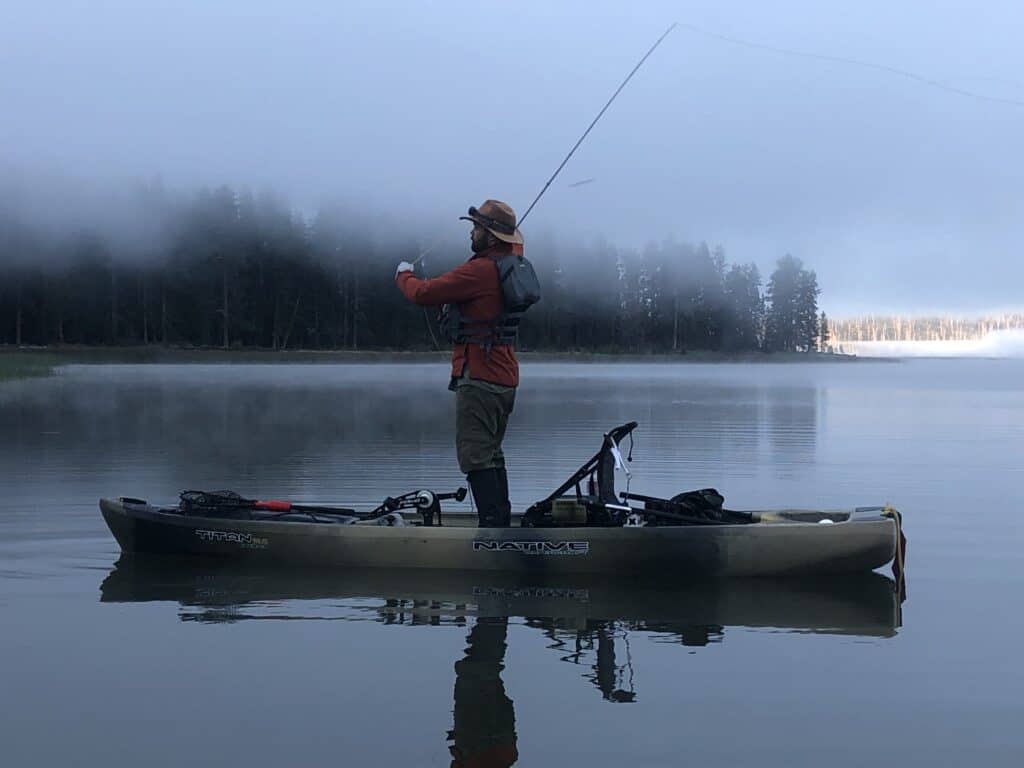 This is quite a large lake straddling the Deschutes County line that at one time was a really great rainbow trout fishery set aside for fly angling only.
The trout are still there, and at times it still can be very good, but overall the fishery has fallen off somewhat after the illegal introduction of largemouth bass here.
For more about the trout fishing from a local fly-fishing guide, read Fly Fishing for Trout at Davis Lake.
And, frankly, if you're handy with a fly rod, this lake now holds one of Oregon's best populations of largemouth bass, which reach fairly decent size despite the mountain climate and are somewhat under-fished due to the fly-only regs.
We tapped the same expert for tips on catching these mean greenies on feathers, so learn from a pro at Davis Lake Fly Fishing for Largemouth Bass.
This lake also is included in our Best Largemouth Bass Fishing in Central and Eastern Oregon.
See: Davis Lake Fishing.
Fourmile Lake
This high-mountain lake up the road (and we do mean up) from Lake of the Woods off Highway 140 often doesn't get going until June (sometimes early July) due to late snow melt, but once summer arrives this Cascades gem can be an excellent spot to catch rainbow, lake and brook trout plus kokanee.
The rainbows are usually stocked for the first time in late June, if conditions allow, and a couple more times during the summer.
The rainbows may include larger and some trophy-sized hatchery fish.
Lake trout (Mackinaw) are a fairly recent addition, stocked in part to take advantage of large schools of under-sized kokanee, and fishing for them can be quite good. See this article for more about lake trout fishing in Oregon.
Additionally, the lake has naturally reproducing brook trout.
The kokanee haven't been a big draw because of their small size, but some reports suggest these land-locked salmon are growing to better sizes since their ranks have been thinned by hungry lake trout.
You can keep 25 kokes a day in addition to your regular trout bag.
Gerber Reservoir
At times when water has been fairly plentiful for a few years and it spreads out to near its 4,000-acre capacity, this reservoir less than an hour's drive east of Klamath Falls offers excellent warmwater fishery, particularly for crappie, which can have explosions in population and can reach a foot or more.
The state record for white crappie comes from here.
But periodic droughts take a real toll, knocking back the fishing success until better conditions return and the lake rebounds quickly.
There also are plenty of yellow perch to good size, sometimes some pretty good bass fishing and a good number of bullhead catfish.
There are plentiful camping and boating facilities here and good bank access.
Nearby Round Valley Reservoir and Upper Midway Reservoir also have warmwater fisheries for similar species as found in Gerber.
J.C. Boyle (Topsy) Reservoir
This reservoir a short drive west of the community Keno, near Klamath Falls, can have pretty good fishing for crappie, pumpkinseed sunfish, bullhead catfish and other warmwater species, including yellow perch and largemouth bass.
It is nearly 400 acres in size but also suffers from an over-abundance of goldfish.
In fact, some anglers might suggest trying a goldfish-colored lure for bass.
Access is good, including several boat launches and a BLM campground.
Klamath River
There are under 40 miles of Klamath River in Oregon, but it can be a very productive if somewhat difficult trout fishery.
The biggest fish are in about six river miles between Keno Dam and J.C. Boyle Reservoir, but this section has a long seasonal closure from late spring into early fall to protect trout during high water temperatures.
Lower sections can have good numbers of trout.
See a fuller description of these zones in Best Fishing in the Klamath Basin and carefully read ODFW's regulations.
Lake of the Woods
This 1,100-plus acres of water is easily reached on Highway 140 from both Klamath Falls and Medford and is regularly stocked with rainbow trout from April to June.
It may also get additional rainbows (including big ones) later in the summer or early fall, and trout fishing is fair to excellent during the stocking periods.
The lake also has some brown trout, which are planted as fingerlings and grow to good sizes. There is a 24-hour fishing rule that will make it easier to catch these night-time feeders.
The lake also has a fair kokanee fishery focused on its deeper waters, but you'll have to locate the schools first before you can take any serious advantage of the lake's bonus 25-kokanee limit.
In addition to those coldwater fish species, Lake of the Woods has a mish-mash of fish normally associated with warmer water.
There is an OK fishery here for largemouth bass, and lots of weeds and docks for cover, but they only grow to modest size and numbers in this mountain water.
There are pretty good numbers of yellow perch and bullhead catfish, which run small but can be fun for kids to catch in shallow water. There also are some crappie.
Lake of the Woods has excellent angling access from the bank and nice facilities for boating, plus a resort, camping and day use.
It's also is among Oregon's best ice fishing lakes.
Little Deschutes River
This tributary of the famous Deschutes River isn't as good as the larger river for fishing, but for those willing to explore a bit, there are opportunities to catch some good-sized brown trout, native redband rainbows and, closer to its headwaters on Mount Thielsen, there are brook trout.
It passes through the Gilchrist and Crescent communities and near the junction of Highways 58 and 97, and it's followed by roads in quite a bit of its flow through Klamath County before flowing into Deschutes County.
Lost River
This slow-moving river starts and ends in California but loops through Oregon southeast of Klamath Falls.
Lost River is mostly fished for warmwater species, including good numbers of crappie and sunfish along with fair fishing for bass, bullhead catfish and yellow perch.
This river also is the place in Oregon to catch the state's only native panfish, the Sacramento perch.
You can launch a boat or find bank access in the area sometimes known as Wilson Reservoir, where the river has a dam for irrigation diversion near Crystal Springs Road in the Olene area just outside of Klamath Falls.
Miller Lake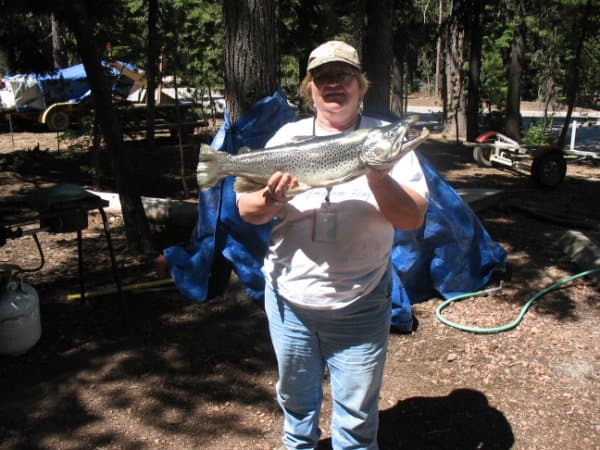 Miller Lake, located west of Chemult, has some of Oregon's very best brown trout fishing and is one of the lakes where you might catch a state record.
The lake also allows 24-hour fishing, which is handy for targeting the night-feeding lunker browns. For one local angler's take, read Miller Lake Brown Trout Fishing.
Also be sure to read our broader article on the best trophy brown trout fishing in Oregon.
Miller Lake also offers reliably good fishing for rainbow trout typically stocked monthly from June to August, and fishing for them will hold up until you no longer want to fish for them in the fall snows.
Read about that it Miller Lake Rainbow Trout Fishing.
Finally, Miller has lots of kokanee, but they run small and most anglers don't try to fill their bonus 25-kokanee bag limit in addition to the typical trout bag.
Miller is so good, it's one of the best fishing lakes in Southeast Oregon.
Odell Lake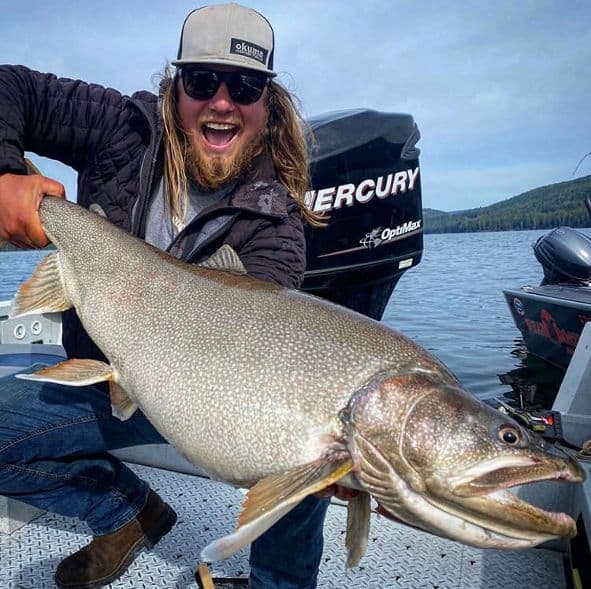 Odell Lake is one of Oregon's top-tier fisheries, especially well known for its tremendous number of kokanee and its massive lake trout, both of which are nearly always caught by boat anglers.
This lake at the northern end of the county, sitting along Highway 58, is one of the best places in Oregon to give a bonus bag of 25-kokanee a run for the money.
For more on Odell's kokanee fishery, read our full article. And check out other great Central Oregon kokanee fisheries.
And speaking of best places in Oregon, Odell already owns the state record for lake trout, also known as Mackinaw, which grow fat by eating those kokanee and other prey.
We also have a detailed article on fishing for lake trout at Odell, which you'll find here. And of course we have Odell on our list of Oregon's best lake trout fisheries.
Finally, Odell is less known for the native redband rainbow trout that prowl the shorelines, but you can get some tips on catching those in this article.
There are a few protected bull trout in the lake, which you must release unharmed if caught incidentally.
Those bull trout also are the reason for special closures in a couple of locations near the major creek inlet and outlet and in the streams themselves, so check the regulations before fishing.
Whitefish also are in the lake's shallower areas and can be fun for kids to catch from shore.
There are two resorts and plentiful public campgrounds and boat ramps.
Odell, found in the Central Zone, is on our list of Best Fishing Lakes and Reservoirs South of Bend.
Sprague River
This major tributary of the lower Williamson River is a long stream best known for its rainbow and brown trout fishing.
The lower river has good numbers of larger rainbows and good-sized browns.
The forks above Bly contain rainbow, brown, brook and bull trout. Bull trout are protected and must be released unharmed.
The best trout fishing is in the late spring and early summer.
Largemouth bass are in the Sprague River Valley between the towns of Sprague River and Beatty and bite best in summer. That same reach has plenty of bullhead catfish and some yellow perch.
The Sprague and its major tributary, the Sycan River, are among the best fishing waters in the Klamath Basin.
More: Fishing the Sprague and Sycan Rivers
Sycan River
This tributary of the Sprague River also can be good, especially for native redband rainbow and non-native brook trout during good water years.
The 20 miles of stream above Sycan Marsh have plentiful brookies as well as rainbows and protected bull trout.
The 30 miles from the Marsh down to the Sprague (at Beatty) has less access, but that's where to look for brown trout. Try from Torrent Spring to the mouth during the spring.
Check the link under the Sprague River for more details on fishing the Sycan.
Upper Klamath and Agency Lakes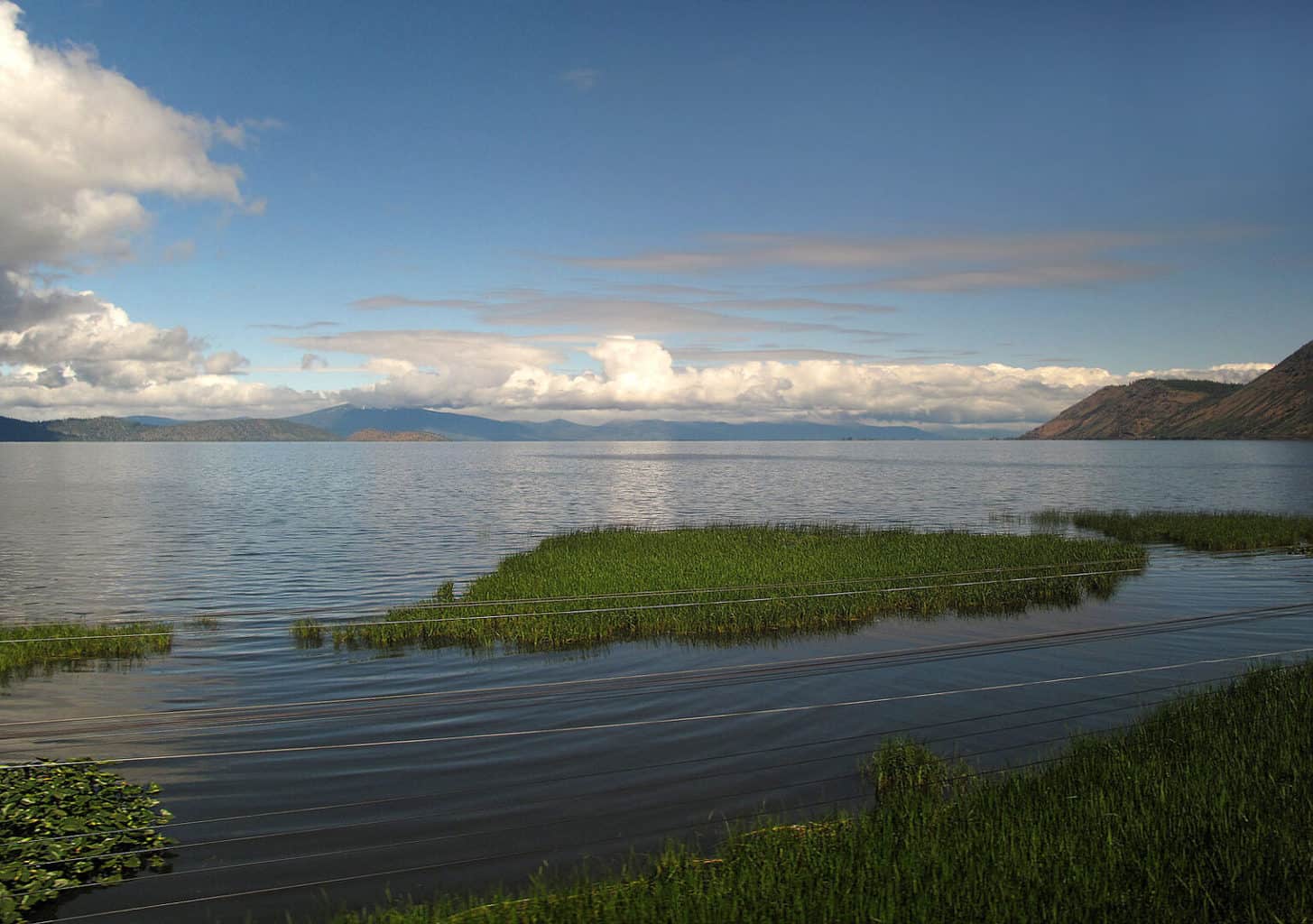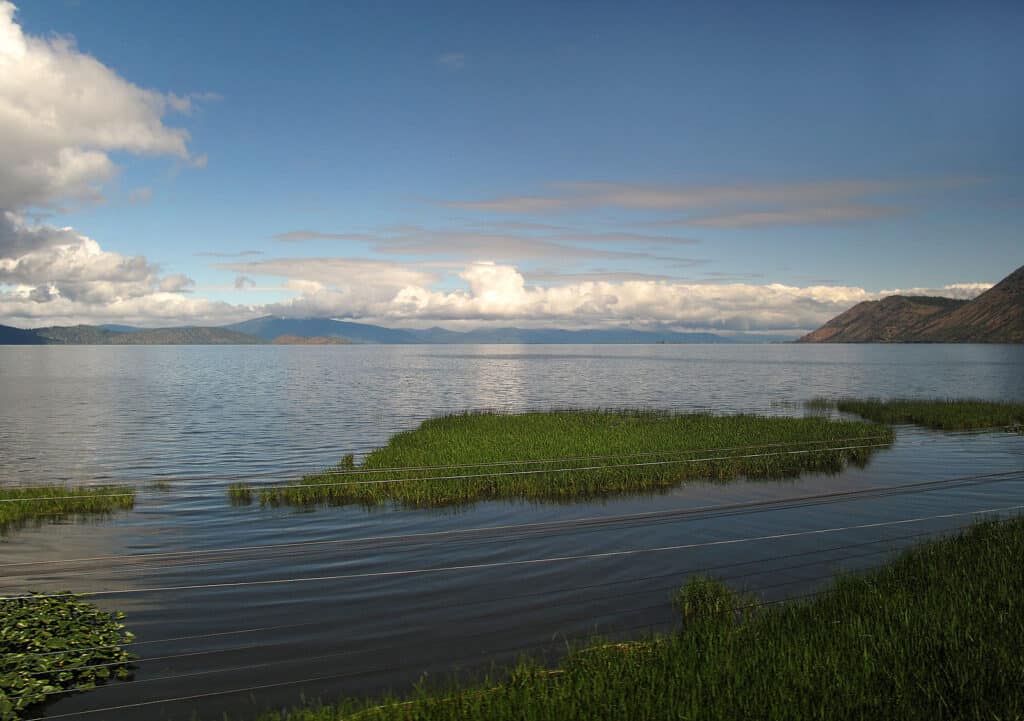 This large duo functions as a single lake connected by a narrow passage between two large lobes, and both are best known for having some of the largest native redband rainbow trout in the world, occasionally topping 20 pounds.
These trout spread out during the cooler seasons, fall through spring.
Conversely, they bunch up in cooler water during the hot summers, particularly near the mouths of the Williamson and Wood rivers, in Pelican Bay and near several underwater springs.
All types of fishing work well here, but note the one-fish limit on the native trout to protect this unique fishery and consider releasing all of them.
For a close look at fly fishing for these magnificent fish (with some tips conventional anglers can borrow), see our article about Fishing at Upper Klamath Lake and Agency Lake.
There also are bullhead catfish and yellow perch in the lake, particularly at the north end of Agency Lake near Chiloquin. Eat all those you want!
Williamson River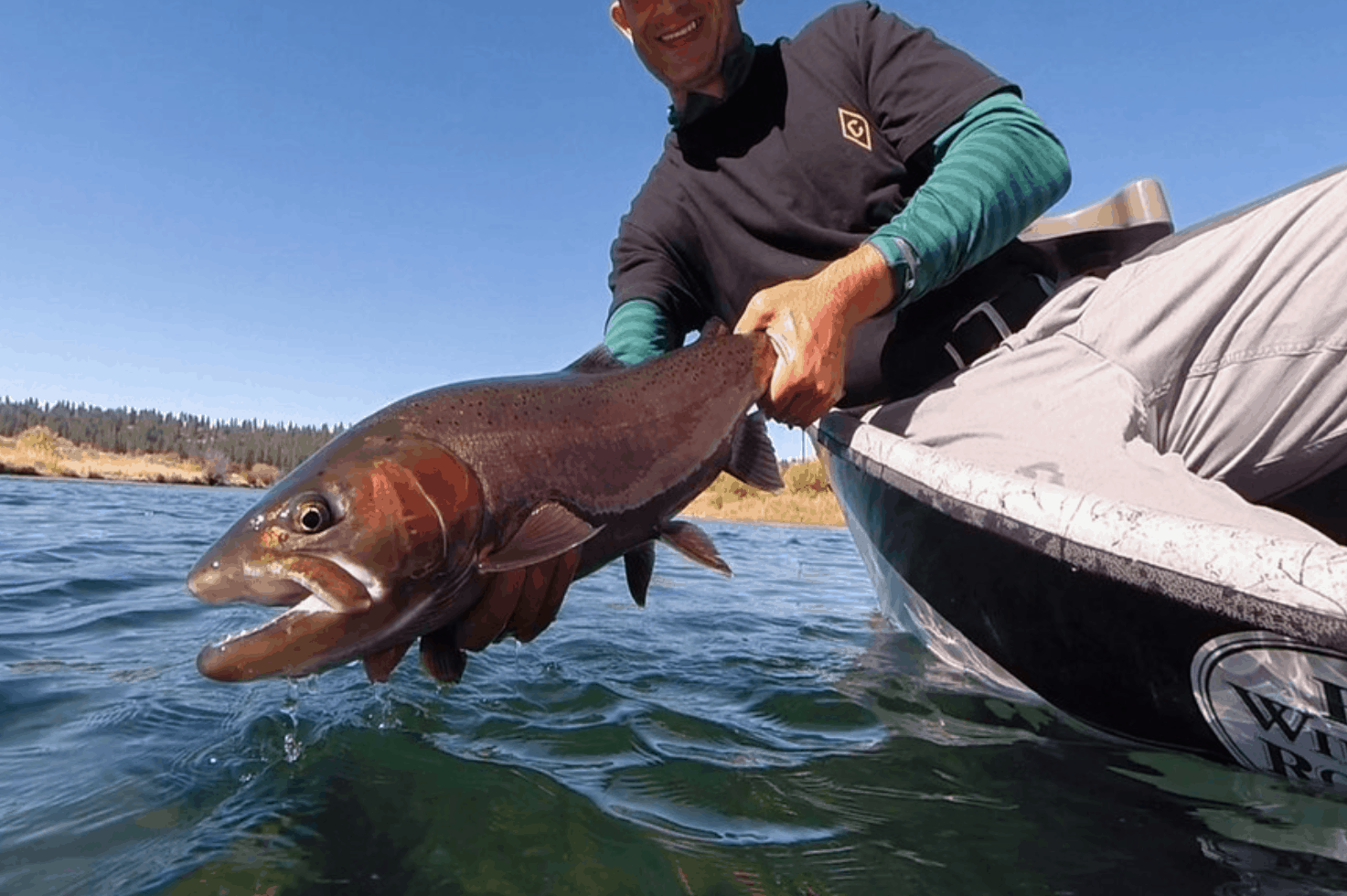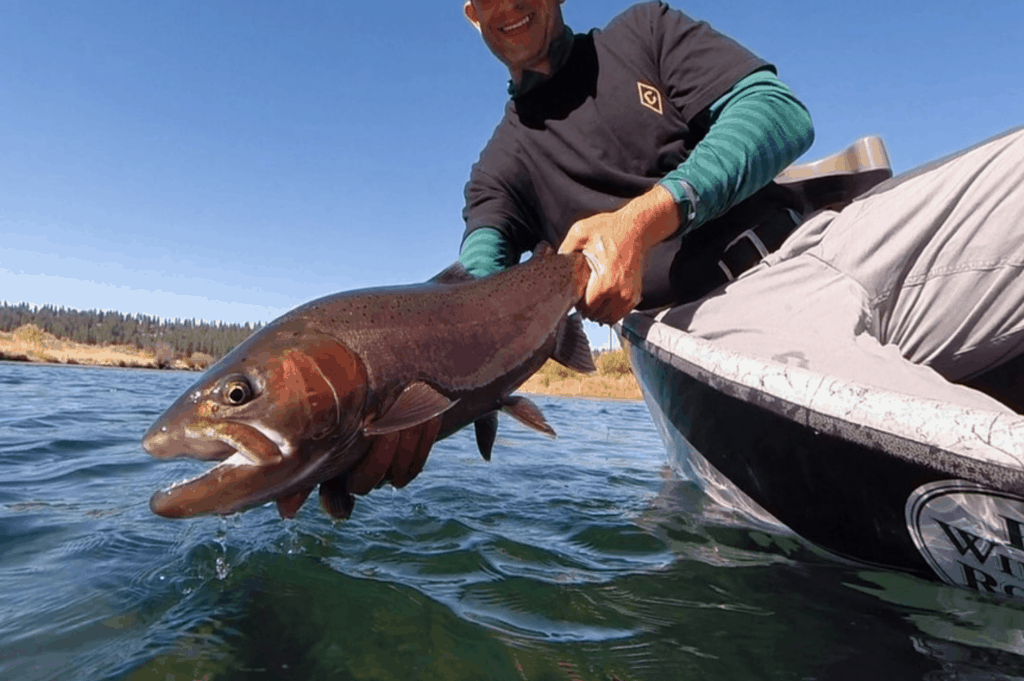 The largest tributary of Upper Klamath Lake also boasts some of its largest redband rainbow that make spawning runs during the summer and fall months.
Most of the bigger fish are caught in the river from Kirk Canyon Falls to the mouth, especially below the junction with the Sprague.
Smaller rainbows and brook trout are common in the upper river above Klamath Marsh.
There also are brown trout in the Williamson, especially in pools above Spring Creek (Collier State Park), but these fish tend to prefer the Wood and Sprague rivers.
Note that it's currently a catch-and-release fishery for the native redound trout, but you can keep non-native brook and brown trout.
Fly fishing is popular in the Williamson, but catching big trout is a challenge here. Several guides work the river and would boost your odds.
Bait fishing is not allowed, and there are tight bag limits in place. Read regulations carefully for sections you plan to fish.
More: Fishing the Williamson River
Also find a bit more in our article about the Klamath Basin's best fishing spots.
Willow Valley Reservoir
This reservoir past Langell Valley near the California border, southeast of Klamath Falls, can be pretty decent for largemouth bass.
The Antelope Creek channel and flats close to the dam are good places to try in this reservoir, which is nearly 600 acres at full pool.
Other fisheries here often aren't as good.
For crappie, try first to find structures that have been placed in the lake, which are sometimes visible but may require a fish finder. The most recent reports suggest crappie aren't numerous but can be large.
There also are yellow perch, bluegill and some Lahontan cutthroat trout.
There is access for bank angling, but Willow Valley is very turbid and shore fishing is often poor; use a small boat for better results.
Nearby Malone Reservoir (20 acres) also has fishing for bass and panfish and is more successfully fished from the bank.
Wood River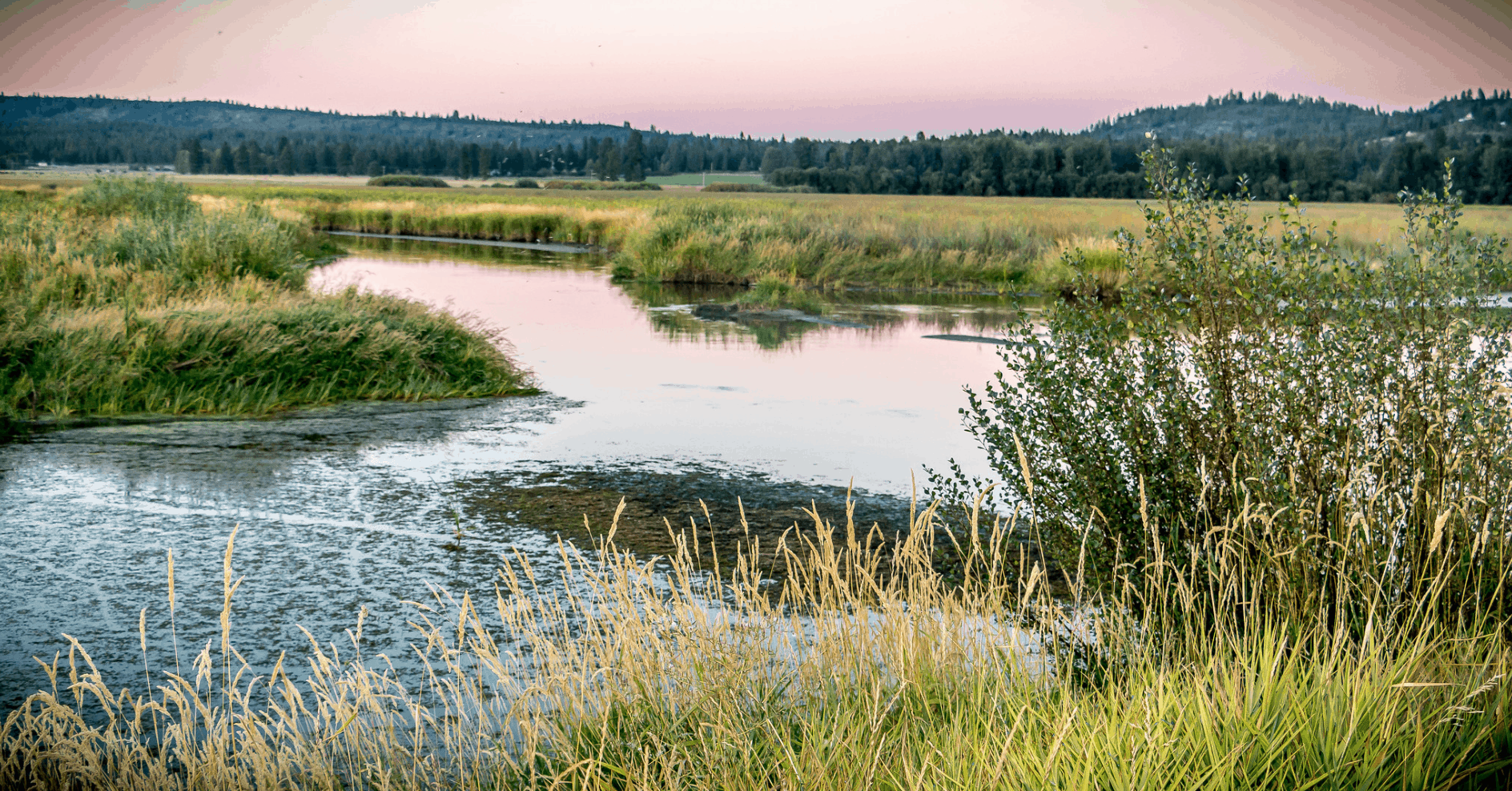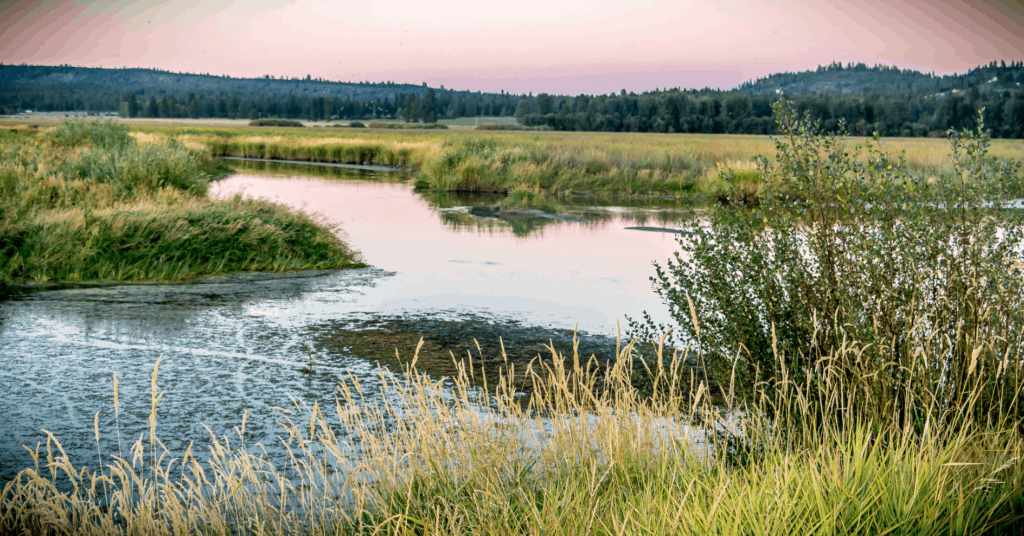 This clear trout stream in the Fort Klamath area flows into Agency Lake, the upper lobe of the Upper Klamath Lake system.
Like the Williamson to its south, the Wood also plays host for spawning runs of magnificant redband rainbow trout that grow to steelhead size in the rich lakes below.
The Williamson might be better known for those redbands, but you'll find them here in good numbers and you'll also find more big brown trout.
More: Fishing the Wood River
Fishing in Neighboring Counties
Deschutes County: To the north, one of the richest fishing counties in Oregon, with lots of trout, kokanee, largemouth bass and more.
Lake County: To the east, Oregon's only hybrid white bass, a couple of productive trout streams and, when there's water, one of the state's best crappie factories.
Jackson County: To the southwest, includes the upper Rogue River's great salmon and steelhead runs, plus lots of trout, bass and other fish in numerous mountain lakes and reservoirs.
Douglas County: To the northwest, the Umpqua River drainage here has excellent salmon, steelhead and smallmouth bass fishing, and Diamond Lake is one of Oregon's best trout lakes.
Lane County (east): To the northwest, the upper Willamette Valley has strong spring chinook and summer steelhead fishing, plus lots of trout and some trophy largemouth bass.
More Fishing Resources:
In addition to other sources, the following websites were very helpful while compiling these county fishing pages, and the information there is valuable to all Oregon anglers.
For current regulations, trout stocking, weekly angling reports and more, find links on the Oregon Department of Fish and Wildlife's Fishing Resources Page.
For boating information about these waters, see the Oregon State Marine Board's launch locator map.
Return to Best Fishing in Oregon page
Oregon Resources
ODFW Weekly Fishing Report
ODFW Trout Stocking Schedule
Oregon Fishing Regulations
National Weather Service