Also see:
Fishing for Odell Lake Mackinaw (Lake Trout)
Fishing for Odell Lake Rainbow Trout
Odell Lake produced the state record mackinaw (lake trout) and is no slouch for rainbow trout, but what attracts more anglers than anything are its vast schools of kokanee.
These landlocked sockeye salmon don't grow as large as Odell's trout species, but they are frisky fighters, tasty table fare and incredibly plentiful.
While kokanee numbers here always seem good, their average size varies on cycles that range over a number of years.
At the low end, kokanee run just 10 to 12 inches. At the peak, the freshwater salmon are caught in good numbers in the 15- to 16-inch range.
Odell Lake not only is one of the best kokanee fishing lakes in Oregon, it is a natural gem to behold high on the east slope of the Cascade Range, just east of Willamette Pass off Highway 58.
Odell is roughly an hour and a half drive southeast of Eugene or about the same distance southwest of Bend.
Angling Regulations
Odell Lake currently is open seasonally, from late April through the month of October.
There is a bonus limit of 25 kokanee at Odell, where the kokanee never seem to suffer quite as much from major population busts common to some lakes and reservoirs.
The kokanee limit is in addition to the trout limit, which may include five trout but only one mackinaw that is at least 24 inches long.
Bull trout fishing is strictly prohibited, and incidentally caught bull trout must be released unharmed.
Note the closed areas near the mouth of Trapper Creek and the Odell Creek outflow. Also check the angling regulations for additional details and updates.
Know Before You Go
Windy weather often is a challenge at Odell Lake.
Although the winds typically keep the lake from freezing, the winds kick up a good chop on the lake by mid-day that can be a challenge for boating.
Under typical conditions, the lake is calm early and then the wind kicks up in the late morning or in the afternoon and continues for much of the day before settling late.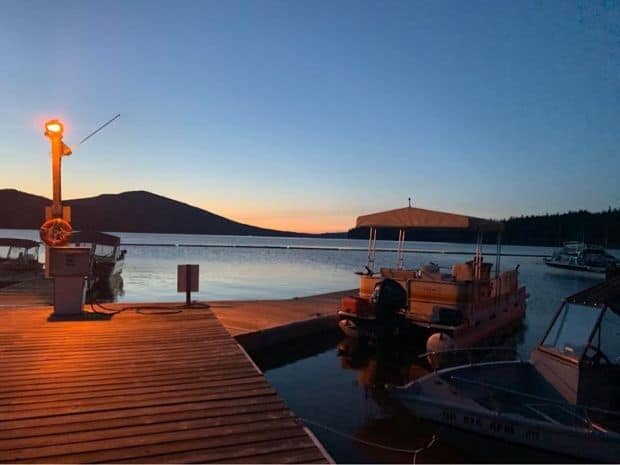 The west end of the lake is the best-protected and can stay fishable all day.
Also, sitting just below a high-mountain pass, spring arrives late here. There likely will be snow on the ground early in the season.
With railroad tracks paralleling the south shore and Highway 58 following the north side, some ear plugs can help light sleepers.
When to go Fishing
If you plan to go after kokanee with jigs, the method that is most likely to result in limits, stick to the early part of the prime season, especially from early May well into June.
By late June or July 4, the fishing can still be good, but trolling will take over through late summer, when the kokanee more dispersed.
Kokanee fishing holds up at Odell through September, which has a later spawn that many lakes.
By October, the largest class of kokanee prepare for spawning runs up Trapper Creek and even trickle-sized tributaries.
Where to Fish
Kokanee are well-distributed throughout much of Odell Lake, which has abundant deep water the lake-bound salmon prefer.
Having a fish finder is very helpful both in the search for fish schools and structure.
Some of the best concentrations of kokanee are in the West Bay, which has more abundant zooplankton, which is their food source.
Try from the West Bay out toward the Princess Creek Campground.
On the southern shore between the resorts near both ends, a productive area is off the Railroad Slide, but this is best early and late when the wind is calm.
Early in the season, shallower-running kokanee can also be located by watching for leapers. Kokanee are more likely to be shallow in the early morning and evenings but are commonly caught down to 100 feet in all seasons.
Into July and August, trollers often have most success working at depths of 50 to 55 feet, although they can be shallower or down to about 90 feet.
When in doubt, look for concentrations of boats or ask at either resort.
How to Catch Kokanee
As with many kokanee lakes, jigging and trolling are the most common techniques at Odell Lake.
Jigging for Kokanee
Early on, up until the second half of June, jiggers seem to have the upper hand at Odell. Proficient jig anglers have been known to boat a 25-fish limit in an hour or two.
Jig fishermen also know that at any given time, a huge mackinaw may also cruise up and smack their jig.
Some of the best jigs at Odell in recent seasons have been the P-Line Kokinator, Gibbs Minnow or the Point Wilson Dart.
The P-Lines now have a version with a good smaller hook in red, which adds extra attraction.
The late fishing guide Mike Jones liked to replace the Point Wilson hooks with a No. 6 or 8 hook, often a Matzuo or Gamakatsu treble hook in a red finish.
No matter the brand, a 1-ounce jig size is typically the most versatile for Odell Lake fishing conditions.
The favorite color patterns here are fire orange and pink and white, but other colors can be effective as well.
When vertical jigging at anchor, which is often best because kokanee can often be found down at about 100 feet below the surface.
Most Odell anglers over-work their jigs, Jones advised us years ago. Use varying jigging motions both up and sideways, from slight to more exaggerated.
Kokanee usually strike as the jig flutters downward.
If kokanee are showing near the surface, try casting toward them from a drifting boat.
Pull the jig back slowly, letting it drop as it comes toward the boat in a pendulum motion, occasionally flipping your rod tip up to give it motion and then letting it flutter as it drops toward you.
Work the lure at varying depths until you find out where the fish are striking.
The fluorescent red or orange jigs are particularly effective for this type of fishing. Another frequent jigger at Odell recommends the use of lighter jigs (half-ounce) when targeting these leaping fish.
Jones recommended TUF-Line in a 10-pound DuraCast for jig-fishing, which also is strong enough to have a fair fight with the occasional big lake trout.
Trolling for Kokanee
Trollers, often equipped with downriggers, use an attractor when fishing for kokanee.
Lake favorites include Shasta Tackle Sling Blades and dodgers from Rocky Mountain and Father Murphy's tackle companies, including the latter's mini-dodgers as well as full-sized.
There also are plenty of anglers who still tied on Luhr Jensen's reliable Ford Fender lake trolls.
"There's people who won't give those up," said Jim Kielblock, owner of the Shelter Cove Resort.
Spinners catch the majority of kokanee for trollers here.
Popular choices are Mack's Wedding Rings and Kokanee Killers, Rocky Mountain Tackle's Radical Glow Assassin and local company R&K Spinners, which also have glow spinners.
Trolling hootchies from R&K, Shasta Tackle and other companies is becoming more common on Odell.
For trolling, a 6- to 10-pound braided line is a good choice. Jones likes an 8- to 10-pound test P-Line Fluorocarbon for the leader.
More Kokanee Fishing Tips
Read our guide to simple kokanee fishing techniques and tips.
If All Else Fails
Occasionally, bait anglers will use jigs more as a weight that doubles as an attractor.
They remove the jig hook and tie on only about 4 inches of leader with a single bait hook.
Bait the hook with a piece of worm, crawdad, salmon eggs or other kokanee baits, often in combinations of multiple baits.
Major sources of information for this article were Jim Kielblock and the late Mike Jones.
Kielblock and his wife Trula have owned Shelter Cove Resort & Marina since 1997. They have RV camping, cabins and a lodge, plus a large marina and fishing boat rentals. Their general store includes a tackle department.
Jones was a veteran fishing guide who spent many seasons helping customers catch trout and kokanee at Odell Lake.
Return to Oregon's Best Kokanee Fishing page
Oregon Resources
ODFW Weekly Fishing Report
ODFW Trout Stocking Schedule
Oregon Fishing Regulations
National Weather Service