Sturgeon are one of the few fish that West Coast anglers target that are as old as the dinosaurs.
They have been around for about 135 million years without changing too much.
On the Pacific Coast's biggest rivers and estuaries, the white sturgeon's size, power and scarcity all combine to ensure that each fish caught is an unforgettable experience.
Sturgeon are not prolific spawners, as is proven by their somewhat limited numbers and slow recovery from over-fishing or habitat damage.
A female may not spawn until around 25 years old, while males are mature closer to 15. Typical signs that the fish are of age is by their size. Younger sturgeon are usually under 48 inches, while more mature adults are larger than that.
Since it takes them longer to enter maturity, sturgeon populations are more challenging to manage than most other fish.
Most waters with sturgeon will be either catch and release or be tightly restricted in terms of what sizes, numbers and open harvest seasons.
There are several different species of sturgeon, ranging from white sturgeon to Beluga sturgeon. For example, fishing for lake and shovelnose sturgeon is popular in the upper Mississippi River and Great Lakes region.
However, this article focuses on the biggest prize of all for sturgeon anglers, the white sturgeon on the West Coast.
Why would you want to catch sturgeon?
Simply put, white sturgeon are on more veteran anglers' bucket lists than almost any other species. They grow big, strong and rare enough to be a real destination defining fish.
Oh, and they are known to leap out of the water.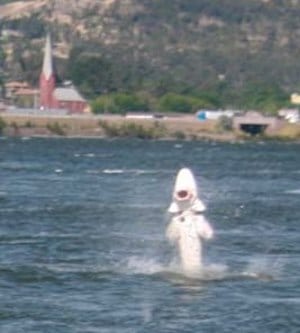 Young sturgeon are generally less than 4 feet, with older, larger fish regularly recording lengths of up to 10 feet.
I have battled an 8-foot white sturgeon bigger than Shaquille O'Neal that felt like hooking a freight train, but my fishing buddies and others have fought and landed even larger fish.
Imagine bringing in a 10- to 15-foot fish to your boat … a fish the size of a great white shark, and in freshwater, no less.
White sturgeon claims the top spot for size in the country and they can be seen in historical photographs at lengths of 20 feet or more.
Those sizes are exceptionally rare now, but when fishing for dinosaurs that live for a hundred and fifty years, there are sure to be some giants out there somewhere.
These incredible fish range from California to Alaska but are most prevalent in a few key fisheries we'll discuss in this article.
The lower river run sturgeon of the Northwest tend to spend a portion of the year eating shrimp and clams in bays and estuaries along the coast before heading back upriver to spawn.
Besides the white sturgeon, there is a rarer and often smaller green sturgeon that inhabits some of the same coastal bays and tidewaters as the white sturgeon and is protected from harvest.
Where to Catch Sturgeon
Depending on the region you are in, you'll have different approaches to finding white sturgeon.
In the Pacific Northwest, you can find them in the Columbia River in good numbers, along with the rarely seen green sturgeon.
White sturgeon are also found in California's San Francisco Bay and Sacramento and San Joaquin River Delta area, the Willamette River in Oregon, and a number of coastal rivers and bays.
Most sturgeon are in areas with access to saltwater bays and the open ocean, where they are anadromous and will journey up and down the coast ducking into estuaries while searching for feeding areas.
However, some sturgeon never travel to the ocean and back due to dams and natural barriers, including in the Snake River and in the upper Willamette River.
There is even a genetically isolated population of endangered white sturgeon clear up in the Kootenai River in Montana in the far upper reaches of the Columbia River drainage.
If targeting sturgeon from a boat, make sure you have a good fish finder.
Knowing the depths where sturgeon are holding, finding good resting spots such as holes or feeding grounds on flats are keys to success. You might even spot a group of sturgeon on your electronics that will improve your chances immensely.
If sturgeon are holding in the water column instead of the bottom, don't bother. They aren't actively feeding if not on the bottom.
While other rivers hold some sturgeon, the following areas tend to produce more regularly and consistently than others. Let's focus on these areas a little closer.
Columbia River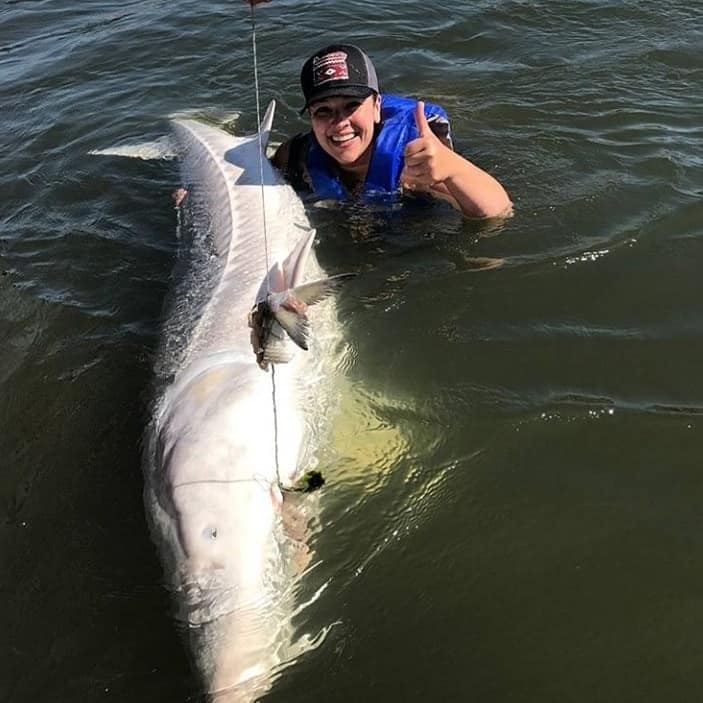 The Columbia is broken up into several sections, from the Pacific Ocean up to and beyond the Snake River confluence.
Breaking down each section will help anglers target sturgeon quicker and hopefully help you find fish.
The river from Bonneville Dam through Portland and Vancouver and down to the estuaries around Astoria has long been the most productive section.
Sturgeon can be found in decent numbers in this section, with several hot spots.
As the river nears the Pacific, it grows much more expansive.
The sturgeon head here for access not only to this river's wide estuary but to estuaries throughout the coastal region.
The Columbia estuary is a haven for sturgeon due to the variety of food available. Sand shrimp, clams, crabs, and fish are all readily available and in high quantities.
There are some specific areas to focus your search on when fishing the estuary section of the Columbia. Desdemona Sands has shallows that hold good numbers, and they will often congregate in deeper holes between foraging trips out on the flats.
The Columbia River estuary can hold sturgeon all year, but a popular time to go after them is when the population here is particularly high in the late spring and early summer.
That time frame also is when the fisheries managers in Oregon and Washington have been open specific days to limited harvests of white sturgeon, which also must be within a specific size range to keep when allowed.
Target sturgeon around the Portland-Vancouver area in deeper waters with a good current.
Kelley Point Park in Portland is known to hold sturgeon. Try near the pilings at the mouth of the Willamette.
Above Portland is an excellent place for spring fishing, with a particular focus below in the Columbia River Gorge below Bonneville Dam for oversized sturgeon that are strictly fished catch and release.
The area below Bonneville typically holds the largest sturgeon, but read the regulations carefully because there are closure areas designed to protect key spawning areas.
Sturgeon fishing can slow up somewhat in the mid- to late summer, when the Columbia runs warm, but look for the bite to return as waters cool into the fall. A few diehards will fish sturgeon on the lower Columbia River during the winter.
The Columbia has many dams as you follow it upstream.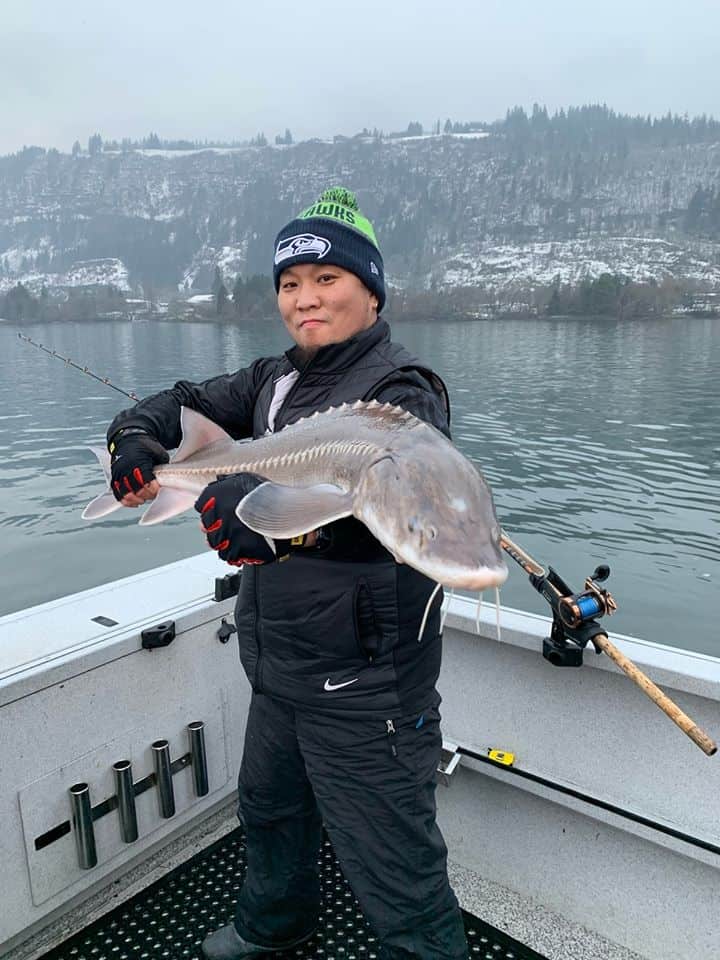 Each section will have its productive areas, though it's essential to check on any special regulations regarding the catching and harvesting of sturgeon.
Even catch and release requires a special permit on the Columbia. Check out your local regulations before you head out.
Many of the reservoirs upriver on the Columbia (often locally known as pools) have some harvest allowed on annual quotas set to certain times of the year.
Some of those seasons open at the beginning of the year, setting up a winter fishery above Bonneville Dam and in several pools farther upriver.
The fisheries will close quickly once the quotas have been met, and those closures seem to happen more quickly as harvests have become more restricted in the lower river.
One growing Columbia River sturgeon fishery is far upriver on Lake Roosevelt, the uppermost Columbia reservoir in northern Washington that stretches for 150 miles.
That area has been seeded with hatchery sturgeon in recent years to return a fishery above fish-blocking dams like Grand Coulee.
As with all sturgeon fishing, read the regulations carefully before planning your fishing trip.
Some additional resources for you on our website include Columbia River Sturgeon Fishing and a broader article on all of the big river's excellent fisheries (connecting you to more specific articles) is at Columbia River Fishing.
Willamette River
The Willamette is a large tributary to the lower Columbia River that flows through the heart of Portland before entering the bigger river across from Vancouver, Washington.
The lower river from Willamette Falls at Oregon City down through Portland, a distance of about 25 river miles, has the highest concentration of sturgeon in this system.
Some sturgeon live in these waters year-round, but additional sturgeon from the Columbia River tend to duck into the lower Willamette River in the fall and often will over-winter there until leaving in the spring.
Those lower river sturgeon actively feed, even when the Willamette is running muddy from heavy rainfalls and anglers for salmon and other fish have all given up.
However, that's also a time of year that boaters need to be especially careful due not only to heavier currents but the presence of logs and other debris that gets washed downriver during high flows.
Also keep in mind that the area from the falls to over five miles downstream is completely closed to sturgeon fishing from May through August, to protect a critical spawning area.
The rail bridge between Milwaukie and Lake Oswego is the demarcation point
Above Willamette Falls, sturgeon have been planted at throughout the years.
It is possible to find sturgeon in some of the deeper holes on the main river and occasionally into the gentle lower sections of a few tributaries.
Depending on the area, you may be able to keep some. However, sturgeon can be hard to find with any consistency up here, and mostly locals tend to deliberately fish for them, although more than one bait angler expecting catfish has tied into a giant sturgeon.
The Multnomah Channel is another good area to target.
The Channel, as it's often known, is a finger that splits off from the lower Willamette in Portland. Its split forms Sauvie Island and it doesn't join the Columbia River until it meanders more than 20 miles downriver to St. Helens.
Fishing from below the Gilbert River down to the mouth by St. Helens can be very productive.
However, the entire channel can hold sturgeon, although there are definitely a few key spots that you'll be able to pinpoint in our related articles linked just below.
Be aware that the Gilbert River, which flows across Sauvie Island, is tightly regulated to protect sturgeon, so definitely check current regulations to keep yourself out of trouble there.
Just as with the Columbia, check on local water regulations before venturing out.
For more information on this fishery, read our Willamette River Sturgeon Fishing article as well as our more general Fishing the Willamette River and Multnomah Channel article that covers all types of fishing.
Umpqua River
While white sturgeon will spawn in larger rivers, they like several coastal estuaries because they have an abundance of some of the favorite sturgeon food, such as sand shrimp and clams.
One of the top estuaries in Oregon is the Umpqua River, which forms Winchester Bay.
Note that the lower Umpqua tends to attract a larger number of green sturgeon than some areas.
Clams, mussels, and all types of shellfish are a huge draw for sturgeon looking for an easy meal.
The biggest draw for this river is that the sturgeon found here are generally giant. There aren't as many smaller, immature fish around.
There are strict regulations for all sturgeon on the Umpqua River.
Catch and release is the only fishing allowed, but they still draw the attention of a few anglers looking to do battle with a fish that's even larger than the Chinook salmon and striped bass in the renowned Umpqua River.
An accessible area to fish is near Reedsport, between Florence and Coos Bay. It's easy to get to and holds large fish looking for an easy meal.
More details and tips on this topic: Sturgeon Fishing in the Umpqua River and Winchester Bay.
Oregon and Washington Coast Estuaries
As with the Umpqua, sturgeon from the Columbia River and other large systems will regularly venture into smaller systems to feed on abundant shellfish.
In Oregon, the Tillamook, Yaquina, Coos and a few more bays and their river tidewater areas at times can hold good numbers of sturgeon.
Likewise in Washington state, the lower Chehalis, Snohomish and a handful of other river systems will see enough sturgeon at times for fun catch-and-release fishing.
Snake River
The Snake holds some real giants. There are several productive areas throughout the river, from the confluence with the Columbia through Hells Canyon.
Per the Idaho Fish and Game, the most productive populations are found between Bliss and C.J. Strike dams and from Hells Canyon Dam down to Lower Granite Dam in Washington.
Hell's Canyon holds some massive fish. There is also the benefit of being in such a beautiful part of the country.
The Salmon River may hold a few, though they don't get up above the North Fork Salmon River very often, so it's not really worth targeting that area.
Some populations have been introduced to the river near Shoshone Falls and below American Falls Dam as well.
Read the regulations very carefully, as the Snake River's sturgeon fishing spots are regulated across three states and sturgeon are protected in most of the river.
San Franciso Bay and Delta
Fishing for sturgeon in California can be very productive.
White and green sturgeon are both found in the same waters here, though green sturgeon are federally protected.
There are several areas that hold sturgeon, so let's break down some of the more accessible areas.
From mid-winter through early spring, sturgeon can be found actively feeding from the southern section of San Francisco Bay clear through the Sacramento and San Joaquin River Delta system.
The best areas to focus on are the West Delta and San Pablo and Suisun bays.
A great area to fish is from the Sacramento River's Powerlines section down to the Benicia Bridge area.
Other areas that hold good numbers are the San Francisco estuary and Humboldt Bay.
Fraser River, British Columbia
Though obviously not a U.S. fishery, we think it's worth pointing out that this big Canadian river rivals the Columbia and Sacramento systems as one of the premier West Coast fisheries for residents on both sides of the border.
The Fraser River is well known for holding giants.
The river recently had the largest "virgin sturgeon" caught since the country started tracking them. This fish came in over 800 pounds, and amazingly, had never been tagged.
For a fish that large, the likelihood that it wouldn't be tagged by then is remarkable. It leads you to believe there may be several more in that watershed.
Tides
Tides can have a big effect on fishing success.
Sturgeon are likely to follow high tides into flats and tidewaters that are too shallow for them at low tide but which hold plenty of food.
Often the best time to fish in tidal cycles seems to be just before it breaks down or as it first starts to come in again, when flows are softer.
In bays and straits, target shallower and calmer water when the currents are moving fast. Once things slow down, move into deeper water.
Every water is going to have its own conditions that will prove some tactics more or less successful, so be aware that this is just a generality and that specific locations may fish differently.
You'll learn sturgeon habits for particular spots from experience, either your own or tapping into the knowledge of veteran sturgeon anglers.
Wind and tides can work together to give you a great trip. If the tide and wind are going in the same direction, you might have more success.
Be Patient
Once you enter the fishing grounds you have chosen, don't rush it.
Your bait will spread the scent down through the current while you wait, which eventually should draw the fish in your direction.
It may take up to a few hours, but sturgeon are likely to move into your fishing area and take the bait.
Spending your time moving around the river too much can lead to a long day of catching nothing, unless you are very familiar with their holding patterns.
Be prepared for the wait when you make your first cast.
How to Catch Sturgeon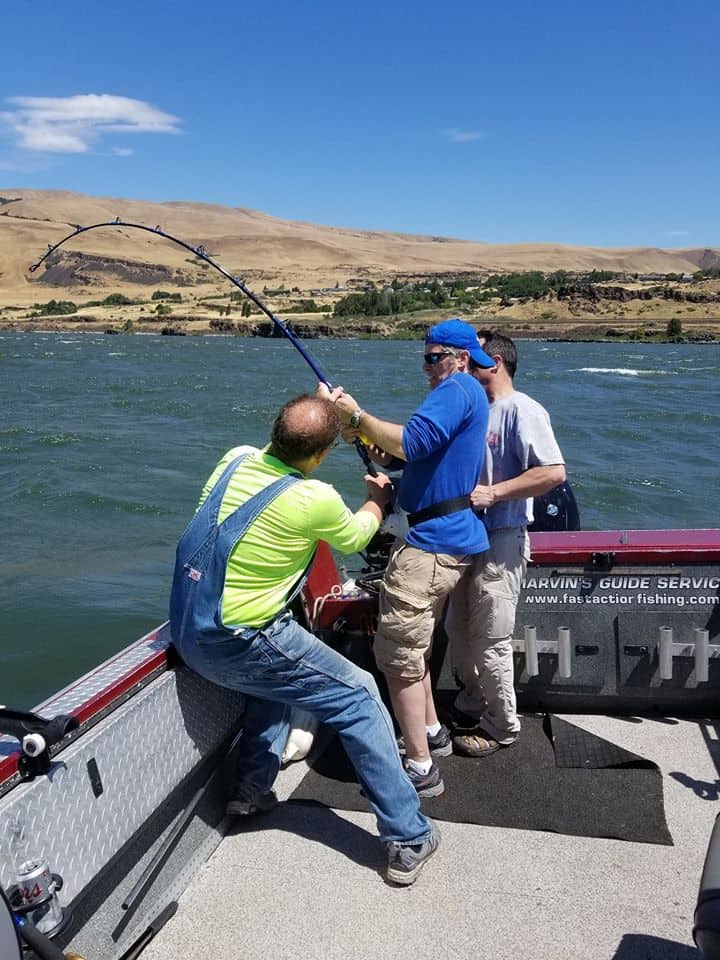 Now, with a clearer idea of where to go, you'll probably want to know how to catch sturgeon.
The typical setup for sturgeon fishing is for targeting them with bait, so let's dig into the specifics.
Rod, Reel and Line
Your rod should have a sensitive tip and a strong backbone. Something in the 7-foot-6 medium-heavy category should do the trick for many circumstances, but heavier equipment will be necessary if targeting oversized catch-and-release sturgeon.
Make sure your rod is capable of handling at least 30-pound test, and many sturgeon anglers will go far heavier with their equipment.
There are so many different types of reels on the market that it comes down to preference.
Keep in mind the fish on the other end of your line may weigh a few hundred pounds.
If you really get into sturgeon fishing, having a reel that will hold 65- to 80-pound test should be enough for most circumstances, but there are giants out there that can strip that off pretty fast.
Whatever reel you go with, make sure the drag is easy and fast to adjust. A quick drag change can make the difference between landing a sturgeon or not.
If fishing from shore, try a surf rod.
You'll be able to cast a mile and get the bait out there into the deeper channels where the big guys are hiding out.
As for the line, go with 65- to 80-pound braided.
Watch out for excessive line wear. Younger sturgeon are well known for rolling up in the line, which can cause wear from their scutes, the bony plates that run up the length of sturgeon.
The scutes are also quite a bit sharper on the smaller fish. They tend to wear down as the fish age.
Rigging
If fishing in a strong current, use a heavy enough weight to ensure it stays on the bottom.
Don't go too heavy, but make sure you're on the bottom where sturgeon will be feeding.
Use a strong leader. Mono in the 100 -pound range will be strong enough and thick enough to avoid being cut.
Another option is a wire or coated wire leader to stand up better to possible cuts.
Sturgeon have terrible eyesight, so a heavy leader won't scare them off.
Tie a heavy swivel to your mainline and add at least 18" of leader.
The hook needs to be big and strong enough for fish this large. It also may need to hold a whole shad, lamprey or smelt.
A safe option is a circle hook or an octopus hook. A good size is from 5/0 up to 8/0. Make sure it's sharp.
Best Sturgeon Baits
Freshness is essential when choosing a bait. Sturgeon have a great sense of smell and taste and will spit out anything that isn't fresh enough.
Most frozen baits aren't going to work nearly as well as fresh baits, although at times that will be what's available.
Use shad, sand shrimp or other local shrimp, smelt, eel, or other fresh cut or whole baits. Herring, anchovies and squid work well at times, though if you aren't getting much interest, add a sand shrimp on the hook.
If you're fishing while the American shad or smelt or another bait species are running, sturgeon are likely to be keyed on that in freshwater. Likewise, sturgeon foraging in saltwater bays and flats are more likely focused on clams and shrimp.
Technique
Sturgeon feed almost entirely on slow-moving or freshly killed prey, and they aren't interested in chasing lures. They may occasionally grab a lure fished with bait or scent on it, but that's pretty rare.
The most common way to catch these giants is by rigging up the bait and casting out. Most anglers then put the rod in a holder and set the reel to free spool with the clicker set.
There are occasions when sturgeon will snatch up bait and take off immediately. If your reel isn't set to free spooling, you may lose the entire setup: bait, hooks, line, rod, everything.
Watch the rod tip closely. The bite is typically very light.
Sturgeon work in a sense like a vacuum.
They will suck up the bait, chew on it for a minute, then spit it out if they don't like it. The tricky part is that they hold still through the entire process.
Your rod tip is going to bounce a little, so pick it up immediately. Once you feel a harder tug, set the hook as hard as possible and then set it again. They have thick rubbery, almost leathery, mouths that aren't easy to penetrate with a hook.
It can ruin your day to have a giant fish leap out of the water and spit your hook. Remember to set the hook hard. Set it multiple times.
Use sharp hooks. Spend the extra cash and get the highest quality you can afford. Replace your hooks if dulled.
Fish On
You've just hooked a sturgeon, and it is taking line. What are you going to do now?
First, hold the rod tight. These guys can pull a rod right out of your hands.
In some cases, they may pull you right along with it, which is why many serious sturgeon anglers use a fighting belt.
Next, make sure to keep the line taut.
Never let it go slack. For one, it may throw the hook.
But also, as mentioned, the scutes on the fish will cut the line as it tries to roll up.
It is also possible for the slackline to wrap up on them and can cause injury to the fish.
Make sure your drag is set as tight as is possible for the circumstances but still allowing the fish to make runs.
Use the rod and the drag to wear the fish out with every pull and run it makes.
From time to time, you'll hook into a giant that just doesn't want to play. You pull and pull, but nothing's happening. When this happens, the sturgeon is lying on the bottom and doesn't want to move.
The first step is to park your boat directly above the fish and reel down hard, so your tip is pointing down at the fish.
Once the line is nice and tight, thump the rod hard with your hand a few times. The vibration will typically get the fish going.
Once a sturgeon is tired out, it sometimes may appear to give up entirely and come to the boat or bank with relative ease. Relative being the keyword here.
As you prepare to bring it to your or the net, some anglers like to give the big fish a bit of a poke.
Sometimes sturgeon will have one last big run left in them, and poking them will send them on their way and make them easier to handle the next time you get them back to you.
That may keep you from dealing with a huge fish thrashing around in or alongside your boat.
Nets are important if you are bringing keeper-sized sturgeon into the boat.
Nets need to be very large. Trying to bring in a 6-foot sturgeon with a trout net isn't going to happen.
Using the wrong net or using a rope or snare can injure the fish by putting too much pressure on too small an area.
Once you've brought the sturgeon to the boat or bank, be sure to keep your hands away from the gill plates.
Try to handle your catch as little as possible and get it back into the water as fast as you can.
When releasing sturgeon, which is often the end result, it's typically best for the fish to keep it in the water, snap a quick photo, and unhook it for the release.
With so-called oversized fish that may be bigger than you are, this is likely the only safe option for both of you.
Conclusion
Keep in mind that sturgeon populations have suffered through the decades, with over-fishing, poaching and environmental issues taking a toll.
You must always know the local rules while fishing for these prehistoric giants. They rely on anglers to treat them with as much care as possible.
Sturgeon are a fantastic fish to target, at least as part of your fishing bucket list.
Just make sure to treat them with care, and the fisheries will be productive for millions more years to come.