Tillamook Bay is Oregon's second-largest coastal bay (behind Coos Bay), and the largest on the state's north coast.
Tillamook Bay is a relatively short drive from the Portland and Salem areas for excellent bay and jetty fishing for salmon, lingcod, perch and other fish species, not to mention some of the best crabbing and clamming found anywhere in Oregon.
What follows is a wide look at some of Tillamook Bay's best fishing and shellfishing opportunities.
Fishing in Tillamook Bay
Fall Chinook Salmon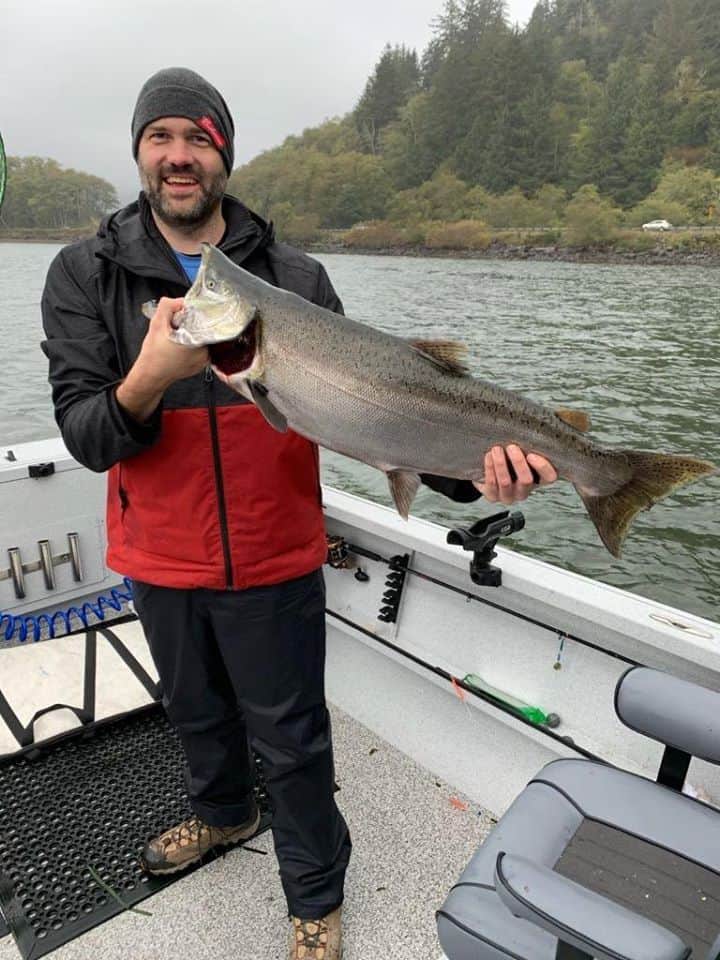 Tillamook Bay is easily among the premier fisheries on the northern Oregon Coast and even worth consideration as one of the best spots in the Lower 48 states for fall kings, especially if you're after large fish.
The bay often yields many thousands of Chinook to sport anglers during a decent fall season.
When to Catch Tillamook Bay Chinook
Although a few fall Chinook salmon enter the bay in August, other places like nearby Nehalem Bay or the Columbia River estuary are better fisheries this early in the year.
Start looking more seriously at Tillamook Bay in September, when the fishing tends to build all month toward a usual peak the next month in October.
And while other bays are often not productive later in the season, early November can also be good at Tillamook Bay.
Where to Catch Tillamook Bay Chinook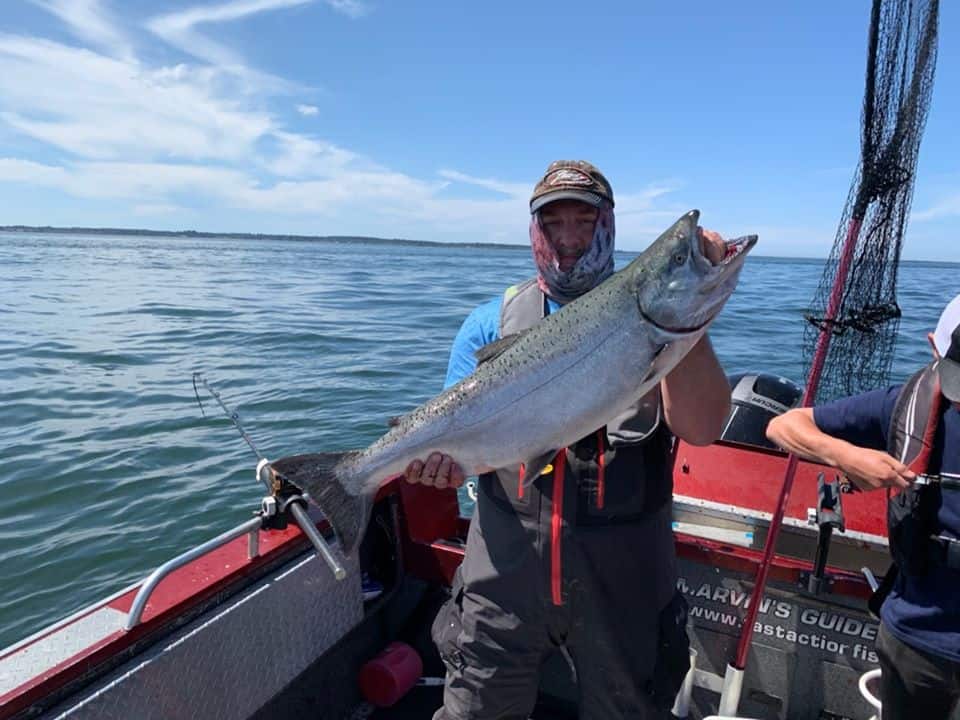 There are good opportunities to catch fall Chinook from between the jetties south into the tidewater areas.
Most of the Chinook action south of Garibaldi is focused along the main channel that runs closer to the east side (Highway 101 side) of the bay. Some anglers will try to follow the salmon up the bay from the jetties south toward the main rivers during an incoming tide.
Note that Tillamook Bay is fed by five major rivers, and all of them have Chinook runs.
However, the Trask River and Wilson River contribute by far the most fall Chinook salmon to this fishery.
As a rule of thumb, the Trask fish run earlier than the Chinook salmon in the Wilson River, where salmon fishing can hold up clear into winter steelhead season. The Kilchis River entering the bay close to the Wilson also has a later Chinook run.
If you're fishing the bay into November, you might not want to fish any farther south than the Wilson tidewater area.
How to Catch Tillamook Bay Chinook
Trolling with bait such as herring (cut-plug or whole) or with lures including spinners and wobbling plugs such as Kwikfish and Flatfish are popular approaches.
In the tight quarters of the river tidewater areas, bobber fishing with bait is common.
Get a full look at salmon fishing techniques and tips in our simple guide.
Tillamook Bay Boat Launches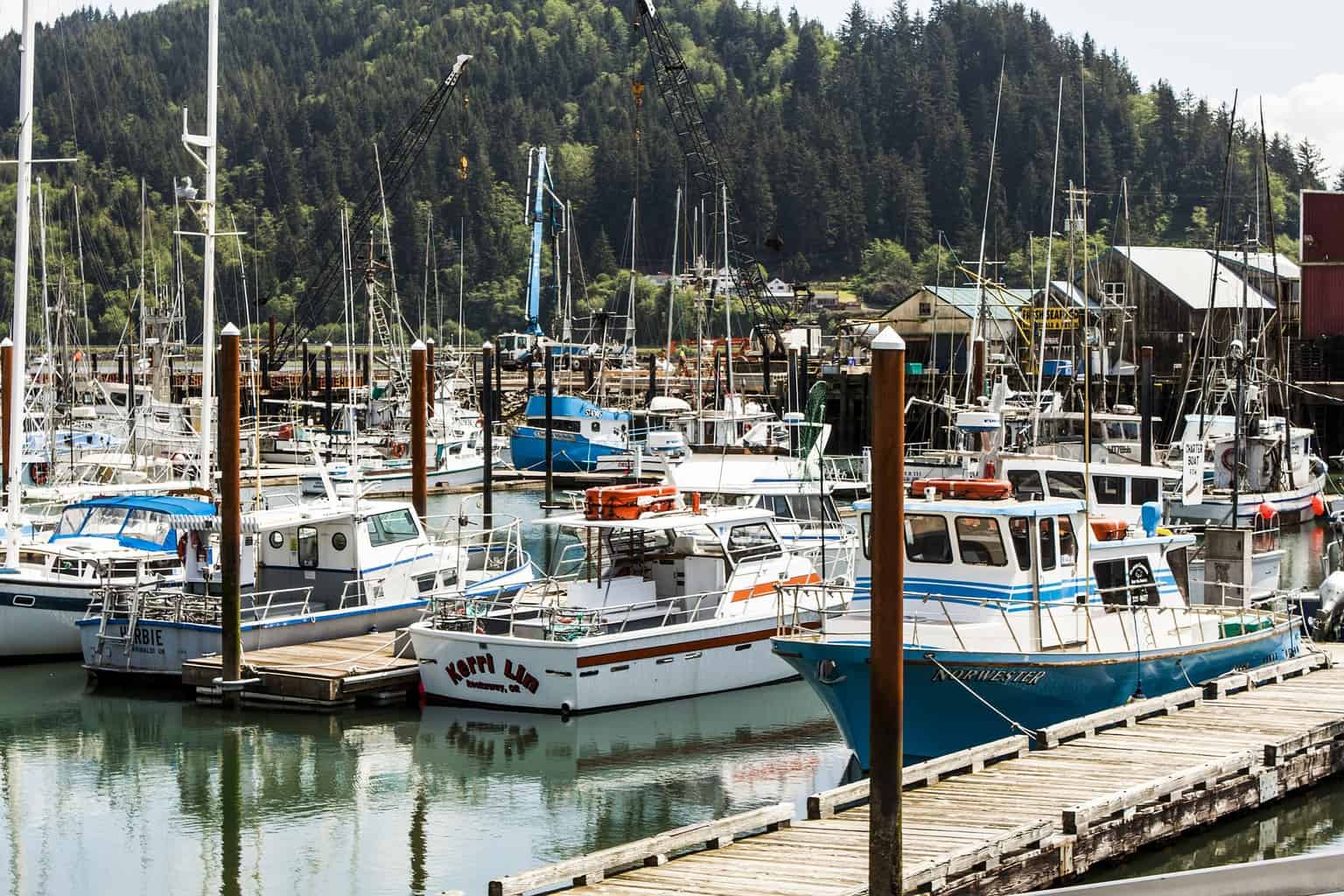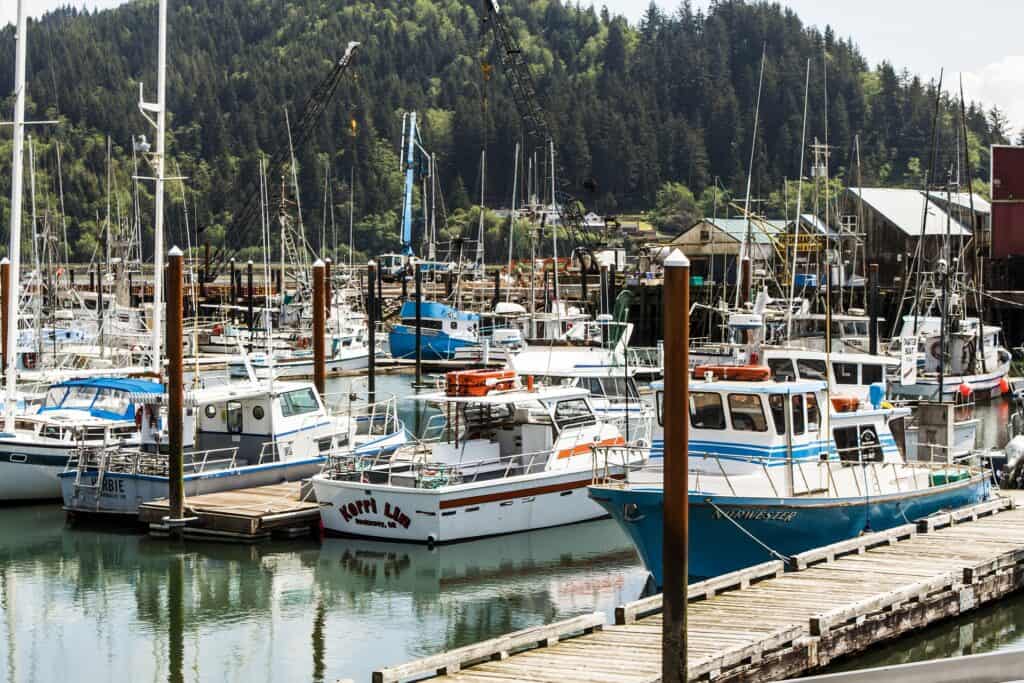 For the lower and middle bay, there are excellent facilities to launch your boat (or rent one) at the Garibaldi Marina right in Garibaldi.
For fishing the Oyster House Hole and other spots in the upper bay, consider the launch at Memaloose Point on Bayocean Road west of the city of Tillamook.
You can also launch into the upper tidewater areas of the major rivers.
While this fishery is primarily a boat show, bank anglers occasionally land them from several areas, including the jetties and the pull-out on Highway 101 at the Ghost Hole (north of Bay City and just south of Hobsonville Point).
Spring Chinook Salmon
Springers offer an earlier shot at king salmon fishing in Oregon, and Tillamook Bay offers some of the Oregon coast's better spring Chinook fishing.
Springers aren't on average as large as fall Chinook but are considered perhaps the tastiest of any salmon on the planet.
Spring Chinook start showing up in late April, but hold off until May and June if you really want peak fishing. Some years fair catches will continue into early July.
Spring fishing is done in many of the same places as fall fishing, but note that springers are primarily returning to the Trask River at the southeast end of the bay, where there is a hatchery. A modest number also go to the Wilson River.
Trolling spinners in the upper bay near the Memaloose launch has proven effective in the spring. (Trask River Chinook fishing can also be good.)
Don't expect spring Chinook fishing to rival the fall fishery here by numbers.
The total spring catch is often under 1,000. But the weather is pleasant and fewer anglers are after them, so your chances are still reasonable and it's not as crazy-busy as the bay gets in the early fall.
See the section above about fall Chinook fishing for access points.
Coho Salmon
Oregon coho are a late summer and fall fishery, and Tillamook Bay's coho fishing typically coincides with the fall Chinook run, peaking in September and October.
Coho runs are frustratingly cyclical. Some years catches are rare and other years there can be times when the silvers are hitting better than the bay's more famous king run.
Coho salmon are aggressive biters in saltwater, attacking trolled baits and lures with almost suicidal abandon.
Many of Tillamook Bay's coho are headed to the Trask River, where there is a hatchery.
Sometimes a good fall rain will send most of the run screaming up the rivers, promptly ending the best coho fishing for that year, whereas the Chinook tend to come in during a more prolonged period.
Note that coho salmon caught here and in many Oregon waters must have a clipped adipose fin (hatchery reared) to keep under set regulations
However, when the wild coho runs are particularly strong, the Oregon Department of Fish and Wildlife will sometimes opt to open up limited harvests for unclipped fish in Tillamook Bay and elsewhere. These special regulations are announced on ODFW's website prior to the season.
Trout Fishing
While steelhead runs can be great in Tillamook Bay's feeder rivers, these ocean-going rainbow trout are only infrequently caught in saltwater (occasionally as an incidental catch by salmon anglers).
But native coastal cutthroat trout are a different story.
This native coastal trout species is common in the rivers and streams that drain into to Tillamook Bay.
Some coastal cutthroat are anadromous, meaning they run into saltwater like a salmon or steelhead. Known as searuns, harvest trout or bluebacks, these fish don't go as far out to sea as their larger brethren.
But they fatten up on shrimp and other forage and come back more silvery and often larger than their cousins sticking it out in the river.
Anglers can most easily target searuns as they return to home rivers in the late summer and early fall.
Try trolling a worm behind flashers, or tossing spinners or casting flies in the upper tidewater areas of the Trask or Wilson rivers starting about late July through the end of summer.
We give you the details you need for this type of angling in Trout Fishing: Basic Techniques and Tips.
Boat launches are available to easily access both tidewater areas, but bank fishing is limited to a few spots.
Sturgeon Fishing
Tillamook Bay seasonally has some of the Oregon coast's better sturgeon fishing, although anglers should note that sturgeon (including the common white sturgeon and less-common green sturgeon) have been increasingly regulated due to declining populations.
Always check your regulations, but at this writing sturgeon fishing is a catch-and-release fishery on the coast.
White sturgeon come into Tillamook Bay to feed on its abundant clams and shrimp. They can occasionally be caught year-round, but they are most commonly found here during the winter and spring months, with the highest concentrations likely to be found around February and March.
Most sturgeon move out of the bay for summer and fall, often returning to the Columbia River system to the north.
Sturgeon will use many of the channels in the upper half of the bay to get access to the flats for feeding.
Some of the smaller channels in the western and middle bay have good fishing for these prehistoric giants, but beware of getting stranded on sand bars as the tides change.
Sturgeon also work their way into the tidewater reaches of the bay's river systems. A notable spot to catch them from the bank is the Sturgeon Hole on the Tillamook River's tidewater just west of the city of Tillamook.
We have a simple guide to sturgeon fishing techniques and baits.
Lingcod Fishing
One of the other big and occasionally unexpected catches in Tillamook Bay is the lingcod, a large and aggressive ocean species (not to mention exceptionally tasty) that comes into near-shore rocky areas during the late winter months to spawn.
Lingcod are a fairly frequent catch along the bay's jetties.
The big lings are most commonly caught from jetties starting in late February and continuing through March and potentially into early April before many of the larger specimens return to deeper waters.
Access to Barview Jetty (north jetty) is easy year-round, but be careful to watch for large waves. The south jetty requires a longer walk or bike ride out the Tillamook Spit.
The large-mouthed lings feed primarily on smaller fish species and can be caught using dead fish or larger soft-bodied lures that mimic one of their big meals. Live non-game fish may also be used for bait within the bay if you catch them there.
Lingcod are most often found close to rocks, so don't cast over their heads.
Cabezon, a smaller but similarly ugly (and good-eating) fish of the deep are also found along jetties this time of year, but usually in lower numbers. Use smaller baits for these.
Rockfish Fishing
Black rockfish (a.k.a. black sea bass) and several less-common species of rockfish inhabit near-shore rocky habitats including the jetties at Tillamook Bay.
Like freshwater bass, these are aggressive fish prone to attack anything that looks like a meal.
Rockfish anglers often use soft-plastic grubs, worms and similar lures to generate a quick strike, and if you find a feeding school of these fish a fast limit is possible.
Fishing for rockfish is often best beginning about mid-spring and continuing throughout summer and into the fair weather of fall.
Greenling Fishing
These are regular inhabitats of rocky areas and are particularly common along Tillamook's jetties, especially in the fair weather of spring and summer.
Greenling are smaller fish, about the size of a legal stocked trout (and they are sometimes called sea trout) but camouflaged to the color of kelp and rocks.
Kelp greenling and several other species are easy to catch as long as you remember one thing: They are literally between the rocks at your feet, where they are hiding from lingcod and other predators.
A stout rod with a short length of very heavy line (50 pound is not at all too heavy) can be used for "poke" fishing – literally poking small baits such as shrimp and clams into the holes between jetty rocks at your feet is one of the most effective methods.
Some anglers will also sink their weighted baits 4-5 feet below a bobber and work that right along the foot of the jetty. The greenling will dart out and grab it.
Perch Fishing
Saltwater perch can be a really top-notch fishery at Tillamook Bay that some anglers would do well to tap into. They are fun to catch and tasty to eat.
Perch are most common in the bay from spring through summer, feeding on shrimp and other forage.
Some of the best fishing typically comes in the spring months when redtail surf perch come into the quieter waters to spawn.
The area around Three Graces and Painted Rock between Garibaldi and Barview is going to be a prime area for bank and boat anglers alike.
Bank anglers might also at times do well farther up into the bay from the fishing docks in Garibaldi or the bank around Hobsonville Point and the turnout along the Ghost Hole south of Hobsonville.
On the other side of the bay, anglers can walk out Tillamook Spit to the Kincheloe Point area.
Boat anglers also can find feeding perch in the bay channels along the sand flats.
Crabbing in Tillamook Bay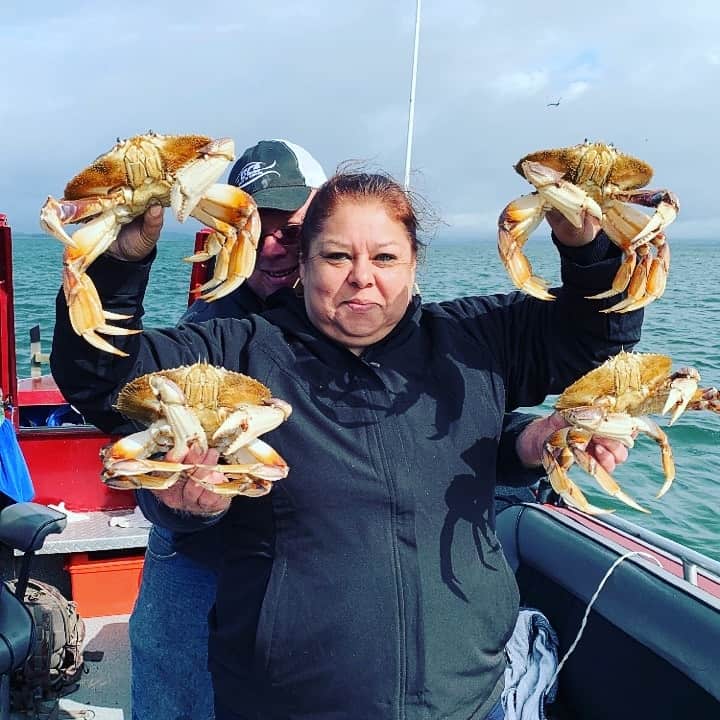 You won't be alone while crabbing in Tillamook Bay, because it's one of the (if not the most) popular crabbing spots on the northern coast. But it's a big bay with lots of space for successful crabbing.
As is usually the case, boat anglers have the best access to prime crabbing water.
There are generally two favorite spots for boaters.
One is on the inside of Kincheloe Point, an area often called Crab Harbor.
As the name implies, Crab Harbor is a somewhat protected area and safe for smaller boats that launch across the bay in Garibaldi.
Drop gear south of Kincheloe and on the far side of the main shipping channel in reasonably deep water southwest of Garibaldi, and watch out for shallow flats while boating.
The other prime spot for boaters to go crabbing is on the ocean side of where Kincheloe pinches a narrow spot in the bay and out to Barview State Park.
If you go too far out between the jetties near Barview, the bay tends to get a little rough for crabbing, especially seaward from the main park area. This area can be windy, especially in the afternoons.
Crabbing during a morning incoming tide through high slack is a good bet, on either side of the main shipping channel.
For non-boaters, drop your crab pots and nets from public docks available at southern end of the Port of Garibaldi (off 7th Street) and another at the west end of Bay Lane (use 12th Street).
Crabbing isn't always as productive this far up the bay, but it's fun and at times very worthwhile.
Tillamook Bay is on our list of Best Crabbing Bays in Oregon.
Clamming in Tillamook Bay
One of the most popular clamming spots on the bay (and on the entire north coast) is easily accessed from near the fishing and crabbing pier near the west end of Bay Lane, on the west side of Garibaldi, or a very short walk or boat ride from the boat basin area.
The prime clamming zone is about a half mile or so long, generally west of the pier toward the Pirate's Cove area.
This area not only is easily accessible but also is popular because it has a good variety of butter, cockle and gaper clams.
But it's really rocky, so be prepared for a workout. You'll do well to have a garden fork with heavy tines, and bring a strong shovel as well.
Just across the bay, on the east-facing beaches around Kincheloe Point, find very good numbers of cockles as well as some butter clams in the mix.
This area is easily reached by boat, but you also can hike or ride a bike a little over a mile on old roads and trails. Start that trek at the parking lot north of Cape Meares Lake.
If you don't care to walk that far, find softshell, gaper and cockle clams on the wider sand bars that begin just north of the same parking area.
Shovels and rakes work well for the gapers and softshells, but carry a rake to help with the cockles.
On the east side of the bay, there is walk-in clamming on the beaches of Hobsonville Point.
In the rocky beaches of Hobsonville you are mostly likely to find butter clams. Rakes, alone or with a shovel, are the tools of choice here.
There also are wide sand bars in the middle of the bay that offer excellent clamming, but you'll need a boat to reach them.
On the north end, just across the channel from Garibaldi and due west of Hobsonville Point, are several good areas for gaper and cockle clams.
You might even get into some razor clams on very northern ends of these sandy areas in the upper bay. Clam guns and shovels are your best bets.
Just to the south, from Bay City north almost to Hobsonville, are more large sand bars that are good for softshell, gaper and cockle clams. Bring a shovel or clam gun, and pack along a rake for the cockles (or just pick those up by hand).
Off from Bay City and stretching south toward the mouths of the Wilson and Kilchis rivers (Idaville area), boaters can find softshells in a very large mudflat.
Be aware that walking through this muddy area can be difficult. Use a clam gun or shovel to dig through the muck.
Tillamook Bay also is on our list of Best Clamming Bays in Oregon.
Oregon Resources
ODFW Weekly Fishing Report
ODFW Trout Stocking Schedule
Oregon Fishing Regulations
National Weather Service