White sturgeon are the largest gamefish found in Oregon, and one of the largest freshwater fish found anywhere in the world. Anglers frequently catch and release sturgeon of 10 feet or more on the Columbia River, and historically these fish are capable of topping 20 feet.
A sturgeon's diet includes fish, clams, eels, worms and other foods.
Common baits in Oregon include smelt, shad, sand shrimp and squid, among others.
Sturgeon seldom move through fish ladders and over waterfalls, unlike salmon and steelhead.
But sturgeon with clear access to the ocean move between fresh and salt water, often moving out of the Columbia and often into other river systems in the search for food, and then they return to spawn.
Lately white sturgeon numbers have seen some modest improvements from a few years back, and the Oregon Department of Fish and Wildlife and its Washington counterpart have opened a few sturgeon retention days in recent years in the lower Columbia River system.
Anglers should keep an eye on regulation changes if they want sturgeon for the table.
Even outside of any harvest opportunity, there still are active (and often excellent) catch and release fisheries and a modest number of retention opportunities in select areas of the upper Columbia and Willamette rivers.
Green sturgeon, a less common species in most waters, already were off-limits to harvest. Our best advice to Oregon anglers: Check ODFW's state's regulations and updates before keeping any sturgeon.
Also note that a Columbia River Basin endorsement is required to fish for sturgeon, salmon and steelhead in the mainstem Columbia River and all of its tributaries. You'll also need the appropriate license and tag.
Here are the state's best white sturgeon fishing spots:
Columbia River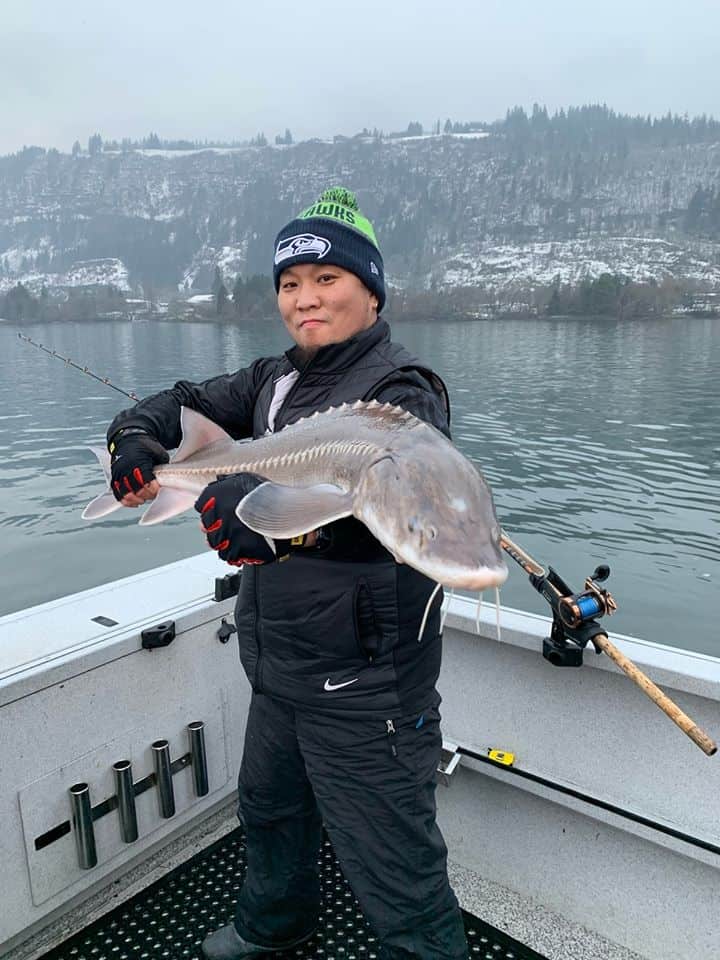 The Columbia is far and away Oregon's largest sturgeon fishery, or we should say "fisheries," because there are many.
The estuary and river below Portland offer abundant clams and other food for sturgeon, which are found here in the highest numbers in about May and June. Catches continue well into July.
The Columbia above Portland, including the Columbia River gorge, offer very good spring fishing. Many of the river's largest sturgeon spawn below Bonneville Dam.
Catch and release fishing for those "oversized" fish as well as for keepers gets going in March or April, with good fishing continuing into early summer. October can also offer good fishing here.
The gorge also offers some of the Portland area's better bank angling for sturgeon.
Please check regulations before fishing, as sturgeon retention is currently off-limits in specific areas below Bonneville Dam except when allowed under special harvests announced by state agencies.
The reservoirs upriver still have retention allowed on annual quotas that apply to each pool.
The Bonneville Pool, in the gorge area, has a relatively stable sturgeon population and has become very popular in recent years. (These fish are largely separated from the lower river populations, but they also don't generally get gobbled up by sea lions.)
Due to increased pressure from anglers looking for harvest opportunities that have disappeared elsewhere, the quota disappears quickly.
In recent years, ODFW split the quota by allowing some of the fish to be caught at the beginning of the year, when the concentrate in the lower pool, and then saving the remainder of the quota for what might be a quick retention period in June, when many of these fish are farther upstream in this pool (near The Dalles).
The Dalles and John Day pools have smaller quotas. In recent years, the keepers have been taken during the first half of the year or so.
For a complete article on this fishery, including sturgeon fishing upriver into Washington, see Columbia River Sturgeon Fishing.
For a broader look at all types of fishing in the river, read Columbia River Fishing.
Willamette River
This largest tributary of the lower Columbia River offers abundant sturgeon habitat in its deep lower reaches, a roughly 26-mile stretch from the mouth near Portland and Vancouver upriver to Willamette Falls between Oregon City and West Linn.
There are sturgeon in the Willamette year-round, but the highest numbers are found here from fall through early spring.
Recent regulation changes have made the Willamette River below Willamette Falls strictly a catch and release fishery for the past several years.
A few limited retention periods may be offered, so keep an eye on ODFW's regulations.
Also note that ODFW closed all sturgeon fishing (even catch and release) for the river between the falls and downriver more than five miles to the rail bridge between Lake Oswego and Milwaukie during the months from May through August.
This upper area is protected as a sturgeon spawning sanctuary.
Catch and release fishing is often very good, with lots of action and hard battles, even when keeper fishing isn't allowed.
The Willamette above the falls has at times been planted with sturgeon, and they can still be caught in a few of the deeper holes. The catch here is modest, but retention has been allowed.
For a complete article on this fishery, see Willamette River Sturgeon Fishing.
Oregon Coast
Sturgeon likely visit almost every Oregon estuary in search of clams, shrimp and other foods.
The numbers of fish are often best during the winter through early spring, although sturgeon may be found here anytime of the year.
As with much of Oregon, the general rule for coastal fisheries (barring special regulations) are catch and release fishing in place since 2014.
Here are some of the most popularly fished spots, listed north to south:
Nehalem Bay
This is a relatively small fishery that the locals like to keep on the hush-hush, especially back when harvests were allowed.
You can catch sturgeon in the bay proper and up into tidewater stretch above the town of Nehalem to where the North Fork Nehalem comes in, and also up farther in the Barn Hole.
Full article on this location: Nehalem Bay Fishing, Crabbing and Clamming.
Tillamook Bay
The northern Oregon Coast's largest bay often produces the most reliable sturgeon fishing outside of the Columbia system.
Sturgeon are found throughout the bay, with the West Channel a popular spot. Beware of getting caught on the sand flats on that side during low tide.
Into summer, when the river flows decrease and the bay is saltier and full of crabs, anglers in the know move into the lower Tillamook River.
There's a dock above Bay Ocean Road and also bank access along Frazier Road.
More on this location: Tillamook Bay Fishing, Crabbing and Clamming.
Yaquina Bay
The tidewater above Newport, including the Toledo area, were increasingly popular among sturgeon anglers when you could keep them, and still an option for catch and release fun.
Siuslaw Bay
This is a modest sturgeon fishery, and often ignored.
In fact, back when keeping sturgeon here was allowed, often the most sturgeon tagged in the Florence area came when the bay's great Chinook run is going strong in September and October, and sturgeon were likely incidentally caught sucking down a slow herring bait.
Winchester Bay
The Umpqua River estuary can be among the best fisheries on the Oregon Coast, although catches varied widely year to year back when harvests were reported.
There can be large numbers of green sturgeon closer to the ocean. Greens are less common than white sturgeon in Oregon and also are off-limits to retention.
More: Winchester Bay and Umpqua River Sturgeon Fishing
Coos Bay
Oregon's largest bay doesn't get a ton of attention among sturgeon anglers, but those who work at it have a fair shot at them.
Return to Best Fishing in Oregon page
Oregon Resources
ODFW Weekly Fishing Report
ODFW Trout Stocking Schedule
Oregon Fishing Regulations
National Weather Service