The Columbia River offers the biggest all-around sturgeon opportunity in Oregon and Washington, and some of the best sturgeon fishing anywhere on the West Coast.
In recent decades, the highest numbers of sturgeon in this giant river have been found in the lower section of the river stretching from the estuary near Astoria to Bonneville Dam, a stretch of over 100 miles.
The Willamette River, another popular sturgeon fishery, joins the Columbia in this stretch at Portland and Vancouver.
Sturgeon numbers have declined over the years, blamed at least partly on sea lion predation and declines in some food sources.
In response to reduced sturgeon populations, the Oregon and Washington fish and wildlife managers closed the lower section below Bonneville Dam to sturgeon retention under permanent regulations in 2014.
However, regulators in recent seasons have offered a handful of retention days as sturgeon populations have allowed.
Even when you can't keep them, the Columbia still offers some excellent catch-and-release fishing for sturgeon, including the very realistic opportunity to catch (and let go) a fish longer than Shaquille O'Neal.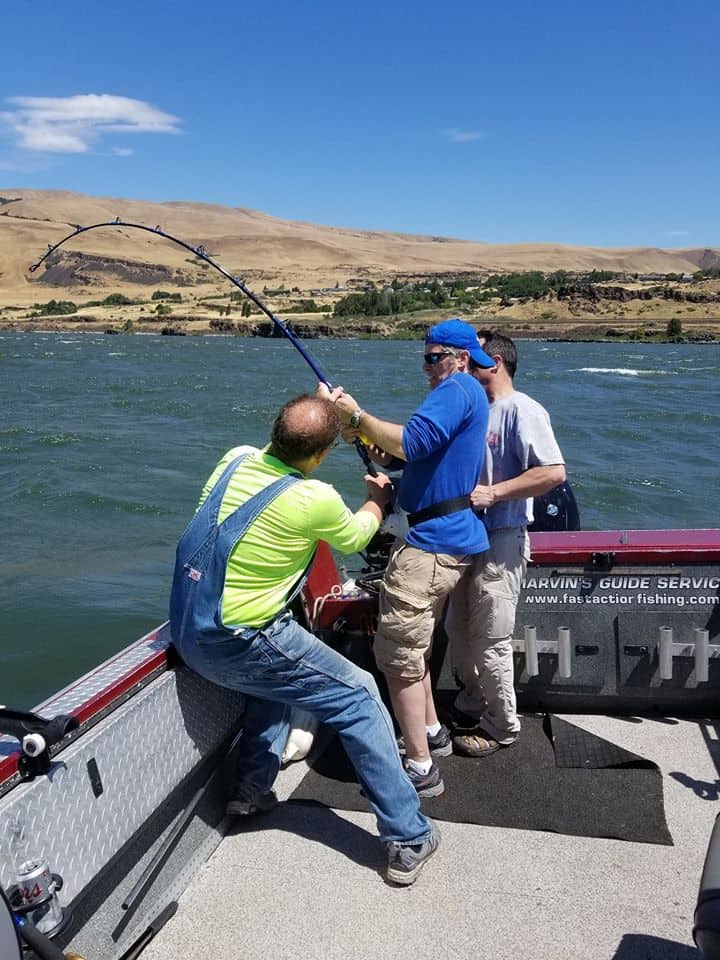 The largest species is the white sturgeon, although a rarer green sturgeon is a possibility, especially in the estuary.
If you are looking for a sturgeon to eat, an option is to plan to fish during one of the windows of opportunity allowed above Bonneville Dam, where fisheries in several reservoirs operate on quota systems.
Veteran fishing guide Marvin Henkel Jr has fished this river most of his life.
He finds that these huge fish will bite a variety of baits. Some of his favorites are squid, sand shrimp and anchovies. And when the smelt (late winter) or shad (late spring) start running, those popular fish make outstanding sturgeon bait.
Here are some of the best favorite sturgeon-fishing spots on the Columbia River, working from the mouth inland.
Also, stay tuned at the bottom of this article to a link to a full article that will get you catching your own sturgeon on the Columbia River and elsewhere.
Columbia River Estuary
The river widens out near the port towns of Astoria, Warrenton and Hammond as it enters the Pacific Ocean.
Sturgeon come and go from the Columbia, often on their way to feed in estuaries up and down the coast.
One of their favorite feeding grounds is in the Columbia estuary itself, which has plenty of shrimp, worms, bait fish and other food sources sturgeon like.
While some sturgeon anglers hit the estuary every year, especially before the harvest restrictions were set, Henkel said this is more of an occasional fishery for him.
Best Spots to Catch Sturgeon in the Columbia Estuary
While there, he likes to work the shallows of Desdemona Sands, a massive flats area in the middle of the estuary stretching from above the Astoria Megler Bridge downriver close to four miles to Hammond.
The shallows of Desdemona Sands are north of the deep shipping channel that hugs the Oregon side and south of moderately deep water on the Washington side of the river.
Unlike other areas on the river, where Henkel is often fishing deep water, he seeks out estuary sturgeon in just 8 to 15 feet of water.
He looks for holes within the vast flats, often on the north (Washington) edge of the lower spit near Hammond. Try that area during the lower part of tides.
Speaking of tides, small tides are much better for sturgeon fishing than large exchanges that rip through the flats.
Other areas to explore for sturgeon in the estuary include another concentration of shallow flats around Baker Bay, on the Washington side of the river near Ilwaco and Chinook.
Near St. Helens and Columbia City
Yes, there are plenty of good sturgeon fishing spots throughout the lower river, but Henkel doesn't find reason to go much farther from the Portland area than St. Helens when heading downstream to fish.
Good launches in the area include right in St. Helens and also in Scappoose Bay. The latter is also a good option when fishing lower Multnomah Channel for sturgeon or other species.
One of his favorite spots in this section is the water off of Columbia City, a smaller community just north of St. Helens.
This is fast water running 60 feet or deeper. You'll need a good 20 to 32 ounces of lead to get to the fish and some good anchoring equipment and skills.
Another productive hole in this area is near Warrior Rock at the tip of Sauvie Island, where Multnomah Channel joins the Columbia. It's also deep and fast.
Stay out of the shipping channel and let the big vessels pass safely.
Squid and sand shrimp are excellent sturgeon baits all year, along with anchovies. Smelt will be great bait in late winter.
Columbia River Near Portland
There are lots of good sturgeon fishing spots right around Portland and Vancouver.
The Kelley Point Park area, including off the pilings at the mouth of the Willamette River, has some excellent fishing.
Look for about 75 feet of water with decent current to find sturgeon near Kelley Point. Late spring into early summer is best in this area, Henkel said.
Upstream just a bit, but still below the Interstate 5 (I-5) Bridge, fish near the large ships on the Vancouver side of the river but always be cautious around them and give them the right of way.
Farther upriver, the Sundial area below the mouths of the Sandy River (Oregon) and Washougal River (Washington) holds plenty of fish below the powerlines.
In this area, you could be fishing in anywhere from 20 to 70 feet of water. The deeper water is more popular, but Henkel often finds the bigger fish in the shallower side of that range.
Note that this is technically tricky water, and potentially dangerous. "I would highly recommend, if you're not familiar with anchoring on the Columbia, not going there," Henkel said.
This area is best when shad are running in late spring and early summer.
A whole shad is ideal bait for the largest sturgeon during this time of year, while strips of shad, shrimp, smelt and squid are good anytime for typical fishing
In this same area, the Washington side of Government Island has good sturgeon fishing, especially when the shad fishing also is good.
Columbia River Gorge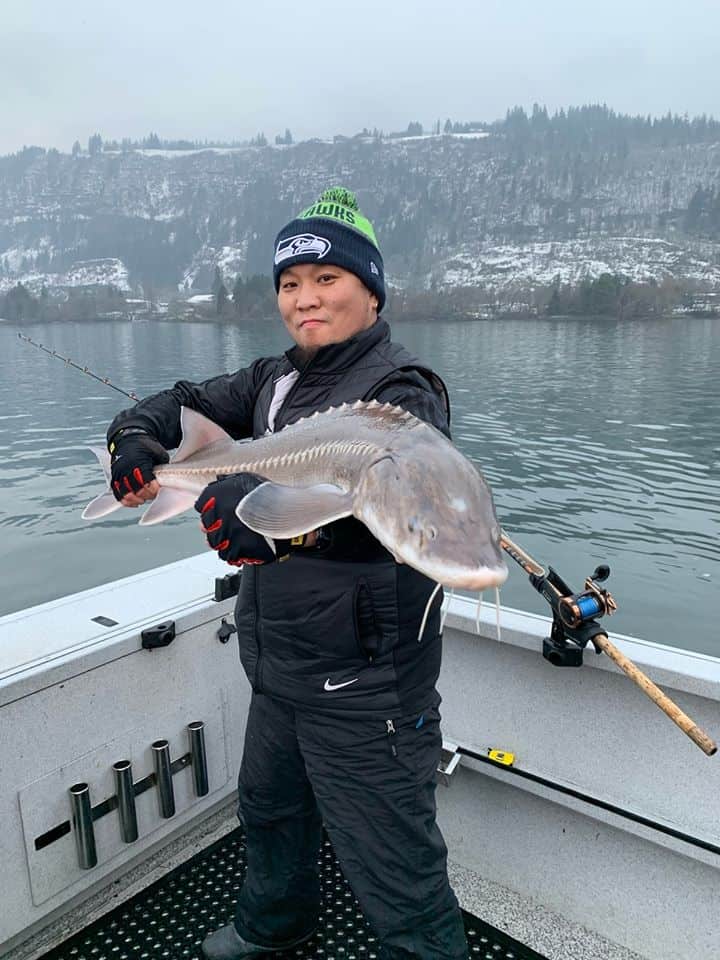 The gorge has excellent sturgeon fishing, and it's at its very best for exceptionally large white sturgeon when shad are streaming up the river by the millions in late spring and early summer.
Henkel likes the deep water (about 80 feet) near the cliffs around Rooster Rock during the shad run. This is another potentially treacherous spot, not safe for beginners.
Another spot Henkel likes is in 25 to 30 feet of water with a flat gravel bottom off Dalton Point, below Multnomah Falls. Fish toward the middle of the river, which is outside the shipping channel.
When open, the waters around Rooster Rock have been very productive. This area is often subject to seasonal closures for boat anglers.
Same is true upriver, near the viewpoint below Multnomah Falls and below the buoy marking the fishing deadline.
There are lots of big fish in these areas from May to July, often found in water from 20 up to 60 feet deep.
Bonneville Pool
The Bonneville Pool, the lowest reservoir on the river, has what in 2014 became one of Oregon and Washington anglers' best opportunities to eat a sturgeon they catch themselves.
Regulations here have been a moving target, but sometimes the season here has been split into a winter fishery and then a later warm weather opportunity.
This area has a maximum annual quota for recreational anglers. Watch closely for changing regulations.
The winter fishery is best in the lower and middle pool, near Cascade Locks and Hood River, Henkel said.
These are tough fisheries for the novice because the fish often hold in water that is 100 feet or deeper, with some current.
Squid, smelt and sand shrimp are good baits in Bonneville Pool and farther upriver.
In the spring or summer, when Henkel is fishing elsewhere, other anglers report better numbers of the sturgeon in the upper pool closer to The Dalles.
Mid-Columbia River
The Columbia River also has keeper fisheries in the pools behind several of the large hydroelectric dams, mostly of interest to anglers in the local areas because Portland and Seattle anglers don't need to drive this far.
Like the Bonneville Pool fishery, several of these that border both states are managed under quota systems and close when maximum catches are reached. It's best to keep an eye on state fish and wildlife updates for closures, as the numbers here can be modest.
Above the state line into Washington, up to below Priest Rapids Dam, efforts have been underway to supplement sturgeon populations with a hatchery operation.
These efforts have helped provide a growing keeper sturgeon fishery for tribal and recreational anglers alike on the Columbia in the Tri-Cities and Yakima areas of south-central Washington.
Several segments of the river are now open seasonally (currently open on February 1) for sturgeon, with a one-fish limit and strict slot limit for size.
Some of these fisheries go into early summer, while fishing in an area right below Priest Rapids Dam closes earlier in the spring, when sturgeon typically spawn.
Be sure to consult the Washington regulations closely, as there are closure areas between open river stretches and other rules.
Upper Columbia River
The Columbia River above Grand Coulee Dam, which forms a massive impoundment of Lake Roosevelt, lately has been opened under emergency regulations, typically beginning in mid-June. It currently closes after September 30.
This fishery has developed into a viable sturgeon spot after agencies in both Washington and British Columbia started hatchery programs for white sturgeon, releasing thousands of juvenile sturgeon per year.
With better than expected survival rates, many of those fish are now within the slot limit to keep (fork length of 50 to 63 inches). Smaller and larger sturgeon must be released, and there is a daily limit of one and season limit of two per angler.
This fishery had been completely closed above the China Bend boat launch (Graffiti Bar), in the upper section southwest of the small community of Marble, in order to protect spawning areas.
Some lower areas of several major tributaries also are open for sturgeon during this season.
Recently, WDFW opened the Columbia River from China Bend to the Canadian border during September, which is after spawning season, to increase angler access to these sturgeon.
Check WDFW for specific rules and fresh updates on this fishery.
More Fishing Information
Learn all the how-to information you need in Sturgeon Fishing on the West Coast: Tips and Techniques.
Find out more about all of the big river's fisheries, from salmon and steelhead to smallmouth bass and walleye, in Columbia River Fishing.
Return to Best Fishing in Oregon page
Oregon Resources
ODFW Weekly Fishing Report
ODFW Trout Stocking Schedule
Oregon Fishing Regulations
National Weather Service
Washington Resources
WDFW Fishing and Stocking Reports
WDFW Fishing Regulations
National Weather Service forecasts
Longtime fishing guide Marvin Henkel Jr. of Marvin's Guide Service in Portland contributed to this report.