Crabbing is one of the simple joys of a day at the Oregon Coast.
This article includes descriptions the 10 best Oregon bays where a day at the coast might result in limits of these succulent shellfish, plus some additional spots to try.
Together these locations will put you close to some top crabbing almost anywhere along Oregon's 300-mile coastline.
We are listing them north to south to help you find the best crabbing near you, including a nearby communities with the easy access and equipment you'll need.
In a nutshell (crab shell?) …
Go Here to Catch Crabs
The following are the best crabbing bays in Oregon:
Columbia River Estuary (Hammond)
Nehalem Bay (Wheeler)
Tillamook Bay (Garibaldi)
Netarts Bay (Netarts)
Yaquina Bay (Newport)
Alsea Bay (Waldport)
Siuslaw Bay (Florence)
Winchester Bay (city of Winchester Bay)
Coos Bay (Charleston)
Coquille Bay (Bandon)
But stick around because later in this article we'll tell you more about each of those crabbing bays.
Before that, read our a quick run-down of everything you need to know about catching Dungeness crabs anywhere in Oregon.
Dungeness crabs are by far the most popular among Pacific Northwest recreational crabbers, because these feisty crustaceans are a large and particularly tasty shellfish prized worldwide.
Oregon Crabbing Season
Dungeness crabs move between Oregon's bays and the ocean.
Under typical regulations, bays are open all year to recreational crabbing, except for the occasional closure related to increased domoic acid (a marine biotoxin) that occasionally builds up in crab meat.
Domoic acid can be harmful if eaten in unsafe amounts, so state officials close crabbing if levels are considered too elevated. Check the ODFW website for temporary closures.
Recreational ocean crabbing from boats is closed from October 16 through November.
There also is a commercial crabbing season that typically opens in late fall or early winter. It is frequently delayed until the crabs are in peak condition.
Oregon Crabbing Regulations
Each crabber can have up to three crab rings, pots or lines, according to Oregon crabbing rules. So a couple crabbers could use a half dozen traps, which probably would be enough to keep you reasonably busy.
Starting in 2020, recreational crabbers using boats must mark all their surface buoys with identifying information that includes your first and last name or business name.
It also must include at least one of these things: permanent address, phone number, ODFW identification number or boat identification number. Check ODFW regulations for more details.
State biologists also suggest that sport crabbers use sinking lines, durable buoys, escape rings and untreated cotton lines (the latter so they deteriorate naturally if lost) to make crabbing safer for people and wildlife.
Crabbers also can use baited lines to catch crabs. These often include loops of line that help tangle up the crab long enough to land it.
Crabbers also can or catch crabs with their hands, dip nets or rakes. These methods are most common in beach and tidal pool areas when crabs move into shallows. Sometimes crabs get trapped in pools during low tides.
Marinas and other fishing businesses in major Oregon ports usually rent or sell the more popular crabbing bait and supplies, and many have rental boats as well, along with licenses. The basic equipment is also available online.
Oregon Crabbing Licenses
Oregon requires a shellfish license (separate from an angling license for adults) to harvest crabs and other shellfish, including bay clamming in many of the same estuaries.
At this writing, annual shellfish licenses for Oregon resident adults are $10 apiece. Non-resident shellfish licenses are more expensive and have been increasing recently, so check ODFW regulations for the latest information.
There also is a combination youth license for ages 12-17 that includes shellfish as well as fishing and hunting. The cost of this license is $10 per year for resident and non-resident youths.
The Oregon Department of Fish and Wildlife issues licenses online, or you can pick it up at a number of licensed dealers around Oregon, including in the communities around the best crabbing destinations.
Oregon Crab Limits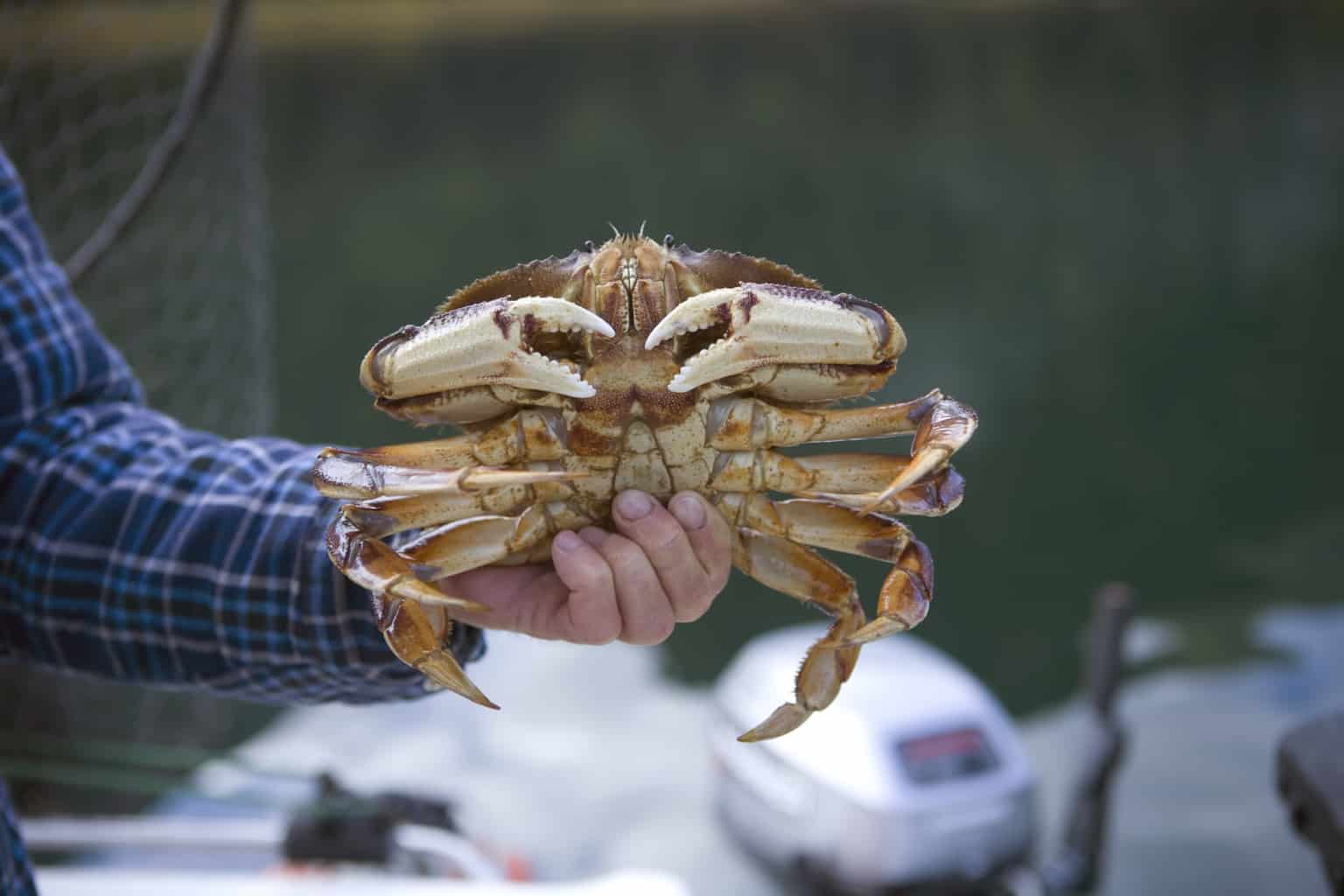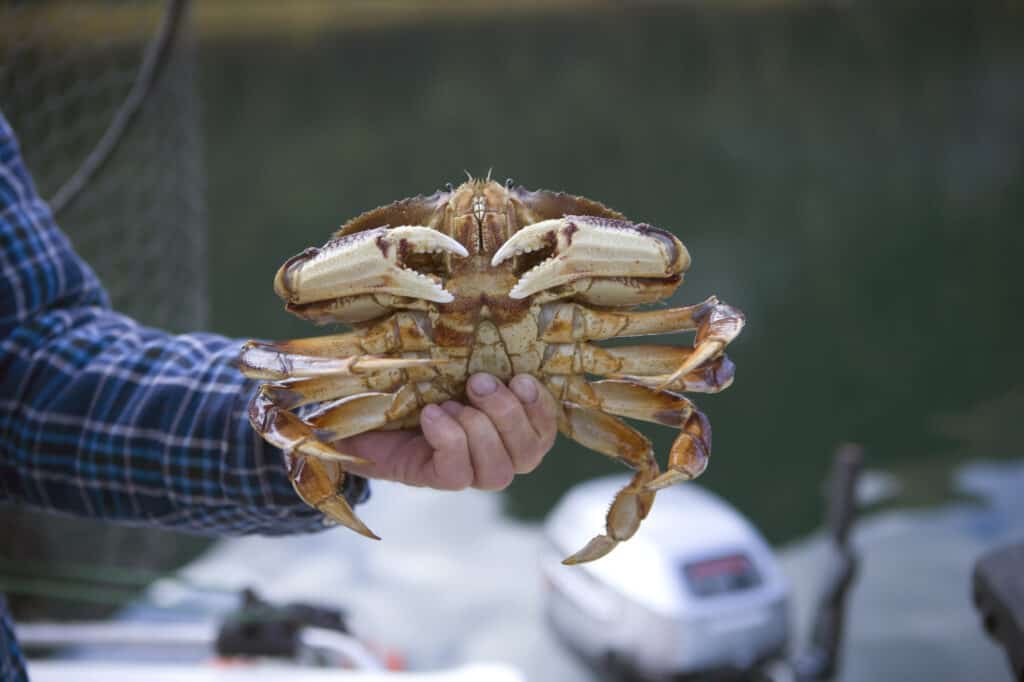 The daily limit is 12 male crabs that at least 5-3/4 inches across the crab's back, measuring just in front of the spines.
Crabbers also sometimes catch other crab species, especially the smaller and less prized red rock crabs. The limit for red rock crabs is 24 of any size.
Best Time to Go Crabbing in Oregon
Justin Ainsworth, shellfish biologist for the Oregon Department of Fish and Wildlife, said timing your crabbing trip in the fall is more important to success than figuring out which bay to try.
Most bays will be primed with crabs in the latter part of the calendar year, with late September through November usually the very best, with pretty decent crabbing possible from late summer to early winter.
If you had to pick one month for the very best crabbing in Oregon, I'd pick October. There are usually nice weather windows, the crabs are in peak condition, and the fall rains probably aren't yet heavy enough to fill rivers with fresh water that drives the crabs out into the Pacific.
Summertime crabbing is very popular in Oregon, but a big reason for that is that doing ANYTHING on the Oregon Coast is popular during the summer, when the weather is good and the recreation is easy. Summertime is very busy on the Oregon Coast.
But know that crabs molt during the summer and take a few months to fill out with good-quality meat, so crabs are lower quality during a good part of summer.
More quality crabs start to become available in August or September, and your catch will be a mix of hard- and soft-shelled crabs that progressively shifts toward more hard-shells coming into the fall.
Starting in December or soon thereafter, commercial crabbing season opens offshore and begins to reduce the number of legal-sized crabs everywhere until the next summer molt brings a new class of large crabs.
Also, as winter rainfall increases, rivers pump more fresh water into bays, driving the saltwater-loving crabs from many bays into the ocean.
That's not to say winter crabbing isn't worthwhile, because it can at times be good in any of these systems, given the right water and weather conditions. Wintertime is especially good on the lower Columbia River and Netarts Bay, so see those entries.
Best Crabbing Tides in Oregon
The best tides for catching Dungeness crabs in Oregon are relatively "soft" tides, that is tides that don't have extreme highs and lows.
By contrast, minus tides or those with the highest highs of the month tend to push a lot of water in and out of bays, which makes life more difficult for crabs and crabbers alike.
It's best to time your main crabbing times to the slack tide periods. We prefer to start a few hours before the forecasted high tide, because incoming tides are relatively mild.
Outgoing tides can be strong in Oregon's bays, and many a crabber has seen their pots get pulled down the bay and sometimes lost.
Crabs also tend to hunker down in strong outgoing tides, making them less likely to find your baited traps.
How to Catch Crabs in Oregon
At its essence, crabbing is a fairly simple pursuit.
Most crabbers use either open crab rings or closed crab pots for Dungeness Crab fishing in Oregon. Use enough rope to get the crab pots down to the bottom with rope to spare.
The rings are easy to use and empty, but the crabs can come and go and also the sea lions might steal your bait. These are great if you are just concentrating on crabbing and there aren't too many sea mammals around.
Traps take longer for crabs to get inside, but they are more resistant to sea lion thieves and keep the crabs around during longer soaks. If you are crabbing while fishing, this is a good option.
Bait traps with a variety of fish or fish carcasses, including filleted salmon. We really like whole or cut pieces of American shad caught in some of Oregon's rivers, but sea lions also love them.
Another popular bait are raw chicken or turkey pieces, which the sea lions tend to leave alone but will attract crabs.
When boating, the traps or rings are tied to a rope with a buoy on top. Make sure you have quite a bit more rope than the water's depth, to account for tidal influences.
Also, it helps if your buoy has unique coloring or markings so you can easily tell them apart from other crabbers' gear. You might see a ton of plain white buoys out there!
Where to Set Crab Pots
Drop your pots in moderately deep water but outside the very deep shipping channels, usually along the bay edges.
Depths of 15 to 30 or more feet are good for bay crabbing, while deeper waters will yield good crab catches in the ocean.
Lower bay areas and the inland ends of jetties often are productive and safe crabbing spots for boaters. Stay away from jetty ends, where the ocean is rougher.
When dock crabbing, typically the best spots are out toward the ends, but try different locations or watch other crabbers to find a good place to drop your trap. Maintain a polite distance from other crabbers.
Boat and Dock Crabbing in Oregon
Several of Oregon's better crabbing bays have public docks that permit crabbing. It can be very pleasant and occasionally the crabbing will be quite good.
However, catches from docks typically are lower than those from boats, which allow crabbers to spread their rings and traps in a wider area with less competition from others.
Ocean crabbing requires larger boats and higher skills, and better conditions, so bay crabbing is more popular with sport boaters.
A number of major Oregon ports have charter boat operations that may include crabbing among their fishing trip options.
Check out more crabbing tips with expert advice in an article written by a longtime Oregon crabbing "ninja."
Also take a look at ODFW's How to Crab page for useful crabbing tips, regulations and more.
Another good resource are ODFW's crabbing reports for the latest field surveys on crabbing success.
Where to Go Crabbing in Oregon
The following is a list of 10 best bays for crabbing in Oregon. The bays and estuaries are listed from the north to the south, to make it easier for you to find the best crabbing near you.
Columbia River Estuary
The West's largest river meets the Pacific Ocean near Astoria.
The estuary area of the mighty Columbia River is popular among sport anglers chasing salmon and other game fish, but it's also one of the better crabbing spots in the state if you time your trip well.
The best Columbia crabbing season in the Astoria area can start in the late summer and early fall, a time when some salmon anglers set traps before heading off to troll.
Often the crabbing improves in the mid-fall, and it often is very good until commercial crabbers start thinning the population, usually beginning in December.
However, so much of the Columbia's vast drainage area is frozen during the winter that its water flows remain modest into January or even February, allowing decent prospects for mid-winter crabbing between storms.
However, once the giant hydroelectric dams upriver begin releasing water in late winter, the Columbia's high flows drive crabs out of the estuary for many months. Crabbing is typically poor here between the end of winter through mid-summer.
This is largely a boat fishery. There are good boat ramps and other services in Astoria, Hammond and Warrenton on the Oregon side of the river.
Most Oregon boaters will set their traps west of Hammond, out toward Clatsop Spit. There are some crabs between Hammond and Warrenton as well.
Also, on the Columbia only, you can crab with the appropriate license from either Washington or Oregon. Follow the crabbing regulations from the state where you launch and land.
Learn about all of the big river's angling opportunities by reading Columbia River Fishing.
Nehalem Bay
Nehalem Bay is a little bit off the beaten track compared to some of the other Northern Oregon Coast crabbing hot spots, but make no mistake: This is great crabbing water.
Nehalem Bay is located north of Tillamook and south of Seaside.
Crabbers come over either Highway 6 (Wilson River Highway) or Highway 26 (Sunset Highway) and then use Highway 101 to get there, sometimes in conjunction with other roads (such as Highway 53 that cuts down from Highway 26).
Most of the best crabbing spots are from Nehalem Bay State Park down to the jetties.
You can launch at the state park and you'll find plenty of other facilities here at several marines located on the east side of the bay in and around communities including Brighton, Wheeler and Nehalem.
Several of these businesses offer boat and equipment rentals for crabbers.
See: Nehalem Bay Fishing, Crabbing and Clamming.
Tillamook Bay
The northern Oregon coast's largest bay is a popular Chinook salmon and sturgeon fishing destination that very often has good crabbing.
There are boating facilities and supplies available in Garibaldi, with most of the crabbing spots west of the port near the jetties, on either side of the channel.
There also is good crabbing in "Crab Harbor," tucked behind Kincheloe Point, across the main channel from the Painted Rocks.
Both of the channel and Crab Harbor areas are accessible primarily by boat, but there is a public crabbing dock if you want to go crabbing right in Garibaldi.
Tillamook Bay is large but has five rivers pouring into it. Crabbing success can quickly fade when heavy rains pump up river levels during the fall and early winter.
Get more information in Tillamook Bay Fishing, Crabbing and Clamming.
Netarts Bay
This spot just southwest of Tillamook is not a popular fishing bay, since there are no major rivers feeding into it to draw in salmon and other large fish.
While there are vast flats, some of which are great for clamming, the crabbing is largely confined to the area near the mouth of the bay on either side of the Netarts Boat Basin.
There are no jetties at Netarts Bay and lots of shallow spots, so stick to the areas closer to the boat basin for the safest crabbing.
However, Netarts Bay easily has some of the best and most consistent crabbing on the Oregon coast for reasonably skilled boaters. The lack of major tributaries and a vigorous tidal exchange keeps the bay plenty salty, just to the crabs' liking.
This is a go-to spot when other bays, like nearby Tillamook Bay just to the north, are poor for crabbing due to high river inflows. If you're going out later in the season, this might be a top choice on the northern Oregon coast.
There is a public ramp and some supplies available, with additional options in nearby Tillamook. There is no dock crabbing here.
For more information, read Netarts Bay Crabbing, Clamming and Fishing.
Yaquina Bay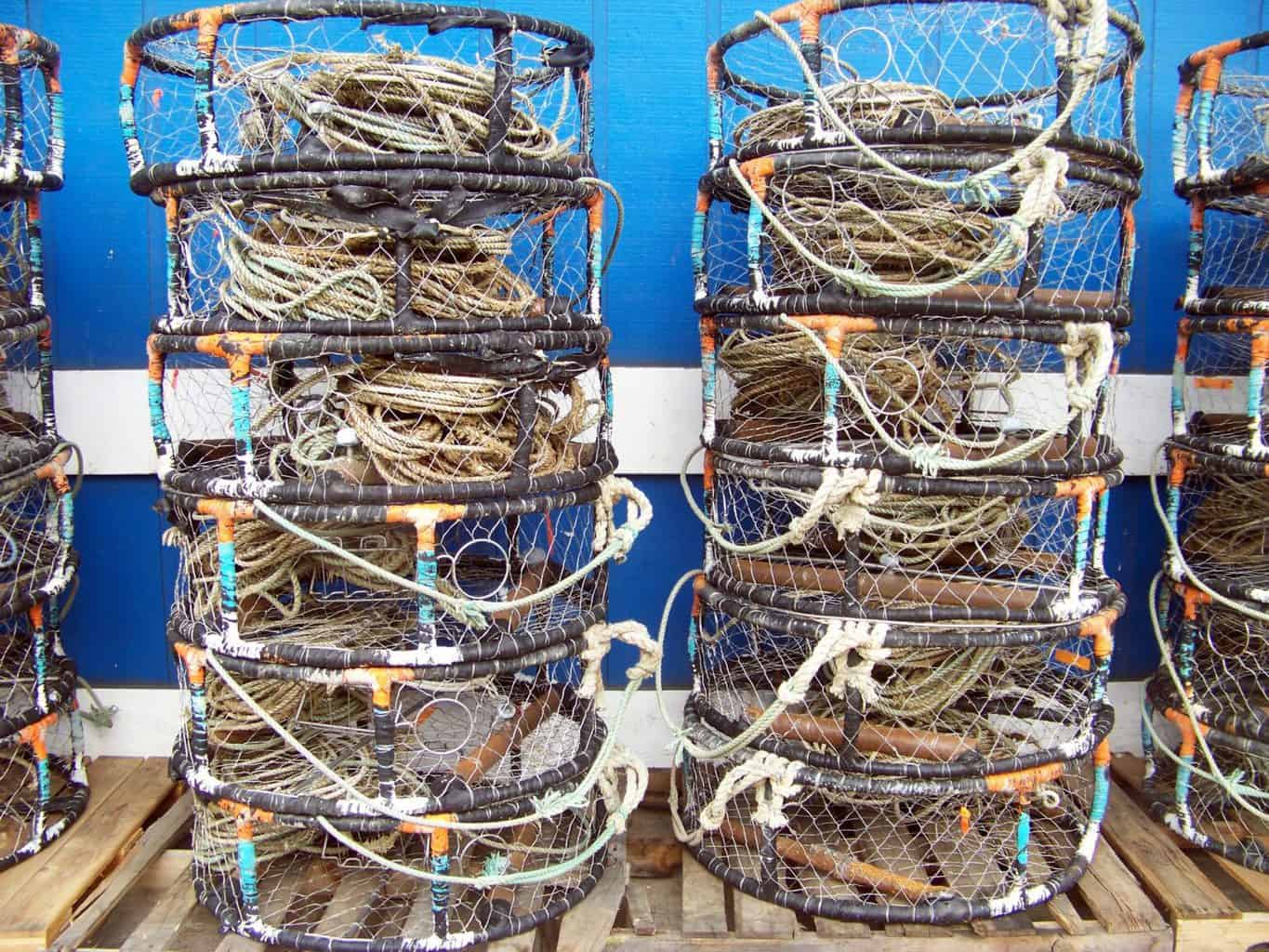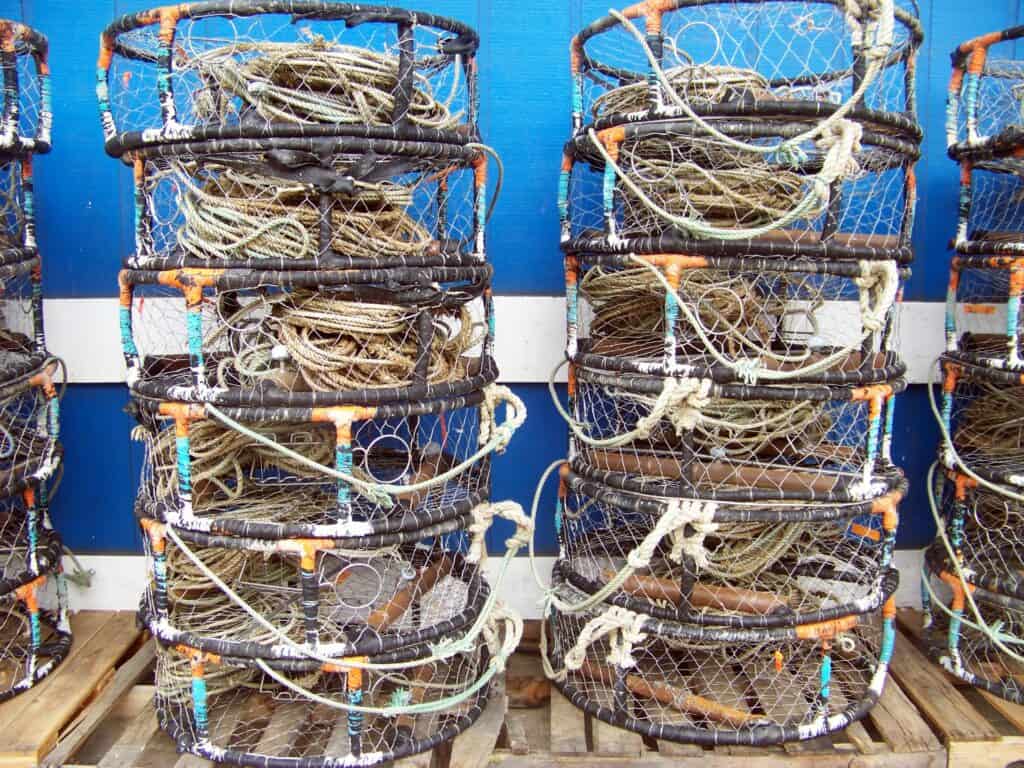 One of Oregon's most popular all-around recreational bays can be quite good for Dungeness crabs and also is a good bet for beginning crabbers visiting Newport.
Yaquina is a safe bay for new boaters, with plenty of crabbing supplies and boats to rent on both the downtown Newport and South Beach sides of the bay.
There also are public docks where crabbing is permitted on either side, and charter boats sometimes include offshore crabbing with their fishing trips.
Crabbing is popular on both sides of the bay in Newport, outside of the main channel, both below and above the port and ramp facilities.
Crabbing is very popular here during the summer tourist season, but like most Oregon bays the success rates and quality of crabs will be substantially better between after Labor Day and up until about Thanksgiving.
Alsea Bay
This is a small bay at the coastal town of Waldport, located between Newport and Florence.
Fall Chinook salmon fishing is king here, but also during late summer and throughout the fall, Dungeness crabbing is often excellent.
Since the bay is small and safe, crabbing here is relatively easy for beginners and experts alike.
There are good public launch facilities for crabbers who already are well-equipped, or visitors can rent boats and get their crabbing supplies locally.
There also are public docks where success rates can be fair to good.
Siuslaw Bay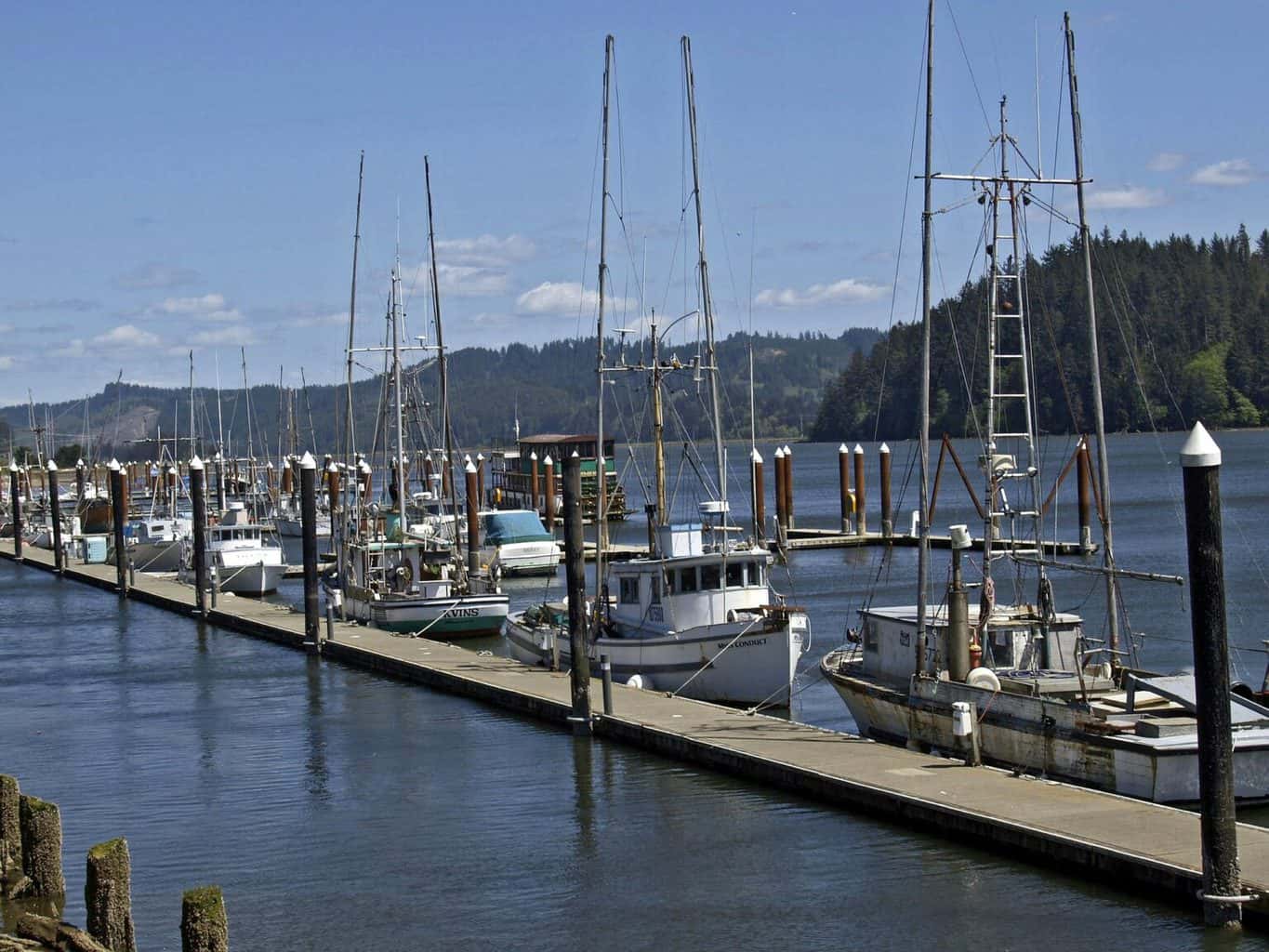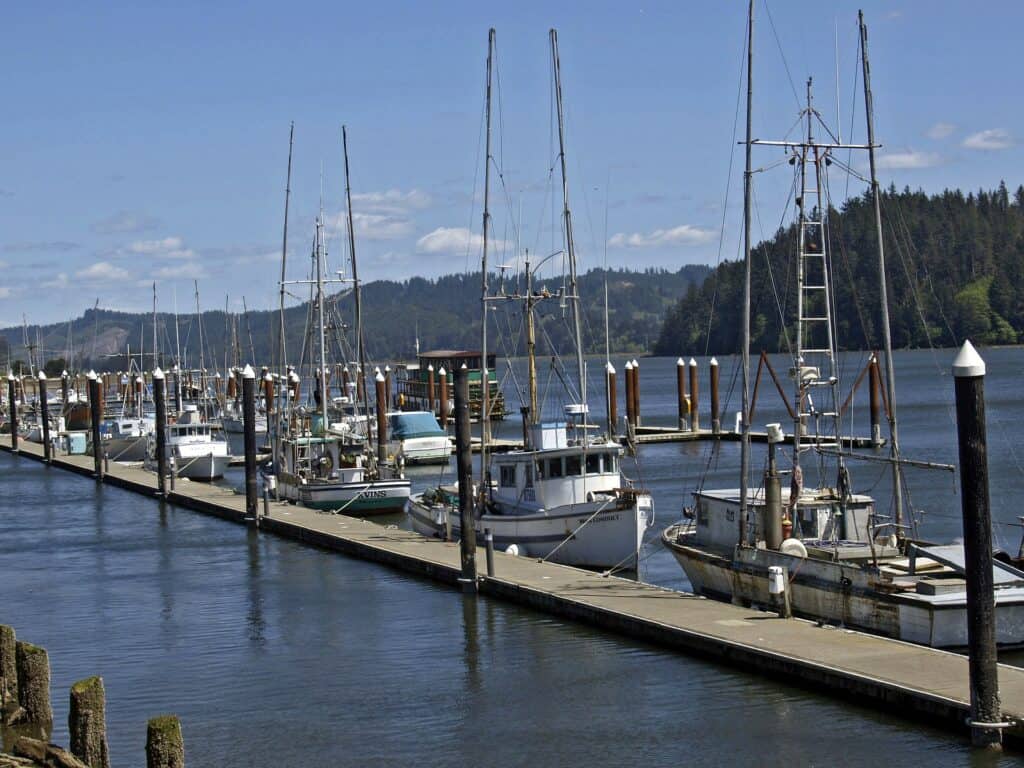 The Siuslaw River's estuary has quite good crabbing during the prime season and is a nice straight shot west from Eugene and Springfield.
There are excellent public facilities in the fun beach town of Florence, one of the gateways to the incredible Oregon Dunes National Recreation Area.
You'll find a good public launch at the Port of Siuslaw near the end of 1st Street right in Florence.
After launching, much of the good crabbing is to the west of downtown Florence out toward the Pacific Ocean, west of the cool bridge over Highway 101 and about five miles downriver.
Don't have a boat? There is decent crabbing from public docks at the downtown Florence waterfront.
Combine a trip with the excellent Siuslaw River and Bay fall Chinook salmon run in late summer and early fall.
Winchester Bay
This bay is the estuary for the excellent Umpqua River and has salmon and all sorts of sport fishing options, but it can be an excellent crabbing destination to boot.
The best crabbing is in the lower bay near the community also called Winchester Bay. You'll find good marina facilities for your boat here, and you'll also find facilities closer to Highway 101 around Reedsport and Gardiner.
Winchester Bay is easily reached from the Interstate 5 corridor from the Roseburg and Eugene areas, with a comfortable drive west down Highway 38 to the 101 junction at Reedsport.
It's closer for many crabbers and an excellent place to also catch jumbo-sized Chinook salmon, though not always as reliable for crabs as larger Coos Bay to the south.
There is a public crabbing and fishing dock located between Salmon Harbor and the community of Winchester Bay.
Coos Bay
Oregon's largest bay is also one of its very best crabbing destinations.
Crabs here are numerous and available in a large area in lower Coos Bay around Charleston.
There are excellent launch facilities, with boat rentals and equipment widely available at several businesses in the bay communities, which include Charleston, Barview and North Bend.
And while boating is the easiest path to crab limits, with good spots from Charleston to Empire, there also are popular crabbing docks on the lower bay.
Coos Bay is best in the fall before the rains become relentless, but with a strong influx of saltier ocean water here, this bay can continue to produce good results when smaller bays get flushed with fresh water.
Coquille River Estuary
The super charming bayside town of Bandon on the Coquille River estuary can be as good as anywhere for crabbing some years, while fair in others.
The crabbing is concentrated in the lower estuary near Bandon, where the water is saltier and more to the crabs' liking.
There is a nice port facility in Bandon and boat and dock crabbers have everything they need here.
Even More Crabbing Options in Oregon
The following locations don't tend to be crabbing destinations in and of themselves, but they do offer some options to catch Dungeness and can be worth a shot during your visit.
Seaside: The busy beach town is not a destination spot for crabbers, but visitors do pitch pots from bridges (especially 12th Ave.) into the Necanicum River estuary.
Sand Lake: More popular with the dune buggy set, the shallow creek estuary here can produce some crabs near the ocean entrance.
Pacific City: The Nestucca River forms a small bay here, with a modest amount of crabbing done. There is more crabbing offshore, often by a unique beach-launched dory fleet.
Salmon River Bay: A nice fall Chinook salmon fishery just north of Lincoln City also has a very small sport crab fishery. There is a good boat launch in the Three Rocks area.
Siletz Bay: On the southern edge of Lincoln City, crabbers pitch lines and traps into the mouth of the bay and from a small pier at Mo's.
Port Orford: Crab from the docks or launch a boat to access plenty of ocean crabbing.
Gold Beach: The Rogue River is one of Oregon's best salmon and steelhead rivers, but it simply pumps too much fresh water into its estuary for great crabbing. You might catch some, but there are far more offshore.
Brookings: The Chetco River is legendary for its super-sized fall Chinook salmon, but its undersized estuary gets too much fresh river water for crabs' liking. Like the Rogue, you might catch a few, but head offshore for serious crabbing.
Return to Oregon Shellfish page
Oregon Resources
ODFW Weekly Fishing Report
ODFW Trout Stocking Schedule
Oregon Fishing Regulations
National Weather Service