The Willamette River is the largest river located entirely in Oregon. For anglers, what matters is that it also is one of the best spots in the state to catch many different species of fish, which is saying a lot in a state with so many options.
What follows is a straight-forward look at the most-sought game fish species found in the Willamette River.
This article covers the mainstem, from where the Middle Fork and Coast Fork come together near Eugene north to the river's junction with the Columbia River.
Multnomah Channel is included in this overview and is an excellent spot to catch a number of the same fish. The channel splits from the main river in Portland and eventually joins the Columbia River near St. Helens, forming Sauvie Island.
The lower Willamette is on our list of best fishing spots near Portland.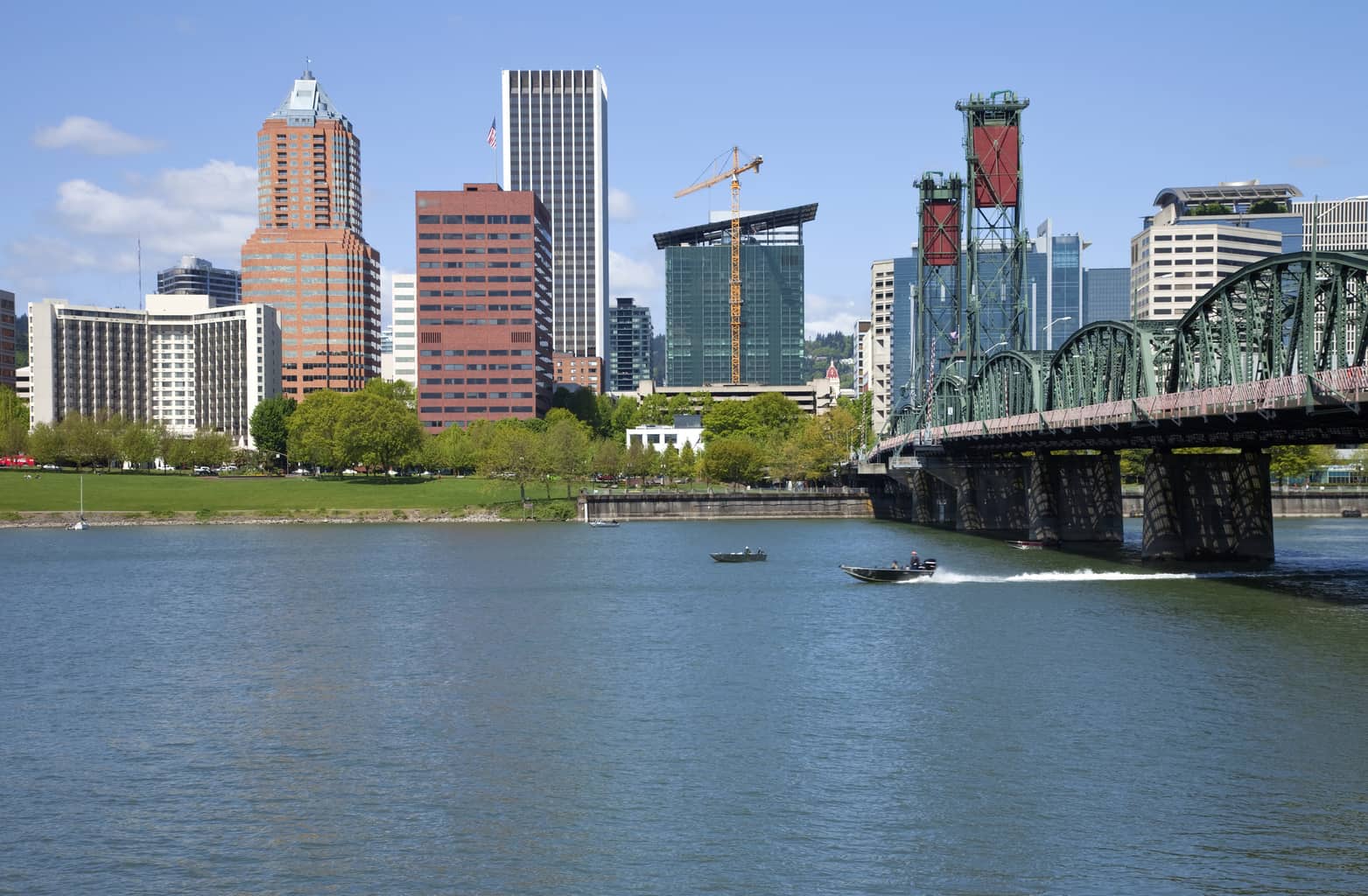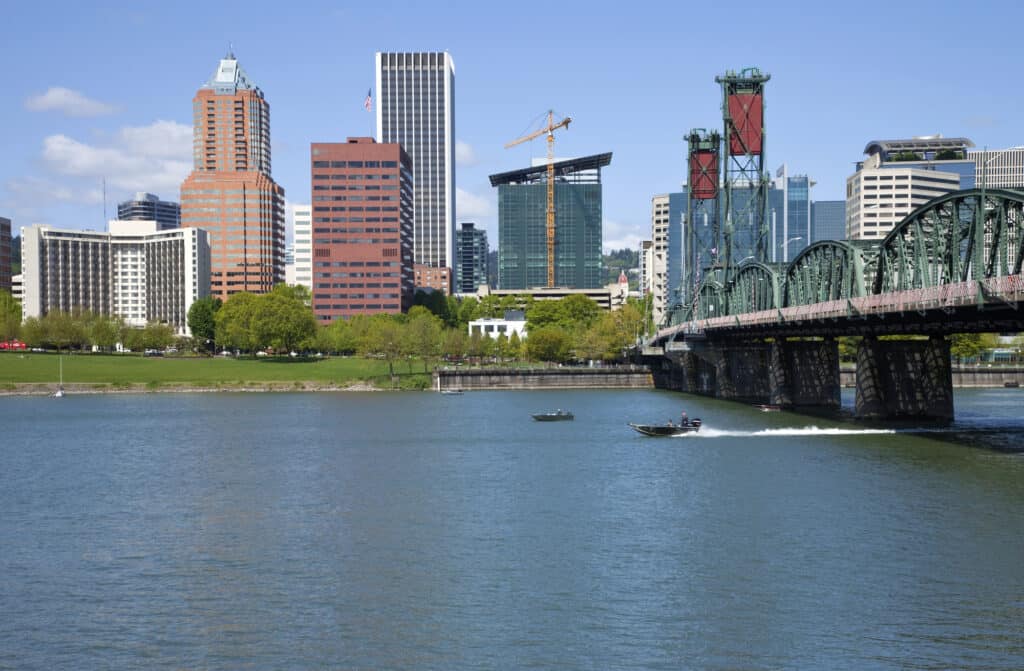 We should note that state officials have issued health advisories suggesting limited consumption of resident fish on the mainstem Willamette.
The consumption advisories are due to naturally occurring mercury throughout the river and stronger warnings about human-caused PCBs in the Portland Harbor, downriver from the Fremont Bridge.
Migratory salmon and steelhead and stocked trout aren't in the river long enough to accumulate unsafe levels of these toxins. Detailed guidelines are available in the annual sport fishing regulations book.
While this article is just a sampling of sport fishing you will find in the Willamette River and Multnomah Channel, use its links to find more detailed information to more deeply explore opportunities on the mainstem and its great tributary rivers.
Native Willamette River Game Fish
These species were in at least parts of the system before humans started introducing new varieties of fish.
Willamette River Chinook Salmon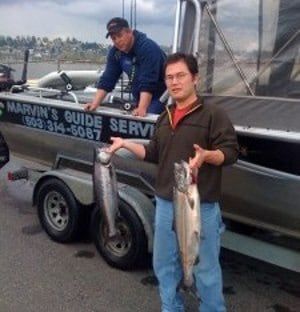 Spring Chinook salmon are by far the major salmon fishery throughout the mainstem and in Multnomah Channel.
The first springers arrive in late winter and in the lower the run peaks from late March into May, with April often producing the best numbers. The upper river is a little later as the run works upstream.
Most of these are hatchery runs, but there are wild fish in the mix, so pay attention to fin markings. Chinook salmon must be fin-clipped to keep.
Trolling bait and lures is popular in Multnomah Channel and the Portland Harbor areas, while anchor fishing is common into the Oregon City area and can be done in a few spots above the falls.
Shore angling is an option in some areas.
These fish are mostly headed to tributaries including the Clackamas, Santiam and McKenzie rivers and the Middle and Coast forks of the Willamette.
Also see: Portland Area Spring Chinook Fishing, Willamette Valley Spring Chinook Fishing and a guide's Lower Willamette River Spring Chinook Fishing Tips.
Unlike in the nearby Columbia River, fall Chinook salmon are not a large fishery in the Willamette River. A few dozen are harvested annually.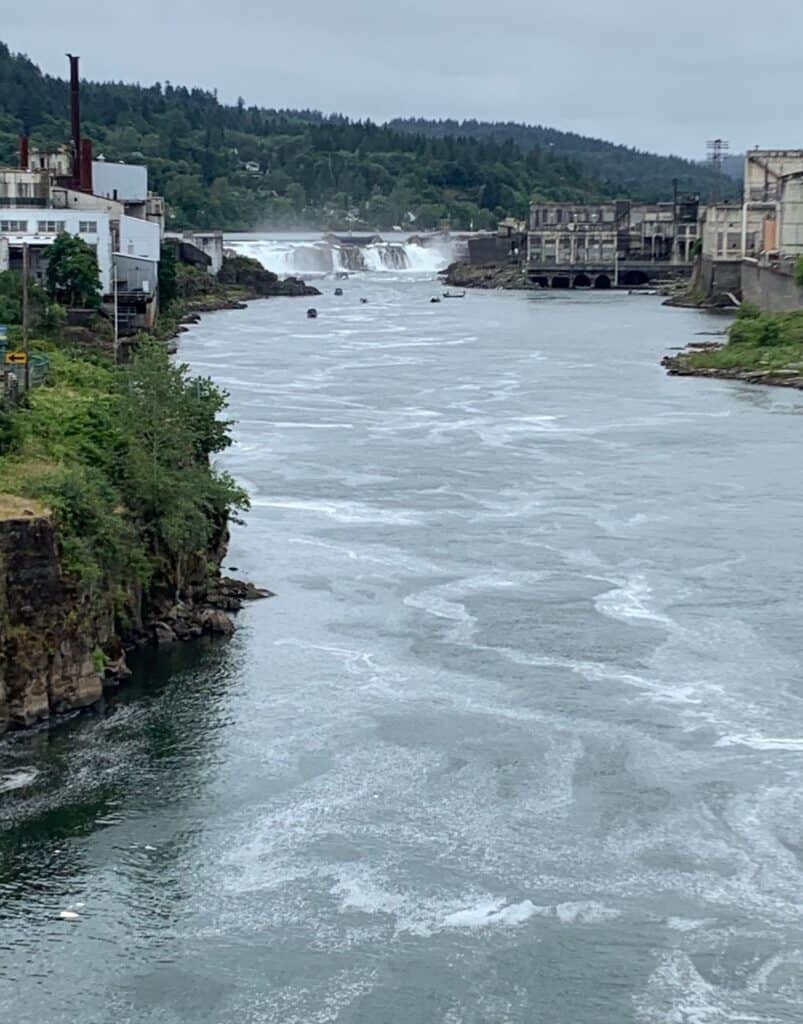 Willamette River Coho Salmon
Coho are a very small fishery in the lower Willamette, but there is a modest catch above Willamette Falls for fish that started as hatchery runs but now are spawning in some of the valley's tributaries, including the Santiam River system.
These upriver silvers are often caught by casting or trolling lures near the mouths of tributaries including the Tualatin and Santiam rivers during September and October.
Coho don't have to have a fin clip to keep above the falls, where they are related to earlier generations of hatchery fish, but coho must be hatchery-marked to keep in the lower river and channel.
Learn More About Salmon Fishing
Here's a link to our simple article that will guide you through the most effective salmon fishing techniques.
Willamette River Steelhead
These sea-going rainbow trout have both a winter and a summer run of fish. Both runs are more popularly fished in the Willamette's tributaries, especially the bigger streams on the valley's east side that bring cold water off the Cascades.
There is a small but enthusiastic contingent of bank anglers that target both summer and winter steelhead in the Willamette River near the mouth of the Clackamas River, where some of these fish turn.
Steelhead are present nearly all year, with the best odds in spring and summer.
In the lower river, steelhead also are caught incidentally by anglers targeting Chinook salmon and shad. Higher up, there is a small winter steelhead fishery and fair to good summer steelhead fishing.
For the latter, consider the stretch of river through Eugene, where smolts are planted and returning adult fish linger from late spring, through summer and into early fall. Steelhead must have a hatchery mark (clipped adipose fin) to keep.
Also read: Summer Steelhead Fishing Near Portland, Winter Steelhead Fishing Near Portland and Willamette Valley Summer Steelhead Fishing.
To hone your skills, read our simple guide to steelhead fishing techniques.
Willamette River Trout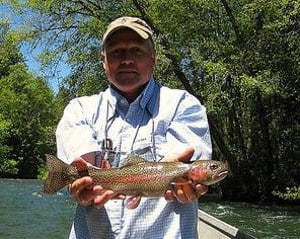 The lower and middle sections of the Willamette River, and all of Multnomah Channel, are not viable choices to fish for resident trout.
However, the mainstem above about Albany transitions from warmwater species to resident trout, and the upper Willamette River mainstem has some pretty good and often-underrated trout fishing for both native cutthroat and native rainbow (redside) trout to good size.
Best reached by boat, the stretch of Willamette from the mouth of the renowned McKenzie River down to Harrisburg has catch-and-release and no-bait regulations but can be excellent water for wild trout.
Seasonal harvest is allowed in some reaches of the river, but read regulations carefully.
For more liberal harvesting, fish for stocked rainbow trout in the river-fed Alton Baker Canoe Canal in Eugene.
More: Learn the best trout fishing tips in this article.
Willamette River Sturgeon
These behemoths love the lower Willamette River, where they feed and spawn.
Unlike other types of fishing in this river, sturgeon fishing actually can improve during high, muddy water following heavy rains in the fall and winter months, when skilled sturgeon anglers have non-stop action for fish from one to 10 feet long.
Multnomah Channel also can provide good sturgeon fishing, while the Willamette above the falls only has modest numbers (but harvest opportunities).
Willamette sturgeon angling is primarily a catch-and-release fishery, and consult current regulations for special closures or perhaps limited retention opportunities.
For more local information, see: Willamette River Sturgeon Fishing.
To really learn how to catch these huge fish, read about the best sturgeon fishing techniques for the West Coast.
Non-native Willamette River Game Fish
These species were directly or indirectly introduced to the Willamette River, primarily from central and eastern U.S. waters.
Willamette River Smallmouth Bass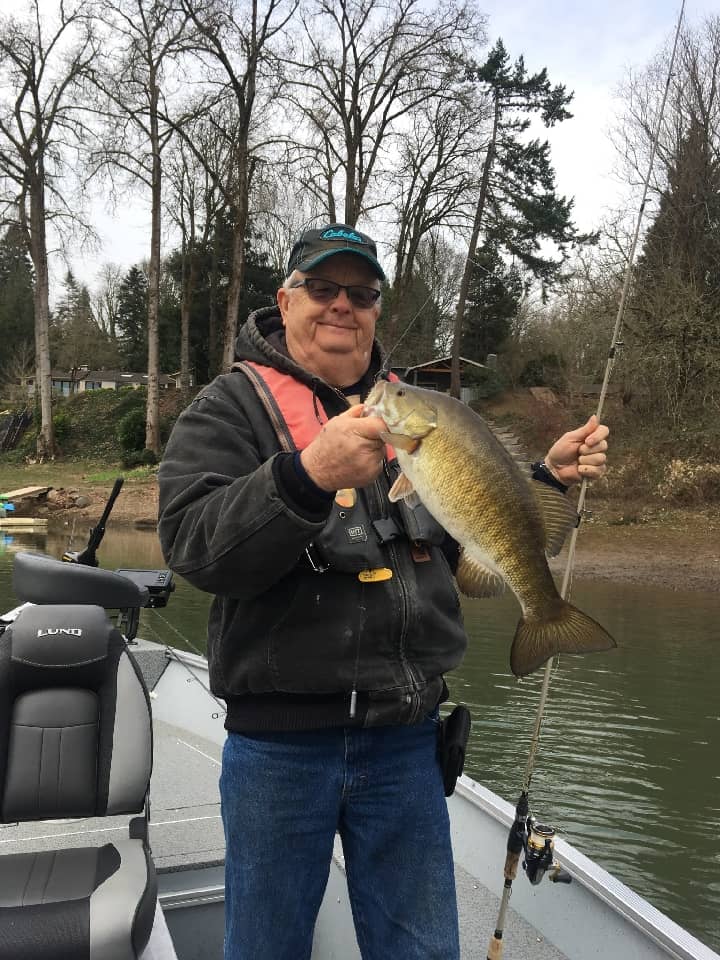 Over the years, smallmouth bass have displaced many of the river system's largemouth bass.
Smallies thrive in the modest currents and rocky habitats of the Willamette from the mouth up into the mid-Willamette Valley and also are established in Multnomah Channel and lower sections of several tributary streams.
They will be present throughout the river system, even in current. They especially seek out hard-bottom areas, natural boulders and shelves, and artificial riprap areas.
However, smallmouth also will use pilings and other artificial structures to duck out of the current and ambush prey including crayfish and smaller fish.
They will aggressively strike a variety of lures, with soft plastics rigged weedless a great place to start around all of the tackle-eating sunken logs, rocks and other snags the fish use as cover.
Look for the Willamette River's bass to start getting active as early as March and continue to bite well into fall.
Usually the river will fish nicely for bass if its color is greenish to somewhat clear. High, muddy water that comes after heavy rains is usually not great for catching bass, so take a peek at the nearest bridge crossing.
Also see: Smallmouth Bass Fishing Near Portland and Smallmouth Bass Fishing in Western Oregon.
Once you know where to catch local bass, it's also time to read all about HOW to catch smallmouths and other black bass with our simple guide to bass fishing techniques.
Willamette River Largemouth Bass
Once more dominate, these bigger bass are mostly found in backwater sloughs and small inlets connected to the main river and Multnomah Channel.
Largemouth like habitats with soft (muddy) bottoms and structures like dead branches, docks, overhanging trees and aquatic plants.
Also see: Largemouth Bass Fishing in Western Oregon.
Willamette River Crappie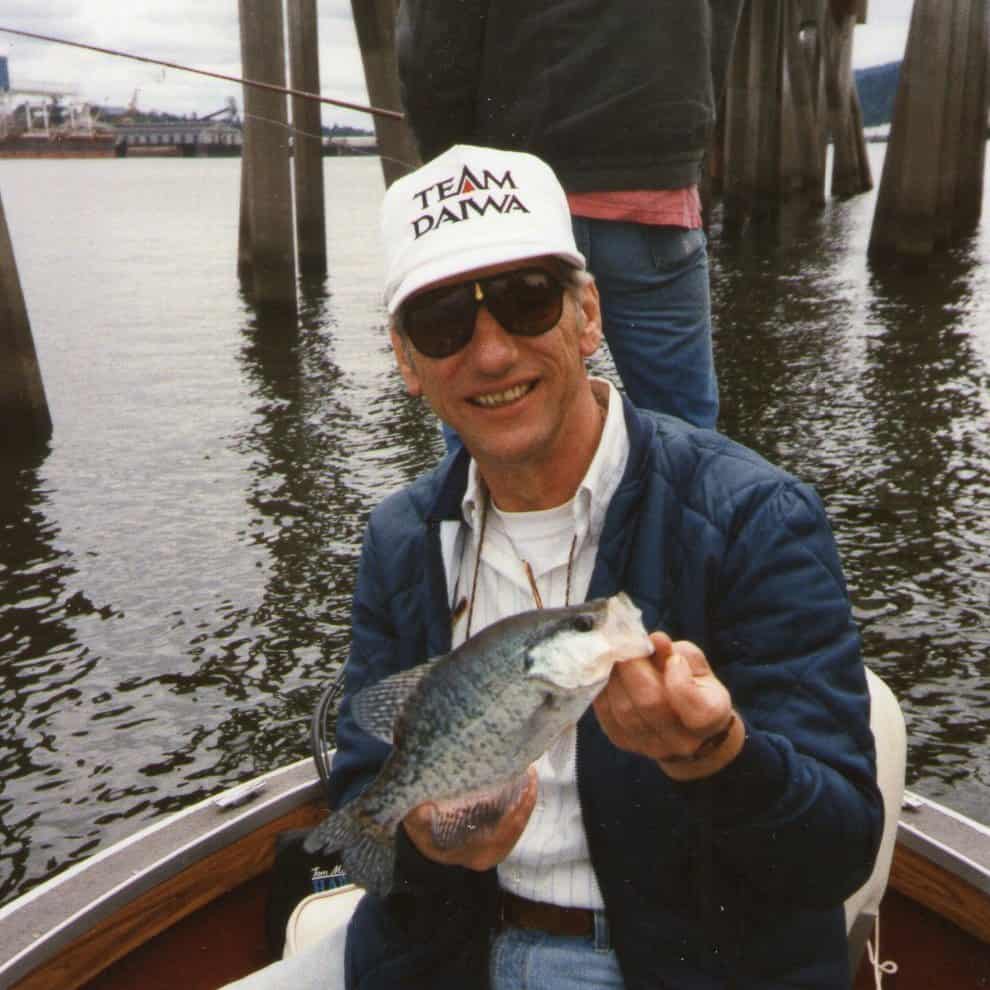 Both black and white crappie can be found in the mainstem and channel up into the mid-Willamette Valley.
Backwater coves from Salem to Portland to St. Helens, including Portland's ship harbor, are good places to look.
Key in on pilings, fallen trees and other structure at varying depths until you locate fish. They also will be in current, especially if they can duck behind pilings or bridge supports.
Crappie love eating small fish, and crappie jigs are a favorite lure because they imitate minnows and can be fished at all depths.
Also see: Crappie Fishing in Western Oregon as well as Crappie Fishing: Simple How-To Techniques and Tips that work anywhere.
Willamette River and Multnomah Channel Walleye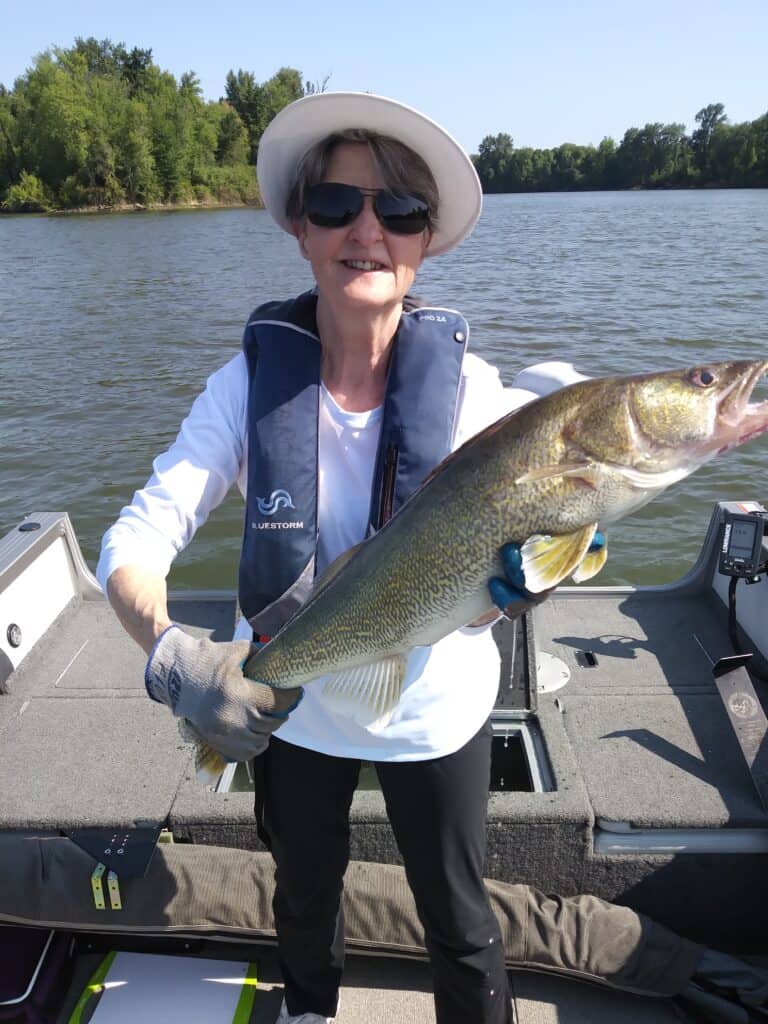 These Midwest favorites are quite well-established in the nearby Columbia River.
In the Willamette mainstem, they are only occasionally caught and rarely targeted, although the very lowest reaches of the river have a population.
However, there are overall better numbers of walleye in Multnomah Channel, where they feed on abundant schools of small yellow perch and other forage.
Boost your odds by reading our walleye fishing how-to article that includes the best techniques.
Willamette River Catfish
We are getting more and more reports that channel catfish fishing is picking up steam in the Willamette River, as well as down into Multnomah Channel.
Channel cats are the favorite species of catfish across the United States, known for excellent eating as well as fun catching.
Channel catfish are available in what appears to be increasing numbers in the lower and middle rivers up to at least the Salem area, if not beyond.
The Wilsonville and Newberg areas above Willamette Falls are seeing more catch reports, and lower river spots below the falls including West Linn and Portland's Ross Island are in the mix as well.
Even with the positive signs for channel cats, the most common catfish species available here remains the lowly brown bullhead, common in many of Oregon's ponds, lakes and slow-moving rivers.
While channel catfish don't mind a mild current, bullheads prefer muddy bottom areas outside of strong current, so fish for them in coves, sloughs and off-channel areas. A simple worm rig fished on the bottom will work.
The state record white catfish was caught in the Tualatin River, a tributary of the lower Willamette, but this species also is not available in significant numbers.
Also see: Catfish Fishing in Oregon as well as our how-to article about catfish fishing techniques and best baits.
Willamette River American Shad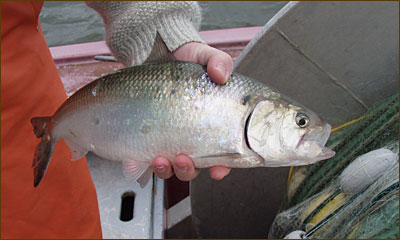 These giant East Coast cousins of our native herring often weigh in at several pounds and fight like crazy.
In the Willamette, the best places to catch shad have current, and most people converge near the mouth of the Clackamas and below nearby Willamette Falls.
Boat anglers also fish in current next to Coon Island on Multnomah Channel.
Boat anglers anchor and fish with tiny spoons and other lures and even bare hooks.
Bank anglers using drift-fishing techniques have limited options but can do well at Clackamette Park.
Also see: Shad Fishing: Simple Techniques and Tips and Best Shad Fishing in Oregon and Washington.
Additional Willamette River Fish Species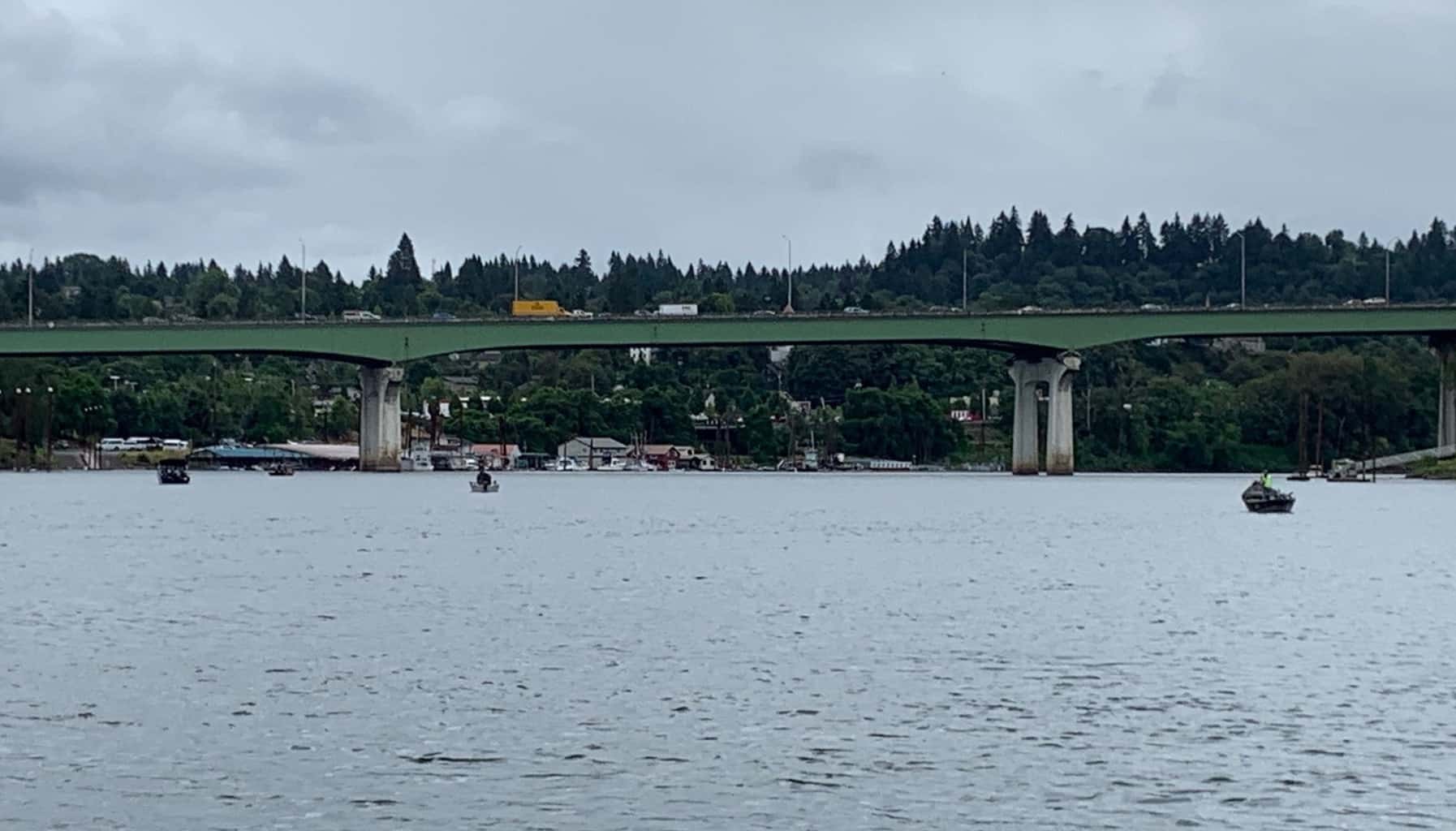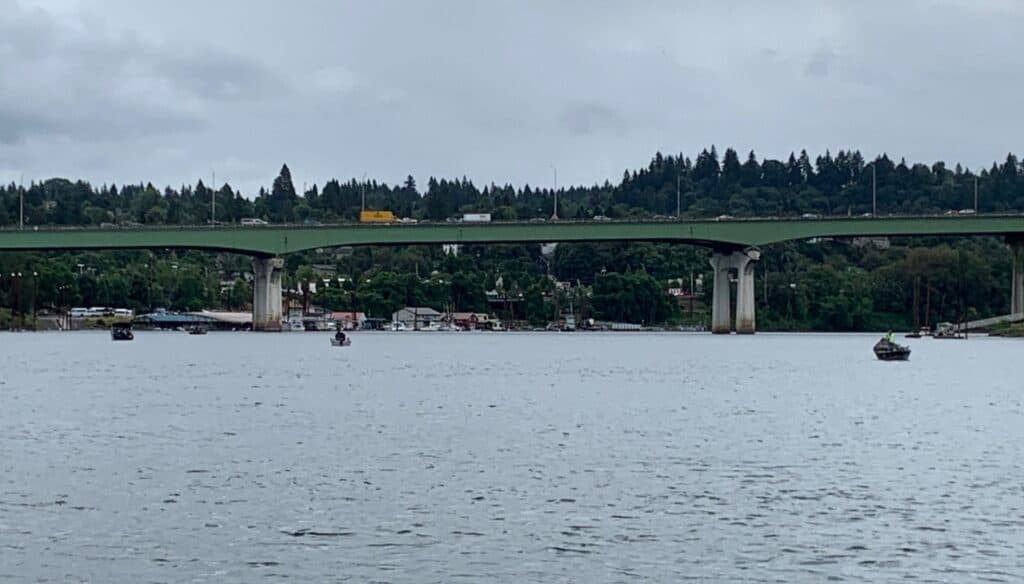 Among other native and introduced species you are likely to catch (but generally of less interest to Willamette River and Multnomah Channel anglers) include yellow perch, sunfish (including bluegill), suckers, carp, northern pikeminnows (squawfish), peamouth and others.
In fact, in the lower river it's even possible to catch starry flounder that occasionally work their way out of saltwater and into the Columbia and Willamette rivers.
Find more fishing spots in the Willamette Valley and Oregon
Oregon Resources
ODFW Weekly Fishing Report
ODFW Trout Stocking Schedule
Oregon Fishing Regulations
National Weather Service