If Bob Judkins were trying to beat Oregon's smallmouth bass record, he'd likely head up to Henry Hagg Lake near Forest Grove, which has produced the state's last several records and still grows big bass.
But if the active warmwater angler (and Oregon Bass & Panfish Club member) wanted to catch lots of bass – and some pretty good-sized ones at that – he'd likely stay closer to his Portland home and ply the waters flowing around rocky shores, islands and shoals in the Willamette and Columbia rivers.
OBPC members also find pretty good largemouth bass fishing in the Portland-Vancouver area, but they sometimes head a little farther afield for the biggest bucketmouths.
In this article, we'll show you some favorite spots for both largemouth and smallmouth bass near Portland, including up into Southwest Washington and a bit farther out into less-populated parts of northwestern Oregon.
We'll start with smallmouth bass, which tend to run in higher numbers close to Portland, so there's little need to roam far.
And then we'll key you in on some of the better largemouth bass fishing within about 90 minutes from home.
Best Smallmouth Bass Fishing Near Portland
Smallmouth bass, a non-native species from the upper Mississippi River drainage, have adapted very well to Oregon's waterways, especially several of its rivers and reservoirs.
Smallmouth like like cool and often moving waters, with lots of rocks and plenty of food, especially crayfish and small fish. We have tons of that here.
This article will mention three great (but also large) bodies of water where the smallmouth bass fishing can be outstanding. At the end of this section, there are links to additional smallmouth bass fisheries in Oregon and Washington.
Columbia River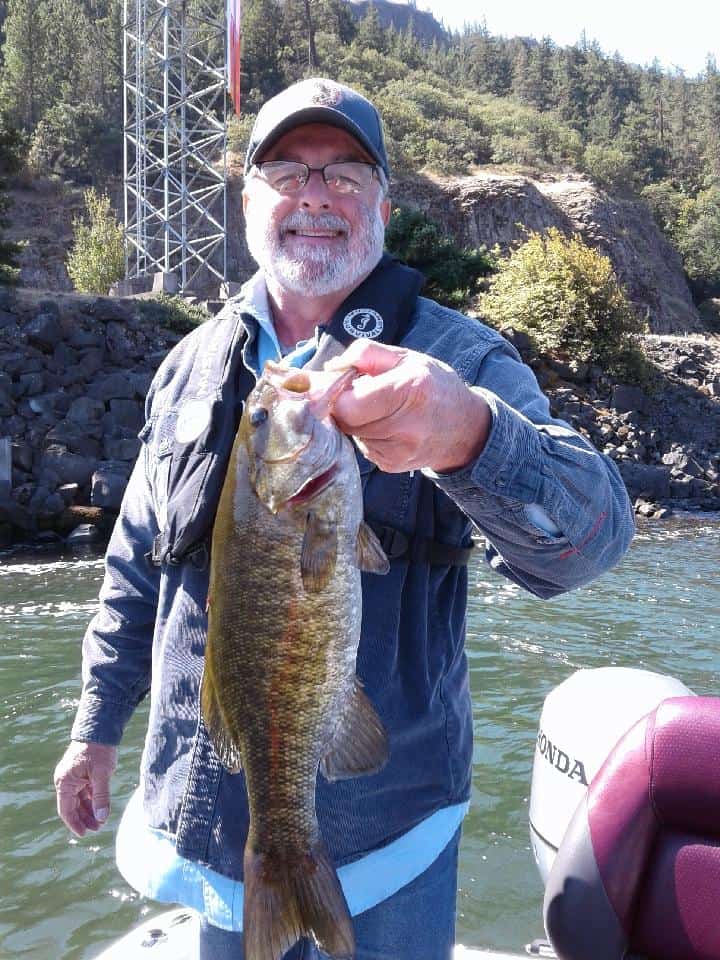 There are plenty of bass in the Camas and Washougal area off the Washington side, across the river from Chinook Landing on the Oregon side, Judkins said.
Early in the year, bank fishing can be good for spawning smallmouths just about anywhere you can pull over and walk down to backwater areas with 4 or 5 feet of water.
Later in the season, try fishing deeper areas from the bank at Rooster Rock State Park or hike the trails to the mouth of the Sandy River.
Boaters should concentrate on rocky areas, wing dams, underwater humps and other structure. The Columbia is big water, where currents and especially wind can be tough on boating anglers.
For all sorts of fishing opportunities in the big river, read Columbia River Fishing.
Henry Hagg Lake
There are plenty of places across Oregon to catch more smallmouth bass than Hagg Lake, southwest of Forest Grove.
But after Hagg produced the several smallmouth records back-to-back, including the current mark, it would be tough to say anywhere in the state produces bigger bronzebacks.
The current state record is an 8 pound, 1.76 ounce smallmouth caught at Hagg in 2005.
Hagg is most easily fished in the spring, when the water storage reservoir is at full pool and bass move into the coves and other shallows to spawn.
As the water warms and falls, Hagg Lake offers bass fewer structures. If you find them, you'll find bass.
The most obvious structure is the rock-face dam, although anglers should get there early because power boats soon take over that end of the reservoir. Boat ramp docks, points, underwater humps and the deep ends of downed timber are other places to try in the summer heat.
For another view, read our article dedicated to Hagg Lake's bass fishing.
Willamette River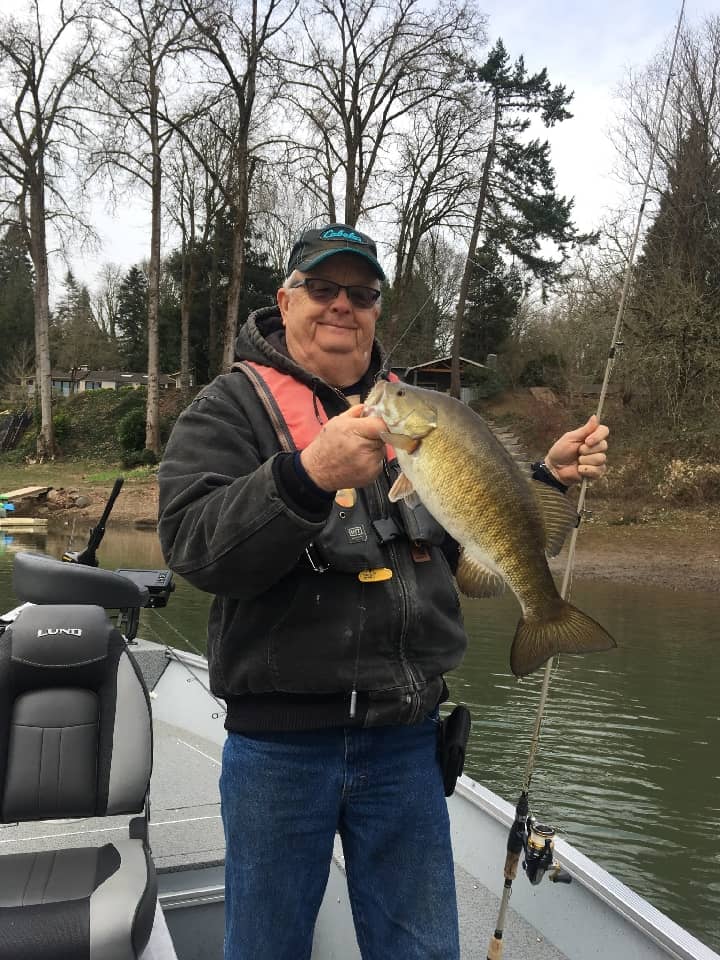 The Willamette River may be a highway for salmon and steelhead heading upstream to clear-running tributaries, but it's also the year-round home to a variety of introduced warmwater species.
One of the most numerous game fish here is the smallmouth bass, which virtually have taken over bass haunts from the largemouths that once ruled the bass world here.
In the spring, when smallmouth spawn, focus on shallow, quiet waters in backwater areas, such as the Swan Island and Cedar Oak Island lagoons, Judkins advised.
In summer, smallmouth bass disperse and often run deeper.
Look for rocky structures such as islands, points, riprap and boulders that break the current and provide ambush opportunities for voracious bass.
For boaters, the Newberg area (Rogers Landing) above Willamette Falls and the Ross Island area in the lower river offer plenty of smallmouth habitat, but you'll find them from the Salem and Albany areas in the mid-valley down to the mouth.
Shore angling for Willamette River smallmouth is tougher after fish move to summer haunts, but Cedar Oak Island is a good place to try on foot.
Some other parks and boat launches typically have a bit of shore access where rocks and docks hold fish.
Smallmouth bass also can be caught in the lower sections of several Willamette River tributaries, including the Yamhill and Santiam rivers.
(Note: Consumption advisories are published in the annual Oregon Sport Fishing Regulations for bass and other fish caught in parts of the Willamette River, due to mercury and other contaminants.)
For more about the various fishing opportunities here, read Fishing in the Willamette River and Multnomah Channel.
More Smallmouth Bass Fishing Hot Spots
Best Smallmouth Bass Fishing in Western Oregon
Best Smallmouth Bass Fishing in Central and Eastern Oregon
Best Smallmouth Bass Fishing in Washington
Best Largemouth Bass Fishing Near Portland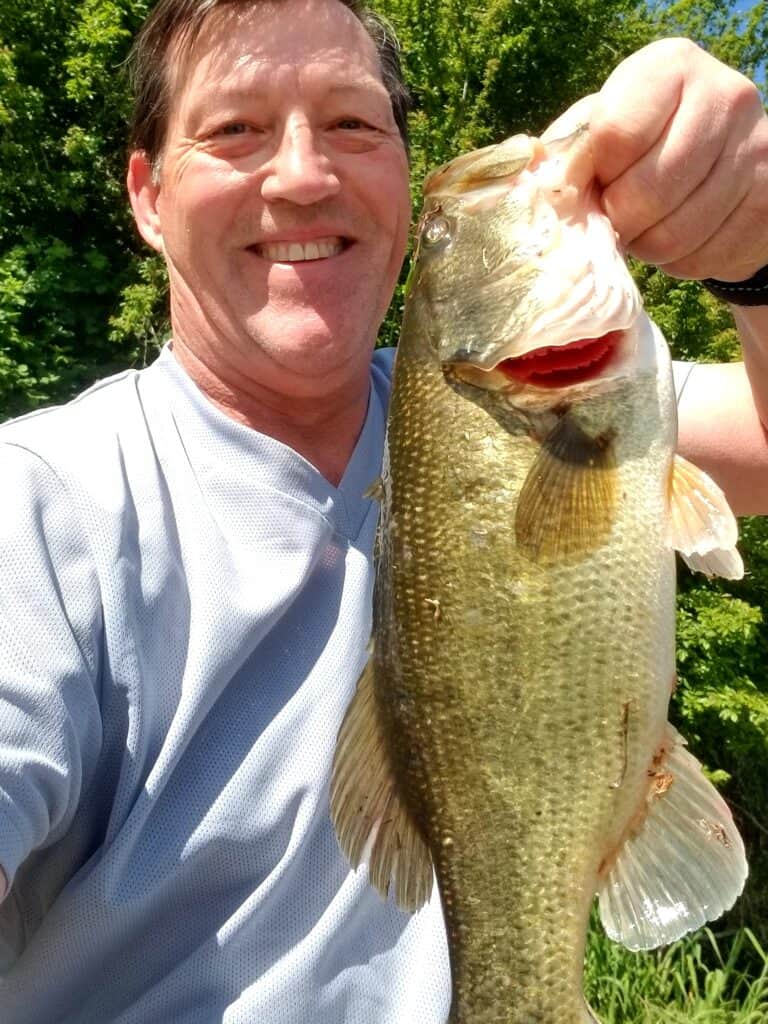 Largemouth bass, another Mississippi River Valley native, prefer lakes and ponds that warm up in summer, as opposed to moving rivers, although you can find them in sloughs along the Columbia and Willamette rivers.
They are in lots of urban and suburban ponds near you, and sometimes fishing right down the street can be good. Check out our Oregon county guides for close-by fishing options.
In this article, we're including a select number of the spots where regular bass anglers choose to spend their time chasing these aggressive battlers.
We'd note that, like smallmouth bass, these are long-lived fish. The trophies aren't great eating and in fact tend to have high levels of the natural neurotoxin mercury, so in the interests of maintaining excellent fisheries and your own health, we suggest you practice catch and release for big bass.
Let's start with the relatively close Oregon spots first:
Best Largemouth Bass Fishing in Northwest Oregon
Cullaby Lake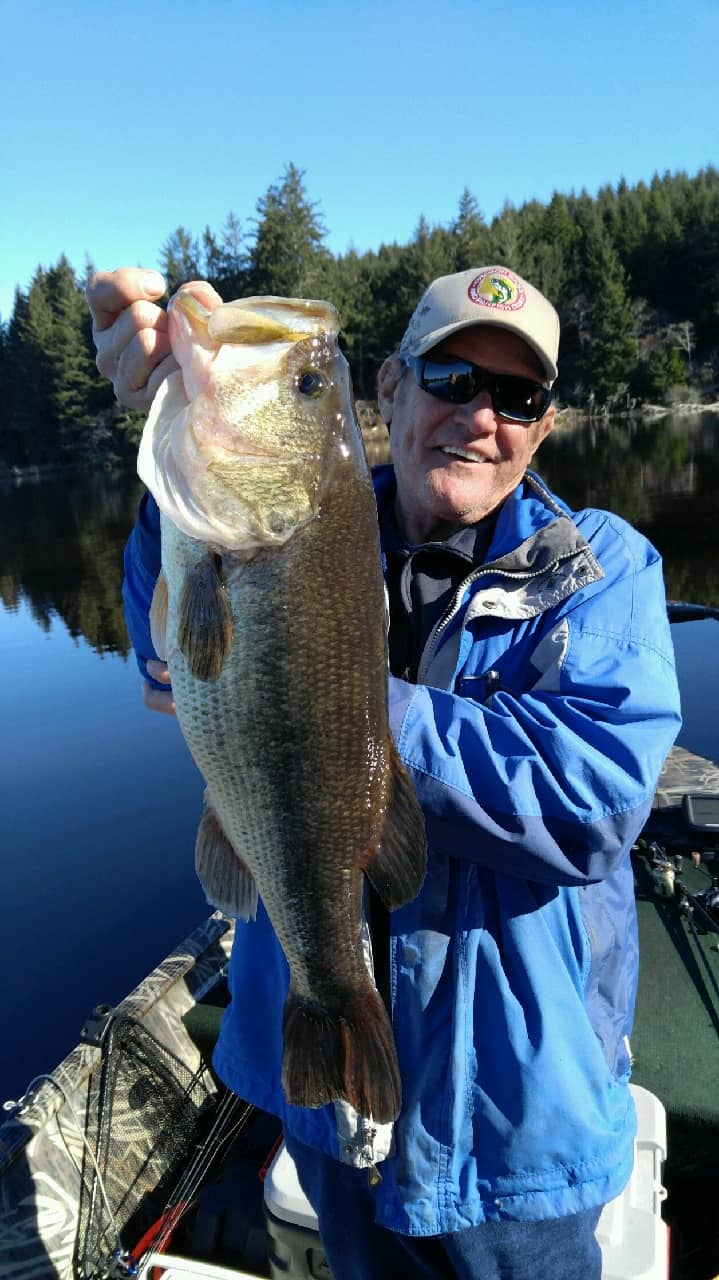 Admittedly, this is a bit of a drive out near Warrenton (close to Astoria), so it's at the edge of what we'd consider a decent day trip.
But Cullaby has the northern Oregon Coast's best largemouth bass fishing, with good numbers of fish and some sizable specimens.
Cullaby has tons of bass structures, including lily pads and other aquatic plants, fallen trees and branches, docks, channels and more. It might be harder deciding which structure type to focus on.
More information: Cullaby Lake Fishing
Freeway Lakes
Many anglers know these lakes because they are heavily stocked with hatchery rainbow trout during the spring, primarily the one by the main parking area.
But bass fishermen have a secret: In the literal shadows of Interstate 5 just south of Albany (about an hour and a half from Portland), there are a pretty nice number of nice largemouth bass in these shallow, interconnected lakes.
Try venturing out to the farther reaches in a small human-powered boat or float tube, especially after the water warms up and the trout crowd has gone home.
More information: Fishing at Freeway, Timber-Linn and Waverly Lakes in Albany
Hartman Pond
This smallish Columbia Gorge pond can have some large largemouths.
The pond (previously known as Wahkeena Lake) is located at Benson State Recreation Area just one exit to the west of Multnomah Falls.
Structure includes a couple docks, some downed trees and grassy shorelines.
Hartman also is stocked with hatchery trout and you might also catch smallmouth bass and other warmwater fish, including the occasional channel catfish.
Neighboring Benson Lake also has largemouth bass and most of the other species.
More information: Fishing at Benson Lake and Hartman Pond
Henry Hagg Lake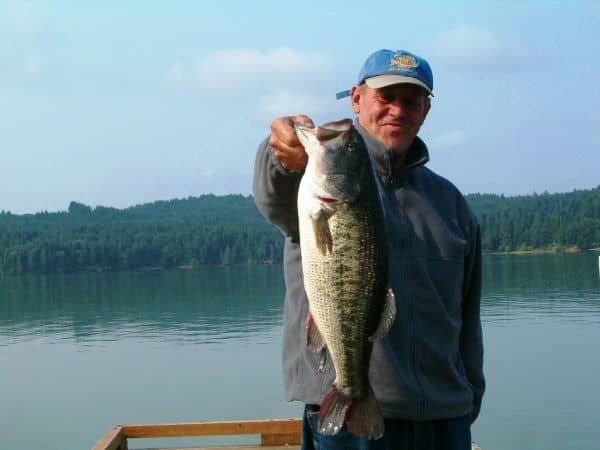 Yes, you're reading this again.
Hagg Lake is known for its numerous and sometimes trophy-sized smallmouth bass, but fewer anglers realize it's a nice place to land a lunker largemouth.
And, given that largemouths have potential to grow larger, these can be the biggest bass in Hagg Lake, but probably not record-breaking for the species.
Whereas you'll often find the smallmouths around rocky structures, including points, drop-offs and the rock-face dam, when chasing largemouths it's best to key in on the coves.
There are several small and medium-sized coves around Hagg Lake, generally where small creeks come into the reservoir.
In the coves, look for bass in and around aquatic plants, submerged grasses, shady creek channels, fallen trees and other soft or woody structures.
These bass will be particularly aggressive when guarding their nests in these shallow areas during the spring, but again, please release these big bass to keep this fishery going.
More information: Bass and Panfish Fishing at Henry Hagg Lake
St. Louis Ponds
This complex of seven man-made ponds, not far off I-5 south of Woodburn (within an hour from Portland) offers some pretty decent largemouth bass angling.
While the pond next to the parking lot gets tons of angler traffic, particularly when it's stocked with hatchery rainbow trout, the other ponds are quieter and get a bit less pressure.
There's an excellent if winding trail system throughout this rural parkland setting. If you can walk well, try getting to the smaller trails to find bass that don't see a lure every day.
There's an incredible assortment of bass cover in these oddly shaped ponds, including downed trees, aquatic plants, docks, coves, points, etc.
More information: Fishing at St. Louis Ponds
Vernonia Pond
A little over an hour into the foothills of the Coast Range, in what would seem like strictly trout and salmon country, the logging town of Vernonia has a nice little bass fishery going on.
Vernonia Pond, often called Vernonia Lake, is a lily pad- and tree snag-studded manmade pond along the banks of the upper Nehalem River.
While crowds descend on it whenever the Oregon Department of Fish and Wildlife stocks trout, there are some very nice bass hiding among all that structure waiting to snatch your lure.
This, again, is a small water that would be prone to over-fishing for bass, so please release these fish and take a trout home for dinner during the spring.
Vernonia Pond also has good panfish angling.
More information: Vernonia Pond Fishing
Best Largemouth Bass Fishing in Southwest Washington
Lacamas Lake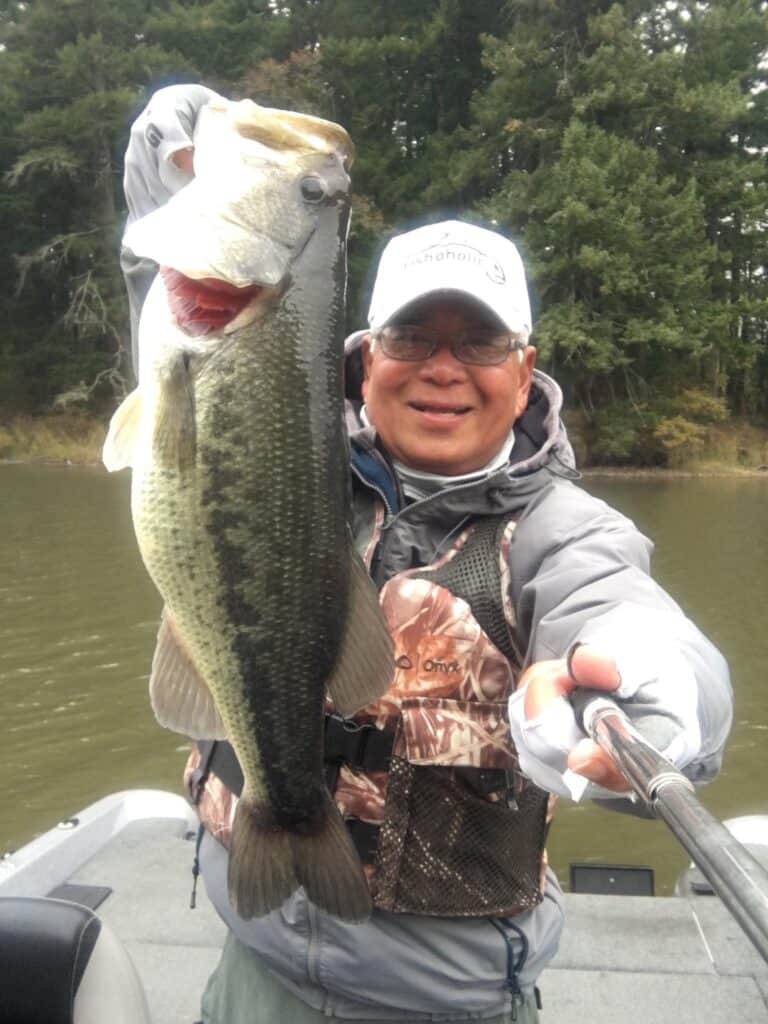 This medium-sized reservoir on Lacamas Creek is right in Camas, within a half hour's drive of Vancouver and much of Portland.
The narrow reservoir can produce excellent largemouth bass and has good structure, including shallows near both ends and shoreline lily pads and brush.
There is good bank fishing and a watercraft will open up even more access to bass-holding spots.
Summertime will bring out the speedy watercraft, but the far east end is out of the high-speed boat traffic and a cooler place for hot-weather bassing.
While bass fishing is challenging, the lake also is seasonally stocked with rainbow trout and has resident perch, sunfish and catfish, all willing biters.
Round Lake just on the other side of State Route 500 has many of the same warmwater fish species in a smaller package.
More information: Lacamas Lake Fishing
Rowland Lake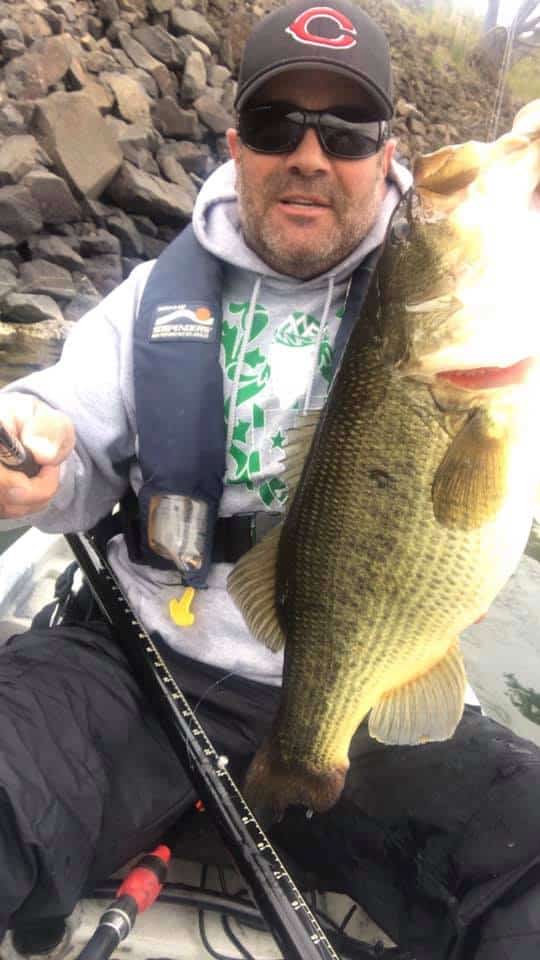 This lake is actually a partitioned-off cove of the Columbia River in Klickitat County, about 10 minutes east of White Salmon and nearly an hour and a half from Portland or Vancouver.
Highway 14 goes right over the lake and an outer dike limits the inflow of Columbia River waters.
Rowland can be a surprising producer of both big largemouth and smallmouth bass. It also is stocked with rainbow trout and has the usual assortment of Columbia River fish species.
There's access off Old Highway 18 and you can drop a small boat or float tube in to reach bass holding around points, rocky dikes, shoreline vegetation, and similar bass-holding structure.
More information: Rowland Lake Fishing
Silver Lake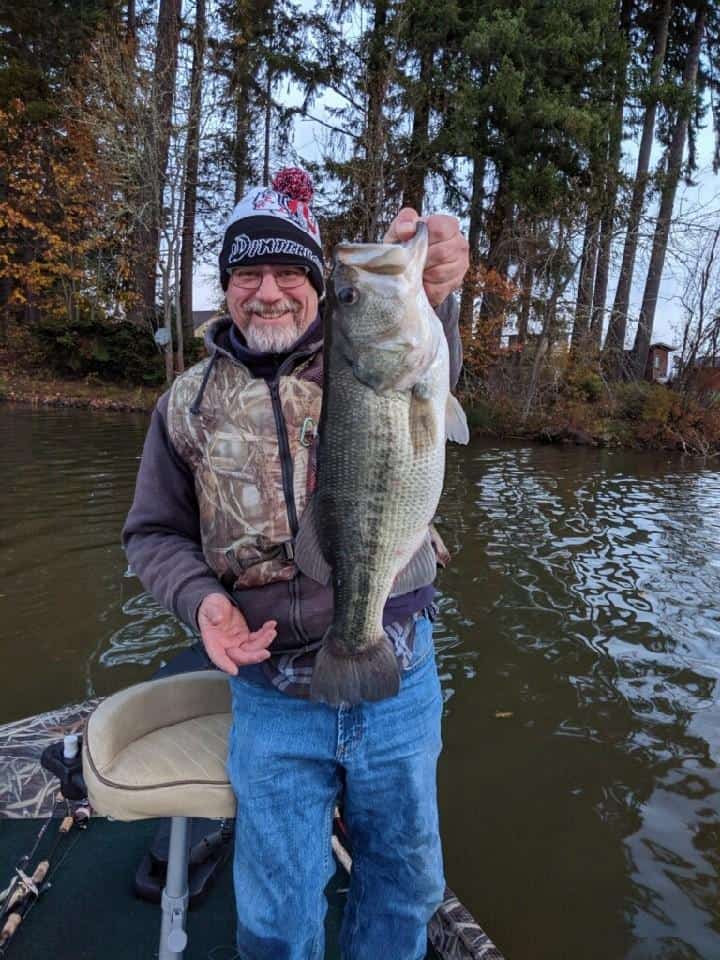 This is one is a bit more than an hour north of Portland-Vancouver, but well worth a couple of hours of driving round-trip, especially if you have a Washington license or go on a free-fishing weekend.
Silver Lake is a sprawling body of water that quite literally looks like it was designed by largemouth bass.
There are tons of lily pads, docks, downed trees, log booms, creek arms, points, and more in a fairly shallow 3,000 acres.
Put another way, if you love bass fishing at Oregon's Tenmile Lakes (and who doesn't?) but want a shorter drive from Portland, this is the spot.
Silver Lake also can be excellent for panfish such as crappie and bluegill.
Just in case, we'll mention that Washington has a confusing number of Silver Lakes. This one is located in Cowlitz County, just west of Castle Rock along Highway 504, the main route to the Mount St. Helens National Volcanic Monument.
More information: Fishing at Silver Lake in Cowlitz County
More Largemouth Bass Fishing Hot Spots
Best Largemouth Bass Fishing in Western Oregon
How to Catch Both Largemouth and Smallmouth Bass
Learn more simple bass fishing techniques and tips.
Thank you
Bob Judkins and Herb Doumitt helped us out with this article. They are members of the Oregon Bass & Panfish Club, which is involved in a variety of angler education and fisheries enhancement activities in Oregon and Southwest Washington. Check out their club page on this website.
Oregon Resources
ODFW Weekly Fishing Report
ODFW Trout Stocking Schedule
Oregon Fishing Regulations
National Weather Service