This article will show you to the very best largemouth bass fishing spots in every region of Washington, and you'll always be relatively near some great bass water no matter what part of the state you fish.
Largemouth bass are the most popular game fish in America.
And while these green meanies may not be as popular as trout and salmon in the Pacific Northwest as they are in many other states, Washington has plenty of waters where anglers can hook into these aggressive and hard-fighting freshwater bass.
The state record, 12 pounds and change, isn't newsworthy by California and Texas standards, but that's still a very big bass.
Largemouth bass well over five pounds are caught most years in many Washington lakes. A handful of the lakes produce personal-best worthy bass in the 8- and 9-pound range most years.
This article covers the following best largemouth bass fishing lakes in Washington, listed alphabetically:
Box Canyon Reservoir
Eloika Lake
Lacamas Lake
Lake Kapowsin
Lake Samish
Lake Tapps
Lake Terrell
Long Lake (Lake Spokane)
Moses Lake
Newman Lake
Potholes Reservoir
Silver Lake
Sprague Lake
Swofford Pond
As you work through the article, we'll describe them in more depth by geographical area.
However, we didn't stop there. This is the most comprehensive guide you'll find to Washington's largemouth bass fishing opportunities. In each section below, you'll also discover plenty more largemouth bass fishing holes organized by region and county. We're confident there's at least one near you.
Catch any of them on a good day, and you can catch some very good bass.
This is the most a long article covering well over 50 lakes and ponds, so use the handy table of contents right below to jump directly to the regions you'd like to fish, or take a leisurely stroll from west to east across the best largemouth bass lakes in Washington.
We also have some tips that will help you catch more largemouth bass in Washington, including suggested techniques, finding holding water, and the best times of year to target them.
Before you get into the largemouth lakes, we also should ask whether you also are interested in smallmouth bass? Washington has some of the country's top waters for bronzebacks.
So, when you're done with this article, also be sure to check out Best Smallmouth Bass Fishing in Washington.
Fishing For Largemouth Bass
How to Catch Bass
Largemouth bass can be caught with a wide variety of methods, which is part of what makes it so fun. That and they absolutely crush your lures.
Still-fishing with natural bait such as nightcrawlers will certainly catch bass, especially the small ones.
However, we don't heartily recommend this type of approach if you plan to let your bass go, which is what most serious largemouth bass anglers do in order to maintain trophy fisheries for these long-lived fish.
Instead, most anglers cast and retrieve (or occasionally troll) lures that imitate their prey species, which include smaller fish, crayfish, frogs and other amphibians, all kinds of insects, and even the occasional snake, duckling or rodent swimming across the surface.
Lure types that look like bass food include crankbaits, swimbaits, and all types of soft plastic lures that resemble small fish and crayfish swimming through the water.
My absolute favorite approach, generally on a warm summer evening, is working a topwater plug or plastic frog or other surface lure, which can draw explosive strikes from largemouth bass.
Some bass lures don't necessarily look like prey species but take advantage of a largemouth bass' tendency to consider itself the big dog of any lake it inhabits.
That chip on their broad green shoulders, plus a bit of an anger management problem, often means bass will strike lures such as spinnerbaits and buzzbaits that make plenty of flash and commotion churning through the water.
When to Catch Bass
Largemouth bass in Washington can be caught all year long, but let's be honest and say that they are especially hard to catch during the coldest months.
If you're fishing for largemouth bass between Thanksgiving through St. Patrick's Day, expect slow action. On the flip side, you might catch a very big one.
Come about March or April, maybe a bit earlier in more temperate areas, the biggest bass of the bunch will begin to stir and show more interest in feeding as they gear up for their spring spawning period.
In most lakes, spring can be about the best it gets for catching bass in both quantity and quality, especially when they are guarding their nests in shallow water and striking out at whatever swims near.
Summer bass fishing can be quite good in most places, although you may have to search deeper for them in the bright light of day.
Or look for lunkers lurking in the shade of docks, fallen trees and aquatic vegetation such as lily pads or reeds, as these fish are very structure-oriented.
Near sunrise and sunset, largemouth bass tend to be at their most active and often move into shallower water to search for prey. Your odds of catching them will be higher at those times when bass are actively hunting, especially in the heat of summer.
Many anglers might hang up their bass rods for the fall to pick up their salmon and trout gear. That would be a mistake, because some of the most successful bassers haul in their biggest bass of the year in the fall when they are among the only people throwing big lures on many lakes.
That's what we'll say about the how, when and where of catching largemouth bass for this article, but after you read about all the great bass spots in Washington, look for a link to our comprehensive guide to the simplest and most effective tactics for catching bucketmouths near the bottom of this article.
Where to Catch Bass
Largemouth bass are literally found in hundreds of waters across Washington, stretching from ponds and lakes just off the coastline to those sitting near the borders of Idaho, Oregon and British Columbia.
Largemouths do have a preference for the quieter waters of lakes, ponds and reservoirs, but they also are found in slow-moving or sloughs in the lower reaches of several rivers, including the Columbia River.
The spots we tell you about in this article historically are among the best of the best, though we acknowledge that fisheries tend to wax and wane over the years, and sometimes the best bass spot is the pond down the road that most people ignore.
For the purposes of this article, we'll divide the state into several regions, so you can narrow down your many choices to ones that are closer to you.
In many cases, we have a more detailed article about specific fishing spots, so be sure to follow the links included with the location listings, where available.
That's enough basics to catch bass, but we also suggestion you take a gander at our simple how-to guide to the best bass fishing techniques and tips for more about the best lures and strategies to catch these fun fish.
Now it's time to get on to the best largemouth bass fishing in every region across Washington.
Puget Sound Area Largemouth Bass
This section covers the counties that border Puget Sound in the northwestern part of the state including areas near Seattle, Tacoma, Olympia, Everett, Bellingham and the Olympic Peninsula. (They are in the Washington Department of Fish and Wildlife's Regions 4 and 6.)
The following are our favorite choices for largemouth bass fishing in this region.
Lake Tapps
Honestly, this was a tough pick in a region with a lot of very good bass waters but no obvious number one, so be sure to check out the others near you, listed by county right below.
We chose to highlight the sprawling Lake Tapps near Auburn and Puyallup for its sheer abundance of bass water. You could fish this one for days and not tap out its fishing spots.
Even the bass clubs often schedule tournaments at this northern Pierce County reservoir for its diversity of bass-holding structure including lots of docks, woody debris and weedy shallows.
Bear in mind that the very suburban, home-lined Lake Tapps has some downsides.
For one, its severe off-season draw-downs tend to hold back fish production, or it might be ranked among the best bass lakes in the state (keep reading for those).
Also, its heavy summertime use by the power-boating set are a challenge to fishing during the warmer part of the days, so getting out their at sunrise is often the key to a good day of bass fishing.
Lake Tapps also is one of the handful of Washington lakes planted with tiger muskies, so there's always the chance of throwing a bass lure and hooking a 4-foot monster.
Find more information: Lake Tapps Fishing
Lake Kapowsin
This can be a bit of a sleeper that you won't find on every "best of" list for bass fishing, but this is a favorite that one of the best bass anglers in Washington told us about.
It's a pretty big lake at about 500 acres and it gets stocked with an insane number of catchable trout, which is the main draw for most rod-toting visitors.
While trout anglers ply the open water, you'll want to pitch bass lures toward fallen logs, into shallow coves and around weed beds where the big bass lurk.
For more information: Lake Kapowsin Fishing
Lake Samish
This big lake just off I-5 south of Bellingham is truly a mixed-bass fishery.
Local-level tournaments are fairly common here because it has chunky fish, and the winners often hold up both largemouth and smallmouth bass to good sizes.
The large "main lake" section has more shallow holding water and is where most of the bass fishing is, and the lake's deep northern lobe is a favorite for kokanee fishing.
Lake Whatcom, an even larger lake in the Bellingham area, also has excellent bass fishing but is on our list of favorite smallmouth fisheries.
For more information: Lake Samish Fishing
Lake Terrell
Want bassy-looking water for your largemouth fishing?
If being almost in Canada is no problem for your fishing plans, check out Lake Terrell west of Ferndale in Whatcom County.
Lake Terrell is a shallow lake with big green fish. It tends to get rather choked with weeds in the peak summer heat, so either come prepared for fishing the slop or consider a spring trip or returning for a fall bite.
You can also catch trout, channel catfish and several other game fish species here.
More Puget Sound Area Lakes
Here are some good to sometimes great largemouth bass waters mostly in counties that ring the Puget Sound and line the Pacific Ocean.
We've grouped them by county or region to help you narrow down lakes you might want to try.
King County
Green Lake
This one might surprise you, seeing that it's in the heart of Seattle and more popular with runners and roller-bladers.
However, where else can you go from pushing pencils in a skyscraper to pitching Senkos into lily pads in just a few miles?
Honestly, this isn't the best bass lake in the region, but if you're in the city, it's worth getting to know for your urban outings. There are some good ones if you can fool them.
The lake also has lots of other types of fish, including plenty of stocked rainbow trout and even some brown trout and channel catfish.
For more information: Green Lake Fishing
Pine Lake
This Sammamish lake isn't big (under 100 acres) but it packs a fair amount of fishing in its small size, including some very nice largemouth bass hiding among the docks and weedy coves.
Expect to share the lake with lots of trout anglers, as this very suburban lake is heavily planted around its late April opener.
Find more information: Pine Lake Fishing
Lake Sawyer
This lake a short drive east from Auburn offers anglers a chance at a mix bag of bass (and lots of other fish).
One day, you might catch more largemouths, and another you might hook more smallmouths.
For largemouths, there are bass reported up to about 7 pounds.
Cover types include lots of private docks, weed beds, islands and points and other holding structure.
The nearly 300-acre lake also is truly a mixed-species fishery. It's stocked with rainbow trout and has gotten some kokanee salmon as well, and there are resident cutthroat trout and a variety of warmwater fish.
For more information: Lake Sawyer Fishing
Kitsap County
Island Lake
This north peninsula lake has some pretty impressive bass fishing for its small size.
By mid-summer you'll be pulling bass out of thick aquatic vegetation near the island, by the county park, and elsewhere along the banks.
A small boat or float tube will serve you well fishing on Island Lake.
The lake just northeast of Silverdale also is stocked with a fair number of rainbow trout for its small size, as well as a few cutthroats.
Long Lake
The Kitsap Peninsula's biggest fishing lake can grow some really hefty largemouths, with WDFW saying bass have been caught into the 9-pound range.
Located just south of Bremerton and Port Orchard, the 300-plus-acre lake is shallow and warms up a fair bit in the summer, when it can get weedy.
Long Lake is not stocked with hatchery trout but also is home to coastal cutthroat trout as well as panfish including crappie and yellow perch.
Mason County
Nahwatzel Lake
This lake west of Shelton gets most of its angling attention directed at stocked trout, but those targeting the shorelines for bass can do well here.
The brushy shorelines along the north bank and docks along most of the rest of the nearly 300-acre lake will hold fish.
For more information: Nahwatzel Lake Fishing
Isabella Lake
If you like your bass fishing without sharing the lake with a bunch of trout anglers, consider Isabella Lake just south of Shelton.
WDFW stopped stocking the lake, thanks to the cormorants that winter there and the many northern pikeminnows that always live there and cut into the trout populations.
But the lake also has a good number of decent-sized largemouth bass that don't always get the fishing pressure their peers in other lakes do.
Both ends of the roughly 200-acre lake are shallow (and during the summertime weedy) and would be a good bet. There is a WDFW boat launch and a county park (both on the south side) and some private docks and other in-lake structure.
Olympic Peninsula
Leland Lake
The mostly cold waters of the Olympic Peninsula aren't exactly known for bass fishing, but Leland Lake on the inland side of the Olympics presents the exception to the rule.
This lake in a nice Jefferson County park is not only a typical stocked trout destination but also harbors pretty darned good bass fishing (with some big ones).
It's located near Quilcene, only about a half hour driving from either Port Townsend or Sequim.
Pierce County
Ohop Lake
This is another Eatonville-area lake (just north of town) that can produce excellent bass fishing.
Like Lake Kapowsin a little to the north, Ohop is stretched out long and thin but has a more residential character. That does bring more docks into your game plan in looking for bass-holding structures.
It can be a numbers lake for average-sized bass, with large specimens a little harder to come by.
Ohop Lake also is heavily stocked with hatchery rainbow trout and has the usual collection of panfish species.
For more information: Ohop Lake Fishing
Snohomish County
Bosworth, Lake
Most anglers probably know this modestly sized lake near Granite Falls as a put-and-take trout fishing lake.
That would be a mistake if you like catching big bucketmouths.
Lake Bosworth already was quietly gaining a bit of a reputation for big largemouth bass before the summer of 2016, when Bill Evans landed a bass a hair over 12 pounds, 8 ounces, landing him at the top of the Washington record books for the species.
A lake capable of growing bass that big may just do it again.
Flowing Lake
This moderately sized lake a short drive east from Everett or north out of Monroe has a good population of nice-sized largemouth bass.
The northeast and southeast corners of this vaguely triangle-shaped middle lake in the Three Lakes area have shallow and sometimes weedy water with weeds that hold bass, especially as they warm up ahead of the deeper parts of the lake to the west. There also is plenty of dock habitat.
Flowing Lake also is a popular lake for stocked trout and has good fishing for yellow perch and bullhead catfish.
Storm Lake, literally across the road, offers similar fishing opportunities.
For more information: Flowing Lake Fishing
Roesiger, Lake
This is a decent-sized lake of about 350 acres due east of Everett that gets the usual trout-stocking treatment and also has kokanee, but it holds nice numbers of good-sized largemouth bass.
Launching at the WDFW ramp at the southern end of the oddly shaped lake will put you in the shallower part of the lake, where bass fishing tends to shine around the many docks.
The narrow central neck part of the lake has lots of summertime weed beds to work for bass as well.
For more information: Lake Roesiger Fishing
Skagit County
Big Lake
This shallow 500-plus-acre lake near Mt. Vernon warms up quickly and provides excellent habitat for largemouth bass as well as a variety of panfish.
It has plenty of shoreline bass structures including docks for the homes that ring a good part of the lake. The south end offers lots of weedy shallows.
Cavanaugh, Lake
This 800-acre lake ringed with homes offers almost countless docks as well as other structures such as islands and tree-lined banks that will hold bass.
Lake Cavanaugh also has trout and kokanee that draw a fair bit of the angler attention away from the green fishes.
The lake is easy to reach for many people, located just inside of Skagit County and only a half hour northeast of Arlington.
Thurston County
Black Lake
This is a fairly big lake at over 500 acres and close to Olympia, with lots of habitat to explore for largemouth bass (and it also has smallmouth bass as well).
The weedy southern end of the lake is a good place to start for the largemouths.
Summit Lake about 20 minutes away offers similar bass fishing in a lake about the same size.
For more information: Fishing at Black Lake Near Olympia
Long Lake
This is a good-sized lake for a suburban hot spot that attracts plenty of trout anglers to its middle sections.
Turn toward the ample cover along the banks and pitch some lures to find the largemouths at this Lacey lake.
Nearby, Hicks Lake and Pattison Lake offer similar bass fishing opportunities.
For more information: Fishing at Long Lake
St. Clair Lake
Whatever bass-holding structure you like to fish, you're likely to find it at St. Clair Lake.
The suburban lake just east of Olympia has so many coves and so much cover, it looks as though it were built for bass fishing, and at times it can deliver the goods.
For more information: St. Clair Lake Fishing
Southwest Washington Largemouth Bass
These waters include the best largemouth bass fishing lakes near Vancouver, Longview and Centralia along the southern Interstate 5 corridor and along the lower Columbia River.
Many also are within easy reach heading south from the Puget Sound area or driving north out of Portland, Oregon.
Silver Lake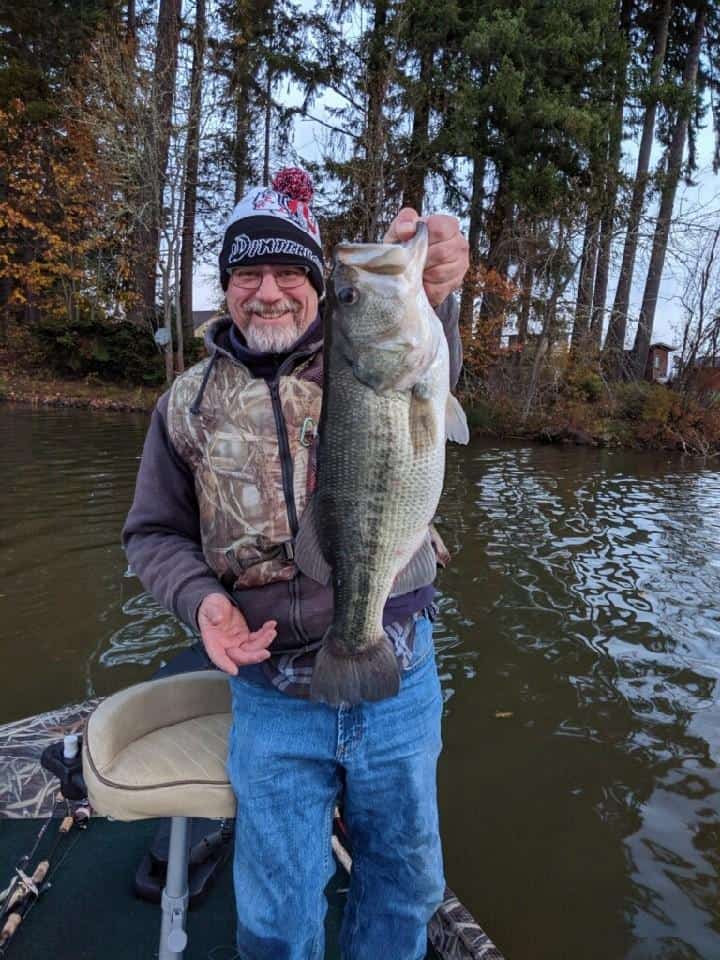 If you want to catch the biggest largemouth bass of your life in the state of Washington, we'd be hard-pressed to recommend anywhere other than Silver Lake near Castle Rock.
This sprawling but shallow lake has good numbers of largemouths, but where it really shines is in producing lunker fish in the 7- to 8-pound range.
A 10-pounder is not out of the question, but we're not in any way going to say it's easy. These big bass see plenty of pressure, so bring your A game and expect to work for it.
Silver Lake also is an excellent panfish lake, including being one of the best places to catch crappie in Washington.
For more information: Fishing at Silver Lake (Cowlitz County)
Lacamas Lake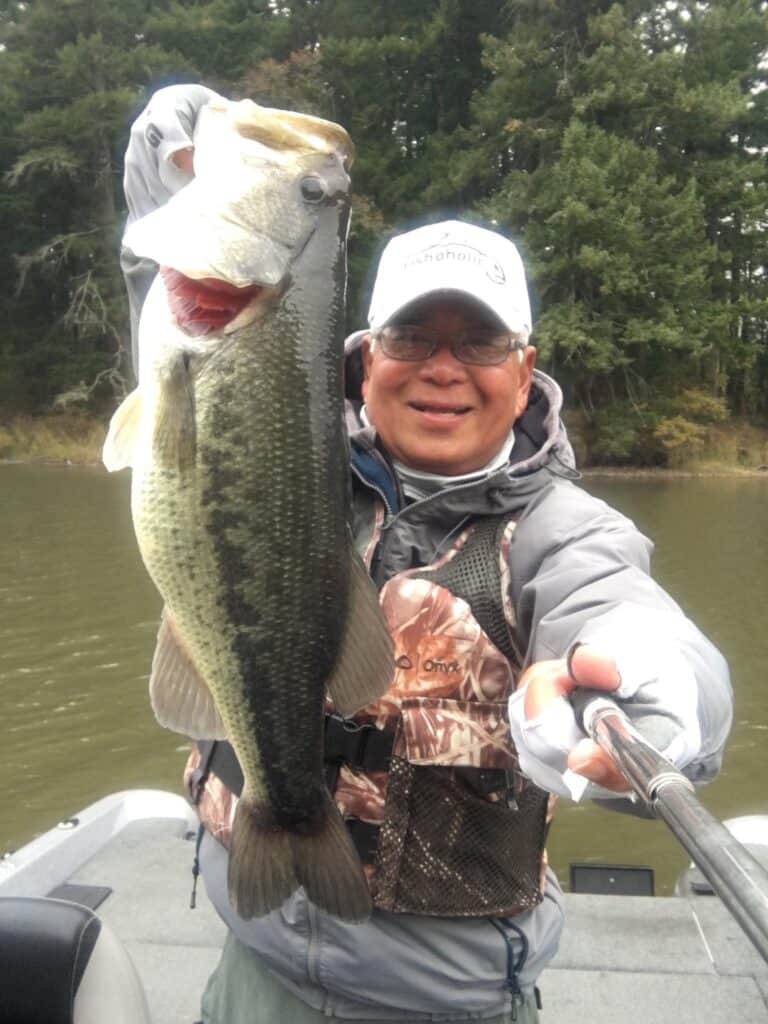 This would be our top choice in Clark County, not really for sheer numbers of fish but for the potential to catch some really quality fish in the 5-pound range.
Lacamas Lake is in the suburbs around Camas, just east of Vancouver, and it can be a busy place on a summer weekend.
We suggest you hit this location most often in the spring and then return again in the fall. In the late season, fewer bassers will be around but the larger fish are packing on the groceries before winter.
For more information: Lacamas Lake Fishing
Swofford Pond
Located around the back side of giant Riffe Lake (a coho salmon and smallmouth hot spot), Swofford Pond is a quite a decent largemouth bass fishery.
Show up in the spring and you're likely to be accompanied by lots of trout anglers, but move away from them and prospect for spawning bass in the shallows.
Swofford Pond tends to be ringed in aquatic vegetation later in the summer and early fall months, but bring some poppers, frogs, and other lures to work in and along the weeds. Bass will be in the shade, ready to pounce on passing prey.
A float tube or small boat will be handy here to get on the business side of those weeds and get away from the most popular bank-angling spots located along Green Mountain Road.
For more information: Swofford Pond Fishing
More Southwest Washington Lakes
What follows are some of the other fishing lakes across southwestern Washington where you can have a very good day catching largemouth bass.
They are organized alphabetically by county.
Clark County
Vancouver Lake
Honestly, we're a little hesitant to recommend this one.
There's little question that lots of bass live here, but it can be a little like finding a needle in a haystack. It's huge, shallow, subject to high winds whipping off the nearby Columbia River, and full of cattails and carp.
But for those who unlock its mysteries, there's a lot of bass potential.
Cowlitz County
Horseshoe Lake
This U-shaped lake, a former channel in the Lewis River, is located in Woodland and actually shared between Cowlitz and Clark counties, but we're listing it here because the main park providing access is on the Cowlitz side of the line.
However, some of the better bass fishing is out away from the busy launch area (where trout fishing is king during the spring stocking period) and on around the back side of the horseshoe, where logs and overhanging trees provide bass habitat.
For more information: Horseshoe Lake Fishing
Kress Lake
This Kalama-area lake, really a modest artificial pond, provides a moderate but active bass fishery for those willing to fight through summertime weeds.
We suggest weedless and surface presentations when the salad is thick.
Being a small water, Kress is vulnerable to getting fished out, so please release the bass and focus your meal-catching on the stocked trout (and maybe channel catfish).
For more information: Kress Lake Fishing
Klickitat County
Horsethief Lake
Located in the Columbia Hills Historical State Park, a quick drive across the Columbia River from The Dalles, Oregon, this is a cove formed by a railroad dike crossing the mouth of Fivemile Creek.
The lake tends to be heavily stocked with trout in the spring, when it will be littered with anglers. But most fishermen will be keyed on the trout, and when the water starts warming a titch in the spring is also when the bass start stirring.
Work the cover for best success, going shallower when the bass go in to spawn and back deeper at other times of the season.
For more information: Horsethief Lake Fishing
Rowland Lake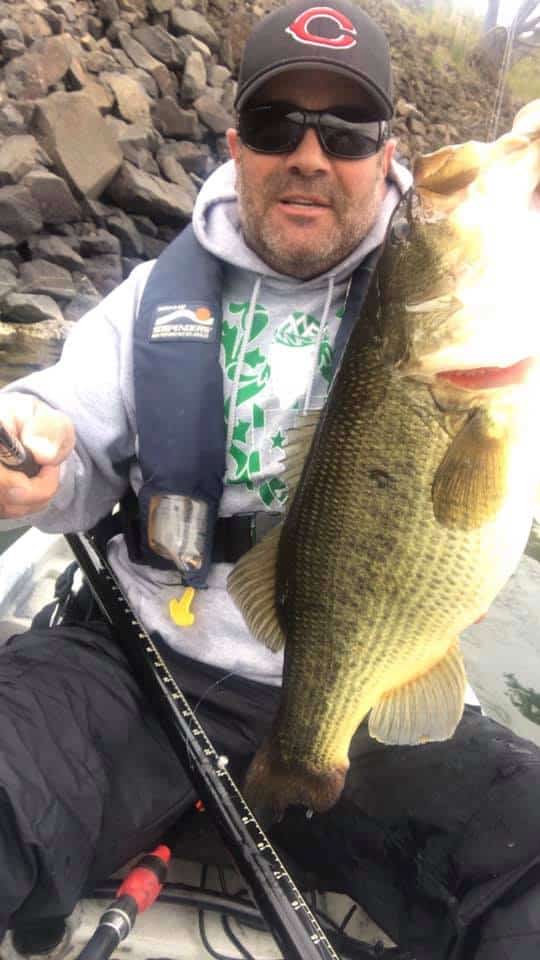 Located at the western end of Klickitat County just five miles past Bingen and a little over an hour from Vancouver, Rowland Lake is a multi-species fishery.
Stocked trout will bring many of the anglers to this Columbia River backwater (also separated from the main river by a railroad dike), but bass anglers can catch hefty largemouths and smallmouths on the same trip.
Largemouths naturally key on softer bottoms and green and woody structures, while smallmouths like rocks. But you can catch either on any given cast.
For more information: Rowland Lake Fishing
Spearfish Lake
This Dallesport-area lake (just north of The Dalles, Oregon) also offers a variety of fish species, including both types of bass, several panfish species, and good numbers of stocked trout in the winter and spring.
There's a modest Spearfish Park off E. Dock Road, about a mile east of Highway 197 just north of the river. This park at the south end of the lake has a boat launch.
A boat will be handy to reach some of the shallower, weedier water on the north side, near the entrance of Threemile Creek.
This north end has some natural largemouth spawning and feeding habitat, while rockier banks in other parts of the lake might produce more smallmouths.
For more information: Spearfish Lake Fishing
Lewis County
Mayfield Lake
This lake is a very popular trout fishery and also known as one of Western Washington's tiger muskie hot spots. The latter means the largemouths aren't the apex predator they tend to be in most of their home lakes.
But there's a lot of good-looking bass cover in there as well, though with fairly modest populations of both largemouth and smallmouth bass. Largemouth bass cover includes weedy coves and river inlets, overhanging and fallen trees, and docks and other structures.
It's one of those places you can get to know better and do quite well for bass.
For more information: Mayfield Lake Fishing
Central Washington Largemouth Bass
These bass fishing spots are in the middle of the state and primarily include waters in WDFW's South Central and North Central management zones (Regions 2 and 3).
Included are bass-fishing lakes within fairly quick reach of the Tri-Cities, Yakima, Moses Lake, Ellensburg, Wenatchee and up to the Canadian border in Okanogan County.
Potholes Reservoir
Potholes Reservoir is simply among the bucket list largemouth bass-fishing spots in all of Washington.
Its "beaver hut" habitats stretching across the northern two-thirds of this big reservoir are famous for holding big bass for anglers who like a challenge. Willows, creek channels and other structures are worth your attention, too.
A boat, especially one suited for shallow water, will be your best friend at Potholes.
This is a great lake for double-headers, as it's also a very good smallmouth fishery, though the red eyes tend to like the rockier habitat in the lower lake and across the face of O'Sullivan Dam.
Or take on the lake's walleye, panfish and even trout.
The bass anglers will often start showing up at Potholes Reservoir as soon as some decent weather slips through, often in March and definitely by April.
While spring and early summer are often the best, the action will continue into the fall, when another round of heavy feeding returns.
The bass will shift into deeper or more shaded waters on bright, hot days common in the Columbian Basin during the summer.
It might not be close, but it's also not far … near Moses Lake just south of Interstate 90, under three hours from Seattle.
Add this one to your list if you haven't fished it yet.
For more information: Potholes Reservoir Fishing
Moses Lake
A great walleye lake and pretty dang good smallmouth bass lake, the largemouths in Moses Lake don't always get noticed in this lake in the town of the same name. But there's some nice ones.
The best time to catch largemouth bass here is in the spring, when they come in close to shore to spawn.
Look for largemouths around green and woody cover and in the relatively few coves, as opposed to the rockier structures that will hold more smallmouths.
Bass fishing slows in the summer but can pick up again in the fall. When fish aren't near their spawn, they will move between deeper water during the day and often into shallower water at dawn and dusk to hunt.
For more information: Moses Lake Fishing
Sprague Lake
This is a good-sized lake shared with Lincoln County and managed for a variety of warm water fish and trout.
Spring will bring the best opportunities to catch larger bass close to shore, even from shore, although a boat will serve you well here.
Good bass-holding cover includes reeds along the shorelines and some other structures.
For more information: Sprague Lake Fishing
More Central Washington Lakes
The following lakes across the mid-section of Washington state may not have the huge draw of Potholes Reservoir when it comes to largemouth bass fishing, but they can be quite good at times and might well be less crowded (and maybe closer to home).
Adams County
Cow Lake
This wide spot along Cow Creek east of Ritzville offers fair fishing for a variety of warm water fish, including at times decent angling for largemouth bass.
You'll also find bluegill, bullhead catfish and might even hook a grass pickerel.
Chelan County
Dry, Roses and Wapato Lakes
This trio of smallish lakes clustered on the north side of giant Lake Chelan have varied fisheries, including at times some pretty good largemouth bass to catch at times.
The lakes also are seasonally stocked with trout and have panfish and other game fish to catch.
Franklin County
Powerline Lake
This out-of-the-way lake, northwest of little Mesa, has a nice warm water fishery that includes some good largemouth bass catches at times.
Other fish that might end up on your hook include rainbow trout (sometimes triploids) as well as black crappie, yellow perch and bluegill. Channel catfish may be available as well.
Grant County
Stan Coffin Lake
This smallish lake in the Quincy Wildlife Management Area (near George and Quincy) is managed for warmwater lakes, unlike many of the trout-stocked waters in Grant County.
Stan Coffin can at times be good for largemouth bass and also has channel catfish and panfish in the mix.
There's a small public access on the north side.
Yakima County
I-82 Ponds
There are seven fishing ponds (formed when gravel was mined to build the namesake interstate) located along the freeway just southeast of Yakima, from about Union Gap to Zillah.
Some people call them the Freeway Lakes.
All seven have warm water fishing to some degree, including largemouth bass. Bass populations will wax and wane, in part due to food supply.
Five of the lakes are stocked with trout, and bass up to 8 pounds are big enough to inhale a keeper-sized hatchery rainbow. So think about tossing a big swimbait in the spring and see what happens.
For more information: Fishing the I-82 Ponds
Rotary Lake
This small lake along the Greenway Trail that follows the Yakima River in the city offers some decent largemouth bass fishing if you're willing to make the short walk or bike ride in from the parking area.
Bass to 7 pounds have been caught here, and it's also home to channel catfish and various panfish. It's seasonally stocked with hatchery trout, including some big ones.
Okanogan County
Buffalo Lake
You'll need a special permit to fish this Colville Indian Reservation water, but if you get into some big largemouth bass, you probably won't mind.
You'll probably also bring home some rainbow trout and maybe brook trout and landlocked salmon for your dinner.
Washburn Island Pond
This 120-acre pond near Brewster can be surprisingly good for largemouth bass, which have been stocked on occasion to supplement the population.
You'll need a Colville permit to fish around the shoreline but you can launch a boat with just your Washington fishing license on board.
We recommend getting there once spring takes hold and fishing into early summer. By late summer, this water is often overrun with aquatic vegetation.
Whitestone Lake
This Tonasket-area lake offers perhaps surprisingly good largemouth bass fishing in the warmer months.
Largemouth bass here can hit up to about 7 pounds.
The lake is often riddled with small bluegill, which keep the bass growing and also may keep your kids busy while you attempt to fool the next lunker.
With easy access off Loomis-Oroville Road, this lake could suffer from over-harvest, so it's best to release bass. Especially the big breeders.
If you're looking for fish for dinner, look to the black crappie, yellow perch and other panfish, and sometimes channel catfish.
Eastern Washington Largemouth Bass
These are the areas that stretch from the Canadian border to Oregon and hug up against Idaho.
There are a cluster of excellent largemouth bass fishing lakes within an easy drive of the Spokane area.
Eloika Lake
This is a good-size lake covering more than 600 acres, but it's shallow with lots of productive water for largemouth bass as well as panfish.
Of course, spring is the peak of bass fishing when the bigger ones move in close to spawn. Fall also can be quite good as largemouths pack away some groceries for the ice-covered winter to come.
We strongly recommend a boat here because bank access is extremely limited. You can launch at a state access site or a private resort and be on prime fishing spots in minutes.
Eloika Lake is located 30 miles due north of Spokane.
For more information: Eloika Lake Fishing
Box Canyon Reservoir
This reservoir on the Pend Oreille River is home to both largemouth and smallmouth bass, but beware that an invasive northern pike may also snatch your lure.
Key on backwater areas with structure to improve your odds of catching the largemouths, which provide a better fishery up in the northeastern pocket of Washington than many anglers would realize.
Boundary Reservoir to the north has similar fishing opportunities in Pend Oreille County but is better for smallmouth bass than largies.
Long Lake (Lake Spokane)
This reservoir on the lower Spokane River, also known as Spokane Lake, offers an array of fishing opportunties, from walleye to trout and more.
Among them, fishing for both largemouth and smallmouth bass can be quite good at times.
While you'll likely catch mostly smallmouth bass in the rockier lower reservoir closer to the dam, poke around the structure in the mid-lake area and above to find some nice largemouths lurking in this reservoir near Spokane.
Newman Lake
This is a good-sized, shallow lake northeast of Spokane, very close to the Idaho border, with a wide variety of fishing options.
Newman probably gets the most press for its excellent tiger muskie fishing, but don't ignore the good-sized largemouth bass you'll find hiding under docks and in and around the various coves and points around the lake.
This is a spot where a largemouth bass, smallmouth bass, and tiger muskie could conceivably grab your crankbait on successive casts. Not a bad through, right?
For more information: Newman Lake Fishing
More Eastern Washington Lakes
We've organized the following Eastern Washington lakes by county, so you can always find a willing largemouth bass closeby.
Lincoln County
Sprague Lake
Already mentioned in Central Washington, this region-straddling lake along I-90 has been managed to improve its bass fishery, with some successes.
For more information: Sprague Lake Fishing
Spokane County
Bonnie Lake
This is a fishy looking lake that at times can really live up to appearances, with sometimes excellent fishing for largemouth bass and some of the best crappie fishing around.
It's kind of out of the way, though, near the border with Whitman County and requiring a little hike to reach its banks.
Chapman Lake
This lake south of Cheney is probably better known for kokanee fishing, but when the waters warm up well into spring the largemouth and smallmouth bass start hitting.
There also are a variety of panfish species to catch.
Bank access isn't exactly plentiful, so a boat will help quite a bit.
Clear Lake
Located west of Cheney, this lake is often heavily planted with rainbow trout, but it's also quietly a pretty good largemouth bass fishing spot.
Clear Lake also harbors pretty good numbers of crappie.
Liberty Lake
This lake is much better known as a spot to limit out on trout, but bass anglers who get to know its waters will land both largemouth and smallmouth bass.
Liberty Lake, both the lake and the city, are located east of Spokane and Spokane Valley, right near the Idaho border.
There are lots of docks for bass to hide under along much of the shoreline, as well as some shallow undeveloped wetland areas near Liberty Lake Regional Park on the southeastern shore. There's a good launch on the north end of the lake.
There are boat launches at the park and also on the north end.
Liberty Lake also happens to have some of Washington's best catfish fishing.
For more information: Liberty Lake Fishing
Silver Lake
This Silver Lake is far less-known than the Southwest Washington version we covered above, but if you're reasonably close to Medical Lake, it's worth getting to know.
When spring rolls around, this long lake can be quite good for largemouth bass as well as bluegill, crappie and perch. It's also among a handful of lakes in Washington that have been stocked with tiger muskies.
Whitman County
Bonnie Lake
As mentioned above under Spokane County, because it sits on the boundary, this lake takes some effort to fish, but it can pay off with very good bass fishing, plus some excellent panfish catches.
Rock Lake
Though WDFW loves on this lake with stocks of brown trout, we also want to spread some love for its population of warm water fish, including some pretty nice largemouth bass.
At over 2,000 acres, this fairly remote location is the largest natural lake in this part of the state, so there's plenty of water to explore.
There is bank access, but a boat will serve you well.
The lake is located a little off State Route 23, and it'll take you roughly an hour to get there either from Pullman or Spokane.
Washington Resources
WDFW Fishing and Stocking Reports
WDFW Fishing Regulations
National Weather Service forecasts