Moses Lake offers anglers a great fishing experience with the convenience of being partially located in the Central Washington city of the same name.
Easily accessible and popular for fishing and boating, Moses Lake started as a shallow natural lake where Native Americans associated with Chief Moses gathered duck eggs.
Then it was dammed into 6,800-acre water body as part of Central Washington's massive irrigation system.
The city of Moses Lake on the banks is a commercial hub for this part of Washington.
It's just off Interstate 90 and has all the lodging you might need for a visit, including campgrounds, RV parks, motels and bed and breakfasts. Local stores have everything you didn't bring.
The town even has the Surf 'n Slide, but if spending time at a water park isn't up your alley, you're in luck: The lake is full of smallmouth bass and walleye.
Several other game fish species live in the lake, from trout to crappie, though walleye and bass are the real draw here.
The flow of irrigation water through the Moses Lake creates current zones not found in many reservoirs. These currents often draw fish into productive areas, depending on the species and season.
Figuring out those current zones will help anglers catch more fish, avid Moses Lake angler Marcus Leman said.
A couple of commercially published fishing maps (from Sportsman's Warehouse and Fish-N-Map Company) also will help anglers gain more advanced-level knowledge of Moses Lake, Leman added.
Unlike many other spots, there are pretty great spots to catch walleye straight from the shore here. With miles of shoreline, there are plenty of opportunities to try.
In fact, unlike many other spots, there are pretty great spots to catch walleye straight from the shore here. With miles of shoreline, there are plenty of places to try.
Walleye Fishing at Moses Lake
Walleye hang out on the bottom. "Low and slow" is a common rule of thumb when targeting walleye in any body of water, and Moses Lake is no exception.
The spawn takes place in the spring, which is when walleye are apt to run up feeder creeks.
If there isn't a decent creek to head up, they'll find shallow shoals with either sand or gravel near deep water.
Nightcrawlers, jerk baits and crankbaits can be effectively used for trolling, sometimes with a planer board.
Using live minnows and leeches isn't legal in Washington, unlike in some states where walleye fishing is popular.
In the low-light of morning and evening, walleye tend to hold in shallower waters, around 7-10 feet deep.
During the day, they move into deeper water and hold along rocky points and gravel bars.
Bank Fishing for Walleye
Moses Lake is known as one of Washington's best walleye lakes to fish from shore.
With it being located in a city, the access to fish from shore is pretty extensive. Here are a few major places to target and hopefully get some walleye in your net.
One of the best places to try from shore on the lake is the N. Stratford Road Bridge in the springtime. This area is commonly called the Alder Street Bridge.
Walleye run up Crab Creek to spawn in its silt-free gravel and cobble bottom between April and June, which makes this spot ideal for bank anglers, especially closer to the beginning of that time period.
Irrigators start drawing water in late March, combined with water temperatures usually rising above the 40-degree mark, which triggers a pre-spawn bite in early April, Leman said.
The lake isn't super wide at this point, so it's easy to cover a good amount of water from one location. This area gets pretty crowded during peak spawn.
Sundown to around midnight typically produces the best results, with walleye becoming more active in the cooler water and the lower light, when they can use their superior night vision to get an advantage on the smaller fish that are a big part of their diet.
During the spring spawn, this bridge is ofte packed with anglers.
If you can find the room, jigging with some natural colored curly tails or tubes on 1/8- to ¼-ounce jig heads should do the trick.
Use a lighter weight for less current or shallow water. It'll keep you from getting snagged up in the rocks.
Bank fishing is possible but a bit tougher after walleye finish the spring spawn, and more anglers tend to target them from boats.
Leman recommends that anglers try to imitate 4-inch prey species with lures fish near or bumping off the bottom.
The nice walleye he catches in the lake often have 4-inch crappie, perch, bass or bluegill in their stomachs.
Boat Techniques for Walleye Fishing
The common plan here is simply get out on the water in your boat at one of several launches around the lake and set up a worm harness rig.
Troll the edges of deeper water first, searching for walleye. Move deeper as the water warms. Keep your lines at the right depth with a planer board.
General trolling techniques for walleye work here.
Use a slow approach and stay deep.
Besides crawlers, lures that imitate natural forage of smaller fish and crayfish make great baits.
Catch More Walleye
For more detailed information about catching walleye wherever they live, read our Walleye Fishing: Simple Techniques and Tips.
Also, besides Moses Lake, there are a bunch of other great spots to catch walleye in Washington on our full list.
Moses Lake Bass Fishing
Moses Lake holds good numbers of smallmouth bass, along with a sustaining population of largemouth.
The largemouth can be pretty big and are best targeted from one of several parks around the lake.
In years past, Moses Lake housed a solid largemouth population, with some getting up into tournament weights.
The largemouth fishing has slowed over the years, with these fish being replaced by smaller but ultra-aggressive smallmouth.
Smallmouth bass are now the real draw here for bass enthusiasts. Smallies will be holding throughout the lake in any rocky areas you can get to.
A day on the lake can bring several smallies to the net, and fish 4 pounds or better are possible.
Using a boat is your best bet to reach either species of bass, though bank angling is not a bad option here.
While not considered one of the very most prolific bass fisheries in Washington, the numbers are high enough to keep anglers entertained and excited.
Bank Fishing for Bass
The Lewis, Parker and Pelican arms of the lake hold great cover and shallower depths for targeting bass from the shore.
It can be tricky getting a boat into some of these areas due to water levels and hidden obstacles.
The northern end of the lake is almost always productive, holding large bass and walleye.
Try Connelly Park and the shoreline near there, along with the North Lake Launch area.
The fishing techniques for bass in this lake mirror most other bass fisheries.
Topwater in the summer, Senkos and other plastics in the spring, and any finesse rig when the action slows down should work well.
Leman said the Senkos are his go-to lure for bass fishing at Moses Lake and elsewhere.
Target any rock features for smallmouth and cast parallel to the shoreline for largemouth. You'll almost surely catch smallmouth along the shoreline as well.
Boat Fishing for Bass
Launching at Blue Heron Park and heading north, work the shoreline as you go is likely to produce a good number of fish.
You're likely to pull a few perch and crappie out while moving through the area.
As the water gets deeper, look for rock features. These will hold smallmouth and other game fish. It's not rare to pull up a walleye when fishing deeper for bass.
Cascade Park Boat Launch is another excellent area to target, because the launch puts you in the middle of some of the best bass fishing in the area.
The shallower waters in the Lewis Horn area hold large numbers of bass.
Pick up a lot more methods with our simple guide to bass fishing techniques and tips.
Moses Lake Trout
Trout aren't as abundant as they once were in this lake, as stocking regimens have changed over the years.
While it's certainly possible to catch a few, there are much better trout fisheries around Grant County and neighboring areas if that's your primary target.
That being said, trout are still targeted here and can be caught throughout the year. A large rainbow in this water would be around 20 inches.
See our how-to guide for trout fishing techniques.
Moses Lake Panfish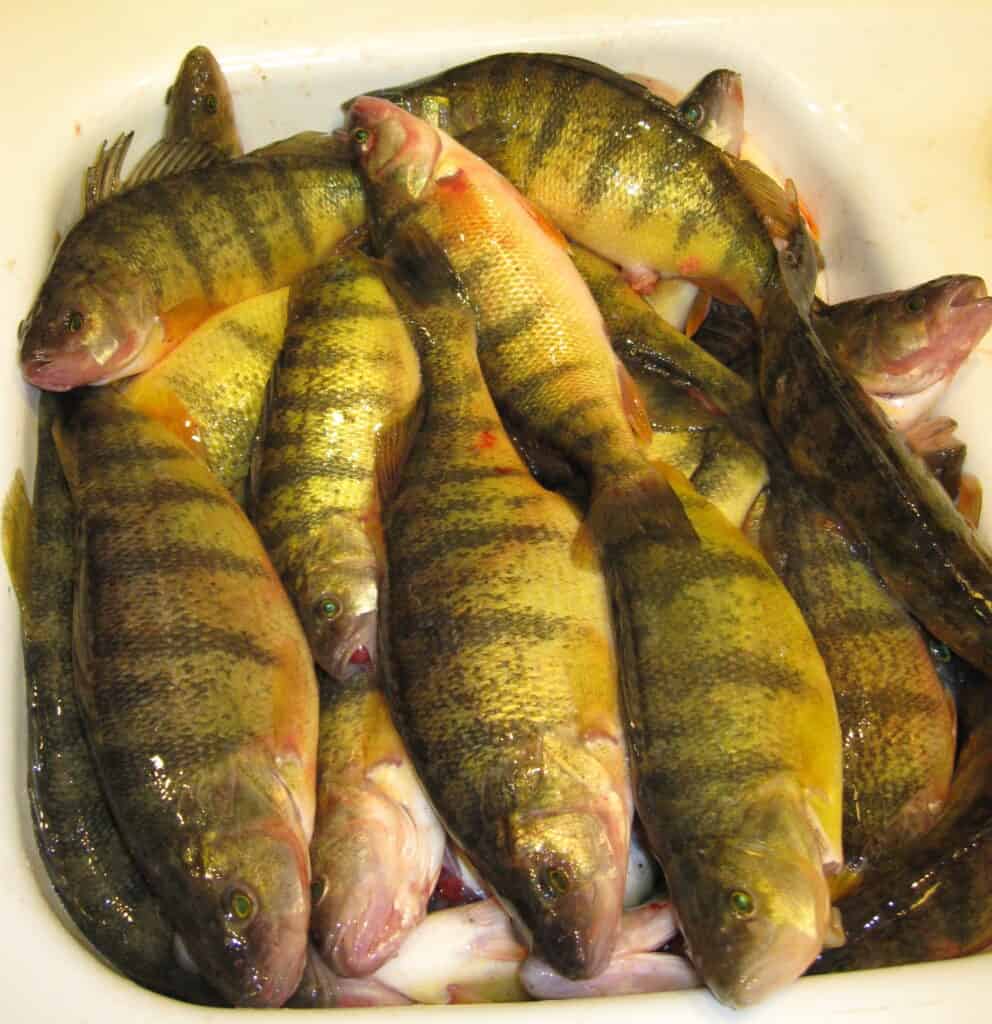 Bluegill are readily available and will bite worms and other natural baits.
At times, it can be difficult keeping bluegill off the hook when targeting other species.
But these are great fish to target for kids because who doesn't want to catch a fish almost every cast?
The catch to catching both bluegill and crappie at Moses Lake is that the limits have been lowered significantly to reduce over-harvesting that has occurred here in the past. Check regulations to make sure you follow the law.
Crappie can be very abundant in the lake in good years, helping to place the lake among the best crappie fishing lakes in Washington.
Target both crappie and bluegill around the Blue Heron Park area.
Yellow perch are present in good numbers in the lake, and ice fishing for them can be fantastic. Anglers have recorded 40-50 fish days.
The cooler months are the best for perch, and ice fishing for perch can be excellent at times. Anglers might pick up a few other fish, including trout, through the ice.
Learn more about catching all of these fish in our simple guides to fishing for crappie, bluegill and yellow perch.
Carp
While not on many people's radar as a sport fish, common carp can grow huge here. In fact, the Washington state record, a massive 49.5-pounder, was caught here in 2006.
While in most anglers' estimation carp don't hold a candle to walleye when it comes to dinner, they are quite excellent fighters.
Planning Your Trip
Where is Moses Lake?
Moses Lake is located about 175 miles east of Seattle, and it typically takes a little under three hours to get there. It's closer to east-side populations, well under two hours if you're driving from Spokane, Yakima and the Tri-Cities.
Bank and Boat Access
Once you arrive at Moses Lake on I-90, you can take Exit 176 and take Broadway to downtown and then Alder Street and N. Stratford Road to the bank fishing hot spot mentioned earlier.
Another option is to take Exit 174/175 to a convenient launch ramp at Blue Heron Park near the interstate or another one up the lake at Cascade Park.
The upper portion of the lake also can be accessed via Highway 17. Follow it up the east side to access the north end of the lake in the Cascade area.
Where to Stay
Cascade Park has a campground and Blue Heron Park is near an RV park for those staying on the lake. Both areas offer fishing access and boat launches.
There are multiple RV parks around the lake, along with hotels and other accommodations to fit most budgets. Several restaurants are available as well, from budget-friendly to higher end. There are a number of restaurants in town as well.
Airmen's Beach (Connelly Park) offers one of the best boat launches on the lake, with a paved two-lane ramp and an excellent beach and family park area.
Washington Resources
WDFW Fishing and Stocking Reports
WDFW Fishing Regulations
National Weather Service forecasts