Don't tell the multitudes of salmon fishermen and fisherwomen here, but some anglers think the tastiest freshwater fish that swims in Washington is the walleye.
True, walleye aren't native to Washington, but they have made themselves right at home here, especially in the Columbia River system's larger reservoirs and lakes.
And while the Midwest may have the lock on being the original home to these jumbo-sized members of the perch family, Washington has some of the country's biggest and most numerous walleye around.
In this article, we'll tell you about the very best places in Washington to catch walleyes. If you're looking for a stringer of medium-sized fish for an incredible fish fry or Taco Tuesday, or maybe a wall-hanger of a walleye (or if you're like me with the biggest fish, one to photograph and release), you'll find the place to catch them on our list.
Before we get there, here's a little more about walleye fishing in Washington.
How to Catch Walleye
Walleye are predators who are nearly always looking out for a good meal without working too hard for it. Serve that desire to eat good, and hit the spots we mention below that are most loaded with walleye, and you're halfway there. The rest is honing your knowledge of your fishing holes and techniques.
The keeper and trophy walleye you want to catch will often feed on smaller fish as their main meal, although crayfish, insects, worms and other forage are part of their diets at least some of the time.
Remember that in Washington, you can't simply hook on a live fish and drop it in front of a hungry walleye. Using live fish for bait is not legal in Washington's inland waters. Live leeches, popular in some Midwestern fisheries, also are off-limits in Washington.
Walleye also are pretty nocturnal in nature. Those big "wall-eyes" are very light sensitive. That means fishing at night or at least in the low light of early morning and late evening often will boost your odds of catching them.
If you fish during the brightest time of day, you'll likely need to fish deeper than you might when the sun isn't overhead.
Walleye also are most comfortable near the bottom of the lake or river, whether on a flat or along a shelf.
If there's significant current, which is true in some parts of the Columbia River, walleye often duck in behind a rock or another current break. That way, they don't have to expend much energy, until they dart out and ambush passing prey.
Trolling is a very popular way to catch walleye, if you have a boat. Trolling allows you to cover lots of water and pick up fish wherever they are, especially if you're new to the location and walleye fishing in general.
Trolling with plugs that mimic smaller fish are a popular lure used to fool walleye. Also super effective is a simple worm rig with a bottom walker that allows you to essentially drag a nightcrawler through the walleye zone.
For deepwater trolling, especially in depths approaching 40 feet or more, you'll need to either add weight above your presentation, or deploy downriggers.
If you don't troll, try casting diving crankbaits, swimbaits and other lures that look like smaller fish or crayfish.
Jigs are another great walleye choice, especially as you learn specific spots where you are confident the walleye often hold. Soft plastics or hair jigs that look like crayfish or other forage are good options.
Jig anglers will often tip the hook with a nightcrawler or dead minnow. Some folks use artificial variations of those baits to dress up a lure or worm rig as well.
Whatever method you use, try to determine the patterns for fish you catch. Do some prospecting. How deep are they? Are they holding on flats or around structures? It's likely that where you find one, others will found be in similar water.
If you'd like to delve deeper into the best ways to catch walleye, we have some more free resources. Our Columbia River walleye fishing guide will help, especially in the big river, and you'll get even more ideas on catching this fish wherever you find them in the our walleye fishing article in our techniques and tips how-to series.
We've divided our top walleye fishing suggestions into two big categories, those in the Columbia River itself and those reservoirs and lakes that are located off the main river but still in the Columbia River Basin.
Another section lists a variety of lesser-known walleye fisheries. Those aren't the prime destinations that the other spots are, but if you're in the area anyway, it might be worth your while to try to bag a few 'eyes.
Best Walleye Fishing in the Columbia River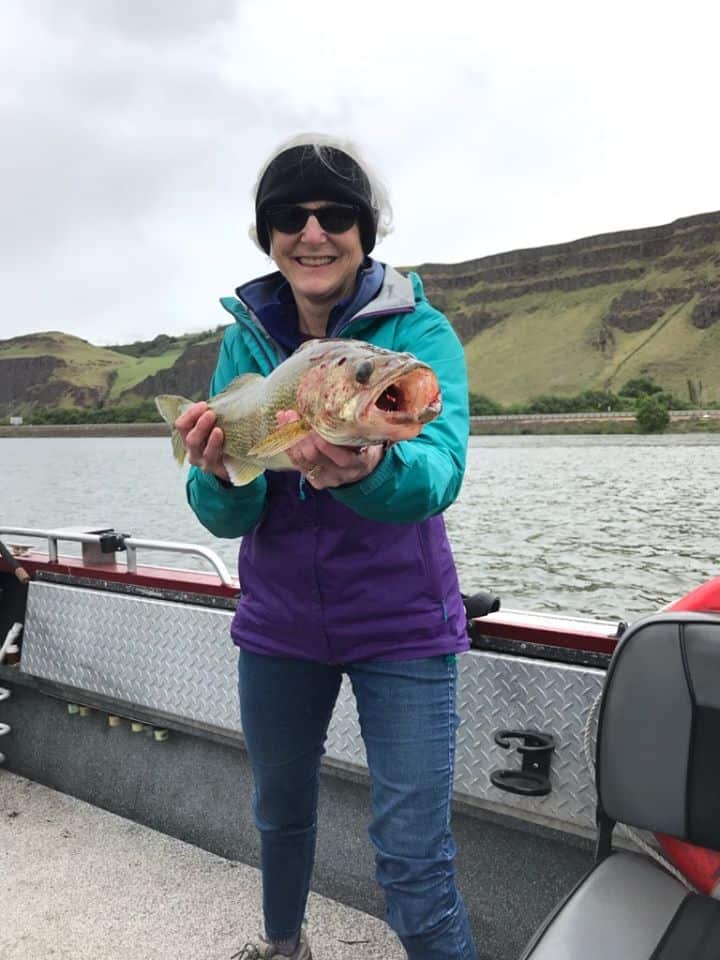 The Columbia River is really ground zero when it comes to walleye fishing in Washington state.
The biggest river in the West has one major advantage over all other Pacific Northwest walleye waters:
It's huge.
The Columbia River also has one major disadvantage compared to other places:
It's huge.
In other words, there are tons of walleye in the river system, but there's even more water. Finding those walleye can be tough, especially to newcomers to this fishery.
On top of that, parts of the river have currents that can be tricky both for boating but also in terms of figuring out spots where walleye hold.
And the Columbia River is famously wind-swept for much of its length, adding another layer of challenge for boaters. And it's nearly always a boater's fishery when it comes to walleye.
Bank anglers take heart, because we'll share some better shore fishing spots in the lake section below.
For now, what follows are our top 5 picks for catching walleye in the Columbia River. To give it some structure, more than ranking it in order, we'll start upriver and head downstream with the current.Lake Roosevelt
Lake Roosevelt (above Grand Coulee Dam)
This massive reservoir, formally known as Franklin D. Roosevelt Lake, stretches for 150 miles from the famously massive Grand Coulee Dam in Central Washington up to the Canadian border in northeastern Washington.
Walleye are found up and down the reservoir, but there are some better places to find them more concentrated.
The Spokane River arm is one of the best spots to find walleye on Roosevelt for much of the year and also is among the closer spots for the majority of anglers to reach on this vast reservoir.
In the spring, the walleye tend to move into upper parts of the reservoir toward spawning grounds, with the area around the Colville River and Kettle River among the favorite spots to intercept them.
Other than in the spring, walleye can be frustratingly deep at Lake Roosevelt. Using electronics and potentially down-riggers can help you locate and reach the most productive waters with jigs, worm rigs and other tactics.
Lake Roosevelt is one of Washington's most spectacular multi-species fisheries.
Coldwater anglers target football-shaped triploid rainbow trout and kokanee. Smallmouth bass are all over the place, and you can certainly find panfish and catfish. It even has a renewed sturgeon fishery and also is one of Washington's best spots to catch burbot (freshwater lingcod).
More: Lake Roosevelt Fishing
Lake Wallula (Umatilla Pool)
Though not as long as Lake Roosevelt, this also is a massive reservoir that stretches from McNary Dam near Umatilla, Oregon, up through the Tri-Cities area and beyond to the free-flowing Hanford Reach.
Tributaries entering the Columbia in this reservoir include the Snake and Yakima rivers.
The area around the Tri-Cities (Kennewick, Pasco and Richland) offers a wealth of walleye, a nice wide area in the reservoir just downriver from the main cities, and plenty of launches and other facilities for boaters.
Lake Wallula grows big walleye, including the 20.3-pound state record. Some anglers believe the next world record will be caught here or perhaps in one of the next couple pools downriver that are coming up on this list.
If you're serious about walleye fishing in Washington, and you have a boat, Lake Wallula should be on your list.
Trolling a diving plug or worm harness rig is a popular way to cover the water during the prime season, and there's lots of that here.
But the real walleye anglers in this crowd don't pack it in for the winter.
In colder weather, many expert walleye anglers slow things down and try to drop a jig right in front of the walleye's toothy maw.
Lake Umatilla (John Day Pool)
This pool stretching from the John Day Dam up to the foot of McNary Dam is another walleye haven.
The area below the dam can be quite productive, as can be the wide area from Paterson down to Crow Butte (across from Boardman, Oregon).
This area can be too windy to really fish at times (and at times that makes it too dangerous). Some regulars will duck around the corner that contains the Umatilla National Wildlife Refuge (across the river from Paterson) and find relief because that point often will block some of the wind.
The U.S. Army Corps of Engineers manages a handful of parks in this stretch, including Railroad Island Park on the lower end just above the dam. Upriver just a little near the tiny community Roosevelt, find Sundale Park and Roosevelt Park recreation sites.
If you're fishing the upper pool, there's a launch at the federal Plymouth Park Campground near the community of Plymouth, which is located just west of the Interstate 82 bridge and about two miles down from McNary Dam.
The privately operated Crow Butte Park is another camping option.
If you cross to the Oregon side, there are lots of services in some larger communities. I like the Boardman area which has a nice campground and marina, and the Umatilla area also is well-appointed for anglers.
This pool also is loaded with smallmouth bass, panfish including crappie and yellow perch (in the right spots) and has some of the better channel catfish fishing on the Columbia.
Lake Celilo (The Dalles Pool)
This 24-mile-long reservoir is the lowest of what I'd consider the Big 3 Mid-Columbia River walleye fisheries.
It's also the nearest and easiest to reach of the major Mid-Columbia areas to fish for many other Washington residents (and the Portland, Oregon area) who want to fish the drier and more walleye-rich waters upriver.
Maryhill State Park makes a great home base, with ample camping and a boat launch. It's like a green oasis in an otherwise arid landscape dotted by turning white windmills and the Stonehenge WWI Memorial standing sentinel.
This one is closer to the famously windy Columbia River Gorge, so you'll have to pick your fishing times and spots with some care and get out there when it's safe. Fishing at first light can help improve your odds, but it's no guarantee.
Ply the shelves and flats until you find holding walleye. A worm harness or crank bait can be a good searcher bait. Then either rinse and repeat in those kinds of areas, or switch over to jigs or casting crankbaits or swimbaits if you can pinpoint holding fish.
As with its neighboring pools, Lake Celilo is a world class smallmouth bass fishery in addition to a walleye wonderland.
Lower Columbia River Near Vancouver
Let's be honest: The Lower Columbia River, below Bonneville Dam, doesn't rate as high as the Mid- and Upper Columbia River reservoirs when it comes to walleye fishing.
There aren't as many walleye here overall, and those you catch are likely to be smaller.
That said, there are in fact more walleye in the lower river than most people realize. And depending on where you live, you won't burn as many hours (or as much gas money!) getting there.
If the Lower Columbia River is close to home for you, this is excellent water to figure out, and you'll eventually do well and have spots to fish for those half-day trips.
Try fishing along shelves off the main and island shorelines and look for walleye holding structure.
While walleye are found downstream as well, there are better numbers of walleye upriver from Interstate 5, with the areas around eastern Vancouver, Camas and Washougal being a good place to start.
There are some reefs and rock piles in the Steamboat Landing Park area that often hold walleye.
Or troll off Government Island or some of the smaller islands, or near the end of docks along the Washington shoreline. Work different depths until you get into fish.
This part of the river is not dammed up like the reservoirs above, so you'll have current in addition to some windy conditions to deal with.
Spring run-off can be tough, but the pre- and post-spawn period is worth exploring some shallower waters out of the strong current.
You can head to deeper waters at other times of the year, especially when the flows settle down in summer and fall.
It's often a bit easier to control your boat and more effective to troll down river, but keep your speed in check.
Additional walleye spots are found up into the Columbia River Gorge for those who look, although that area is better known for salmon, steelhead, monster sturgeon and millions of shad.
Best Walleye Fishing Lakes in Washington
The following are lakes in the Columbia Basin of Central Washington where walleye fishing can be excellent at times.
Moses Lake
In recent years, this water at the city of Moses Lake has arguably been the most reliable walleye fishery in the state.
If you're looking for a place where you have a legitimate shot at catching multiple walleye from the bank, I'd start here.
In the spring, roughly April into June, is prime time walleye season around here. That's because the walleye start piling up in the Alder Street Bridge area (a.k.a. N. Stratford Road Bridge) for their annual spawning run up Crab Creek.
At this time, you can cast twisty-tail jigs and other lures from the shore near the bridge and can come up with some nice-sized walleye.
We'd note that this fishery is no secret, and you won't be fishing alone most days. You can see the evidence of foot traffic on both sides of the bridge.
Marc Leman, a fishing acquaintance, lives in Moses Lake and manages to catch walleyes from the bank even outside of the spawning season and away from the Alder Street Bridge.
One big key is to fish them in low-light to pitch dark, when light-shy walleyes come into shallower water to feed on smaller crappie, perch and other prey species. Show up at sundown and fish until midnight or so, or try it before sunup.
Boaters do very well at Moses Lake. Trolling with a worm rig, weighted or with a planer board, is very effective. Crankbaits that look like common prey species are also effective.
Troll at different depths until you find walleye. They are likely to be along deeper ledges and flats during the bright daylight.
If you can find a spot with multiple walleye, jig heads with soft plastics or hair jigs are great for targeted fishing.
Moses Lake also is very good for bass and panfish, and in boom years it's a very good crappie fishery.
More: Moses Lake Fishing
Potholes Reservoir
This is another top walleye lake off the main Columbia River that should be on everyone's go-to list.
While I'd probably give Moses Lake the nod for numbers in terms of catching walleye, my scales might tip toward Potholes just to the south for big walleyes pushing the 18-pound mark.
The best walleye fishing here tends to be toward the southern part of this big reservoir, including along the dam and into the Lind Coulee Arm.
The water is deeper along the dam and at spots in the arm, and if you're casting out from shore, that's going to help you out quite a bit.
The Lind Coulee Arm, which juts out to the east of O'Sullivan Dam, can be especially good during the spring spawn but also can produce at other times of the year.
Boaters have a bit more flexibility but also will troll or jig in the southern parts of the lake, with deeper water there offering walleye the best relief from light and heat.
Potholes offers one of the best all-around warmwater fisheries in the state, and is particularly well-known for being one of Washington's top largemouth bass lakes.
More: Potholes Reservoir Fishing
Banks Lake
This huge reservoir stretching from Grand Coulee down to Coulee City often considered on par with Moses Lake and Potholes Reservoir when it comes to walleye fishing.
This lake is a little more like the Columbia River in that it can be a bit tougher to master for walleye. It has a reputation as a tougher spot to fish among some regulars I know.
You'll have to experiment and find some spots. Trolling offers the best opportunity for a Banks Lake newbie to cover more water and find some walleye.
Try fishing different depths until you find success. A worm rig is a basic staple for walleye trollers, while deep-diving crankbaits can be hot at times. You might need a down-rigger or weight to reach deep-holding walleyes.
If they are near the bank, there is plenty of that at Banks Lake … more than 90 miles of it. There are some fishing piers and other shoreline access at some of the parks.
Banks Lake also provides a wide array of fishing options, and it's a better cold-water lake than any others on this list. It's even planted with large numbers of trout and kokanee salmon.
More: Banks Lake Fishing
Scooteney Reservoir
This 700-acre reservoir is likely your best shot at catching a walleye south of Potholes.
The smaller Seep Lakes between Scooteney and Potholes are better know for trout fishing, but Scooteney is in the irrigation pipeline along with Potholes and other lakes and has a broader range of fishing opportunities found in the Columbia Basin.
One of the fish caught here in decent numbers are walleye, though we'd suggest that if you are looking for big 'eyes, you're better off on the Columbia or one of the big reservoirs listed above.
However, this would be an excellent add-on when you're exploring the Seep Lakes and get a little weary of catching trout. And you really want a walleye fish fry.
The late winter pre-spawn through the spring are going to be your best bets here, with the inlet area your best option. At times the area around the outlet also produces.
Billy Clapp Lake
This lake sandwiched between Banks Lake to the north and Moses Lake to the south usually isn't quite as good as either of its larger irrigation-system cousins.
However, if your goal is to also get away from the better-known and busier lakes on our list, or to fish a smaller water, this might just be your spot.
For your best odds, show up in the spring and fish the northern part of the reservoir, where the water flows in.
The usual worm harness rigs and other tactics that boat walleye for you elsewhere should get the job done at Billy Clapp Lake.
There are some shoreline fishing opportunities at the state park, but boaters tend to do better fishing here.
More: Billy Clapp Lake Fishing
More Walleye Fishing
Here's a quick look at some other fishing spots in the state of Washington that have more modest walleye fishing opportunities.
But who knows, show up at the right time with the right thing tied to the end of your line, and you could definitely be in business at many of these spots.
More Columbia River Reservoirs
The reservoirs we didn't list above do have walleye in them, but they don't tend to be as productive as our favorites. Bonneville Pool down in the Columbia River Gorge is worth poking around if you are already near the lower river.
Also, the dams above the Hanford Reach up to below Grand Coulee all have walleye but tend to be more popularly fished for Chinook and sockeye salmon and steelhead, depending on run strengths.
These big river reservoirs include Lake Entiat (Rocky Reach to Wells dams) and Rufus Woods Lake (Chief Joseph to Grand Coulee dams), which are probably the next two I would consider might be worth getting to know better for walleye.
Lake Wanapum and Priest Rapids reservoirs certainly have walleye in them, but few anglers seem to worry about them.
If you want to learn more about fishing opportunities in the Northwest's biggest freshwater fishing hole, check out our complete guide to Columbia River fishing. It also will link you to more specific information about various related fisheries.
Evergreen Reservoir
This Quincy Lakes reservoir, a.k.a. Evergreen Lake, has a varied fishery that includes walleye.
We'd fish this one early for walleye and then head elsewhere, because it tends to get weedy. Although if it's weedy, you might be able to also pluck an angry tiger muskie from its waters.
Soda Lake
This larger Seep Lakes location has fair and potentially good walleye fishing, along with some nice smallmouth bass angling.
Goose Lakes
Upper and Lower Goose Lakes are another pair of Seep Lakes spots below Potholes Reservoir.
If you like fishing more modest-sized waters than Potholes, this could be a good place to land a few walleye along with bass, catfish and panfish.
Long Lake
One of many Long Lakes in Washington, this one is pretty much a wide spot in a canal below Potholes Reservoir.
But that puts it in the pipeline that not only carries irrigation water but also brings in whatever fish Potholes is spitting out, including walleye. Could be a sleeper spot to try while fishing around the Seep Lakes.
Pend Oreille River and Reservoirs
The Pend Oreille River as well as Box Canyon and Boundary reservoirs, offer moderate walleye fishing along with other species in far northeastern Washington.
This also happens to be where invasive northern pike have been trying to establish a fin-hold in Washington. If you're walleye fishing and hook into a pike, have fun fighting it and harvest it.
Liberty Lake
Better known among Spokane-area anglers as a trout hot spot, Liberty Lake also has a few walleye.
Walleye tend to be more of a surprise catch for most anglers going after one of the many other game fish species found at this lake near the Idaho border.
Anglers targeting walleye specifically are likely to do better heading down to the Spokane River Arm of Lake Roosevelt, described above as one of the best walleye fisheries in Washington.
More: Liberty Lake Fishing
Washington Resources
WDFW Fishing and Stocking Reports
WDFW Fishing Regulations
National Weather Service forecasts