Catfish never seem to get much respect.
Sure, they don't make gravity-defying leaps when hooked, and nobody has ever called them pretty.
But catfish are dogged fighters, and they're among the biggest, toughest fish in most of the lakes and rivers they call home.
Plus, with a bit of cornmeal and just the right seasoning, no fish makes a better meal.
Channel catfish are the target species for most catfish anglers in Washington.
Easily identified by their forked tail, channel cats can grow to 20 pounds or more (but 1 to 5 pound fish are far more common and better eating). They thrive in slow-moving rivers and deep reservoirs and lakes.
The best channel catfish angling in Washington tends to be in the Columbia River and its larger tributaries. These are the primary areas in the state where established river-loving channel catfish populations are self-sustaining.
That's not to say channel catfish don't do well in lakes. In fact, the Washington Department of Fish and Wildlife has also stocked channel cats in dozens of lakes.
These fisheries rely on continued stocking, but still offer some fun fishing opportunities.
Several species of bullhead catfish also inhabit lakes, ponds and rivers across the state. Brown bullheads are the most common.
Though they seldom exceed a pound or two, bullheads can be a lot of fun to catch, especially for kids. Check out our county-by-county fishing pages and you can easily find bullhead to catch close to home, so we won't fool with them in this article.
Washington Catfish Fishing Tips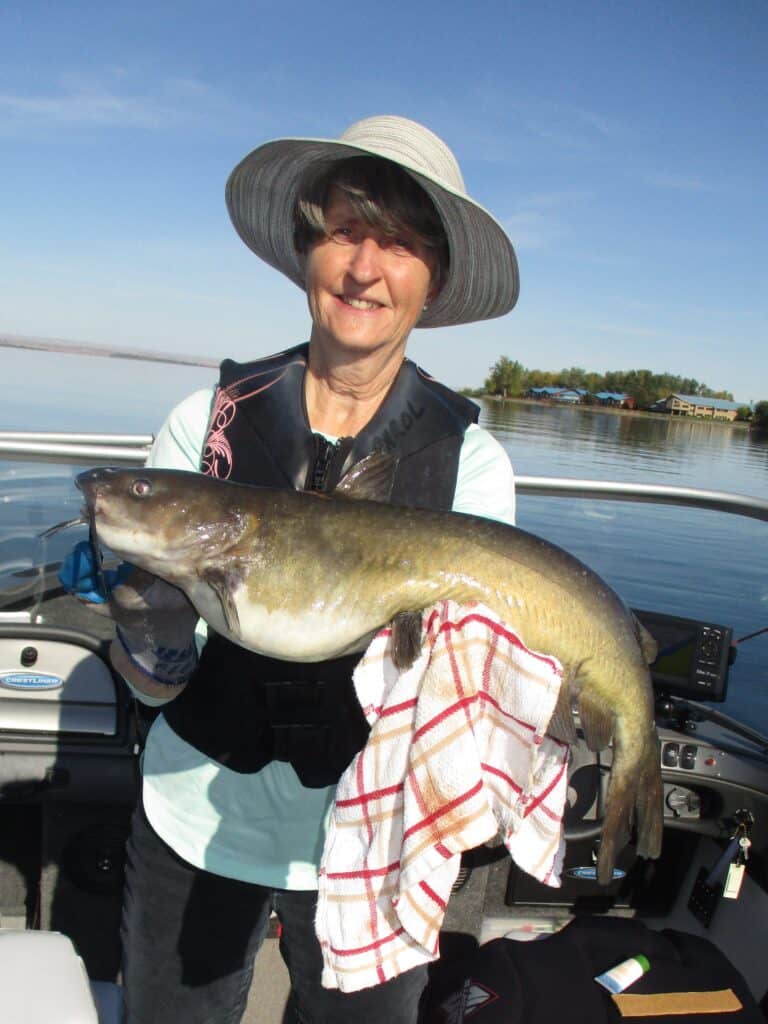 The tactics and tools of the trade for most catfish anglers are fairly simple. Medium tackle, a 2/0 or 3/0 hook, and enough weight to keep your bait near the bottom are all you really need.
Catfish hunt mainly by smell and taste, and will strike almost any smelly natural bait. Chicken livers, nightcrawlers, shrimp and even hot dogs are commonly used, along with a variety of dough baits, both store-bought and home-made.
That being said, channel catfish aren't always the indiscriminate bottom-feeders they're made out to be.
In many Washington waters, channel catfish will actively pursue live bait, and they have a decided preference for bait that is fresh (not old and rotten as some seem to think).
Almost without exception, the best bait to tempt catfish is cut bait, especially suckers and minnows that are native to local waters, and thus familiar to the catfish that live there. Remember that in Washington you can't use live fish for bait in freshwater.
Channel catfish start making their way toward shallow spawning sites every spring when water temperatures start to approach 70 degrees. In Washington, that usually happens in June.
There are good opportunities to catch catfish throughout the warmer months. Once spawning is over, however, most catfish retreat to deeper water, and only return to the shallows to feed under the cover of darkness.
Columbia River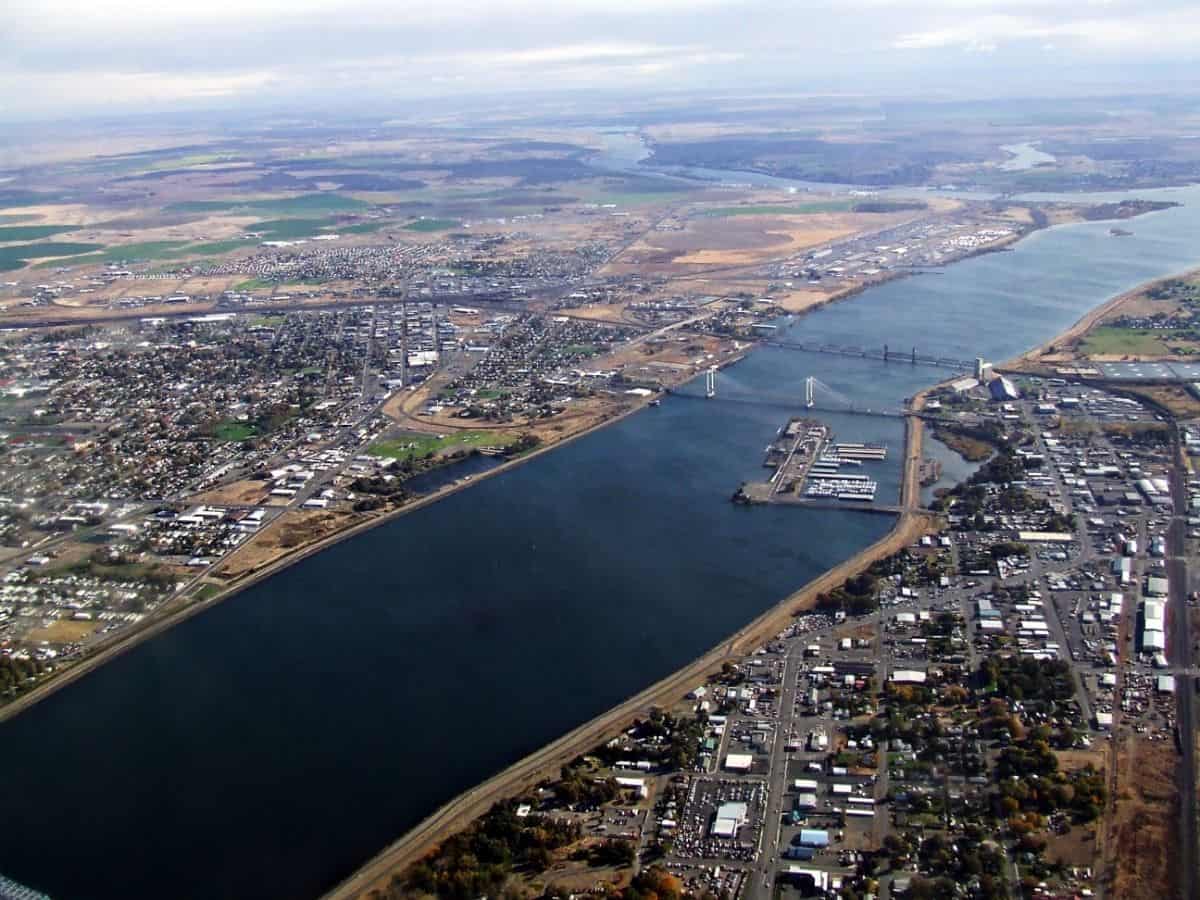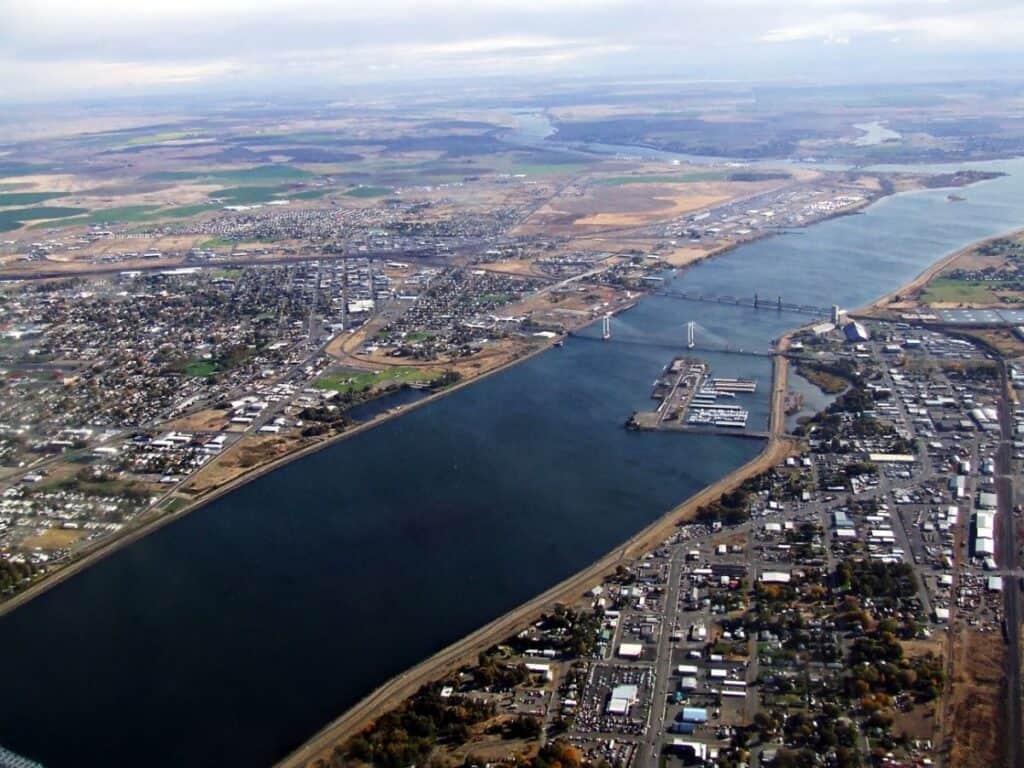 Stretching more than 1,200 miles from its headwaters in British Columbia to the Pacific Ocean, the Columbia River is one of Washington's best fishing spots for just about anything that swims.
For catfish anglers, the river presents a wide range of opportunities. Bullheads are abundant throughout much of the river, especially in backwaters, but there's also a substantial and seemingly increasing population of channel catfish in the main river.
The Columbia River is one of the main places in the state where channel cats reproduce naturally, unsupported by stocking.
With so much water to choose from, the real challenge tends to be finding fish. Channel cats are most abundant in the Middle Columbia, where a series of dams back the river up into a succession of long, meandering reservoirs.
Your best bets for Columbia River channel cats are Lake Umatilla (from John Day Dam upstream to McNary Dam) and Lake Wallula (from McNary Dam upstream to Priest Rapids Dam).
These are vast reservoirs that offer a lot of prime habitat, including deep holes and ledges where catfish thrive. The best time to catch them is June, when catfish are spawning and may be as shallow as 2 to 4 feet of water.
Later in summer, substantial catches are still possible, but cats are more likely to be found 30 feet down or more during daylight hours. Walleye anglers love these same areas and sometimes catch cats by surprise on worm-walker rigs in deep water.
Just about any natural bait can tempt catfish in the Columbia River, including nightcrawlers and dough baits.
Fresh cut bait tends to fare best, and tend to be less bothered by types of fish you may not want to catch.
Lake Umatilla and Lake Wallula both offer multiple boat launch sites and an abundance of shore fishing access.
Crow Butte Park is a great spot with shore access, boat launch facilities and campsites on a productive stretch of Lake Umatilla.
On Lake Wallula, Two Rivers Park offers excellent fishing and boating access near the confluence of the Columbia and Snake Rivers.
Lower and upper sections of the Columbia also harbor catfish, but not in the same concentrations as the middle reaches.
More: Columbia River Fishing
Snake River
The Columbia River's largest tributary, the Snake River is an excellent catfish river in its own right.
And much like the Columbia, dams up and down the lower Snake divide the river into a series of reservoirs in which catfish thrive.
There's a large and self-sustaining population of channel cats throughout the lower Snake River, with abundant 1- to 5-pound fish that are great for the table, as well as the occasional big cat weighing 10 pounds or more.
The area just above the Ice Harbor Lock and Dam offers great potential—this section of the river is referred to as Lake Sacajawea—and you'll find excellent access and boat launch facilities here at North Shore Recreation Area.
Head a bit farther upstream, and you'll find some of the best catfish angling in the stretch of river between Lower Monumental Dam and Little Goose Dam.
The Palouse River meets the Snake River in this section, and the deep water at the confluence of the two rivers is a great area to find big catfish.
Lyons Ferry State Park is nestled in the crook of land where the two rivers meet, and offers an ideal home base for catfish anglers.
There's also another deep hole not too far upriver, where the smaller Tucannon River enters the Snake.
At both locations you'll find excellent shore fishing access. During the June catfish spawning season, the biggest catfish head toward the river mouths to spawn.
Many catfish anglers continue to fish here from shore at night throughout the spring and summer months. For the most part though, fishing from a boat is a more reliable way to reach the deep waters favored by catfish after the spawn.
The bait of choice here is cut bait, particularly suckers, pikeminnows and peamouth chubs you can catch in the same areas.
It's common for local catfish enthusiasts to spend their days fishing for bait fish on ultralight tackle, and then switch gears to go after cats at night.
Also worth noting is that flathead catfish are occasionally reported in the Snake River in Washington. The state record (22.7 pounds) was caught here in 1981, but more recent catches are rarer in this section that farther upstream into Idaho.
Green Lake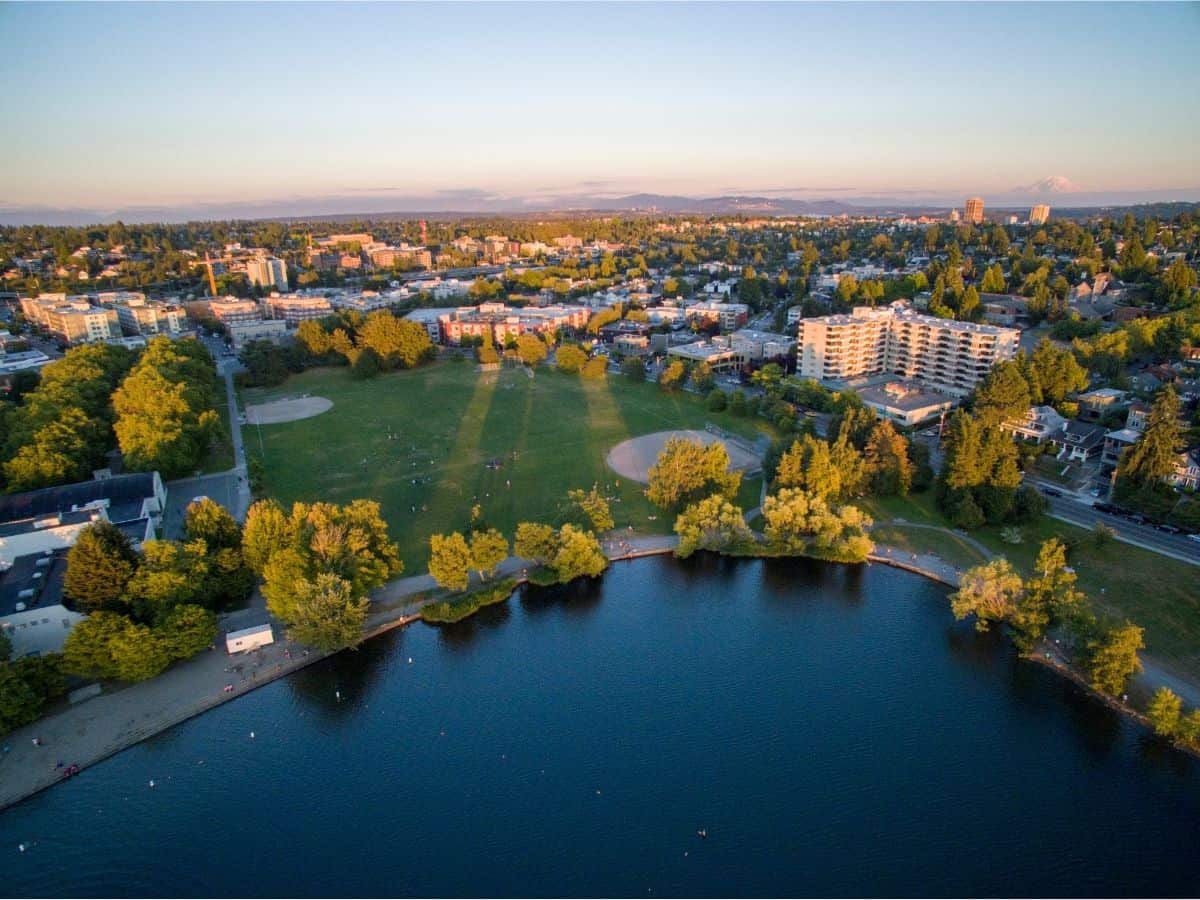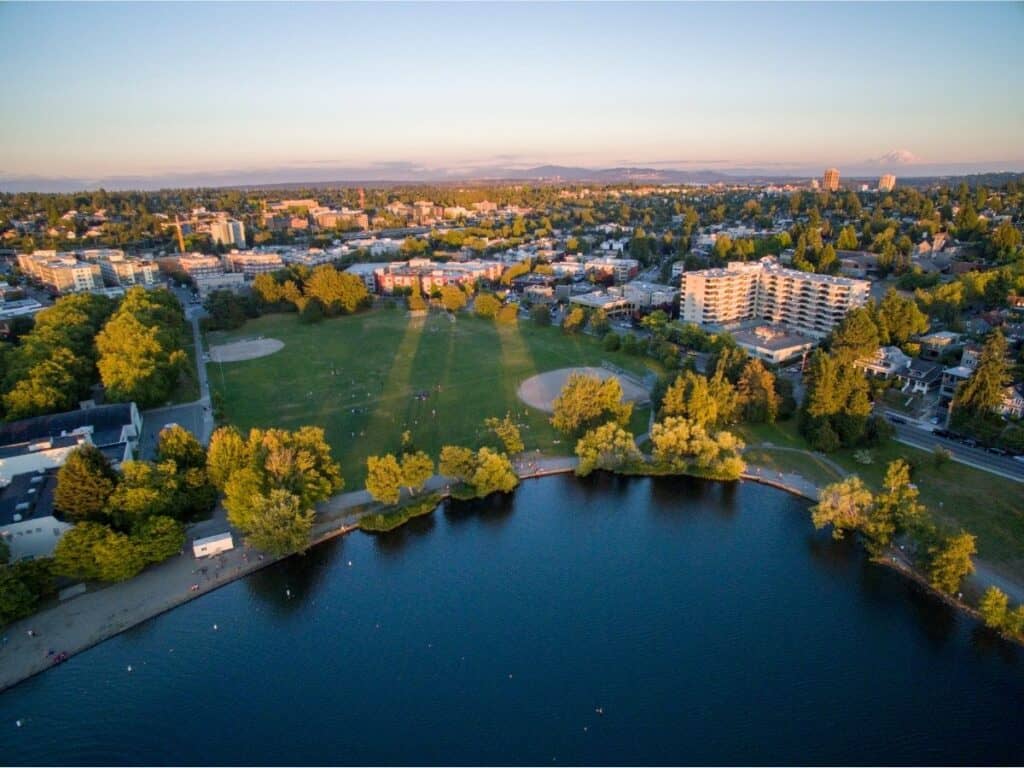 A popular urban fishing lake in King County, Green Lake is certainly the best bet for catfish in the Seattle area.
The lake is most popular in springtime, when anglers pummel the lake in hopes of catching the freshly-stocked trout the Department of Fish and Wildlife plants here every year.
But the DFW has stocked Green Lake numerous times with channel catfish over the years, some of which have grown to truly epic proportions.
Case in point: A 45-pound channel cat was hauled from Green Lake in 2018. Had the angler gotten it to a certified scale before filleting and deep-frying it, the fish might have been a new state record.
Whether you're out to shatter a record or not, Green Lake is a fun place to fish, with an abundance of easy shore access right in the city.
The 250-acre lake is completely encircled by Green Lake Park, which provides three fishing piers and ample open shoreline.
The northeastern half of the lake has the deepest water, so it's best to start there for catfish. The lily pads that grow along the weedy western shore are also worth a shot in springtime when cats are in shallower water.
Only non-powered boats are permitted on Green Lake. It's a great lake to explore by kayak or float tube, though it's generally advisable to visit on a weekday if you want to beat the heaviest crowds.
Green Lake also harbors brown bullhead, largemouth bass and sunfish. Anglers fishing with nightcrawlers are likely to enjoy a mixed catch that could include channel cats along with a few other species.
More: Fishing at Green Lake in Seattle
Yakima River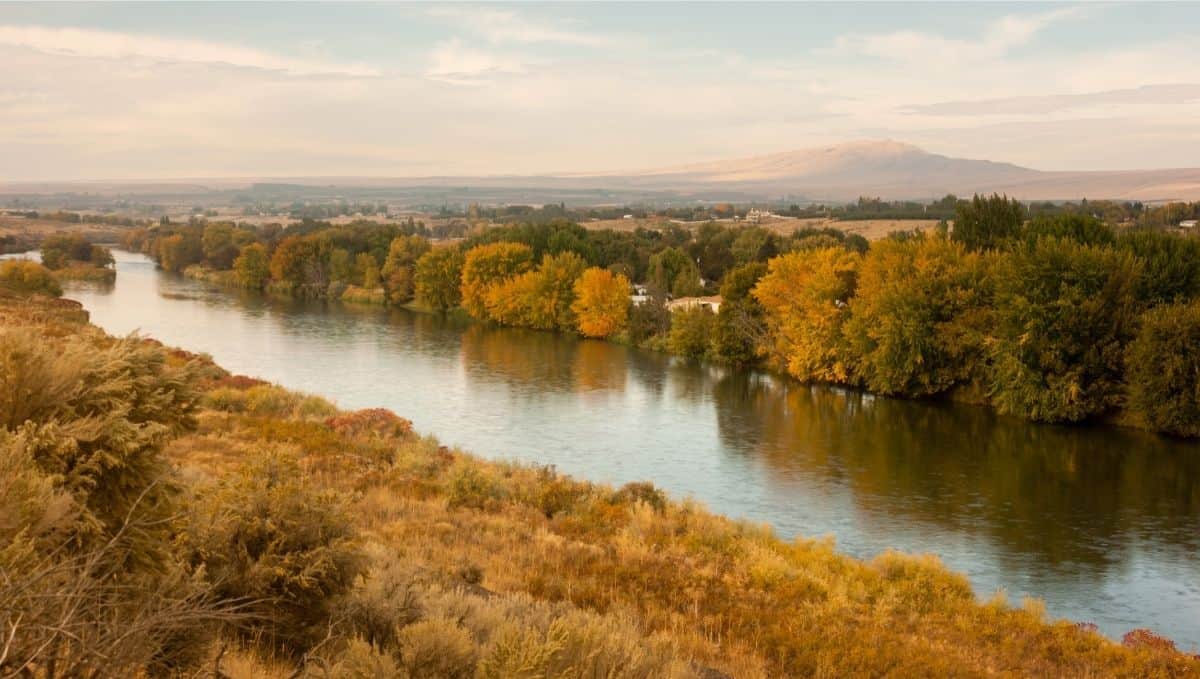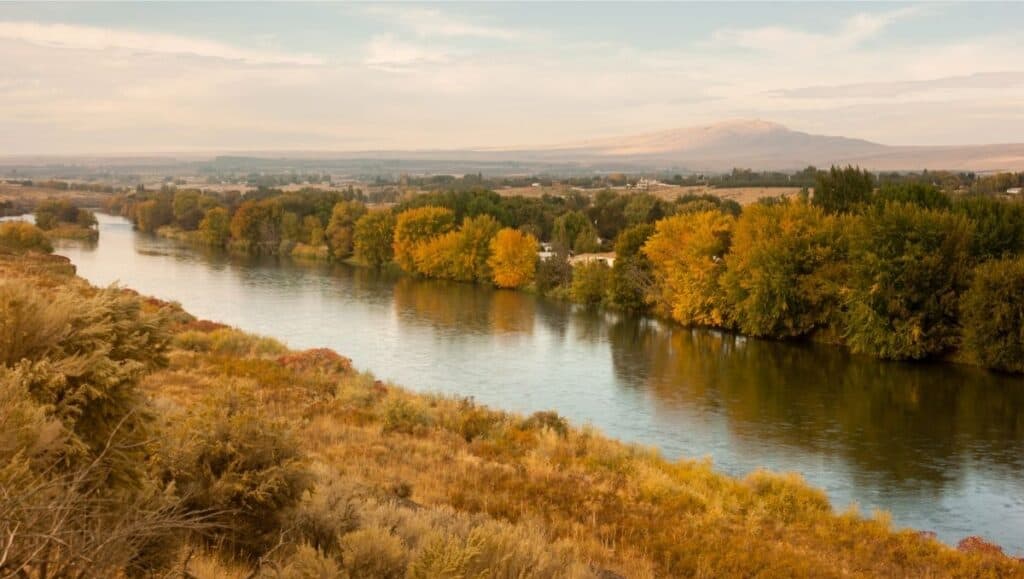 Another major tributary of the Columbia River, the Yakima River twists and turns through 214 miles of Washington state until it merges with the Columbia in the city of Richland.
Higher up, the Yakima River is one of Washington's best fly fishing streams for trout, but starting in about the city of Yakima it slows down and warms up heading into central Washington's rich farmlands.
The lower Yakima River harbors a large channel catfish population.
There are dozens of great fishing spots up, but the Yakima's lowest 10 miles are widely regarded as the best stretch for serious cat-fishing.
There are a handful of launch sites on the lower Yakima River, along with ample shore access.
One of the main advantages to the Yakima River, as opposed to the Columbia, is that it's a relatively small river, and deep water is easier to reach from the bank. That makes it a great place for shore anglers.
Chamna Natural Preserve offers a parking area with access to a meandering network of hike-and bike trails, many of which lead right down to the water.
Some locals also fish for cats below the I-182 bridge, which is walkable from the parking area.
Cut bait and chicken livers work well for catfish on the Yakima River. Stink baits are also favored by many local anglers.
Some of the best catfish spots are the deep holes in the lower river, along with any area immediately downstream from a bridge abutment or similar current break.
June and July offer some of the best fishing. And while shore access is excellent along the lower Yakima River, there are also a lot of prime catfish spots that can only be reached by boat.
The Yakima River meets the Columbia River at a network of islands, backwaters and sloughs known as the Yakima Delta, and there's some great off-the-beaten-path catfish water here.
The boat ramp at Wye Park in Richland is a good place to get on the water.
More: Yakima River Fishing
Walla Walla River
The Walla Walla River is yet another tributary of the Columbia River that's chock-full of catfish. You may be starting to notice a pattern here!
Flowing across 61 miles of Northern Oregon and Southeastern Washington, the Walla Walla River merges with the Columbia at Wallula Junction.
The lower reaches are a slow, often muddy river that supports a large catfish population. Plenty of 10-pounders have been caught here.
The best fishing is in the lowest stretch of the Walla Walla River, especially in springtime when channel cats from the Columbia River enter the Walla Walla River to spawn. June is a great month to be fishing near the mouth of the river.
Luckily, the Walla Walla River is also very easy to access in this area. Madame Dorion Memorial Park provides boat launch facilities, ample bank access and free campsites alongside the river near its mouth.
Needless to say, the park is popular among local catfish anglers. The fishing can be good here well into summer, although it pays to wet your line at night once the spawn is over. The ability to camp near the river is a bonus.
Cut bait is a great option here, and a lot of locals swear by locally caught suckers for channel catfish bait. Chicken livers are a good option too.
The remains of the old Madame Dorion Bridge, now decommissioned, still partially spans the river.
The old bridge abutments, as well as the highway and rail bridges immediately downstream, are good spots to soak your bait. Cats love a break in the current where they can rest.
Honorable Mentions
The Washington Department of Fish and Wildlife stocks catfish in lakes and ponds all over Washington.
These honorable mention lakes are all solid options for anyone looking to hook up with some scrappy channel cats.
Lake Terrell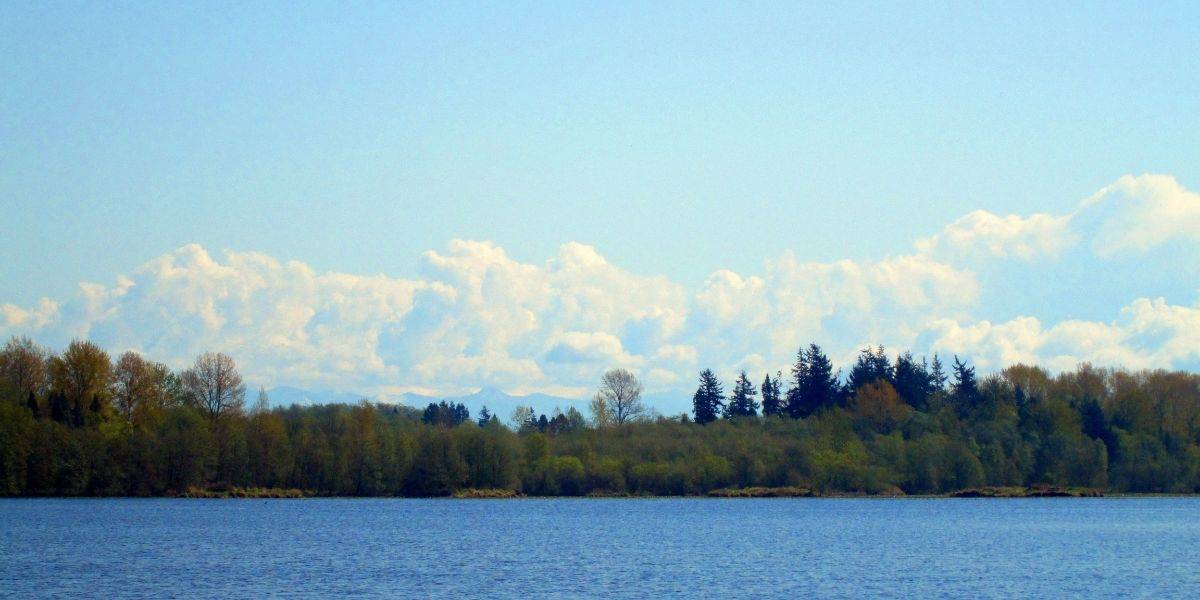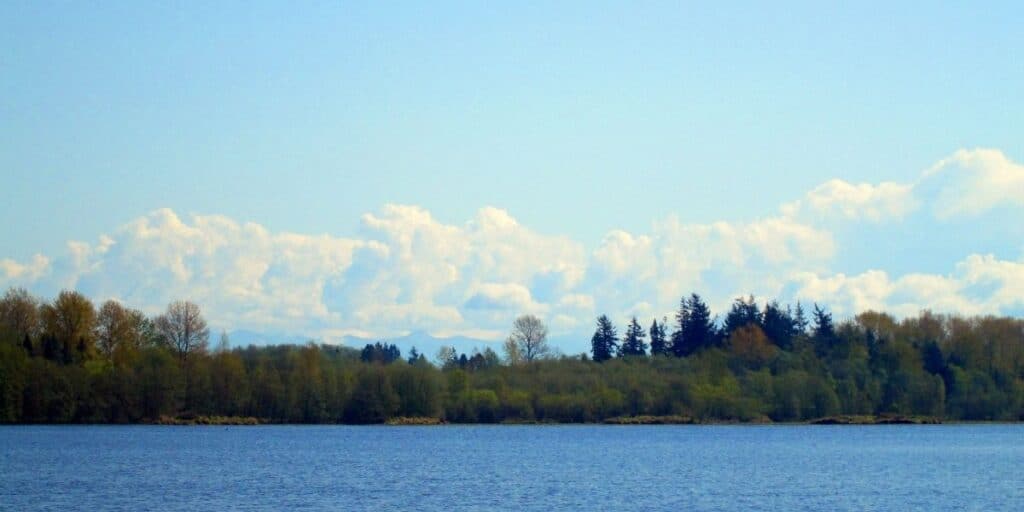 Located a stone's throw from the Canadian border in Whatcom County, Lake Terrell is a broad, shallow lake spanning 321 acres.
It's been stocked heavily with channel catfish, and is also known for bass and panfish.
Lake Terrell was really put on the map in 2019, when 16-year-old angler Cole Abshere caught a 37.7-pound channel catfish, shattering a state record that had stood for 20 years.
The problem with Lake Terrell is the issue of access.
The lake is located within Lake Terrell State Game Refuge, and its shoreline is completely undeveloped and inaccessible aside from the state boat launch on the south shore, which has a small public fishing dock.
Of course, the state record catfish was caught from that very dock, so it's definitely worth a cast or two.
The lake is also open to boats for much of the best fishing season, but take note in the annual regulations of closure times during wildfowl season.
Anglers with boats have ample opportunity to catch some big catfish. Brown bullhead are also common in the lake, and cut bait and chicken livers are both popular baits.
Swofford Pond
Located in Southwestern Washington's Lewis County, Swofford Pond has been abundantly stocked with catfish over the years.
It remains one of the best still-water options on the west side of the state for channel cats.
The 216-acre Swofford Pond is dwarfed by neighboring Riffe Lake—the two bodies of water are connected by water that spills under the road—and as a result is often overlooked.
While Riffe Lake is famous for landlocked coho salmon and chunky smallmouth bass, Swofford Pond is by far the better of the two.
Catfish over 20 pounds have been caught here.
Local anglers often catch a mixed bag of channel cats and brown bullhead using chicken livers.
There's good fishing for largemouth bass, crappie and seasonally stocked trout as well.
The best time to fish Swofford Pond is spring, before the inevitable growth of lily pads that encircle the shore.
Swofford Pond offers excellent shore fishing, and non-powered craft are allowed on the water. Ample shore access is available just off Green Mountain Road, which runs along the northern lakeshore.
More: Swofford Pond Fishing
Roses Lake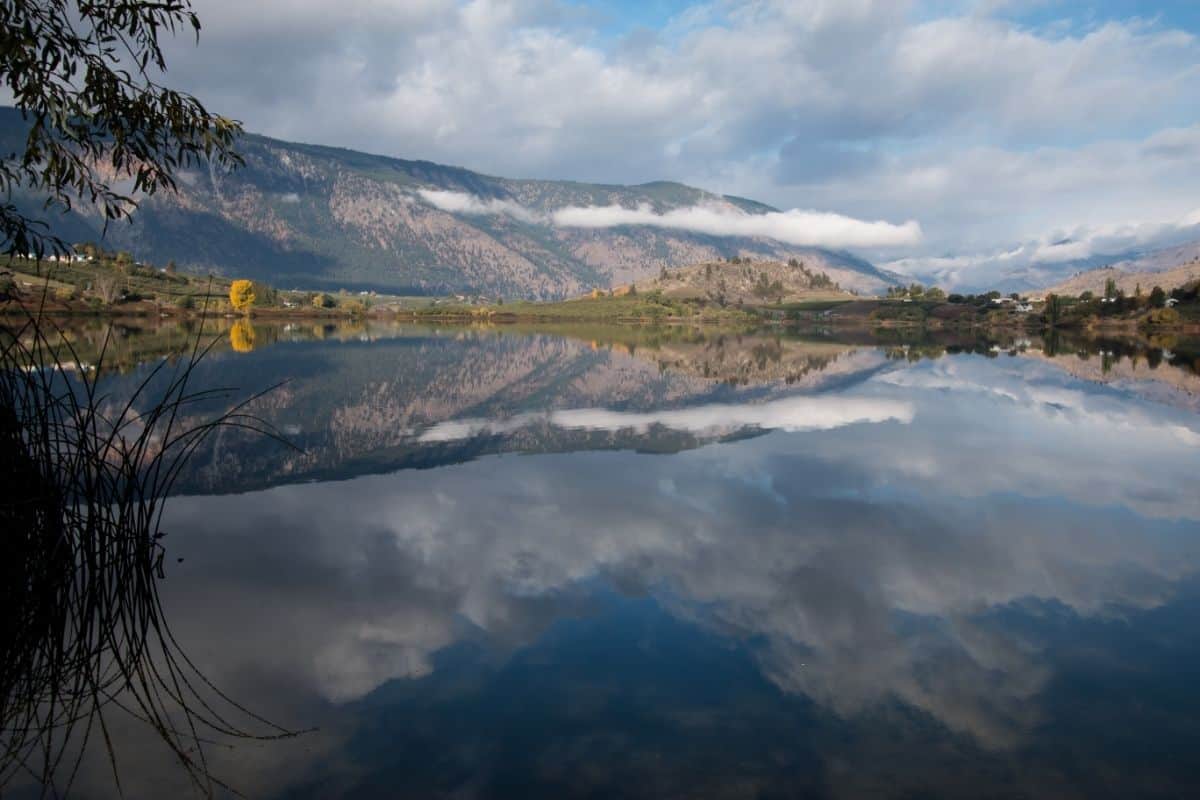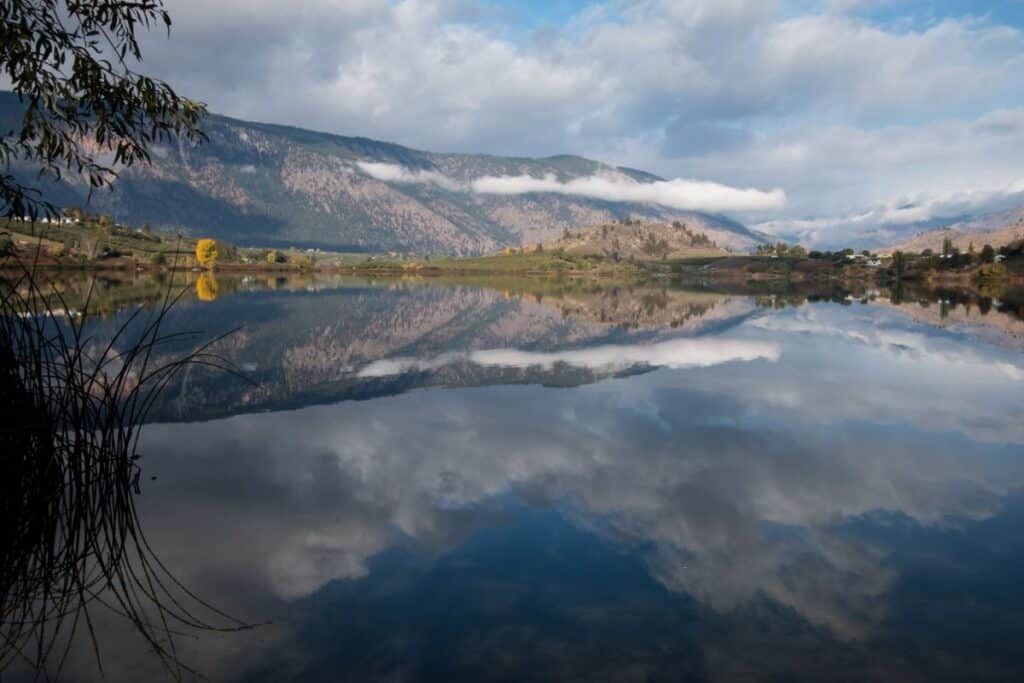 A small lake at just 178 acres in Chelan County, Roses Lake is an excellent fishing destination all the same.
Known as an excellent bass and crappie fishery, and popular for stocked trout, Roses Lake has also been stocked with channel catfish and has yielded some real giants.
Cut bait, nightcrawlers and chicken livers are all popular here.
Anglers who come here looking for catfish do well to focus on depths below 20 feet throughout the warm summer months, especially during the day.
At night, channel catfish move into shallower water and patrol the outside edge of the reeds and weed beds that grow along the shore. There's a solid night bite on Roses Lake.
Roses Lake is open to boats, and there's a public launch site off Green Avenue on the south shore of the lake.
Because of the private property and the proliferation of reeds along the shoreline, bank fishing is essentially limited to the boat launch area.
Liberty Lake
This 706-acre lake is located just a few miles from Spokane, and it's one of the most popular fishing destinations for the city's anglers.
Liberty Lake is a well-rounded warm water fishery with bass and panfish as well as catfish. Trout are stocked here every spring as well.
Catfish tend to dominate catches from June through August, after the rush to catch spring stocked trout fizzles out. Brown bullheads are extremely common in the lake, but there are decent numbers of channel cats, too.
Fishing on Liberty Lake is only open from March 1 through October 31. Although the shoreline is very developed, anglers have two solid options for shore fishing.
The DFW boat ramp on the north shore is a good option, with limited open shoreline and a fishing platform. More access is available at the south end of the lake at Liberty Lake Regional Park, which also offers campsites and a swimming beach.
More: Liberty Lake Fishing
Lake St. Clair
Just near Olympia and just 45 minutes from Tacoma, Lake St. Clair is one of the better catfish lakes within easy reach in the South Puget Sound area.
Like a lot of lakes in the state, channel cats don't seem to reproduce naturally here, but they have been stocked.
The first thing you'll notice about Lake St. Clair is its odd shape. The 233-acre lake was formed by a massive chunk of ice from a receding glacier, which eventually melted to form this somewhat blob-shaped lake with its many islands and channels.
Much of the lakeshore is privately owned and developed, but there are two WDFW boat launch sites on the lake, both of which offer some shore fishing access.
You don't hear about a lot of giant fish here, but there are aabundant channel cats up to 5 pounds. Try fishing near the boat ramps as the sun goes down, or deep ledges and drop-offs during the day.
More: Fishing at Lake St. Clair
Washington Resources
WDFW Fishing and Stocking Reports
WDFW Fishing Regulations
National Weather Service forecasts