Washington is a diverse state in almost every sense of the word. From its sprawling Seattle metro area to small mountain towns and lavish desert resorts, Washington provides something for everyone.
Fortunately for fly fishermen, that geographic diversity contributes to excellent fishing opportunities all across the state.
We're breaking down, by region, the best fly fishing rivers in the great state of Washington.
For the purposes of this article, we've grouped Washington into four distinct regions.
We know that there are virtually endless ways to characterize and break down Washington's regions, but we went with four regions that make the most sense in terms of both geography and fly fishing.
The Washington Department of Fish and Wildlife breaks the state down into six regions total, so we've adapted those boundaries a bit to streamline the article for you.
In each area, we highlight one exceptional, standout river – the best in the region. We'll also list out honorable mentions in each region, rivers that are still absolutely worth checking out.
Whether you're a diehard spey fisherman or you prefer chasing trout in the high desert, there's something for you in Washington.
Let's get started.
Western Washington's Best: Hoh River
Encompassing everything from the Seattle area west to the Olympics, Western Washington is a steelhead fly fishing paradise.
Unquestionably, the most famous region in Western Washington is the Olympic Peninsula, best known for its phenomenal steelhead fishing.
It was hard to pick one river from the dozens of Olympic Peninsula waters, but the Hoh River is a standout.
Emerald Water Anglers, one of the premier guide services in the area, notes that the Hoh River is "without question a notch to be made on every steelhead angler's belt."
Other guides in the area agree, and Waters West Fly Fishing refers to the Hoh as "one of the most classic steelhead and salmon rivers" in the state.
Winter steelhead are far and away the most popular quarry on the Hoh. Salmon are sometimes available during the spring and summer, but numbers of fish returning have an impact on the season.
The lower Hoh is most popular with anglers, and it's generally only open during the winter months.
The river can get a significant amount of pressure, but it's popular for a reason – there are plenty of steelhead to be caught.
Spey fishing is the classic way to catch steelhead in the Hoh, but nymphing works well, too.
Trout, predominantly sea-run cutthroat, are also commonly targeted in the Hoh. Fishing seasons can be less strict for trout, and the Hoh can be a great river for non-steelhead anglers.
For more information: Fishing the Hoh River
More Great Fly Fishing Rivers in Western Washington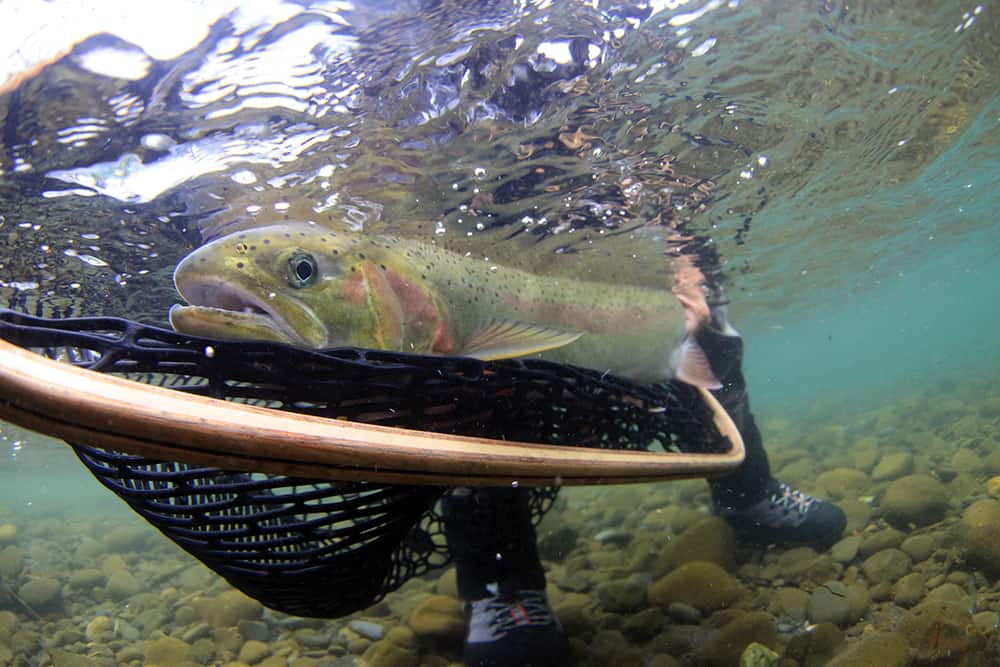 Sol Duc River
The Sol Duc is just one of the Olympic Peninsula's many productive steelhead waters.
Being a smaller river, most fly fishermen choose to ditch traditional twelve or thirteen-foot spey rods in favor of shorter switch or single-hand rods.
The Sol Duc gets solid runs of summer and winter steelhead, which are the primary targets here, but Chinook and coho are also available depending on the season.
Numbers of fish returning can sometimes dictate the fishing season on the Sol Duc, so make sure to check current regulations before you head out.
Skagit River
Any dedicated fly fisherman will no doubt be familiar with the Skagit River (and the corresponding Skagit fly line commonly used for steelhead spey fishing).
The Skagit is one of Washington's great steelhead rivers not located in the Olympic Peninsula; it's northeast of Seattle in Skagit County.
In addition to famous steelhead runs, salmon fishing is also popular on the Skagit River, and this river is a great option no matter what you like to catch.
Steelhead and salmon numbers in the Skagit are not nearly as high as they once were, but that's true for most rivers in the Pacific Northwest – salmon and steelhead numbers have been generally declining across the board in recent years.
Sauk River
The Sauk River is yet another one of Western Washington's great steelhead and salmon rivers.
If you haven't figured it out by now, Western Washington is mainly known for its steelhead and salmon!
Winter steelhead are the most popular target here, with most coming on a swung fly.
However, there also is trout fishing in the Sauk. Bull trout are the most common target for trout fishermen, as they are quite populous in the river and very fun to catch.
Eastern Washington's Best: Rocky Ford Creek
Stretching from Leavenworth all the way to Spokane and the Idaho border, Eastern Washington offers some underrated trout fishing in a high-desert setting.
Many consider this to be Washington's worst region for fly fishing, but there are still some excellent options for those in the area.
Rocky Ford Creek earns our top spot as Eastern Washington's best for a number of reasons.
Most importantly, Rocky Ford is a very unique setting – a small creek with massive trout is extremely rare, particularly in the Pacific Northwest, so it's a great opportunity for many fly fishermen.
Fishing Rocky Ford Creek is productive year-round, and since it is a spring creek, midges and other small aquatic insects are the most prolific here – mimic this with the patterns you choose to fish.
One important thing to note about Rocky Ford is that wading in the creek is not permitted to preserve the environmental integrity of the creek.
Waders aren't a bad idea for marshy sections of shore, but remember not to step into the creek!
More Great Fly Fishing Rivers in Eastern Washington
Spokane River
The Spokane River is likely Eastern Washington's most popular fly fishing river.
This is a large river, and each stretch of it offers different opportunities for fly fishermen.
True to its name, the Spokane River flows right through the heart of the city of Spokane – the biggest city in Eastern Washington.
Even with its proximity to such a big city, the Spokane River is relatively lightly fished, and fly fishermen who choose to venture out here will often have the river all to themselves.
One of the main reasons that the Spokane receives so little pressure is because it's best fished from a boat; if you have a raft or drift boat, the Spokane is worth a look.
The river peaks in the summer, and is very productive in and around the town of Spokane.
Various Desert Creeks
Rocky Ford Creek isn't the only desert stream in Eastern Washington with big trout. In fact, Eastern Washington is a unique region with a healthy number of productive desert streams.
Most of these streams are either private property or take some honest searching to find, so we won't name names here – locals and those who have found these streams would prefer they don't get published on the internet.
However, with a little bit of work and a lot of exploration, you should be able to find some priceless desert creeks in Eastern Washington, all holding trout much bigger than you'd expect!
South Central Washington's Best: Yakima River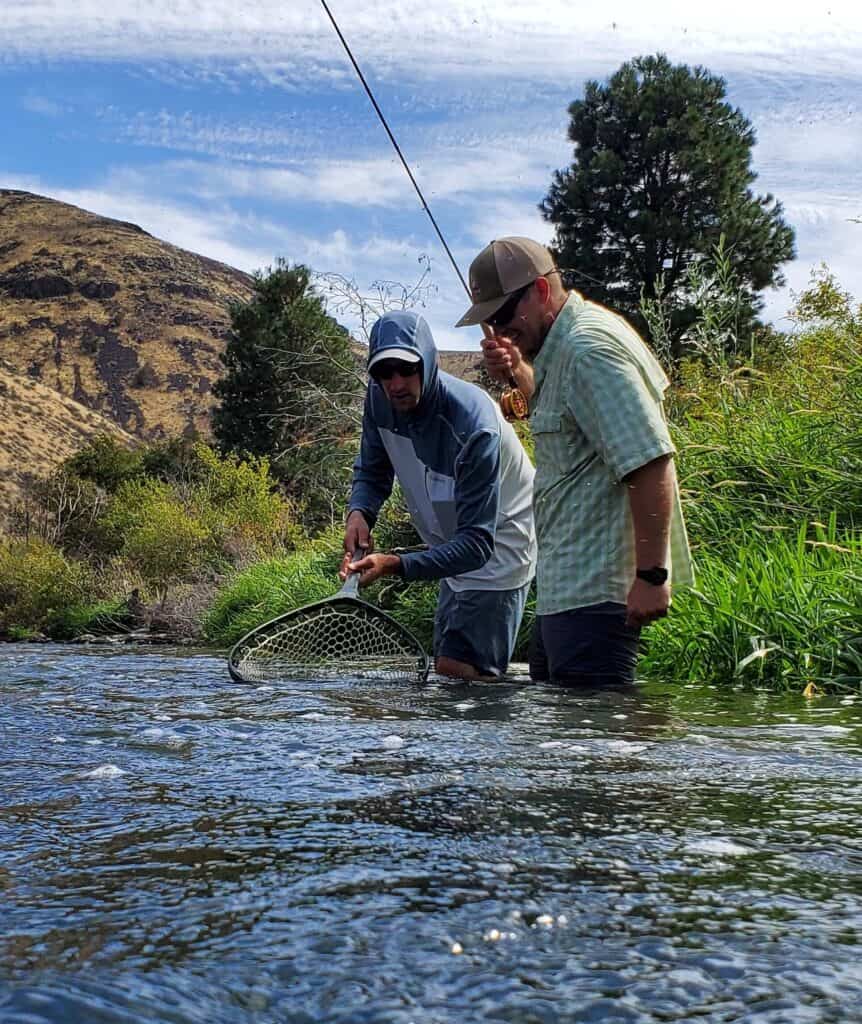 South Central Washington is a region that includes both Yakima and Walla Walla counties, offering a unique mix of great fly fishing for both steelhead and trout.
The Yakima River takes the cake when it comes to fly fishing in South Central Washington.
The Yakima is without a doubt considered by most veteran anglers to be the best trout fly fishing river in Washington, and it's one of the only trout streams in the state that fly fishermen from Oregon and Idaho will travel to Washington to fish.
The Yakima, like most famous trout streams, is best fished by drift boat or raft.
Much of the river runs through private property or is tricky to fish from the bank. Fortunately, if you don't have a boat, there are plenty of guides in the area that offer trips on the Yakima.
There are multiple stretches of productive water on the Yakima, all of which are slightly different.
The most popular section of the Yakima is the piece of water between Easton and Roza dams, which is a very long and productive stretch of water.
The upper river within this stretch, right below Easton Dam, has some bank access and is moderately accessible for anglers without a boat.
Beginning at the town of Cle Elum and downstream, there are plenty of spots for boat anglers to put in.
Bank access is also available downstream of Roza Dam, a stretch that's less pressured than the water above the dam but offers some fantastic fishing for big trout – it's not to be missed.
According to Red's Fly Shop, one of the premier fly shops in the Yakima area, the Yakima fishes well year-round.
Each season offers different experiences and hatches, but there are trout to be had at all times of the year on the Yakima.
Certainly the most popular time to fish it, though, is summer through fall.
For more information: Fishing the Yakima River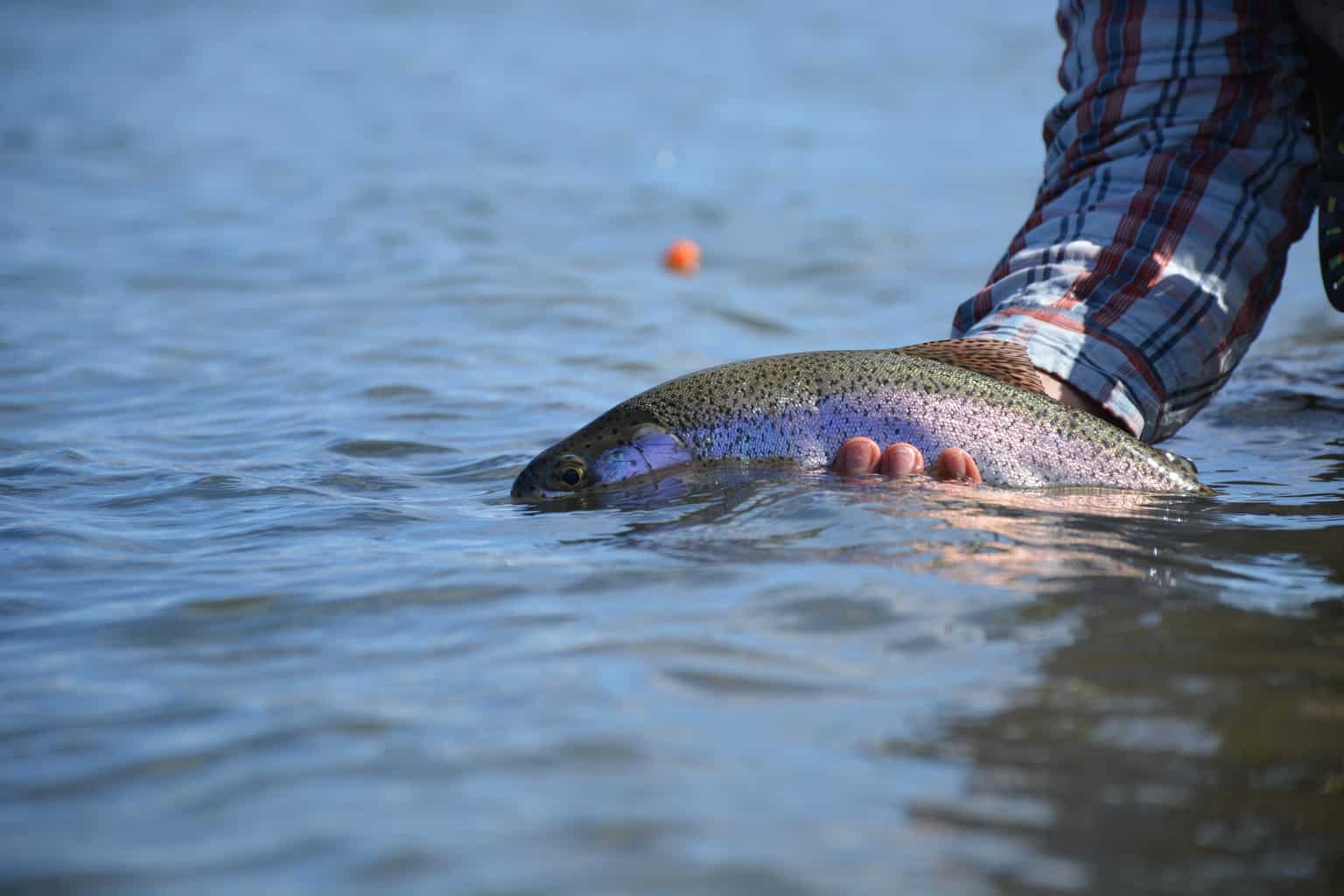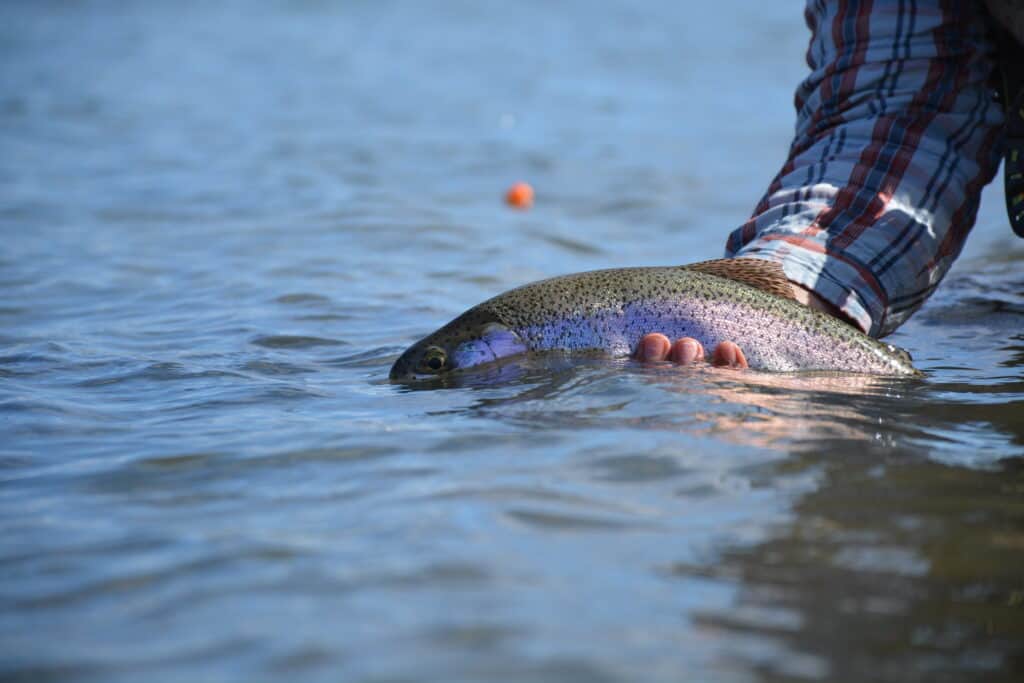 More Great Fly Fishing Rivers in South Central Washington
Grande Ronde River
Believe it or not, the Grande Ronde is a jewel of a river that fishes well in both Oregon and Washington!
We've put together a piece about Oregon's stretch of the Grande Ronde, and the stretch of the river in Washington can be equally as good.
The Washington stretch of the Grande Ronde is shorter than the stretch of the river in Oregon, and the river crosses state borders as it gets closer to merging with the Snake River.
Steelhead fly fishing often gets hot on Washington's stretch on the Grande Ronde during the fall, before the fish make their way into Oregon.
Whether to decide to fish it Oregon or Washington, the Grande Ronde is a fantastic steelhead river that can't be missed.
Naches River
If you're looking to fly fish South Central Washington and want to escape the crowds, the Naches River is a great spot to check out.
The Naches joins the Yakima River in the city of Yakima after running about 80 miles southeast from its headwaters high in the mountains of the Wenatchee National Forest.
It's a great, productive trout river that is lightly pressured, and big rainbows are available here.
Unlike the Yakima, the Naches is not a tailwater, which means it's highly subject to seasonal flows.
This in turn means that spring and early summer are virtually unfishable on the Naches due to high flows during snow melt.
This is one of those rivers that fishes better from mid-summer through fall.
Southwest Washington's Best: Cowlitz River
A small region of Washington that borders the Columbia River, Southwest Washington is without a doubt best known for its robust annual runs of salmon and steelhead.
The Cowlitz certainly delivers in that regard for all types of angling, and it offers some of the best salmon and steelhead fly fishing in the state.
Chinook and coho salmon as well as steelhead make bi-annual runs up the Cowlitz, making it a very popular fishery for all types of anglers.
Fly fishermen generally prefer to target the steelhead, which are easier to catch on a swung fly than salmon usually are – coho sometimes being the exception to that rule.
No matter what time of year it is, there's almost always something to fish for on the Cowlitz.
The river receives runs of winter and summer steelhead, fall and spring Chinook, and fall coho, which means there's rarely a dull moment on the Cowlitz.
There also are some trout-fishing opportunities in this good-sized river, although they tend to take a back seat to salmon and steelhead.
This is a river that's best fished by boat, especially in its lower regions. One of the most popular Cowlitz River guides, Lance Fisher, likes to put in at the Blue Creek and Castle Rock boat ramps.
If you do decide to head out to the Cowlitz, make sure to bring an 8 or 9 weight fly rod!
Even if you're targeting summer steelhead, for example, there's always the chance you'll hook into a mighty Chinook – so be prepared.
More Great Fly Fishing Rivers in Southwest Washington
Lewis River
The Lewis is a long river that offers something for every fly fisherman.
From its mountainous upper stretches that are teeming with rainbow and bull trout to its lower stretches that are very popular with salmon and steelhead fly fishermen, the Lewis is one of Southwest Washington's gems.
Fly fishermen targeting trout can find both rainbow and bull trout above a string of hydroelectric reservoirs.
Above these reservoirs, trout fishing is excellent, and the river is lightly fished.
Streamer patterns and nymphs work quite well, particularly during the late spring and summer.
Below the reservoirs, salmon and steelhead fishing is what most anglers do.
This is more popular with conventional fisherman, and the stretch is best fished from a boat.
Nevertheless, fly fishing for steelhead and salmon can be productive, especially if you've got access to a raft or drift boat.
More: Fishing the Lewis River
Kalama River
The Kalama is a legendary steelhead river. Located not too far from the Lewis River and flowing through the town of Kalama before spilling into the Columbia, this is a river that many steelhead anglers travel to from far and wide.
There are salmon runs in the river as well, but steelhead are the main target here. As with most of the rivers in Southwest Washington, the Kalama is best fished from a boat.
The summer and winter steelhead fisheries here are both equally productive – give the Kalama a shot!
More Rivers for Explorers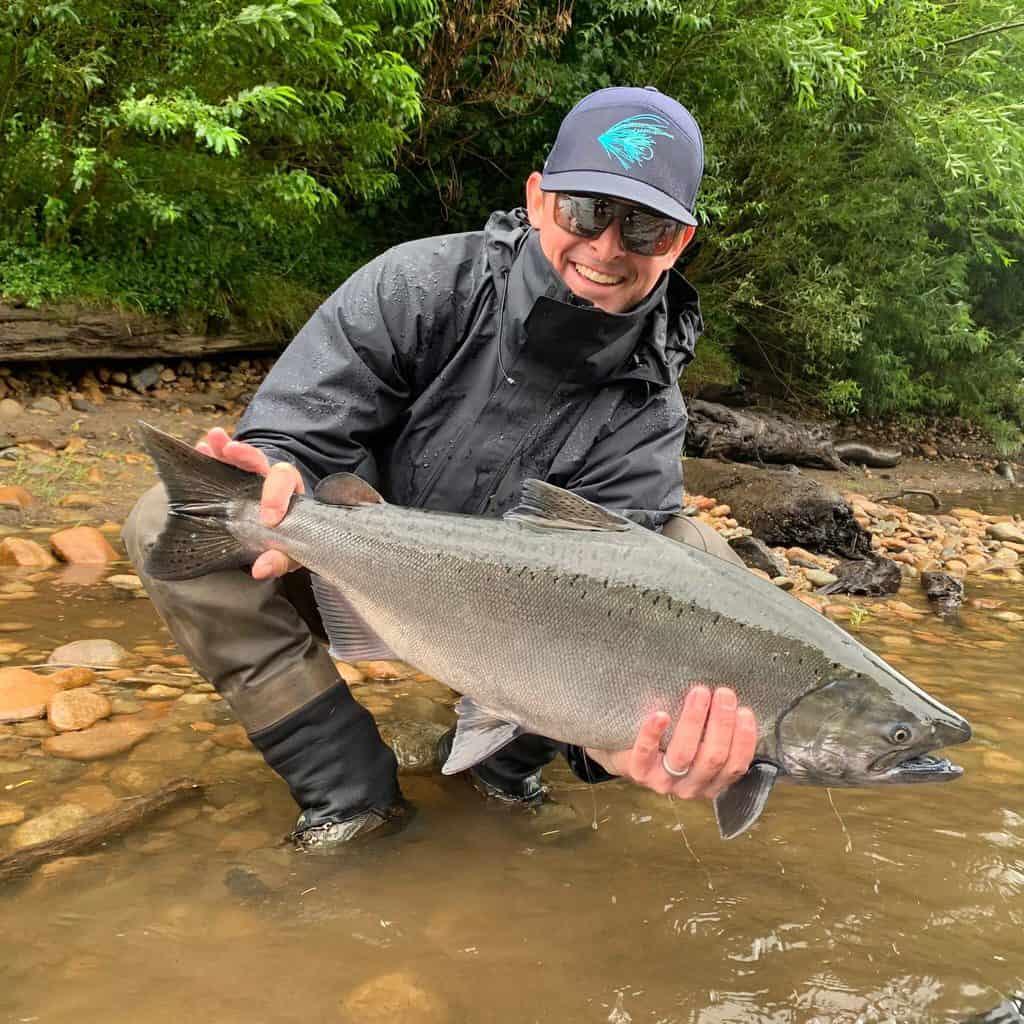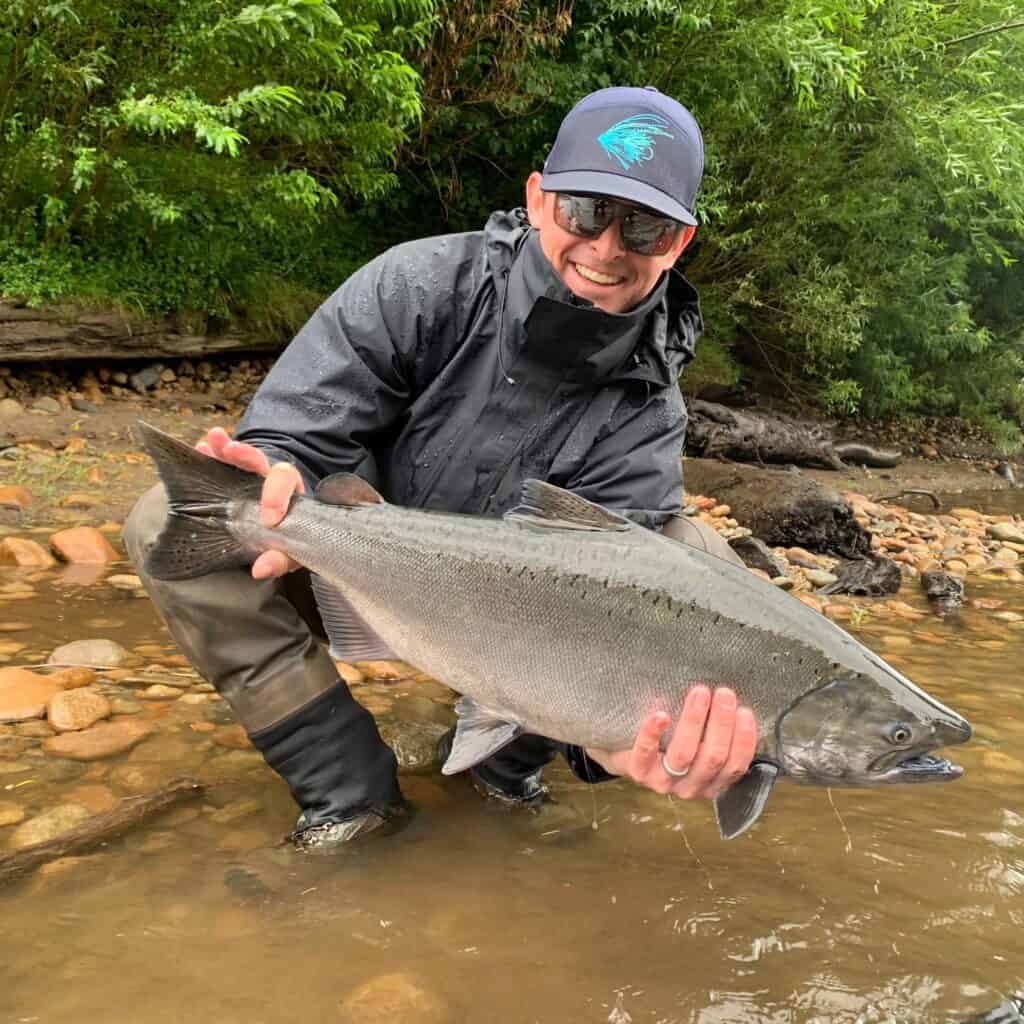 There are hundreds more rivers in Washington, and quite arguably others could've made this list, so we urge you to get out and explore!
This list serves as a guide to some of Washington's most popular and productive rivers, and hopefully it helps you the next time you decide to get out and do some fly fishing.
For now, tight lines! Enjoy all that Washington has to offer.
Carter Reschke is a freelance writer based in Oregon. Passionate about the outdoors, Carter is a fly fishing aficionado and spends his days on the river when he's not writing.