Tucked away in the high desert of Central Washington, Rocky Ford Creek is a gem of a stream that offers exceptional fly fishing for some of the biggest trout in Washington.
Although the creek has gained significant popularity in recent years, it's still a great option for trout throughout most of the year.
Rocky Ford Creek is just one of many productive high desert streams in the Central Washington area, but it's popular for a reason – it's a true standout fishery.
In fact, we feature Rocky Ford prominently in our Best Fly Fishing Rivers in Washington article.
The main stretch of the creek isn't long, coming in at just over 3 miles, but it seems like each inch of that stretch is packed with large rainbow trout.
In addition to its large fish, the creek is known for its prolific hatches both above and below the surface of the water.
Trout Fishing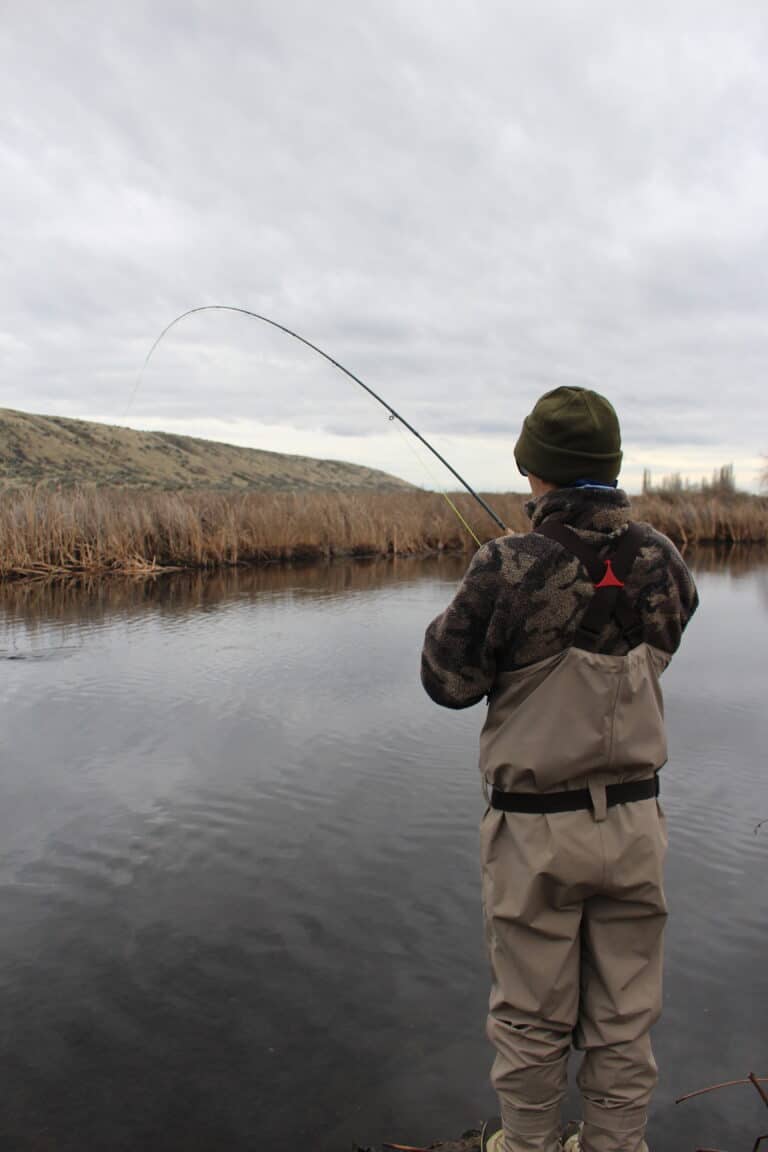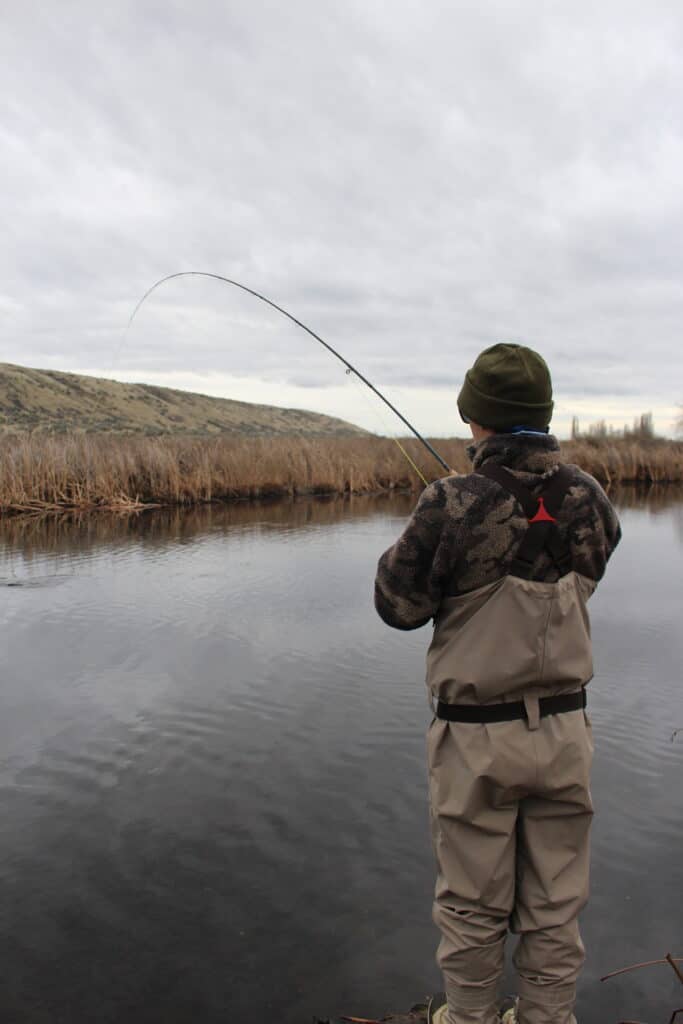 Rainbow trout are the species of trout you'll find in Rocky Ford Creek, and the fish in this creek can grow to be massive.
Sometimes more than five pounds, the rainbows in Rocky Ford are wary but will happily take dries and nymphs all day long.
The main thing to keep in mind when fishing Rocky Ford is that the creek gets a lot of fishing pressure.
This means that you'll have to be stealthy in your approach if you want to catch the big ones – when fish are rising, stand about five to ten feet back from the water to make sure you don't spook them.
If you're not used to keeping tabs on your false casts, you're going to have to on Rocky Ford.
If you make a false cast over a pod of trout, you'll be likely to spook them. One way to avoid this is to make your false casts over the bank, and just direct your cast back to the water once you've got enough line out.
Because stealth and presentation are key, euro nymphing is one of the most popular and effective techniques on Rocky Ford. Try fishing tungsten beadhead nymphs, size 18 or smaller.
The fish in Rocky Ford see plenty of fly patterns every single day, so keep switching things up until you find something that works. Try tying on a couple of scud patterns – they're one of the most predominant food sources in the creek.
Keep an eye out for any of Rocky Ford Creek's numerous hatches, as they sometimes provide the best opportunity to catch big trout.
Callibaetis, PMDs, BWOs, and mayfly hatches dominate the surface action on Rocky Ford, so make sure to have those patterns in your fly box before you head out.
When to Fish
Rocky Ford Creek is open year-round, but there are a number of regulations that are in place to make sure it stays productive year after year.
First of all, the creek is fly fishing only, and only barbless hooks are allowed. It's also strictly catch and release, which is one reason the trout get so big but can be wise to the ways of anglers.
Uniquely, wading is also not allowed in the creek – due to the volume of pressure the creek receives, wading would destroy the fragile ecosystem.
You also aren't allowed to float the creek, so standing on dry land and preferably out of view of the well-educated trout is the name of the game.
Lead, such as split shot, is not allowed in Rocky Ford. This means that if you're fishing a faster-moving riffle, flies with tungsten beadheads are extremely useful to get your flies down in the absence of lead.
Rocky Ford Creek produces big fish all throughout the year, but spring and fall are usually the best times to fish the creek. Hatches are most prolific during the spring and fall, and cooler water temperatures encourage the fish to bite.
Spring and fall are the most busy times of year on the creek, though, so expect plenty of company if you go when the fishing is excellent.
In the summer, Rocky Ford becomes more difficult to fish.
As with most small creeks, Rocky Ford is affected by the harsh desert heat, and that heat encourages plenty of aquatic plant growth in the creek.
The abundance of aquatic plants and more sluggish fish during the summer makes it a tough time to fish, but plenty of fly fishermen still find success.
The winter is a good time to fish Rocky Ford, as the fish remain active and the creek is mostly free of aquatic plants and weeds.
However, it is one of the most viable fly fishing options for stream trout during the winter in Washington, so anglers flock from all over the state to fish Rocky Ford during the winter.
Location and Access
Access is easy on Rocky Ford, and most anglers choose to park along one of the multiple bridges that cross the creek. There is also access at the Trout Lodge Hatchery.
Once you're parked, the best thing to do is walk along the banks to find new water.
There is no road paralleling Rocky Ford, so traveling on foot is the way to get around on the creek. Since there's no wading, though, you'll need to walk to one of the bridges if you want to cross the creek.
Rocky Ford Creek is located just north of Moses Lake, about 180 miles east of Seattle and 120 miles southwest of Spokane.
If you live in or are planning to fish around Yakima, Tri-Cities, Ellensburg or Wenatchee, this is a reasonable spot to add to your itinerary.
Closer to Rocky Ford, you'll be able to find lodging, food and supplies in smaller communities just miles from the stream, including Ephrata, Moses Lake, Quincy and George.
It has gained significant popularity in recent years and certainly isn't a hidden gem among ardent fly anglers, but Rocky Ford Creek is a spectacular stretch of water that offers unique fishing in the high desert of Central Washington.
Find more fishing spots in Grant County
Washington Resources
WDFW Fishing and Stocking Reports
WDFW Fishing Regulations
National Weather Service forecasts
Carter Reschke is a freelance writer based in Oregon. Passionate about the outdoors, Carter is a fly fishing aficionado and spends his days on the river when he's not writing.