This article provides an overview of many of the best fishing spots in Central Washington's Grant County, which thanks to a massive number of irrigation-related waterways is among Washington's best fishing regions.
This article also includes the primary fishing spots in neighboring Adams County, which overall has far fewer hot spots but does have some excellent lakes.
Between the two counties, this article covers the best fishing spots near Moses Lake, Ephrata, Quincy, Othello and Ritzville, among other communities.
Thanks in large part to irrigation, Grant County is a rich agricultural area with a population of roughly 90,000 people.
Besides fishing, attractions here include Grand Coulee, Ulysses S. Peak, Columbia National Wildlife Refuge, Hanford Reach National Monument, Lake Roosevelt National Recreation Area, Saddle Mountain National Wildlife Refuge and the Gorge Amphitheater near George, Washington.
Adams County has about 20,000 people spread out from the Central Washington agricultural heartland around Othello (near Moses Lake) into Eastern Washington near Ritzville, just an hour from Spokane on Interstate 90.
The rest of this article is a run-down of the best fishing spots in both Grant and Adams counties. We've separated the counties into sections to further help you locate the spots.
We have an increasing number of detailed articles to help you catch the most fish at the very best of these locations, so follow the links below for more information.
Additionally, we cover the unique Seep Lakes area's best fishing lakes in a separate article. (See the link under Seep Lakes below.)
After you've explored the best fishing that Grant and Adams have to offer, see our special "Fishing in Neighboring Counties" feature below to find even more nearby fishing holes.
Alkali Lake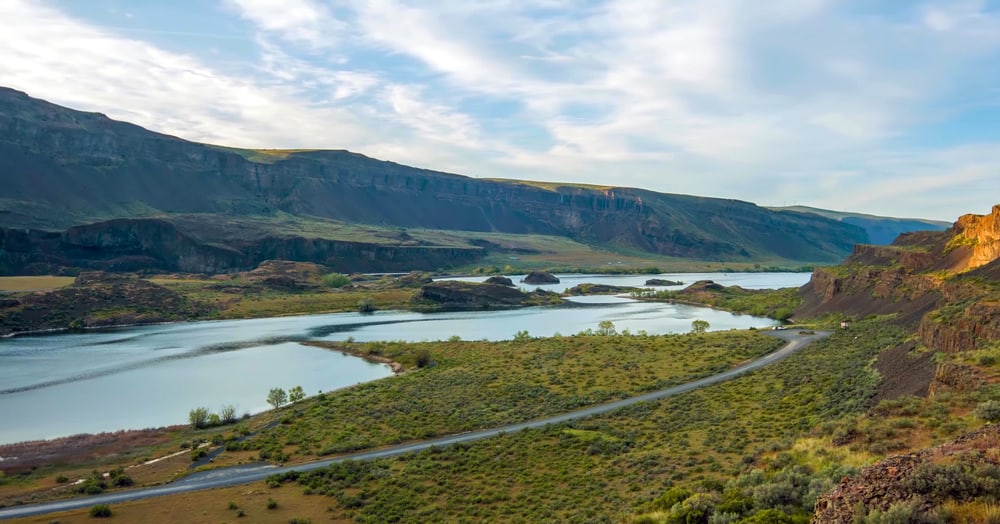 This approximately 300-acre lake sits between Blue and Lenore lakes but isn't the noteworthy trout fishery that those larger lakes promise.
Instead, this lightly fished and basically undeveloped lake is primarily home to self-sustaining warmwater fish such as bass, bluegill and catfish, which WDFW tries to keep out of nearby trout lakes.
Ancient Lakes
The South and West lakes in this cluster of smallish Quincy Wildlife Area lakes are most often fished for rainbow trout, which are stocked as very young fish during the fall and grow into keepers in the lakes.
The year-round lakes also are home to some resident largemouth bass and panfish, which bite best from spring through summer and into early fall.
Access is hike-in only, but when you get there shoreline access is pretty good.
The lakes are in the Quincy Wildlife Area, less than 20 minutes northwest of George and about the same distance southwest of Quincy.
Banks Lake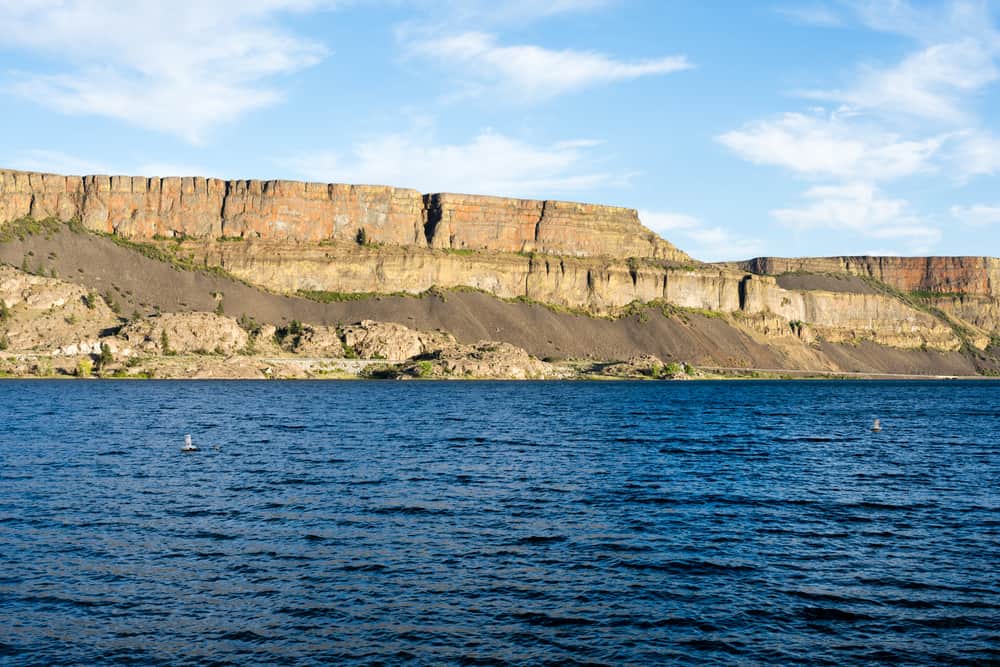 This giant reservoir is one of Washington's better fishing holes, with both cold- and warmwater fishing options.
Smallmouth bass and walleye are caught in excellent numbers here, especially during the warmer half of the year.
Rainbow trout and kokanee also fuel a nice fishery for coldwater angling aficionados.
Both of these salmonid species are planted as hatchery-raised fry or fingerlings by the hundreds of thousands in this nearly 28,000-acre reservoir.
The lake also is known for its large population of lake whitefish, as well as panfish including black crappie, bluegill and yellow perch.
Channel catfish, burbot, and several other species also appear in the catch.
Ice fishing can be good here during cold winters, making this truly a year-round destination.
There are multiple water access sites, campgrounds, resorts and parks located around this 27-mile waterway stretching from Grand Coulee south to Coulee City.
More: Banks Lake Fishing
Beda Lake
This 50-acre lake is primarily fished for larger-than-average stocked rainbow trout.
WDFW has worked to eradicate an overpopulation of pumpkinseed sunfish that have upset the food chain here, which is why larger catchable trout are typically stocked in recent years, often in fairly modest numbers.
Selective gear rules and strict limits are in effect here to promote a trophy fishery. Many anglers here are fly fishing but you can use lures with single barbless hooks.
Beda Lake is located just off Dodson Road west of Potholes Reservoir.
Billy Clapp Lake
This decent-sized reservoir is enthusiastically fished for both warmwater and coldwater species.
Bass, walleye and panfish are common targets here, but so are rainbow trout and kokanee.
The reservoir shares most of the same game fish species as the much larger Banks Lake, as these fish can spill down from the dam and into Billy Clapp.
Like Banks Lake, Billy Clapp is stocked with many thousands of rainbow trout, including some very small ones that grow in place. Unlike the larger reservoir, though, Billy Clapp Lake also is stocked with quite a few thousand catchable sized rainbows in both spring and fall.
Kokanee aren't necessarily listed on the recent stocking schedule here, but at times the fishing for these landlocked sockeye salmon is lights out at Billy Clapp Lake for exceptionally large kokes of 20-plus inches.
Billy Clapp Lake is located near the community of Stratford just north of Highway 28, about a half hour's drive straight north from Moses Lake and a bit closer to Ephrata.
Brook Lake (also known as Stratford Lake) is the fairly large lake located just south of the dam and has a population of bass and panfish species.
More: Fishing at Billy Clapp Lake
Blue Lake
This is an excellent trout lake in the Sun Lakes area below Banks Lake, particularly around the spring opener but with pretty good fishing continuing into summer.
Blue Lake is very heavily stocked with fry or fingerling-sized rainbow trout for its 500 or so acres, and it also gets a modest number of young tiger trout planted as well.
Blue Lake is rich and grows trout quickly, but it has tended to suffer in cycles as non-gamefish numbers tend to rise to unhealthy levels every decade or so. WDFW has treated the lake in the past to restore its ability to grow lots of trout.
Shoreline access is easy to find along State Route 17 and also at several private resorts.
There also is a WDFW boat launch off Lakeview Road NE on the east side, and boat fishing for trout is excellent at Blue Lake.
More: Blue Lake Fishing
Burke Lake
This lake is amid several good fishing spots in the Quincy Wildlife Area that is stocked with trout.
Burke Lake, which is about 70 acres, has recently been stocked primarily with several thousand catchable rainbows.
It has been treated in the past to eliminate brown bullheads and black crappie to improve the trout fishing.
Burke Lake opens to fishing on March 1 and is typically hot for the first month or so and good through spring before slowing in summer.
Most trout are in the 12-inch range, but holdovers can go into the high teens and even 20 inches on occasion.
A boat will serve you well but bank fishing will catch fish here, and WDFW has several access sites.
Caliche Lakes
This group of three lakes near George is most enthusiastically fished for rainbow trout.
The Upper Lake near the parking area has been listed on state stocking schedules with plants of both catchable and young rainbows, so it's of primary interest.
Upper Caliche Lake opens for fishing March 1 and is typically excellent early on but somewhat ignored going later into the season.
You can fish this one from a boat or bank.
Caliche Lakes are located almost within casting distance of Interstate 90, but you'll need to get on the Frontage Road paralleling the interstate. It's within 10 minutes southwest of George.
Columbia Basin Hatchery Creek
This outlet stream from the hatchery near Moses Lake is set aside for fishing by young anglers and those with disabilities.
The creek is nicely stocked with thousands of rainbow trout, spread out with several plantings from roughly April through September to provide months of good action.
There's a nice paved trail that allows access, but please take note that fishing access is only open during hatchery hours (8 a.m. to 4 p.m. at last report).
The hatchery is about 10 minutes north of Moses Lake, off Road K NE.
Columbia River
The county's longest section of the Columbia runs through Wanapum Pool and Priest Rapids Reservoirs, neither of which offer the same high levels of fishing that river sections below and above the county provide.
However, the river through Central Washington is home to good numbers of smallmouth bass, walleye and other species, and these sections would have these fish as well.
The northern tip of Grant County runs up to the Columbia at Grand Coulee Dam and the lowest section of Lake Roosevelt, Washington's largest reservoir and one of the state's most diverse fisheries.
More: Columbia River Fishing
Crab Creek
This stream flows through both Adams and Grant counties, in spots offering access to modest to fair numbers of brown, brook and/or rainbow trout, with some smallmouth bass and carp in the lowest reaches.
Deep Lake
This is a spot where you can catch kokanee in the trout-dominated Sun Lakes State Park area located south of Banks Lake.
While fishing for the landlocked sockeye salmon can be quite good in the 100-acre lake, if a bit off-the-radar, Deep Lake joins its neighbors as also being a spot to catch plenty of hatchery rainbow trout.
The rainbows are stocked both in the fall and spring, helping power this very nice fishery, especially early and late in its fishing season. The lake opens in late April and closes after October.
There is a boat launch and a trail leading to some nice bank-fishing spots located on the west end of the lake, reached from State Park Road.
Deep Lake is located at the east end of the popular Sun Lakes-Dry Falls State Park, just southwest of Coulee City.
Delaney Springs
This small spring creek is stocked with a small number of young Eastern brook trout.
The springs are located in the Camp Delaney area within the Sun Lakes-Dry Falls State Park.
Drain 239 and Drain 265
If ever a name evoked a sense of idyllic fishing in a tumbling mountain brook on a perfect spring day … OK, "Drain" isn't it.
However, these two irrigation canals supporting the rich farmlands near Quincy are nonetheless stocked with thousands of juvenile trout of multiple species.
At last check, you could catch rainbow, brown, brook and tiger trout in these connected waterways.
So, close your eyes and cast away!
Dry Falls Lake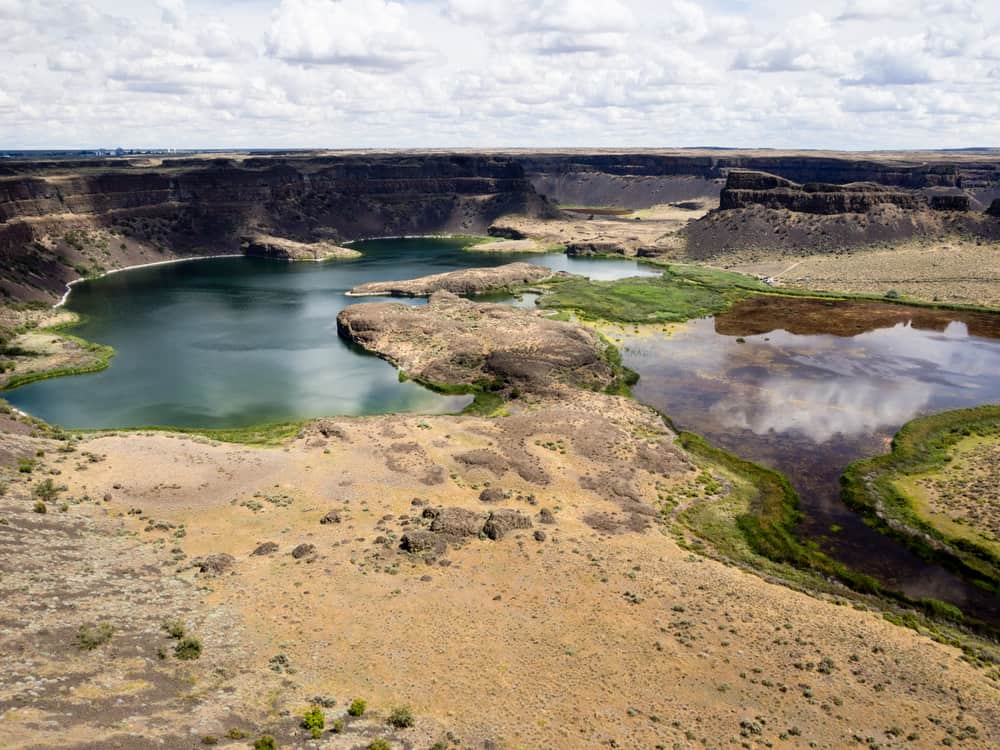 This is an exceptional fly fishing destination for really big trout.
Dry Falls Lake is located just below Banks Lake in the fishing mecca that is Sun Lakes-Dry Falls State Park.
To help promote its trophy fishing qualities, Dry Falls Lake not only has selective gear rules but also a strict limit of one trout at least 18 inches in length. Lures may be used but must be barbless like the flies.
The nearly 100-acre lake is stocked with a good number of rainbows as well as smaller numbers of brown and tiger trout. Trout run bigger than average, often in the teens.
It is open to fishing from March through November, with the best fishing in the spring and fall.
Summertime fishing is tougher here, and trout caught in higher water temperatures are more likely to die even when released carefully.
More: Dry Falls Lake Fishing
Dune Lake
This small lake near Moses Lake is stocked with a modest 800 young rainbow trout, but with very restrictive limits here, it has the potential for excellent catch and release and perhaps bagging a single large fish.
It's open all year.
Sedge and Tern lakes are in the same vicinity and are managed with the same rules as Dune Lake, so plan to hit all three for the potential of landing (and mostly releasing) large trout.
Dusty Lake
This Quincy-area lake is stocked with young rainbow, brown and tiger trout.
It opens on March 1 but may get off to a slower start with colder water than nearby lakes. It usually gets going pretty well later in the spring.
This is a walk-in lake, but you'd do well to pack in a float tube or pontoon boat because bank fishing success is pretty tough and most fish are caught from out on the water.
The lake is located in the WDFW's Quincy Wildlife Refuge.
It's about a 20-minute drive to the parking area (not counting the hike in to the lake) heading southwest of Quincy or a similar drive northwest from George on U.S. 90.
Evergreen Reservoir
One of the larger lakes in the Quincy Wildlife Recreation Area, Evergreen is distinctive in part because it is among a handful of lakes across Washington planted with tiger muskies.
The lake also is fished for bass, walleye and various panfish species.
Unlike several of its neighboring lakes, Evergreen is not currently on WDFW's trout stocking schedule.
Fishing tends to fall over later in the season, when the weeds are thick and the water level is likely down.
Frenchmen Wasteway
WDFW drops a little bit of everything from the hatchery into this irrigation waterway located west of Potholes Reservoir.
It is stocked with young rainbow, brook, brown and tiger trout, to the tune of a thousand to several thousand of each species.
Grant County officials suggest that trout fishing is under-used and that the quality of fishing can rival Rocky Ford Creek in terms of sight fishing for large trout.
They report that the stocking generally occurs in "drains" that meet below Dodson Road and that anglers can access bank-fishing spots in different areas along the waterway.
The trout fishing here is usually best in the cooler months, from about September through March.
Frenchmen Wasteway and its associated ponds and sloughs also can be good for bass and other warmwater species found throughout the region's irrigation waterways and reservoirs.
Bass, panfish and walleye are likely to really start biting in spring, about the time trout fishing tends to taper off a bit in the waterway.
Gloyd Seeps
At last check, these seep lakes north of Moses Lake have actually been stocked with Eastern brook trout instead of the rainbows typically planted in the majority of seep lakes to the south of Potholes Reservoir.
Trout stocking hasn't always been consistent here.
These seep lakes, really more of a stream, are located in the Gloyd Unit of the North Columbia Basin Wildlife Area, near the tiny community of Gloyd and the Grant County airport.
Harris Lake
This largest (40 acres) lake in a grouping of seep lakes west of Potholes Reservoir is moderately stocked with young rainbow trout for anglers looking for larger fish.
Note that this lake has selective gear requirements and a one-trout (minimum 18 inches) daily harvest limit.
The lake requires a 2-3 mile hike and doesn't typically see the same level of pressure as the larger cluster of seep lakes south of Potholes.
Some sources have also reported the presence of warm water fish.
Collectively the lakes are sometimes known as Harris Desert Lakes. You can camp at the Harris lakes.
Homestead Lake
This lake north of Moses Lake definitely isn't the place to fill a stringer with trout, but there are 20-plus inchers in this smallish lake.
WDFW stocks this water with fairly generous numbers of rainbow, brown and tiger trout, and promotes the growth in part with selective gear rules that prohibit bait and barbed hooks.
There also is a one-trout limit (18 inches and above), so most fish are caught and released.
You need to walk about a half mile to reach the lake after driving west and parking at the end of Road 14, after turning west from Stratford Road a couple miles north of Gloyd.
Lenice, Nunnaly and Merry Lakes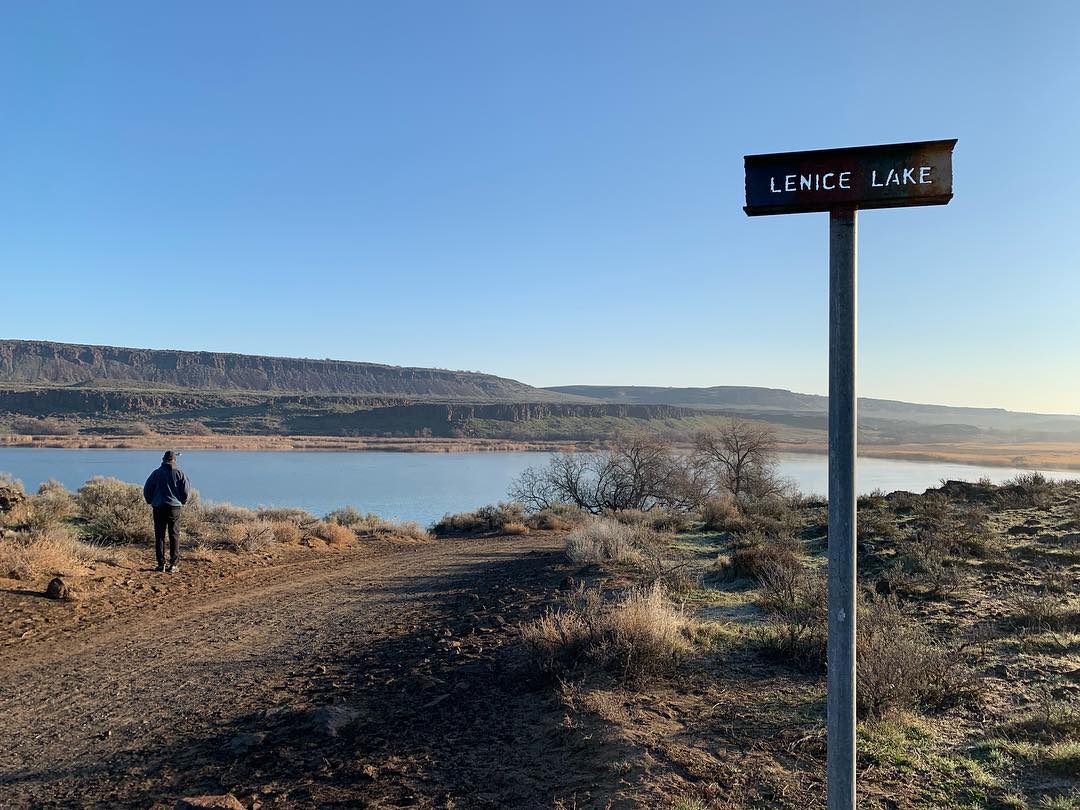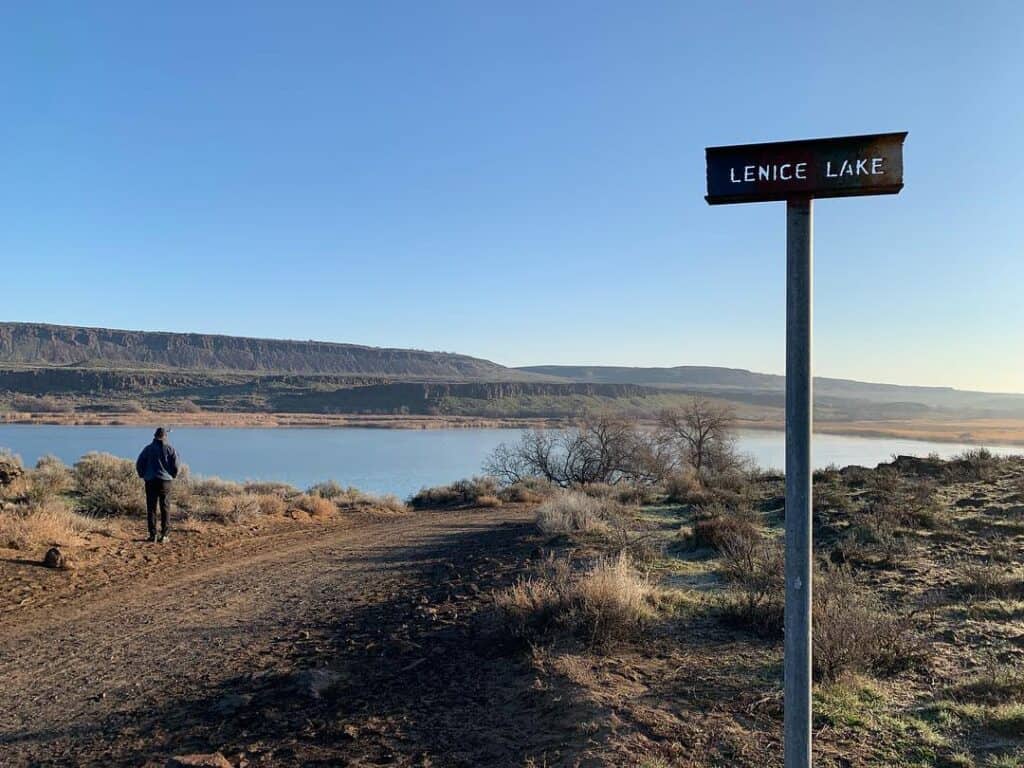 This trio of primarily fly fishing lakes is famed as one of the better places to do battle with broad-shouldered rainbows in a rich, desert lake.
Lenice and Nunnaly are the larger of the trio and the two that are typically stocked with good numbers of small rainbow trout a couple times each year, so the main focus is on those two.
These lakes aren't at all a secret among Washington fly fishers (sometimes an entire fly fishing club shows up) and therefore can be fairly heavily fished during peak seasons.
However, selective gear rules, very restrictive bag limits, and lots of catch and release angling typically results in pretty good fishing. Oh, and no internal combustion motors are allowed.
The string of lakes are located north of Mattawa, not far east of the Columbia River.
More: Fishing at Lenice, Nunnaly and Merry Lakes
Lenore Lake
Also called Lake Lenore, this 1,400-acre lake is Washington's most famous Lahontan cutthroat trout lake.
These special trout thrive in Lenore's very alkaline waters, where other species of trout can't live.
Trout here must be at least 18 inches to keep, and only one of those may be taken per day.
Lots of anglers release them and trout here will somewhat often top 20 inches and every once in a while push into the 30-inch range, which is the size of a nice steelhead.
Other rules limit anglers to artificial flies and lures with a single, barbless hook. It's popular with fly anglers.
No internal combustion motors may be used, but a boat will serve you well.
Read the regulations for specific areas where fishing is prohibited.
More: Lenore Lake Fishing
Martha Lake
Not surprisingly located near George, Martha Lake is one of those places where you have a very good shot at bringing home a limit of trout, especially early and late in the season.
Martha Lake opens early at the beginning of March and should start producing right off the bat, thanks to plantings of both legal-sized and young rainbows in this smallish lake.
The fishing success will be especially excellent in about April and October, when it's common for WDFW to add additional trout.
Most of the trout here are a nice 11 to 13 inches, but holdover fish can get significantly bigger, with 20-inchers sometimes landed.
Martha Lake is right off Interstate 90 just over a mile northeast of George and has excellent angling access.
Moses Lake
This lake in the city of the same name offers some of the region's better fishing for walleye and smallmouth bass.
It also offers fewer but good-size largemouth bass as well as periodically good fishing for panfish including crappie, bluegill and yellow perch. However, check the annual regulations for special limits for panfish species.
The lake isn't consistently stocked with trout, but there are rainbows to be had.
If the lake freezes over hard enough, ice fishing for schooled perch and perhaps the occasional trout or walleye can be pretty tempting.
More: Moses Lake Fishing
Northrup Lake
This very small lake near Electric City is popular with fly anglers who hike into the lake from Northrup Canyon State Park.
The trout here are stocked as young fish but are often good size by the time anglers hook them, with many in the 12- to 16-inch range.
Northrup Lake is located just east of the northern part of giant Banks Lake.
Nunnaly Lake
This is among a handful of premiere trout fishing lakes in the region, teaming with Lenice Lake (and to a lesser degree little Merry Lake) to offer sometimes incredible desert trout fishing.
See the Lenice Lake entry for more information and a link to a full-length article.
Park Lake
This nearly 350-acre lake in the Sun Lakes-Dry Falls State Park area offers simply superb early season catch rates for stocked trout and is a popular fishing and camping destination for visitors from all parts of Washington.
The seasonally open lake is similar to Blue Lake, separated only by a road and sharing many of the same characteristics and some fish populations.
Like Blue Lake, Park is stocked with a huge number of young rainbow trout as well as more modest numbers of young brown and tiger trout.
The lake tends to be treated about once each decade as the populations of unwanted fish build up, reducing the lake's incredible productivity for growing trout.
More: Park Lake Fishing
Perch Lake
You might think a place named Perch Lake would offer good fishing for perch.
Instead, Perch Lake is quite a good little fishery for rainbow trout, which are stocked young but grow to very nice sizes, including occasional fish to 20 inches.
Perch Lake is only about 15 acres but is in the very popular Sun Lakes-Dry Falls Lake State Park.
Specifically, it is near Vic Meyers Lake and those two smaller lakes are between Park and Dry Falls lakes.
Perch Lake opens in late April and offers excellent bank fishing access and also can be quite good if you have a float tube, pontoon boat or other small watercraft.
Potholes Reservoir
This sprawling reservoir loaded with cover is one of just a handful of Washington locations that can make a great argument as the best warmwater fishery in the state.
Many Potholes anglers come for both species of bass (largemouth and smallmouth) as well as for walleye.
The other big draw for anglers is a very good rainbow trout fishery which is supplemented with tens of thousands of young hatchery trout, many of which are further raised in net pens at MarDon Resort.
Trout fishing tends to be best during the cooler months, ramping up in the fall, staying good in the winter and continuing on until the cool spring days give way to hot summertime conditions.
There also are the usual panfish species, particularly black crappie, yellow perch and bluegill, and at times fishing booms for one or more of these tasty smaller fish species. Pay attention to special limits for panfish.
Potholes is truly a year-round fishery, so even when it occasionally ices over with a thick enough cover, anglers will pull trout, walleye and yellow perch and occasionally other species through holes in the lake.
There are numerous public access spots and MarDon is among the more popular fishing-oriented resorts around.
The Lind Coulee Wasteway, connected to the southeast side of Potholes, at times offers excellent fishing for many of the same species found in the main reservoir, including some very good winter trout fishing for large rainbows.
More: Potholes Reservoir Fishing
Quincy Lake
This modest-sized lake in the wildlife refuge of the same name is quite a good bet for early season trout fishing, starting with its early opener on March 1.
At least decent and sometimes quite good fishing should continue through most of spring before things slow down in warmer conditions.
This is a popular fly fishing lake, with some trout to 20 or more inches caught and released to fight again.
Bank and boat fishing access is very good.
Other lakes in this area are Burke, Evergreen and Stan Coffin.
Quincy Walk-In Lakes
This cluster of small lakes is located west of Evergreen Reservoir, within the WDFW's Quincy Wildlife Area.
Several lakes are stocked with hatchery rainbow trout, typically as young fingerling or fry size, and then grow into keepers in the lakes.
As you might expect from the name, you'll need to walk to them, but the potential to catch trout in the 20-inch range is some good motivation.
You can fish several of the small lakes in the same trip, looking for the best producer as the fishing frequently varies from lake to lake and year to year.
The lakes planted with trout are often only an acre or two in size and based on WDFW stocking schedules are likely to include Cliff Lake, Crystal Lake, Cup Lake and Spring Lakes.
To reach these lakes, go to the western access on Evergreen Reservoir, where a modest trail system will lead you from the parking area to the smaller lakes to the west.
The access is 20-25 minutes from either Quincy or George.
Rocky Ford Creek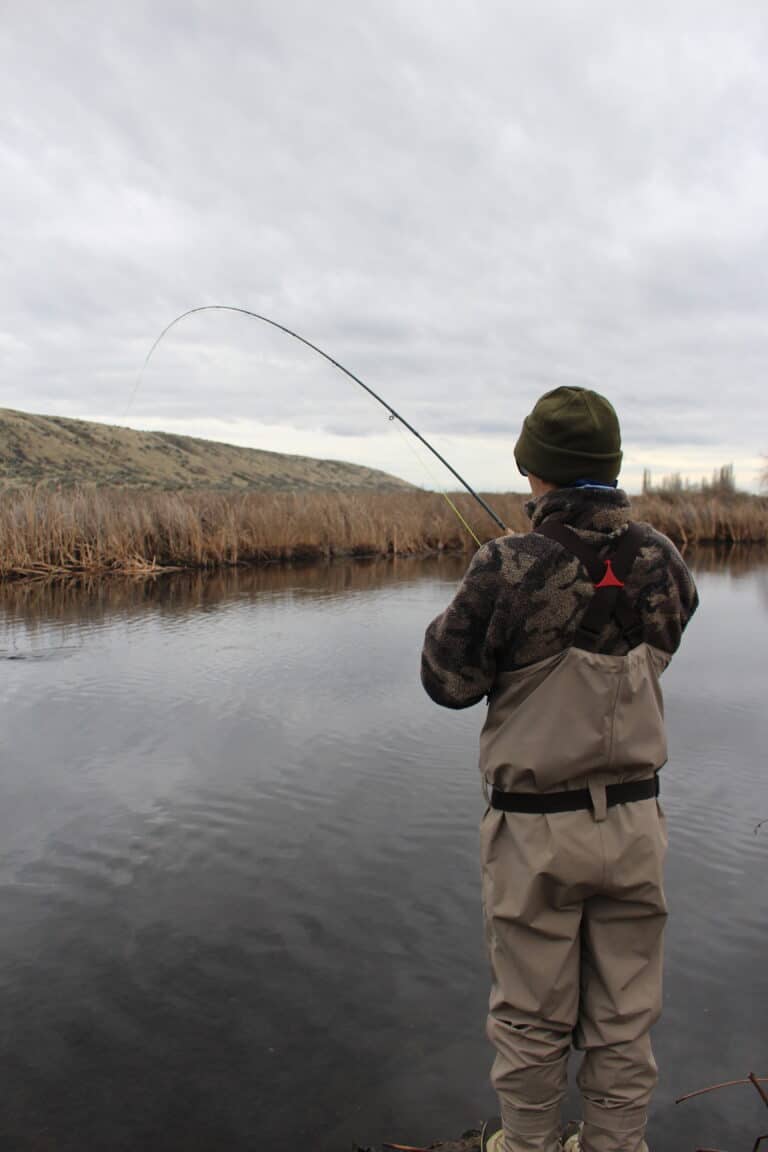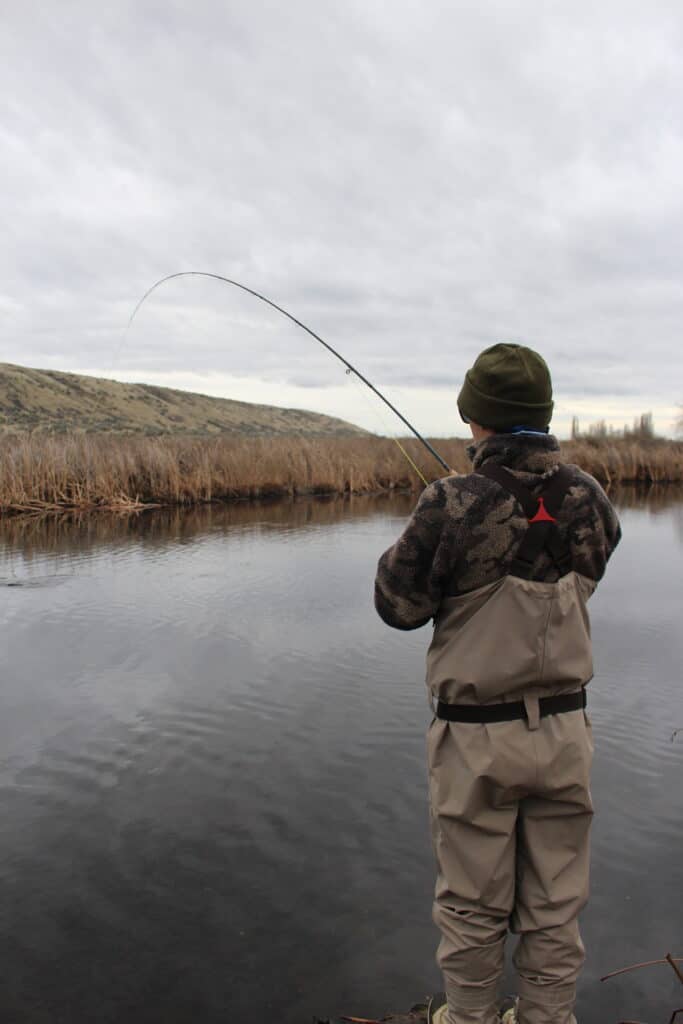 This is one of Washington's most famous fly fishing streams, even though it's fishing area is quite short.
The spring creek's sometimes huge and usually wily rainbows can be tough on beginners, but fly anglers of all skill levels keep coming back.
More: Rocky Ford Creek Fly Fishing
Seep Lakes
While the term seep lakes also can apply to other waters seeping into them from other sources, the area south of Potholes Reservoir (O'Sullivan Dam) is often specifically known as the Seep Lakes and offers an incredible concentration of these rich lakes, many of which are generously stocked with trout.
We've collected many of the best lakes into a separate article.
More: Seep Lakes Fishing
Soap Lake
Don't bother fishing here: This sudsy lake (which shares a name with a town on its south end) has too high of a natural PH for game fish to live here.
Stan Coffin Lake
This approximately 50-acre lake in the Quincy Wildlife Recreation Area is managed for warmwater fishing.
Stan Coffin can be especially good for largemouth bass, bluegill and channel catfish (there are barrels placed in the lake to encourage the catfish to spawn in them).
Other sources suggest you might also catch crappie, brown bullhead and perhaps a walleye or two.
Vic Meyers Lake (Rainbow Lake)
At only 10 or 12 acres, this is a small lake compared to the big waters in Sun Lakes-Dry Falls State Park, but don't let size fool you: The seasonally open lake is very nicely populated with trout.
WDFW stocked Vic Meyers Lake (also commonly called Rainbow Lake) with good numbers of rainbows in several sizes and also plants it with other trout species that may include brook and brown trout.
If you're bank fishing, this could be one of your better bets in the state park, as bank access is simply excellent here, thanks in part to a dike structure that stretches far into the lake and allows anglers to fish much of the water while standing on dry land.
That's not to say that a float tube or other small watercraft won't get you to even more fish, but it's not the same level of advantage here that boats are elsewhere.
The lake is just east of Park Lake and a short walk from the eastern end of the Sun Lakes State Park Campground.
Fishing in Adams County
Cow Creek
This tributary of the Palouse River is home to trout including rainbows, browns and brookies, with the best prospects in the spring before the water gets too low.
Access is somewhat sparse.
Cow Creek feeds Cow Lake and several other lakes with varied fisheries.
Cow Lake
This spot east of Ritzville is a pretty fair-sized lake, at over 200 acres, with fisheries for both trout and warmwater species.
The trout are stocked as catchable rainbows to the tune of about 5,000 once the weather cools off in the fall, typically around October.
Those trout should provide pretty fair action when the weather allows into the following spring.
Warmer months will bring out the better bites from warmwater fish, including decent prospects for largemouth bass and bluegill and an opportunity to catch grass pickerel, a small but aggressive member of the pike family found in pretty good numbers here.
Other species you are fairly likely to catch here include abundant brown bullhead catfish and potentially some black crappie.
Some sources note that Cow Lake may also hold walleye, channel catfish and yellow perch, although WDFW doesn't list those three species among the lake's population.
Cow Lake is one of the larger waters formed along Cow Creek.
There is a public access where you can drop a boat in on the north side of the lake, off Cow Lake Road, near where Cow Creek connects to nearby Hallin Lake.
Fourth of July Lake
This wintertime lake popular for ice fishing is split between Adams and Lincoln counties.
See our entry in the article for Spokane, Whitman and Lincoln counties.
Hallin Lake
This wide spot in Cow Creek is neighbors with Cow Lake but isn't stocked with trout like the bigger lake.
Fishing here is primarily for warmwater species, with potential for largemouth bass, bluegill and perhaps other fish.
Palouse River
This stream's lower section on the boundary of Adams County is best fished for smallmouth bass during the late spring and early summer.
Sprague Lake
This lake with excellent potential for both trout and warmwater angling is shared with Lincoln County and is within fairly easy reach of the Spokane area.
More: Sprague Lake Fishing
Fishing in Neighboring Counties
Chelan and Douglas Counties: To the northwest, the fantastic Lake Chelan and lots of other places to catch trout, bass, inland salmon and more near Wenatchee.
Lincoln County: to the east and north, this rural farming county has access to destination fisheries in the big Sprague Lake and massive Lake Roosevelt, in addition to some nicely stocked smaller lakes.
Benton and Franklin Counties: To the south, the Tri-Cities area offers some outstanding fishing in the mid-Columbia and lower Snake rivers and some nicely stocked lakes.
Yakima County: To the southwest, the eastern slope of the Cascades offers lots of trout, kokanee and other fish in lakes and rivers in the Yakima River drainage.
Kittitas County: To the west, famous fly fishing water on the Yakima River and lots of lakes stuffed with trout and other game fish near Ellensburg.
Washington Resources
WDFW Fishing and Stocking Reports
WDFW Fishing Regulations
National Weather Service forecasts