Some of the best stillwater fisheries in Washington, Lenice, Nunnally and Merry Lakes were created by accident.
When the O'Sullivan Dam was constructed in 1949, initially built to regulate the flow of Crab Creek and help irrigation efforts in this rich Central Washington farmland region, dozens of lakes – called seep lakes – formed in the Washington Desert as a result.
These so-called seep lakes ended up being excellent habitat for trout, which have thrived in them ever since.
Lenice, Nunally and Merry Lakes are a chain of seep lakes that offer some of the best fishing for large trout in Washington.
The Washington Department of Fish and Wildlife requires anglers at all three lakes to adhere to selective gear rules, meaning only barbless, single hooks on your flies and lures, and absolutely no bait-fishing allowed. Fishing is allowed March through November.
Trout Fishing on Lenice Lake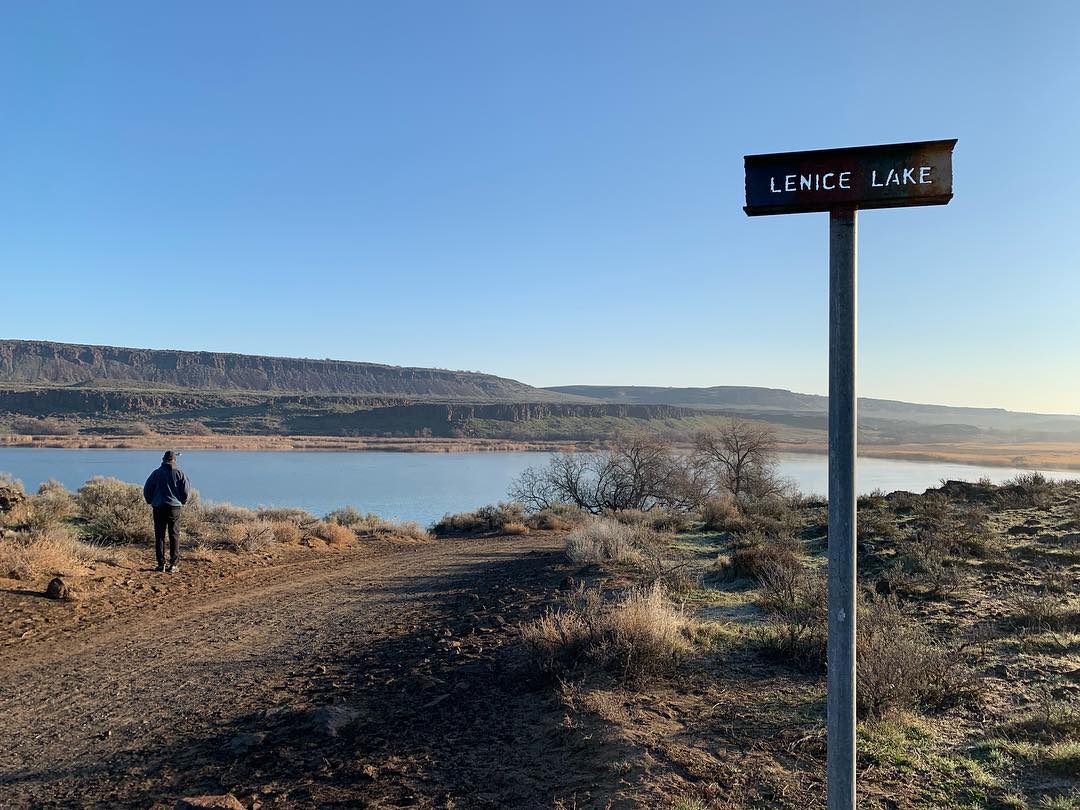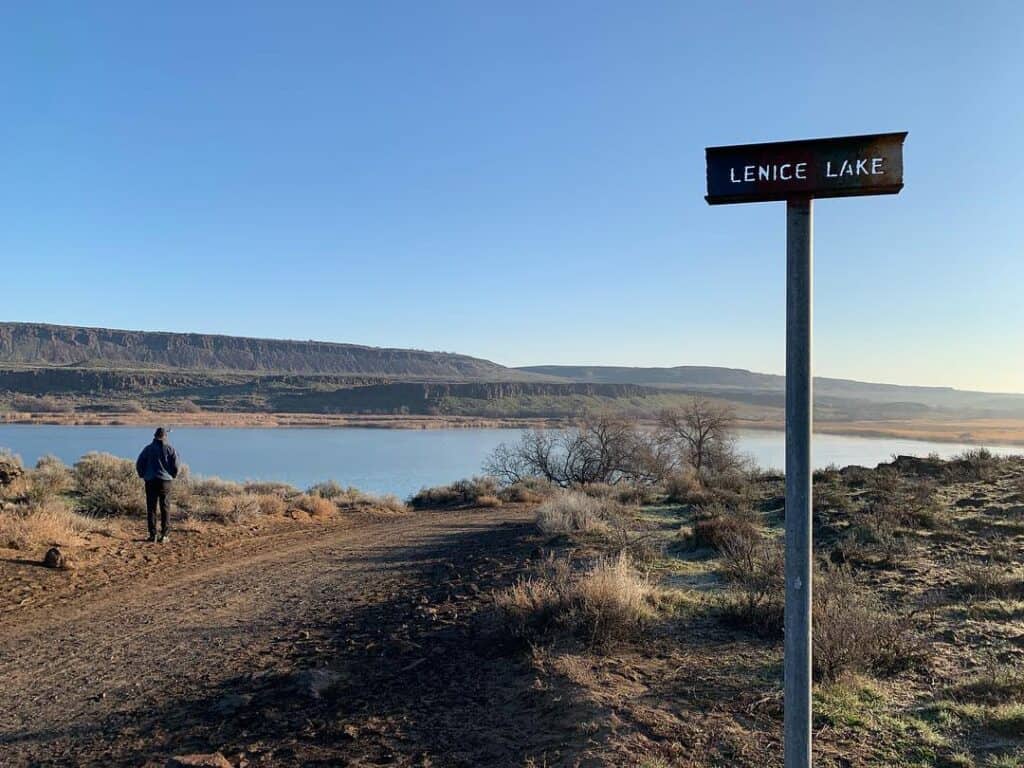 The most popular of the three, Lenice Lake is known for its healthy population of big rainbows, many surpassing 20 inches long.
Fly fishing is the name of the game at Lenice Lake, and many fly fishing clubs hold outings here during the year. These events can make the lake a very busy place at times, so if you can, try to time your trip appropriately.
Lenice Lake is unique in that it is a fairly small lake of under 100 acres, yet it offers a variety of different opportunities.
The shoreline areas of the lake – in addition to the east side of the lake – are fairly shallow, and offer great sight fishing opportunities.
Callibaetis hatches tend to be the most common on Lenice, and it has one of the best opportunities among the three lakes to catch trout from the bank.
Stripping wooly buggers and damsel nymphs along the shoreline produces as well.
If you can get into a pontoon or float tube, the deeper portions of the lake are excellent for trolling streamer and leech patterns.
Brown trout are also present in Lenice Lake, but they're much more rare than the rainbows. Look to catch the bigger browns on wooly buggers and bigger leech patterns trolled through the depths of the lake.
Trout Fishing on Merry Lake
Merry Lake, being the smallest and shallowest of the three lakes, is the least popular.
It does historically have populations of trout to catch, however this lake isn't always on the state's stocking schedule and trout are not as numerous or big as they are in the other lakes. The hatch activity isn't quite as great, either.
This lake is also the most difficult to get to, as there is no road leading to it. A hike west from Lenice will get the job done if you're persistent, though.
If you don't mind a short hike and fewer fish, though, Merry Lake can be a blast if you find willing trout, and makes for a great escape when Lenice Lake is packed with anglers.
The same techniques that work on Lenice Lake work on Merry, but keep in mind that the lake is very shallow, so you don't need the same sinking lines that you might on Lenice.
Trout Fishing on Nunnally Lake
At just around 120 acres, Nunnaly Lake is the biggest of the three sisters, yet doesn't receive quite the same amount of pressure as Lenice.
This is for some of the same reasons that Merry Lake isn't as popular; the fish aren't always as big or as numerous in Nunnally, and the hatch activity isn't quite the same.
Nonetheless, Nunnally Lake (sometimes spelled Nunnaly) is well stocked and can be a fun time to fish, and its size and lack of popularity almost guarantee you some good solitude out on the water.
Callibaetis dries, pheasant tail nymphs, damsel nymphs and wooly buggers are some of the go-to patterns on Nunnally Lake.
Location and Access
One of the advantages of these three lakes is that they're all right next to each other.
If you're not having luck on one of the lakes (or if, as it can be so often, Lenice is packed with people), you can pick up your float tube and head over to one of the adjacent lakes to try your luck there.
The lakes are just east of the Columbia River community of Beverly, about a 70-mile drive northeast of Yakima and about 150 miles southwest from Spokane. They are within an easy reach of Ellensburg, Moses Lake and the Tri-Cities.
There are roads to both Lenice and Nunnally Lakes, which have improvised boat launches. If you want to make a day of it, bring two cars and park one at Nunnally and the other at Lenice, then make your way across the three lakes!
Being the middle lake and away from roadways, Merry Lake is the toughest to access, but it's just a short hike from either Nunnally or Lenice Lake.
Bank fishing is possible at the three lakes, but you'll be significantly more successful if you have a float tube or pontoon to fish from.
If you are confined to the shore, try looking for rising fish and targeting them. You can also give Merry Lake a shot, as it's the smallest and is somewhat easier to bank fish.
Though they may have been created by accident, these three lakes are managed very well by the WDFW and continue to offer some of the most productive trout fishing in Washington.
When the fishing is on, it doesn't get any better than trout fishing in the high desert.
Find more fishing spots in Grant County
Washington Resources
WDFW Fishing and Stocking Reports
WDFW Fishing Regulations
National Weather Service forecasts
Carter Reschke is a freelance writer based in Oregon. Passionate about the outdoors, Carter is a fly fishing aficionado and spends his days on the river when he's not writing.