Home to Ellensburg and the famous Snoqualmie Pass, Kittitas County also has many choice fishing lakes, rivers, streams and ponds.
Kittitas County includes the upper Yakima River, easily one of the best trout rivers in Washington and among the premiere rainbow trout fly fishing rivers in the West.
While trout are found in every direction, including lots of stocked fish in lakes and ponds, Kittitas County also has excellent opportunities to catch land-locked salmon (kokanee), bass and panfish, and other game fish.
Kittitas County is located in the center of the state, tucked between the Cascade Mountains and the Columbia River, and within a few hours of both Seattle and Spokane.
Central Washington University is in Ellensburg, and other cities in the county are Cle Elum, Kittitas and Roslyn. The latter is where the classic (and wacky) TV series "Northern Exposure" was filmed.
The county includes slices of Snoqualmie National Forest and the Wenatchee Mountains (part of the Cascade Range).
This article describes some of the better fishing spots near Ellensburg and the rest of Kittitas County, with links to more information.
And while Kittitas County offers an amazing variety of top-notch fishing spots in its own right, we also suggest that you'll get more from your fishing by getting to know more great spots to wet a line.
Once you've read about all of the Kittitas County spots, make sure you also take a gander at the "Fishing in Neighboring Counties" feature that is your connection to the bountiful fishing spots elsewhere in this fish-filled region.
Cle Elum Lake
This large reservoir on the Cle Elum River is most often fished for kokanee and lake trout, although extreme water fluctuations put a big damper on the lake's fishing potential.
While this 2,500-acre reservoir, which inundated a smaller natural lake, once was stocked with kokanee like nearby Kachess and Keechelus reservoirs, WDFW ended the practice several years back as part of an effort to restore runs of anadromous sockeye salmon.
That restoration program also came with size limits for the kokanee, which must be 9 to 15 inches to keep (to protect anadromous sockeye adults and smolts). You can keep five kokanee in that size range. Check those regs for updates before fishing, though.
Lake trout, also known as mackinaw, can reach 20 or more pounds here.
WDFW encourages anglers to keep these non-native char species to help cut their predation on the sockeye.
Trout aren't stocked these days, but besides the lake trout, WDFW lists rainbow, cutthroat, brook, brown and bull trout as potential catches.
While most of those trout species can be harvested under typical state regulations, know your fish because bull trout are strictly protected and must be released unharmed.
Another interesting fish you can target here are burbot, also known as freshwater lingcod, which are found in several of Washington's big reservoirs and lakes.
There also are mountain whitefish.
While it's legal to fish all year, be sure to come to Cle Elum Lake during the late spring to early summer. At some point in the summer, the irrigation drawdowns almost certainly will take the water level below the end of boat launch, leaving you high and dry for these primarily boat fisheries.
Cle Elum Lake is only about 10 miles northwest of Cle Elum (through Roslyn) on State Route 903.
Cle Elum River
This accessible stream offers a modest trout fishery on both sides of Cle Elum Lake, and also offers one of the region's wintertime whitefish options.
The river's native rainbow and cutthroat trout must be released below the dam, although you could keep any brook trout you might find there.
Above the dam, typical trout limits apply, and selective gear rules (including no bait and barbless hooks) apply to the entire stream.
The lower river also is open to fishing for whitefish from December through February, with Washington's special whitefish rules in effect at that time.
Columbia River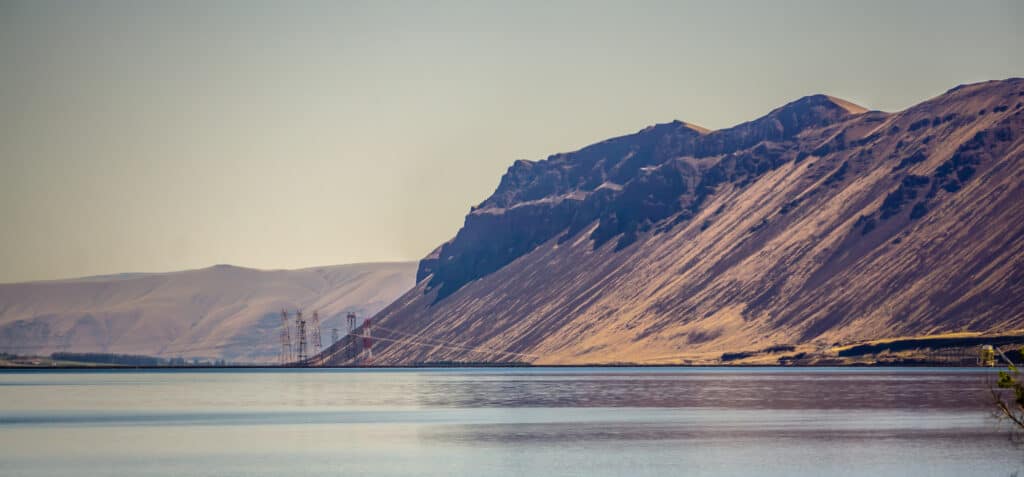 The Columbia River forms the eastern boundary of Kittitas County.
Overall the big river is home to a wide variety of fisheries.
Columbia River game fish species in this area include natives such as salmon, steelhead and sturgeon, but pay close attention to regulations for these species.
The Columbia also generally offers some outstanding fishing for several introduced species including walleye and smallmouth bass.
A lot of the attention on this section of river is focused below Wanapum Dam, which can be good for salmon when the runs are good. The major focus here will usually be on summertime sockeye and then on big kings in the late summer and early fall.
Above the dam, Lake Wanapum forms the majority of Kittitas County's east border.
For so much water, the reservoir itself is fairly lightly fished but does have bass, walleye and other species.
One issue is that it's not super accessible for recreational visitors, with limited shore access and lots of water for boats trying to find fish. The wind can get pretty fierce as well.
More: Columbia River Fishing
Cooper Lake
This popular lake of more than 100 acres is often fished for the plentiful rainbow trout planted here.
Cooper Lake is located in the Alpine Lakes Wilderness area, past Cle Elum Lake and roughly 45 minutes driving northwest from Cle Elum.
This mountain lake (almost 3,000 feet) is stocked annually in May and June with about 5,000 catchable rainbow trout, sometimes including fish over a pound each.
While rainbows are the major catch, the lake also has been known to give up some brook, brown, cutthroat and bull trout. The bull trout are protected and must be carefully released if caught incidentally.
Cooper Lake also has some kokanee.
You can launch a boat from the bank but all motors are prohibited by county ordinance.
Owhi Campground is located at Cooper Lake, which is formed by Cooper River.
Cooper River
This Cle Elum River tributary offers a variety of native and non-native trout species both above and below Cooper Lake.
It is open seasonally and selective gear rules and statewide trout bags are in effect.
The river below the lake is easy to reach from a Forest Service road, while fishing the upper river largely requires some hiking.
Species you may encounter include natives such as rainbows, cutthroat and protected bull trout. Non-native brook and brown trout may also appear in your catch.
Easton, Lake
Lake Easton is a roughly 200-acre reservoir on the Yakima River and has the same regulations as this part of the river, including catch-and-release fishing for rainbow and cutthroat trout.
Honestly, unlike Easton Ponds, this larger water is not stocked and trout fishing is pretty slow here most of the time.
It's also closed to fishing for salmon, steelhead and bull trout.
What you can keep are brook trout and mountain whitefish.
Easton Ponds
These easily accessible gravel-pit ponds near the community of the same name are best fished for rainbow trout in the spring and early summer.
About 6,000 catchables and several hundred much larger trout are typically stocked between May and June.
Shoreline access is good.
Easton Ponds are adjacent to Interstate 90 at Exit 71, a few minutes from Easton.
FioRito Lakes
This 40-acre North FioRito Lake is the most popular of the pair, as it is nicely stocked with rainbow trout.
Over 9,000 catchables and 600 jumbos have been stocked at North FioRito Lake between March and May in recent years.
Brood stock rainbows in the 6- to 12-pound range may be stocked in late fall, so watch for recent reports for these larger fish.
Both North and South FioRito Lakes also have warmwater fishing, including crappie, sunfish, bass, yellow perch and carp.
South FioRito Lake has been stocked in the past but no longer has trout.
FioRito Lakes are located about 12 minutes southeast of Ellensburg, alongside I-82 accessed via Thrall Road. Good shoreline access is along the west end of the lake, while some other areas are privately owned.
No camping or internal combustion engines are allowed.
Kachess Lake
Kachess Lake is a kokanee and trout fishing reservoir of over 4,500 acres, located about five miles west of Cle Elum Lake.
Kachess Lake is stocked with almost 400,000 kokanee fingerlings in June and about 200,000 cutthroat trout fry planted in September.
The kokanee you'll catch are typically pan-sized, many in the 8- to 12-inch range, and the fishing for these land-locked sockeye salmon usually is good by early June.
While the kokanee here aren't huge, their numbers earned Kachess Lake (and nearby Keechelus Lake) a spot on our Best Kokanee Fishing Lakes in Washington.
Trolling or still fishing is effective for kokanee and chumming is permitted.       
Trout anglers will likely mostly catch the cutthroats once they grow to legal size, although you might also find the occasional rainbow trout in your catch.
Note that trout must be at least 14 inches to keep, and two per person is the maximum.
There also are some protected bull trout, which must be released unharmed.
Besides the salmon and trout, aficionados of "freshwater lingcod" will work Kachess's depths for burbot.
There is a U.S. Forest Service campground and boat launching facilities.
Kachess Lake is best fished in the late spring and early summer, as reservoir drawdowns will leave boaters without a working launch.
Kachess is about 20 miles west of Cle Elum..
Keechelus Lake
This large and very visible reservoir near Snoqualmie Pass is a year-round fishing spot best known for kokanee.
At over 2,500 acres Keechelus Lake is stocked with 250,000 kokanee fry each spring, and they grow to pan-sized keepers in the reservoir.
Rainbow and cutthroat trout and burbot are also taken.
Keechelus Lake should be good for 8 to 12 inch kokanee by early June. Anglers often either troll for kokanee or still-fish with bait, and chumming is permitted here to help attract kokanee to you.
Kokanee are the favorite fish to harvest here, but you also can keep two trout at least 14 inches. Bull trout also may bite, but it is illegal to target them and incidentally caught bulls must be released unharmed.
Keechelus Lake is bounded by I-90 and access roads for nearly its entire shoreline, so bank access is plentiful.
However, kokanee and burbot anglers will do better with a boat. Look for the launch on the upper with a boat launch at the upper (nouthwest) end of the lake.
At near pass elevations, caution should be taken if fishing during the winter months due to snow and ice conditions.
Located just three miles southeast of Snoqualmie Pass along the south side of I-90, take the Hyak exit to the boat launch and parking area.
Kiwanis Pond
This 2-acre pond near Cle Elum is regulated to give some anglers a better chance to catch fish.
Kiwanis Pond is stocked with up to a couple thousand catchable size rainbow trout in mid-spring to late summer, when fishing will be best. WDFW is likely to add a couple hundred jumbo trout as well.
Kiwanis Pond is the smallest and most westerly pond in the Hanson Ponds complex near Cle Elum, between I-90 and Whispering Pines Drive.
Unlike the others, Kiwanis Pond is open only to juvenile anglers (under 15 years old), senior anglers (70-plus), and anglers with a disability who possess a designated harvester companion card.
There is good shoreline access around this small pond.
Lavender Lake
Lavender Lake is stocked each spring and early summer with thousands of catchable rainbow trout.
A few hundred larger trout are often added sometime after school lets out.
Lavender Lake is just three miles east of Lake Easton State Park near the north side of I-90. This 20-acre lake has a year-round open season but fishing is best from spring into summer, soon after it is stocked.
While there is private property along the shoreline, look for some bank access near the public boat launch, or reach more fish with your watercraft.
Lavender Lake is just a five-minute drive southeast of Easton.
Lost Lake
This approximately 150-acre lake with the super common name is in the Snoqualmie Pass area.
This Lost Lake isn't heavily stocked, but it has a variety of trout species and small kokanee.
Unless it is stocked with chunky hatchery fish as in some years past, it will be a challenge to find trout at least 14 inches, as you may only keep two of those. We didn't spot any trout plants here on recent state stocking reports.
There are resident brook and rainbow trout in the lake. While most will be well under keeper size, there are some much bigger fish, especially the wily older brookies.
The kokanee don't get big at this lake, with most coming in under 10 inches long.
You can launch a car topper or other carry-in boat from the shore at the east end of the lake, near the U.S. Forest Service access area.
The lake sits at a little over 3,000 feet in elevation and is located south of Snoqualmie Pass and west of Keechelus Lake.
Mattoon Lake
Mattoon Lake is almost 30 acres in size with excellent angling opportunities, especially for stocked trout.
Located three miles southwest of Ellensburg, you can expect to catch 8- to 14-inch rainbow trout from early spring to summer.
At last check, WDFW planned to stock more than 8,000 catchable rainbow trout from March through May. The agency also tends to stock several hundred jumbo rainbows as well.
While that springtime period will be best for catching trout limits, WDFW sometimes will return in the fall to stock a modest number of huge (6-12 pound) rainbow trout broodstock.
Other fish you'll catch here likely will include sunfish, perch and carp, especially during the warmer months.
Mattoon has good bank fishing access, although increasing weeds into summer can hamper access.
There is a boat launch, but internal combustion engines are prohibited. No camping is available.
McCabe Pond
This 7-acre pond in the Helen McCabe State Park near Ellensburg is excellent in the early spring for stocked 10- to 12-inch rainbow trout and some jumbo trout weighing a pound or more.
Almost 2,000 catchable rainbow trout and 200 jumbo trout are stocked March through May.
You can also catch sunfish at McCabe Pond, and you might also land the occasional channel catfish, which have been caught up to 8 pounds.
McCabe is only about a 10-minute drive south of Ellensburg along Canyon Road, and also easily reach off I-82.
All motors (electric or internal combustion) are prohibited on boats and other floating devices.
Milk Pond
This pond near Cliffdell is modestly stocked with several hundred catchable rainbow trout, usually around April and May.
The 5-acre pond is located abut 16 miles from Cle Elum.
Note that there is ample shoreline access when conditions are good, but early season access on Forest Service roads may be poor soon after snowmelt, and the pond's water levels tend to fluctuate year to year.
Naneum Pond
The primary catch at this 4-acre pond are the hatchery rainbow trout stocked around April.
A modest number of larger trout may also be stocked later in the spring.
This is one of the local fishing holes that is open only to juvenile anglers (under 15 years old), senior anglers (70-plus), and anglers with a disability who possess a designated harvester companion card.
The pond is open to qualifying anglers all year, and they generally can catch sunfish after the trout fishing quickly fades heading into summer.
While there is generally good shoreline access, especially during the prime trout fishing season, be aware that the pond is likely to get weedy by late spring into summer, hampering casting access.
Naneum Pond is located about three miles east of Ellensburg off Vantage Highway on Naneum Road.
Naneum Creek flows through the area and offers some fishing for rainbow and cutthroat trout.
Quartz Creek Pond
This 1-acre pond located several miles up the Little Naches River Road off Highway 410 in the Wenatchee National Forest provides a burst of easy trout angling.
Expect catches to be best when the pond is stocked, typically around June, with hundreds of catchable rainbow trout. Fishing will fade pretty fast as those fish are caught and the water gets warm for trout.
There is easy shoreline access with lots of nearby camping along the Little Naches River corridor, more easily accessible from Yakima County. (The pond sits just inside the Kittitas County border that follows the stream.)
Teanaway River
This mountain stream, more of a creek, offers fishing for mostly smallish rainbow and cutthroat trout in its mainstem and forks north and east of Cle Elum.
The mainstem and its forks are fairly accessible, followed by roads and the upper reaches mostly flowing through public lands. The lower reaches go through plenty of private property.
Teanaway Community Forest is more than 50,000 acres in the watershed, which is part of the Yakima River Basin.
Tucquala Lake
You can keep some wild trout in this marshy little lake north of Cle Elum.
The lake isn't stocked, but there are resident rainbow and brook trout in this seasonal fishing spot. You can keep up to two of the native rainbows and as many invasive brook trout as you want.
Tucquala Lake is more or less a wide spot in the Cle Elum River, north of Cle Elum Lake and about an hour's drive up the Cle Elum Valley Road from town.
Find nearby camping at Scatter Creek Campground.
Woodhouse Pond
Woodhouse Pond offers around 18 acres of fishing water, with the best trout catches in the early spring when it is planted with modest numbers of 10- to 12-inch rainbow trout.
However, even after the trout fishing falls off going into late spring and summer, you can switch your attention to the resident populations of warmwater fish, such as largemouth bass, yellow perch, and sunfish.
With a year-round open season, this pond (really several interconnected ponds) has convenient walk-in only access.
It is located about 10 minutes driving south of Ellensburg via Canyon Road and Woodhouse Loop.
Yakima River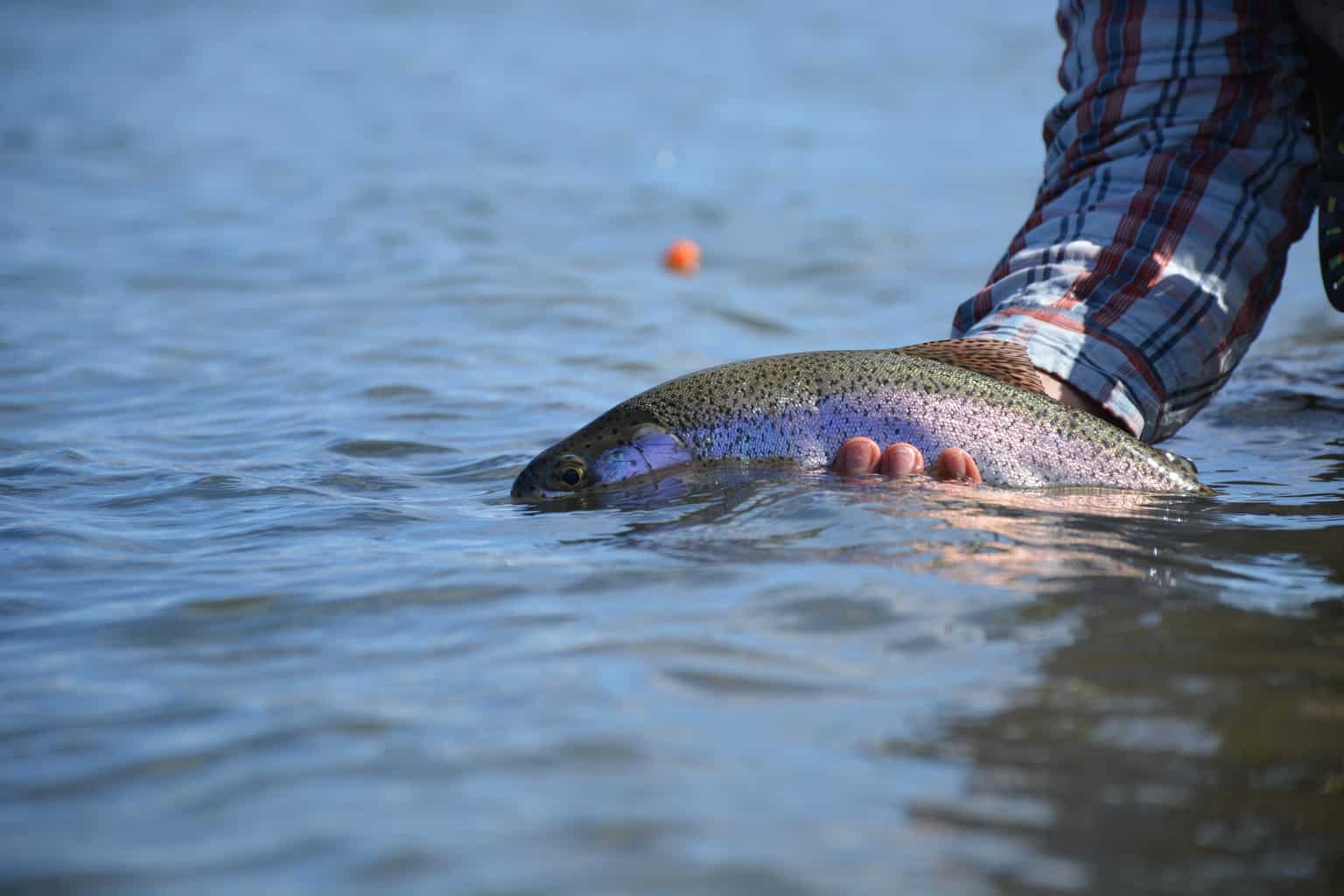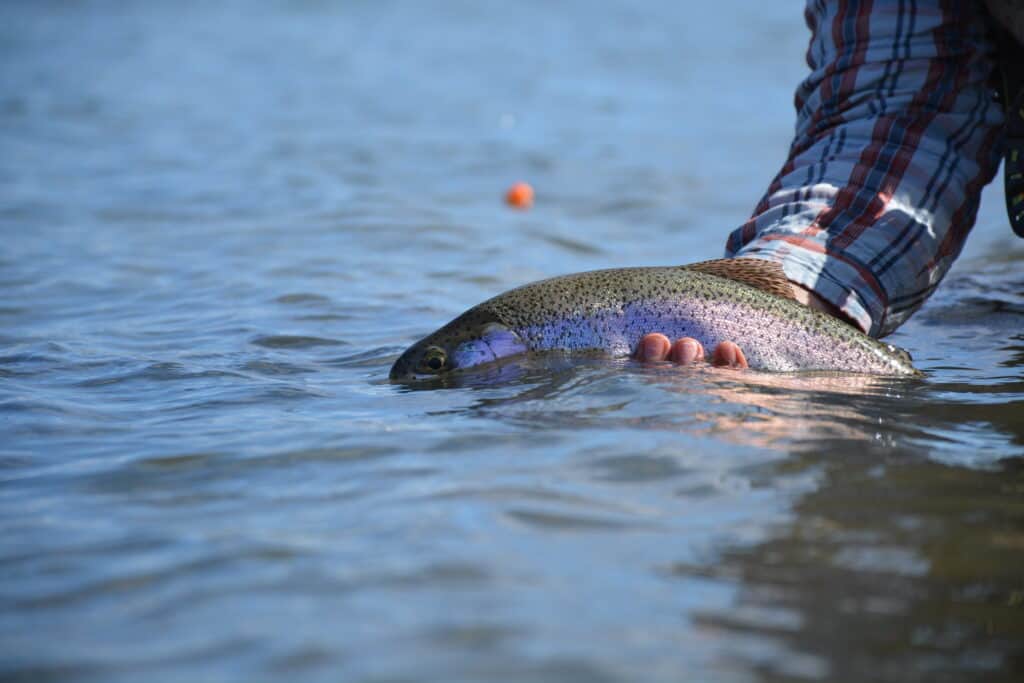 Kittitas County contains the most famous section of the Yakima River, easily one of Washington's best trout streams.
The river above Roza Dam (and a bit below this dam) clear up to Cle Elum offers dozens and dozens of miles of some of the best trout river habitat in the state and one of the West's bucket list destinations.
You know a river offers great trout fishing (and especially fly fishing) when there are plenty of guides and several fly shops in the region.
The vast majority of trout here are native rainbows, but there are some cutthroat and occasionally some non-native trout that will hit your fly or lure.
The Yakima River is managed for trophy trout, with catch-and-release and selective gear restrictions in place.
Check the link for quite a bit of info on this fishery, including lots of information about where and how to go fly fishing here.
More: Yakima River Fishing
Fishing in Neighboring Counties
Chelan and Douglas Counties: To the north, the fantastic Lake Chelan and lots of other places to catch trout, bass, inland salmon and more near Wenatchee.
Grant and Adams Counties: To the east, an incredible concentration of waters rich with trout, bass, walleye and more around Moses Lake.
Yakima County: To the south, the eastern slope of the Cascades offers lots of trout, kokanee and other fish in lakes and rivers in the Yakima River drainage.
Pierce County: To the southwest, from salmon and trout near Tacoma to hike-in lakes in the high mountains, surprising number of fishing spots for such a populous county.
King County: To the west, the home of Seattle may have lots of people but it also has scores of excellent fishing lakes and streams from the city to the high country.
Washington Resources
WDFW Fishing and Stocking Reports
WDFW Fishing Regulations
National Weather Service forecasts