Pierce County and Tacoma are part of the most urbanized places in Washington, but don't let that fool the angler in you: There are plenty of wide-open spaces and lots of fishing here.
Pierce County pretty much has it all, including the shoreline of Puget Sound at sea-level clear up to the top of 14,411-foot Mount Rainier, Washington's tallest peak.
Between those extremes are plenty of trout, salmon, steelhead, bass, kokanee and other game fish.
Parts of Mount Rainier National Park, Mount Baker-Snoqualmie National Forest and the Nisqually National Wildlife Refuge are all located here.
Besides Tacoma, the other cities and communities in Pierce County include Auburn (part), Bonney Lake, Buckley, DuPont, Eatonville, Edgewood, Fife, Fircrest, Gig Harbor, Lakewood, Milton (part), Orting, Pacific (part), Puyallup, Roy, Ruston, Sumner, Spanaway, Steilacoom and University Place, as well as plenty of smaller communities.
The McChord Air Force Base and several university and college campuses also are in Pierce County.
But let's get to the fishing!
The following waters (listed alphabetically) are among the best for fishing or are otherwise noteworthy to readers interested in sport angling.
We also have a ton of specific articles on the best fishing spots in Pierce County, so follow the links for more detailed information.
Before we get to those, we'd also like to recommend that you take a peek at the "Fishing in Neighboring Counties" feature down below.
This feature is a curated listing of the counties bordering Pierce County that offer an even wider selection of fishing spots a short drive from the wider Tacoma area. It just takes a click to check any of them out.
Alder Lake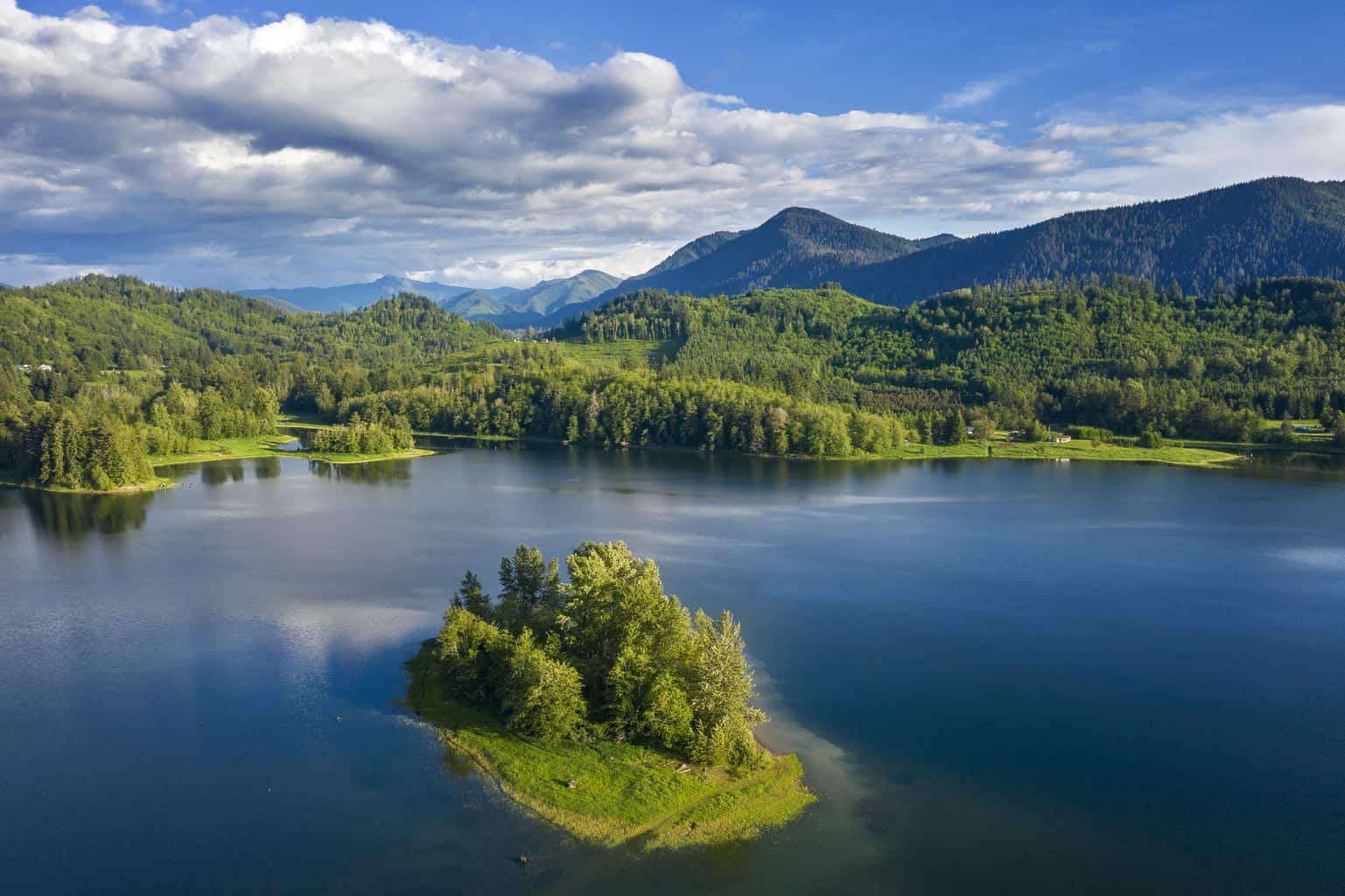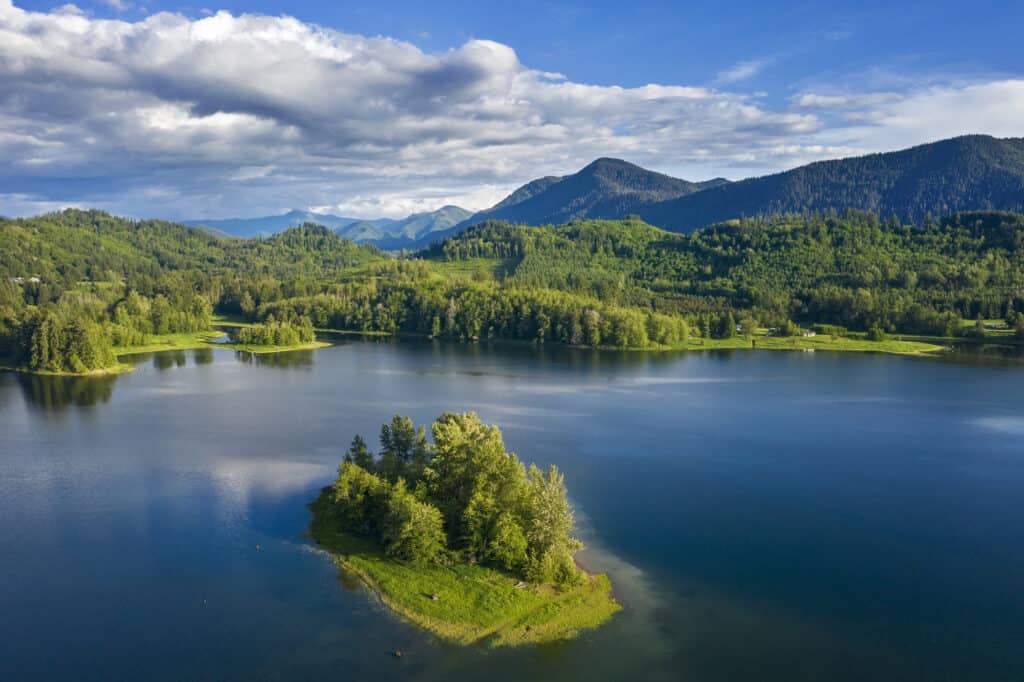 This big Nisqually River reservoir is most commonly fished for its large numbers of kokanee salmon, which are pan-sized land-locked sockeye salmon.
Alder Lake also is home to cutthroat trout and several species of bass and panfish that at times can provide good secondary fishing options to the kokanee.
Alder Lake is on the boundary of three counties: Pierce, Thurston and Lewis.
More: Alder Lake Fishing
American Lake
American Lake is a big suburban lake with surprisingly good fishing for kokanee, trout, bass and yellow perch just minutes from downtown Tacoma.
The Lakewood-area spot is busy during the high season but offers year-round fishing success.
More: American Lake Fishing
Bay Lake
This Key Peninsula fishing lake has very good trout fishing during the spring, when it's stocked.
The shallow lake is open year-round but best fished for bass, sunfish and other panfish during the warmer months.
More: Fishing at Bay Lake in Pierce County
Bonney Lake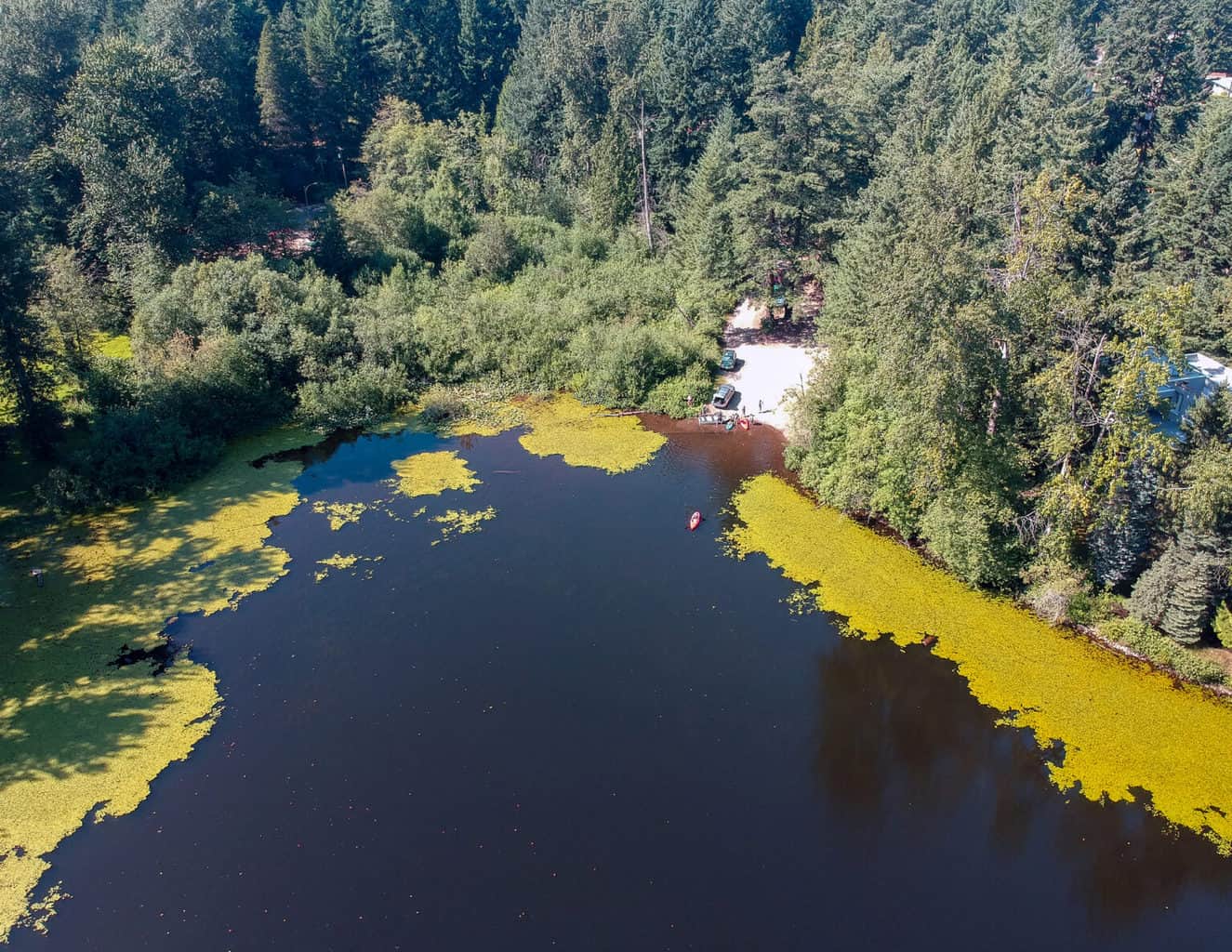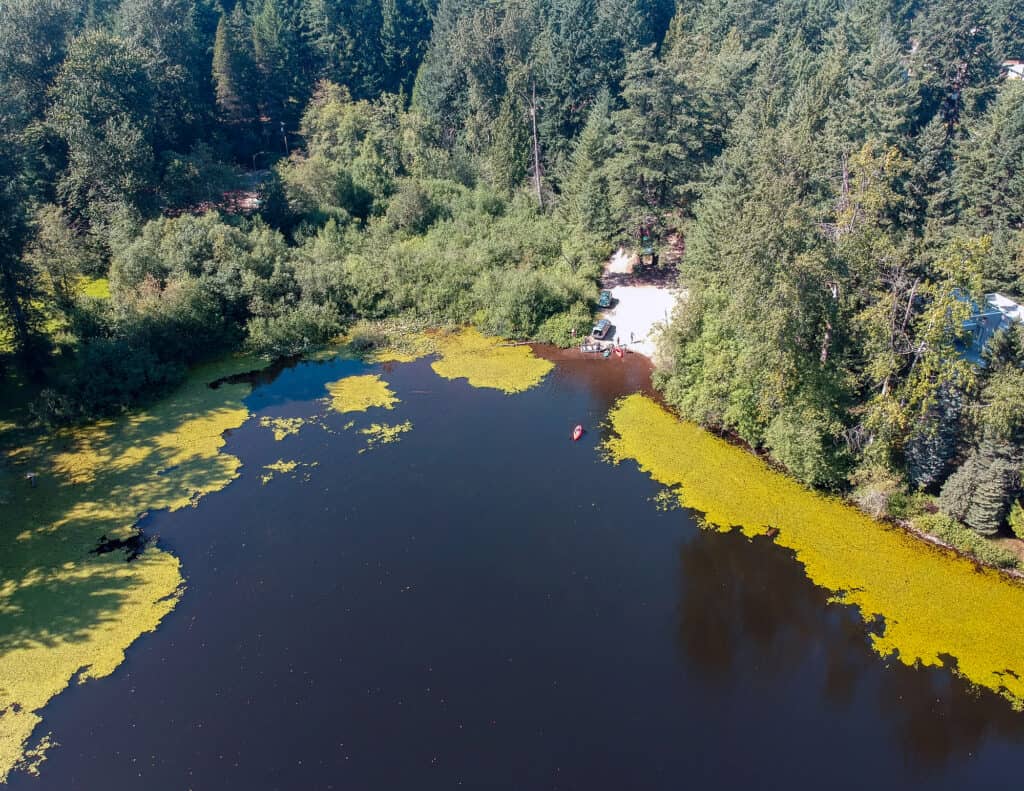 This is a small (17 acres) lake on the north side of the community of the same name east of Sumner and Puyallup is stocked with a modest number of hatchery rainbow trout.
Bonney Lake (or Lake Bonney) might get catchable trout in the early spring and perhaps some larger "jumbo" trout in the fall. Check WDFW's annual stocking schedule for specifics.
Between those two trout-fishing times, Bonney Lake is best fished for resident largemouth bass, yellow perch, sunfish and bullhead catfish.
There is a small boat launch on the northwest shoreline, off 74th Street E.
Bradley Lake
This park pond in Puyallup is open only to fishing by anglers who are youths, seniors or have qualifying disabilities.
The year-round lake is well-stocked with hatchery trout in the spring and may see some larger trout added in the fall.
When the trout aren't biting, there are bass and panfish to catch.
More: Bradley Lake Fishing in Puyallup
Carbon River
A tributary of the Puyallup River with a limited fishing season and some fair prospects for fall salmon, including hatchery Chinook, coho and (odd-year) pink salmon. Most of the catches are in September and October and are restricted to the lower river below Voight Creek.
Winter steelhead and trout fishing remains open for a spell after salmon angling closes, but wild steelhead and most trout must be released and there are selective rules that ban bait (among other restrictions).
Definitely check the latest regulations before fishing.
Carney Lake
This nearly 40-acre lake straddling the Pierce-Kitsap county line is stocked with a decent number of catchable rainbow trout during the spring.
Some brown trout have been stocked here in the past, and some sources say hatchery coho may also be present.
There is a WDFW gravel boat launch with a little bit of bank access on the west side of the lake, right along Carney Lake Road (Wright-Bliss Road).
The lake is about 25 minutes northwest of Gig Harbor and about the same drive time southwest of Bremerton.
Carter Lake
This 6-acre pond on McChord Air Force Base tends to be stocked with a decent amount of trout some years.
Expect the plantings of catchable trout to occur in the spring, perhaps just once. However, at times WDFW adds a few dozen very large trout into the mix with the pan-sized stockers.
It's located in a neighborhood roughly across I-5 from American Lake.
Clear Lake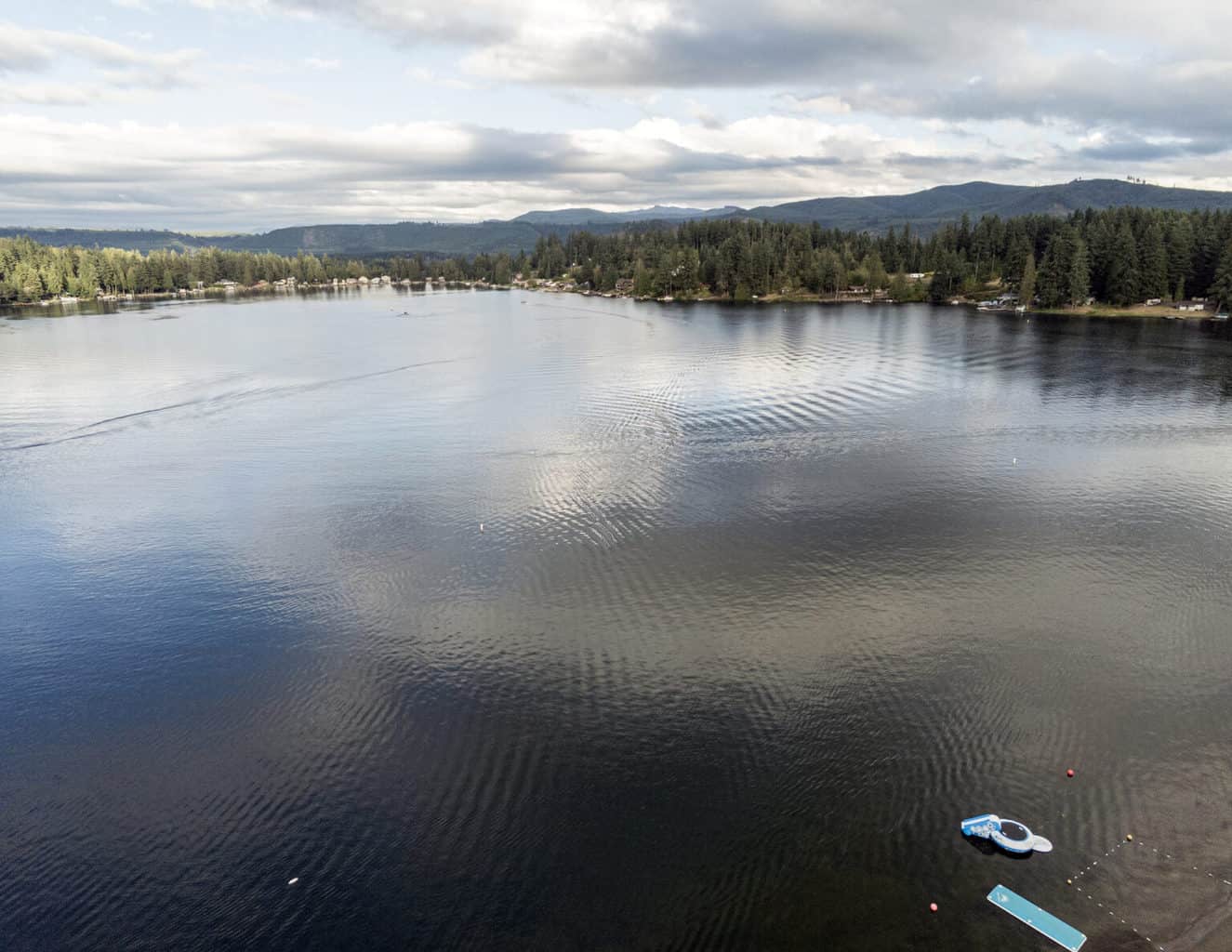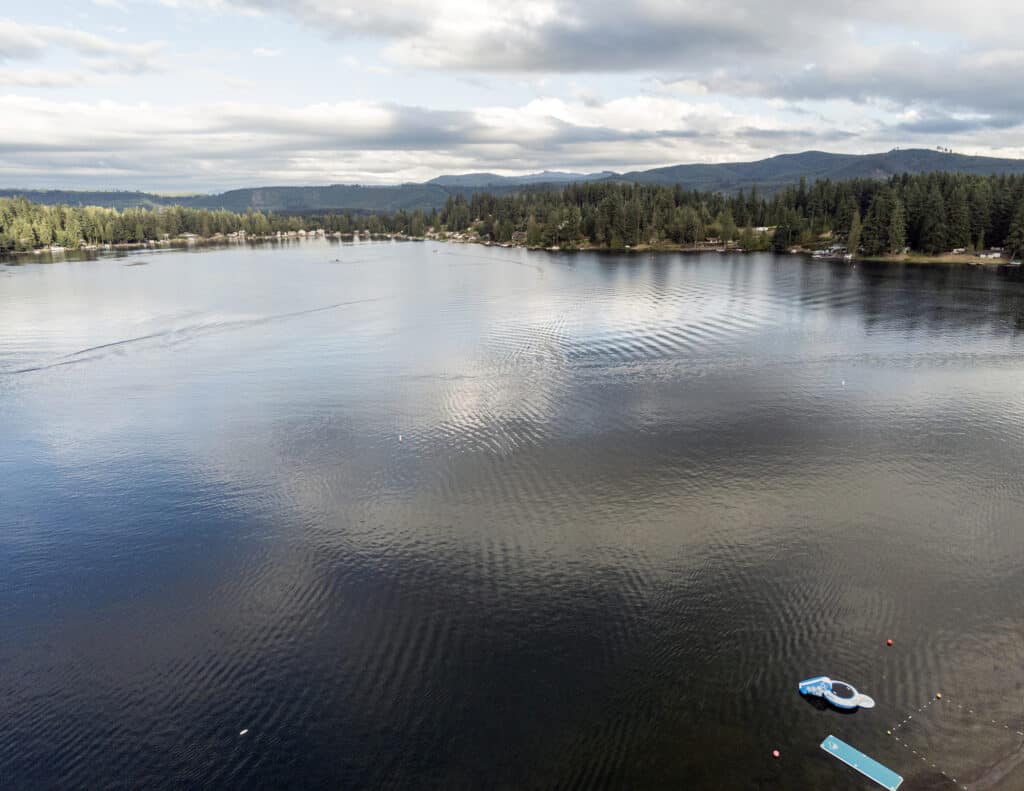 Clear Lake near Eatonville (not to be confused with nearby Clear Lake near Yelm) offers good fishing prospects for both stocked rainbow trout and kokanee salmon.
This is a seasonal lake that opens hot for trout and then transitions nicely into kokanee fishing, with largemouth and smallmouth bass a viable alternative during the warmer months.
More: Fishing at Clear Lake Near Eatonville
Crescent Lake
This 47-acre lake near Gig Harbor with a common name is stocked with several thousand catchable rainbow trout during the spring, when trout fishing is best.
Pierce County's Crescent Lake currently opens to fishing in late April, but check regulations before fishing.
There is a WDFW access and boat launch at the north end of Crescent Lake, which is largely surrounded by homes.
Crescent Lake is about six miles north of Gig Harbor heading up Crescent Valley Drive to 152nd Street.
DeCoursey Pond
This is a very small pond (barely over an acre) in DeCoursey Park in Puyallup.
The seasonal pond is open to youths, seniors and people with qualifying disabilities (and the proper permit).
Historically, DeCoursey Pond has been seasonally stocked with hatchery rainbow trout, but it hasn't been on the stocking schedule recently.
Check the listing for Bradley Lake (above in this article) for a larger Puyallup park pond that also is restricted to these populations of anglers and is being seasonally stocked with trout.
Eatonville Mill Pond
This pond immediately south of the community of Eatonville in south-central Pierce County has at times been stocked with a few hundred trout, most likely during the spring.
The pond is on the edge of Mill Pond Park on Mashell Avenue S.
Florence Lake
This 65-acre lake on Anderson Island is stocked each spring with several thousand hatchery rainbow trout and should offer good fishing by about April.
The lake has been stocked with brown trout in the past, but WDFW's recent planting schedules don't show these fish being added.
There are naturally reproducing populations of some warmwater fish, namely largemouth bass and bluegill.
The best public access, including an unimproved boat launch, is at Lowell Johnson Park on the north side of the lake off Guthrie Road.
Josephine Lake, just south of Florence, reportedly has some residential bass and panfish but isn't stocked with trout.
Gravelly Lake
This large lake in Lakewood is prominent on maps between American Lake and Steilacoom Lake, but it's not particularly prominent for anglers.
That's because public access to the lake isn't available.
Gravelly Lake, should you have permission to fish there, reportedly is home to the usual bass and panfish found in other area lakes but isn't stocked with trout or kokanee.
Harts Lake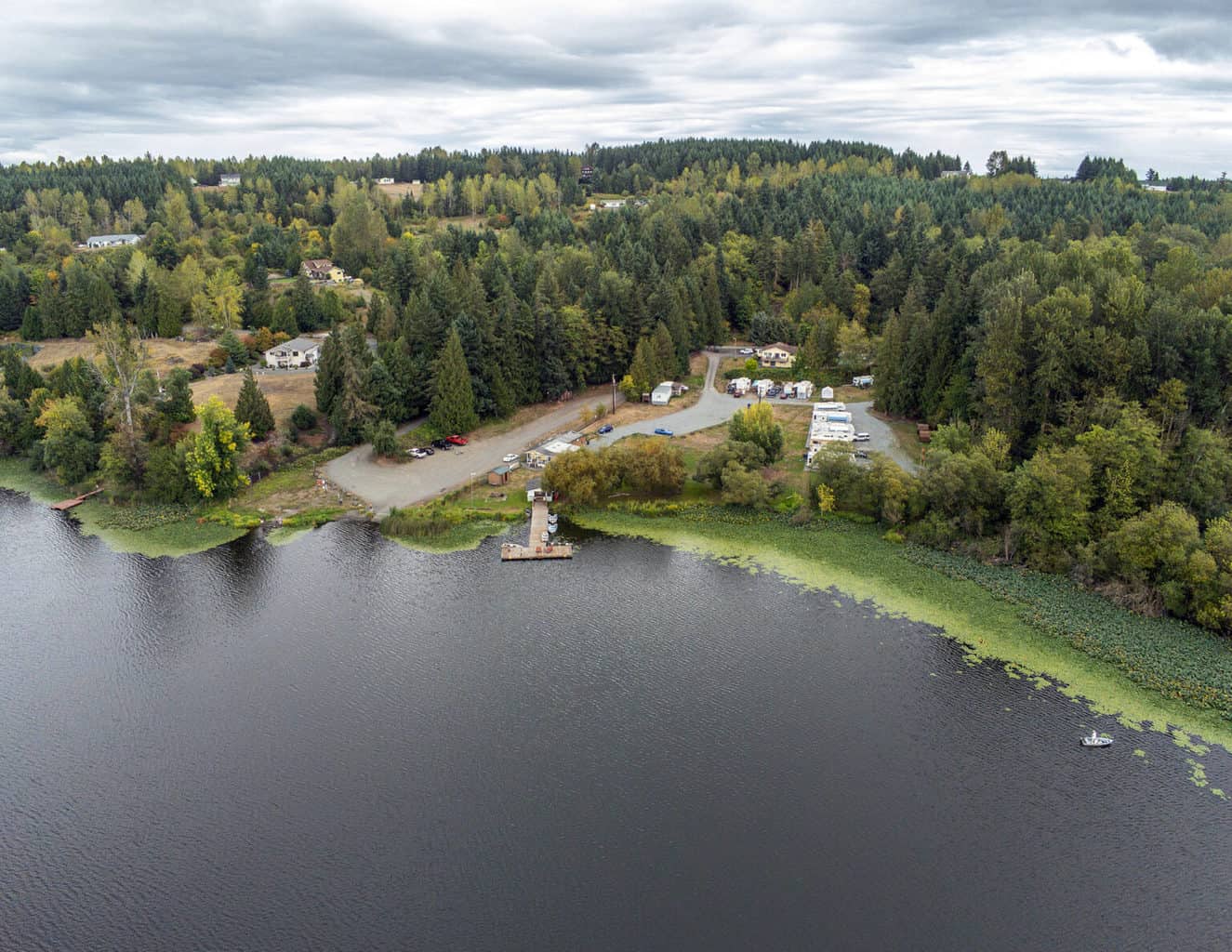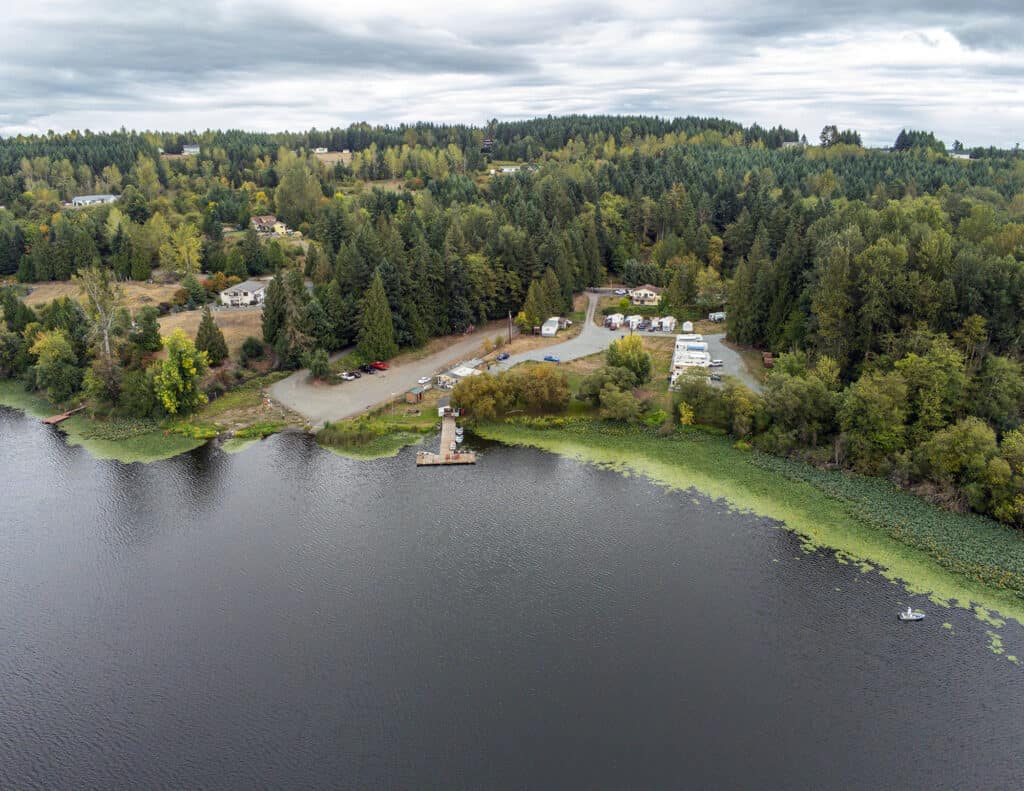 This southern county lake offers very reliable trout fishing during the spring, when it's stocked, and often another good burst of action in the fall (when it might be stocked again).
The lake, southeast of McKenna, also can be pretty good for a variety of bass, panfish and catfish.
More: Harts Lake Fishing
Jackson Lake
This 15-acre seasonal fishing lake on Key Peninsula is primarily known for hatchery rainbow trout, which are stocked in modest numbers during the spring, when catching them will be easiest.
Jackson Lake is located off Jackson Lake Road NW between Haley State Park and the community of Home. It's about a half hour's drive from Gig Harbor.
Use 177th Avenue off Jackson Lake Road NW to reach WDFW's gravel boat launch on the north end.
Kapowsin, Lake
This is a good-sized lake (about 500 acres) in an area north of Eatonville dotted with good fishing lakes.
Lake Kapowsin is among the most heavily planted lakes in Pierce County, so you can reasonably expect trout limits here if you come prepared during the spring season peak.
Kapowsin also is home to pretty good largemouth bass fishing (with a few big bass around) and has a variety of panfish.
More: Lake Kapowsin Fishing
Lake Tapps Fishing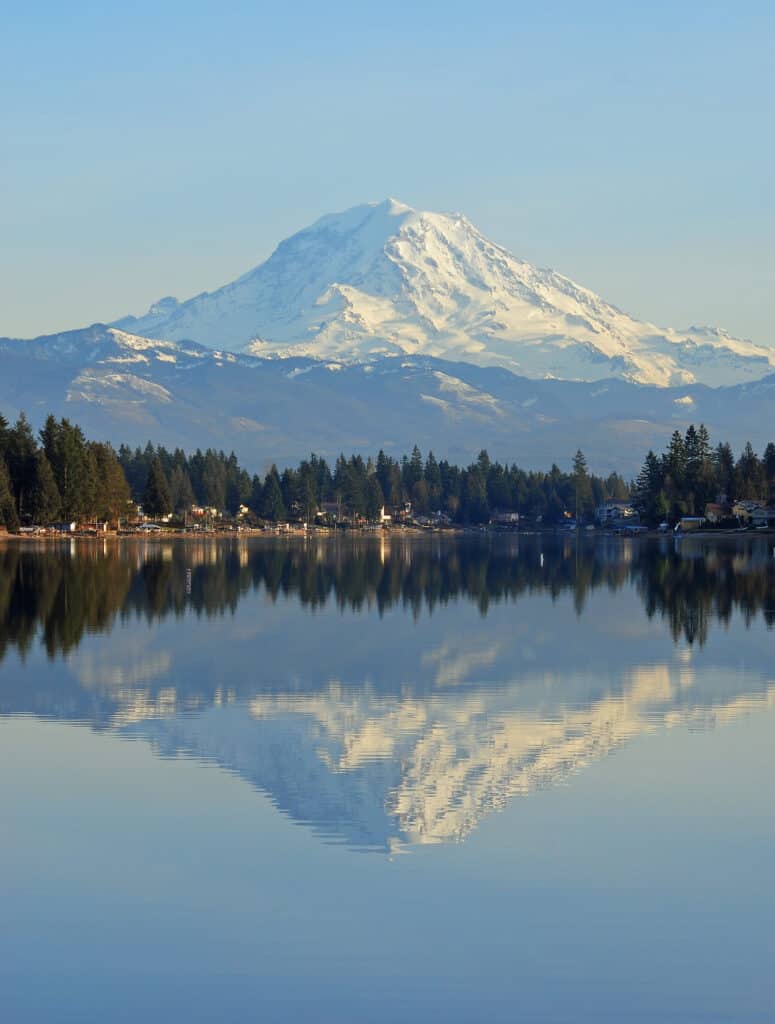 This sprawling lake spreads its bass, panfish and even tiger muskies out across some 2,400 acres during the summer.
Severe winter drawdowns impact the fish populations and summers are busy here, but it's still a place where you can hone your skills around lots of different types of fishy habitat while looking for big, toothy predatory fish.
More: Lake Tapps Fishing
Louise, Lake
This smallish lake on the west side of suburban Lakewood is most enthusiastically fished during the spring months, when WDFW plants it with a modest number of hatchery rainbow trout.
You may also be able to find some of the warmwater fish common to area lakes, perhaps including largemouth bass and the ubiquitous bullhead catfish.
The nearly 40-acre lake, also known as Louise Lake, is encircled by private homes.
Minter Creek
This little hatchery stream's tidewater on the west side of upper Carr Inlet can put out thousands of chum salmon in the late fall.
The system accounted for well over 6,000 chum tagged in a recent season, with most of those coming in November but still going into December.
With those kinds of numbers in a small space, it can get pretty crowded, not surprisingly.
Chinook and coho must be hatchery-marked to keep them here.
The creek is about 20 minutes around the inlet from Gig Harbor and about a half hour from Tacoma or Bremerton.
Nisqually River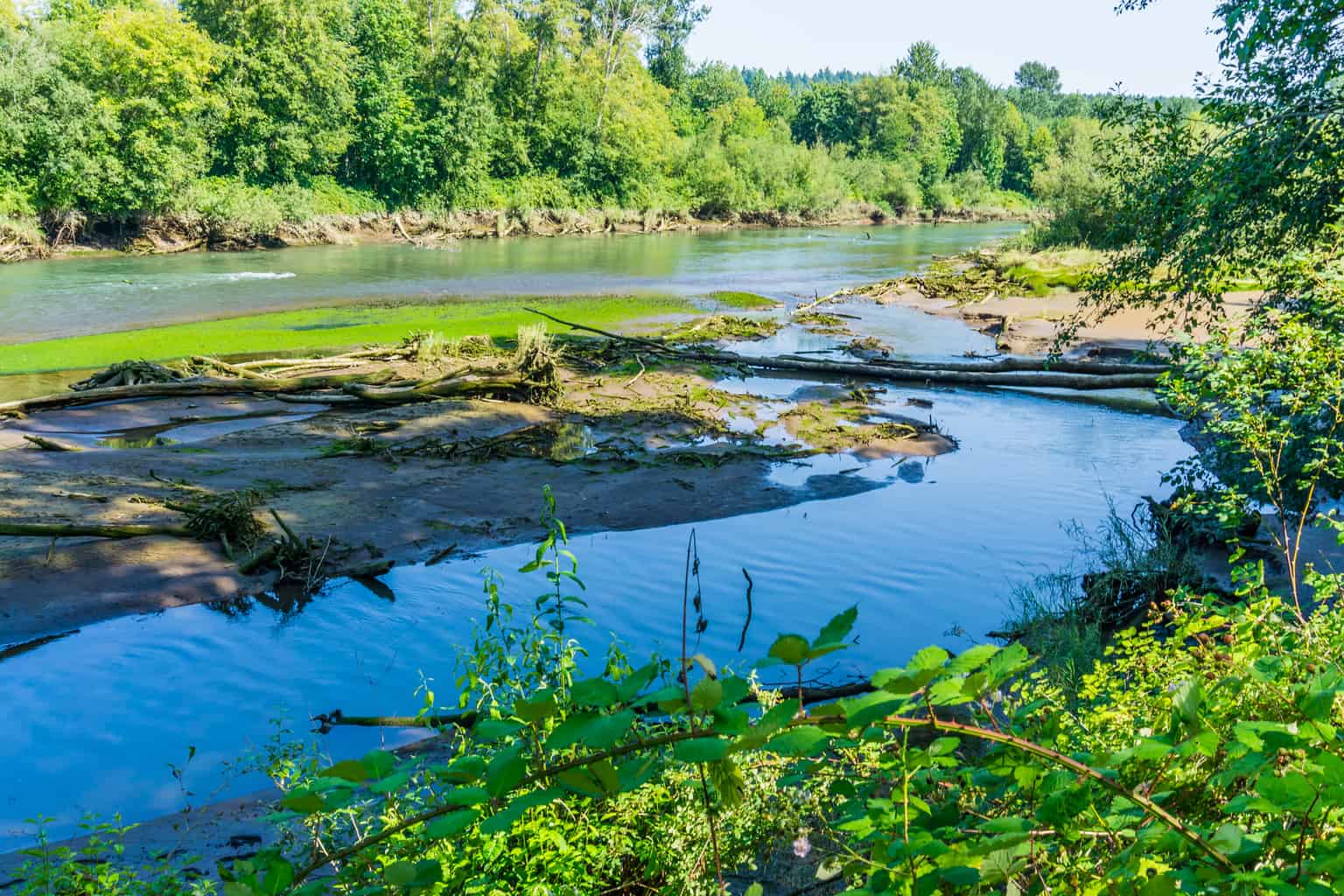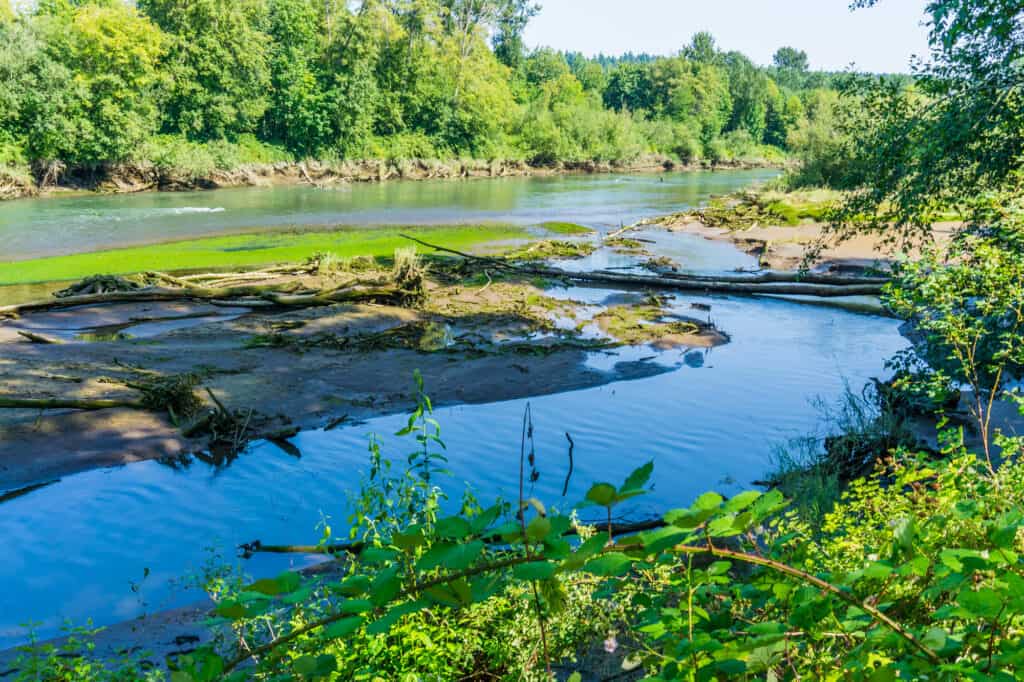 Historically a river rich in multiple salmon, steelhead and trout runs, today the Nisqually is primarily fished for its fall runs of hatchery Chinook and coho salmon.
In odd years, pink salmon join the fishing fray but runs sizes of these smaller salmon swing wildly.
There are lots of restrictions on harvests for wild runs of steelhead, trout and chum and unclipped Chinook, so read up on the regulations before fishing.
The lower Nisqually River (below Alder Lake) forms the boundary between Pierce and Thurston counties and is where the salmon action is located. The upper river flows through Lewis County.
More: Nisqually River Fishing
Ohop Lake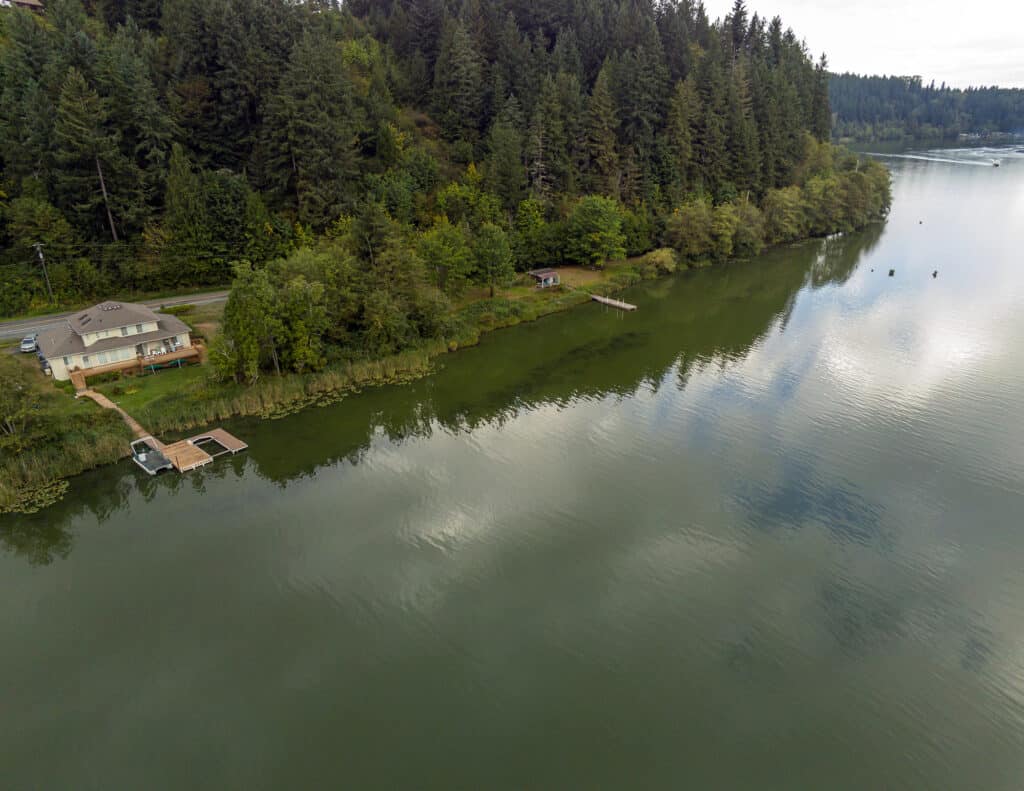 This fair-sized fishing hole in the lake-filled Eatonville area is very nicely stocked with hatchery rainbow trout every spring, when fishing for them peaks.
The lake also is home to decent fishing for a variety of warmwater fishing including largemouth bass and panfish. Bluegill fishing can be very good.
More: Ohop Lake Fishing
Puget Sound
The South Puget Sound is fished for a variety of species including for migratory salmon as well as blackmouth (locally feeding Chinook) and for resident species.
The salmon fishing here can be fair to good, with migratory Chinook and coho salmon caught during the summer and blackmouth providing a winter and early spring opportunity.
If it's an odd-numbered year and the pink salmon run is decent, these small salmon will add to the catch in about August.
There also are some prospects for shellfishing in the region, including for prized Dungeness crabs.
Some key angling access points in Pierce County include Gig Harbor and Point Defiance.
Puyallup River
This big river still can put out some pretty good salmon fishing these days, when the runs are decent.
The prime targets are hatchery-reared fall Chinook and coho salmon returning to a hatchery near Orting.
Pink salmon join the fishery during odd-numbered years, but run sizes swing wildly for these smaller salmon.
Steelhead and trout are present in modest numbers but fishing for them isn't a big draw here.
More: Puyallup River Fishing
Rapjohn Lake
This relatively small lake near Eatonville offers very good trout fishing when it opens in late April and May.
That's when the lake is stocked with more than 5,000 hatchery rainbow trout.
Rapjohn also has decent fishing for a collection of warmwater fish, particularly largemouth bass, crappie and perch.
More: Rapjohn Lake Fishing
Silver Lake
Pierce County's Silver Lake is loaded with stocked rainbow trout in the spring, when limits should be fairly easy.
There also are a variety of bass and panfish to catch at the Eatonville-area lake.
Silver Lake is accessed from a private resort open to both daytime and overnight use, with a fee of course.
More: Fishing at Silver Lake in Pierce County
Spanaway Lake
This good-sized suburban lake is nicely stocked with trout for the spring season and then holds up well for largemouth bass and other warmwater fish through summer and fall.
Spanaway Lake has pretty good largemouth bass fishing and is one of the best spots to catch a rock bass, which is smaller and technically a member of the sunfish family.
Crappie and yellow perch are other favorite game fish here.
More: Spanaway Lake Fishing
Steilacoom Lake
This good-sized Lakewood lake offers very good springtime fishing for stocked rainbow trout.
Bass anglers can catch chunky smallmouth and largemouth bass, and Steilacoom already holds the state record for rock bass.
More: Steilacoom Lake Fishing
Tanwax Lake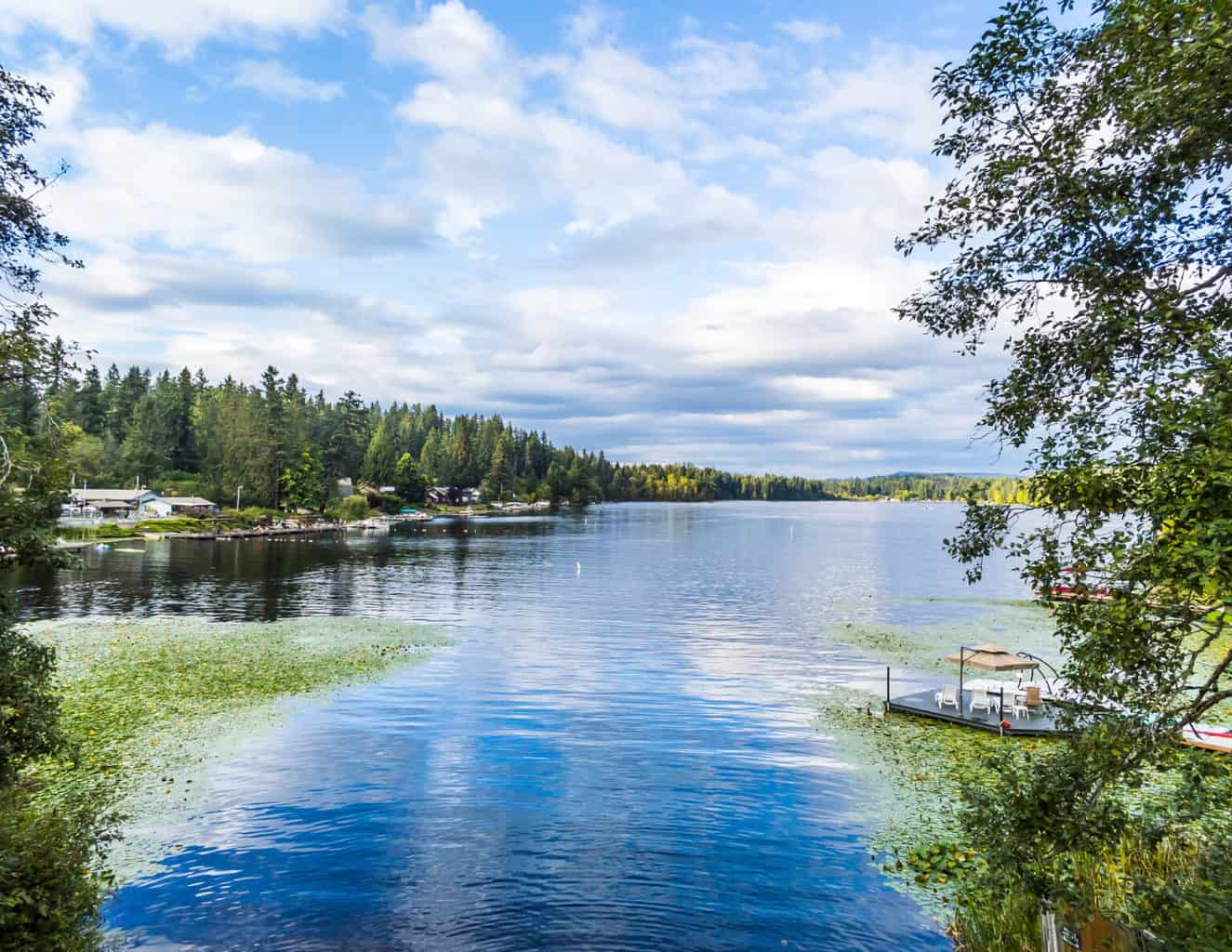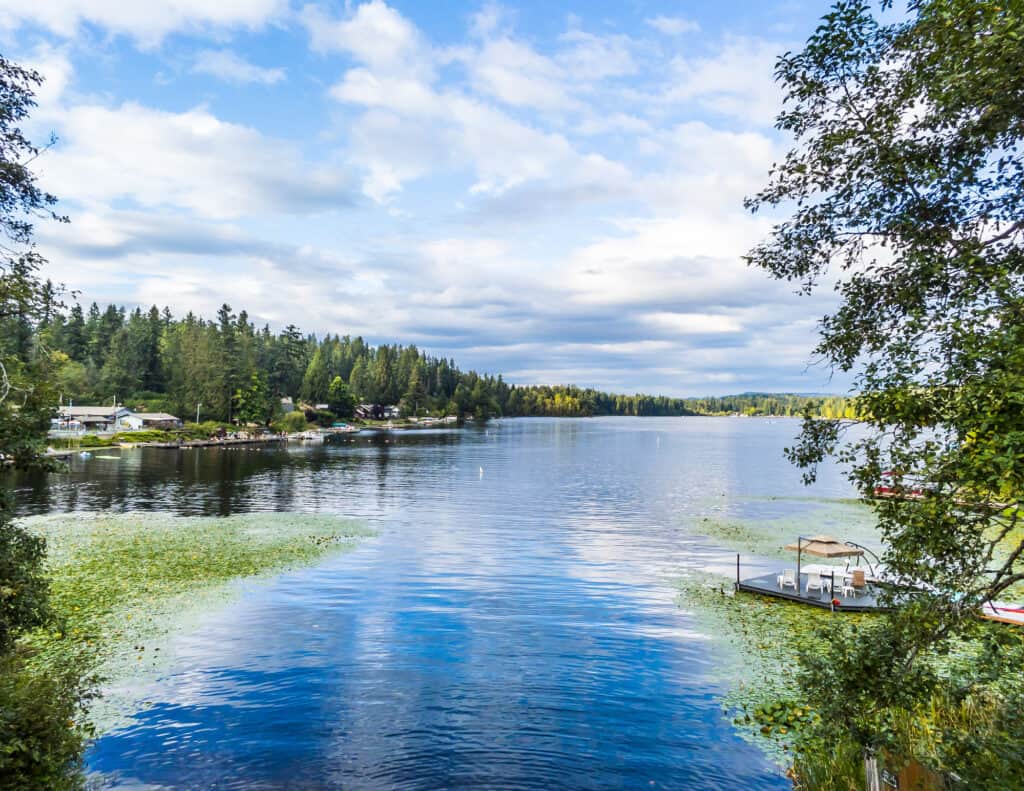 This mid-sized lake in the popular Eatonville area is filled with hatchery rainbow trout during the spring.
When trout fishing starts to wane, try fishing for largemouth bass, crappie and other warmwater fish around the lily pads and other hiding places rimming the lake.
There is a public boat ramp and several private resorts offering services to visiting anglers.
More: Tanwax Lake Fishing
Uncle John's Pond
This little rectangle of water that sits in front of a self-storage business sharing the Uncle John's name is sometimes stocked with a modest planting of trout in the spring.
The pond, which isn't named on Google Maps, is literally right along SR 410 at 262nd Avenue, a little over 5 miles east of Bonney Lake.
It may get 500 trout (at last check), and it has easy bank access, so there might be a few days when fishing here is like shooting fish in a barrel. Expect success rates to tail off quickly as the fish are caught, and definitely by the time the pond warms up.
Wapato Lake
This park pond in South Tacoma is nicely stocked with rainbow trout during the spring.
But if you're old enough to shave you might need to pick somewhere else from this list, because Wapato Lake is only open to fishing for kids under age 15 (and people with qualifying disabilities).
More: Wapato Lake Fishing
Waughop Lake
Waughop Lake, just north of Louise Lake in Lakewood, has been stocked with trout (and perhaps coho salmon) in the past but is currently not on WDFW's planting schedule.
While access from parks and trails in this area is good, there is a health advisory about eating fish caught here, so consider catch-and-release fishing for the lakes resident populations of bass and panfish.
Whitman Lake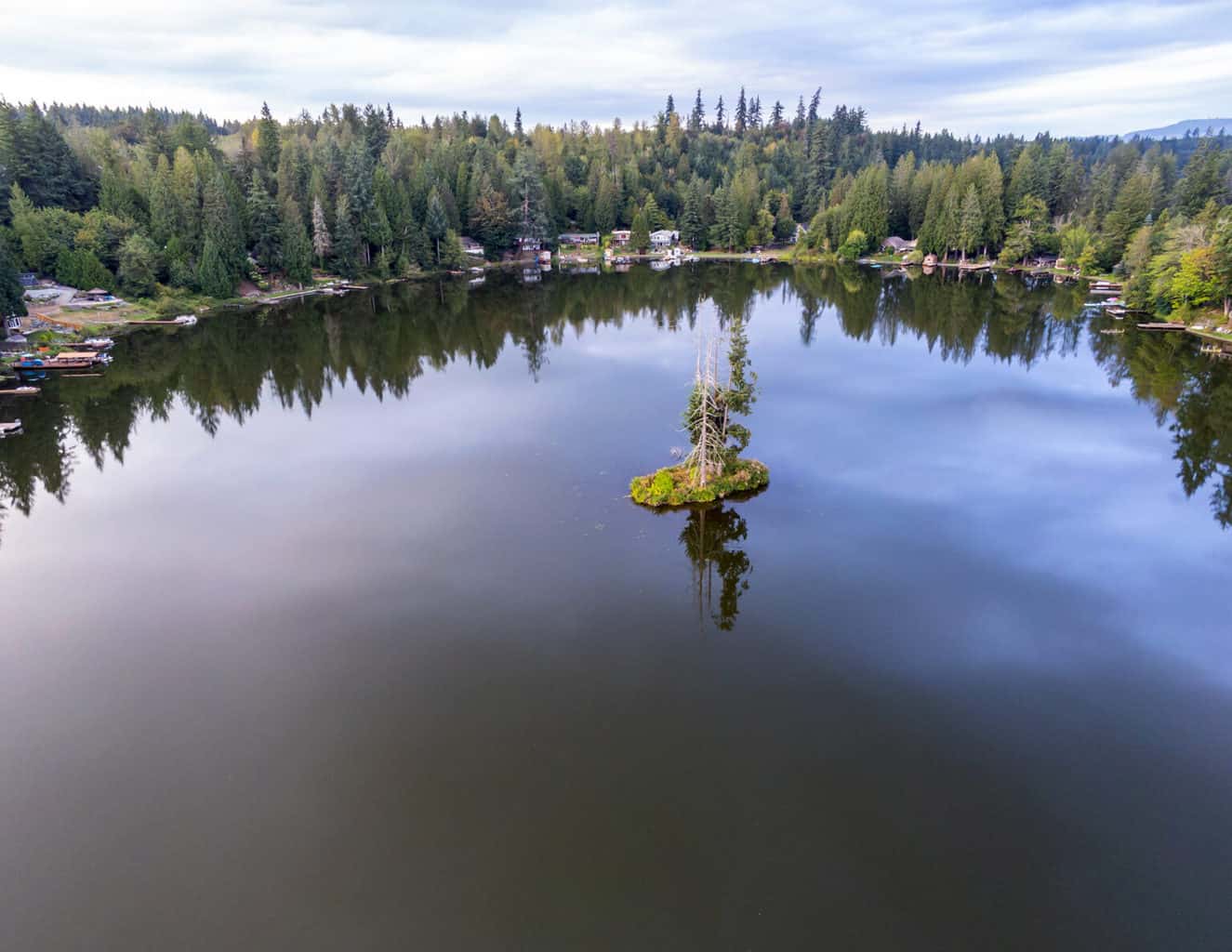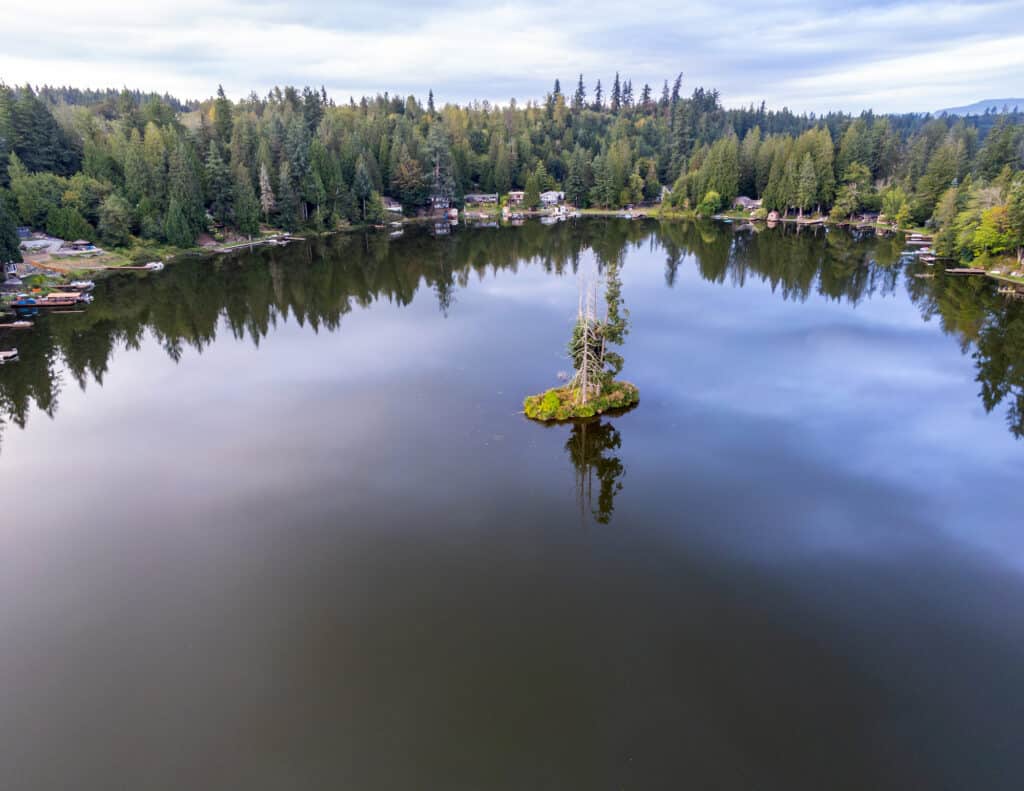 This is one of the smaller so-called Benbow Lakes located between Kapowsin and Tanwax lakes in the lake-filled Eatonville area.
Whitman lake is just under 30 acres but still is the largest and most developed of this small handful of lakes, and the only one of the pond-sized lakes with public fishing access.
WDFW stocks it with a couple thousand hatchery rainbow trout in the early spring, when trout fishing will be best.
You can launch a boat at the WDFW access on the south shore, where there also is a limited amount of bank fishing access.
Fishing in Neighboring Counties
King County: To the north, the home of Seattle may have lots of people but it also has scores of excellent fishing lakes and streams from the city to the high country.
Yakima County: To the east, the eastern slope of the Cascades offers lots of trout, kokanee and other fish in lakes and rivers in the Yakima River drainage.
Lewis County: To the southeast, the best salmon and steelhead fishing on the Cowlitz River plus excellent trout, bass and other fishing.
Thurston County: To the southwest, rich in lakes full of trout, bass and kokanee, plus South Sound salmon and steelhead runs.
Mason County: To the west, lots of trout, bass and kokanee in lakes, plus access to the lower Puget Sound including Hood Canal.
Kitsap County: To the northwest, the Kitsap Peninsula has quite a few nicely stocked trout lakes as well as access to much of the South Puget Sound and Hood Canal.
Washington Resources
WDFW Fishing and Stocking Reports
WDFW Fishing Regulations
National Weather Service forecasts