Clark County's population is approaching a half million people in a relatively small area, but this is a place bounded by rivers including the massive Columbia and dotted by lakes, so anglers have plenty to do here.
This article will provide a glimpse at some of the worthwhile fishing opportunities near Vancouver and the rest of the county, with links to more detailed information to help you get the most out of your angling trips.
Clark County also is home to Battle Ground, Camas, La Center, Ridgefield, Washougal and a number of other communities, including sharing Woodland with Cowlitz County to the north.
It's just across the Columbia River from Portland, Oregon's largest city.
The county, named for William Clark of the famous Lewis and Clark Expedition, also includes part of the Gifford Pinchot National Forest, part of the Fort Vancouver National Historic Site, two national wildlife refuges, and a growing Washington State University campus.
The Washington Department of Fish and Wildlife (WDFW) regulates the waters of Clark County under Columbia Basin Rivers and Westside Lakes.
The aim of this article is to show you to the best fishing spots Clark County has to offer, which are listed alphabetically below.
Before we get there, we know that Southwest Washington has a ton of good fishing beyond the county line. We suggest you also take a look at our "Fishing in Neighboring Counties" feature at the end of this article, which will take you to some incredible fishing spots just down the road.
Battle Ground Lake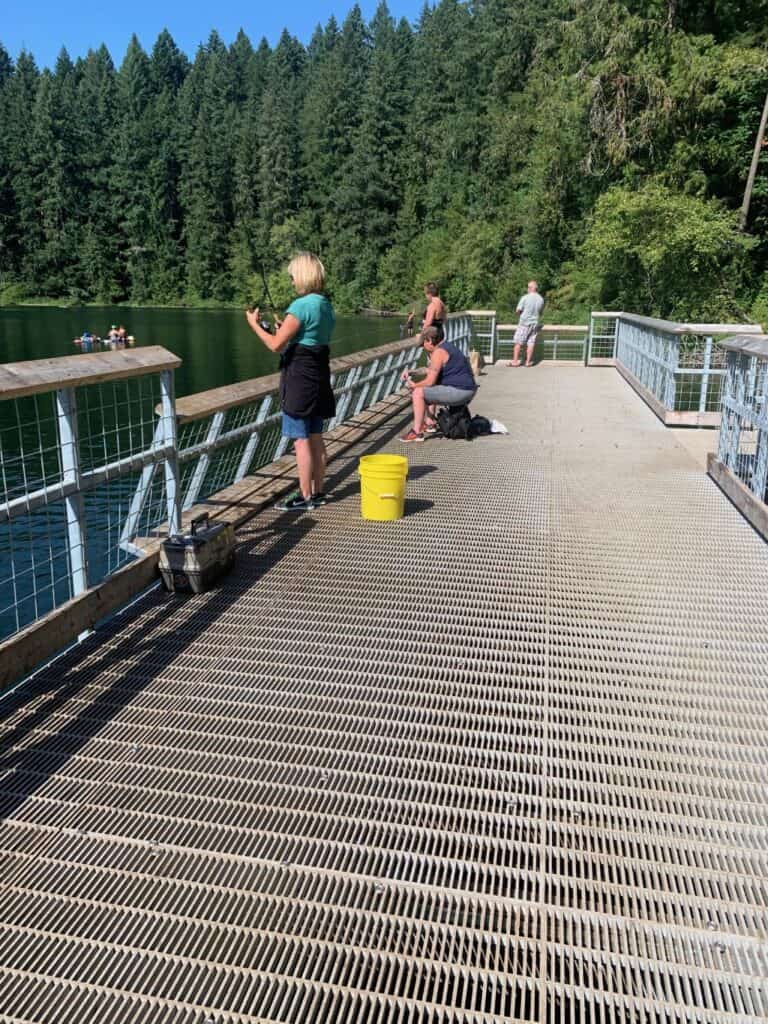 This forested lake in a little crater near its namesake city offers very good trout fishing during the fall, winter and spring, when it is stocked with hatchery rainbow trout.
Some cutthroat trout also are typically stocked here in the spring.
During late spring, summer and early fall, there is a modest fishery for largemouth bass and other warmwater fish.
The lake is the centerpiece of Battle Ground Lake State Park.
More: Fishing at Battle Ground Lake
Canyon Creek
The creek, which flows into the North Fork Lewis River below Yale Reservoir, was best known as the local go-to stream that was stocked with hatchery trout, but at this writing it hasn't been on the stocking schedule for a few years.
It's still a pretty spot with good access, and you should find some wild trout here, such as coastal cutthroat.
It's open seasonally.
Lost Lake in this drainage hasn't been stocked for years but might have a few trout.
Columbia River
The West's largest river forms the western and southern borders of Clark County and offers a wide variety of fishing opportunities.
Salmon pass by Clark County in large numbers, with both spring and fall Chinook popular with anglers. These are primarily boat fisheries, and when the runs are strong the fishing can be good.
Summer and winter steelhead also run up the Columbia. Catch rates for these fish aren't high in the mainstem, but there are some opportunities for summer-run fish, including a chance to catch them from the bank because they migrate in shallow water. July is likely your best bet.
Salmon and steelhead fishing are highly regulated and open and close based on run size and other factors, so be sure to check with WDFW for the latest information.
Sturgeon fishing is largely catch-and-release in the lower Columbia River but can produce the fishing photo op of a lifetime.
These days the Columbia is home to many introduced species, including some excellent game fish.
American shad pass Clark County by the millions on their annual spawning runs in the spring.
While shad fishing in the Columbia is better closer to Bonneville Dam, there are spots along the shoreline in Clark County that offer quite good fishing, particularly from an anchored boat.
Walleye are incredibly tasty and are widespread in the Columbia. The Clark County's favorite spots tend to be ledges and rock piles off the Camas and Washougal areas.
Walleye can be tricky to catch. Successful anglers typically catch them by trolling a nightcrawler or fish-shaped crankbait close to the bottom of the river, often with a special rig that helps keep the offering on the bottom but out of snags. Other methods including jigging can work as well.
Smallmouth bass are an excellent and sometimes under-appreciated fishery in the Columbia. These hard-fishing fish strike lures that imitate their favorite meals, including as crayfish and smaller fish.
Smallmouth bass are often found around rocky structures along the bank, islands and submerged humps and other cover, where they like to get out of the main current and swim out to ambush passing prey.
Other warmwater species you might find in the Columbia include crappie, yellow perch, largemouth bass and bullhead catfish.
Those species can be more common in slack-water areas such as sloughs. One spot to consider is Bachelor Island Slough near Ridgefield and some of the other backwaters north and west of Vancouver.
More: Columbia River Fishing
Fargher Pond
This private pond (also known as Fargher Lake) located west of Amboy has in the past been planted with brown trout but is no longer open to public fishing.
Klineline Pond
This park pond just off I-5 on the north side of Vancouver is planted with large numbers of rainbow trout and also some cutthroat trout from late fall, through winter and much of spring.
There are some largemouth bass and other warmwater fish here as well, which will be the primary pursuit for summertime angling.
Klineline has excellent bank access and hosts an annual spring fishing derby.
More: Klineline Pond Fishing
Lacamas and Round Lakes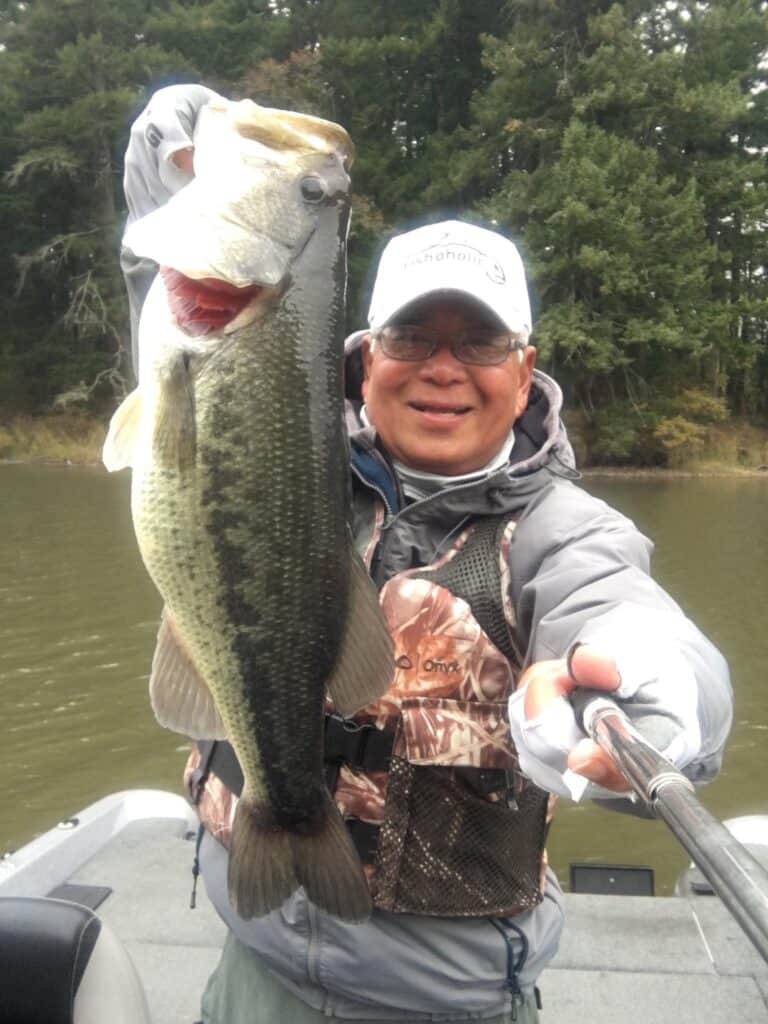 This is a nice-sized lake on the north side of Camas that provides a little something for every angler all year long.
During the late fall and again in the spring, the lake is stocked with good numbers of hatchery-raised trout, most often rainbows, which are willing biters on bait and also can be caught with lures and flies.
The lake is home year-round to largemouth bass, catfish and several species of panfish, including yellow perch.
Those so-called warmwater fish species tend to bite best starting in the spring and continuing throughout summer and into early fall.
Most of that time, the lake won't be at all good for trout, which live in colder water.
At times, Lacamas can suffer from water quality issues and aquatic weeds.
Round Lake, which is connected but on the other side of State Route 500, has most of the same fish species and one time produced a channel catfish over 30 pounds.
Round Lake is deeper and tends to have better water quality, plus access is excellent here in Lacamas Regional Park.
More: Fishing at Lacamas and Round Lakes
Lake River
This slow-moving stream drains out of Vancouver Lake and flows north more than 10 miles before joining the Columbia River at the north end of Bachelor Island northwest of Ridgefield.
It's lightly fished for catfish, panfish, bass and other species that inhabit the various sloughs and low-elevation lakes around the lower Columbia River.
Lewis River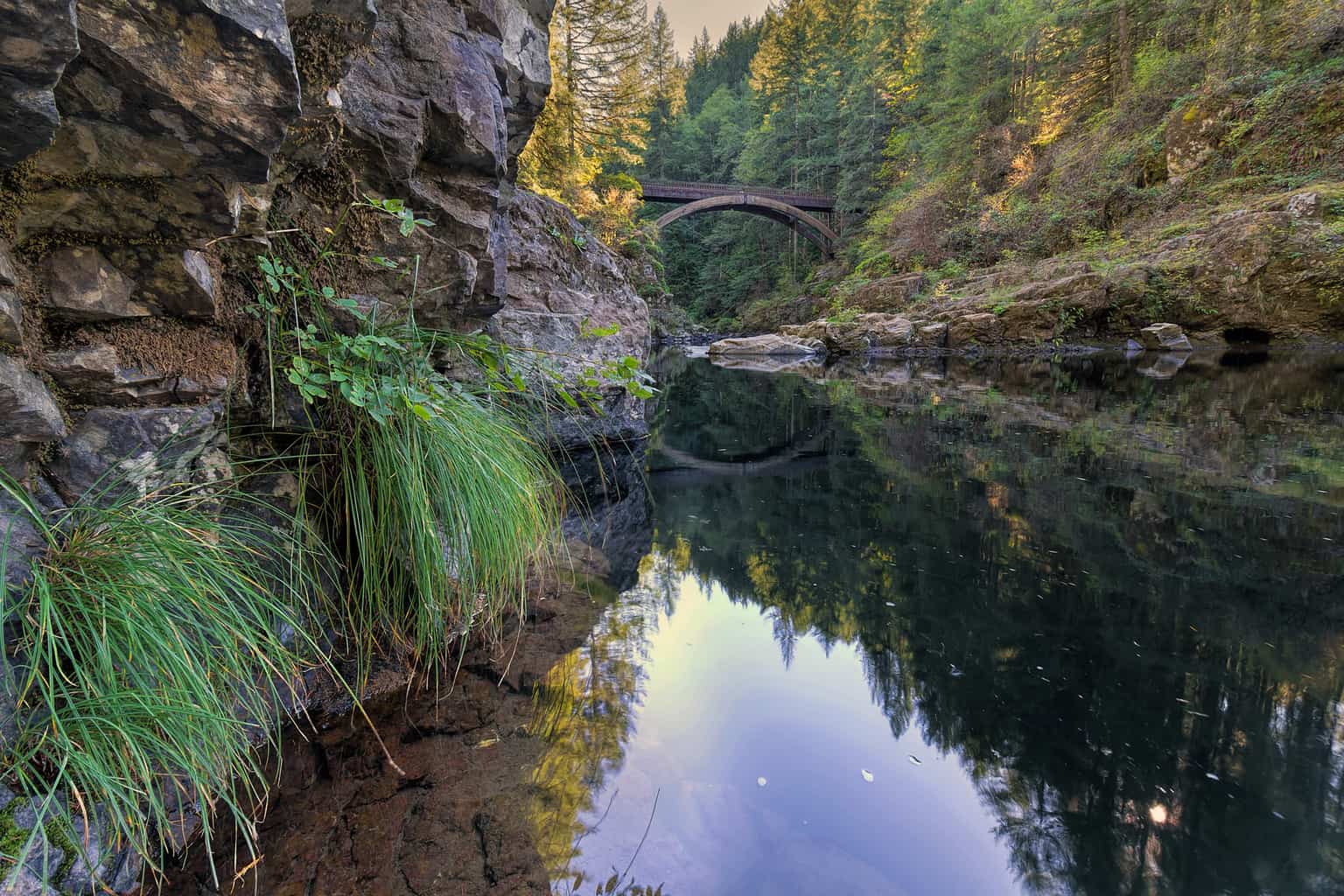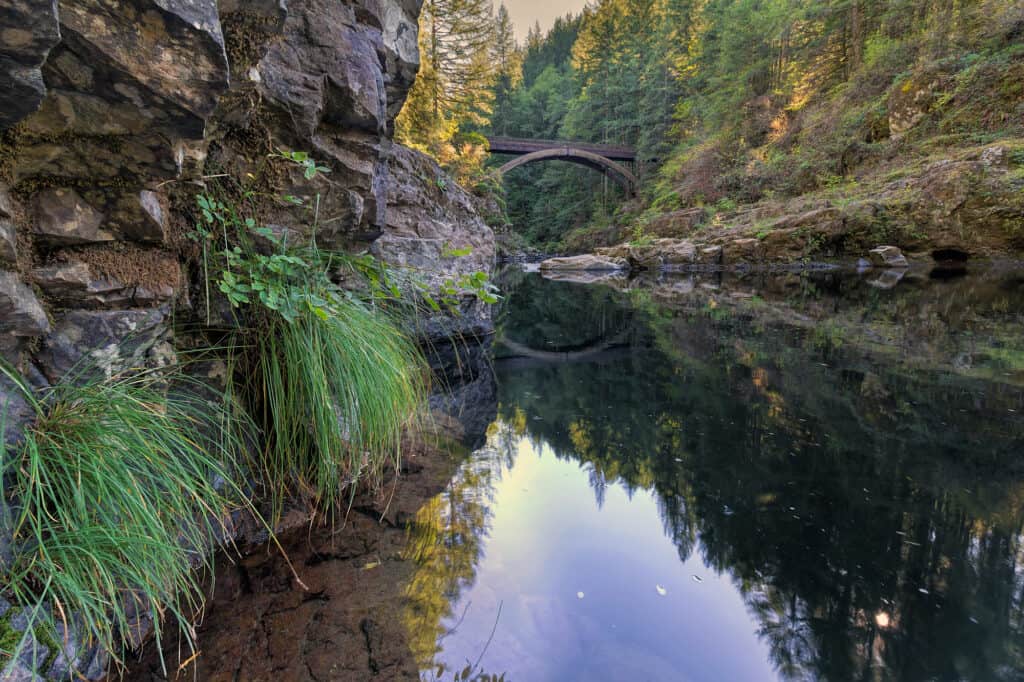 This river, and in particular its two main forks, is the premier salmon and steelhead fishing system in Clark County.
The North Fork, which forms the northern boundary of Clark County (bordering Cowlitz County), is the larger and typically most fished of the two rivers.
The North Fork below its series of reservoirs tends to be the larger producer of salmon and steelhead.
The North Fork has runs of both fall and spring Chinook and also fall coho.
The fall run on the North Fork is likely to be the larger return, with best fishing in September and October, with some catches into November. Coho salmon are caught during the same time frame here.
The spring Chinook returns can fluctuate widely and have been depressed in recent years, but some are available and these are a highly prize hatchery-bred fish.
Expect the springers to peak in June.
There are runs of both summer and winter steelhead in the North Fork. The catches of summer fish tend to ramp up in June, peak in July and maintain a decent level into August and early September.
The North Fork's winter steelhead runs often peak in December around the holidays and continue fair into January.
The middle section of the North Fork is noteworthy by its series of dams forming Merwin Lake and Yale Lake on the northern Clark County border (included in this article) as well as Swift Reservoir upriver in Skamania County.
The smaller East Fork Lewis historically was a favorite among steelhead anglers, and has potential to return to prominence with better run years. However, its summer and winter runs have been a mere shadow of their former selves in recent years.
Wild salmon and trout (not fin-clipped) must be released in the East Fork.
More: Fishing the Lewis River
Merwin Reservoir
This big impoundment (3,800 acres), also known as Lake Merwin, is primarily fished for kokanee and tiger muskies.
This reservoir is shared with Cowlitz County.
The kokanee are a trout-sized land-locked sockeye salmon known for being feisty and quite tasty and traveling in large schools. They are often caught by trolling small lures and jigs, although some people use larger jigs for kokanee.
Tiger muskies were introduced here and elsewhere in Washington to control non-game fish species that tend to overrun some waters. Here the issue was too many northern pikeminnows, which gobble up smaller game fish and can harm recreational fisheries.
Tiger muskies, a sterile hybrid of a true musky and northern pike, grow to massive size and are primarily a catch-and-release fish for serious anglers. They are hard to catch but will strike large plugs and spinners that look like forage fish.
See more in our Best Tiger Muskie Fishing in Washington article.
More: Lake Merwin Fishing
Salmon Creek
Salmon Creek flows across the north end of the Vancouver metropolitan area, including through the neighborhood bearing its name.
There is a modest return of hatchery-reared winter steelhead here, which the locals mostly access. Fishing has historically been best around the holidays and into January or early February, but the state is transitioning to a late-winter run here.
The creek's cooler upper reaches have wild cutthroat and rainbow trout, and the slower-moving section close to where Salmon Creek flows into Lake Creek are likely to have a modest collection of warmwater fish.
Vancouver Lake
This big lake (nearly 2,300 acres) on the northwest side of Vancouver has a lot of different gamefish species but is shallow and often difficult to access and fish.
Like the nearby Columbia, the lake has tidal influence that raises and lowers its level. That along with wide open waters often whipped up by the wind, and it can be tricky. Shore access is limited.
That said, there are reasonable numbers of largemouth bass, crappie, yellow perch and even channel catfish, among other species.
There also are lots of common carp, enough that is supports a commercial carp fishery. Carp aren't pursued by lots of anglers, but those who know their capacity for a fight sometimes call them "freshwater tarpon."
Boat fishing is best, but be careful to find deeper channels, especially if you bring a larger boat. There are launches on the south side off LaFrambois Road and on the north side in the Felida area.
Washougal River
This river isn't what old-timers might remember, but it puts out moderate returns of steelhead each year.
Steelhead return in both summer and winter runs.
Summer runs start showing in May and peak in June and early July. The best fishing for them is in the river from the mouth to the County Line Access (near the Skamania County border), but small numbers are caught in the upper river and also in the West Fork.
Winter steelhead also are caught more often in the Clark County section of the river, with December and early January your best bet.
Yale Reservoir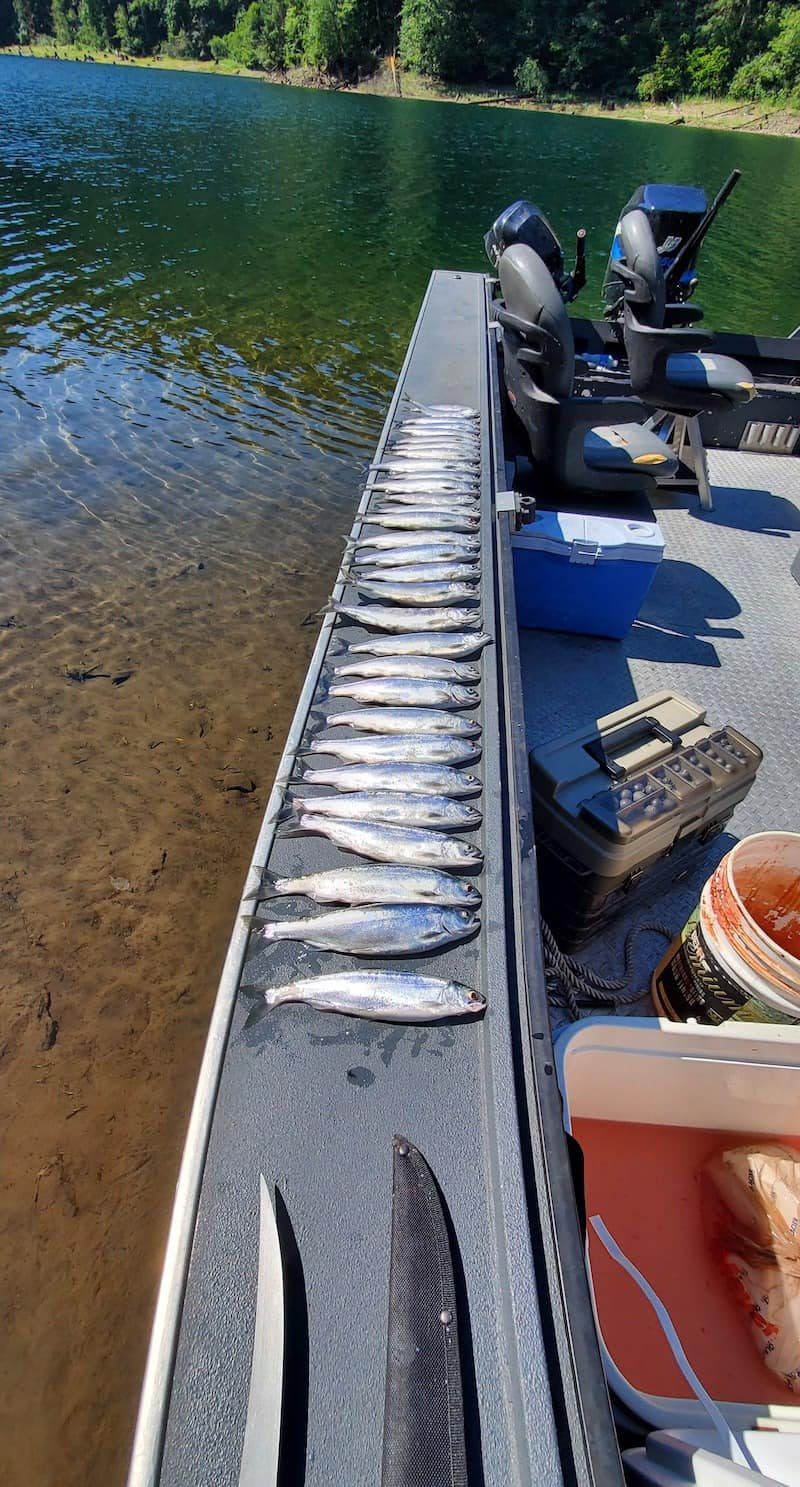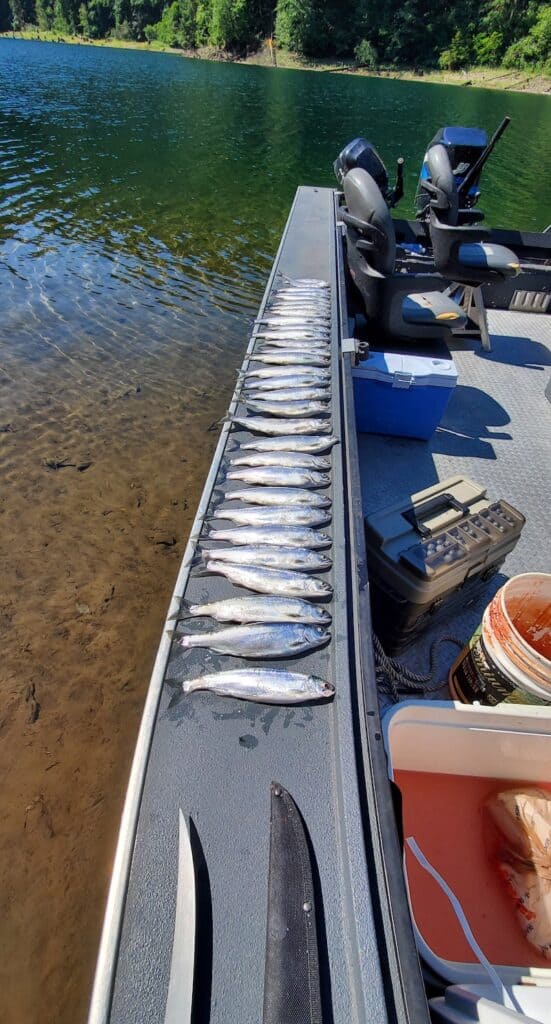 This large reservoir (3,600 acres) on the North Fork Lewis River mainly brings in anglers looking for kokanee.
This reservoir is shared with Cowlitz County.
The land-locked sockeye salmon are tasty and at times can be caught in good numbers.
Kokanee fishing at the reservoir, also known as Yale Lake, ramps up by about the middle of spring and continues through summer.
Kokanee fishing is nearly always a boat show.
In the early months, kokanee will be fairly shallow and can be caught trolling small spoons, hootchies and other lures. Most anglers tie those below blades or flashers to attract fish attention.
You'll use the same types of set ups in the heat of summer, but you'll need weight or a down-rigger to reach the schools, which run deeper as the surface water warms.
Yale has a moderate number of trout that drop in from tributaries, primarily coastal cutthroat trout. Near the mouth of Siouxon Creek is one spot to find them.
The reservoir also is home to some bull trout, which along with dolly varden are protected and must be released unharmed if caught incidentally.
PacifiCorp maintains several boat ramps, but these may be out of the water when levels are well down, usually later in the season.
More: Yale Lake Fishing
Fishing in Neighboring Counties
Cowlitz and Wahkiakum Counties: To the north, excellent salmon and steelhead rivers, a few spectacular trout and kokanee spots and one of the state's best bass lakes.
Skamania County: To the east, salmon, steelhead and more in the Columbia River and tributaries, plus some very good trout and bass lakes.
Washington Resources
WDFW Fishing and Stocking Reports
WDFW Fishing Regulations
National Weather Service forecasts