Skamania County almost has more places to fish than people to fish them.
Encompassing parts of Washington's southern Cascade Mountains and the Columbia River Gorge and including the stunning Mount St. Helens, Skamania County is home to literally hundreds of fish-bearing lakes and streams.
The county also borders a fishy stretch of the Columbia River.
Only about 12,000 people call Skamania County home, and most of them live at the extreme southern end near the Columbia River and State Route 14, in and around the communities of Stevenson, Carson and North Bonneville.
But Skamania is a veritable outdoors playground for a wider area including Vancouver, Longview and other other larger cities in the Interstate 5 corridor.
Anglers also come in from the Yakima area to the east and even from across the river in Portland, Oregon, just a short drive from here, to fish the excellent mountain lakes and steelhead streams.
Besides being home to the most active volcano in the lower 48 states in part of the Mount St. Helens National Volcanic Monument, Skamania County has tons of other attractions.
Among the draws to this area are a large swath of the Gifford Pinchot National Forest that includes awesome wilderness areas dotted with lakes, some of the most dramatic scenes in the Mount St. Helens National Volcanic Monument, the western flanks of towering Mount Adams, a popular trail at Beacon Rock State Park, luxury stays at Skamania Lodge, and some of the world's best wind surfing located in the windy Columbia River Gorge.
But we're here to talk fishing, and Skamania County is loaded with trout, steelhead, salmon, bass and other game fish.
Below you'll find a quick look at some of the better angling options located here, with links to additional information to help you find your fish.
And just a quick mention: Below the listing of Skamania County fishing holes, you'll find what we call the "Fishing in Neighboring Counties" feature. This short guide will link you to all of the best spots a short drive away on the Washington side of the river.
Ashes and Little Ashes Lakes
Ashes Lake is a diked-off cove of the Columbia River, separated by the crossing of State Route 14 and connected to the river by a culvert.
This lake of roughly 50 acres is a warmwater fishery with the typical game fish found in Columbia backwaters, including largemouth and smallmouth bass.
Bank access isn't very good, but if you have a portable boat you can reach more fish.
Ashes Lake is located about 10 minutes past North Bonneville and a couple miles west of Stevenson.
Little Ashes Lake, with about five surface acres, is just southwest of Ashes and is known for getting some plants of hatchery trout, typically in the spring and also around December. That winter planting may well including some jumbo-sized trout.
The smaller Ashes also has some bass, bluegill and brown bullhead catfish.
Note that Little Ashes is often listed as Little Ash Lake on WDFW's website but Little Ashes on maps.
This lake is located immediately south of Ashes Lake. There is a wide shoulder along State Route 14 just north of the lake for parking and trails to bank access spots.
Coldwater Lake
This Mount St. Helens-area lake is shared with Cowlitz County, where the access is located. See our Cowlitz County article for details.
Columbia River
The Columbia River bordering Skamania County has quite a variety of fishing options and includes the productive area just below Bonneville Dam as well as part of the Bonneville Pool above.
Salmon runs include both spring and fall Chinook as well as some fall coho. The fall runs are around in late summer and early fall and are typically the largest salmon runs on the Columbia.
The spring Chinook run isn't as big but these fish are so tasty that they have a big fan base. The mouth of the Wind River is a popular spot.
The prime areas to catch salmon include below Bonneville as well as near river mouths, both spots where these fish congregate in numbers large enough to target them.
River mouth areas also account for the majority of steelhead catches in this part of the Columbia River, particularly for the summer-run fish. Boat and bank anglers also ply relatively shallow travel lanes below the dam.
White sturgeon are native to the Columbia, where they can grow to lengths over 10 feet.
In this area, there are fisheries both below and above Bonneville. The lower reach is typically catch-and-release, with a sanctuary area below the dam to protect spawning sturgeon.
The Bonneville Pool has typically had some harvest opportunities, but sturgeon fishing is tightly regulated and anglers need to check the WDFW or ODFW for the latest rules.
Introduced American shad thrive in the Columbia and literally cross Bonneville Dam in the millions each spring.
They bottle up enough below the dam's fish ladders enough that this area is perhaps the best shad fishing spot in the world. Boat anglers have an advantage but bank anglers get their share.
These parts of the river also are home to good numbers of warmwater fish and are especially noted for their smallmouth bass and walleye populations on both sides of the dam.
More: Columbia River Fishing
Council Lake
This is a high mountain lake with excellent fishing for trout, including rainbows stocked in good numbers during the summer.
You might also catch other species of trout, perhaps brook, cutthroat or brown trout stocked at various times.
Northwest of Mount Adams in the Gifford Pinchot National Forest, it's a bit of a drive at a little over 100 miles from Vancouver. You can either head out State Route 14 and head north past Trout Lake or head up the Lewis River on Highway 503.
Winter snows hang on late into spring (maybe even early summer) and then return in the fall, making access difficult for a good six months or more, even though it's technically open to fishing all year.
But it's an oasis from the summer heat at lower elevations, and the trout bite here when they aren't doing much at lower elevations. Camping is available.
Council is in the same vicinity as Takhlakh Lake, which offers a similar high-mountain experience fortified with stocked trout. See separate listing below.
Drano Lake
More of a good-sized Columbia River cove at the mouth of the Little White Salmon River, Drano is a go-to spot (and therefore crowded) when the summer steelhead and Chinook salmon are staging to head up to the hatchery or hanging out in the cooler tributary waters before continuing up the Columbia.
Most boat anglers troll with wobbling lures or spinners to chase spring Chinook in late spring and early summer, summer steelhead in late summer and fall Chinook peaking in September.
Bank anglers can do fairly well here as well, pitching lures or baits.
There are far less enthusiastically fished populations of warmwater fish such as bass and for sturgeon.
Always (and we mean always) check regulations before fishing for salmon, steelhead and sturgeon, all highly regulated fisheries.
Drano Lake is the 200-plus body of water located 10 miles past Carson heading out along State Route 14, about an hour east of Vancouver. The boat ramp and parking lot is immediately off the highway.
Forlorn Lakes
This group of relatively small high mountain lakes offers late spring and summer fishing for several species of trout and primitive camping.
It's located just north of Goose Lake and a bit farther south of the Indian Heaven Wilderness.
Goose Lake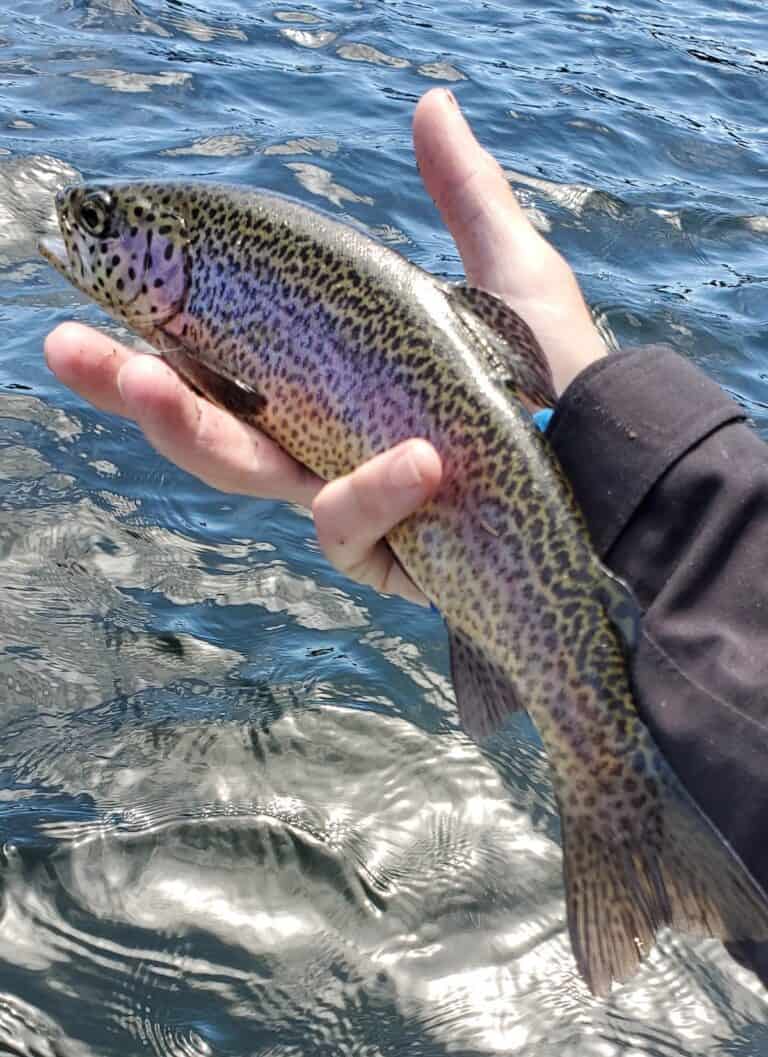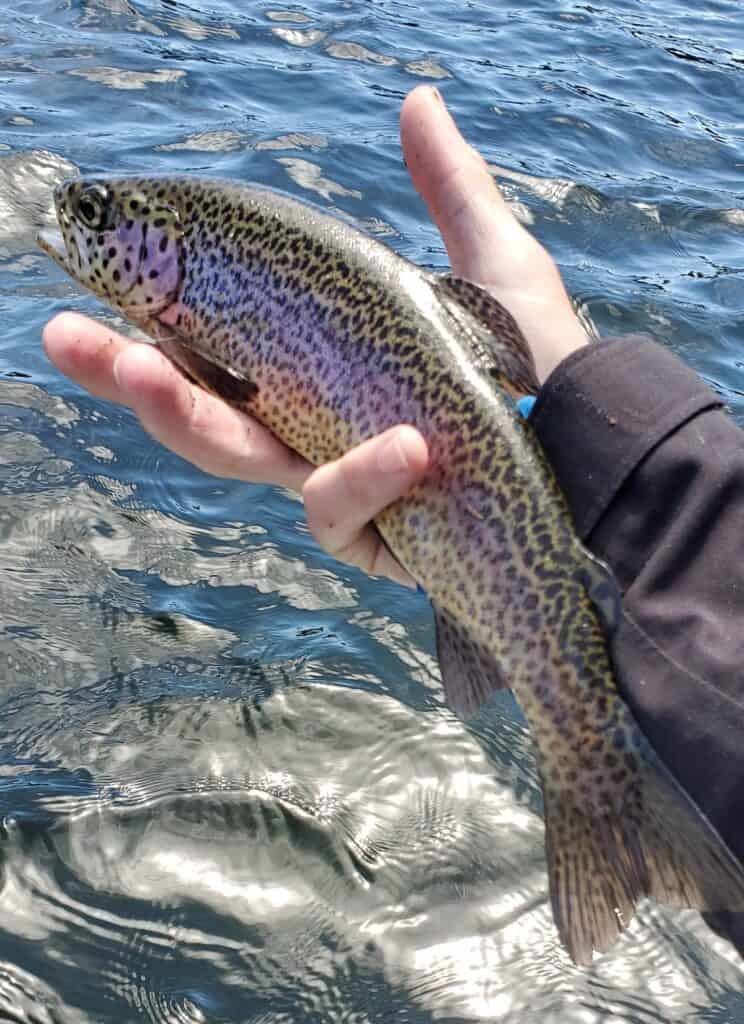 This is a popular spot for reliable summertime fishing located in the Gifford Pinchot National Forest.
The lake is generously planted with more than 12,000 trout a year, including lots of cutthroat trout and good numbers of rainbow. It's usually stocked well in the spring and more trout are delivered in the fall.
Anglers may also hook into brook trout and possibly even a brown trout, which have been stocked here in the past.
Bank access is good but boat anglers catch more fish.
Less than two hours from Vancouver, Goose Lake is great for both a day trip or a camping adventure and can serve as a base camp for other mountain lakes in national forest, such as the Forlorn Lakes and Indian Heaven Wilderness areas.
More: Fishing at Goose Lake in Skamania County
Icehouse Lake
This small lake near the Washington end of the Bridge of the Gods and near Ashes and Little Ashes lakes, is most often fished for good numbers of trout planted here in both the spring and winter.
Some of those trout, mostly rainbows these days, are likely to include a lot of pan-sized fish as well as some jumbo fish.
Summertime trout fishing will be poor to non-existent, but that's a pretty good time to try the lake for warmwater species including largemouth bass and bluegills.
Weeds can be an issue during the later parts of the warm season, so late spring and early summer might be easier.
Also spelled as Ice House, this 2-acre lake is located just up Ash Lake Road immediately up from Highway 14, barely east of the bridge (which connects to Hood River, Oregon).
Indian Heaven Wilderness
Of Skamania County's hundreds of lakes, quite a few dozen are located in this wilderness area east of Swift Reservoir.
The lakes have a variety of different species often including rainbow, cutthroat and brook trout.
The hiking is sometimes better than the actual fishing, but this is a lake-rich area that's fun to explore for those willing and able to traverse trails that range from easy to fairly challenging.
If you can handle packing a float tube or inflatable raft, you likely will reach more fish in these lakes.
The trails can be snowbound until late spring or early summer, and then mosquitoes can be an issue.
Later in the season, in late summer or early fall, the mosquitoes aren't such an issue and the huckleberries are ripe for picking.
Cultus Creek Campground is a potential home base with access to trails.
It's a little more than a two-hour drive into the wilderness area whether you head up the Lewis River east of Woodland or you head north out of Carson or White Salmon from the Columbia River Gorge.
Lewis River (upper)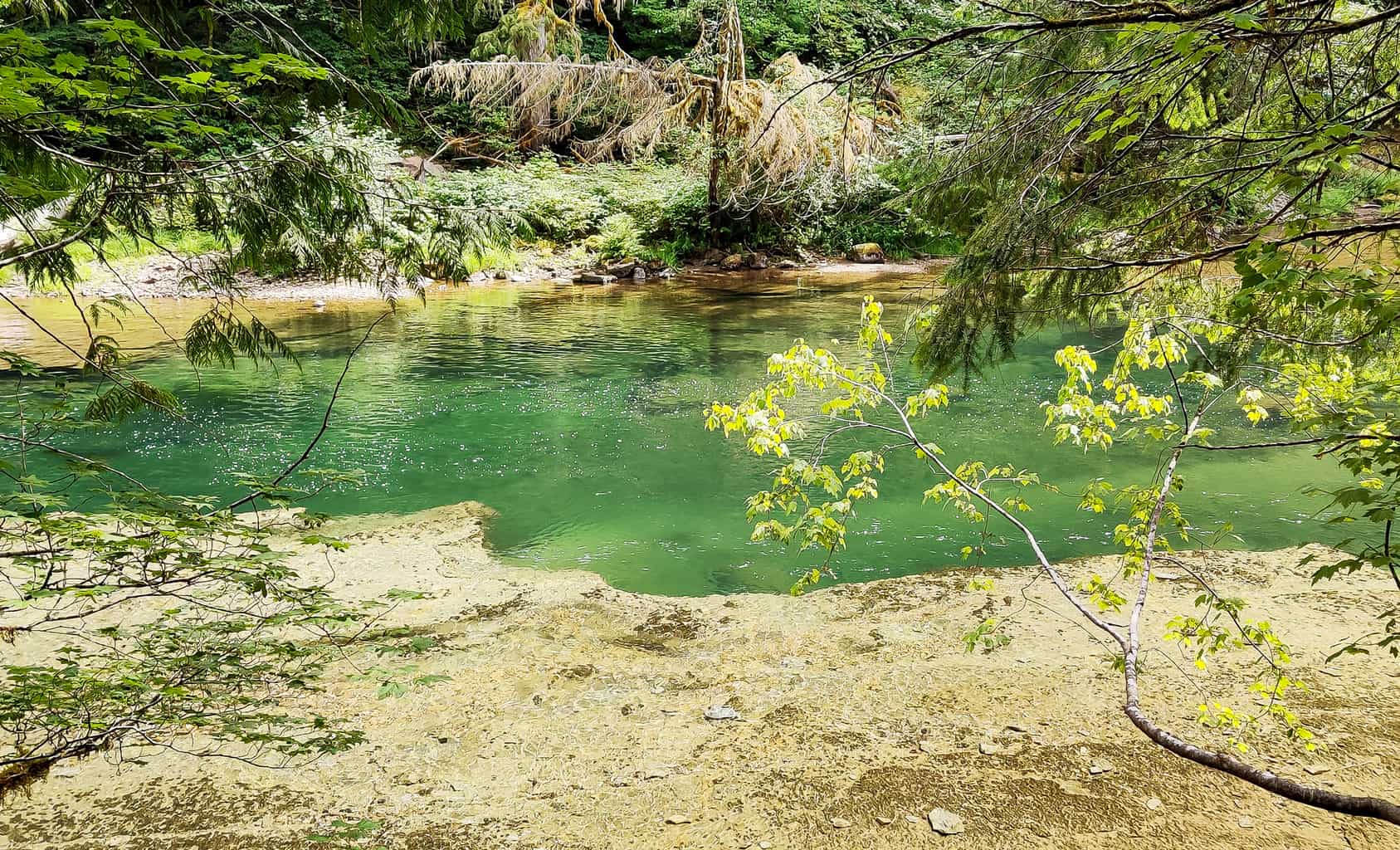 While most anglers focus on the lower Lewis River for salmon and steelhead, the Skamania County reaches of the North Fork (the mainstem) above Swift Reservoir is primarily a catch-and-release trout stream.
There is some pretty good fly fishing up here, and selective gear rules apply.
You are likely to catch wild rainbow and cutthroat trout, which you must release. You also might incidentally catch a bull trout, although you may not intentionally fish for the bulls, which are highly protected.
There is a very short stretch above Swift Reservoir (below Muddy Creek) where fin-clipped hatchery trout may enter the stream and can be harvested.
The very upper reaches of the East Fork Lewis River also stretch into Skamania County. Wild trout are protected here so study your regulations carefully.
More: Fishing the Lewis River
Little White Salmon River
This is a nice trout stream and the only river system in Skamania County on the WDFW's regular trout stocking schedule.
The stream gets several thousand trout planted, usually all at once around the start of the season, which opens Memorial Day weekend.
Several of the Little White Salmon's tributary streams also are worth a try for trout. Wild trout must be released, and hatchery fish are marked with a clipped and healed adipose fin.
The river also offers summer steelhead fishing, although much of the attention is focused at the mouth, which is Drano Lake (see separate listing).
The lower river, and again primarily Drano, brings lots of spring and fall Chinook and the anglers who are trying to catch them into the area each year.
Make sure to study up on current regulations, particularly for salmon and steelhead. The rules tend to change with the various runs.
There is camping in the area, including at Moss Creek and Oklahoma U.S. Forest Service campgrounds.
Just a note, the Little White Salmon is a separate river from the White Salmon River. Both enter the Columbia directly, about five miles apart. (See a separate listing below for the White Salmon River.)
Spirit Lake
This famed lake in the shadow of Mount St. Helens was forever altered in the 1980 blast and today is off-limits to fishing.
There have been efforts to reopen the lake to fishing after rainbow trout apparently survived the blast and later grew to trophy sizes, but at this writing managers have erred on the side of keeping it restricted.
Swift Power Canal
This man-made waterway moves Lewis River water from Swift Reservoir down to Yale Lake as part of a large hydroelectric project on the river.
The canal is stocked with hatchery rainbow trout and makes for easy bank fishing soon after it is planting a couple times during the spring.
Swift Reservoir
This big reservoir, nearly 4,600 acres, is the uppermost of three large impoundments on the Lewis River.
Swift is the one of the three heavily planted with rainbow trout, while the other two reservoirs in Cowlitz County have different fisheries.
This is an excellent spot to boat a limit of rainbow trout from spring through fall, with a nice, uncrowded fishery in late summer and early fall when most anglers are chasing salmon.
More: Fishing at Swift Reservoir and Swift Power Canal
Takhlakh Lake
At more than 4,000 feet in elevation, this is a pleasant spot for a summertime fishing trip and to escape the heat of the valley.
The 36-acre lake is decently stocked with several thousand rainbow trout each year, typically during the summer months.
The lake is typically inaccessible due to snow from sometime in November to well into spring or possibly early summer.
Takhlakh is near Council Lake (see separate listing) and several clusters of high-mountain lakes in the wilds of the Gifford Pinchot National Forest.
There is a U.S. Forest Service campground there.
Tunnel Lake
This is another of those lakes formed by a dike for State Highway 14 in the Columbia River Gorge that is stocked with hatchery trout and also has some warmwater fishing opportunity.
Expect WDFW to put most of the trout into Tunnel in the spring, probably in the April time frame.
However, the state also has opted to drop in some jumbo-sized trout during December for hardy anglers looking for big fish.
Tunnel also has pretty good fishing for warmwater fish including largemouth bass and yellow perch.
Tunnel Lake located between Carson and White Salmon, just east of the larger Drano Lake.
Washougal River
The upper river is in Skamania County, including the Skamania Hatchery.
There's a modest steelhead fishery on this upper stretch, mostly for winter-run fish, as well as some trout fishing opportunity.
The lower reaches of the river in eastern Clark County generally account for higher steelhead catches and have the boat-accessible sections.
White Salmon River
This river is shared with Klickitat County and has opportunities for steelhead and trout fishing.
The river in recent years has had a modest fishery for summer steelhead in recent years, with most catches in June through August.
Steelhead returns tend to cycle up and down, so if runs generally improve into the Columbia system, the White Salmon will see better days.
There also are some salmon caught near the mouth of this river, although success rates tend to be higher at the mouths of the Little White Salmon (Drano Lake) and Wind rivers.
Wind River
This river enters the Columbia at Carson and is especially prized as a spring Chinook fishery at the mouth and in the very lower section below Shipherd Falls.
The springer fishing here tends to be good in May, with a few catches spilling into early June.
There also is a small summer steelhead fishery on the lower river, mostly coming after the salmon fishing has faded away.
September is probably your best bet for this, as the hatchery steelhead here are mostly from elsewhere but ducking in looking for relief from the late-summer warmth of the big river.
Trout fishing isn't a big fishery here and parts of the upper river and all tributaries are closed to fishing, so be sure to read regulations carefully.
The lower river at Carson is only an hour east of Vancouver heading out State Route 14.
Fishing in Neighboring Counties
Clark County: To the west, lower Columbia River salmon, sturgeon and walleye plus nicely stocked trout and bass lakes.
Cowlitz and Wahkiakum Counties: To the northwest, excellent salmon and steelhead rivers, a few spectacular trout and kokanee spots and one of the state's best bass lakes.
Lewis County: To the north, the best salmon and steelhead fishing on the Cowlitz River plus excellent trout, bass and other fishing.
Yakima County: To the northeast, home to the Naches and lower Yakima Rivers and some very good trout and kokanee fishing lakes.
Klickitat County: To the east, lots of Columbia River fishing for salmon, steelhead, walleye and more, as well as bass and trout spots.
Washington Resources
WDFW Fishing and Stocking Reports
WDFW Fishing Regulations
National Weather Service forecasts