A mountain lake that's veritably teeming with trout, Goose Lake in Skamania County is a great spot for the trout angler, including amateurs.
At about 3,100 feet of elevation, Goose Lake is nestled in the Cascade Range.
While the lake has good shore access, the best fishing comes when you're out on the water.
Trout Fishing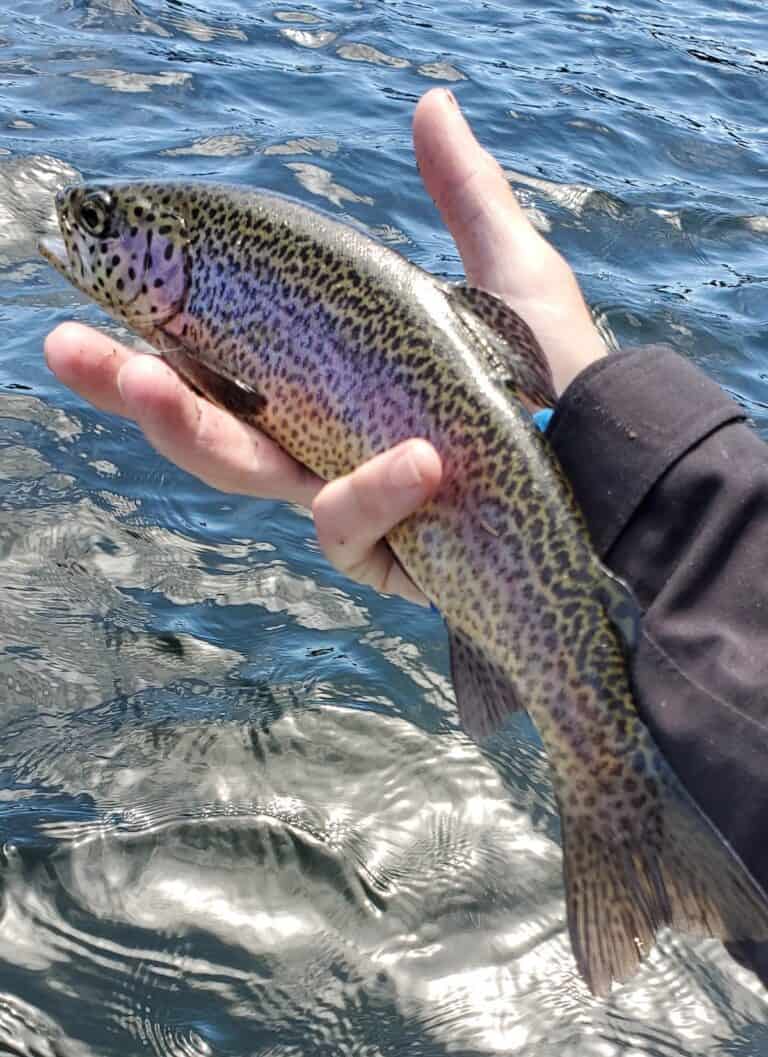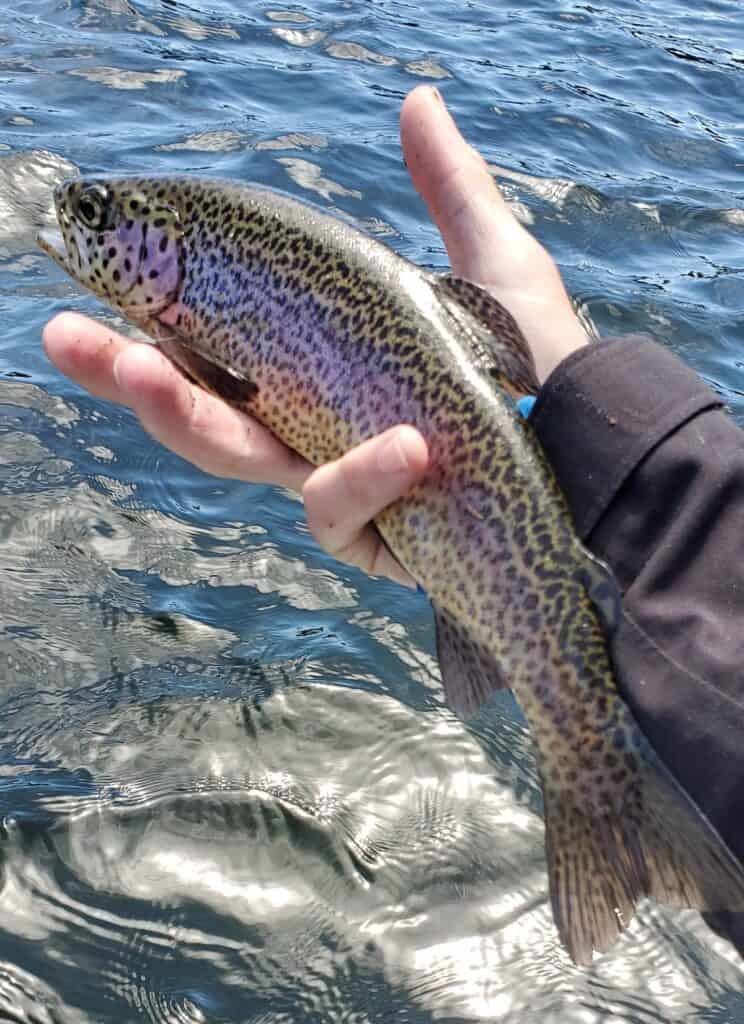 It's all about the trout at Goose Lake.
The Washington Department of Fish and Wildlife restocks the lake's rainbow and cutthroat trout populations a few times per year.
WDFW's recent stocking plans for the lake typically include well over 10,000 trout, with the bulk of those being cutthroat trout planted both in the spring and the fall.
WDFW also stocks a healthy number of rainbows in the lake, usually in the spring or early summer.
Along with the hatchery rainbow and cutthroat trout, and the occasional wild cutthroat, anglers may find non-native brook and brown trout, too. (Browns have been planted in the recent past here.)
Trout are a favorite for fly-fishing, since trout tend to favor nymphs and other flies that resemble their natural prey. Cutthroat can be particularly willing to strike artificial flies.
But most anglers tend to use traditional techniques, like suspending a worm on a hook beneath a simple red-and-white bobber or tossing lures.
Boat anglers should have success trolling lures, bait and flies (without a gas motor). Flies should be trolled extremely slowly for the best results, while lures might need a bit more speed with the electric motor or paddles to get the proper action.
For more trout-fishing suggestions, read our article Trout Fishing: Basic How-To Techniques and Tips.
Tips for Fishing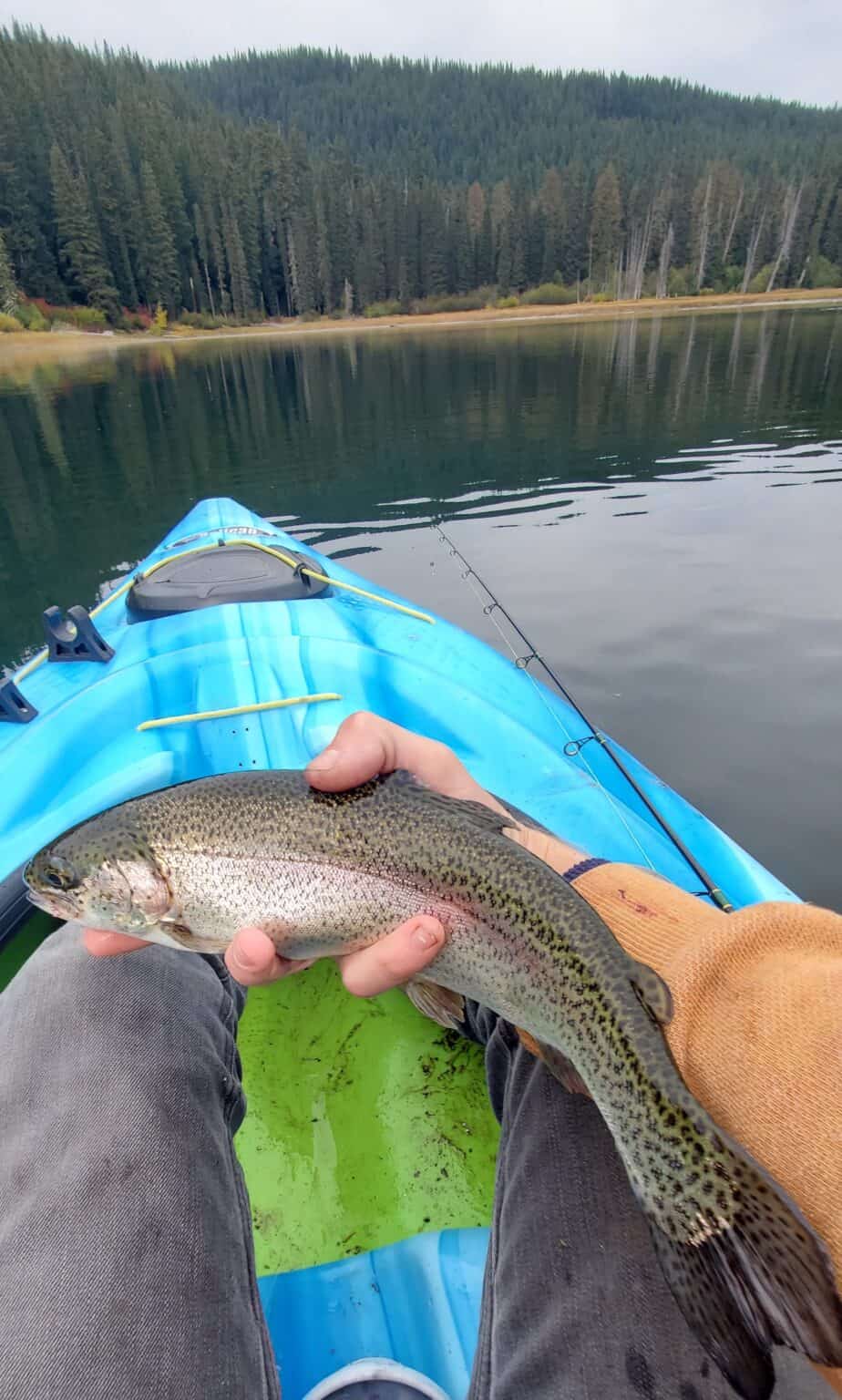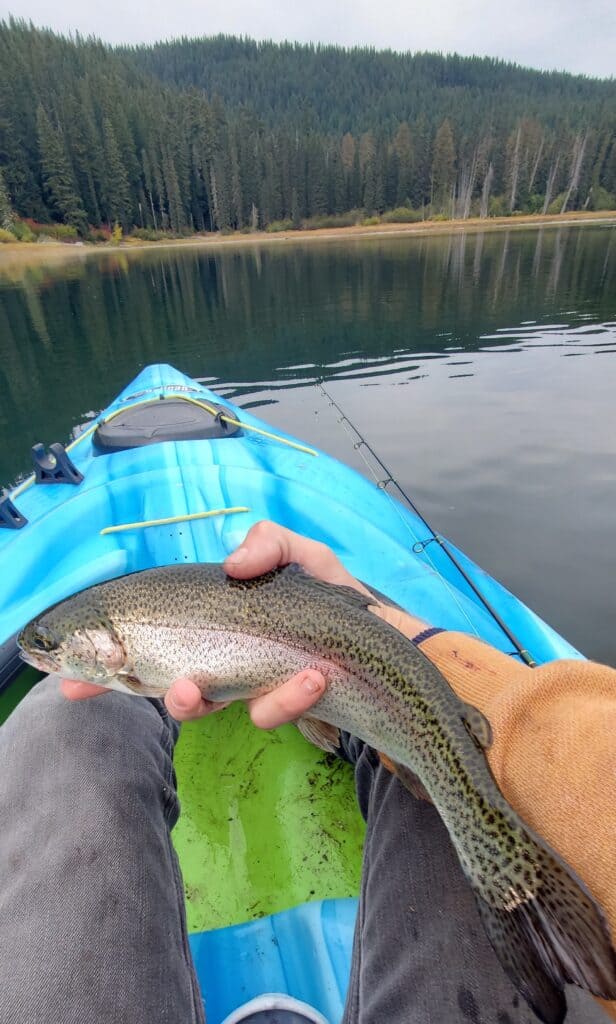 At a little more than 70 acres in size, Goose Lake has good shore access, but for the best day of fishing at the lake, consider taking a boat or raft.
Combustion motors aren't allowed on the lake, but electric motors are permitted. There is a concrete boat launch at the Goose Lake Campground.
While fishing season is year-round at Goose Lake, because of its elevation and position in the Gifford Pinchot National Forest, don't expect to be able to reach the lake during snowy winter months and perhaps into spring.
Trout fishing often is excellent from May to November, but it may slow a bit in the late summer during the pause in stocking.
Amenities
Goose Lake Campground is rustic, with no running water or RV hookups. Campsites have a lake view.
There are modest day use and camping fees. At this writing, campsites cannot be reserved.
The boat ramp has a 10-vehicle parking lot. During the season, that lot can easily fill up, so come early.
Where is Goose Lake?
Goose Lake lies in the Gifford Pinchot National Forest, which covers a vast swath of the Cascade Range in Southwest Washington. The nearest population hub is the Hood River–White Salmon area.
From White Salmon, head north on state Highway 141. Follow the highway when it turns west at the community of Trout Lake, in the shadow of Mount Adams. The highway becomes Carson Guler Road as it progresses into the national forest.
From Carson, head north on Wind River Highway until you reach the junction with Old State Road. Turn right and follow Panther Creek Road north. You'll pass Panther Creek Falls, then take another right onto Carson Guler Road.
All told, Goose Lake is about an hour's drive from White Salmon, and roughly half an hour west from Trout Lake.
From Carson, it's about a 50-minute drive, with more sharp curves and switchbacks. Both drives are quite scenic.
If driving in from Vancouver, figure a little under two hours for the trip to Goose Lake.
Find more fishing spots in Skamania County
Washington Resources
WDFW Fishing and Stocking Reports
WDFW Fishing Regulations
National Weather Service forecasts