Klickitat County near Goldendale, White Salmon and other communities offers anglers a wide variety of fishing opportunities within reasonable reach of people living in Vancouver, Yakima and the Tri-Cities.
The county stretches some 80-plus miles across the south-central foot of Washington State, hugging the banks of the mighty Columbia River.
The area rises from the low elevations of the big river, across both arid and fertile lands, and up into the lushly forested mountains of the Gifford Pinchot National Forest.
For anglers, the county is just as diverse, with several excellent options for salmon, steelhead, sturgeon and trout in its rivers and lowland lakes teeming with stocked trout and brimming with bass.
There are just over 20,000 people in Klickitat County, including those in the county seat of Goldendale and adjacent farming areas near the center, and in riverside communities including White Salmon, Bingen and Lyle along State Route 14 stretching across its southern boundary.
Besides the Columbia River and national forest, notable attractions here include the Maryhill Museum of Art and its impressive Stonehenge replica along the Columbia River due south of Goldendale. Goldendale is renowned for clear skis and has an observatory to prove it.
For anglers, we've highlighted a generous handful of the best fishing options for you to consider, and we provide links for more information about fishing in Klickitat County and beyond.
Speaking of beyond, check out the "Fishing in Neighboring Counties" feature at the bottom of this article. If you'd like to find fishing just a short drive away, this is your best bet.
Chamberlain Lake
A large (about 80 acres) but shallow lake formed by a railroad crossing just west of Lyle and the Klickitat River, Chamberlain is best fished for backwater-loving species including bass, crappie and other Columbia River warmwater game fish.
Chamberlain is a larger-than-average example that most backwater areas along the big river, carved out by dikes, that have opportunities for catching bass and panfish. There is access along the highway.
Chamberlain is not stocked with trout.
Columbia River
This stretch of the Columbia River is simply fantastic for anglers who take time to know the big river.
The 80-plus miles of Columbia here comes in sections of three reservoirs created by the river's massive hydroelectric dam system.
The western end of Klickitat County (from White Salmon to the Dallesport area) borders the Bonneville Pool.
The mid-section of the county is along the John Day Pool, also known as Lake Celilo, stretching from The Dalles Dam upriver east of Maryhill to the John Day Dam.
The county also sits along the lower section of the John Day Pool, also known as Lake Umatilla.
Simply put, there's a lot of fishing here.
Salmon including both spring and fall Chinook and fall coho migrate up the big river and in these areas are often caught near river mouths including Drano Lake, the mouth of the Little White Salmon, White Salmon and Klickitat on the Washington side and the famous Deschutes River on the Oregon side.
Salmon also are caught below dams where they tend to bottle up a bit before climbing fish ladders.
Of these, the fall Chinook run is the biggest and typically peaks in September and continues into at least early October.
Steelhead, especially summer-run fish, start arriving in spring and by late summer tend to duck into the lower ends of cool tributary rivers to get out of the warming Columbia.
Steelhead catches are quite modest in the mainstem and anglers tend to focus on tributary areas where they congregate.
The pools can have periods when sturgeon retention is allowed, and the upper part of the Bonneville Pool adjacent to Klickitat County is often a sturgeon hangout during the warmer months of the year.
With sturgeon, salmon and steelhead, it's critical to read regulations carefully and check the WDFW or ODFW websites for in-season updates. To say these fisheries are highly regulated is an understatement.
For much more loosely regulated game fish, these reservoir areas are fantastic for non-native species of warmwater fish long ago introduced to the Columbia.
Walleye fishing can be extremely good in these pools, and some people believe the next world record will come from the Columbia River.
For an expert's take on this type of fishing here, read our Walleye Fishing in The Dalles Pool.
Smallmouth bass also are available in world-class numbers here, with fish to good size but probably not world record class. Five-pounders are relatively common though, and bass fishing tournaments and club fish-ins are sore-armed, fish-catching celebrations on this mid-Columbia stretch.
Other types of warmwater fishing also can be quite successful here, including largemouth bass, crappie and channel catfish.
Some of these warmwater fish will be more prevalent in off-current areas, including several of the dike-created lakes listed in this article.
Another non-native species, the American shad, comes up the Columbia in crazy-high numbers (millions and millions) during the late spring and early summer.
The best places to catch shad are usually below dams, and in this Klickitat County section below the John Day Dam is typically the go-to shad spot.
For a more detailed look at the fisheries here, read Columbia River Fishing.
Horsethief Lake
Horsethief Lake is a cove of about 90 acres on the Columbia River, separated from the main river by a dike carrying railroad tracks along the Washington shoreline.
Horsethief has been nicely planted with trout for many decades and tends to get some 15,000 catchable rainbows stocked during the spring months, when fishing will be best for trout.
Also, the lake is likely to get a much smaller number of much larger "jumbo" trout.
Horsethief also is a pretty darned good warmwater fishery, most notably for largemouth bass but also for the wide variety of other fish found in the Columbia River system, including bluegill, crappie, bullhead catfish, yellow perch and even the occasional walleye.
Horsethief is located at Columbia Hills Historic State Park off State Route 14 less than three miles east of the intersection with Highway 197, which comes across the Columbia River from nearby The Dalles, Oregon.
Horsethief is near Spearfish Lake, which offers some of the same types of fishing. (See the separate listing on this page).
More: Fishing at Horsethief Lake
Klickitat River
The Klickitat is one of the better summer steelhead rivers in the Columbia River Gorge, in its heyday pumping out thousands of these magnificent sea-run rainbows.
Unfortunately, summer steelhead runs have been depressed in recent years and the catches are more in the hundreds than in the thousands.
Summer steelhead start arriving at the river mouth and lower river in the spring, while catches above Fishway 5 (which opens in late May) tend to be best in the hottest months of July through September.
The lower Klickitat and its mouth are also a hot spot for fall salmon fishing, with Chinook present in good numbers in September and October and coho catches generally best in October and November.
Definitely give a careful read of regulations, including in-season updates, because rules for salmon and steelhead are fluid and can change quickly if returns are down.
There is some decent trout fishing in the upper sections, with some limited seasonal harvest opportunities. Some tributaries also are open for trout fishing, and a couple are even stocked (see separate listings for Little Klickitat River and Spring Creek). Check regulations before assuming a trib is open.
There is also a whitefish fishery in sections of the upper river for a period during the winter, when other types of fishing are closed.
Note that the Klickitat's headwaters are high on Mount Adams, and silty water from melting glaciers at times can color the water and make fishing difficult, primarily in the summer.
Little Klickitat River
This major tributary of the Klickitat, which flows through Goldendale and joins the mainstem to the east, is primarily of interest to anglers as a trout stream.
In fact, the river is stocked annually with a modest number of rainbow trout, typically in April and May.
Of note, the river inside the Goldendale city limits opens in late April and for about a month is only open to juvenile, senior and disabled anglers with appropriate state permit.
The river opens to all anglers the Saturday of Memorial Day Weekend.
Several tributaries are also open for trout fishing. See a separate listing for Spring Creek on this page, and you might also try Bird, Blockhouse, Bowman and Outlet creeks.
Northwestern Lake
Just a quick mention here to note that this former trout fishery disappeared when Condit Dam was removed from the White Salmon River in 2011, opening up spawning areas for the river's anadromous fish.
Rock Creek
A widespread but small volume creek system draining the dry hills east of Goldendale and flowing into the Columbia under Highway 14 nearly 40 miles east of the Highway 197 crossing near The Dalles.
The modest angler attention here is on the lower creek, where water raised behind from the John Day Dam on the Columbia backs into the creek channel, forming a pinky finger of water known as Paterson Slough.
This slough area is a little more than a mile long and usually a football field or two across, and is best fished for bass including smallmouths and some panfish species.
There is a boat launch and primitive camping at the park at the U.S. Army Corps of Engineers' Rock Creek Park, at the tip of the finger.
While some sources report wild trout in the upper system, the river above the park is currently closed to all fishing.
Rowland Lake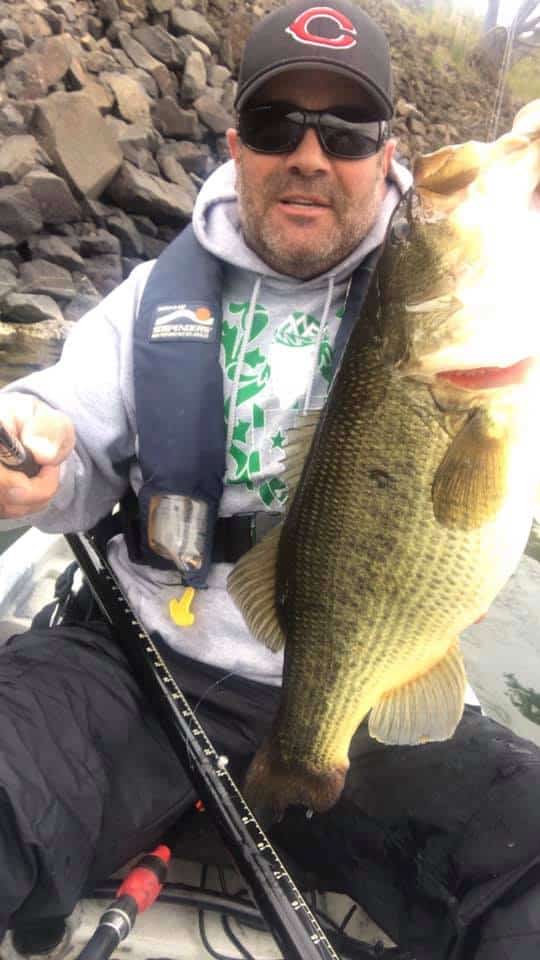 This 71-acre lake is another still-water fishery carved out of the Columbia River by dikes carrying State Route 14 and railroad tracks across a natural cove.
Rowland is most popularly fished for the many thousands of rainbow trout stocked here from late fall to winter and again in the spring.
Most of the planted trout are pan-sized legals but WDFW may nevertheless put a couple thousand trophy-sized trout into Rowland, especially in the fall or winter.
There might even be some broodstock trout dropped here, providing anglers the opportunity to land a trout of 10 pounds or even a bit more.
But the opportunity doesn't end when cold water fishing peters out in the late spring and summer, as Rowland is quite a good lake for both largemouth and smallmouth bass.
Other species you may also catch include crappie, bluegill, perch and bullhead catfish.
Bank access is limited but there's an unimproved boat ramp to launch your small watercraft to get to more fish.
More: Fishing at Rowland Lake
Spearfish Lake
This is a really nice spot for a day of fishing just north of the Columbia River upstream from The Dalles Dam.
The lake is very nicely stocked with hatchery trout in the December-January time frame and again during much of the spring.
While the big majority of those fish will be typical pan-sized trout, a few are likely to be jumbo or broodstock fish that will put up quite a battle on typical trout gear.
Spearfish also has populations of bass (both smallmouth and largemouth), crappie, bluegill and brown bullhead, making it a worthwhile stop for some warmwater fishing.
More: Spearfish Lake Fishing
Spring Creek
This tributary of the Little Klickitat River is a nicely stocked trout stream just 12 minutes west of Goldendale.
And why not? This creek is home to the Goldendale Fish Hatchery.
The fishing area is the short section (less than a mile) from the hatchery downstream to Hill Road. That little waterway gets several thousand fish for the annual opener, which is the Saturday of Memorial Day Weekend.
It's open until Halloween but these cooperative trout are likely to get caught out far, far before that time.
So be sure to fish Spring Creek in the spring, when it's full of fish!
White Salmon River
This river is shared with Skamania County and has opportunities for steelhead and salmon fishing.
The river has had a modest fishery for summer steelhead in recent years, with most catches in June through August.
There also are some salmon caught near the mouth of this river, although success rates tend to be higher at the mouths of the Little White Salmon (Drano Lake) and Wind rivers.
There is some trout fishing in the upper reaches, where the focus is catch-and-release for wild rainbows and cutthroats.
Fishing in Neighboring Counties
Yakima County: To the north, the eastern slope of the Cascades offers lots of trout, kokanee and other fish in lakes and rivers in the Yakima River drainage.
Benton and Franklin Counties: To the east, the Tri-Cities area offers some outstanding fishing in the mid-Columbia and lower Snake rivers and some nicely stocked lakes.
Skamania County: To the west, salmon, steelhead and more in the Columbia River and tributaries, plus some very good trout and bass lakes.
Washington Resources
WDFW Fishing and Stocking Reports
WDFW Fishing Regulations
National Weather Service forecasts