The Columbia River is the Pacific Northwest's best walleye fishery, and some anglers believe the next world record of this large member of the perch family will come out of the river, even though the Upper Midwest transplant isn't native to the Pacific Northwest.
If the next world record does come from the Columbia, one possible location where that fish will be caught is in The Dalles Pool, also known as Lake Celilo, which stretches from The Dalles Dam upstream to the John Day Dam.
That's where Ed Iman has caught more walleye than just about anyone in the Pacific Northwest.
Some years back Iman shared some of his walleye fishing tips that should work anywhere in the Columbia and often across other walleye-loving states.
The Dalles Pool and mid-Columbia area can offer some of the best walleye fishing in the massive Columbia River, and definitely some of the better walleye fishing fairly near Portland.
There also is similarly excellent walleye fishing farther up the Columbia and well north into Washington state.
Iman, long one of the best Columbia River's top walleye guides, noticed through the years that walleye populations seem to follow cycles influencing fish size and numbers.
For example, the cycle sometimes favors very good numbers of fish in The Dalles Pool while other years there might be fewer but larger walleye in the area. It might very well be different for another spot on the Columbia in a given year.
The Dalles Pool begins just upriver from the city of The Dalles, about an hour and a half east of Portland on Interstate 84.
The upper end of the pool near Biggs and Rufus is another half hour upriver.
From Bend, the drive is a bit over 2½ hours; use U.S. 97 to reach the upper pool or cut over on U.S. 197 to The Dalles.
Columbia River Walleye Fishing Regulations
The Columbia River is open all year for warmwater species, including walleye. At this writing, ODFW doesn't have any bag limits for walleye, which also is true for the river's smallmouth bass (and largemouth) fishery. Using live fish for bait is not allowed.
The river is closed to boat fishing for the first 3,000 feet below John Day Dam. Bank angling is permitted 600 or more feet below the fishway entrance.
Boat anglers may have a valid angling license from either Oregon or Washington to fish in the mainstem Columbia and may launch from either shore.
Bank anglers, or boat anglers fishing in tributaries, sloughs or similar waters off the main river, must have a license from the state in which they are fishing.
Consult the current Oregon Sport Fishing Regulations booklet (and mid-season updates on the ODFW Web site) for various bag limits and angling rules for other species.
Know Before You Go
The mid-Columbia River can be a windy place, and the water can get rough in a hurry. Be especially careful in smaller boats on big water, and allow plenty of time to return to the launch.
When to Fish for Walleye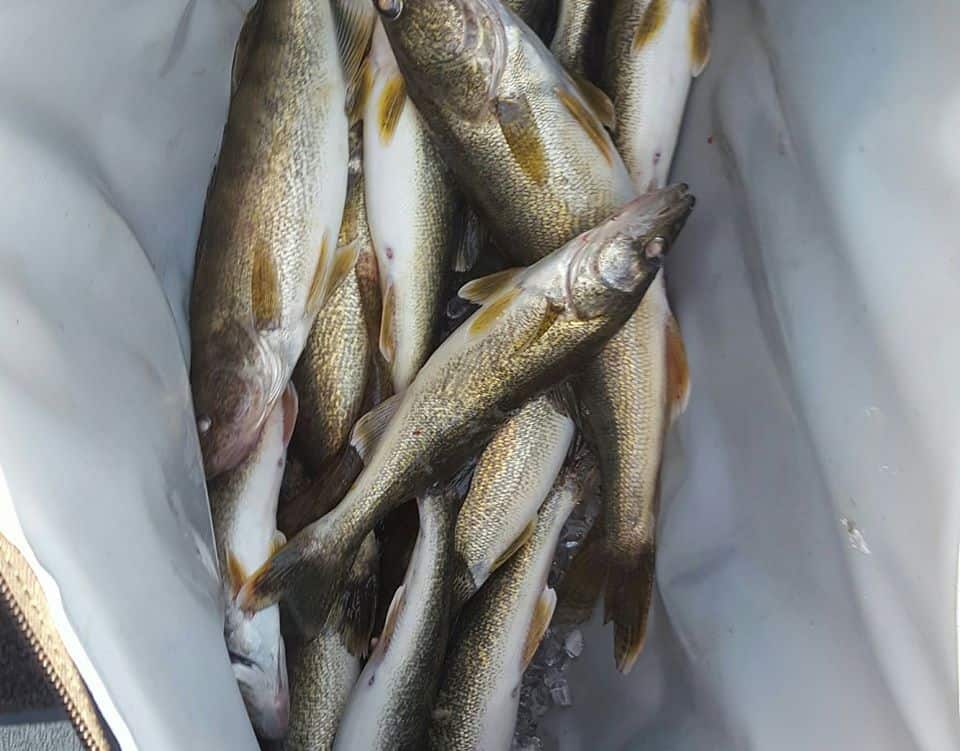 Walleye fishing can be nearly a year-round pursuit, but only the hardiest chase after them in the frigid mid-Columbia area during the dead of winter, although some big fish can be caught in late winter.
Early Walleye Fishing Starts in March
Iman and many anglers get serious about walleye in March, with pre-spawn fishing best through April.
Iman lays off the walleye during the main spawn in May, when the fish are less active, and then goes after them again during the post-spawn period of June and July.
From mid-August through September, the Columbia fills with juvenile shad migrating toward the Pacific Ocean.
At this time, foraging is so easy for the walleye that they generally are too stuffed with little shad to bother with anything anglers can throw at them.
"All (a walleye) has got to do is open his mouth. (Juvenile shad) are everywhere. Everywhere."
While Iman moves on to other pursuits in the fall, especially the big salmon and steelhead runs moving up the Columbia, the fishing can get good again starting in October and on nicer days into the colder season.
Where to Catch Walleye Near The Dalles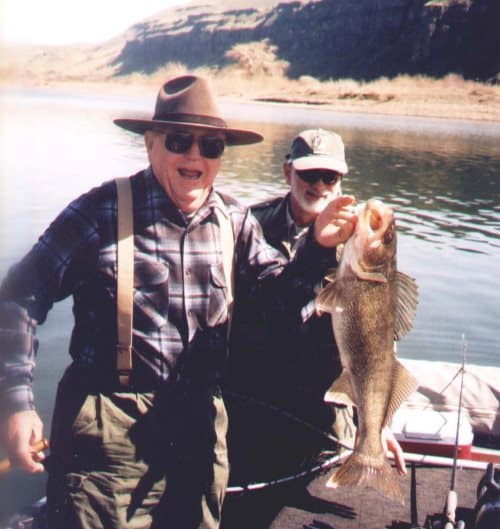 When fishing in The Dalles Pool during March and April, Iman will typically launch his boat at Rufus and fish the upper areas of the pool not far below John Day Dam.
Three major places to look for walleye in the Rufus area are:
Preacher's Eddy: Near the island on the Oregon side above the put-in.
The Willows: Across the river from the launch and off of what are actually cottonwood trees.
Rufus Run: Out from the launch and downriver along the current seam to the gravel bars.
Those Rufus-area locations will fish well all year, as long as the walleye are feeding, but some lower areas also can be good in the summer and fall.
Two go-to spots downriver for summer fishing are the underwater shelves around Miller Island, off the mouth of the Deschutes River, or farther downriver at Browns Island.
(Boaters can launch in the lower Deschutes at Heritage Landing off I-84, and then travel a very short distance to the Columbia.)
Best Spots to Find Walleye
Walleye are a schooling fish that always look for structure that shields them from the main current and allows them to ambush passing prey.
They almost surely will be right against the bottom, most likely behind rocks, ledges, stumps or just outside the current.
Iman often starts looking for walleye in 18 to 38 feet of water. Once you find their depth, chances are very good you will catch more walleye in very similar locations.
Preferred depths and locations could hold for weeks or change rapidly due to shifts in water water temperature, current and food sources.
How to Catch Walleye in Columbia River
In the spring, Iman suggests that the best two ways of catching walleye are using various jigs or trolling with bottom-walkers, while crankbaits also become a good option during warmer summer weather.
Jigging for Columbia Walleye
Jigging is best when the wind is calm or very light.
Use a vertical jigging technique below the boat and don't use too much action. Moving the jig within 8 to 18 inches of your fishing zone should do it.
Iman employs a variety of jig types, including a plain lead head with just a nightcrawler or with a curly tail plastic worm and a piece of nightcrawler.
A favorite style has a propeller-style blade, such as Northland's Whistler Jig. Mack's Smile Blades also are part of his arsenal and are deadly for walleye jigging.
Trolling for Columbia Walleye
Trolling with bottom-walkers with a worm harness is your best bet when the wind kicks up.
Always troll these rigs in a downstream direction, which is how many food sources drift down to waiting walleyes.
Use the 1½- to 3-ounce sizes in the walkers, depending on depth and current. The weight should be enough to keep your line going into the water at a 45-degree angle and your offering in touch with the bottom as you troll.
Excellent trolling blades for this technique include a No. 4 Indiana, a No. 3 Colorado or a Mack's Smile Blade in any of the smaller three sizes.
Crankbaits for Columbia Walleye
In warmer water, keep using jigs and bottom-walkers but also add crankbaits to your arsenal.
Unlike the walkers, troll your crankbaits upstream to give them the right action. Try a very slow troll to provoke a strike from walleyes protecting their territory.
Iman's favorite crankbait for this fishery is Yakima Bait's TimberTiger, which he fishes in a flat-line fashion.
He uses the DC-13 when he fishes shallower water but switches to the DC-16 when he needs the longer bill to reach deeper water.
For these lures he prefers a pattern with some green to it, including fire tiger, chartreuse or the blue back version with the chartreuse body.
As with your other presentations, crankbaits must be right on the bottom.
If the bill of your lure isn't scratched from banging on rocks, you're doing it wrong. Either switch to a deeper-diving lure or try fishing in shallower water.
"You've got to be tapping the bottom with them," Iman said.
A Guide's Advice to Finding Walleye
If you have the right techniques, the likely reason for failure is being in the wrong place. Double up efforts to fish right on the bottom and around structure.
If you're not hitting rocks and boulders and the bottom, and perhaps hanging up, you aren't fishing where the walleye are.
Once you find the right depth and other conditions, be vigilant about staying in very similar zones.
More: Columbia River Fishing overview
Want some more ideas for catching these great fish? Read our easy guide, Walleye Fishing: Simple Techniques and Tips.
Return to Oregon Bass and Panfish page
Oregon Resources
ODFW Weekly Fishing Report
ODFW Trout Stocking Schedule
Oregon Fishing Regulations
National Weather Service
Ed Iman (541-298-3753) has been a fishing guide since the late 1970s and has taken clients after walleye longer than anyone else on the Columbia River. His guide service, based in The Dalles, fishes for walleye, salmon, steelhead, sturgeon and smallmouth bass primarily in the pools above Bonneville, The Dalles and John Day dams.