Just north of Camas, finger-shaped Lacamas Lake is a 315-acre body of water with year-round fishing opportunities.
This suburban lake offers seasonally good fishing for some of Washington's most popular game fish, including rainbow trout, largemouth bass and channel catfish.
Lacamas Lake has a neighbor, really a connected lobe of lake on the other side of a main thoroughfare, that is known as Round Lake. We also cover Round Lake fishing in this article.
Trout Fishing
The Washington Department of Fish and Wildlife stocks Lacamas Lake with rainbow trout a few times every year.
Typically, there's one large planting in late November or December, and then as the spring fishing season ramps up, there may be a couple more truckloads of fish delivered in March and April.
On average, the state puts more than 15,000 rainbow trout into the lake every year.
For best results, use the linked resources below to time your trip for stocked trout.
Brown trout also have been stocked in the lake at times, usually in the spring, but the most recent WDFW plan didn't include these fish.
Fly-fishing for trout is entirely feasible.
More traditional anglers should bring size 8 bait hooks. Earthworms or salmon eggs make good trout bait, often fished beneath a bobber.
Fly fishing for trout here also is entirely feasible.
For more details on how to catch trout, read our article Trout Fishing: Basic How-To Techniques and Tips.
Bass Fishing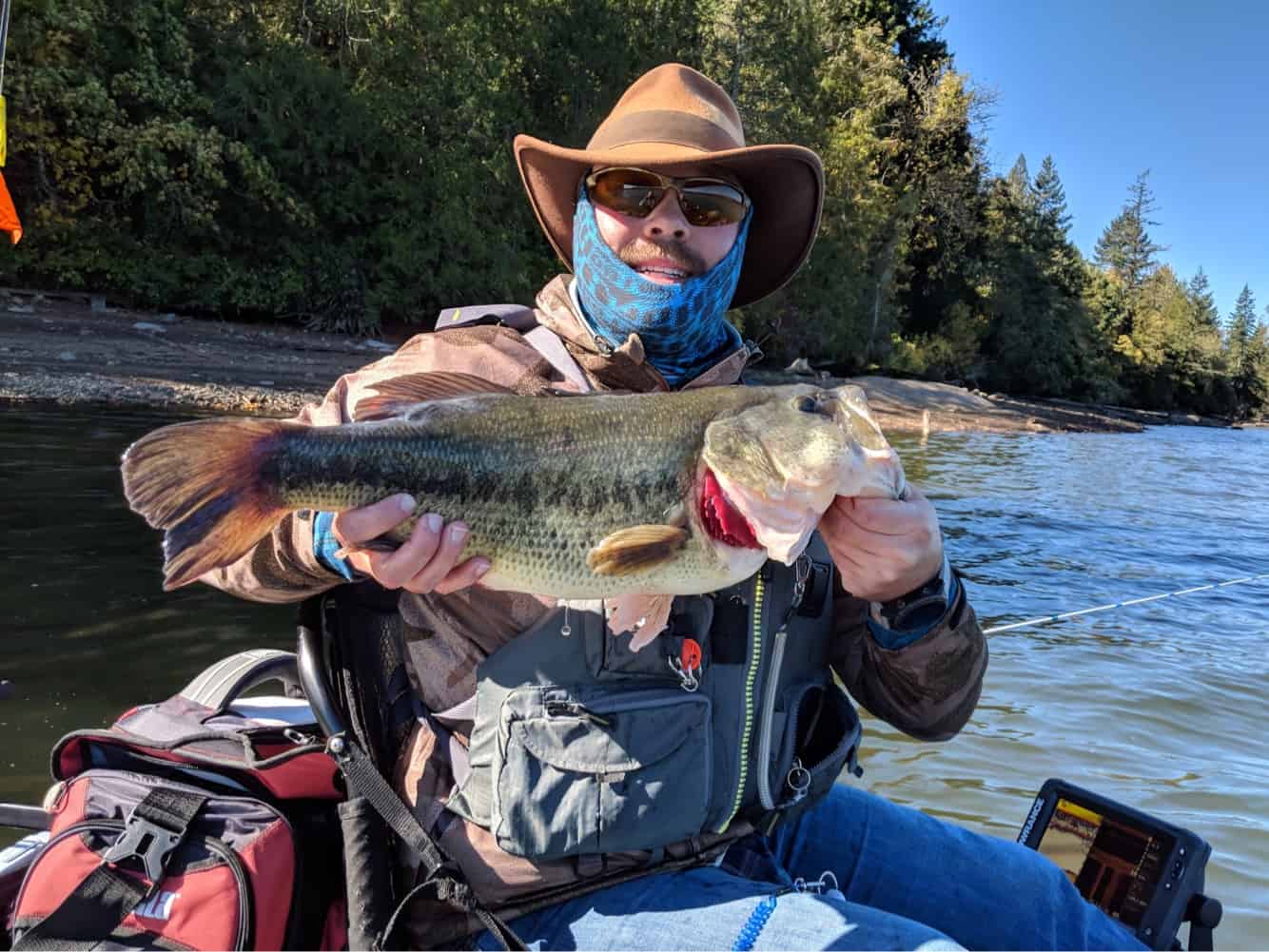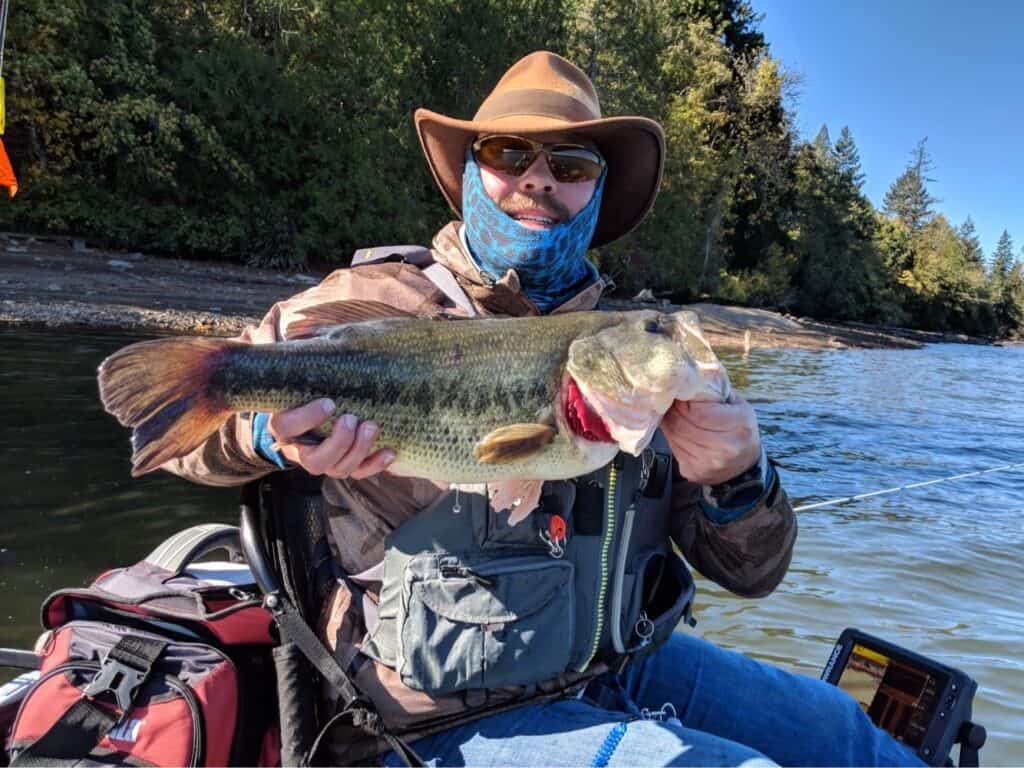 Bass fishing is open year-round at Lacamas Lake, but catching them is decidedly seasonal.
In the summer months, anglers can find largemouth bass and other warmwater fish on the bite.
Lacamas is an unassuming favorite spot in Clark County for many largemouth bass anglers. Bass here can grow to good size, and it's on our list of Best Bass Fishing Near Portland and Vancouver.
The water quality in the main part of Lacamas Lake has declined, which can impact the fishing. The water quality is often better in smaller Round Lake, which is connected but across state Highway 500.
Like many of Washington's lakes, Lacamas Lake is home to some channel catfish. The lake and its close neighbor, Round Lake, have been known to produce channel cats weighing 30 pounds or more.
Catfish will eat nearly anything. Popular baits include chicken liver, crawfish and shad.
Along with largemouth bass and channel catfish, yellow perch inhabit Lacamas Lake and can make an easy summer catch. Use a size 10 or 12 hook baited with a whole or part of an earthworm to tempt perch.
Tips for Fishing at Lacamas Lake
Fishing at Lacamas Lake is permitted year-round. However, the lake suffers from oxygen depletion and algal blooms, making it a challenging environment at times to find fish, especially in the late summer and early fall.
The portion of Lacamas Lake that's south of the state Highway 500 bridge, Round Lake, is generally considered to have better water quality than the main part of Lacamas Lake.
Round Lake is at the center of Lacamas Regional Park, which is maintained by the government of Clark County.
At Round Lake, anglers have good bank access and will encounter many of the same major fish species as in the rest of Lacamas Lake, so it may be your best bet at times.
Fishing for trout is open year-round, but success rates are by far the best soon after a stocking, often around December and in the spring. The water here is too warm in the summer for good trout fishing.
However, May to September are the best season for catching largemouth bass and yellow perch. There may also be some crappie, brown bullheads and bluegill or other panfish in your warm weather catch.
Where is Lacamas Lake?
State Highway 500 runs north-south over Lacamas Lake, separating the finger-shaped main part of the lake from smaller Round Lake to the southeast.
You can turn off the highway into a parking area that will be on your right heading north from Camas. That's the main lot for Lacamas Park, a county park that provides good fishing opportunities at Round Lake.
Northwest Lake Road runs along the south side of Lacamas Lake west of the highway, providing access from Vancouver to the west. The drive from downtown Vancouver is about 20 minutes.
On the north side of Lacamas Lake is Northeast Leadbetter Road. Vehicles can pull off to the side across the Camas Washougal Wildlife Club for shore access to the lake there.
Find more fishing spots in Clark County
Washington Resources
WDFW Fishing and Stocking Reports
WDFW Fishing Regulations
National Weather Service forecasts