Located in the picturesque foothills of the Cascade Range about two miles northeast of Battle Ground, Battle Ground Lake is a 25-acre oasis for trout fishing in a pretty and family friendly state park of the same name.
Very early on, Battle Ground Lake was better known for bass and crappie. Starting in the 1930s, the state began stocking the lake regularly with rainbow trout, which have become the lake's most popular game fish.
Other trout species, notably coastal cutthroat trout, are also present.
Although it's known particularly for trout these days, Battle Ground Lake is still a place where patient anglers can reel in largemouth bass, black crappie and bluegill.
Battle Ground Lake Trout Fishing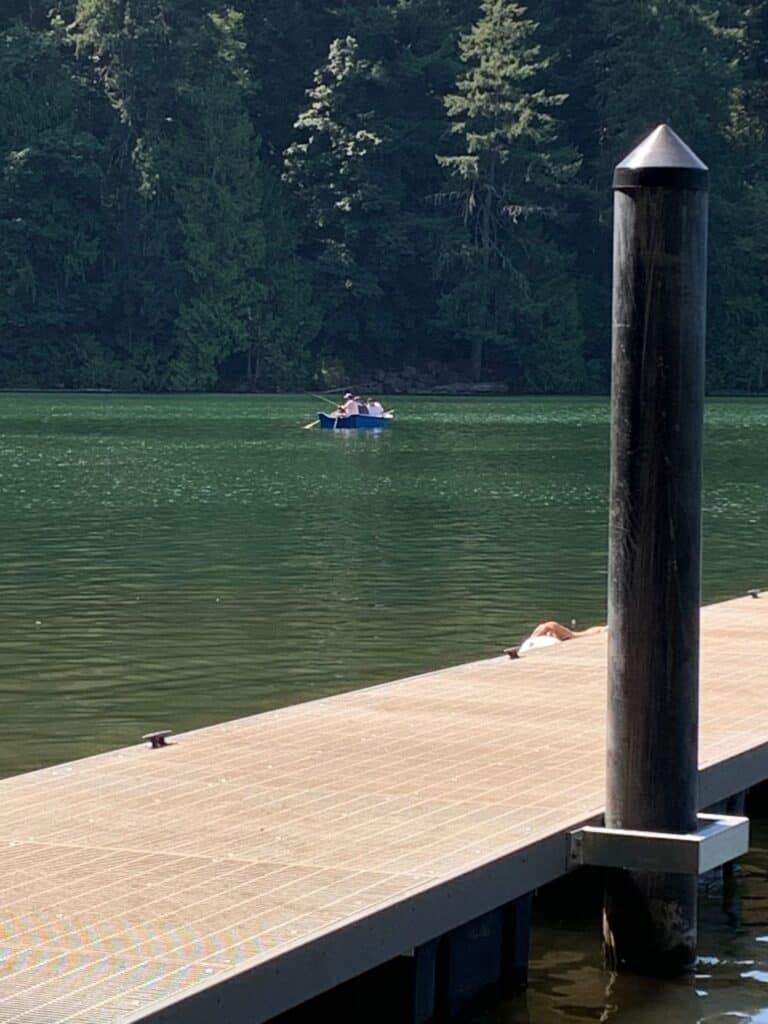 Trout, trout and more trout — that's the name of the game at Battle Ground Lake.
The Washington Department of Fish and Wildlife (WDFW) regularly stocks the lake with rainbow trout, with frequent restocking events from November to May.
Cutthroat trout are more seasonal. The state typically restocks the lake's cutthroat population a couple of times during the spring.
It's pretty typical for WDFW to plant 30,000 or more trout in a single year. Most of those will be rainbows, and some of those fall fish are likely to be the larger "jumbo" trout weighing about a pound.
Use the resources at the bottom of this article to help time your trip if you're looking for the best trout fishing.
Worms are a great bait if you're using a conventional hook, and are often fished below a bobber or near the bottom, depending on where the fish are biting.
If you're making your trip in the spring, consider fly-fishing for cutthroat trout, which respond especially well to a wide range of flies.
For more about this kind of fishing, read our article Trout Fishing: Basic How-To Techniques and Tips.
When to Fish at Battle Ground Lake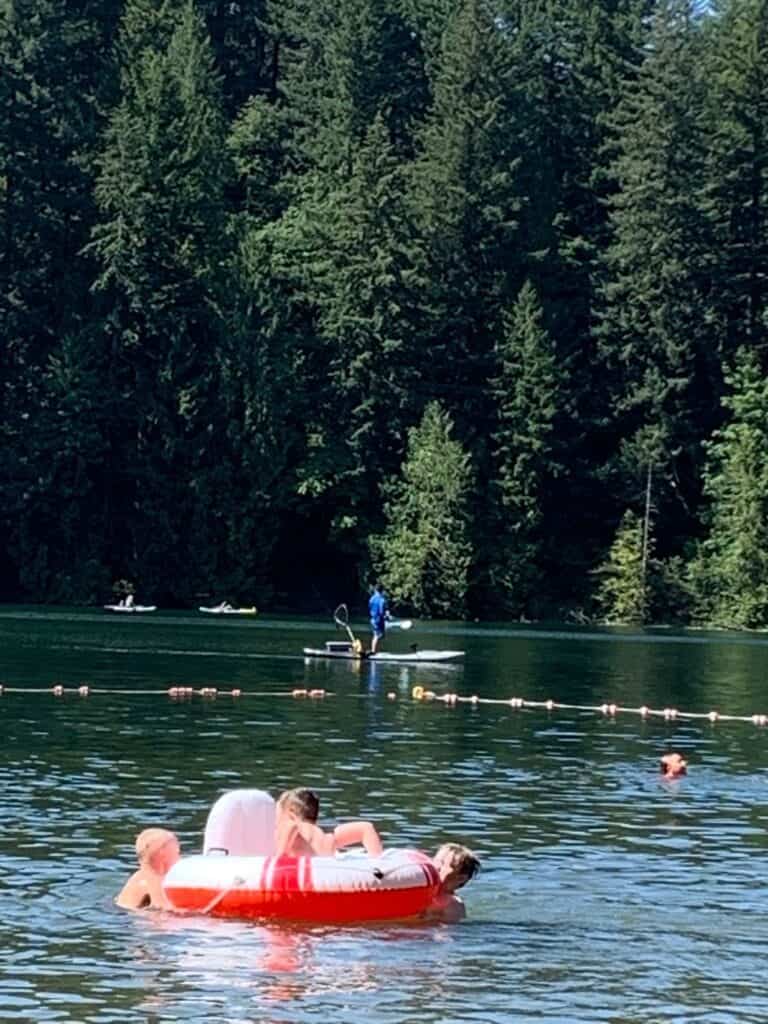 Fishing prospects are excellent for rainbow trout from November to April, when the water is cool and the state regularly restocks Battle Ground Lake with trout.
If you're angling for cutthroat trout, look during the spring, particularly April and May. The cutthroat population of the lake is smaller, but those months offer your best chance to catch these popular fish.
Trout fishing will slow way down by summer, when you'll really have to work to pick up a few and quite a few anglers go home without trout on their stringer.
Also, by summer the lake is much more of a playground for swimmers, kayakers, paddle-boarders and other non-anglers.
Summertime anglers tend to fish earlier and later and either off the fishing dock or along the less crowded banks away from the swimming area and boat launch.
Bass and Panfish
While trout are regularly stocked at Battle Ground Lake during the fall, winter and spring months, the small lake is also a fine place to fish for largemouth bass, bluegill, brown bullheads and other warmwater fish during the hot summer, when trout fishing will be slow at best.
Small bluegill were the primary catch on a recent summer visit to the lake.
Warm season bluegill will often be found in shallow water and under some kind of structure, which at Battle Ground Lake includes the docks, submerged logs and a few patches of lily pads and cattails.
Bluegill are easiest to catch with a small worm on a small hook suspended beneath a bobber, but artificial flies and lures also catch these small but impressive fighters, which are a great fish for beginners to catch in a family friendly place like Battle Ground Lake.
Bass will often find similar places to hide, while bullheads tend to be more focused on feeding on muddy bottom areas.
Again, this is a busy lake on a hot day, so try arriving first thing in the morning or staying until later, when there is less activity.
Bass, like trout, will tend to go off the bite with too much human hubbub all around them.
Grass carp also have been stocked at Battle Ground Lake. However, fishing for grass carp is prohibited. The state requires grass carp to be released unharmed.
Although grass carp are not native to North American waters, they are stocked in some Washington lakes to control invasive plants and keep the waters healthy and oxygenated. Anglers at Battle Ground Lake should be able to recognize grass carp and avoid taking them.
Other Tips for Fishing at Battle Ground Lake
There is bank access at Battle Ground Lake, including at a nice wide fishing pier that includes access for people in wheelchairs or who have other mobility limitations.
Much of the rest of the bank access can be reached from a trail that encircles the lake and leads to periodic openings on the tree-lined perimeter where there is enough casting room for two or three anglers in a group.
Boating is permitted, and there is a small boat ramp, but gas motors are prohibited on the lake. It's a good spot for a float tube or other small person-powered watercraft, or an electric motor on a small fishing boat.
If you're bringing a boat, be aware there is a dock fee. You can buy both at the park.
Battle Ground Lake is located at Battle Ground Lake State Park. A Discover Pass is required for parking unless you are staying at a registered campsite.
The campground has more than three dozen sites for different types of camping, while day users have lots of picnic tables and openings on the bank to choose.
Other activities at the park, besides fishing and other lake fun, include hiking, mountain biking, horse-camping, badminton, horseshoes and several types of sports.
Where is Battle Ground Lake?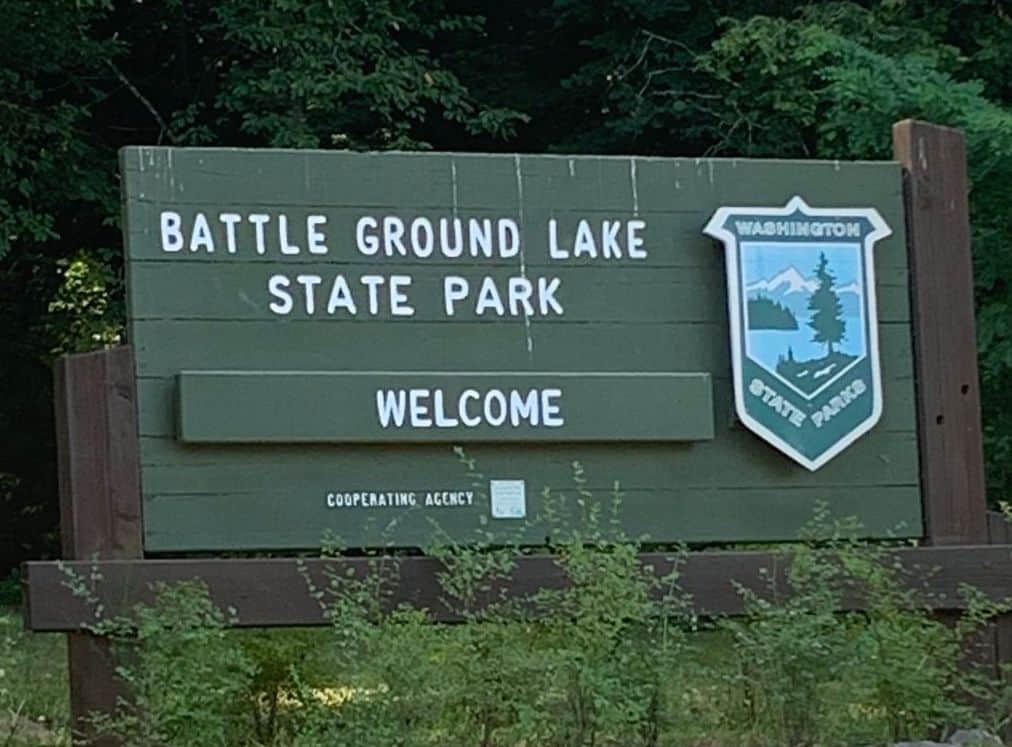 From Battle Ground, take 11th Street north to Northeast 244th Street. From there, follow the road east and then north until you see a sign for Battle Ground Lake State Park on your left.
Or, from the north, follow Heisson Road south to Northeast 182nd Avenue. The park entrance is about half a mile south of the fire station.
There is a second entrance to the park on the north side, off Northeast 259th Street west of the fire station.
It's roughly a half hour drive from downtown Vancouver.
Find more fishing spots in Clark County
Washington Resources
WDFW Fishing and Stocking Reports
WDFW Fishing Regulations
National Weather Service forecasts