Lake Tapps is a shallow but sprawling lake that during the summer looks like some kind of warmwater fishing awesomeness.
And while it's at times a good bet for bass and even an occasional massive tiger muskie, Lake Tapps is drastically drawn down for the colder months, which limits its fish production a fair bit.
A dam inundated a cluster of small lakes more than a century ago to form this reservoir in this now-residential area east of Puyallup and Sumner and south of Auburn. It's just north of the Bonney Lake community.
The reservoir covers some 2,400 acres and is the largest body of freshwater in Pierce County when it's full during the warmer months.
These days lakeshore and some of its many islands are considered their own community covered with homes, many with their own docks.
Summertime boating is super popular here, attracting visitors and residents alike, and fishing can take a back seat to high-horsepower water sports when it's hot out.
Bass and Panfish
Still, habitat this good can produce pretty decent fishing for both largemouth and smallmouth bass, black crappie and yellow perch.
And the lake is large enough that you can find your fishing spots, especially early in the morning before other lake users come out in droves.
Largemouth and smallmouth bass will find structures including docks, islands, points, coves and more to ambush passing pray including smaller fish, crayfish, frogs and insects.
The lake hosts several bass fishing tournaments, and all that great structure to fish helped us name Lake Tapps among the favorite largemouth bass fishing spots in this part of Washington.
Try fishing with artificial lures including soft plastic swimbaits and curly-tailed grubs, fish- and crayfish shaped crankbaits, attention getting spinnerbaits, and other lures.
Black crappie feed most enthusiastically on minnows, and crappie jigs are designed to look like twitchy little fish on their menu.
Yellow perch, like crappie, are a schooling fish known for excellent eating qualities. A simple small hook baited with a garden worm and fished near the bottom will do the trick wherever you can find perch.
Tiger Muskies
Tiger muskies are a sterile hybrid of true muskies and a northern pike.
The Washington Department of Fish and Wildlife has planted tiger muskies to help control overpopulations of some types of non-gamefish, including the suckers in Lake Tapps.
Tiger muskies can get to huge size, and most anglers chase them with large fish-imitating lures, including topwater lures during warmer seasons. Spinnerbaits are another choice.
All tiger muskies under 50 inches in size must be let go unharmed.
For more on this, see our article Best Tiger Muskie Fishing in Washington.
Location and Access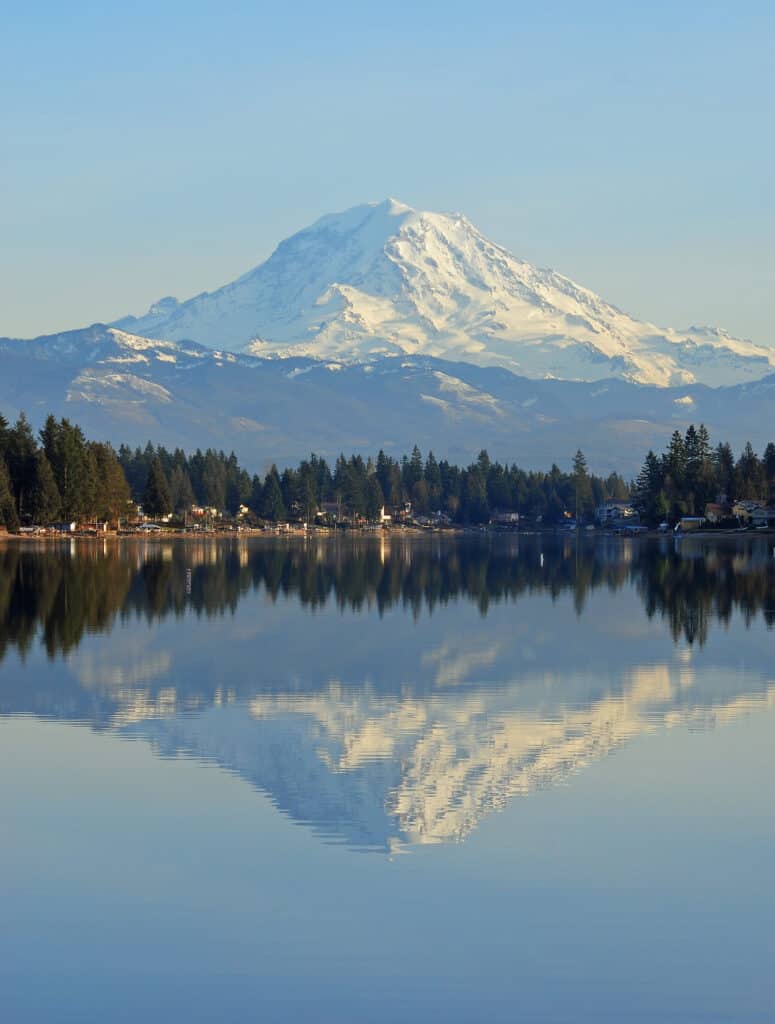 WDFW does not currently stock Lake Tapps (a.k.a. Tapps Lake) with trout.
The lake is open to fishing all year.
While much of the shoreline is private property, there are a couple of good spots for public access to Lake Tapps.
The biggest is North Lake Tapps North Park, a Pierce County park on the north end of the reservoir.
You will find a public boat ramp and lots of places to fish from shore, plus other typical park amenities.
Clear at the other end of the reservoir, smaller Allan Yorke Park is a Bonney Lake city park with a boat launch and dock facility and a modest amount of bank access. It's right along W. Tapps Highway E at the southern end of Lake Tapps.
Boat access on Lake Tapps is very likely to be limited during a good bit of the winter and early spring, when the lake is drawn well down on an annual basis. You might still find some limited shore access at the parks.
Find more fishing spots in Pierce County
Washington Resources
WDFW Fishing and Stocking Reports
WDFW Fishing Regulations
National Weather Service forecasts