Oddly shaped Ohop Lake in the foothills of the Cascade Range is home to naturally reproducing populations of many of western Washington's most popular game fish.
The lake is also stocked every spring with a very decent number of rainbow trout.
The 218-acre lake is in the shape of a narrow arc north of the rural community of Eatonville. It's among the minority of lakes in Washington where two-pole fishing is expressly prohibited.
The lake is open to fishing year-round, although fishing is better at certain times of the year.
With the proliferation of species living in Ohop Lake, though, there are good prospects for one type of fish or another throughout most of the year.
Trout Fishing
Ohop Lake is stocked with rainbow trout in the spring, typically around April. More than 14,000 catchable rainbow trout were slated to be stocked at our most recent check.
As you might expect, the fishing is best for rainbow trout in the months after the lake is stocked.
Prospects from mid-spring through July rate as excellent to at least pretty good.
By September, though, you're better off not fishing for trout at Ohop Lake.
In addition to the state-maintained population of rainbow trout, Ohop Lake has a resident population of coastal cutthroat trout.
These flamboyantly colored trout, named for the splotch of red coloration at the base of their heads, are especially popular targets for fly anglers.
Trout like to feed on insects near the water's surface.
Artificial nymphs make a great lure.
And bait-fishing setups are always effective, especially for catching hatchery-reared rainbow trout.
We have some more suggestions in Trout Fishing: Basic How-To Techniques and Tips.
Bass and Panfish Fishing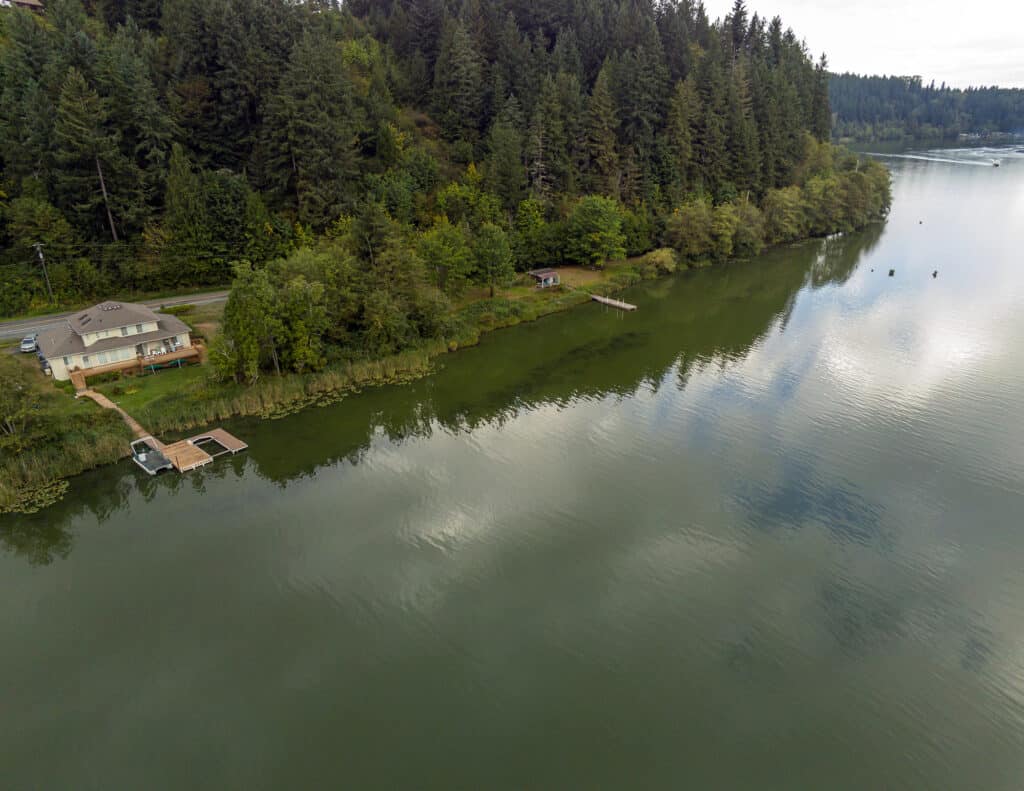 Ohop Lake is also home to largemouth bass, brown bullheads, black crappie, yellow perch, bluegill and pumpkinseed sunfish.
The lake isn't considered one of the primo spots for bass fishing in western Washington. But prospects for largemouth bass are generally good in the summer months.
Be aware of their patterns. Bass can be fished from shallow waters early in the day when they're feeding, but by early afternoon, they'll often retreat to deeper waters, especially when the weather is warm and the sun is bright.
Bass like to hide out near structures and ambush passing prey, and starting with lures that imitate smaller fish and crayfish is one of the first steps to catching largemouth bass.
Bluegill are a seasonal highlight at Ohop Lake, and these sunfish are fun and easy to catch for beginning and veteran anglers alike. Fishing prospects are excellent in July and remain strong through September.
Where is Ohop Lake?
Ohop Lake is north of Eatonville, in an area with a cluster of good fishing spots, including Lake Kapowsin.
State Highway 161 runs between the town and the lake. State Highway 7 passes a little further to the west of the lake, linked to Highway 161 by Golden Road to the north and Eatonville Highway to the south.
Figure about 45 minutes driving south from Tacoma, or about an hour heading east from Olympia.
Shoreline access is excellent along the west side of the lake from Orville Road.
There is a concrete boat ramp and parking area along Orville Road at the southern tip of the narrow lake. There is no camping on-site, although restroom facilities are available.
Two-pole fishing isn't allowed on Ohop Lake. The days when the lake was popular for speed boating are long gone; there is now an 8-mph speed limit on boats, as well as a no-wake rule.
Additional lakes in the Eatonville area with good trout, bass and panfish fishing include Clear Lake, Rapjohn Lake, Silver Lake and Tanwax Lake.
Find more fishing spots in Pierce County
Washington Resources
WDFW Fishing and Stocking Reports
WDFW Fishing Regulations
National Weather Service forecasts