This article serves as an overview of the many excellent fishing spots in Chelan and Douglas counties.
These north-central Washington counties fit together for our purposes due to their nearby angling opportunities and close-knit communities.
Chelan is the bigger of the two counties, both in terms of fishing locations and human population, and combined the two counties have more than 100,000 residents and attract many tens of thousands of visitors, including lots of anglers.
Wenatchee is the largest city in Chelan County, and the East Wenatchee area across the Columbia River has the largest population in Douglas County.
Other cities in Chelan County you might visit include Cashmere, Chelan, Entiat, and the popular Bavarian-themed Leavenworth.
In Douglas County, picturesque Waterville serves as the county seat and there are several other smaller communities such as Bridgeport and Rock Island scattered around this agricultural landscape.
Outdoor destinations in Chelan County include the Alpine Lakes Wilderness, Wenatchee Mountains and National Forest, Stuart Range, Lake Chelan National Recreation Area, and the North Cascades National Park.
Douglas County destinations of interest include Daroga State Park is a 90-acre fishing and camping spot on the banks of the Columbia River, as well as Pioneer Park and the Badger Mountain Ski Area. Wintertime visitors go snow-kiting and snowmobiling.
To help you get around this article, we'll discuss the shared Columbia River first and then split the remaining fishing spots into their county locations. Follow the links for more detailed information, as available.
When you get to the end of this article, you'll have a pretty good idea of where to find the best fishing spots in Chelan and Douglas counties. But we're not done. After those counties, our special "Fishing in Neighboring Counties" takes you to even more fishing.
Columbia River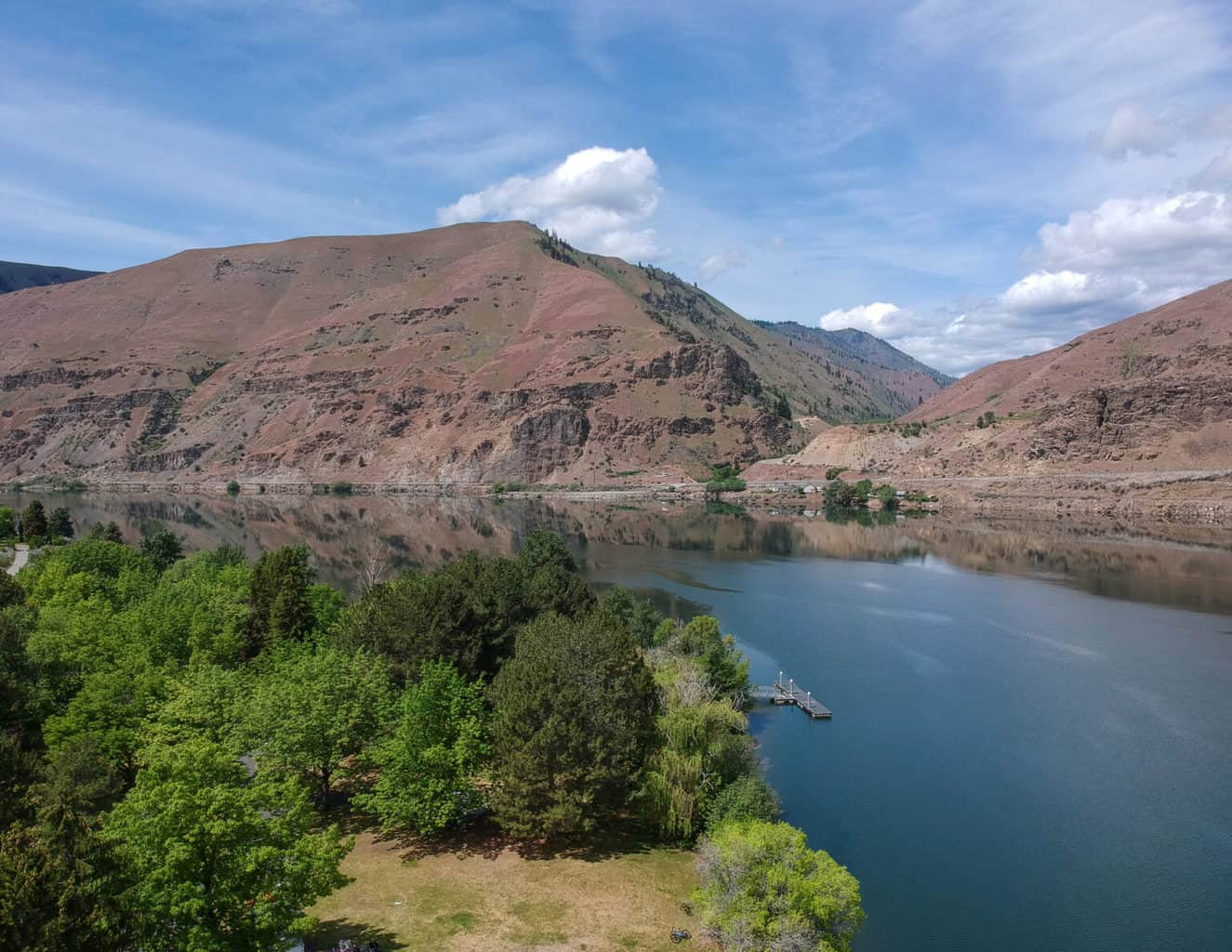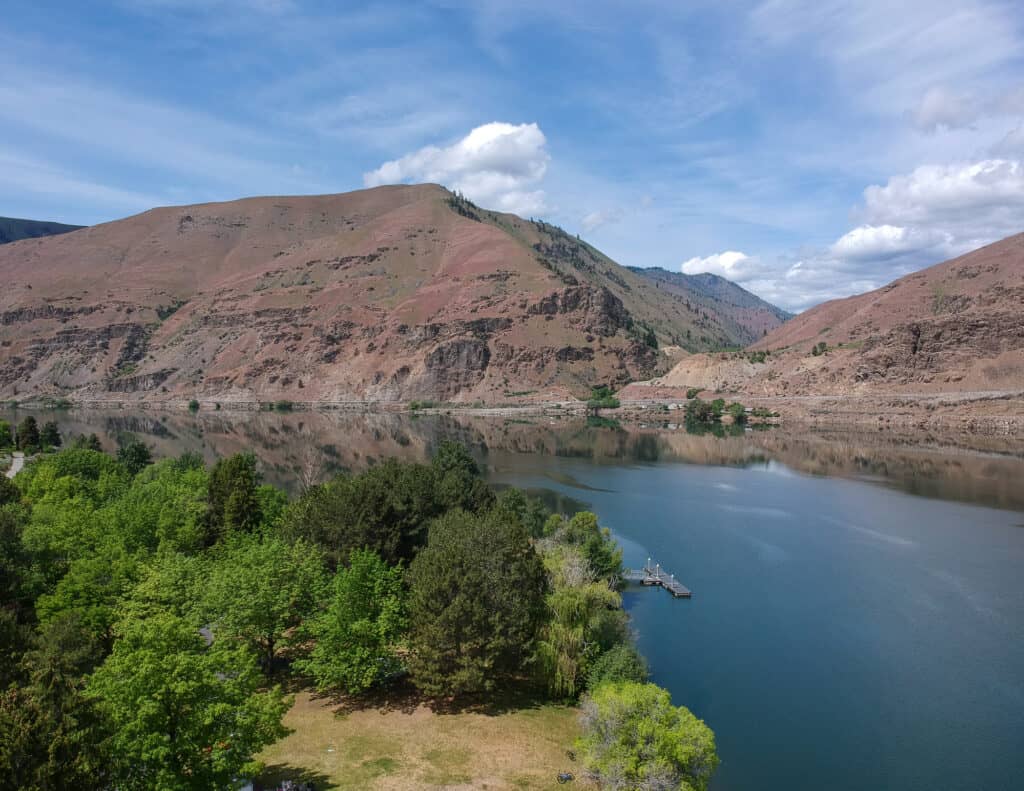 The big river running through the heart of Washington contains a wealth of fishing opportunities.
Salmon and steelhead migrate through here, although some of these runs are regulated pretty heavily so be sure to pore over the rules.
The Columbia has one of only a handful of ocean-going sockeye salmon fisheries in the Pacific Northwest.
One of the better sockeye fishing spots is near Brewster, in Okanogan County on a section of the river bordering and accessible from Douglas County. Wells Dam also is a sockeye fishery.
Those areas also are among the better spots to intercept a much larger Chinook salmon, and the general area also has sometimes good opportunities to intercept steelhead bound for tributaries such as the Methow and Okanogan rivers.
The Columbia also offers one of the region's – if not the country's – better fisheries for both walleye and smallmouth bass, and this section of river will offer opportunities for both Upper Midwest transplants. Other warm-water species also may appear in your catch.
The river is dammed for much of the stretch, and the Rufus Woods Reservoir makes up part of the Douglas County border.
More: Columbia River Fishing
Best Fishing in Chelan County
Antilon Lake, Upper
Originally a natural small lake, Upper Antilon is now a small reservoir of about 30 acres best known for brown trout fishing.
Fishing is available year-round at Antilon Lake, where over 5,000 young brown trout are stocked each year to grow into larger fish.
The reservoir, located about a half hour northwest of Chelan, typically peaks for fishing from April into June before slowing for the hottest months.
Upper Antilon Lake is open year-round and also may yield the occasional rainbow trout and has resident populations of crappie and pumpkinseed sunfish.
Public land borders the entire lake, but emerging aquatic vegetation tends to get in the way of bank fishing as the season goes on. Motorized boats are prohibited but you can carry in a small craft.
Antilon Lake also has dispersed camping (but no fires), including room for large groups and access that would work for small RVs. It's off Grade Creek Road.
Antilon Lake, Lower
Just a little larger than Upper Antilon, Lower Antilon Lake also has opportunities to catch brown trout that are planted young but can grow to nice sizes.
In fact, there are good numbers of brown trout in the 14-inch range, but 18- to 20-inchers (and occasionally over) aren't too uncommon.
The 35-acre lake is open for year-round fishing but will fish best in mid-to-late spring.
Black crappie are also present and at times can provide fair fishing for sometimes good-sized fish.
There is one primitive boat launch and dirt parking lot at the north end of the lake. No internal combustion engines are allowed.
As with Upper Antilon, public land surrounds this lake. However, rough terrain and aquatic vegetation that increases into the warmer months make access tougher than it otherwise would be.
Lower Antilon Lake is about 13 miles northwest of Chelan.
Beehive Reservoir
This 12-acre impoundment, also known as Beehive Lake, offers a really impressive number of catchable rainbow trout and is also stocked with significant numbers of both large and young triploid rainbow trout every year.
Fishing is open at this popular day-use lake from late April through October at Beehive Lake.
Upwards of 20,000 catchable rainbow trout are planted in April, making for easy pickings in such a small body of water.
Beehive Reservoir is stocked with around 150 jumbo trout, while the younger trout are spring-planted to grow into legal-sized battlers later.
Anglers may also catch an occasional tiger trout and Eastern brook trout have also been caught here. (The brookies count toward your trout limit in this location.)
There is good climbing and hiking at Beehive Mountain, however, camping is prohibited.
This lake is located only about 12 miles southwest of Wenatchee and just a few miles from Squilchuck State Park. 
Blackbird Island Pond
Under half an acre in size and geared for younger anglers and those who need easier access, this smaller pond is open for fishing from late spring into fall.
Also known as Enchantment Park Pond, Blackbird Island Pond is located on the Blackbird Island complex in Leavenworth.
About 1,000 catchable cutthroat trout are planted in June, and rainbows have also been present at times.
Blackbird Island Pond is open to fishing for juveniles (under 15 years of age), senior anglers, and anglers with a disability who possess a designated harvester companion card. 
Shore access is very good on public lands off the Wenatchee River.
Birdwatching and hiking are other popular activities here.
Chelan, Lake
Washington's largest natural lake also is one of its premier fisheries for landlocked salmon and big trout.
The lake also is perhaps best known for its good numbers of kokanee (landlocked sockeye salmon), which can grow to exceptional size here.
But even big kokanee are small compared to the landlocked Chinook salmon that also are found here, though in much smaller numbers and typically caught incidentally by kokanee and trout anglers.
Lake Chelan's trout include good numbers of stocked cutthroat, some big rainbows, and a fairly good population of lake trout (Mackinaw) that can grow to massive sizes. The state record caught here topped 35 pounds.
Additionally, the lower end of the lake closer to the cities of Chelan and Manson harbors a very good smallmouth bass fishery and a much smaller number of largemouth bass.
Lake Chelan also is home to one of Washington's fisheries for burbot, a tasty deepwater-loving fish some people call freshwater lingcod.
Lake Chelan is around 33,000 acres and stretches more than 50 miles up from the city of Chelan to Stehekin, which is only reached (practically) by ferry unless you're willing to do some serious hiking. The lake's depths reach about 1,500 feet.
Chelan State Park, a 139-acre public recreation area and nature reserve is known for its 6,000-foot sandy beach and crystal lagoon. The lagoon draws anglers and all types of boaters.
Although most of the lake is open year-round, the upper end is closed during April, May and June and the mouths of tributary streams are closed year-round to protect pre-spawning adult trout that congregate there.
Numerous boat launches and public docks offer opportunities to catch fish from the shoreline or out on the lake.
More: Lake Chelan Fishing
Chiwawa River
The lower river is closed to fishing due to protected species, but the Chiwawa River mainstem and tributaries are open seasonally in the mountains upstream from the confluence of Buck Creek (including Buck Creek).
The upper stream is mostly home to rainbow and cutthroat trout.
There are nice spots to camp along the river during the prime summer fishing season.
Clear Lake
You'll find about 4 acres of nicely accessible fishing at Clear Lake near Wenatchee.
The season opens in late April through October.
This small reservoir is planted in the spring with about 7,000 catchable rainbow trout, which should make fishing quite easy soon after a planting. 
Clear Lake is also stocked with around 100 jumbo triploid rainbows, around 500 young Eastern brook trout, and 1,000 fingerling tiger trout. (All types of trout, including the brook trout, count toward your limit here.)
There have been golden trout here, at least in the past, and you might hook pumpkinseed sunfish as well.
The lake's elevation is almost 3,000 feet.
Public land borders the entire lake and provides great access.
Clear Lake is about 13 miles south of Wenatchee.
Domke Lake
This large hike-in lake of about 270 acres can provide pretty good fishing westslope cutthroat trout, as well as some rainbows.
The lake is west of Lake Chelan and requires a couple-mile hike up from Lucerne on the lakeshore.
It has been stocked with young cutthroat by aircraft at times to help supplement the natural trout production here.
Dry Lake
Dry Lake offers about 80 acres of area with year-round fishing for stocked trout and other fish.
Also known as Grass Lake, Dry Lake is located on the north side of Lake Chelan, just a short drive north of Manson but a good hour from Wenatchee.
With a maximum depth of only 11 feet, this shallow lake is stocked with good numbers of catchable-size rainbow trout in the spring, when trout fishing peaks. It also is stocked with brown, tiger, and triploid brook trout.
Dry Lake also offers some pretty good warm-water fishing, including some good-size largemouth bass, plus an over-abundance of yellow perch, bluegill, pumpkinseed sunfish, black crappie, and some large brown bullhead catfish.
The brown and tiger trout, in particular, are stocked in large part for their habit of feeding on smaller fish in hopes they will control some of the overpopulated panfish.
Fishing will be good in April and May if spring weather has been warm, but angling here gets difficult in mid-summer due to excessive vegetation. Besides two primitive launching areas, much of the shoreline is lined in bulrush, sub-aquatic cattails and Russian olive trees, making access limited.
Enchantment Lakes
These handful of super high-mountain lakes within the Alpine Lakes Wilderness are a mecca for hikers, but bring that fly or spinning rod for a chance at hooking several species of trout, possibly including a bucket list golden trout.
See our Fishing in Washington's Alpine Lakes article for some good pointers.
Entiat River
This stream west of Lake Chelan has only winter whitefish seasons (with special whitefish rules) below its falls.
The upper stream opens in late May with typical rules and selective gear restrictions, largely for wild trout.
It might start off slow in colder spring weather before hitting its stride during the summer and early fall.
Fish Lake
Fish Lake is a good-sized, year-round fishing lake of about 500 acres, with lots of trout and yellow perch available.
Fish Lake is planted with some 15,000 catchable rainbows in the spring when fishing should be excellent.
It also is stocked with tens of thousands of younger rainbow trout as well as a fair number of young brown trout, which grow to be nice sizes in this lake.
Fish Lake is about 24 miles driving north of Leavenworth, near Lake Wenatchee.
Many anglers access Fish Lake through the U.S. Forest Service-approved Cove Resort, which charges a fee to fish from easy-to-reach docks and the bank on its leased land.
You can hike a bit to other areas via Chiwawa River Road and Forest Service Road 6202 and fish for free.
This lake can produce decent catches at just about any time of the year, with rainbows making up most of the trout catch but browns sometimes reach trophy sizes.
Fly fishing can be really good, especially in the spring and fall.
Yellow perch fishing also is very good at times here. This is a year-round fishery, but wintertime ice anglers might do best of all for perch. Note a 25-perch daily limit, at last check.
There's also a fair number of largemouth bass in this lake, with the best bass fishing generally coming in spring and summer.
Frank's Pond
Young anglers can fish at tiny Frank's Pond from late April through the end of October, although they probably will catch more during the first half of that time period.
That's because Frank's Pond near Chelan is stocked with about 2,500 catchable rainbow trout in the April-July time frame. It's also likely to get some very large triploid rainbows, although maybe only 100 or so.
This half-acre pond located on the Beebe Springs Wildlife Unit (Chelan Wildlife Area) is open to juveniles only (under 15 years of age).
Other fish you might catch here include black crappie, bluegill, channel catfish, and largemouth and smallmouth bass.
All shorelines are easily accessible via a well-maintained footpath.
On the northeast side of the Columbia River, five minutes north of Chelan Falls in Beebe Springs Wildlife Area or about ten minutes southeast of Chelan on highway 150.
H&H Reservoir (Paschal Pond)
Five-acre H&H Reservoir has been known to offer consistent fishing for quality trout.
The fishing season for trout is open year-round.
Also known as Paschal Pond, the small reservoir is stocked with around 1,500 young tiger trout and about 500 Eastern brook trout fingerlings each year, and those grow to legal sizes and sometimes beyond in the pond. Triploid brook trout are also stocked when available and can produce some nice fish.
At last report, the Forest Service road leading to the lake is gated, requiring about a ¼-mile hike to the lake shore.
When you get there, you'll find mostly open shorelines of varying slopes with scenic pine and fir trees at over 4,000 feet in elevation, meaning the winters will be fairly frigid here.
The pond is just north of Beehive Reservoir (see listing above) and about a half hour southwest of Wenatchee.
Icicle River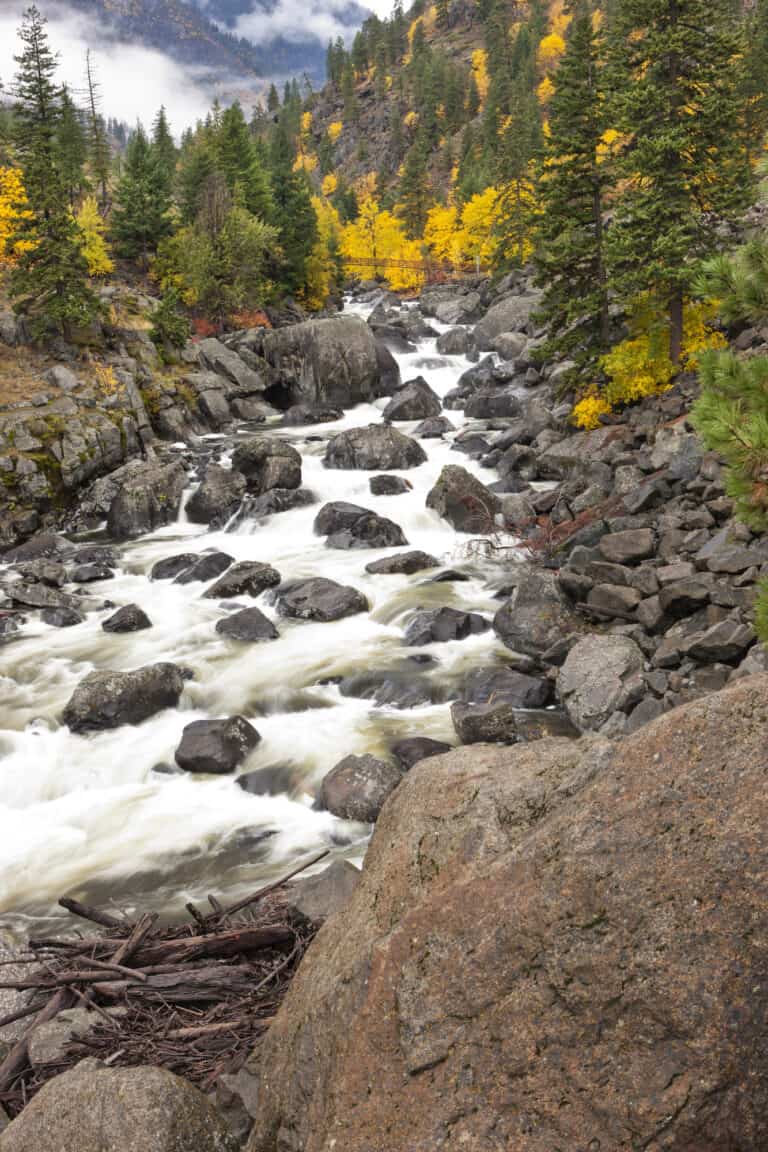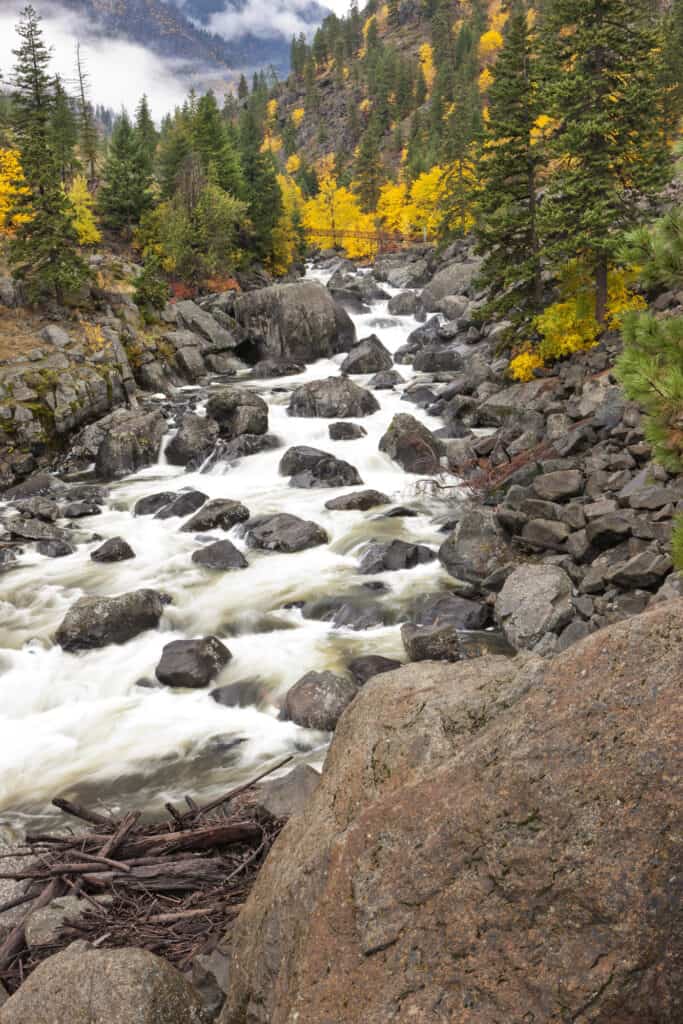 This Leavenworth-area stream (also called Icicle Creek) is perhaps best known for its occasional spring Chinook salmon fisheries, which are opened if enough of these hatchery returnees are coming back.
These seasons are for specific sections of the stream and tend to be announced in late spring, around the early June time frame.
Otherwise, the lower section of this Leavenworth-area river is closed to fishing under annual regulations.
The upper river is opened seasonally under typical regulations and is home to pretty modest numbers of wild trout.
Read the regulations and updates carefully for fishing deadlines and dates.
Lily Lake
This small reservoir south of Wenatchee has several species of stocked trout to catch.
Lily Lake has a fair carry-over of rainbow trout, and it also is often planted with many thousands of catchable-sized rainbows as weather and road conditions allow. 
It's also stocked with some big triploid rainbows and a moderate number of young tiger and brook trout that grow larger in the lake. (The brooks are counted in a trout limit with the other trout species.)
Lily Lake (sometimes listed as Lilly Lake) is about 15 acres in size and sits at over 3,000 feet in elevation.
The fishing season runs from late April through October.
Other fish you might catch here include bullhead catfish and yellow perch. Mild terrain and sparse vegetation allow good bank access.
It's about 13 miles south of Wenatchee, about half a mile south of Stemilt Loop Road on Upper Basin Loop Road, just past Clear Lake, which has similar fishing opportunities (see separate listing above).
Little Wenatchee River
Like several other area streams, the lower reach of the Little Wenatchee is closed under annual regulations to protect threatened runs of anadromous fish.
The upper river opens seasonally in late May and is home to wild trout, including native rainbow and cutthroat trout, and maybe some non-native brook trout.
Beaver ponds can support some decent trout.
Roses Lake
Roses Lake north of Lake Chelan is over 100 acres with a good winter fishery for fall-planted rainbow trout in the 11- to 20- inch range, as well as some good-sized yellow perch.
Both types of fish are caught in the lake's popular ice fishing season.
Roses Lake is stocked with almost 20,000 catchable triploid rainbow trout in November, and a small number of very large trout may be planted in the spring.
Other game fish here include largemouth bass, black crappie, bluegill and channel catfish also inhabit this lake in good numbers. Brown trout and tiger trout fingerlings are also stocked when available.
There is good public shoreline access at and around the boat launch east off Green Avenue, and a dock and parking area on the south side off Roses Lake Drive.
Roses Lake is over an hour from Wenatchee but only about a mile north of Manson, near a couple of wineries in a pretty area.
Spring Hill Reservoir (Black Lake)
For being just under 20 acres, Spring Hill Reservoir is positively jammin' with types of trout!
Brown trout, Eastern brook trout, rainbow trout, tiger trout … you should find some sort of trout biting from spring into fall at this mountain lake at nearly 3,500 feet in elevation.
The reservoir opens in late April, and sometime around then or into May, it will start getting fish plants, including around 1,500 catchable rainbow trout, a handful of much larger rainbows, and even some younger fish that will grow into keepers later on.
Also in the spring, Spring Hill is typically stocked with a variety of other trout species, generally small fish that grow into larger fish. At last check, WDFW planted about 500 each of young brown, tiger, and brook trout.
This reservoir also has been known as Black Lake and Lower Wheeler Reservoir and is about 15 miles driving south from Wenatchee.
Anglers may also find bluegill, brown bullhead, bass, and perch in the reservoir, which is operated by the Wenatchee Heights Reclamation District.
Access is south off of Stemilt Loop Road on Orr Creek Road.
The northern side of the lake provides good access over easy terrain.
Stehekin River
This river is for adventurers.
First of all, you'll have to get to the community of Stehekin, on the remote west end of Lake Chelan and not connected to roads. You can boat there yourself, book a ferry ride or even take a float plane. Hiking there isn't for the faint of heart or weak of knee.
But once in Stehekin, fishing the Stehekin River also will require some hiking or at least finding a ride up the river, which because of all the above doesn't get the pressure it otherwise would.
That said, the river has some large trout, although the native cutthroat and bull trout here must be released.
You can keep wild rainbow trout under general state stream rules.
The stream is open seasonally beginning in late May.
Upper Wheeler Reservoir
Upper Wheeler covers about 30 acres and offers catch-and-release fly fishing from late April through October.
This irrigation storage reservoir is an excellent spot for fly anglers, primarily for rainbow and Eastern brook trout, with an occasional westslope cutthroat showing up.
Fingerling rainbow trout are planted in the spring and the growing trout provide the majority of the fishing action for much of the open season.
Access is off several roads leading off Stemilt Loop Road, about 15 miles south of Wenatchee in the rough vicinity of Squilchuck State Park.
However, the Wenatchee Heights Reclamation District gates off the road just before reaching the reservoir, thus only walk-in access is allowed from that point.
Be aware that ice may still be present during the early part of the season.
The majority of the shoreline is easily accessible by foot.
Wapato Lake
This roughly 200-acre lake north of Lake Chelan is well stocked with both kokanee and trout.
Fishing season is from the end of April to the end of October.
Late spring plants of around 100,000 fingerling rainbow trout typically provide good to excellent fishing for the following spring, with fish commonly in the 12- to 16-inch range.
The fingerlings are supplemented by the stocking of about 4,000 catchable rainbows.
Early summer plants of young kokanee (about 25,000) also can yield a good catch when these landlocked salmon reach eating size.
In addition to the trout, there is a good population of largemouth bass in the 12- to 15-inch range that can provide good fishing at times.
The lake also has good numbers of large yellow perch (up to 13 inches), as well as some crappie.
Private campgrounds are located at both ends of the lake.
Wapato Lake is in the same area as Dry and Roses lakes (listed separately in this article) a few miles north of Manson.
Wenatchee, Lake
Lake Wenatchee is of primary interest to sport anglers as being one of the select few sockeye salmon lake fisheries in Washington.
These summer-run salmon are smaller than the Chinook that also make it into the upper Columbia River Basin, but during good years they can be plentiful and are always fun to catch when a season is allowed.
Watch the WDFW website for details about whether the lake will open for sockeye fishing. That opening is likely to be announced in late July or early August, once enough sockeye have passed lower Columbia River fish counting windows to be sure there are plenty for anglers.
WDFW will set a daily limit for sockeye. For example, a recent open season allowed each angler to keep four sockeyes of at least 12 inches each in Wenatchee Lake, but look for the annual announcement for that year's rules.
There are selective gear requirements in the lake that remain in effect, but you can use two rods at last check, which could help in getting your sockeye.
Lake Wenatchee isn't stocked and really isn't much of a wild trout producer, although you might come across the occasional rainbow or cutthroat trout.
There are also protected bull trout, and if you catch one of those incidentally, you must let it go unharmed. Chinook salmon and steelhead also are protected in the lake.
Other fish here include mountain whitefish and northern pikeminnow.
Wenatchee River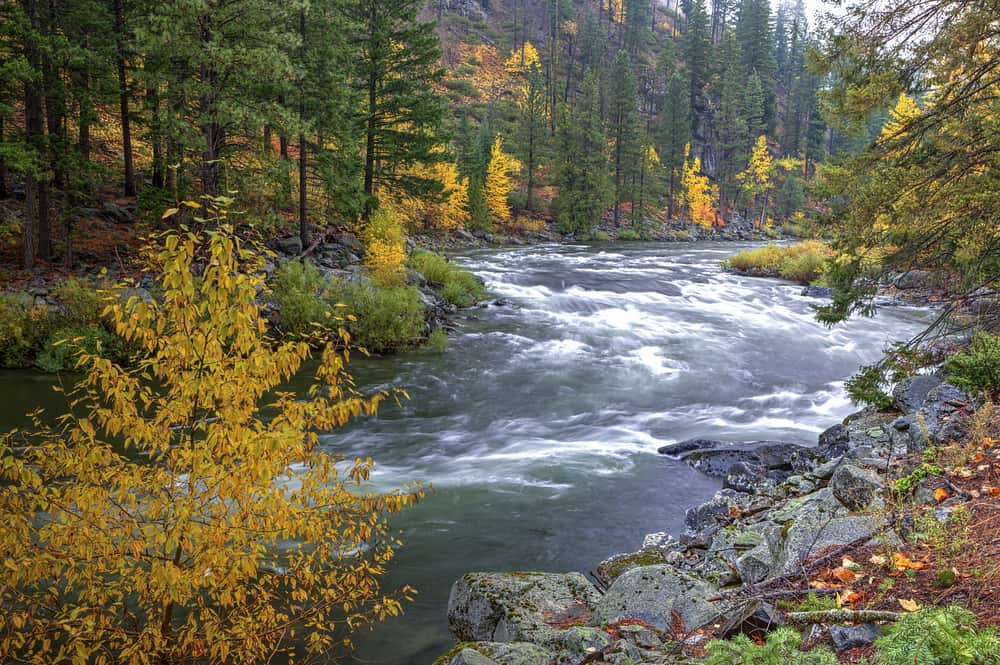 The entire outflow stream for Lake Wenatchee is closed to angling for its 60-odd miles to the Columbia River, because of protected runs of salmon and steelhead.
The sockeye salmon that climb this river may in some years be targeted in the lake. See the listing above.
White River
No fishing is allowed below White River Falls, which provides spawning habitat for sockeye salmon and other anadromous fish that swim into this Lake Wenatchee tributary.
Best Fishing in Douglas County
Grimes Lake
Grimes lake is over 100 acres and is a good draw for Lahontan cutthroat trout fishing during its shortened season.
Grimes Lake is only open to fishing for three months, June through August.
The lake is stocked during the off-season (typically in the fall) with more than 8,000 young Lahontans.
Fishing has been consistently good for Lahontan Cutthroat Trout averaging 18 inches with the occasional fish over 20 inches.
You can only keep one trout, which must be at least 18 inches.
Located on private property, WDFW has an agreement with the landowner for regular maintenance and access.
The eastern half of the lake offers suitable bank access on public land although anglers are most successful using a floating device to reach the fish.
Grimes Lake is located southeast of Mansfield and more than an hour's drive from East Wenatchee.
Jameson Lake
Near Grimes Lake (see above), the larger Jameson Lake has a great opportunity for anglers fishing for rainbow trout.
The fishing season here is open from late April through October.
Jameson Lake is stocked with over 5,000 catchable rainbows and several hundred much larger rainbows in April, plus over 100,000 young trout are stocked in May and grow to larger sizes at the lake.
The approximately 400-acre lake is about 15 minutes south of Mansfield, but it's well over an hour's drive northeast of Wenatchee.
There are two resorts here, Jameson Lake Resort at the north end and Jack's Resort at the south end.
You will find good shoreline access at both ends of the lake, which is also great for kayaking.
Amenities at the lake include boat launches, camping, and restrooms.
Rock Island Ponds
These ponds are in a grouping in the Rock Island community a little over a 10-minute drive along State Route 28 down the Columbia River from East Wenatchee.
The four ponds highlighted below are stocked with hatchery trout.
The ponds along the Columbia River in this area also are usually home to a variety of warm-water gamefish that may offer good catches of largemouth bass and bluegill as well as some opportunity for channel catfish, pumpkinseed sunfish, yellow perch, bullhead catfish, and common carp.
Big Bow Pond
Year-round fishing at Big Bow Pond offers chances for anglers to catch trout and more.
The 13-acre lake is stocked with 7,000 catchable rainbow trout, typically in March to April, and 100 very large triploid trout around the same time.
There are unimproved public boat launch areas at both the east and west ends of the lake that also provide ample bank fishing opportunities.
Hammond Pond
At about 45 acres, Hammond Pond offers good springtime fishing for stocked rainbow trout as well as ongoing opportunities for resident warm-water fish. 
About 4,000 catchable rainbows and 100 jumbo triploid rainbows are planted from March through April, when trout fishing will be at its peak.
Much of the shoreline is lined with dense cattails, making bank fishing tough except in a few spots, so launching a small watercraft is a good bet.
This pond is part of the Rock Island Ponds complex which borders the town of Rock Island off of Highway state route 28.
Pit Pond
Pit Pond is about 3 acres and offers year-round fishing in the Rock Island Pond complex.
About 4,000 catchable rainbow trout are planted between March and April, along with about 100 very large triploid rainbows stocked at the same time.
Unlike other ponds in the complex, this small water is only open to juveniles (under 15 years of age), seniors, and anglers with a disability who possess a designated harvester companion card.
The majority of the shoreline on this small pond is easily accessible for young anglers.
Pit Pond is about 10 minutes southeast of East Wenatchee.
Putters Pond
This 6-acre scenic pond near East Wenatchee bordering the city of Rock Island is quite heavily stocked with pan-sized rainbow trout in March and April.
WDFW also is known to drop in a couple hundred jumbo-sized trout.
This small pond is about 15 minutes southeast of East Wenatchee off of State Route 28.
Putters Pond has two access sites; one is shared with neighboring Pit Pond on the northwest shoreline, and another is on the north shoreline.
Both access sites consist of unimproved boat launches, parking areas, and restrooms.
Rufus Woods Reservoir
This is an impounded section of the Columbia River famous to anglers as a hot spot for walleye and some giant rainbow trout pushing toward 30 pounds, including the state record.
The lake also has good numbers of smallmouth bass.
Salmon and steelhead fishing may be allowed with a special rule from WDFW if the runs justify it, and the mouths of tributary rivers in this section tend to attract concentrations of these returning fish … along with the anglers that will show up with them.
Fishing in Neighboring Counties
Okanogan County: To the north, the state's largest county is loaded with lakes filled with trout, kokanee, and other game fish.
Grant and Adams Counties: To the east, an incredible concentration of waters rich with trout, bass, walleye, and more around Moses Lake.
Kittitas County: To the south, famous fly fishing water on the Yakima River and lots of lakes stuffed with trout and other game fish near Ellensburg.
King County: To the southwest, the home of Seattle may have lots of people but it also has scores of excellent fishing lakes and streams from the city to the high country.
Snohomish County: To the west, lots of lakes filled with trout and other game fish, plus salmon and steelhead rivers near Everett.
Skagit County: To the northwest, the Skagit River and streams, lakes and saltwater with salmon, trout, shellfish and plenty more to catch.
Washington Resources
WDFW Fishing and Stocking Reports
WDFW Fishing Regulations
National Weather Service forecasts