Washington boasts many of the most incredible landscapes in the United States. From the dramatic Olympic Peninsula to the jagged North Cascades, it's one of the most beautiful regions in the country.
And nestled within the high mountain reaches of the state lie almost countless alpine lakes, many of them filled to the brim with hungry trout.
There are thousands of these lakes across Washington, and if you know where to look, you can enjoy some of the best trout fishing in the Pacific Northwest.
Whether you want to catch some brook trout on a backpacking trip in the Alpine Lakes Wilderness or you'd rather bushwhack through the forests of the Olympic Peninsula, we've got you covered.
We'll break down Washington's most mountainous areas into three of the best areas to help you navigate and explore the multitude of productive alpine lakes in the state.
Alpine Lakes Wilderness Fishing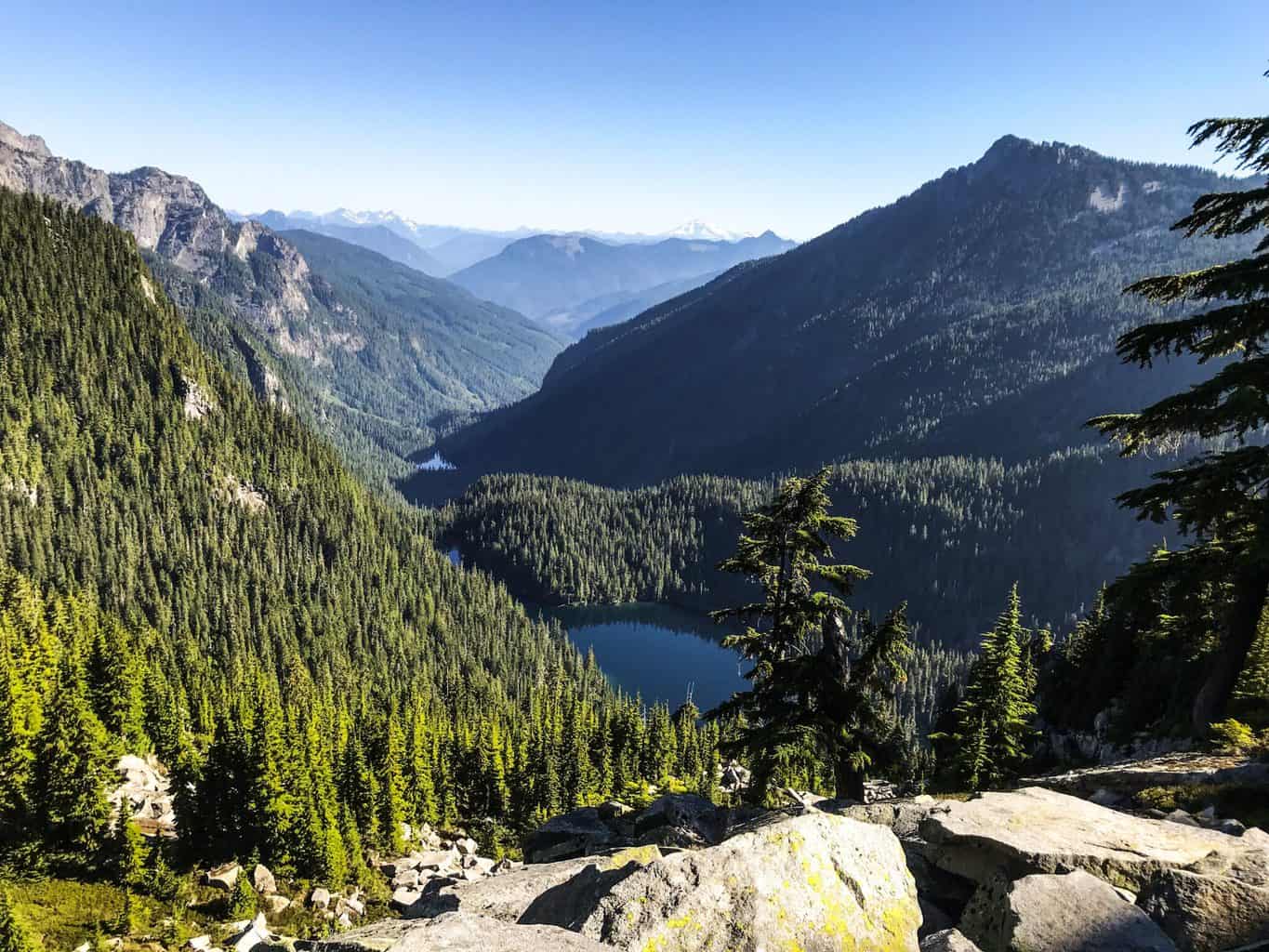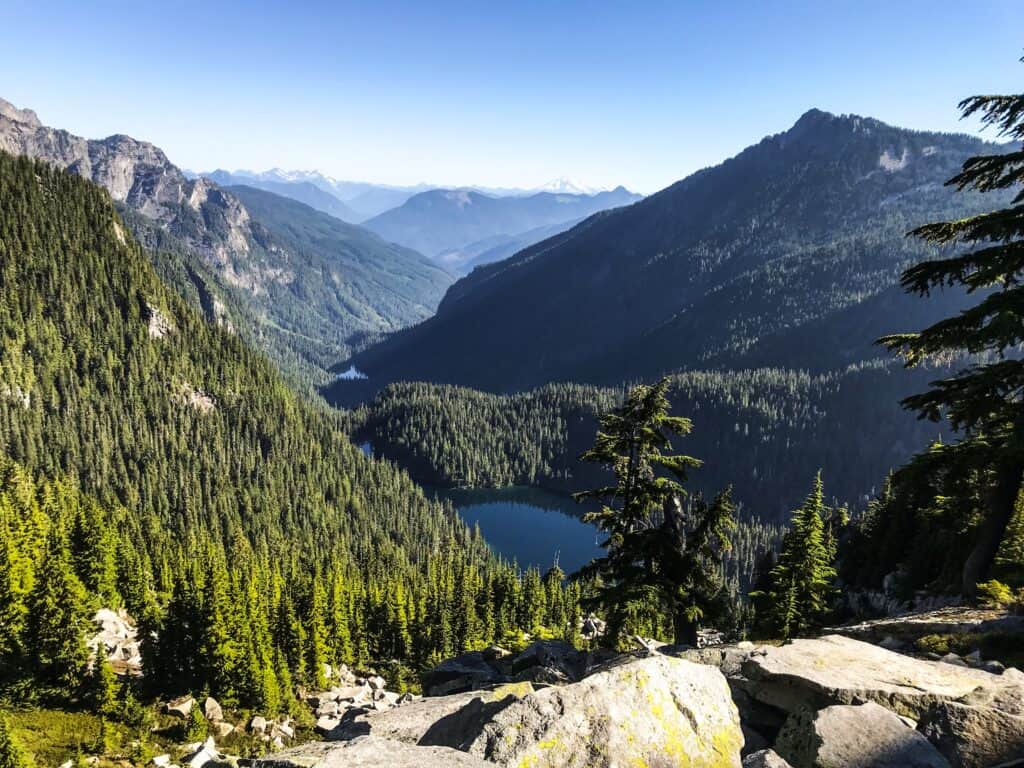 The Alpine Lakes Wilderness is one of the most famous hiking regions in Washington – it's packed with trails, mountains, and plenty of lakes.
The wilderness, located high up in Washington's Cascade Mountains east of Seattle, is also home to the legendary Enchantments, a permit-only area with incredible fall foliage and craggy peaks as far as the eye can see.
In addition to being beautiful, the Alpine Lakes Wilderness is also massive.
At over 400 thousand acres, there are virtually limitless opportunities for fishing. Because nearly all of the lakes in this wilderness (as with most other alpine lakes) require a substantial hike-in to access, you're very likely to find solitude.
One distinguishing feature that separates the fishing opportunities in the Alpine Lakes Wilderness from some other areas in Washington is that the fish in this region can grow to be quite large.
How large? There are lakes with brook trout exceeding five pounds! You'll also find cutthroat trout and rainbow trout to be plentiful in these lakes, and some of the higher lakes even have golden trout.
One of the beauties of fishing in the Alpine Lakes Wilderness – other than the obvious natural beauty you'll be surrounded by – is that most of the lakes hold fish, with each lake offering different opportunities.
The first lake you come across may have thousands of small cutthroat, while the next lake is full of big brook trout. You never really know what you're going to come across, which is what makes exploring so rewarding.
Part of the beauty of fishing alpine lakes is discovering them for yourself – starting at a trailhead and simply exploring is often how the real hidden gems are found!
Topographical maps and handheld GPS devices are particularly handy for mapping out routes in advance.
If you're looking for some guidance for your adventures, though, try starting in and around the Enchantments. The Enchantment Lakes area is located about 15 miles southwest of Leavenworth.
Though you'll need a permit to camp overnight, a few of the lakes are accessible by day hikes, making them good opportunities if you head out early enough in the morning.
To the west of the Enchantments, there are plenty of opportunities around the Stevens Pass Ski Area – take the Pacific Crest Trail to the south and see where it leads!
Some of the lakes to consider fishing in the Alpine Lakes Wilderness include Trout Lake off of Necklace Valley Trailhead and neighboring Snow Lake and Gem Lake near Snoqualmie Pass. There is another Snow Lake in the Enchantments.
North Cascades Fishing
Some may consider the Alpine Lakes Wilderness to be part of the North Cascades; in reality, though, the true North Cascades are much closer to the border with Canada.
While there aren't quite as many lakes in this region as there are in the Alpine Lakes Wilderness, there are still plenty of incredible fishing spots to be found.
Most anglers choose to explore in and around North Cascades National Park, as there are a multitude of well-marked trails as well as off-trail opportunities for exploring lakes.
The Cascade Pass trailhead is a great one within the park – there are a few off-trail lakes that offer some great fishing.
If the national park isn't your thing, there is some great fishing in and around the town of Stehekin. The town itself can only be reached by boat, primarily through local ferry service, so you'll have to factor that into your planning if you're planning on exploring in that area.
Lake Chelan, though – the long lake that Stehekin is located on – can be reached by car on the southeast end and offers excellent fishing.
Some of the lakes to consider fishing in the North Cascades include Ross Lake and the Thorton Lakes, but put on your explorer's cap because there are more than 60 trout lakes within the park.
The North Cascades are some of the most rugged mountains in the United States, so be careful, particularly if you decide to go off-trail. There are steep cliffs, ravines, canyons, and plenty of other natural hazards to be mindful of as you explore.
Olympic National Park Fishing
Towering mountains just miles from the coastline are a rare sight in the United States, but Olympic National Park is a great display of just that. There are more than 600 lakes within the park, many offering plenty of fishing opportunities.
This is an article about lakes, but we'd be remiss not to mention the over 4,000 miles of rivers and streams within the park. There is excellent steelhead and salmon fishing in some of these rivers.
When it comes to lakes, Olympic National Park is a good place to go if you'd rather skip the hiking and get straight to the fishing.
Lake Crescent is one of the better known lakes in the park and is located right along U.S. 101 west of Port Angeles.
Crescent is a special place with unique but threatened species of rainbow and cutthroat trout, which can be fished strictly catch-and-release to provide a challenging reward for fly and conventional anglers.
Lake Quinault is another big drive-up lake, this one on the southwest boundary of the park (with fishing regulated by the Quinault Nation). It offers anglers a late-summer opportunity to catch big Dolly Varden char as well as cutthroat trout and other fish.
If you're ready for some more remote exploration, spend some time in the Seven Lakes Basin. There are actually more than seven lakes and ponds filled to the brim with fish here, and it's both a scenic and productive spot to fish.
How to Catch Alpine Trout
One of the things that makes alpine lake fishing such a blast is that the fish usually aren't picky.
If you're fishing with conventional tackle, Rooster Tail spinners and other small lures are typically the best way to catch fish, large and small, in alpine lakes.
Where it's allowed, PowerBait can work as well; but remember, the fish in these lakes are mostly used to eating insects.
While some do get stocked, many of these fish are naturally-reproducing and may scoff at artificial baits like PowerBait.
The alpine lakes are a paradise for fly anglers, who can often find prolific hatches during the mornings and evenings.
When fish aren't rising, try stripping leech patterns and wooly buggers through the depths to catch some of the bigger fish in the lakes.
Exploring (and, more often than not, bushwhacking) through the dense forests and expansive peaks of Washington isn't for everyone, but if you've got a mind and body for adventuring, it's an experience that's almost always worth it.
Grab a map, a fishing rod, and head out!
Washington Resources
WDFW Fishing and Stocking Reports
WDFW Fishing Regulations
National Weather Service forecasts
Carter Reschke is a freelance writer based in Oregon. Passionate about the outdoors, Carter is a fly fishing aficionado and spends his days on the river when he's not writing.