Skagit County, an easy drive from the Seattle area, is home to plenty of fishing in its many lakes, a handful of rivers and Puget Sound.
Skagit is one of the more rural counties in this part of Washington, with most of its population located in its low-elevation west side near I-5.
Cities here include its county seat, Mount Vernon, as well as Anacortes, Burlington and Sedro-Woolley.
Skagit County is home to major attractions for anglers, boaters, campers and other outdoors enthusiasts, including sharing the North Cascades National Park, Mount Baker-Snoqualmie National Forest, Ross Lake National Recreation Area and Pacific Northwest National Scenic Trail.
What follows is a quick look at some of the best fishing spots in Skagit County, especially its lakes well stocked with trout and home also to lots of bass and other game fish.
We also provide links that will take you to additional information about fishing here, as available.
Before we get to the local spots, we'd like to mention that at the end of this article you will find the "Fishing in Neighboring Counties" feature, which will link you to even more fantastic fishing a short drive across county lines.
Beaver Lake
There are a ton of Beaver Lakes in Washington, and fishing at Skagit County's edition is largely managed by the fish themselves.
While it's not stocked with trout, this Sedro-Woolley area lake has decent populations of self-sustaining coastal cutthroat trout as well as largemouth bass, yellow perch and black crappie.
Trout fishing is likely to be best in the "shoulder" seasons of spring and fall, while the bass and panfish angling will pick up in the spring and should be good throughout summer into early fall.
The lake is about 73 acres and is located just south of Sedro-Woolley (across the Skagit River) and just east of Mount Vernon.
The lake is just south of popular Clear Lake, which is stocked with trout (see separate listing).
Big Lake
This is indeed a big lake (over 500 acres), and it's capable of producing bigmouths (largemouth bass) to big sizes.
The lake, located south of Mount Vernon, isn't stocked with trout like many area lakes, but it has resident cutthroat.
Warmwater fishing is where it's at starting in mid-spring and going through the warmer months, when the largemouths along with yellow perch, pumpkinseed sunfish and black crappie tend to bite the best.
The lake is lined with residential homes and is located about 15 minutes east of Mount Vernon.
SR-9 passes near the east side, but as boat fishing is the best approach here, take your watercraft to the WDFW launch on the west side along W. Big Lake Boulevard.
Campbell, Lake
This nearly 400-acre Anacortes-area lake is open year-round to a wide variety of fishing opportunities, from stocked trout to resident bass and panfish.
Lake Campbell has been stocked with both rainbow and cutthroat trout in the past. Recent stocking plans called for primarily plants of young cutthroat trout that grow to catchable size in the lake, but larger rainbows have also been stocked.
Lake Campbell is about six miles south of downtown Anacortes and just west of State Route 20.
Besides the trout, the lake has a nice warmwater fishery and anglers can do well catching channel catfish, largemouth bass and yellow perch.
Other fish you might catch in this low-elevation lake include black crappie, bluegill and pumpkinseed sunfish, and bullhead catfish.
There also are grass carp, which WDFW doesn't particularly want to preserve, so you can take them in any size or number, including with by bow-fishing.
There is a WDFW boat launch with limited bank access on the north shore, off Campbell Lake Road, less than a mile west of SR-20.
Cascade River
This Skagit River tributary near Marblemount is mostly of interest for modest harvests of hatchery spring Chinook salmon in its very lowest reaches.
In recent years, a couple hundred or more of the big salmon have been harvested in June and early July.
The stream below the Rockport-Cascade Road Bridge (roughly a mile up from the mouth) also is open seasonally for coho salmon and also has one of Washington's fairly rare harvest opportunities for bull trout/Dolly Varden, although they have to be over 20 inches to retain.
The remainder of the river is home to wild rainbow, cutthroat and bull trout, all of which must be released.
Cavanaugh, Lake
This large lake within easy reach of Mount Vernon and Arlington is stocked with tens of thousands of young kokanee as well as good numbers of young cutthroat trout.
Both the kokanee and trout grow to pan-sized (and occasionally larger) at Lake Cavanaugh, which is more than 800 acres and open year-round.
You may also catch a rainbow trout here on occasion, although 'bows haven't been on recent stocking schedules. Some sources say an occasional brook trout might also be caught.
Lake Cavanaugh also is home to resident largemouth bass, and a largescale sucker may bite your hook as well.
WDFW maintains a gravel boat launch on the southeast side of the lake, off S. Shore Road. A good part of the rest of the shoreline is lined with private residences.
Lake Cavanaugh is in the hills of south-central Skagit County, just above the Snohomish County line.
It's about a half hour's drive going northeast from Arlington or just a bit farther driving southeast from Mount Vernon.
Clear Lake
Clear Lake is a popular lake name in Washington.
Skagit County's version is a 220-acre lake near Sedro-Woolley with excellent access and is most enthusiastically fished for stocked trout.
Recent stocking plans have called for about 6,000 catchable trout to be planted in the spring (about April), when trout fishing will be at its peak.
Cutthroat trout also have been stocked and are present as year-round residents.
Other fish you might catch include largemouth bass, yellow perch, black crappie and bullhead catfish.
If you want to fish from shore, head to Clear Lake Beach Park on the west end, where there is a fishing pier as well as a swimming beach, picnic tables and other facilities. It is located on S. Front Street just off SR-9.
Boaters should go to the WDFW access on the north side, at the end of C Street off Old Day Creek Road.
From Sedro-Woolley, it takes about 10 minutes heading south on SR-9 for about four miles to reach Clear Lake, which has a small community. It's only about 15 minutes heading northeast from Mount Vernon.
Erie, Lake
Lake Erie (not THAT Lake Erie) near Anacortes isn't much more than 100 acres but comes up really big for stocked rainbow trout.
At last check, WDFW planned to stock 13,000 catchable rainbows in the seasonally open lake, which is just inland from the Puget Sound.
The stocking typically occurs for the opener in late April, and springtime offers by far the best trout fishing.
As the water warms, you'll also have a fair opportunity to catch resident fish including largemouth bass and yellow perch through the closure at the end of October.
Some larger trout may survive into the fall months, when they will bite more enthusiastically in the cooling water.
Look for WDFW's boat launch on the south shore along Rosario Road, less than a mile east of the Marine Drive intersection. It's only about 10 minutes south of Anacortes and near Lake Campbell and Heart Lakes (see separate listings).
More: Fishing at Lake Erie, Washington
Grandy Lake
This smallish lake near the Skagit River community of Concrete is popular with campers and nicely stocked with catchable rainbow trout each spring.
The lake is open to fishing all year, but access and the trout fishing will be best after the first planting occurs, typically around March or April, and trout fishing should be excellent into May and early June before it slows for summer.
Fly fishing can be good here as well as the usual bait and lures.
Other fish you might catch are resident coastal cutthroat trout and largemouth bass.
Most people fish this lake while staying at Grandy Lake Campground.
The seasonal Skagit County campground may be subject to closures from mid-fall through winter, so check ahead before going here during the off-season, when fishing is likely to be fairly slow.
The lake is about a half hour's drive east of Sedro-Woolley.
Heart Lake
This seasonal Anacortes lake should offer pretty good odds for rainbow trout limits in the weeks after the late April opener.
For being just over 60 acres, Heart Lake gets a whopping 8,000 or so catchable rainbow trout planted each spring.
While trout fishing will slow down into the summer months, your chances of catching one of the lake's resident largemouth bass should improve as the water warms.
A modest number of trout may survive into the fall months, when they will be larger and get more eager to bite as the water cools approaching the last day of legal fishing on Halloween.
The undeveloped lake's excellent public access is just south of Anacortes along Heart Lake Road.
McMurray, Lake
Lake McMurray is a popular fishing lake, modest in size but more than makes up for it with abundant rainbow trout.
The seasonal lake northwest of Arlington is loaded with some 13,000 catchable hatchery trout for its late April opener.
You also can catch resident species including coastal cutthroat trout, largemouth bass, yellow perch and perhaps a few black crappie in the roughly 160-acre lake.
Trout fishing will by far be easiest in spring and slower in the heat of summer, although sometimes returning in the fall before Lake McMurray closes after October 31 can be productive for larger trout.
There is a WDFW boat launch with bank access on the southeast end of the lake, off Lake McMurray Lane.
Lake McMurray is easy to reach, located along SR-9 at the intersection of SR-534.
It's only about 15 minutes north of Arlington and slightly more driving southeast from Mount Vernon. It's seven miles east on SR-534 from the Conway exit (Exit 221) on I-5.
More: Lake McMurray Fishing
Pass Lake
This is a special place, a trophy fly fishing-only lake on the far western edge of Skagit County south of Anacortes.
Pass Lake attracts fly anglers from around the Puget Sound for its trio of brown, rainbow and cutthroat trout.
The browns and rainbows are planted primarily as fingerlings (a modest number of catchable rainbows are likely to be stocked as well) and grow to large sizes in the insect-rich lake. The coastal cutthroats are native to local waters.
Strict catch-and-release rules along with fly fishing regulations allow trout to reach trophy sizes potentially approaching 30 inches but more often in the teens.
You can launch a small boat or fish from a tube, but no motors are allowed.
Pass Lake is easy to reach, being located along the edge of SR-20 just north of Deception Pass and south of Lake Campbell and Lake Erie (two lakes where you can keep your catch).
More: Pass Lake Fly Fishing
Pilchuck Creek
A handful of hatchery winter steelhead may be caught here during a season, probably not enough to attract folks from out of town but the locals will tag a few.
The stream also is home to wild rainbow and cutthroat trout.
The creek heads north of Lake Cavanaugh and flows into the Stillaguamish River near I-5 west of Arlington.
Saltwater
There are several ports and shore fishing opportunities for salmon, lingcod, greenling, surf smelt and other species found in the Puget Sound and Salish Sea.
Expect pretty good coho fishing in about September in the Deception Pass area.
The Deception Pass State Park pier is a popular shore fishing area. Anacortes and Washington Park also offer pier fishing.
The Anacortes, LaConner and Bayview areas offer boat access to saltwater opportunities.
There also is some very good crabbing in these waters and watch for a couple of days to open in the spring when you can go after spot shrimp.
Birch Bay State Park near Blaine is a very popular clamming spot, with loads of butter clams and pretty good odds to dig littlenecks, horse, cockles and manila clams as well. You also can pick oysters here.
Drayton Harbor has fair clamming and oystering as well.
Samish River
This lower stretches of this river system flows into Samish Bay northwest of Burlington and can produce quite a few fall Chinook salmon, numbering well into the thousands.
The first of these big salmon arrive in August, but September may bring peak fishing before the short season closes. The open area is downstream from I-5.
Several other types of salmon spawn in the river but offer fewer to no fishing opportunities. This also hasn't been much of a steelhead river.
This is a historically excellent sea-run cutthroat river in late summer and early fall, and larger specimens at least 14 inches may be retained.
Check fishing regulations carefully as anadromous fish rules are ever-shifting.
Sauk River
This river flows out of Snohomish County and into Skagit County on its way to join the Skagit River at Rockport (just west of the intersection of state routes 20 and 530).
The Sauk is historically known as a place to catch giant winter steelhead and almost as giant bull trout, although wild steelhead and the bulls are heavily protected here.
There is some modest opportunity to harvest the rare hatchery steelhead straying up here from the Skagit, and this is a very good fly fishing river, primarily for catch-and-release anglers chasing big steelies and wild trout.
More: Sauk River Fishing
Shannon, Lake
This large reservoir (about 2,000 acres) on the northern end of Skagit County near Concrete is best known for its kokanee fishing.
The seasonal lake hasn't appeared on stocking schedules recently but the kokanee (land-locked sockeye salmon) largely take care of themselves.
The upper part of the reservoir stretches into Whatcom County and sits just below better-known Baker Lake in Whatcom County, which gets Washington's best-known run of ocean-going sockeye salmon.
You can keep up to 10 kokanee in Lake Shannon, as long as they are at least 8 inches in length. Chumming is permitted here.
Several resident trout species you might catch on occasion include native rainbows and cutthroats and introduced brook trout. There also are some native bull trout in the lake, and these protected fish must be released unharmed.
Puget Sound Energy provides public access, including a gravel boat launch WDFW has described as challenging.
Skagit River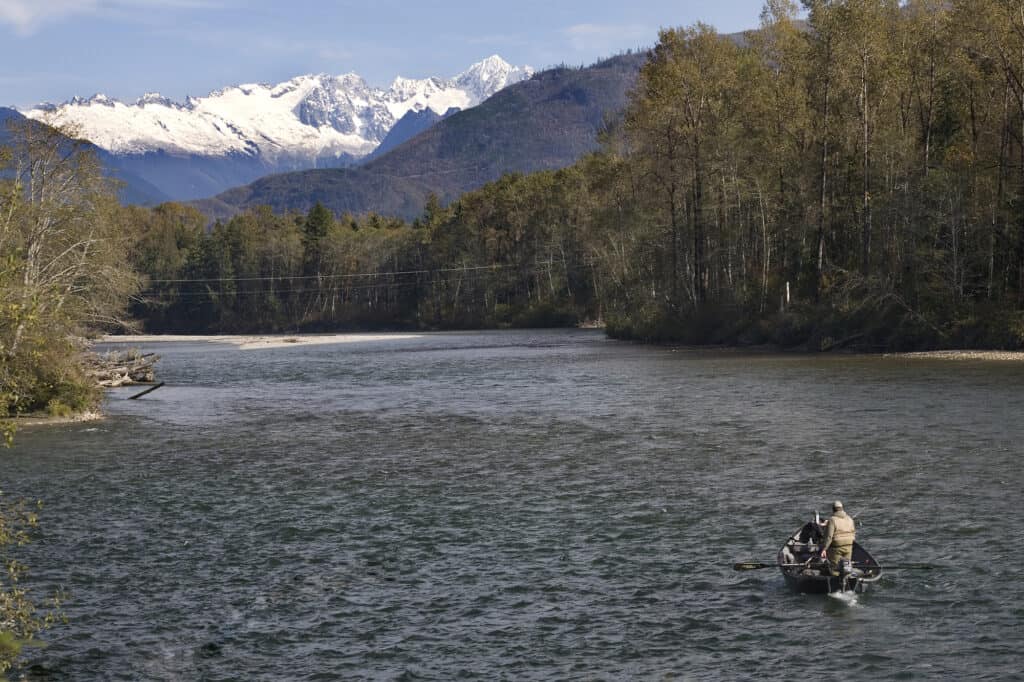 The Skagit is one of northwest Washington's best-known river systems, although its once-famous runs of salmon and steelhead are barely a shadow of what they used to be.
There is a moderate spring Chinook fishery in the mainstem as well as in the Cascade River tributary (see separate listing). These springers are mostly tagged in June and July.
Sockeye salmon heading to Baker Lake may at times be retained.
Once amazing steelhead runs are even lower than the salmon returns in recent years, with handfuls of winter fish kept in December and January.
These days the river is largely managed for wild salmon and steelhead, which are protected, and it is no longer planted with a gazillion salmon and steelhead smolts.
Read the regulations carefully before fishing the multiple stretches of this river.
Sixteen Lake
This small lake will light up for trout fishing like sixteen candles when it opens in late April.
That's because WDFW typically stocks the 40-something acre lake with about 6,000 catchable rainbow trout for the opener.
Trout fishing will be best in the spring and slow into the summer, although a few might be around (and bigger) when cooler weather returns in September and October.
During warmer weather, try to catch some of the lake's resident largemouth bass.
Sixteen Lake is a quiet place even though it's a quick drive from either the Arlington or Mount Vernon areas.
From the Conway exit off I-5, it's a few minutes east off SR-534. Take Lake 16 Road straight to the WDFW boat launch at the south end of the lake, which has some homes on the west side but otherwise is bordered by trees.
Vogler Lake
This small fly fishing-only lake near Concrete in the Skagit River area gets about 1,000 rainbow trout stocked each spring, likely around April.
Fishing will hold up better at Vogler Lake than at many typical stocked lakes because anglers must release their catch.
While there is pretty good bank access, casting with a fly rod will be far easier if you have a float tube or other small watercraft.
Vogler Lake is just off Burpee Hill Road north of Concrete, about a half hour east of Sedro-Woolley.
The lake is west of Lake Shannon and close to several other smaller lakes, including Lake Grandy.
Fishing in Neighboring Counties
Whatcom County: To the north, from saltwater salmon and shellfish to big and small lakes full of trout, bass and landlocked salmon near Bellingham.
Okanogan County: To the northeast, the state's largest county is loaded with lakes filled with trout, kokanee and other gamefish.
Chelan and Douglas Counties: To the southeast, the fantastic Lake Chelan and lots of other places to catch trout, bass, inland salmon and more near Wenatchee.
Snohomish County: To the south, lots of lakes filled with trout and other game fish, plus salmon and steelhead rivers near Everett.
Island County: To the southwest, Whidbey Island in particular has a wealth of saltwater fishing options in addition to some very nice trout lakes.
San Juan County: To the west, the San Juan Islands have lots of access to saltwater salmon, crabs, shrimp and more, plus some surprising trout lakes.
Washington Resources
WDFW Fishing and Stocking Reports
WDFW Fishing Regulations
National Weather Service forecasts