The San Juan Islands dot the Salish Sea like puzzle pieces, attracting many thousands of visitors to its quaint villages, beautiful sights and many activities from whale watching to beach combing.
One of those favorite things to do on the San Juans is go fishing.
Of course, surrounded by the inland sea a quick swim from the wide open Pacific Ocean but somewhat protected by location, the San Juans are favorite fishing grounds for anglers chasing salmon, halibut, rockfish and many other saltwater species. Crabs, shrimp and other shellfish are common in some areas.
While freshwater might not come to mind on islands surrounded by salty brine, the San Juans are home to quite a small lakes, most of them small, and a fair number have trout, bass and other game fish.
The San Juan Islands together make up San Juan County.
The county's biggest settlement and only incorporated city is Friday Harbor on San Juan Island, but there are many smaller villages including Roche Harbor on San Juan Island, Eastsound on Orcas Island, and Lopez Village on Lopez Island, among quite a few others.
Four major islands (including the above-mentioned and Shaw Island) are served by the Washington State Ferries system and have the most visitor-related facilities that can include ports and fishing charters.
The islands only have a little more than 15,000 permanent residents but the population swells with tourists, especially during the summer and other vacation periods.
What follows is a look at some of the places to fish in the San Juan Islands.
We'd also like to suggest that you read the "Fishing in Neighboring Counties" feature down below. It will point you to tons of great fishing spots just a ferry ride and short drive away.
Cascade Lake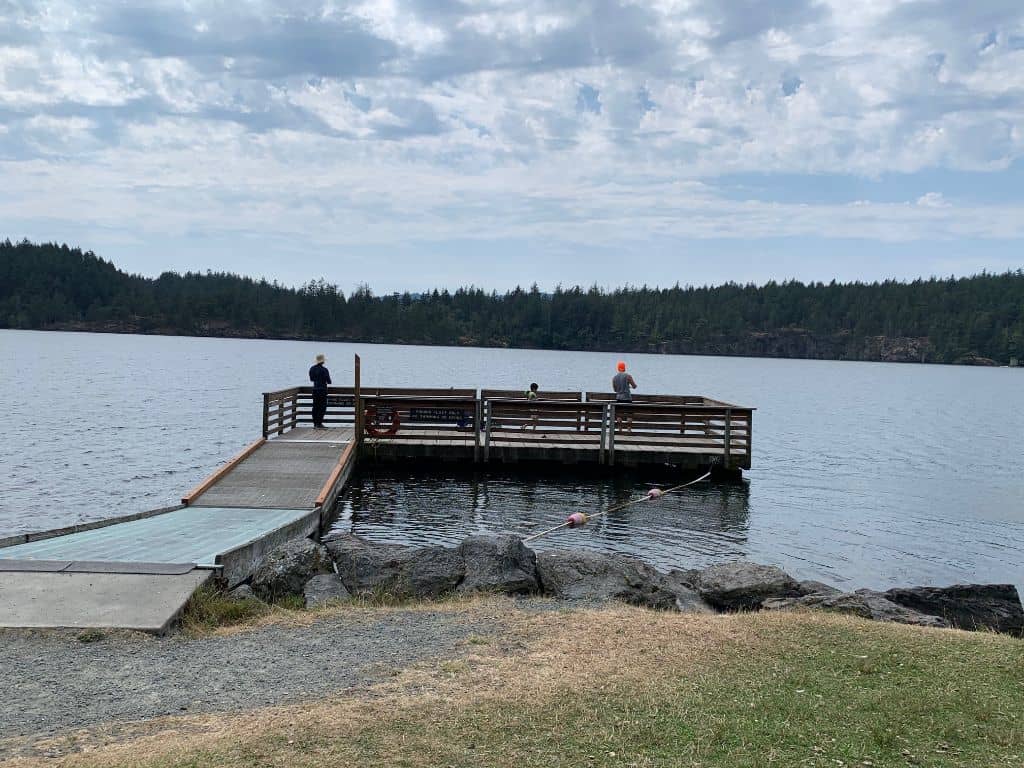 At about 175 acres, this is perhaps the most familiar and definitely best-stocked lake on the San Juan Islands.
Cascade Lake is near the main entrance to Moran State Park, a popular visitors destination on Orcas Island, so many thousands of people drive by its shores on a regular basis.
The state stocks Cascade Lake like you'd suspect for a place with this level of tourist traffic, sometimes planting well over a 100,000 rainbow trout here.
A majority of the fish coming by truck are youngsters that have a shot at growing into larger fish, but several thousand catchables may also be planted.
There also are resident cutthroat trout, kokanee and (due to a fairly recent illegal introduction) some largemouth bass.
Unlike other lakes on the island, Cascade Lake is seasonal, opening to fishing on the fourth Saturday in April and closing at the end of October.
More: Cascade Lake Fishing
Egg Lake
This little lily pad-lined lake in the of San Juan Island interior is stocked with several hundred rainbow trout (sometimes closer to 1,000) each spring.
Trout fishing will be best in the weeks and maybe few months after the planting (likely in March) and slow way down for summer.
But summer is when you're more likely to get some strikes from the 7-acre lake's resident population of largemouth bass.
The lake is open all year but wintertime fishing is likely to be slow.
The lake is located along Egg Lake Road just west of the larger Sportsman's Lake on the north-central part of the island.
Bank access includes a small fishing pier that will help you cast once the lily pads are in their summer glory.
Hummel Lake
This is the best fishing lake, at least for stocked trout, on Lopez Island.
The roughly 35-acre Hummel Lake is stocked with about 1,000 catchable rainbow trout early in the season (around March), and once it is planted trout fishing will be best in the coming weeks.
While many of those trout will be caught out by the heat of summer, it's still worth a visit if you're on Lopez because the lake has a year-round resident population of largemouth bass and bluegill.
The warmwater fish should bite well through summer and into early fall, although a small boat will help you get beyond shallow-water aquatic plant growth during the warm season.
WDFW has an access point where you can launch a small watercraft located on the northwest corner of the roundish lake, basically at the intersection of a major island route, Center Road, and Hummel Lake Road.
The lake is four miles south of the island's ferry terminal and only about a mile or so inland (east) from Lopez Village, the island's main commercial area.
Mountain Lake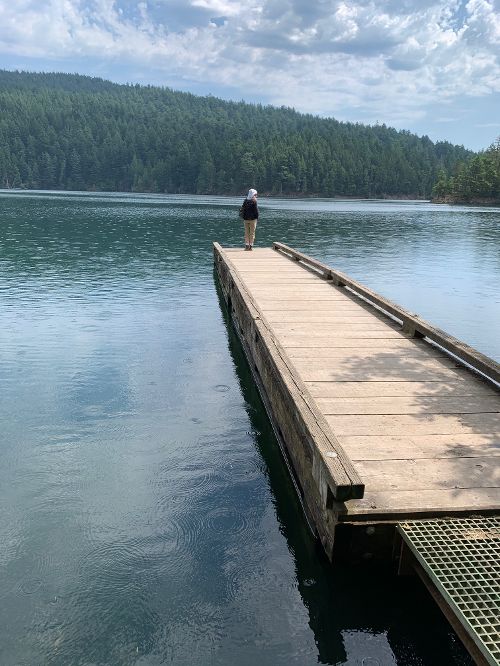 This pretty lake is actually a little bigger than Cascade Lake in Moran State Park (Orcas Island), but it is located off the main road and tends to be a little quieter, although it's quite popular for camping and paddling.
Mountain Lake, at just under 200 acres, is a little higher in elevation with cold, clear water and good access for bank and small boat fishing.
At last check, WDFW has primarily been stocking this water with a good number of young cutthroat trout, which go into the lake in winter and grow to catchable size for anglers who tend to work the lake more in the spring, early summer and fall.
The lake also is home to Eastern brook trout and rainbows have been stocked here some years. WDFW also has reported kokanee in this lake.
Anglers can only keep one fish over 18 inches as part of a trout limit.
Saltwater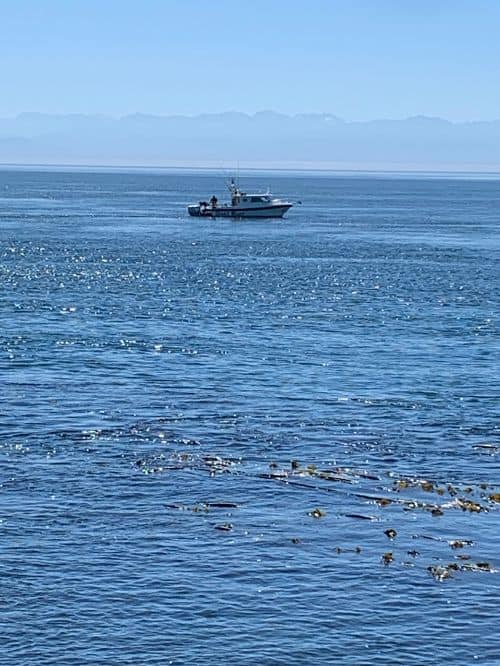 Salmon are often king around here.
And kings, as in both resident blackmouth Chinook that feed in the inland waters and also seasonal runs of Chinook, coho and other types of salmon that pass through on their way to spawning rivers and hatcheries in the region.
Salmon anglers, often with rods bent low by down-riggers, will work the deep waters just off the islands to try to intercept passing salmon.
Summertime is typically good for Chinook fishing, and in odd years a pink run might show up strong enough to fish, likely in August.
Blackmouth fishing is typically best in winter and early spring.
Halibut, rockfish and other species also are found in the Salish Sea, but make sure you familiarize yourself with seasons and other rules before fishing on your own. Local charter operators have it all down, of course.
Pile and other perch species will be found in bays and around docks, including in Friday Harbor. Surf smelt and flounder are other species that might be in reach for shorebound anglers.
Crabbers can do well for Dungeness in several bays on major islands, while shrimpers work plunging depths not far offshore. There are several clamming beaches on San Juan Island and elsewhere.
Sportsmans Lake
This 66-acre lake on San Juan Island is primarily a warmwater fishery, with largemouth bass, yellow perch and pumpkinseed sunfish to catch.
Fishing will begin to pick up in the spring and should stay pretty good all summer and into at least the early part of fall.
WDFW has a small public access including a basic boat launch right on Roche Harbor Road, a major thoroughfare on San Juan Island.
The lake is only about a 10 minute drive from either Friday Harbor or Roche Harbor.
Fishing in Neighboring Counties
Whatcom County: To the northeast, from saltwater salmon and shellfish to big and small lakes full of trout, bass and landlocked salmon near Bellingham.
Skagit County: To the east, the Skagit River and streams, lakes and saltwater with salmon, trout, shellfish and plenty more to catch.
Island County: To the southeast, Whidbey Island in particular has a wealth of saltwater fishing options in addition to some very nice trout lakes.
Clallam and Jefferson Counties: To the south, the Olympic Peninsula offers some of the state's best steelhead and salmon fishing in rivers and saltwater, and mountain lakes have trout and more.
Washington Resources
WDFW Fishing and Stocking Reports
WDFW Fishing Regulations
National Weather Service forecasts