Lenore Lake is situated in one of Washington's most productive fly fishing regions.
Just a few miles to the southwest of Dry Falls Lake, Lenore is one of the only places in Washington where you can catch trophy Lahontan cutthroat trout.
Also a favorite amongst fly fishermen, the Lenore Lake ecosystem functions similarly to that of the legendary Pyramid Lake in Nevada, albeit on a smaller scale.
The Lahontan cutthroat trout that call the Central Washington lake home are able to thrive in the alkaline water, feeding on everything from salamanders to damselflies.
The lake isn't an easy one to master, and the way you approach Lenore Lake largely depends on the time of year you're fishing it.
Read on to learn a little bit more about how to catch big trout on Lenore Lake!
Trout Fishing
Lahontan cutthroat trout dominate the fish population at Lenore Lake, primarily because they are able to tolerate the unusually high salinity of the lake.
Other trout species are not able to thrive due to the lake's salt content. So if you're looking for big rainbows and browns, nearby Dry Falls Lake is the place to go.
The Lahontan population also makes Lenore a unique lake; Grimes Lake and Omak Lake are other major Washington lakes with a healthy Lahontan cutthroat population, although there are programs establishing them in other spots.
What's more, the Lahontan cutthroat in Lenore are known to grow larger than 10 pounds, making this lake an icon for trophy cutthroat fishing.
As enticing as a 10-pound cutthroat sounds, though, the majority of the fish are between 14 and 18 inches – which is still larger than trout in most other lakes.
It helps that harvest limits are extremely strict, making this a primarily catch-and-release fishery with the occasional opportunity to bag a trophy for anglers who prefer that option.
Although Lahontan cutthroat trout are strikingly different from other trout species, they're trout all the same: Spinners and spoons work well for conventional fishermen, and fly fishermen do well with streamers.
Damsel fly patterns, in both nymph and surface patterns, are productive as well.
If you really like the nymphing game, chironomids produce well – however, most fly anglers stick to streamers and leech patterns, particularly for the larger fish.
A 6-weight fly rod with a 3 or 4X tippet is common, particularly for fishing streamers. The fish in the lake get big, and you'll want to be able to handle them.
If you're fishing chironomids or smaller nymphs, you can get away with 5X for a more natural presentation.
Special regulations apply to Lenore Lake; only artificial lures and flies are allowed, and all hooks must be barbless. This helps to preserve the healthy population of cutthroat in the lake.
When to Fish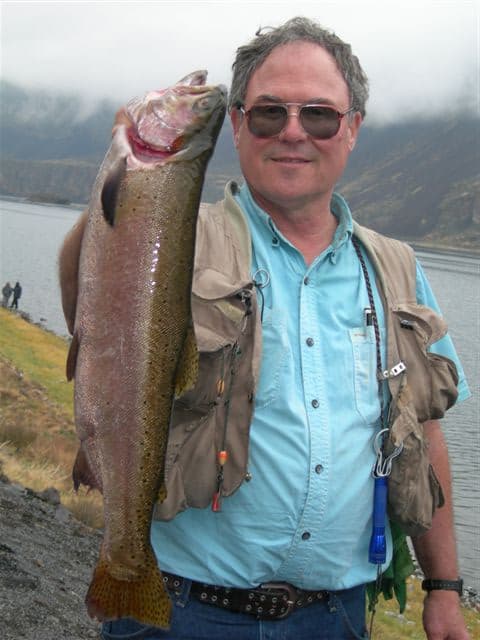 Lenore Lake is open from March 1 through November 30, and most of the great fishing happens at the beginning and end of the season.
The cutthroat, in preparation for spawning, move to the northern end of the lake beginning in March – they group up in pods, which makes spring one of the most popular times to fish Lenore Lake.
If you're able to find a pod of trout during the spring, odds are decent you'll be catching big fish all day long.
The lake can get quite busy in the spring, though. However, most anglers focus their springtime fishing attention on the pods of cutthroat in the north end of the lake,
Nevertheless, the rest of the lake can still be very productive in the early months. If you're looking for some solitude, try fishing the south end of the lake during the spring.
Summer is the slowest time of year on Lenore Lake fishing calendar, as the water temperature gets warm and the cutthroat aren't very active.
If you're able, try planning a trip for either the spring or the fall. Nymphs and streamers fished slowly can produce in a pinch during the warmer months, however.
Once September and October roll around, trout fishing on Lenore Lake once again begins to kick into high gear.
Unlike in the spring, when fish are more picky and are largely concentrated in pods, cutthroats are more spread out in Lenore during the fall.
Explore the lake until you find a few areas that are producing – it can change from day to day!
Streamers and chironomids are the primary methods of catching Lahontan cutthroat during the fall months.
Location and Access
Lenore Lake is located just south of Coulee City, in a fairly remote area of Central Washington.
Though the lake is a ways from Washington's bigger cities, the region is well-known amongst fishermen for its productive high desert trout fishing and the busy Sun Lakes-Dry Falls State Park and massive Banks Lake.
Nearby fisheries include stringer-filling rainbow trout lakes like Blue Lake and Park Lake and the fly fishing mecca of Dry Falls Lake.
It's a little more than a half hour's drive north from Moses Lake and more than an hour east from Wenatchee (not a straight shot).
The closest major cities are Yakima and Spokane, both a bit more than 100 miles and in the two-hour range for driving. It's closer to three hours from Seattle.
Residents from throughout Washington make the trip out to Lenore for some unique trophy trout fishing.
As is the norm with most of Washington's high desert lakes, Lenore Lake is best fished by boat. Float tubes, pontoons, and drift boats are all popular here. Motorized boats are not allowed.
If you're confined to the banks, though, there are still trout to be had. Conventional fishermen toss spinners and spoons from the shoreline, and can do very well.
Lenore Lake is both an intriguing high desert ecosystem and a great place to catch trophy cutthroat trout. Mark a couple of days down on your calendar and make a trip out!
Find more fishing spots in Grant County
Washington Resources
WDFW Fishing and Stocking Reports
WDFW Fishing Regulations
National Weather Service forecasts
Carter Reschke is a freelance writer based in Oregon. Passionate about the outdoors, Carter is a fly fishing aficionado and spends his days on the river when he's not writing.