Are you looking for a lake that has trophy walleye, bass, trout and kokanee salmon? Banks Lake, a giant reservoir in Central Washington, has fishing for all that and more.
What else, you ask? Monster-sized lake whitefish, deepwater burbot and plenty of panfish also are waiting to crush your lures and bait.
Banks Lake not only offers a wide range of fishing opportunities but also is home to Steamboat Rock State Park, which is an excellent destination with lots of amenities.
And head out in either direction for the convenience of having restaurants, stores, hotels, campgrounds, RV parks and much more at the lake or in Coulee City or Electric City at either end of the nearly 27-mile-long reservoir.
The reservoir offers a whopping 91 miles of shoreline.
You shouldn't run into any problem finding a spot to fish from the bank on the eastern side that will provide a little separation from other anglers.
There are several boat launches to choose from, and if you need to, there are also boat, kayak and canoe rentals available at certain ramps.
Banks Lake Walleye Fishing
Walleye are a big draw at Banks Lake.
If you've been researching this lake on YouTube, you might think the only fish in this lake are walleye, bass and lake whitefish, with walleye being the predominant species.
Anglers travel from all over the Pacific Northwest to catch a trophy walleye at Banks Lake.
The end of February marks the start of the walleye pre-spawn and fishing keeps getting better and better throughout March.
Focus your efforts on the north end by Steamboat Rock.
The water needs to be on the cooler side because once it warms up to roughly 45 degrees, the bite shuts off, and walleye start the spawn. The spawn usually lasts through April.
When targeting walleye pre-spawn and during the spawn, release the females to let them finish the spawn.
They can be pretty big, in the 22- to 25-inch range, so it's hard to let that go, but it ensures the vitality of this fishery.
Males are still pretty decent sized as well. You can pick up several between 16 and 20 inches.
At last check walleye limits here followed the statewide guidelines, but definitely always check out the regulations before you hit this or any lake.
Trolling for walleye is an excellent approach.
First off, keep it slow. Pre-spawn trolling should be around 0.8 mph, speeding up a bit in the warmer weather after the spawn.
Start slow and speed up until you are getting bites. Worm harnesses and Slow Death hooks work well here.
Jigging works well as long as you can get to the bottom. Use a slow bounce and wait for the bite.
Anglers can find success fishing from the shore for walleye here.
Coulee City has a park that offers good shore access and a fishing pier. There are several other areas between there and Electric City that also have excellent shore access.
Once you find your spot, use a ¼ to ½ ounce bottom bouncer and a Slow Death hook or a Mack's Lure. The Wally Pop Lure also may bring fish to the net here.
Tip the hook with a bit of worm.
When you're on the bottom, use a slow retrieve and work the rocks. The lake is enormous, so don't feel obligated to stay in one place for too long if you're not hooking walleye.
Pick up plenty more tips in our walleye fishing techniques article and dial up all the great walleye fishing holes in Washington in our complete listing.
Banks Lake Bass Fishing
There are smallmouth and largemouth bass throughout the lake, though smallmouth have numbers on the largemouth.
Smallmouth Bass
Simply put, this is one of the best smallmouth bass fishing spots in Washington. These guys are everywhere in the lake.
Fishing near shore is going to bring more than a few dinks to the net, but you should be able to land the occasional smallmouth bass with some weight to it. The lake holds some big fish among the multitudes of more typical bass.
So if you want to catch a lot of smallies, Banks Lake is for you.
They are spread throughout the lake but are most prevalent in the Barker Flats and Steamboat Rock areas toward the northern end of the lake.
You'll be able to catch good numbers of smallmouth throughout the lake, but that section, in particular, has great success rates.
There are several basalt islands toward the south end of the lake that will hold good numbers of smallmouth as well, along with significant numbers of yellow perch and crappie.
The smallies around these islands tend to be a little bigger than along the shore, with good numbers of nice bass ranging from 2 to 4 pounds.
Big fish can also be found in the southern end, though be careful through here in a boat.
There are several hidden obstacles that will tear up your prop. A few fish aren't worth a busted prop, so make sure you have a current topo map for the lake.
The Devils Punch Bowl area has some excellent cover for smallies and is one of the better places for the largemouth bass in the lake.
Largemouth Bass
For years it seemed the largemouth population of Banks Lake had pretty much dried up.
A concerted effort by the WDFW has rejuvenated the largemouth populations, and the last few years have started to show success.
They aren't as numerous as the smallies, but they are gaining a decent foothold.
One of the first places to look for largemouth is in the Devils Punch Bowl, a bay between the big Steamboat Rock peninsula and Coulee Boulevard on the northeast side of the lake.
The shallow water in the punch bowl has the perfect coverage for largemouth to spawn in, so check the shallows and work the reed lines.
Aside from the punch bowl area, try Osborn Bay, in the far north end of the reservoir on the south side of Electric City.
This bay has a large, shallow flat that holds large numbers of smallies as well as the bucket mouths.
Target the edges and the weed lines to bring in some good-sized largies. It's not uncommon to catch 4- to 5-pounders when conditions are right.
Kick your bass fishing into gear with Bass Fishing: Simple Techniques and Tips.
Banks Lake Whitefish
With all the talk of smallmouth and walleye being so prevalent in Banks Lake, you'd think they were the most populous species. Not at Banks.
Lake whitefish are found here in greater numbers than any other species, according to WDFW. This is a good thing if you want to target them.
Speaking from personal experience, catching a whitefish on a fly with a 4-weight rod is a great time. Those things don't come to the net easily.
Jigging for whitefish is a popular option on Banks Lake.
You should be able to find some nice ones in the vicinity of 2 to 3 pounds.
Lake whitefish tend to school up, so vertical jigging from a boat can lead to a prolific day on the lake when you find them.
Some anglers aren't too keen on eating whitefish, which are notoriously bony.
But that's probably because they haven't smoked them. Smoked whitefish is delicious and the bones are easy to remove.
Banks Lake Rainbow Trout Fishing
Rainbows have been planted over the last several years at Banks Lake through a co-op project between local groups and the WDFW.
The rainbows have been raised in net pens and then released into the main waterbody. It's one of the most heavily stocked rainbow lakes in this part of the state.
Some rainbows are caught by accident while walleye or bass fishing. The anglers have been pretty surprised to find a hulking 4- to 5-pound rainbow on their line instead of what they thought was going to be a big walleye.
Rainbows here average between 15 and 20 inches and can be caught year-round.
Traditional trolling and set baits work, as do lures and crankbaits, often fished with the hooks tipped with worms.
In the winter, if the lake ices over, you can catch some beasts. Five pounds isn't unheard of, with some going over 6 pounds.
Check out our full article on trout fishing techniques for plenty of simple ways to catch them.
Banks Lake Kokanee Fishing
As with trout, kokanee have been planted in the lake annually for a few years now and have taken to the lake very well.
Kokanee up to 19 inches are relatively common, with a few reaching 22. Those frankly are eye-popping sizes for these landlocked sockeye salmon, which often run closer to 12 inches in many waters.
Like the rainbows, kokanee have beautiful red meat and are perfect table fare.
Trolling is typically the best option for catching kokanee.
The deeper parts of Banks Lake are around 140 feet, with an average depth of approximately 45 feet.
Kokanee like the cooler, deeper waters, especially in the warmest months, so try trolling the drop-offs to deeper water and along the islands where the water gets deeper.
Standard kokanee gear should get the job done, though catches tend to be variable throughout summer into fall.
You even may have luck on the hard deck if the lake freezes over in the winter.
Get up to speed with our simple kokanee fishing techniques and find the other great places to catch these fish in Best Kokanee Fishing Lakes in Washington.
Banks Lake Burbot Fishing
Burbot are pretty ugly. They look like a mix between an eel and a brown bullhead. Did I mention they are slimy? They are slimy.
So why would an angler target burbot? They are delicious. Think of them as freshwater lingcod.
Burbot are also weird. They don't follow the standard pattern of any other fish.
They could spend the entire spring, summer and fall completely ignoring angler attempts to catch them, although they can be caught all year.
As soon as the ice caps the lake, burbot become active. They love the cold weather and will eat almost anything and everything near them.
Burbot don't always get much respect. There are lakes elsewhere in the country that have no limits on burbot, and even some that don't allow the release of one if caught.
Banks Lake is one of the better places in Washington to catch burbot, and you may keep five of any size here. (Check this year's regulations to make sure nothing has changed.)
Find your best success by targeting them from evening until 2 or 3 a.m. Work a jig or jigging spoon along rock edges, and you may have success.
Bright and even glowing lures can work well, especially in dark conditions. Some anglers tip the hooks with chunks of fish, like a piece of sucker meat, to seal the deal.
Remember that if you can get past the ugly, slimy exterior, they really are one of the tastiest freshwater fish out there.
Banks Lake Panfish Fishing
Banks Lake has a variety of panfish species that can provide easy angling and tasty meals when you can find them.
Crappie Fishing
Crappie fishing can be good to excellent at Banks Lake.
Target crappie along the same weed lines and drop-offs you would chase bass.
Crappie here can get big. Everyone talks about that one time they caught some slabs, but it always seems like a long time ago. Not the case at Banks Lake.
Fish the cattails in some of the protected bays. Use a 1/16th ounce crappie jig and cast beyond the cattails. Retrieve them as close as possible to the tails, and you'll find your quarry.
Some anglers have reported bringing in black crappie of over 2 pounds. That definitely qualifies as a slab.
Note that there is a reduced bag limit for crappie at Banks Lake to help maintain the fishery.
Learn how to catch more crappie.
Yellow Perch Fishing
There is a limit of 25 perch in Banks Lake but check current regulations to confirm this.
Yellow perch are abundant and make for great forage for walleye, bass and burbot. Larger trout will take them down as well.
That doesn't mean you shouldn't eat them as well, since perch are delicious, especially if you can find them in fillet-worthy sizes, which can be half the battle.
Yellow perch schools will bite on nearly anything, with natural baits such as worms, pieces of nightcrawler and similar baits all popular. Crappie jigs tipped with bait often fool perch as well.
Once you locate a group, it's almost guaranteed fish on. Consider leaving a few behind for the toothy critters in the lake.
Learn how to catch more yellow perch.
Bluegill Fishing
Bluegill can be very hit or miss in Banks Lake.
There is a solid population of them, but with so much water available, they are pretty dispersed.
In warmer weather, try finding them fairly close to shore along weedlines and under anything that provides a bit of shade, including a dock.
A worm, mealworm, cricket or other natural bait fished on a small hook a couple feet below a bobber and cast near cover is usually the ticket if bluegill are around.
Sinking flies and surface poppers also induce these feisty fish to strike.
And like the other panfish here, bluegill will strike a crappie jig, especially one with a bit of worm or mealworm on the jig hook.
Learn how to catch more bluegill and sunfish.
Channel Catfish Fishing
Channel cats are found in the flats around the lake, such as the Punch Bowl and Osborn Bay.
If you work the flats in these areas pretty good, you're bound to catch some channels.
Keep in mind that there are also brown bullheads hanging out in the same water, so you'll often find your bait stripped or a (likely small) bullhead on your line.
Channels can get pretty large here, with 5- to 8-pounders being common, although slightly smaller cats are the best eating.
The catfish action isn't fast, but it will provide good table fare.
Brush up on your whisker catching skills, including learning the best baits, with Catfish Fishing: Simple Techniques and Tips.
Planning Your Trip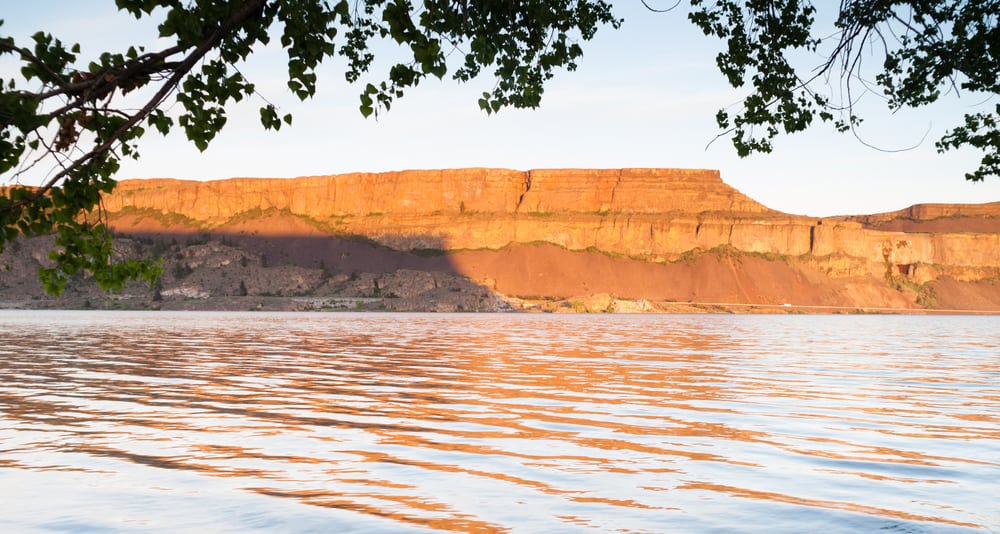 Banks Lake is easily accessed, with State Route 155 following the eastern bank from Coulee City to Electric City and tying in with other highways from all directions.
The southern end of the lake is less than an hour north of Moses Lake, while Steamboat Rock State Park is under two hours from Spokane. Expect a three-plus-hour drive from Seattle.
Both cities have hotels and restaurants if you want some comforts and conveniences.
Bank and Boat Access
Bank access is almost everywhere on the lake.
For starters, you can access good bank fishing along with the multiple boat launches along the east side. You'll have to work harder to fish the less-developed west side.
WDFW provides multiple launches with good bank access, in addition to Steamboat Rock State Park.
Big Wally's on the south end of the lake has a great tackle shop and a full-service marina, along with gear and guide services. Coulee Playland has a marina and fishing supplies as well.
Watch out for underwater hazards on the south end and by the islands.
Some spots may have rocks just under the surface. If your plans include the south end of the lake, get a current map to avoid unfortunate events.
Where to Stay
Steamboat Rock State Park sits in the heart of great fishing right on the north end of the reservoir, and it is popular and spacious for camping.
There also are multiple other options, including campgrounds and RV parks around the lake, so finding a place to stay is pretty easy with a little homework.
Additionally, Sun Lakes-Dry Falls State Park is literally just down the road on the other side of Coulee City and provides plenty of activities and some additional types of fishing, including fly fishing at Dry Falls Lake, big Lahontan cutthroat trout at Lenore Lake, and rainbow trout by the stringers at both Blue Lake and Park Lake.
So the region is literally loaded with outdoor adventure.
There are all sorts of entertainment options for family members that don't like to fish, making the lake a perfect vacation spot for the whole family.
Hiking, horseback riding, mountain biking, kayaking and swimming are all available at several places along the length of the lake.
Electric City also has a golf course and seasonal festivals. Check online to see what events are happening during your stay.
Hotels are readily available in the the communities at both ends of the lake, along with several restaurants. You won't have a hard time filling your time off the water.
Banks Lake is a perfect getaway for friends, family or solo trips. Give it a go, and you'll be glad you did. You may have bragging rights too.
Find more fishing spots in Grant County
Washington Resources
WDFW Fishing and Stocking Reports
WDFW Fishing Regulations
National Weather Service forecasts