Potholes Reservoir is rightfully famous for its excellent fishing for walleye, largemouth bass and smallmouth bass.
If you are searching for a place to catch a trophy-sized bucketmouth or two and then score a few of the best-eating fillets in freshwater, you've found it at Potholes.
It doesn't stop there at Potholes, which also has pretty good trout fishing, at times very good panfish angling, and several other species to hook.
The 28,000-acre reservoir was created by building the O'Sullivan Dam, which is the longest earthen dam in the country.
Potholes is considered by many to be one of the best bass fisheries in the Pacific Northwest, especially among locations with good numbers of both largemouth and smallmouth bass.
The north end of the lake is littered with little sand dunes that are surrounded by brush, trees and beaver lodges. The southern end is loaded with rocky structures that smallmouths rule.
In other words, perfect bass cover.
Potholes Reservoir is fed by Crab Creek that runs out of Moses Lake a few miles away.
The city of Moses Lake has all the amenities you may need, and that upper lake also has excellent walleye fishing.
However, if you're fishing Potholes, you'll likely have your hands too full of bass and other fish to consider going anywhere else.
Oh, and in case you didn't know, Potholes has some pretty great walleye fishing of its own. That could be why there are walleye tournaments held here throughout the year.
Kayak angling is an excellent option for getting into the shallower areas at the back of the reservoir.
There are multiple businesses around the area to rent boats, kayaks, canoes and other small watercraft.
Walleye Fishing at Potholes Reservoir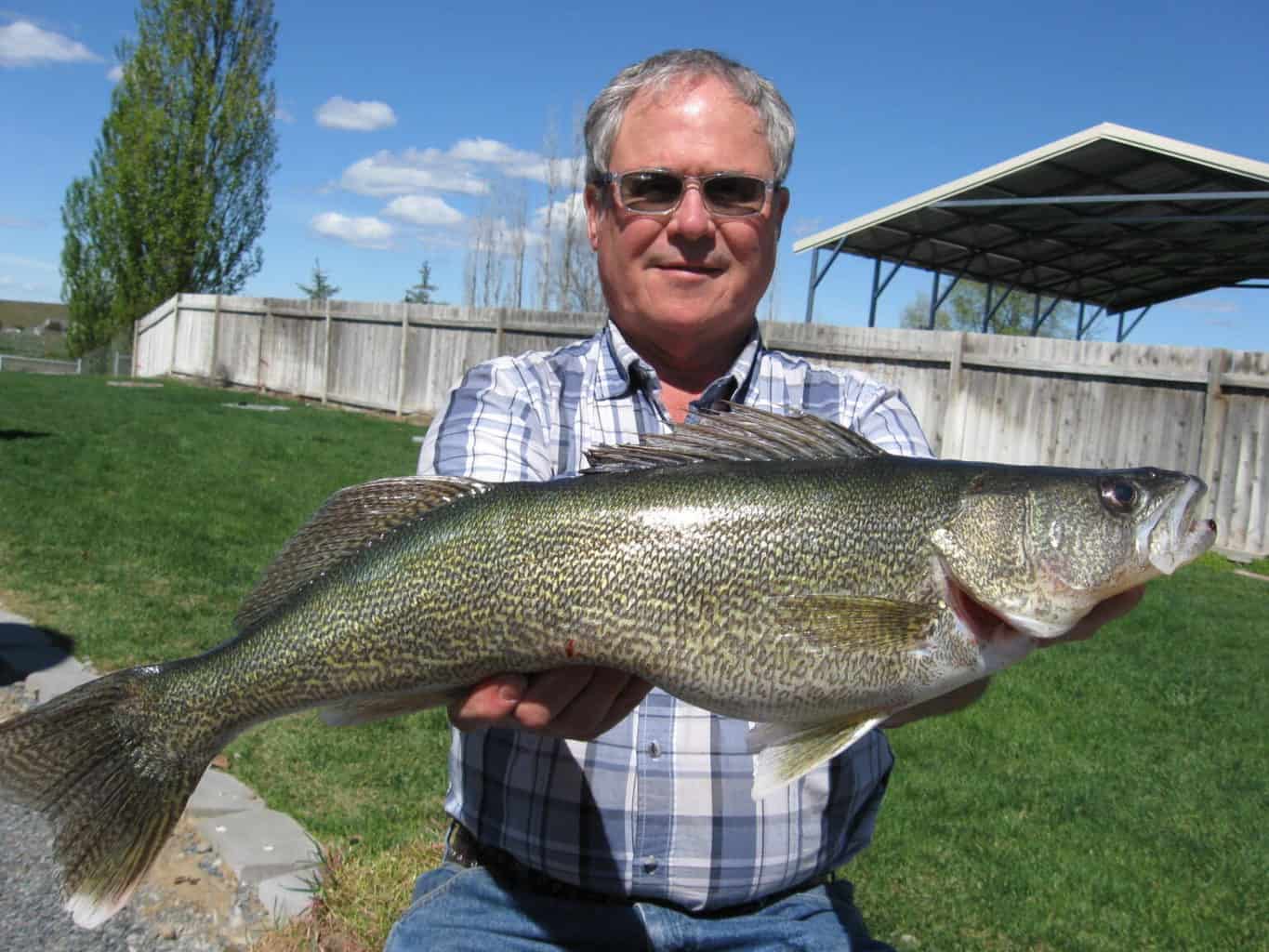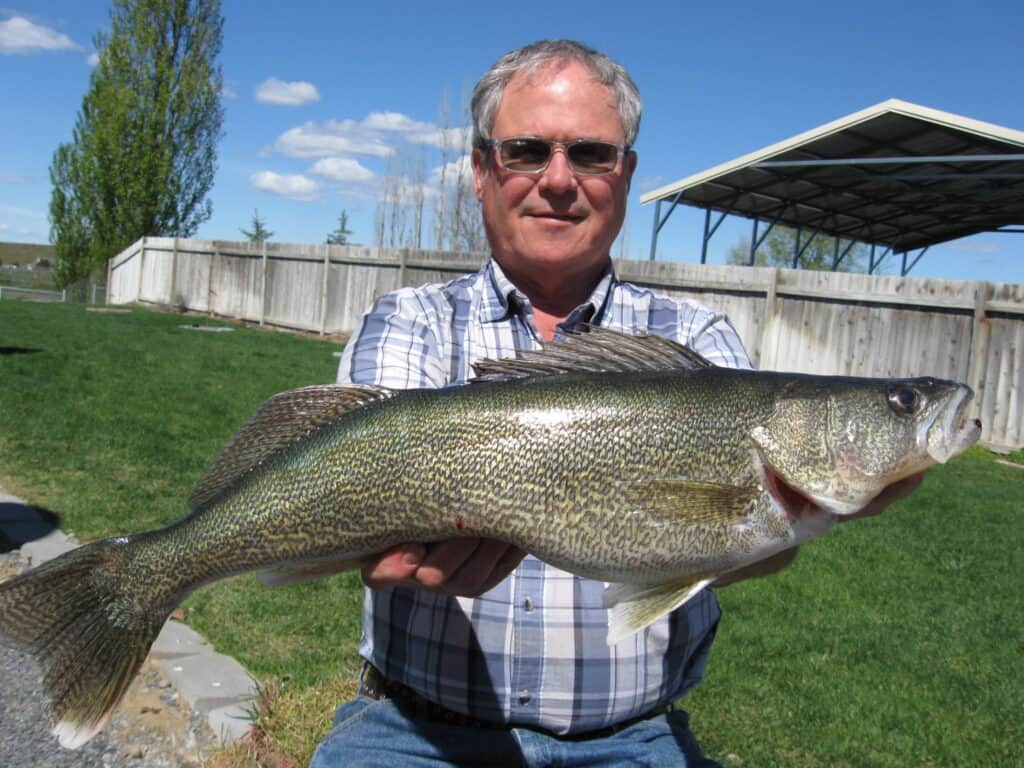 The walleye in Potholes grow big from eating the abundant smaller fish found throughout the lake.
Good to excellent walleye fishing can be found in several sections of the lake.
Target the Crab Creek area, Lind Coulee and around the sand dunes area.
Start out trolling with a worm harness equipped with some Smile Blades, or if you'd rather, troll some Flicker Shad instead. These work great in perch coloring.
Work the weed lines in about 15 to 20 feet of water.
Walleye in Potholes often hold just below ledges and drop-offs. Target the shelf and troll around 0.8-1.0 mph in the spring. Once the water warms up, increase speeds to around 1.5 miles per hour.
Mid-spring, around May, can be epic for walleye fishing. It's common to hear stories of anglers limiting out in an hour or two under the right conditions.
While most walleye here measure out in the teens, on occasion, there also have been some giants pulled out during this time. Big walleye here can be pushing 30 inches and 10 pounds.
When scouting locations, search for forage fish holding on drop-offs and ledges.
Potholes is littered with drop-offs, so find one that has a lot of small fish around. An excellent way to check is to try and catch some perch. Where the perch go, so do the hungry walleye.
Using the right setup for walleye is critical.
These toothy critters aren't the most aggressive biters, so you need a rod with a sensitive, fast action tip.
A fast-action 7 ½-foot or 8-foot rod would work well. Equip it with a reel of your choice and a 10-12 pound braid.
Attach a barrel swivel to the braid and then a short section of 10-15 pound mono to the worm harness or blade bait.
The Wicked Lures Trout Killer can pick up quite a few walleyes as well.
Remember to fish deep and slow for walleye. Your chances of limiting out on decent-sized walleye is quite good in the spring and fall.
To increase your odds of catching walleye, and to make sure you have the right equipment to do it, read our Walleye Fishing: Simple Techniques and Tips.
Bass Fishing at Potholes Reservoir
Bass are abundant in Potholes. Whether you target largemouth or smallmouth, there is a place for you at Potholes.
The reservoir hosts almost weekly bass tournaments throughout the summer so that pressure can be high on weekends.
If you're able to make a weekday run to Potholes Reservoir, you'll have fewer anglers and less pressure to deal with.
A typical bass fishing setup will be a medium action rod with a 10-15 pound braid.
We suggest you use a 7-foot rod, either spinning or casting, and make sure it has enough backbone to handle a big bass. Baitcasters are great here for the extra accuracy.
Largemouth Bass at Potholes
Target the sand dunes and Crab Creek areas for bucketmouths.
There are some big fish hiding out among the branches and beaver lodges that are throughout the sand dunes area.
Largemouth fishing can bring in some good sizes, with a good number of fish in the 2- to 4-pound range as well as some bruisers.
Look for ambush-style cover, and you'll find largemouth bass. Watch for fallen branches and trees in the water, and you may get into some of the bigger buckets in there.
Black and blue jigs with crawfish trailers pitched into the willows can bring some exciting action. Watching the water explode as a bucket mouth smacks the jig is one of the best adrenaline rushes.
Another area to target is from the front of the sand dunes all the way to the Job Corps Dike. Green pumpkin color works well through here.
Spinnerbaits, Senkos, chatter baits and frogs are all excellent options for flipping and pitching into cover throughout this area.
Potholes State Park on the southwest side of the reservoir has some excellent coverage for largemouth as well, so make a run over there if the other areas aren't panning out.
Don't miss the Frenchman's Canal at the end of the state park.
The canal holds lots of large and smallmouth. Try the mouth of the canal at sunset. There have been multiple reports of it being fast action on summer evenings.
Smallmouth Bass at Potholes
Smallmouth are everywhere in the main lake. If you can see any rock coverage, you are likely to catch a bass.
They average from 1 to 3 pounds, with bigger specimens reaching upwards of 5 or 6 pounds. Tournament-sized fish are in here waiting for the right presentation.
Targeting the rockpiles around Goose Island in the southern part of the reservoir is a great place to try for bass with crankbaits, swimbaits and plastics, and you might pick up some walleye here in the process as well.
Senkos do well, and if the fish are being selective, toss them a black and blue or green pumpkin-colored Ned rig.
The humps found out in front of the sand dunes, and the rock piles in front of the dam are great for smallies as well.
Be aware that the reservoir was built for irrigation, so the water levels drop off throughout the summer.
You may think you've found the perfect spot along the dam for smallies only to find it high and dry on your next trip. Be adaptable at this reservoir, and you'll do well.
The islands found in the main lake will offer fast smallie action, so target the usual hard cover areas and have fun.
Anglers have reported catching over 20 smallmouth around the islands on the main lake in under an hour. That is a great day of fishing.
Bass in the spring may hold up in the flooded willows. Try tossing them a bubblegum trick worm on a 3/0 hook. These are killer in flooded coverage.
You can literally watch the bait the entire retrieve as well, so you'll see the bass hit it.
Fly Fishing for Bass
Grab your 5- or 6-weight rod and as many bass poppers as you can because the sand dune islands supply great action.
You'll definitely lose a few flies along the way to snags and have to replace some dulled hooks, but it'll be worth it once you pick up a largemouth bass.
Suppose you are new to using bass poppers. In that case, the idea is to make a ton of commotion and noise, making the bass think something is desperately trying to get away. They will attack these pretty regularly.
Streamers work well by the islands in the main lake, with smallmouths the likely catch. The closer you can get to the rock structures, the better you'll do.
Rainbow Trout at Potholes Reservoir
Although Potholes is most famous for warmwater fishing, rainbow trout have been faithfully planted in the reservoir for several years, with recent plantings in the neighborhood of 150,000 fingerling rainbows.
To spare the pint-sized trout from being bass and walleye chow right out of the gate, the Washington Department of Fish and Wildlife and MarDon Resort have a cooperative project in which many of those trout are raised to a bit under legal-sized fish in net pens at the lake before release in the spring.
The best trout fishing at Potholes Reservoir tends to be in the cooler months, with very good fishing possible from mid-fall through winter and into the early part of spring.
Trout fishing is tougher in the summer, but you might pull in a few in the deeper and cooler waters closer to the dam.
The usual trout-fishing techniques including trolling and bait fishing will work at Potholes.
Crappie and Perch
Panfish fishing can be a bit up and down at Potholes, but when the crappie or yellow perch populations are high, fishing can be great for either of these tasty species.
Read up in the fishing regulations, because there are limits (though still generous) for the three major panfish species at Potholes Reservoir.
Potholes Crappie
Crappie are found in good numbers up Crab Creek around the beaver lodges. Try this area and fish the wooden structure. There should be some slabs in there.
You can also head up Linde Coulee, the big finger at the southeast side of the reservoir, in the spring and fall for some great opportunities.
At times the crappie fishing will be easy right off the fishing pier at MarDon Resort.
The usual crappie jigs and other small lures that imitate minnows will do the job here.
Find more crappie fishing tips and techniques in our how-to article.
Potholes Perch
At times, the population of yellow perch at Potholes Reservoir is impressive, though the fish might run on the small side when they are so abundant and sizes can be larger when numbers are down.
While both school up, perch are more of an open water fish than crappie. At times they will run deeper and bite in cooler weather compared to crappie.
Small hooks with natural bait such as a garden worm or piece of nightcrawler will do the trick, usually fished near the bottom.
The main trick is simply finding a school of filleting-sized perch, but if you do, you're in business.
Here are some more techniques and helpful tips for yellow perch fishing.
Potholes Bluegill
The other prominent panfish found at Potholes are bluegill, although they get relatively little attention here.
That said, bluegill are great fighters for their size and, if they are around, they are fun and easy to catch for kids and anyone else.
Bluegill like cover, so they are often along the edges of weeds, under docks and around other places where they can hide from predators like bass while they forage on insects, freshwater crustaceans like small crayfish, worms and minnows.
Once you find them, probably the easiest approach to catching bluegill is simply fishing a worm, mealworm or cricket under a bobber near hiding places. They will usually rush out and grab the bait and turn back toward safety.
Learn more about fishing for bluegill and other sunfish species.
More Fish at Potholes Reservoir
Bullheads are everywhere these days, including both brown and yellow bullhead catfish.
Recent fish surveys also picked up some more desirable channel catfish at Potholes.
The basic approach to catfishing is to chuck a worm or other bait out and wait for the bite.
For bullheads in particular, it shouldn't take long, and they will show up on your hook when you fish bait for other species as well.
Lake whitefish native to the upper Midwest have populated much of the Columbia River and its interconnected reservoirs over the years.
While popular in their native waters, whitefish get less respect here in the Northwest, and they don't draw a ton of attention at Potholes Reservoir, even compared to other regional lakes like Banks Lake and Billy Clapp Lake, where populations are higher and targeting them is more popular.
However, if prepared properly given their bony structures, they can be excellent eating and are sold in fish markets elsewhere. Smoking or canning whitefish is usually the way to go.
Other fish you might hook at Potholes Reservoir include common carp a couple species of sucker.
Ice Fishing at Potholes Reservoir
It won't happen every year, but Potholes will occasionally freeze over in the winter.
When there is safe ice, it's as if a switch gets flipped to on, and trout and perch become super active.
They can be caught in good numbers on the hard deck, along with the occasional walleye or other species mentioned in this article.
The Lind Coulee Arm is generally the go-to spot for safe and productive ice fishing at Potholes. Don't take any unnecessary risks.
Planning Your Trip
Potholes Reservoir is located about five miles south of the city of Moses Lake off Highway 262, depending on the part of the reservoir you're going to. In fact, Moses Lake drains directly into Potholes Reservoir.
The drive from Yakima takes around an hour and a half and a just a little longer from Spokane. Due to its east side location, it's pretty far from Seattle. It takes roughly three hours from there.
There are so many outdoor activities that you can do here. From fishing to waterskiing, almost every water sport you may want to participate in is available.
You also can fish a variety of other waters in the area, including Moses Lake for more walleye and other warmwater fishing and the incredible number of Seep Lakes just south of O'Sullivan Dam for loads of trout in small water.
Boat and Shore Access
Potholes Reservoir has several public and private launches around it, though mostly on the developed south side on either side of the dam.
Potholes State Park is a popular destination for camping and other adventures, with more than 6,000 feet of shore access.
MarDon Resort close by also has good boat and bank access for anglers.
For closer access to the sand dunes area, there's a boat launch off Perch Point straight across the big reservoir from the state park.
The Lind Coulee Arm has several very good boat launches easy to reach from O'Sullivan Dam Road (Highway 262), though part of that area tend to be heavily used by the power sport people.
There are some special regulations for some of the Pothole lakes, so be sure to check on the state regulations page to make sure you stay within the law.
Where to Stay
There are ample camping opportunities all around the lake, plus RV parks and hotels in nearby towns.
Potholes State Park has camping areas and rustic cabins for rent, plus good amenities for anglers.
MarDon Resort on the west end of O'Sullivan Dam (near the state park) is another prime destination for serious anglers. It has a variety of lodging options, a lot of other fun activities, and a small store for fishing and other supplies (check out their great lake map).
A short drive in either direction, Moses Lake and Othello are at least big enough to have Walmarts and other stores, so any amenities you may really need on your trip can most likely be found there.
Food can be found at one of the many restaurants and stores around the area.
If you are planning on staying for an extended time, check out the private rentals available nearby. They have all the amenities of home.
Bring the family for a vacation, and everyone will find something they love to do here. Fishing, bird watching, kayaking, stand up paddle-boarding, swimming, and the list goes on.
Washington Resources
WDFW Fishing and Stocking Reports
WDFW Fishing Regulations
National Weather Service forecasts