Editor's Note: The Washington Department of Fish and Wildlife has been enacting restrictions on coastal steelhead fishing due to very low returns. Watch for updates to regulations prior to fishing.
The Hoh River is a Western Washington icon.
From its legendary steelhead and salmon runs to a robust trout population, the Hoh River is a spot that shouldn't be missed by any angler, whether you fish with conventional tackle or flies.
Located within Washington's Olympic National Park, the Hoh River is set in gorgeous rain forest scenery and is hours from any major city – in short, it's perfect if you want a relaxing experience fishing in nature (and catching big steelhead)!
This river is particularly great if you're a salmon or steelhead angler.
And if you are into fly fishing, swinging flies for steelhead and Chinook is very productive here. In fact, the Hoh River is featured among our best fly fishing rivers in Washington.
Let's dive into a few more details about the Hoh.
When to Fish
The Hoh River can be productive throughout the year – when it's open – and all seasons are great on the Hoh.
Because the river gets summer and winter steelhead as well as summer and fall salmon, fishing is generally productive most months out of the year.
Steelhead are likely the most popular quarry on the Hoh, especially among fly fishermen, and the winter run of steelhead gets special attention.
If you're fly fishing, know that these winter fish are most commonly caught on swung flies, and it's a blast to hook into a Hoh River winter steelhead.
Winter steelhead start to make their way into the Hoh River in December, but prime fishing often doesn't happen until February or March.
As winter steelhead fishing wanes into spring and towards the beginning of summer, salmon season starts to pick up and is productive through the fall.
In short? The Hoh River is productive most of the year, and the time that you fish the river mainly depends on what you're fishing for.
However, most fly fishermen prefer the winter steelhead run on this river, so December through March will be your prime months to target Hoh River fish.
As a general note, it's important to understand that the wild and hatchery runs of steelhead on the Hoh River often arrive at different times.
Like with many rivers in the Pacific Northwest, the hatchery fish arrive sooner – December and January – while the wild fish may take a few extra months to show up in full force.
Steelhead Fishing
As mentioned above, the Hoh River is mainly popular with fly fishermen for its legendary winter steelhead runs.
As Washington-based Anglers Guide Service states, the Hoh offers "winter steelhead fly anglers perhaps the best chance of tying into a trophy-class (20 plus pounds) steelhead than anywhere else in the country."
Winter steelhead fly fishermen mostly find success fishing with switch and spey rods, employing traditional methods of swinging flies.
All sorts of patterns work here – from egg-sucking leeches to green butt skunks, you'll be able to find steelhead on a number of patterns.
Summer steelhead are also available on the Hoh, but the run is smaller and less popular.
In fact, the summer run of steelhead on the Hoh is typically dwarfed by the more popular summer and fall salmon runs, so most fly fishermen don't give the Hoh's steelhead as much attention during the summer season.
Salmon Fishing
If steelhead aren't your thing, don't worry – the Hoh River boasts impressive salmon runs each year from late spring through fall.
The Hoh manages to sustain returning populations of both Chinook and coho salmon.
The early summer run of Chinook begins in May and is productive through about August.
Some might call these salmon spring Chinook, but they're referred to as summer Chinook by fishermen in the know (especially because the river doesn't always fish well for Chinook until June)!
The coho run on the Hoh, like on all other Pacific Northwest rivers, occurs in the fall.
The coho are accompanied by a robust fall Chinook as well. If you're a salmon angler, fishing in the Hoh can be good from May through November, as long as the river stays open.
Salmon Fishing Regulations
It's important to know the regulations for salmon fishing before you head out. WDFW changes the season opening and closing dates each year, so be sure to check the latest regulations before you fish the Hoh River.
Many times, certain portions of the Hoh will be open for fishing while other stretches might not, so that's something to check with WDFW as well.
Salmon are most commonly targeted on the lower stretch of the Hoh.
If you're fishing with flies, spey fishermen do particularly well – Chinook and coho can be caught on nymphs, but swinging flies is typically the way to get them.
Trout Fishing
Though not the primary target for most anglers, trout are present in the Hoh and offer plenty of opportunities for fishermen who'd like a break from steelhead and salmon fishing.
Resident trout are available in the river in addition to sea-run cutthroat that make their way up the river later in the summer and through the fall.
Sea-run cutthroat are the more popular quarry of the two, and they can be caught on a variety of attractor patterns and streamers (or spinners, if you're a conventional angler).
Location and Access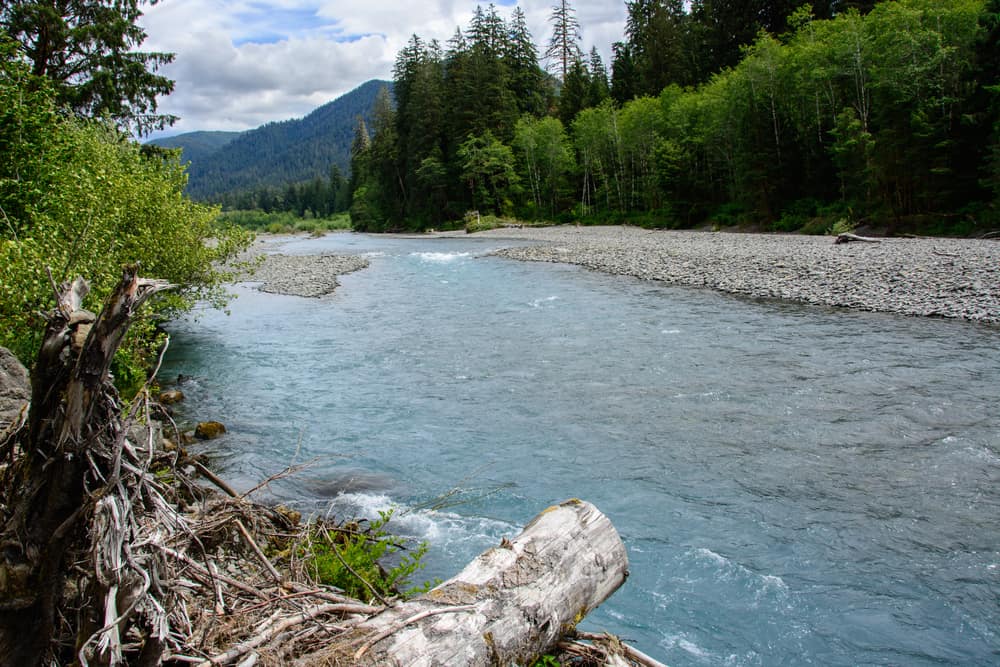 The Hoh River is located in the Olympic Peninsula, a region of Washington famous for its jaw-dropping scenery and fantastic fishing, especially for steelhead and salmon.
The river is fairly remote, passing under U.S. 101 about 20 minutes south of Forks. The nearest bigger cities are at least a couple of hours away, and the drive is roughly three hours from Olympia and four hours from Seattle.
Also be ready for rain when fishing the Hoh River. It typically rains well over 100 inches per year in these parts, and often more than 200 inches in the western Olympic Mountains.
As mentioned previously, the Hoh can be divided into two stretches: the lower and the upper.
The upper Hoh, located upstream of Highway 101, offers excellent walk-and-wade fishing and is a popular place to target steelhead.
The lower Hoh is the stretch below Highway 101, and the fishing there can be great, particularly for salmon.
When the river is running low and clear, the lower stretch of the Hoh is a good bet for steelhead as well.
The Hoh River is a piece of water that every steelhead and salmon angler should fish at least once in their life.
Whether you're taking a guided trip on the lower portion or hiking along the upper stretches of the river, there's so much to discover on the Hoh.
Carter Reschke is a freelance writer based in Oregon. Passionate about the outdoors, Carter is a fly fishing aficionado and spends his days on the river when he's not writing.