A fairly large fishing lake in Seattle's southeastern suburbs, Lake Sawyer has a diverse range of game fish and a city park with good amenities at its southern end.
At nearly 300 acres, Lake Sawyer is spacious. It's also rather lightly stocked with rainbows for its size, meaning it's not always the best spot for trout fishing in the area.
Where Lake Sawyer tends to stand out among other local lakes is in its warmwater fishing. You may encounter two types of bass as well as black crappie, yellow perch and brown bullheads.
The lake is also stocked with kokanee, a variant of sockeye salmon that don't migrate to the sea and are typically much smaller than oceangoing salmon.
Lake Sawyer is open to fishing year-round. Lake access is through the eponymous Lake Sawyer Park, which is maintained by the city government of Black Diamond.
Bass and Panfish Fishing
Lake Sawyer is decidedly a summer fishing lake.
Both largemouth and smallmouth bass are present in Lake Sawyer, making it a rare treat in the Seattle area for the avid bass angler looking to double up on the region's two most popular bass.
Lake Sawyer isn't what we'd call a famous bass fishery, but it's good enough that serious bass anglers from around the Puget Sound consider it one of the better places to fish.
The prime fishing season for largemouth and smallmouth bass is very similar. Anglers start chasing them as early as March and continue into the fall, with late spring and summer the best times for higher numbers but the cooler months sometimes the ideal time to catch a photo-worthy bass.
While high summer is often when anglers think about bass fishing, bear in mind that at times it can be tough to catch hot weather bass.
They'll be most active in the morning, before the sun is high in the sky, and in the evening as the sun is going down and the air temperature is falling.
Bass prefer shady spots or deep water when it's hot out. They'll be less active and not as aggressive. Smaller lures may be tempting at this time of day.
The most obvious difference in fishing largemouth versus smallmouth bass is, as one might surmise, the size of their mouths.
Largemouth bass have wide mouths and will gulp down just about anything that fits inside, whereas smallmouth bass have smaller mouths and must be more selective.
Both species are aggressive predators and will eat a wide variety of prey, including smaller fish, crayfish, frogs, worms and even small land animals like snakes and rodents swimming across the water.
Soft plastic grubs, worms, and swimbaits are popular, as are crankbaits, spinnerbaits, topwater lures and more.
If you're focusing on smallmouth, try lures under 3 inches and often closer to 2 inches.
For largemouth bass, larger lures really do translate into larger fish at times. In lakes that are stocked with trout, some trophy-hunting largemouth bass anglers will literally use trout-sized imitation swimbaits or plugs.
Lake Sawyer has a ton of bass cover in a wide variety of choices, including lots of private docks, coves, points, islands, lily pads, submerged and overhanging trees, and drop-offs.
Many bass anglers are in it for the sport and prefer to release their catches. To be honest, most of the other fish in Lake Sawyer are better to eat while bass take years to reach prime trophy and breeding size.
If you're planning to catch and release, we suggest you use a lure when fishing for bass.
Largemouth bass especially will often swallow a baited hook quite deeply and suffer fatal internal injuries. That's fine if you're planning to take your fish home, but it's a virtual death sentence if your goal is to let your quarry live.
Yellow perch offer another excellent fishing prospect at Lake Sawyer. These schooling fish aren't big but they are plentiful, and they tend to be especially eager to bite in June, July and August, although they can be caught all year long.
When you get a bite from one perch, you've probably found a school of them, so stick with that spot until the fish stop coming.
Yellow perch are small, with the larger specimens usually no bigger than catchable size rainbow trout or kokanee and often smaller, but they make for fine eating, especially if you catch enough of them to fillet up a pile.
Try using pieces of worms and a weighted line to fish close to the bottom, where perch tend to hang out. You should use smaller-size hooks due to their small mouths if you want to hook them, or otherwise they'll simply steal your bait.
Black crappie are another warmwater fish that often travel in schools and provide an excellent meal.
Black crappie aren't generally as abundant in Lake Sawyer as yellow perch.
The best months to fish for crappie are May and June, before the hottest part of the year, and again in September as the weather starts to cool off again.
Early season crappie can often be found close to shore, where they spawn in the springtime. Crappie like cover such as fallen trees or docks but also will move into relatively deep water at times, especially when not spawning.
Brown bullheads are an entirely different type of fish.
These smallish catfish feed on the bottom of the lake and eat pretty much anything.
While bullheads can be caught 24/7, the best fishing for catfish is typically done after dark. Bear in mind that boats cannot legally exceed 5 mph on the lake after 7 p.m. on weekdays or 3 p.m. on weekends and holidays.
Trout Fishing
A rainbow trout fishery is maintained at Lake Sawyer, but it's fairly modest in size.
At last check, state game authorities planned to plant about 3,000 rainbow trout in the lake in May. For a lake that's about 280 acres in size, that's a literal drop in the bucket.
Rainbow trout prospects at Lake Sawyer are fair or even poor for much of the year. The exception is during the spring season, when trout catches will improve dramatically after its annual planting. Use the links below to help time your trip if it's trout you want.
The lake also has a resident population of coastal cutthroat trout, but it isn't robust.
Your best chances of encountering a cutthroat trout are probably in late spring and again in the fall, as cutthroats tend to spend most of their time in deeper water during the summer months and feed less aggressively when the water is either too warm or too cold.
Worms, salmon eggs and prepared doughs are a popular trout bait. Trout also eat a lot of insects and respond favorably to imitation flies or lures that resemble their natural prey.
Trolling bait or lures is often one of the more effective ways to locate and catch trout on larger waters, like Lake Sawyer, where the fish are likely to be spread out.
For some more pointers on catching these fish, our simple guide Trout Fishing: Basic How-To Techniques and Tips will point you in the right directions.
Kokanee Fishing
The Washington Department of Fish and Wildlife is somewhat more generous in stocking Lake Sawyer with kokanee than it is with rainbow trout.
Some 65,550 young kokanee are often scheduled to be stocked in 2020, going into the lake in May and growing throughout summer.
Although they go by many names and are sometimes referred to as "silver trout," and they are about the same size as stocked trout, make no bones about it: kokanee are salmon.
They don't grow as large as their oceangoing cousins, but kokanee are simply a land-locked sockeye salmon.
They're good eating fish and make excellent smoked salmon, although you will need to catch several kokanee to equal the yield of a single oceangoing sockeye.
Kokanee only grow up to about 1 pound on average (sometimes a little more), but they are powerfully built for their size and often put up a better fight than your typical stocker trout.
They have soft mouths and more often unhook themselves than trout do, so keep a tight line but don't overdo the fight or you'll pull the hook free.
Trolling for kokanee is probably the most popular way to fish for these little salmon. Try setting up behind a set of flashers or a dodger in front of your small spoon, spinner or hootchie to get them agitated and ready to attack.
Still-fishing with bait, including maggots, is another effective tactic for Lake Sawyer kokanee.
Similar to trout, and even more so, kokanee aren't much for warm water.
Summertime can be good for kokanee, but you'll likely have to fish the lake's deeper water using weight or a down-rigger to reach these schooling fish.
The deepest parts of Lake Sawyer are in the 50-foot range, both near the center of the lake and also in a deep hole near the north end.
More information: Kokanee Fishing: Simple Tips and Techniques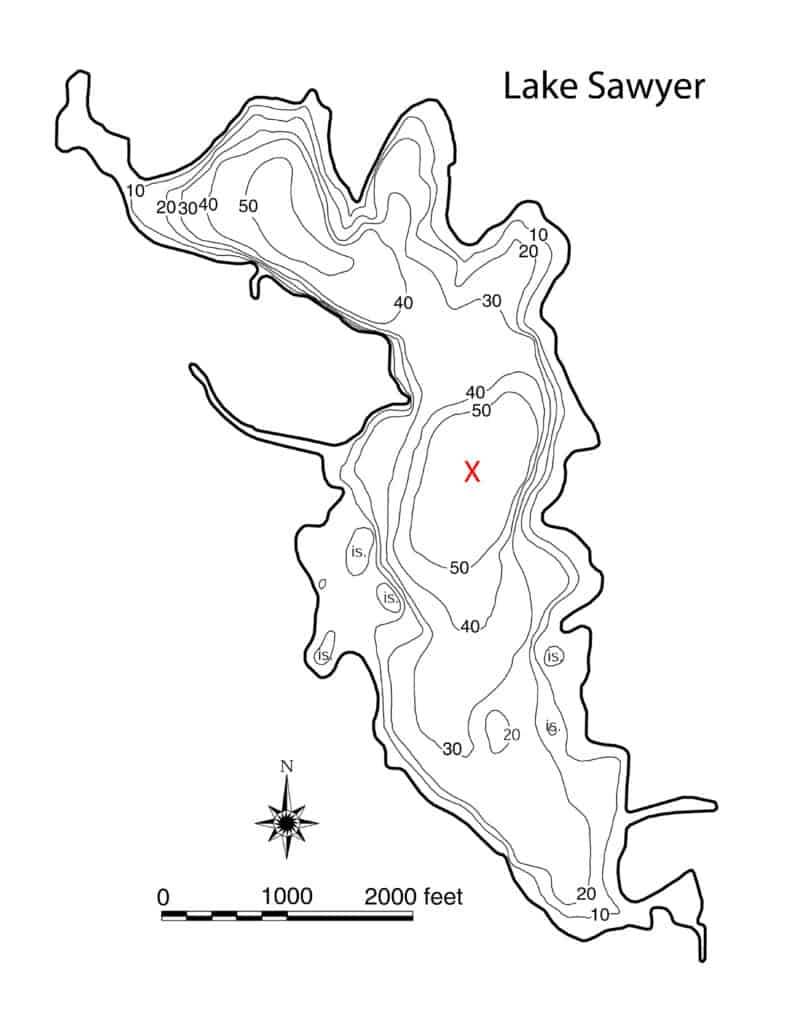 Where is Lake Sawyer?
Lake Sawyer is in the small community of Black Diamond in Seattle's southeastern suburbs.
Black Diamond is just south of Maple Valley and just east of Covington.
From Maple Valley, take state Highway 169 south and turn right onto Southeast 288th Street, then another right on 216thAvenue Southeast to reach the lake.
From Covington, you can either take state Highway 516 east to 216th Avenue or take Southeast Covington Sawyer Road.
Expect about a 45-minute drive from Seattle or Tacoma.
Lake Sawyer is accessed through Lake Sawyer Park, which is maintained by the city government. There is an improved boat launch, restrooms and other park amenities available.
Find more fishing spots in King County
Washington Resources
WDFW Fishing and Stocking Reports
WDFW Fishing Regulations
National Weather Service forecasts