Cullaby Lake, located a short drive from Astoria and Seaside just off Highway 101 on the northern Oregon Coast, is best primarily managed as a fishery for largemouth bass and plentiful panfish.
However, the lake also typically gets a modest stocking of hatchery rainbow trout during the early spring season.
Cullaby is a shallow, weedy lake of 200-plus acres formed when sand dunes built up to the west with the development of jetties on the lower Columbia River.
Bank fishing access is available at Cullaby and Carnahan county parks, with a good chance of success.
But a boat really comes in handy here if you want to reach a lot of the lake's plentiful fish-holding structure, especially later in the summer when weeds can choke out some of the bank access.
There is a developed launch at Cullaby County Park at the larger southwest end of the lake, or you could carry in a small craft at Carnahan, located at the smaller north end of the lake.
Bass and Panfish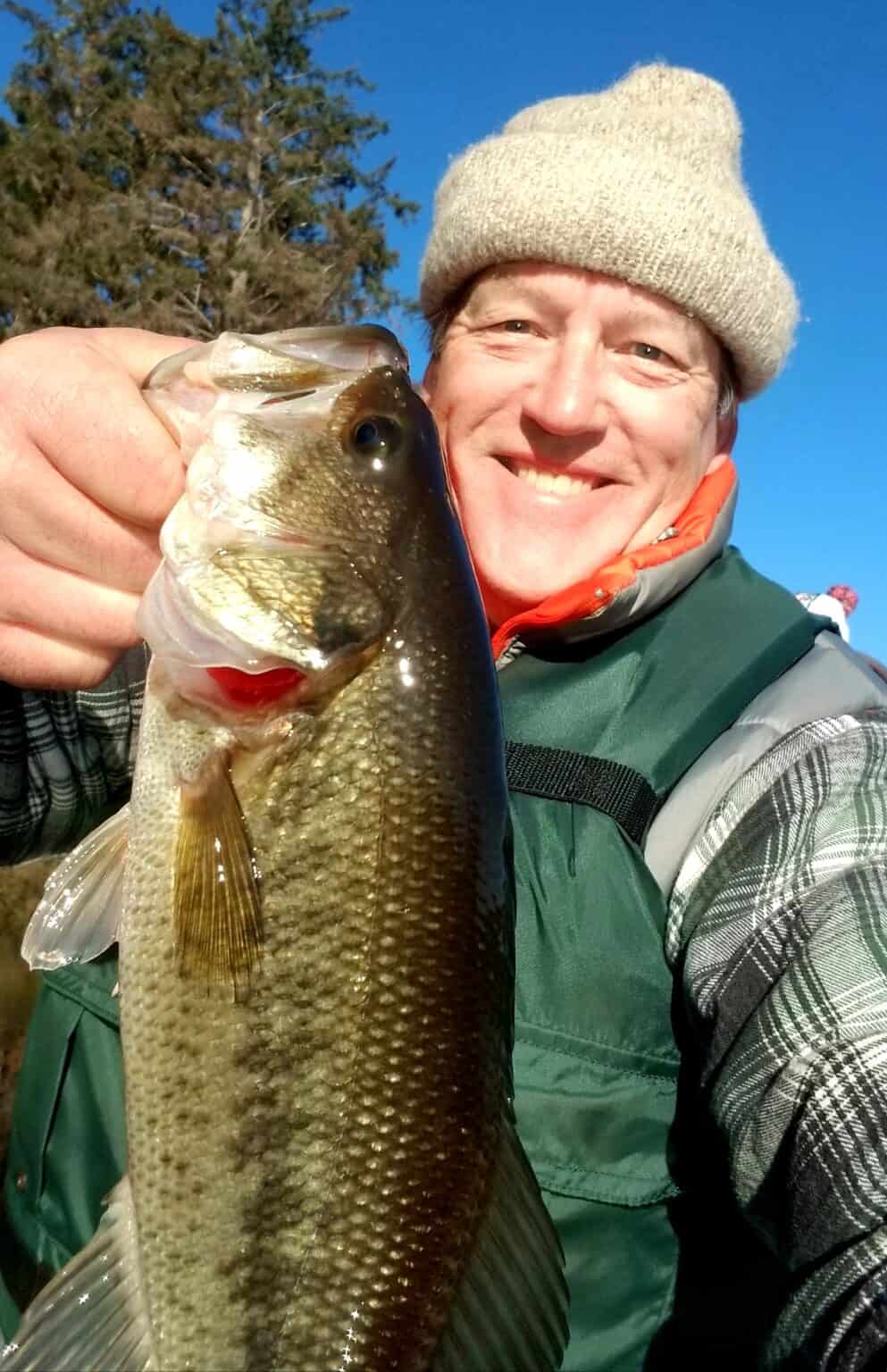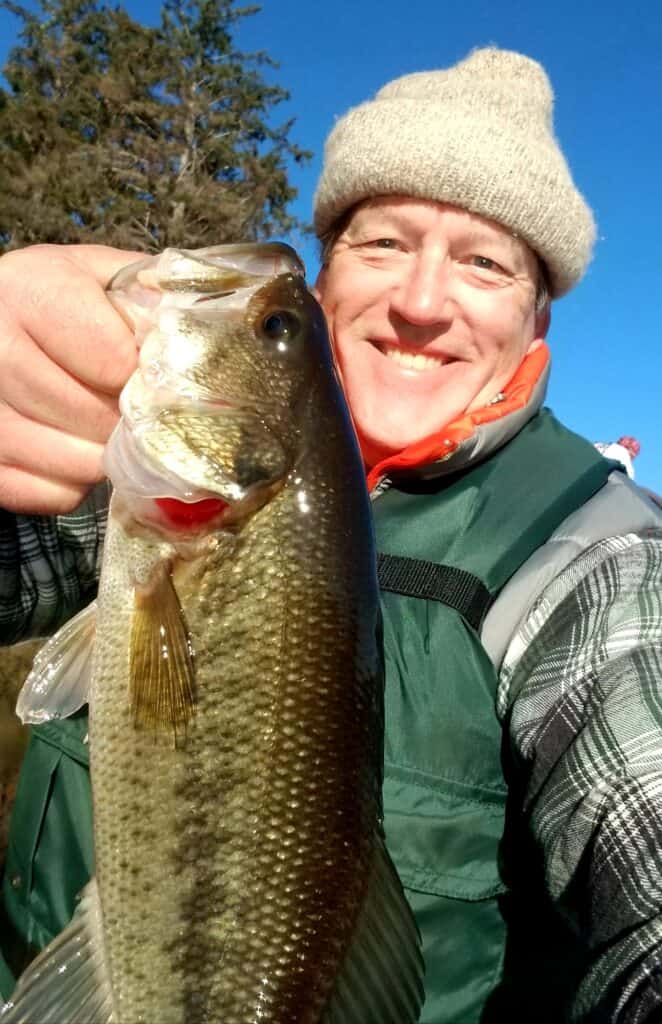 Oregon's north coast doesn't have quite the premier bass fisheries found in the dune country of the central coastline, but at times Cullaby is a pretty darn good place to hook into largemouth of decent size.
Many anglers consider Cullaby to be the best bass lake on the northern Oregon Coast.
It's good enough that some bass tournaments are held here, but anglers report hot and cold action here, so you might have to work for your catch and get to know the water.
Crappie seekers also report some good outings but also some shut-outs, but if you can find a school of these fish, you will do well here.
Other warmwater game fish that at times can be found in good numbers are yellow perch, bluegill and brown bullhead catfish.
The bass and crappie are very structure-oriented, but fortunately there is no lack of that at Cullaby.
You will find plentiful coves, brush along the shore, lily pads and other aquatic weeds, sunken trees and branches, drop-offs, and a few docks.
These fish are often found in shallow water during the spring, but both species often move into deeper waters during the summer months and in bright daylight hours.
The east shoreline has fewer aquatic weeds but good habitat with sunken logs and similar structure.
Bass Fishing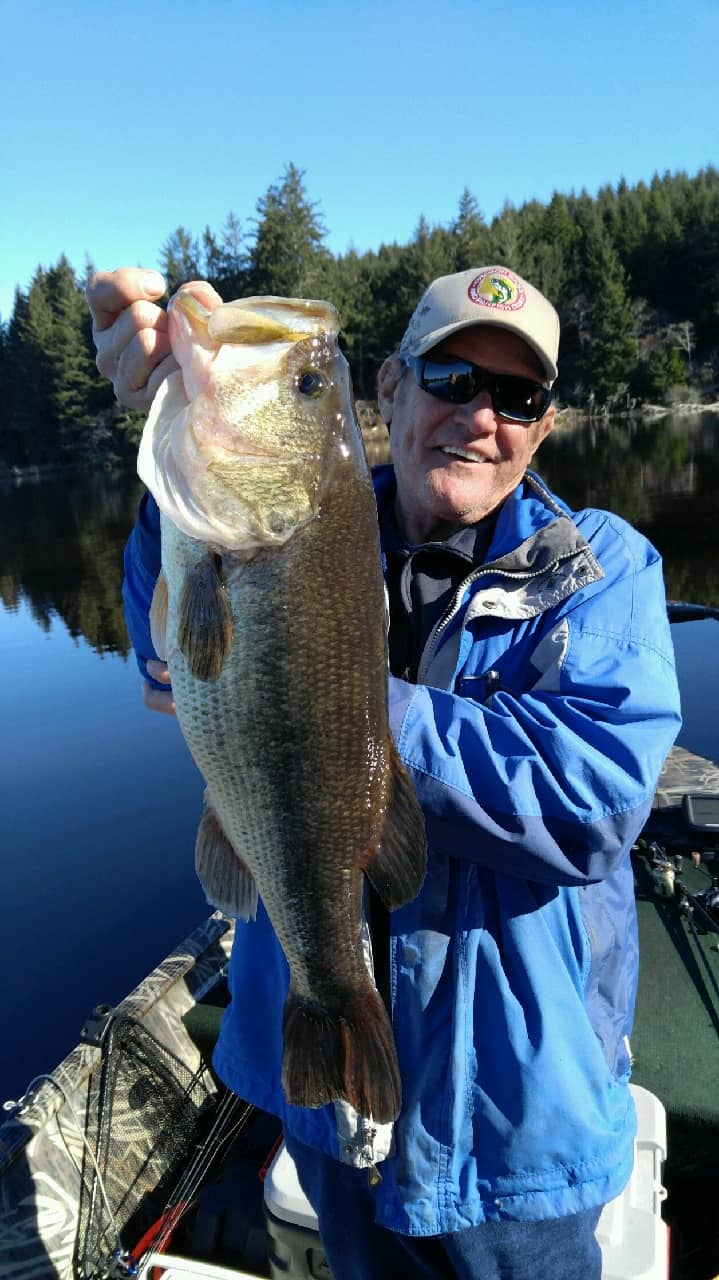 Cullaby Lake is shallow. That, combined with the moderate temperatures at the coast, means it is one of the first lakes where bass get active.
Serious bass anglers will start fishing Cullaby Lake as early as February, about when the water temperature moves into the upper half of the 40s and bass get more active. That might not occur in many inland lakes until March.
Late winter and the first weeks of spring aren't always when you'll catch bass in big numbers, but that's when some of the larger fish are caught. Slower presentations are sometimes necessary for bass in colder water.
Summers can be good here as they can be in most bass waters, but also don't forget about Cullaby Lake in the fall, after many anglers have moved on to other things.
Bass will be trying to pack on some weight before the leaner winter months.
Try casting spinnerbaits into shallow water once bass move toward shore during the spring.
During the summer, especially during daylight hours, work diving crankbaits or soft plastic worms and similar lures into deeper water, where the bass are more likely to hold in bright and hot conditions.
Shallow running or topwater lures might draw vicious strikes, especially in the low light of early morning or late evening.
Crappie
Look for schools of crappie near piers and docks or sunken branches. A fish finder might help you.
Target these tasty fish with crappie jigs fished under a bobber or dangled straight down from a dock or boat near cover.
More Panfish
Bluegill, perch and catfish are readily caught on small pieces of worm or other baits.
Try fishing bait below a bobber near shallow weeds to catch bluegill, or target them with a fly rod. They are quite often very close to the bank.
Perch and catfish are more likely to be caught fishing with bait along the bottom.
Catfish often bite best in the evenings, when they move into shallow waters, especially at the south end of Cullaby.
A piece of worm or nightcrawler, cut bait or shrimp, or prepared catfish bait are all good choices. Worms are excellent for perch.
Hatchery Trout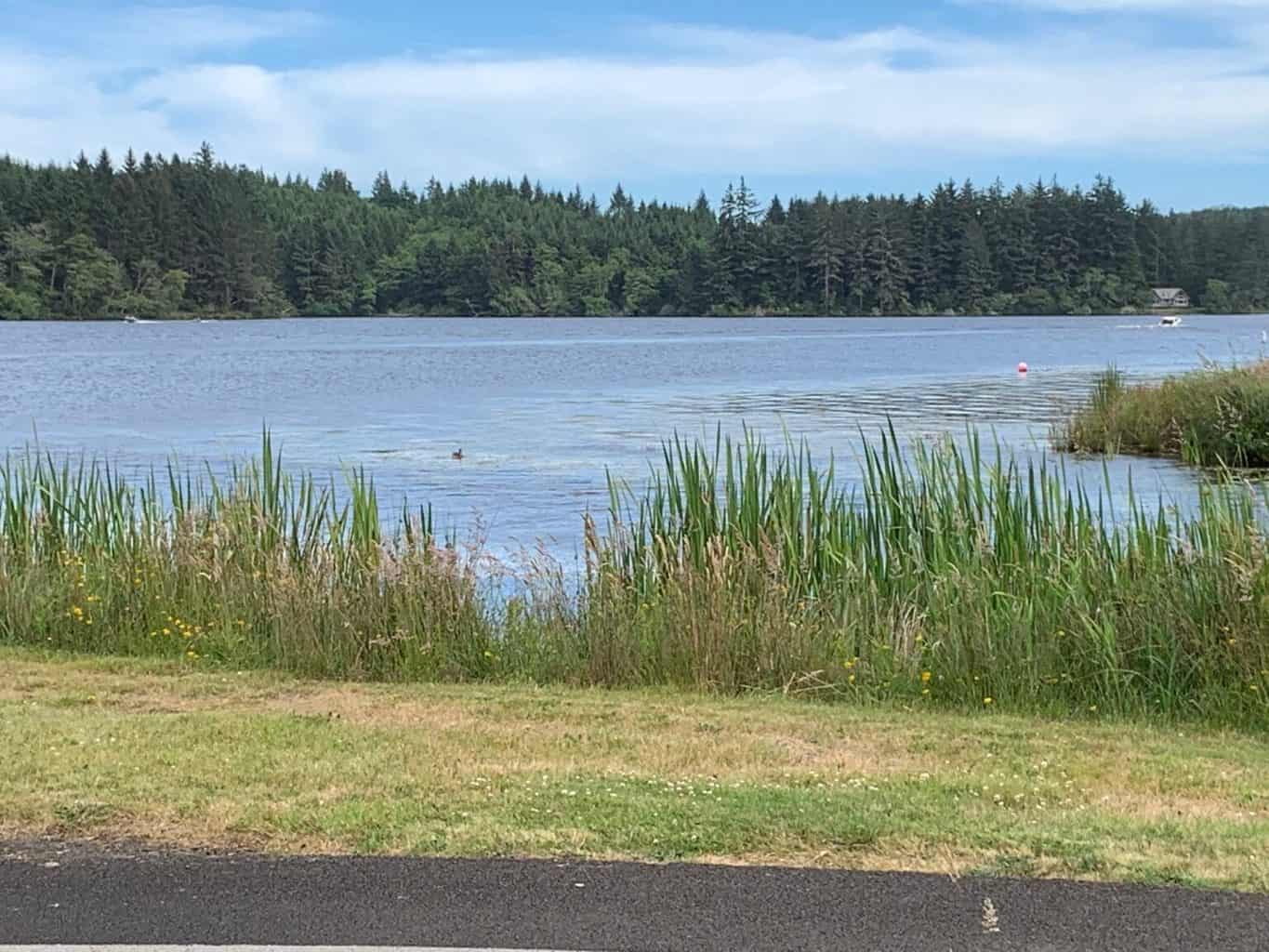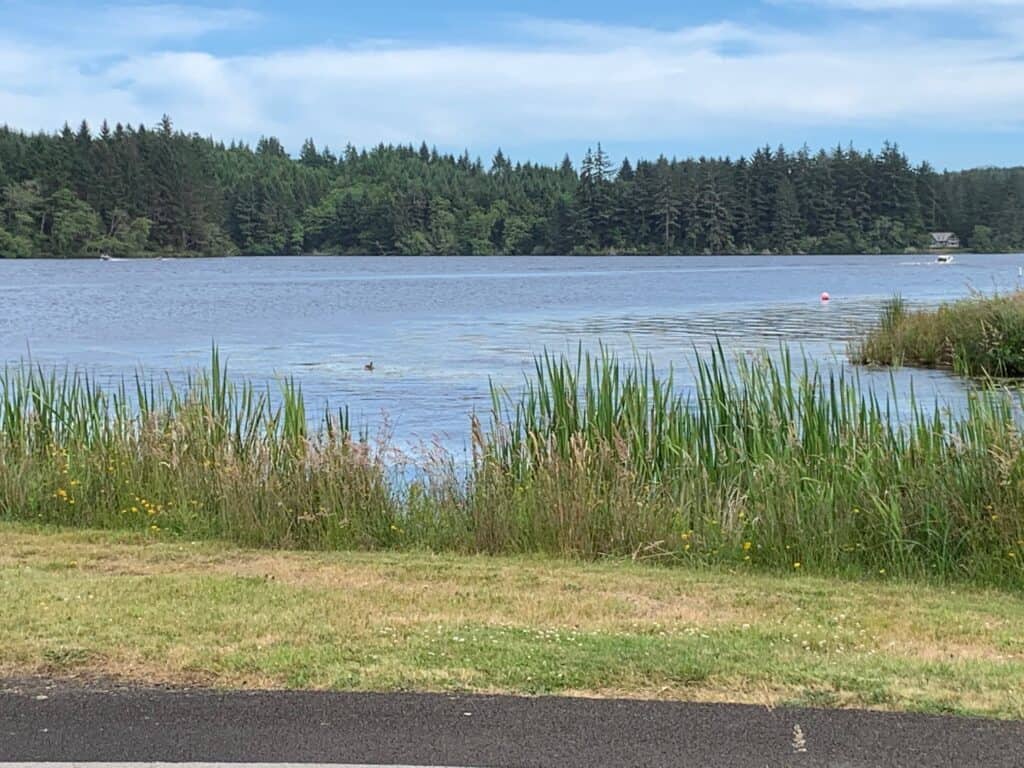 Unlike some nearby lakes (such as Coffenbury Lake), rainbow trout aren't planted at Cullaby very often or in big numbers, but the Oregon Department of Fish and Wildlife typically will put this lake on the schedule for the popular spring break period in late March.
Check the agency's annual trout stocking schedule to confirm that fish will be planted.
The usual bait and lure techniques will work here. (More detail: Trout Fishing: Basic How-To Techniques and Tips.)
Cullaby gets too warm for trout to survive during the summers, and most will be caught well before then anyway, so for trout plan to hit this lake when the fish are there and don't expect trout fishing to hold up for very long after the fish are stocked.
Note that water skiers and jet skiers can dominate the main part of the lake on warm summer days, but speed limits should leave the coves and quieter north end to anglers.
Cullaby Lake's County Parks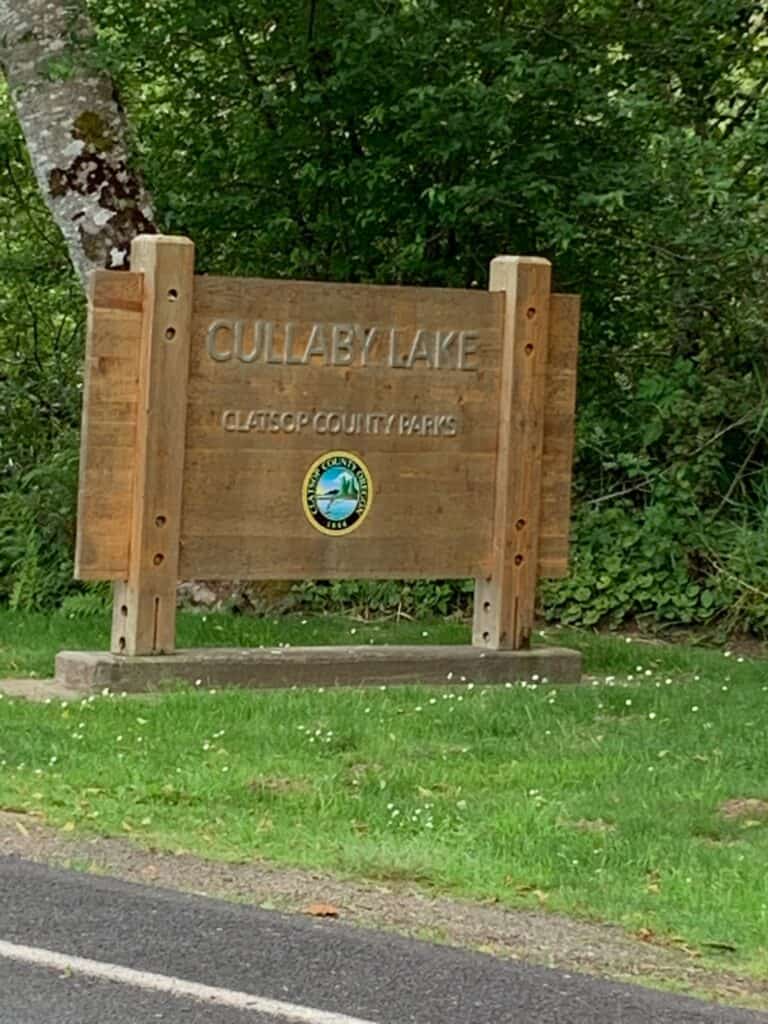 Cullaby Lake has two Clatsop County parks on its shores, but each has a different character.
Cullaby Lake County Park is a larger facility (165 acres) with a major boat launch facility, lots of picnicking, barbecue facilities, swimming area, and even horse shoe pits among the usual well-developed park amenities.
Located on the west bank, there are some docks and open bank areas that offer fishing access for the shore-bound angler, as well as the big ramp to get your boat out on the water.
If you have a big group with lots of physical activities planned, and definitely if you have a motor boat, this is your best bet.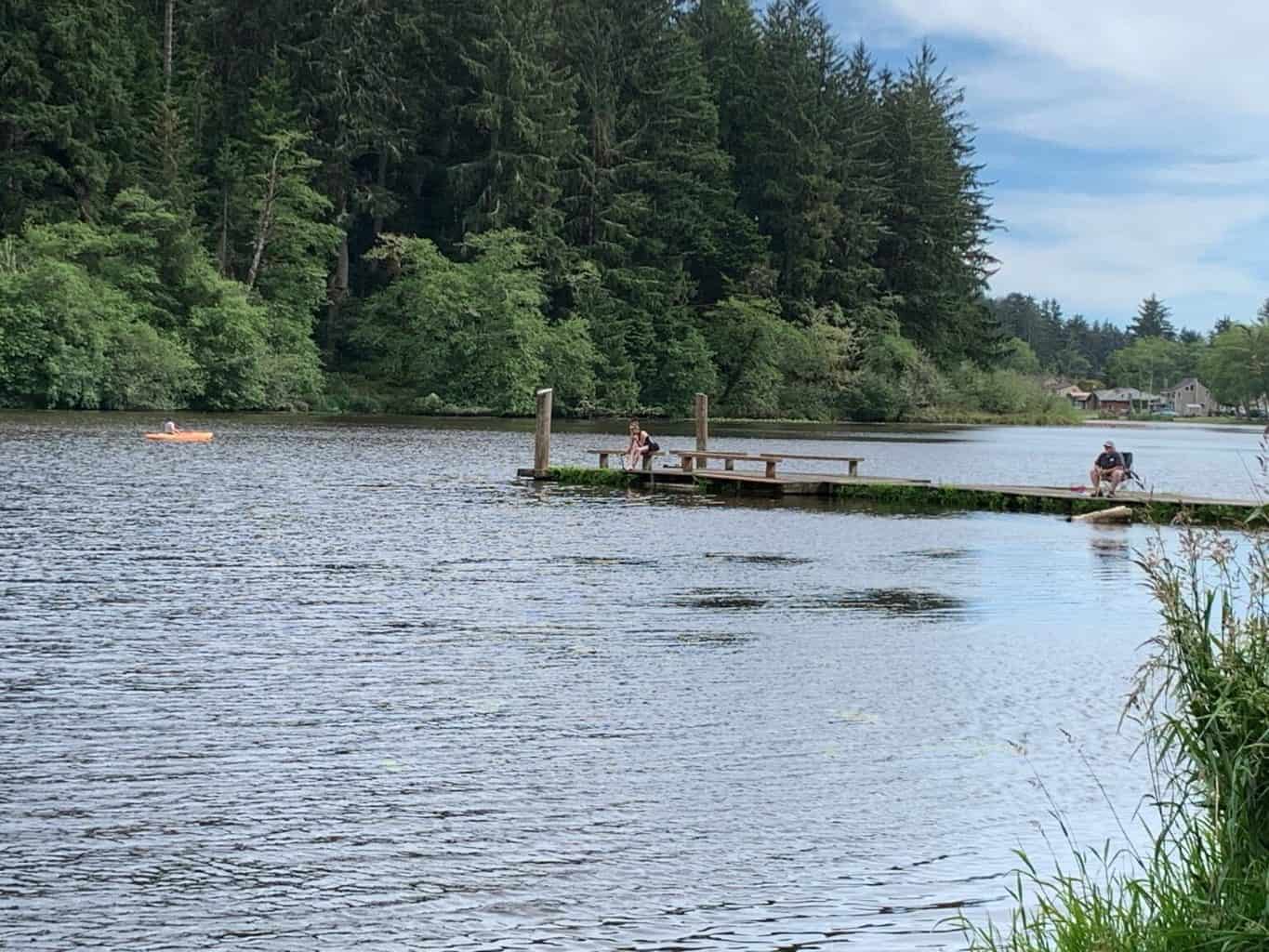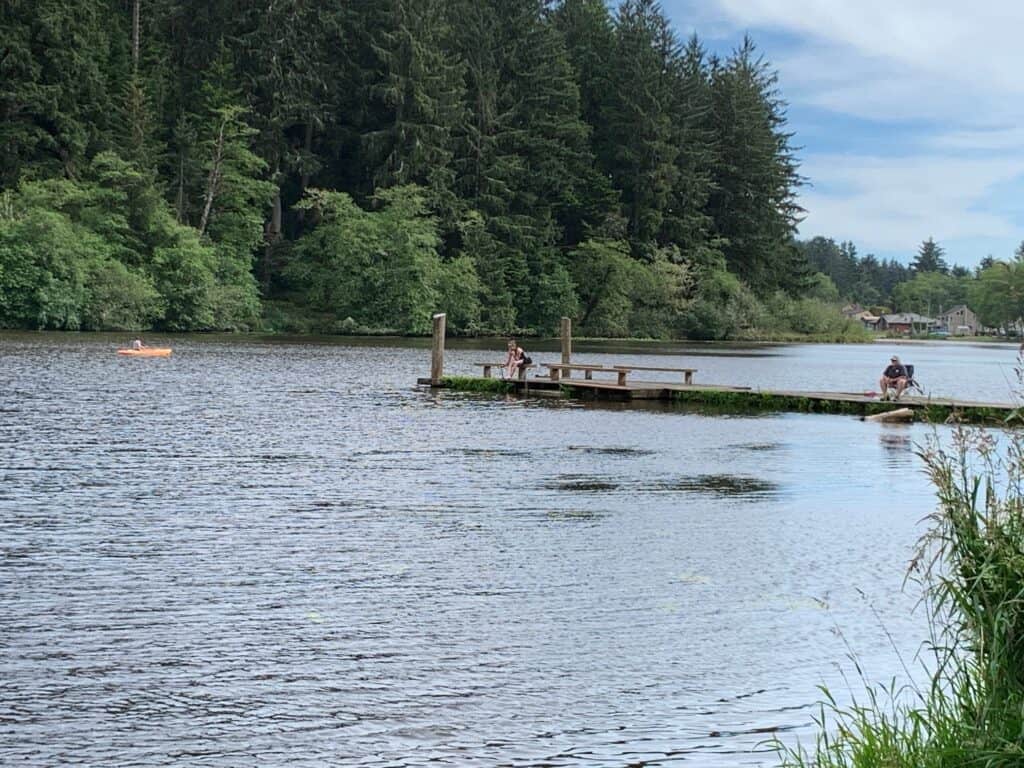 By contrast, 30-acre Carnahan County Park is a small access point on a cove at the north end of the lake.
There is a small boat launch area for canoes, kayaks and other portable boats, as well as fishing piers and a bit of other bank access here.
You can have a picnic and enjoy more solitude here, but there are few amenities.
Where is Cullaby Lake?
From Seaside, drive north on Highway 101 for 6-7 miles and turn east on Cullaby Lake Lane.
From Warrenton (west of Astoria), it's only about 4 miles south on 101 to the same exit, which should be marked with directions to the lake.
After turning off the highway, you'll quickly come to a "Y" in the road. Head right (south) for Cullaby County Park or veer left for smaller Carnahan.
2023 Cullaby Lake Trout Stocking
| | |
| --- | --- |
| 2023 Stocking | Total |
| Mar. 13 – 17 | 1,000 |
Stocked fish are legal-sized rainbow trout unless otherwise noted. Stocking schedules are subject to change for a variety of reasons. The ODFW Weekly Fishing Report linked under Oregon Resources below may provide updated information.
Find more fishing spots in Clatsop County
Oregon Resources
ODFW Weekly Fishing Report
ODFW Trout Stocking Schedule
Oregon Fishing Regulations
National Weather Service