Coffenbury Lake is a fairly small, narrow body of water that is generously stocked with hatchery rainbow trout (including some big ones) and located in the heart of Fort Stevens State Park on the far northern Oregon coast a few miles from Astoria.
Coffenbury also has a decent fishery for several warmwater species and the occasional winter bonus planting of hatchery-reared steelhead, if there happens to be a surplus.
You can fish at Coffenbury Lake either as a day use or as a camper at Fort Stevens State Park. See below for more park information.
Trout Fishing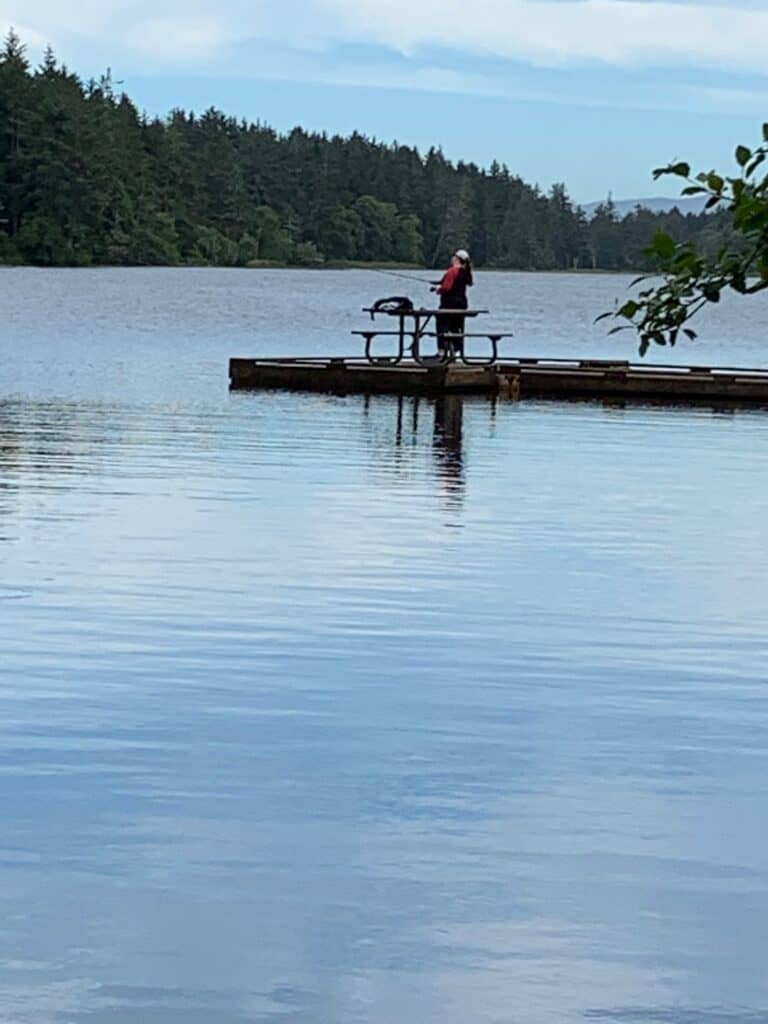 In the right seasons, trout are the big show here.
Look for fishing to be immediately productive right after the first big load of rainbow trout come out of the hatchery truck chute.
Watch the Oregon Department of Fish and Wildlife's trout stocking schedule to time your trip.
Generally, that first planting is often scheduled near the start of Oregon's spring break in March, when many families head to the coast looking for fun.
Expect a few more stockings of pan-sized trout in April and May, and trout fishing is usually hot right after plantings and should hold up decently at least part-way into June.
Trout fishers might also plan a return visit in late September when ODFW typically plants a good number of "trophy" rainbow trout.
The "trophy" trout are reared to plus sizes (about 16 inches and chunky enough to feed two or more people) for an extra dose of fight.
The trout are stocked at the north end of the lake, where there is a bunch of access from docks, platforms and the bank.
This north end is deeper and a bit wider, and it tends to remain good even as the surviving trout spread throughout the 50-acre lake, but fishing also can be good from plentiful openings along a trail that circles the lake.
Fishing with PowerBait as well as natural baits catches plenty of trout here, and they also will attack spinners and spoons you can cast and retrieve while standing on shore.
For a bunch of info about how to get started with trout fishing, read our article Trout Fishing: Basic How-To Techniques and Tips.
You can also launch a small boat (no gas motors allowed) from a short little ramp at the north end, which can get a bit clogged up when fishing is good.
While this is an excellent bank fishery, it can be quite busy on shore.
Launching with an electric trolling motor or a human-powered craft will get you to even more fish and give you a bit more space to cast or to pull small lures or flies through the water.
Bass and Panfish
Coffenbury also has fairly good, self-sustaining populations of warmwater fish species common to many coastal lakes.
Largemouth bass, yellow perch, bluegill and bullhead catfish are likely catches here.
These fish start biting best as the water warms in springtime and remain active through summer and into the fall before cold weather slows their metabolisms and dampens their feeding.
Largemouth bass are larger predatory fish that often strike lures that look like small fish, frogs, crayfish and other prey species.
Soft plastic lures like grubs, worms or Senkos should be good bets, and spinnerbaits and crankbaits are other standards in a bass angler's arsenal that should catch fish here.
Know that bass also are structure-oriented, in part because they like to ambush their victims, so try casting your lures near logs and branches in the water, overhanging bushes, weeds and docks.
Bass may be very close to shore, especially during the spring spawning period. If you have a small boat, try casting toward shore or parallel to the bank near likely fishing-holding structure.
The panfish species are easily caught on natural baits.
A piece of nightcrawler or whole redworm or garden worm, a mealworm or a cricket will catch these fish, either fished near the bottom or suspended beneath a bobber.
Bluegill are very often located just a little ways off the bank, especially near weeds, bushes or near other places with good hiding cover or insect life.
Fishing bait or a fly beneath a bobber is a good bet for bluegill and other sunfish.
Steelhead
The biggest fish at Coffenbury Lake come with periodic plantings of surplus hatchery steelhead, which will be far larger than a typical rainbow trout, often weighing in at more than 5 pounds and potentially over 10 pounds.
Steelhead, which are rainbow trout that spend most of their lives in the ocean, live longer and retain good eating quality far longer than salmon species.
Steelhead may be caught at Coffenbury for weeks or even months after they are planted.
Unlike with trout, the steelhead plantings are not scheduled months in advance because they only occur if north coast hatcheries have more adult fish than they need to provide the eggs and milt necessary to hatch another generation of steelhead.
Steelhead plantings won't happen every year, and not necessarily during the same month, although most steelhead surpluses tend to happen in January or so, after local hatcheries (such as the one on Big Creek) have plenty of returnees.
Don't look for steelhead stocking to be listed on the annual trout planting list, but do check out ODFW's weekly recreation reports, where such plantings are typically announced.
The agency might also issue a news release or post about it on social media when there are steelhead stockings, because these are popular events at a time of year when there are fewer opportunities to fish.
Winter steelhead in streams have the reputation of being incredibly hard to catch, but they can be just a little more susceptible to getting caught when stocked in ponds and small lakes.
And as a bonus, these waters tend to remain in better fishing shape even when heavy rains or long dry spells make steelheading tough in streams.
How to Catch Steelhead
From shore, try casting spinners and spoons to induce an arm-wrenching strike and fierce battle. A brightly colored Blue Fox can be deadly for this tactic.
If you have a boat with an electric motor, you can try trolling various lures including plugs, like a Flatfish or a Bagley or Brad's wiggler.
Another reliable method of catching steelhead in still water is by fishing bait beneath a float; sand shrimp are popular for this, but a glob of cured salmon roe or even a whole nightcrawler can do the job.
When fishing for surplus steelhead, definitely plan to gear up a bit.
That 4- or 6-pound test line you might use for trout might be a literal snap for an angry steelhead to deal with, so think about spooling 10-pound line and using a stronger rod and reel to match.
And don't forget a salmon-sized landing net.
Fort Stevens State Park camping and day use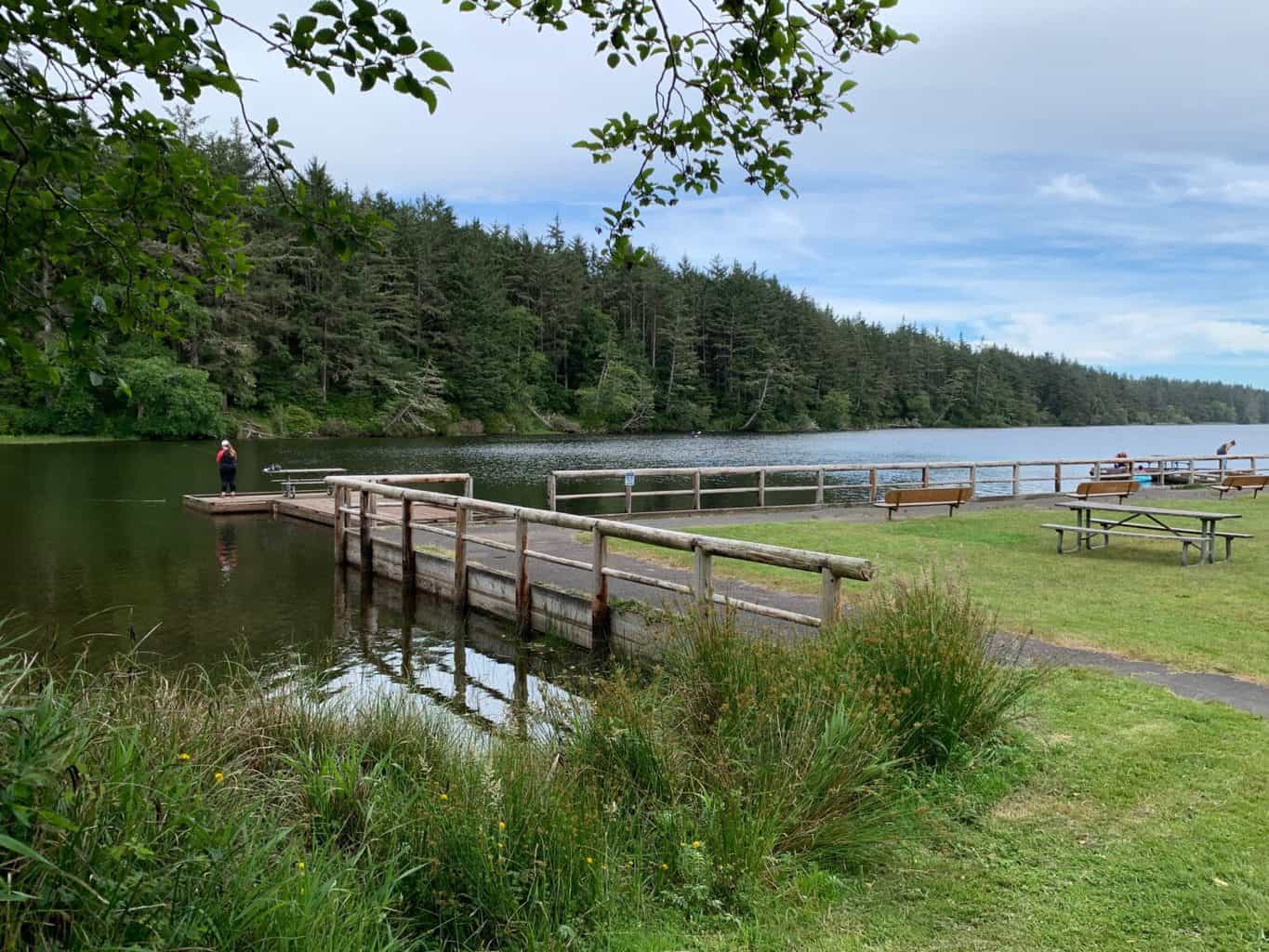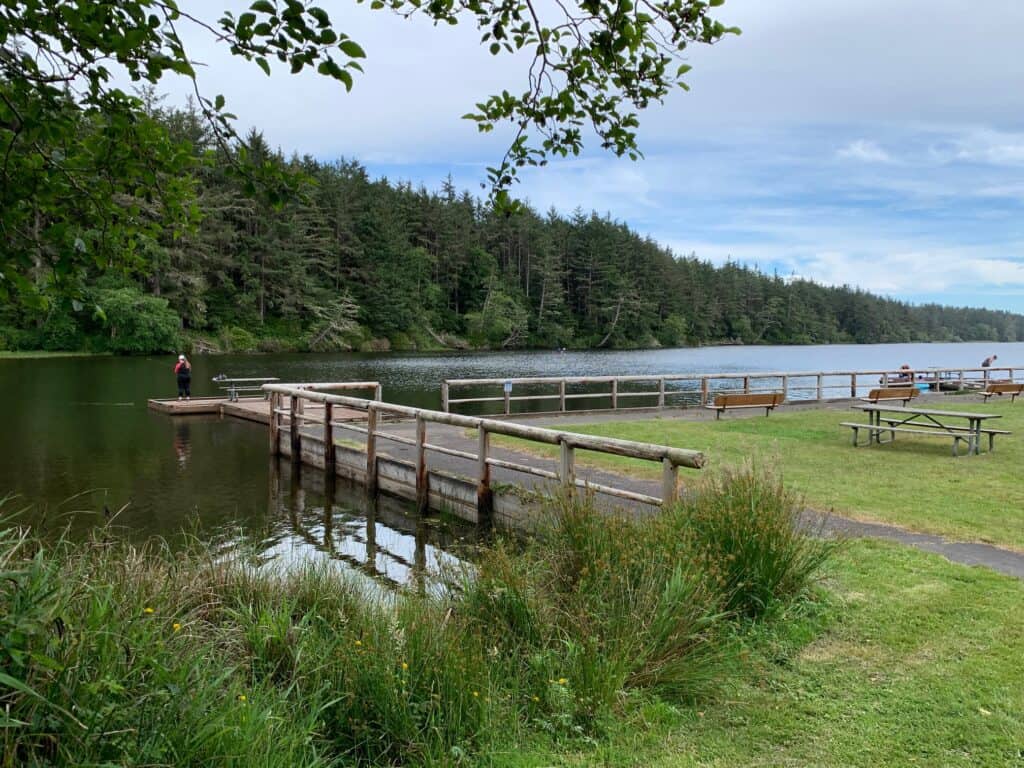 Fort Stevens State Park is one of the largest and most popular state parks in Oregon, and in fact one of the larger campgrounds in America.
The 4,300-acre park has nearly 500 camp sites with various levels of amenities, as well as cabins and yurts. Group camping areas are available, and there also are some yurts and campsites that are designed to be accessible for people with disabilities.
Fort Stevens also offers a variety of day use areas, including at Coffenbury Lake in the heart of the park and the famous wreck of the Peter Iredale on the beach.
There are miles of hiking and biking trails and lots of other activities available.
As you likely would expect, there are fees for both day use and overnight stays at Fort Stevens.
Even with that many options, booking overnight accommodations can still be tough here because it is very popular, so plan to jump on it as early as reservations open.
See the Fort Stevens State Park website for details.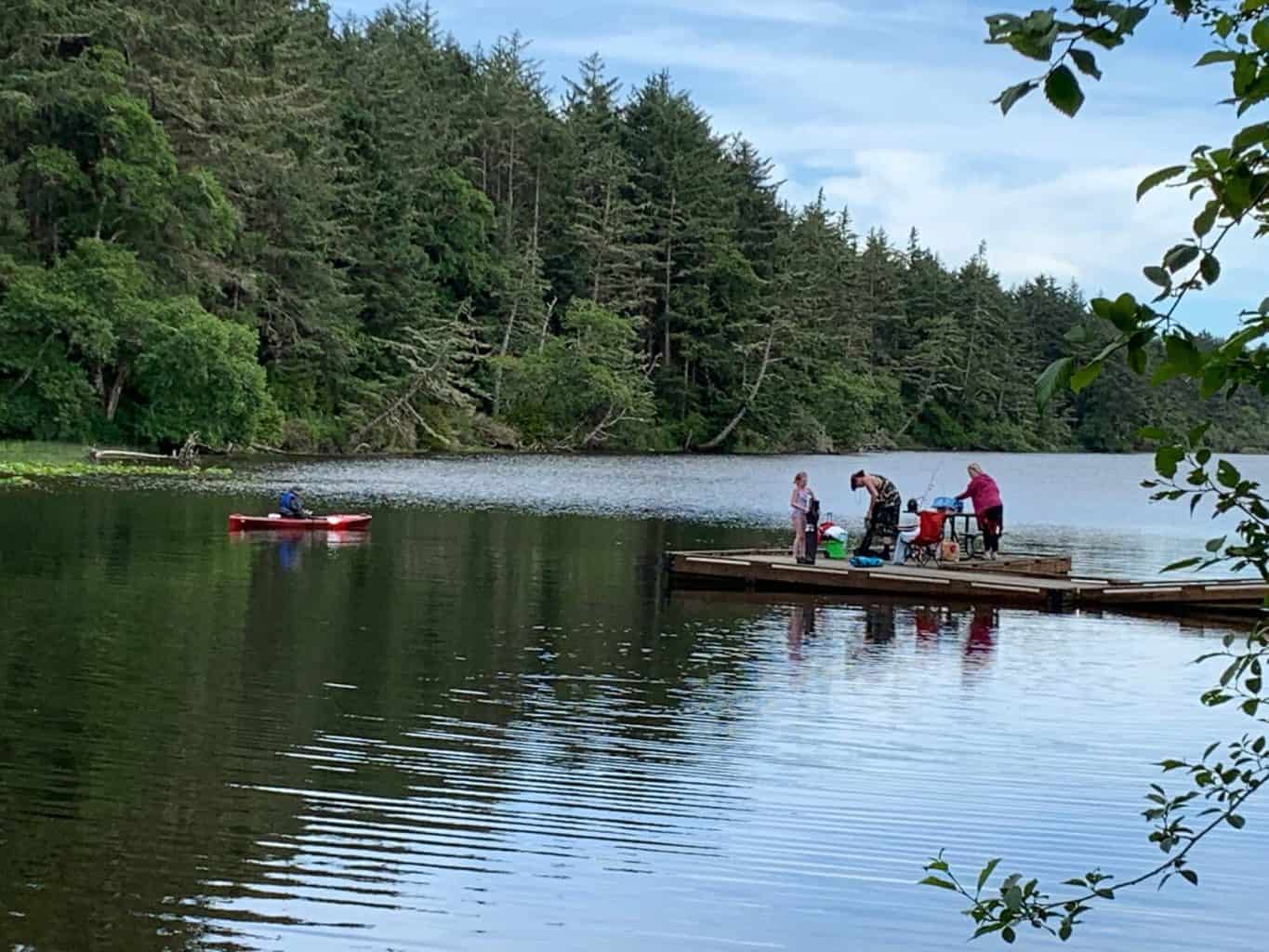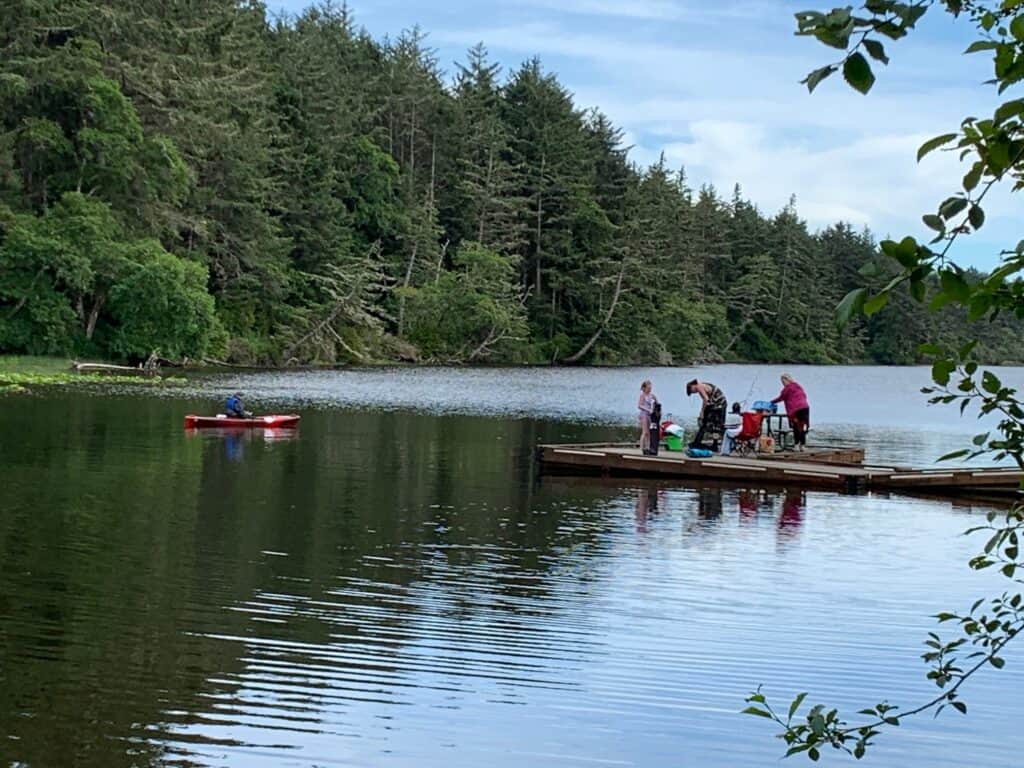 Where is Coffenbury Lake?
Coffenbury Lake and Fort Stevens State Park are located a short drive from Astoria and Warrenton on far-northern Oregon coast. It's about 25 minutes driving north from Seaside and less than two hours from the Portland area.
While you're in the area
Nearby fishing: The far north coast has many fishing opportunities, including the incredible Buoy 10 salmon fishery, several nice bass and panfish spots including close-by Cullaby Lake, fantastic razor clamming, good crabbing and some excellent small winter steelhead streams.
2023 Coffenbury Lake Trout Stocking
| | |
| --- | --- |
| 2023 Stocking | Total |
| Mar. 13 – 17 | 2,200 |
| Mar. 27 – 31 | 1,750 |
| Apr. 17 – 21 | 2,000 |
| May 22 – 26 | 4,500 |
| Sep. 11 – 15 | 500* |
*Theis stocking date includes 500 trophy-sized rainbows
Stocked fish are legal-sized rainbow trout unless otherwise noted. Stocking schedules are subject to change for a variety of reasons. The ODFW Weekly Fishing Report linked under Oregon Resources below may provide updated information.
Find more fishing spots in Clatsop County
Oregon Resources
ODFW Weekly Fishing Report
ODFW Trout Stocking Schedule
Oregon Fishing Regulations
National Weather Service